10 Best Spanish Lessons in Singapore to Learn Spanish [2023]
You probably know "hello" in Spanish is "hola" right? Spanish greetings and phrases do not just stop there, here are our top Spanish lessons in Singapore picks to up your Spanish game!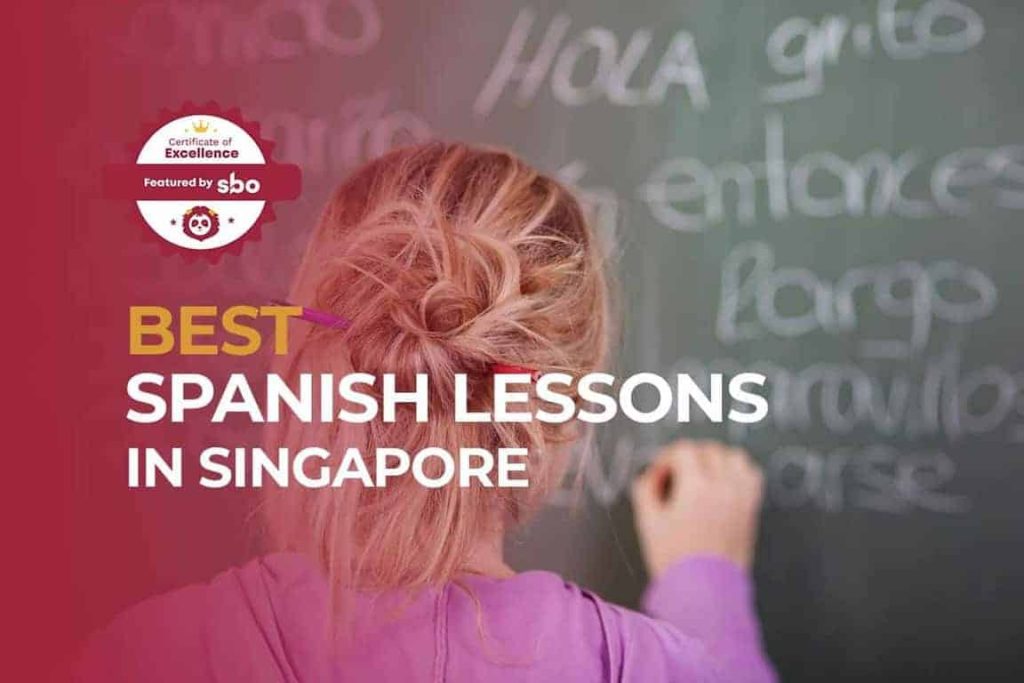 You probably know "hello" in Spanish is "hola" right? Spanish greetings and phrases do not just stop there. As much as learning a new language is intimidating, it can also be very fun.
Did you also know that Spanish is the 2nd most spoken language in the world today with 414 million speakers?
Here are our top spanish lessons in Singapore picks to up your Spanish game!
1. Spanish Studio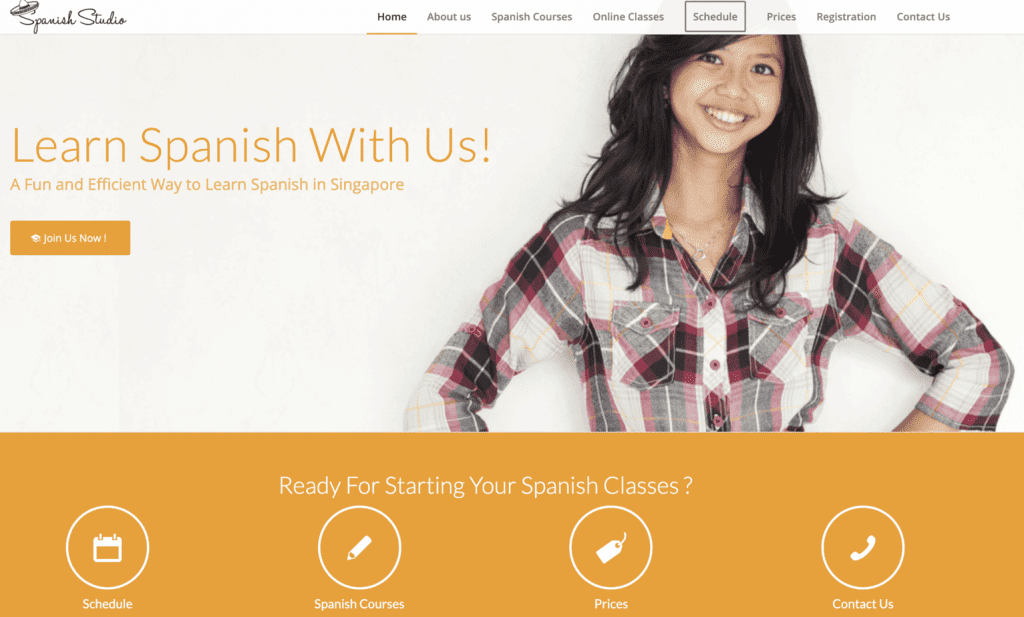 Spanish Studio offers an array of Spanish language courses to cater to everyone, that there is something for everyone regardless of what level of proficiency you are at. They boast of their classes to be one that is lively and fun, with interactive classes that are bound to ensure that everyone has a fun time learning.
Given that face to face classes have to be put on hold during this COVID-19 period, their online program allows you to learn Spanish from the comfort of your homes, with special workshops included too to brush up on your skills!
2. The Spanish Council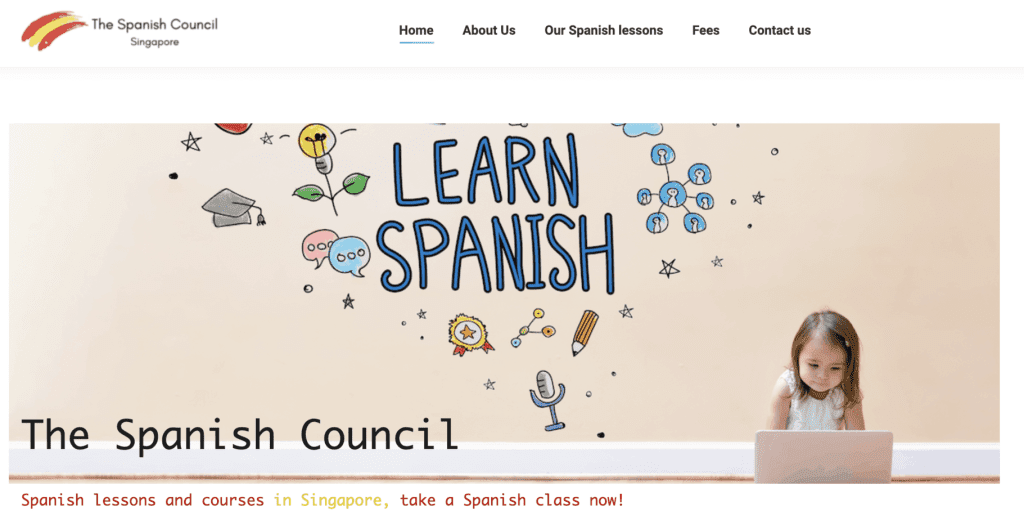 The Spanish Council of Singapore aims to bring the Spanish language, culture and traditions closer to the Singaporean community. Their dedicated team of teachers all have an area they specialise in, given the different learning styles and habits of kids and adults etc, ensuring that the needs of students are adequately met.
The Spanish Council also organises regular events to promote the Spanish culture and language such as movie screenings, cultural workshops, language exchanges and activities to promote the Spanish culture and language.
3. Inlingua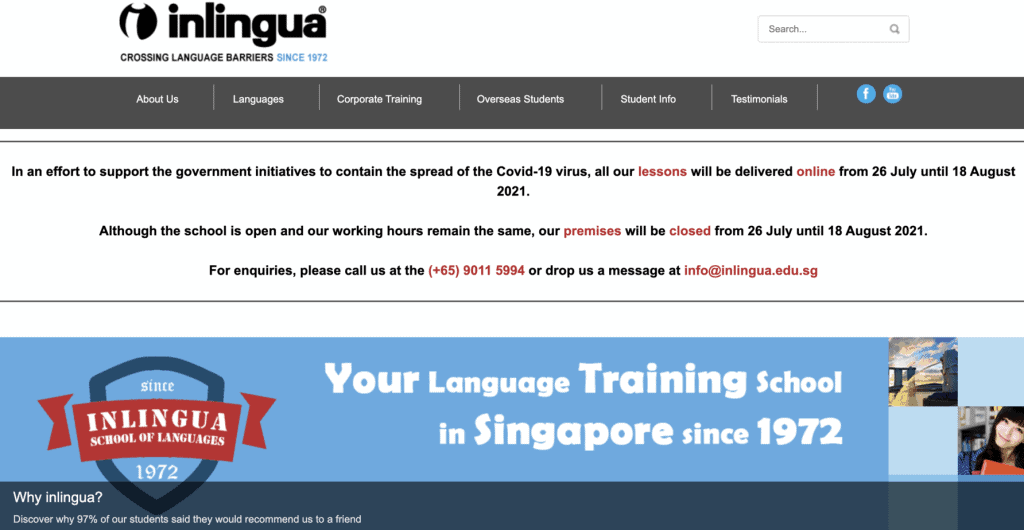 Did you know that you could use your SkillsFuture credits at Inlingua? If you're worried about cost or would just like to try your hand at something new, Inlingua would be a good starting point.
Inlingua not only offers courses in Spanish but they also offer 21 other language courses for you to pick from!
4. Spanish World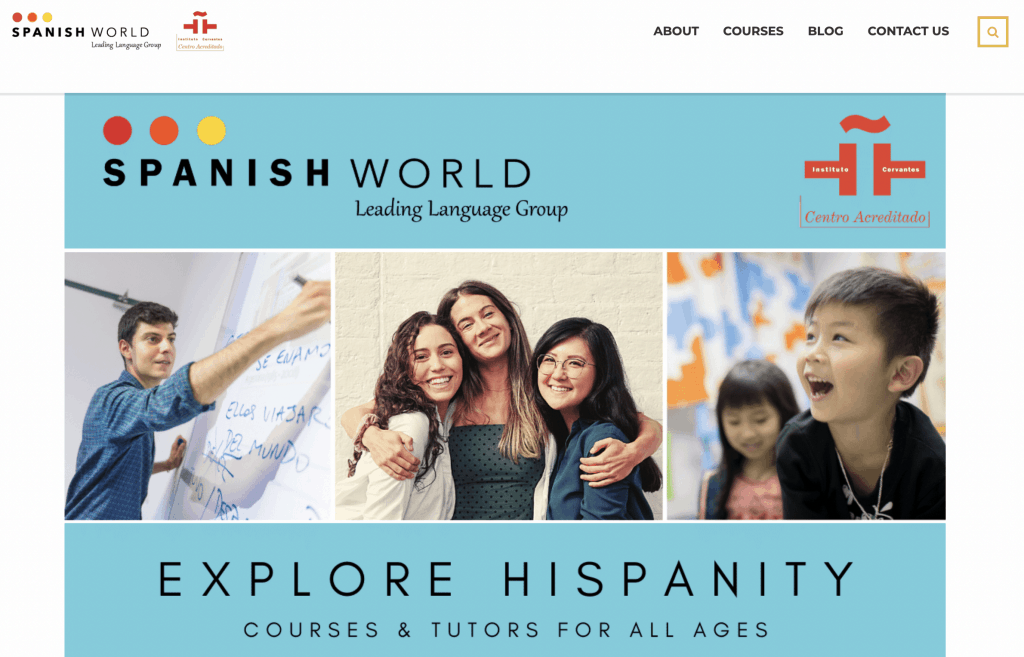 Accomplish your language goals with Spanish World Group, with their team of dedicated native Spanish teachers. They are also the only Spanish language centre in Singapore to have achieved the Cervantes Institute Quality Seal, a Spanish teaching accreditation.
We also like them for the fact that they offer corporate Spanish classes, given the fact that Spanish is the second most spoken language in the world today, helping businesses better engage with their clients. Indeed one of our top Spanish lessons in Singapore picks!
5. Lingo School of Knowledge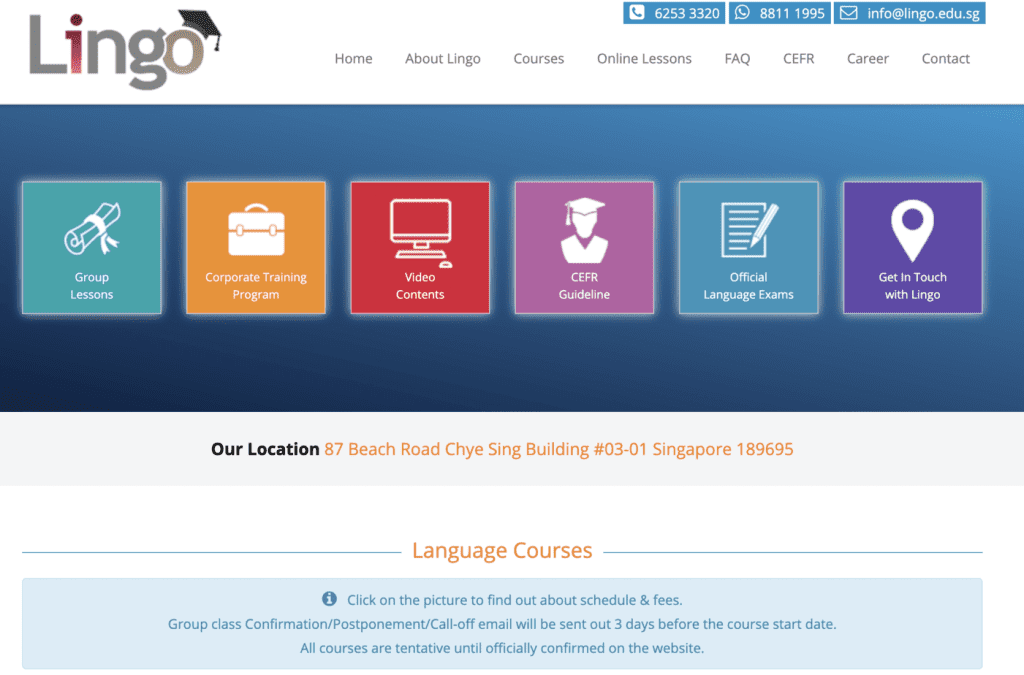 Ready to learn Spanish the lingo way? Courses and syllabus will be constantly reviewed and restructured to keep up with the ever-changing environment.
Lingo is also a MOE registered school, offering tailored training for each individual's needs. Making the payment is also super convenient, simply scan a QR code and make payment via Paynow!
6. Berlitz Language Centre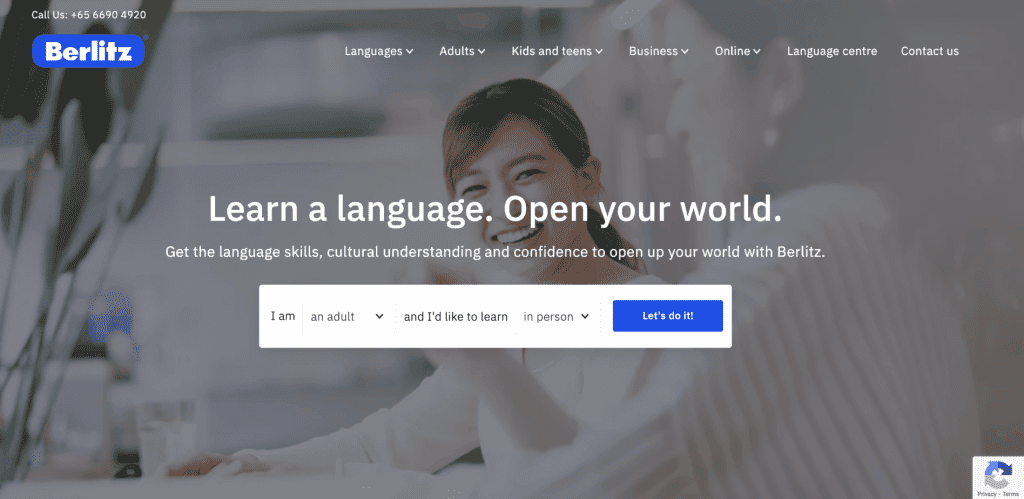 Spanish classes offered by Berlitz follows the Berlitz Method, which focuses on immersive language learning that is based on applicable language skills.
Their Spanish lessons are designed to help you feel comfortable speaking, writing and listening to Spanish in real-world settings.
7. Janus Academy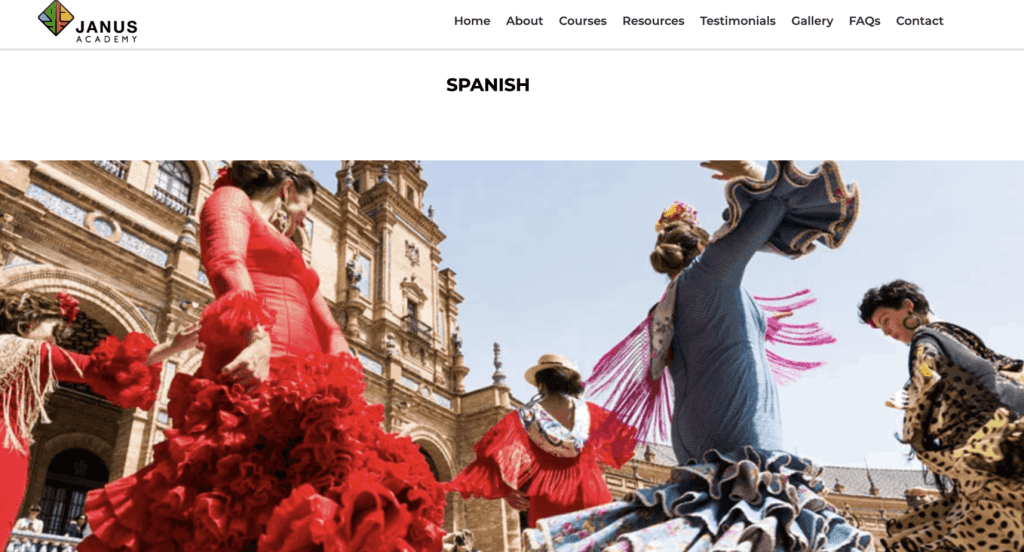 Janus Academy is a Singapore MOE registered language school offering top language classes for kids and adults. For all the languages we teach, we not only provide courses for adult learners but also school holiday programmes for children, as well as corporate language training courses for companies looking for Spanish lessons in Singapore
They have over 30 experienced and qualified native teachers who conduct lessons in small groups to ensure an interactive pedagogy and fruitful learning experience.
8. Agape School of Education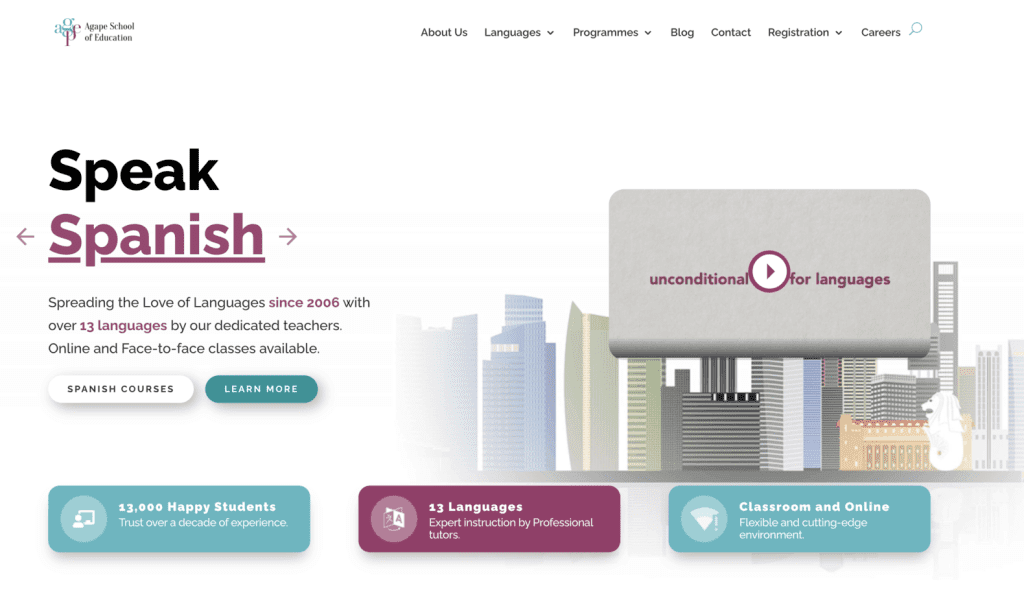 Agape School of Education not only offers Spanish classes but also a myriad of other language courses. They have Spanish beginner programmes, conversational courses and also the MOELC admissions test preparation.
On their site, they have a breakdown of the curriculum and the framework used for its classes so you actually know what you're signing up for!
9. EuroLingo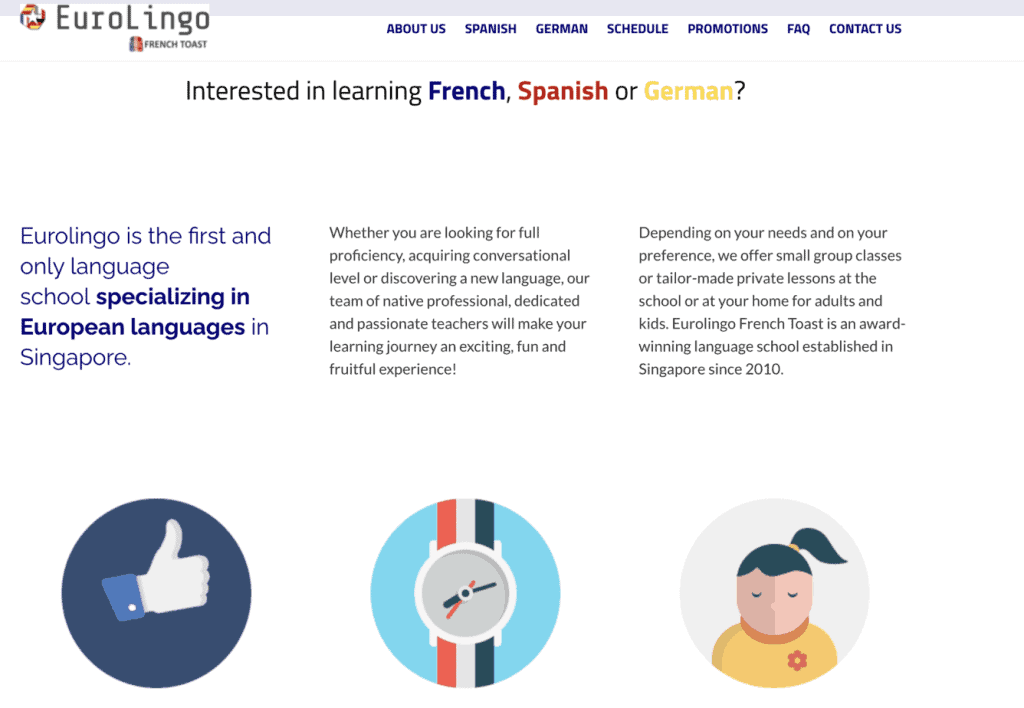 Eurolingo had its roots in offering French lessons back in 2010 and they have now expanded their offerings to that of Spanish and German due to the supportive students.
This also reflects the quality and the experience of their students at the centre learning a new language that they want to come back for more.
Eurolingo also has many promotions, such as their refer a friend and also family promotion for their loyal customers.
10. Spanish Academy

Spanish Academy is your gateway to a vibrant culture – They believe in the importance of "familia", with personable native Spanish teachers, their dedication and experience are bound to provide you with an enriching learning experience. Class sizes are also kept small to ensure sufficient teacher-student interaction.
If you're still undecided on where to go for Spanish lessons in Singapore, they are offering free trial classes for both kids and adults and a 10% discount if you sign up with a sibling or friend.
Conclusion
Do you have any reviews and comments to share regarding our choices for the best Spanish lessons in Singapore to learn a new language?
While SBO is committed to supporting our local businesses, we welcome any feedback and anonymous sharing regarding your experience with the above-listed best Spanish lessons in Singapore.
We hope that this guide will be useful in helping you to make a better decision when it comes to finding the best Spanish lessons in Singapore.
Explore More Content