10 Best Japanese Lesson in Singapore to Learn Japanese [2023]
Kon'nichiwa.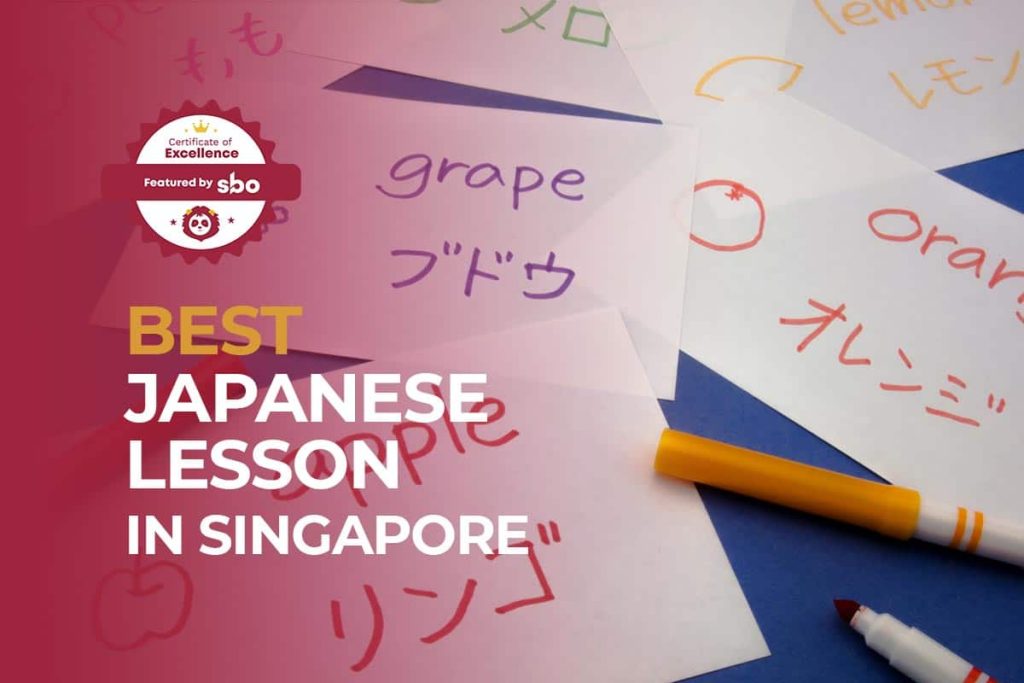 You probably think that Japanese originated from Chinese, don't you?
Even though Japanese uses Chinese characters, the language isn't entirely based on Chinese.
Unlike English, which is closely tied to Romance (e.g. Spanish, French) and Germanic languages (e.g. German), Japanese is not closely related to any other major language.
In fact, until recently, it was classified as a language isolate, meaning that it is completely unique among all current world languages.
Looking for a Japanese lesson in Singapore? In this post, we've gathered all the necessary details to compile a list of the 10 best Japanese lesson in Singapore.
1. Bunka Language School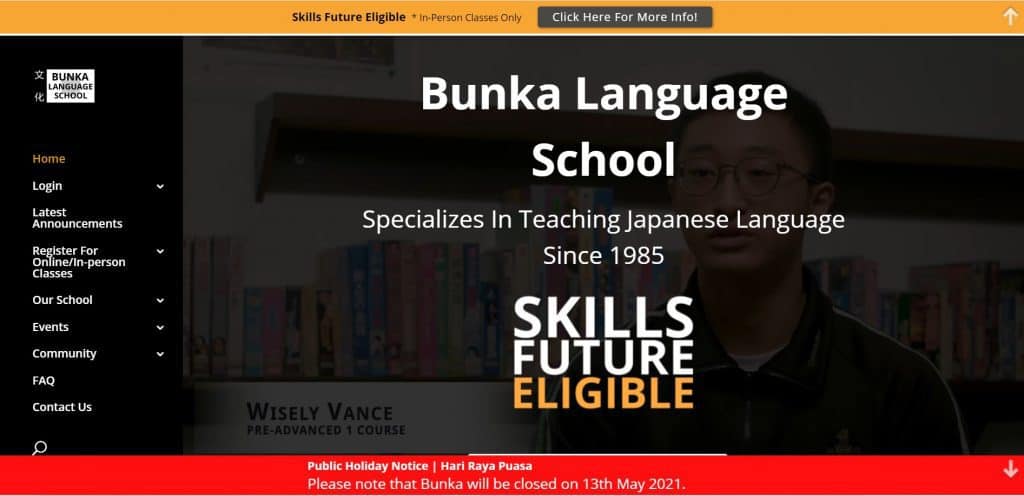 Specialising in teaching Japanese language since 1985, the teachers at Bunka Language School are all native speakers of Japanese and are registered with the Ministry of Education.
The Japanese lesson in Singapore has their very own textbook created by their team of teachers with over 35 years of teaching experience condensed into an interactive and contextualised curriculum that is suited for Singaporeans.
They have a small class size, with a maximum of 12 people in each class.
Students are engaged in role-playing for real-life situations such that speaking, listening, writing and reading are all covered at the Japanese lesson in Singapore.
2. IKOMA Language School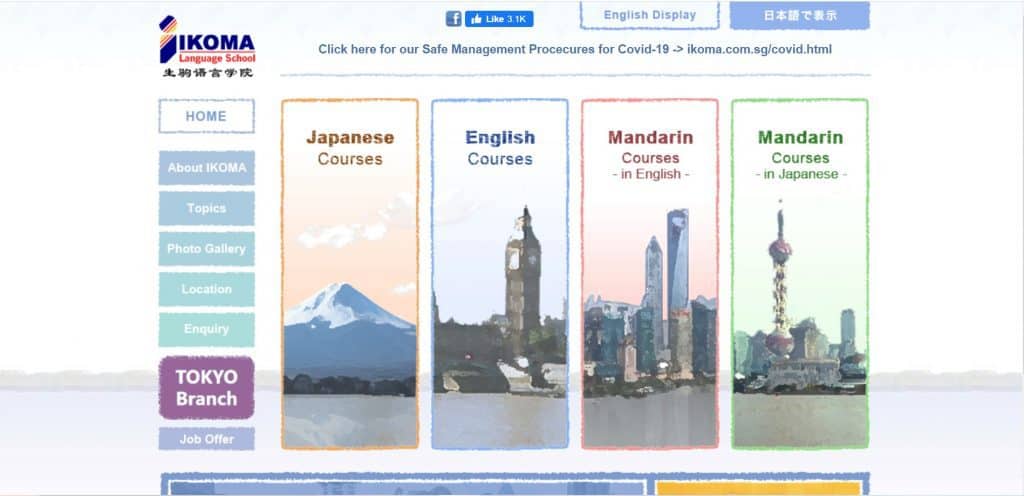 IKOMA Language School is registered with the Ministry of Education. It opened in Chinatown in May 1996.
They grew in size and moved to Orchard Plaza in October 1999, before moving to their current premises at Shaw House in October 2004.
Their regular Japanese lesson in Singapore is split into five levels: Basic, Intermediate, Pre-Advanced, Advanced and Further Advanced.
Their Japanese lesson in Singapore is available once or twice a week as part-time classes or intensive Monday to Friday daytime classes.
3. Tomo Japanese Language School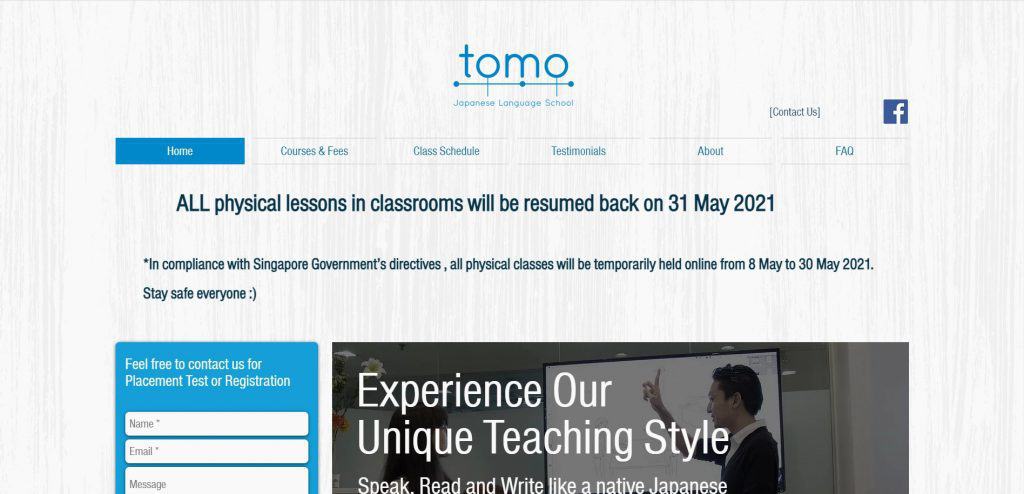 Tomo Japanese Language School promises to deliver the most effective Japanese lessons in Singapore.
And if you think it is sufficient to know only the language, they will have you reconsider that.
Wouldn't it be wonderful if, besides the language, you can also learn about the Japanese culture and beyond?
Beyond being a Japanese language school, the lessons will introduce you to the culture of Japan including the society, arts and history, introduce practical applications, so that you know enough to even work in Japan.
Their lessons are designed in a way that you not only learn to pass the Japanese Language Proficiency Test, better known as JLPT and which many Japanese learners aim to accomplish, but also be an all-rounded master of the language.
The passing of JLPT means that you can read and listen well, but not write and speak fluently, two important skills which even many JLPT N1 holders lack.
4. Japanese Explorer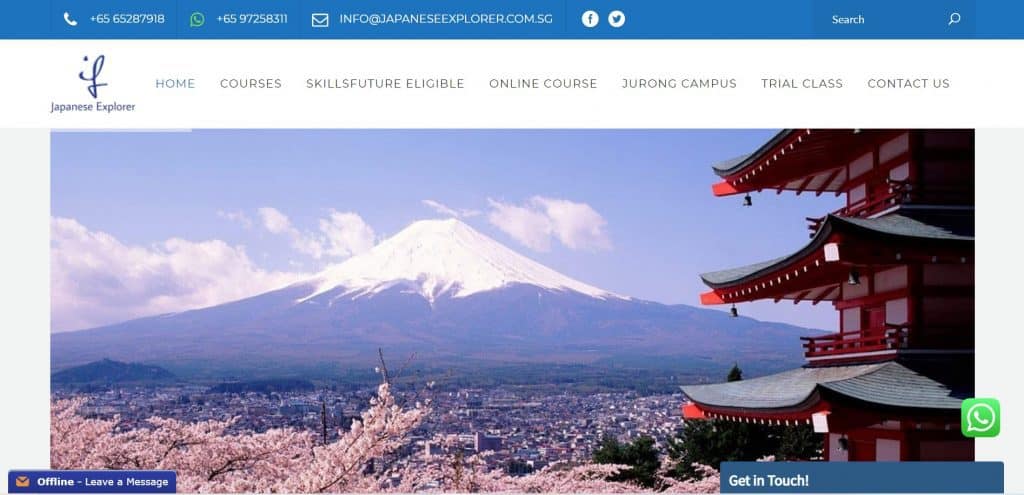 Japanese Explorer is a language school in Singapore that offers quality and affordable Japanese language courses which cater to every age, level, or learning preference.
The Japanese lesson in Singapore employs native Japanese teachers.
Learning will be more authentic since each course is accredited by AJALT (Association for Japanese-Language Teaching) and incorporates two unique systems into the teaching-learning process.
These two unique systems involve learning grammar for the first half of the class and learning the speaking and listening skills in the second half.
With this system, you can learn basic words and grammar structure and apply it right away by listening and speaking the language.
5. inlingua School of Languages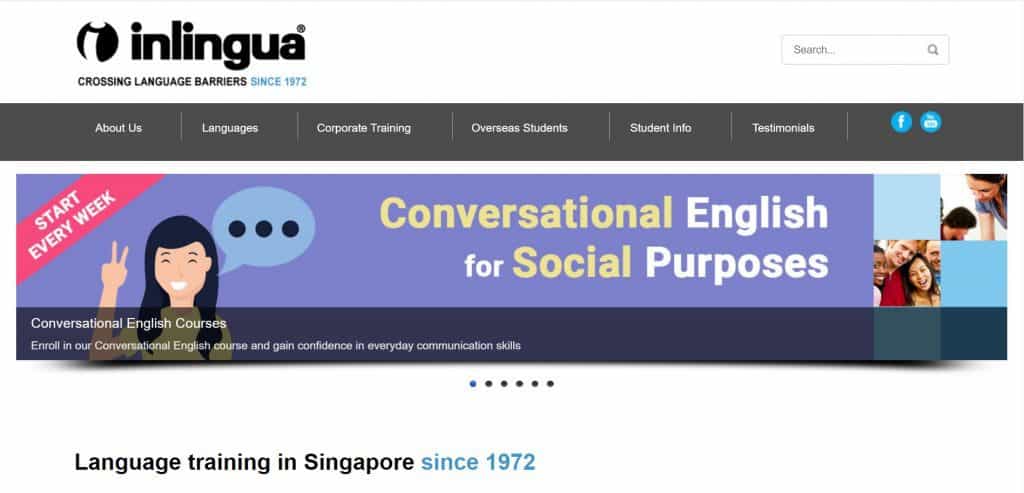 At inlingua School of Languages, they offer part-time Japanese language courses for local and foreign students.
You can learn Japanese in a group or individually.
You can study general communication skills, Japanese for business purposes or prepare for an international language proficiency test.
They also provide customised language training for multinational corporations and local companies.
Located along Orchard Road, and situated in the heart of Singapore's shopping district, inlingua is convenient to visit, with comfortable classrooms, a listening area, corporate training space, tennis court and a barbeque area.
6. Hougang Japanese Language School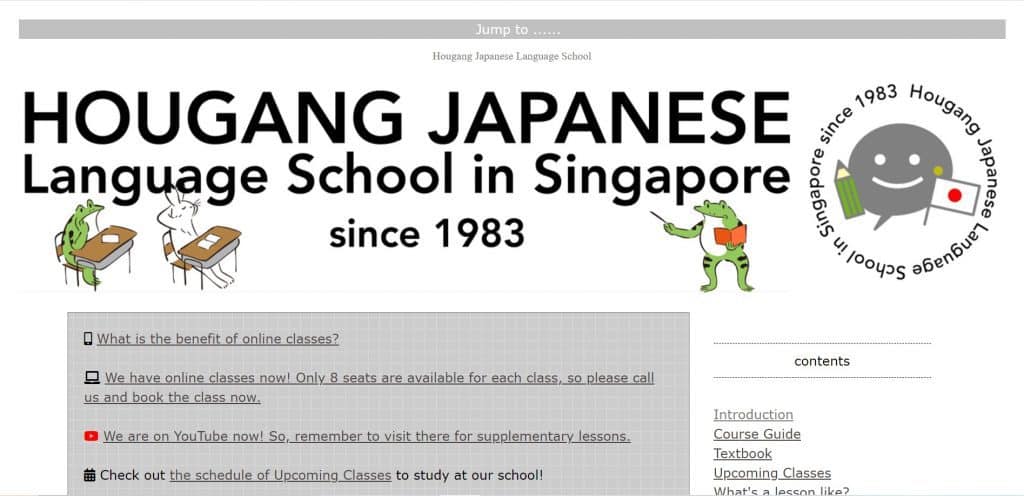 Hougang Japanese Language School was registered with the Singapore Ministry of Education in 1983.
It is the first Japanese Language School in Singapore, established by Mr Kenji Kitahara. He graduated from Kita Kyushu University in Japan in 1974.
After coming to Singapore, he studied Chinese for three years at Nanyang University.
Ever since the completion of his course, he has been contributing to the Singapore Society for 23 years by teaching Japanese Language.
Upon registration for the Japanese lesson in Singapore, you will receive a textbook.
You will also be given subsidiary notes and homework for every lesson you attend.
7. Lingo Language School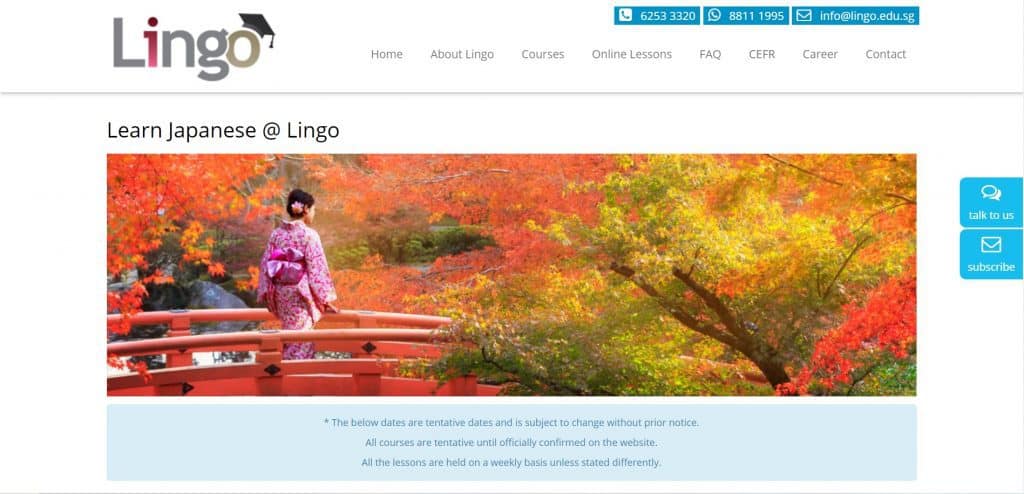 Lingo Language School is situated minutes away from Bugis MRT specialising in foreign language instruction.
Their well-structured Japanese language program is designed for non-speakers or students with little knowledge of Japanese.
Their teachers are native speakers of the Japanese language and have been specially selected to provide the most memorable experience for you.
All courses and syllabus are constantly reviewed and restructured to keep up with the ever changing environment.
They will also continue to add new courses in to keep up with training requirements of tomorrow's individuals, corporations and institutions.
They will also periodically upgrade their classroom design to provide a pleasant and fun learning ambience for their students at all times.
8. Taiyo Japanese Language School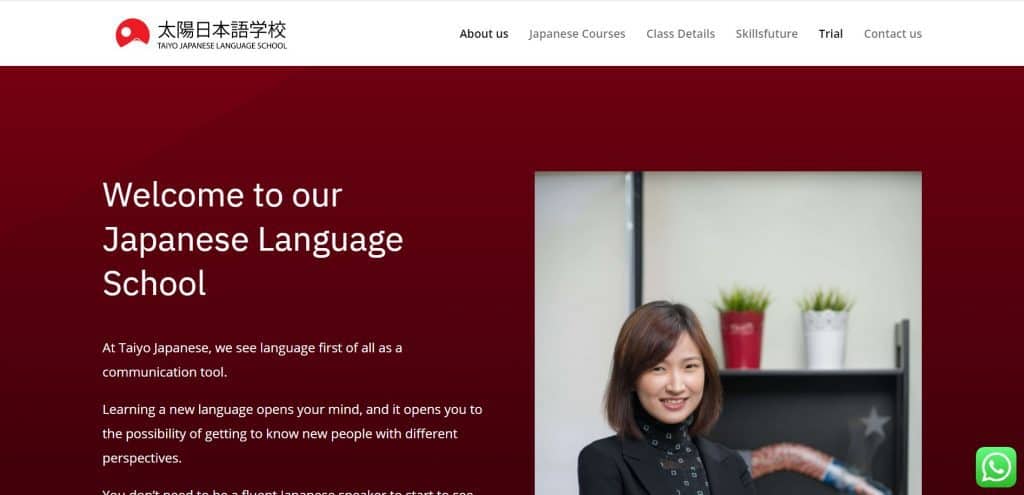 Taiyo Japanese Language School offers Japanese lesson in Singapore for adults that are both high-quality and affordable.
Their small class sizes and reasonable prices mean you can start learning the Japanese you need, right now.
Their Japanese courses take place in Orchard Road and have been designed with great care.
They cover the entire spectrum of levels and learning goals.
When you join, their trainers will first perform an assessment of your proficiency level.
Then, they will advise you which Japanese course is most suitable for you.
P.S. Their Beginner Japanese course is eligible for claims using SkillsFuture credit!
9. PYAESS Japanese Language School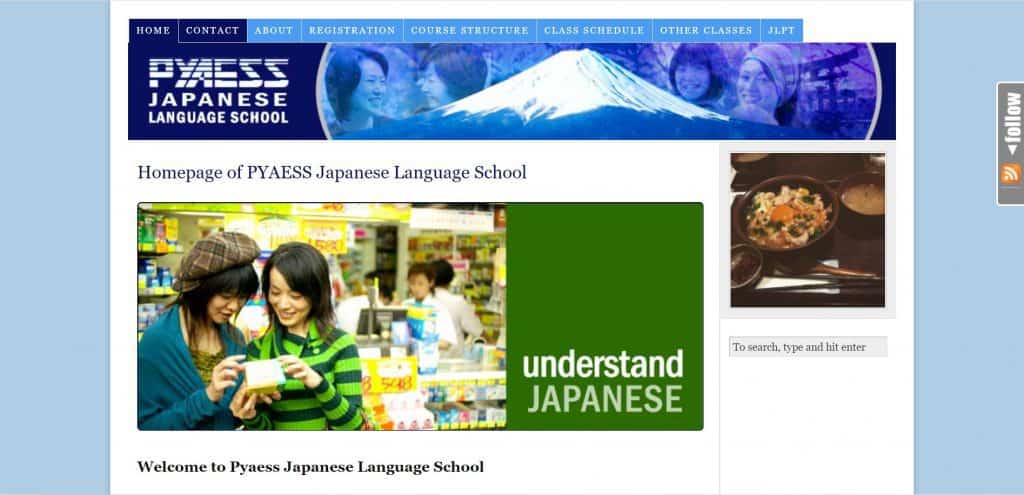 PYAESS was founded in 1988 by Mr Seiichi Haga. Mr Haga came to Singapore for the first time in 1975 in a ship called the "Ship for South East Asia Youth Programme (SSEAYP).
He was then an undergraduate of the Tokyo's Waseda University, Economics and Politics Faculty.
He returned to Singapore in 1985 and later opened and registered Pyaess with the Ministry of Education in 1988.
Mr Haga named his language school "PYAESS", which is "SSEAYP" spelt backwards.
Today after 30 years, Mr Seiichi Haga leads a team of dedicated and professional Japanese teachers who are trained and experienced.
Bilingual in Japanese and English, they are proficient in conducting Japanese lessons in English.
10. Janus Academy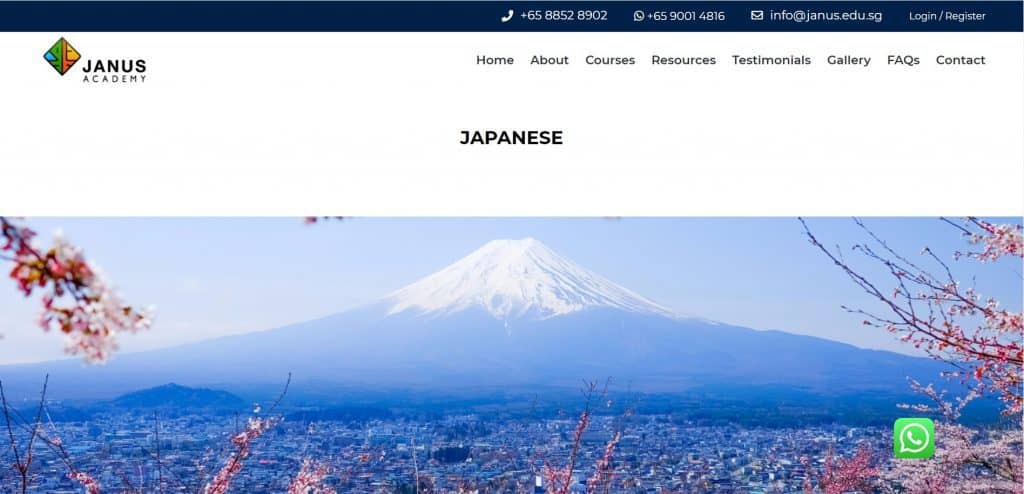 Do you want to learn Japanese in Singapore or perhaps take the convenient option of learning Japanese online from the comfort of your home?
Janus Academy is the Japanese lesson in Singapore you are looking for.
They started as a Japanese language school in Singapore back in 2012 and have been offering Japanese lessons for kids (primary school Japanese, secondary school Japanese) as well as for adults for nearly a decade.
Their Japanese lessons are fun and effective. They don't simply follow a textbook and teach you rigidly.
Instead, they always start by first identifying students' interests and they create bespoke lesson plans and materials accordingly.
To enrich your learning, they also hold Japanese culture workshops where you can learn a skill or experience real Japanese culture first-hand.
Their culture workshops include: origami arts and craft, origami math, furoshiki (Japanese gift wrapping art), Japanese speech and drama, yukata wearing, and many more.
Conclusion
Do you have any reviews and comments to share regarding our choices for the best Japanese lesson in Singapore?
While SBO is committed to supporting our local businesses, we welcome any feedback and anonymous sharing regarding your experience with the listed Japanese lesson in Singapore.
We hope that this guide will be useful in helping you to make an informed decision when it comes to finding the best Japanese lesson in Singapore.
Explore More Content