10 Best Piano Lessons in Singapore to Learn How to Play the Piano [2023]
The key to learning how to play the piano well is by signing up for these piano lessons in Singapore.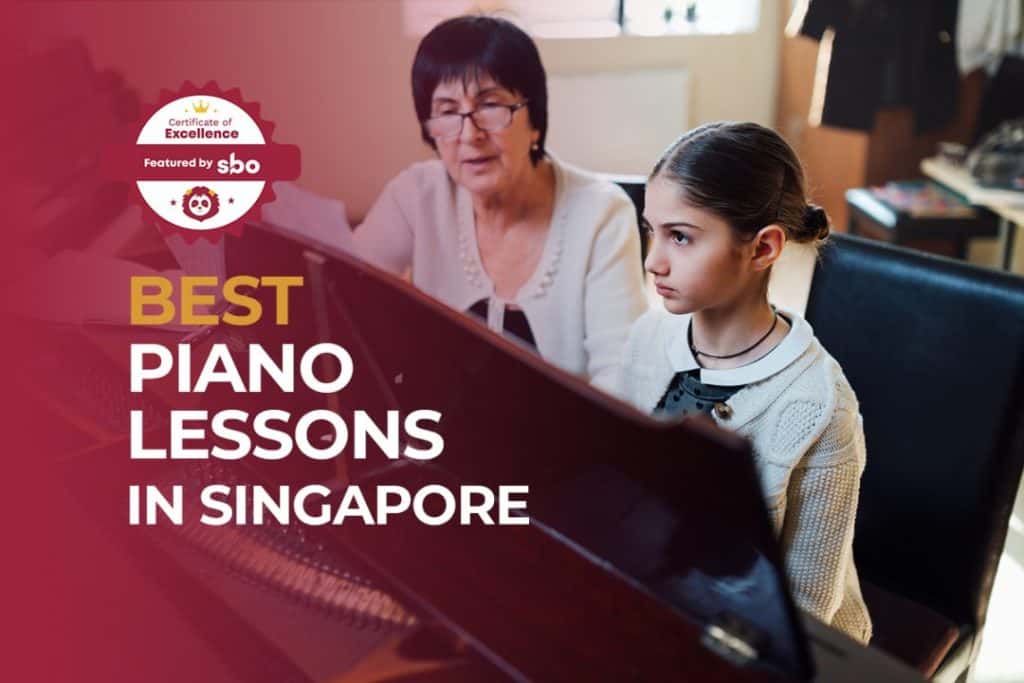 The piano is an acoustic, stringed musical instrument invented in Italy by Bartolomeo Cristofori around the year 1700.
In fact, as the most popular classical instrument, the piano is one of the best advocates of classical music.
Research indicates that piano students demonstrate high levels of spatial awareness and consistently attain high academic scores at school.
It is hence no surprise why Singaporean parents often want to start their little ones on the piano!
Looking for a piano lesson in Singapore? In this post, we've gathered all the necessary details to compile a list of the 10 best piano lessons in Singapore.
1. Awesome Piano Lessons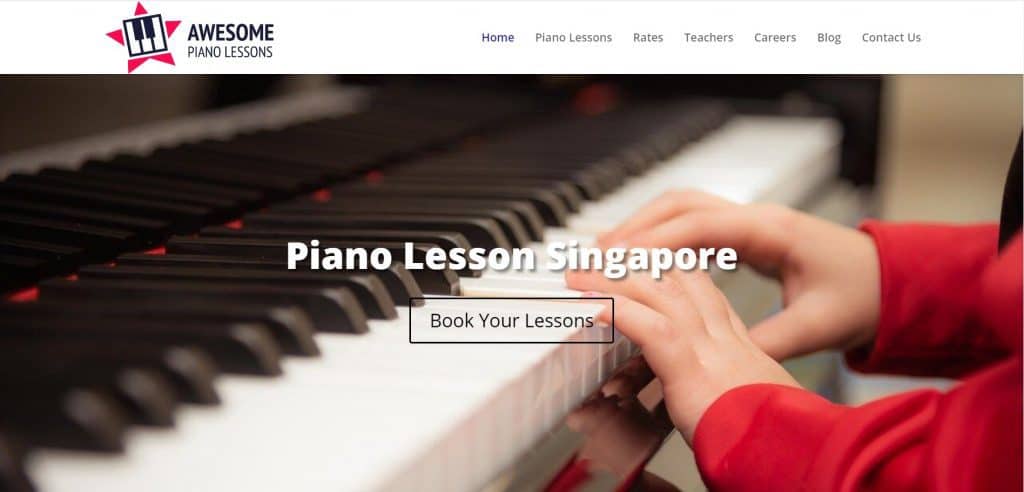 With over 200 passionate piano teachers working with them, Awesome Group is committed to provide quality and effective piano lessons to all ages.
You can have lessons at home or travel to the teacher's home/studio for a piano lesson in Singapore.
Awesome Piano Lesson's piano teachers have achieved at least a Grade 8 level in practical from ABRSM or Trinity College.
The piano lesson in Singapore also holds intensive piano lessons.
These are crash courses to teach you how to play pop songs on the piano.
These are suitable for children or adults who wish to learn the piano two to three times per week and over a few months.
With a cheap piano rental scheme available, you can rent a quality piano at SGD60 per month only!
Just let them know that you need a piano upon registration.
2. CRISTOFORI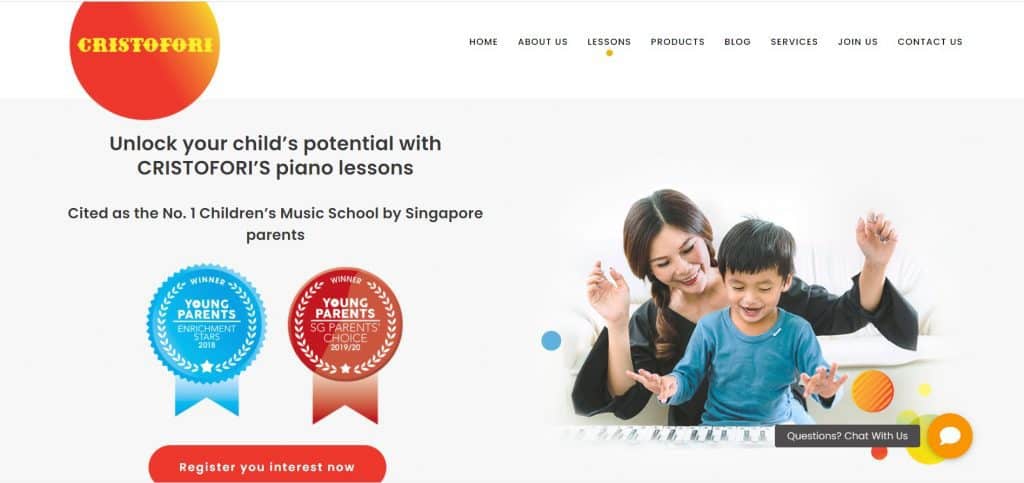 For a beginner, graded piano courses can be challenging.
That's why CRISTOFORI partners with Dr. Randall Faber, an international piano pedagogist specialist based in Michigan, USA to develop their Piano Adventure Method.
It is an effective way for children to learn piano based on their cognitive and personal development.
CRISTOFORI hosts more than 100 events annually, from masterclass, competitions to concerts.
CRISTOFORI Music School students have the opportunity to participate in at least one Student's Piano Recital that is organised by the piano lesson in Singapore every year.
Their contemporary music approach is implemented by Ministry of Education (MOE) Certified Teachers with rich backgrounds – some are instrument-specialists, whereas others have diverse performance experience.
There is also strong syllabus support – the piano lesson in Singapore collaborates with Accredited Examination Boards from London, UK – Rockschool Limited in the design of contemporary music method books.
3. The Happy Pianist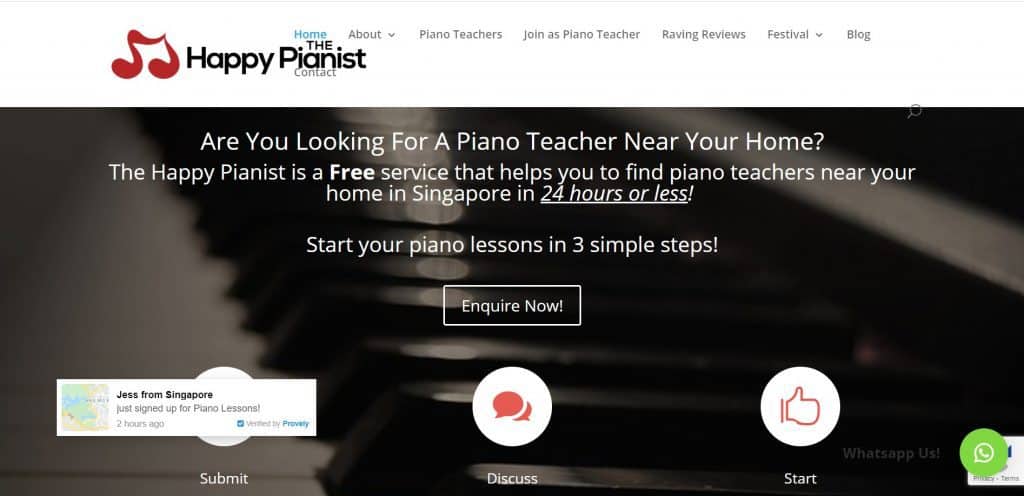 The Happy Pianist is a free online service that helps you to find piano teachers near your home in Singapore in 24 hours or less!
There are no hidden extra costs.
All of their piano teachers have at least three years of teaching experience with a proven track record.
Their teaching methodology is acquired from leading music schools worldwide and some of them are also teachers from prestigious schools in Singapore.
The piano lesson in Singapore specialises in preparing you for graded examinations.
The two most popular music examination board in Singapore are Associated Board of Royal School Of Music (ABRSM), and Trinity College London (TCL).
Certificates from both examination board are widely recognised by various institutions in Singapore.
They have qualified piano teachers who can guide you to excel in these exams.
4. Ms Liew Piano Studio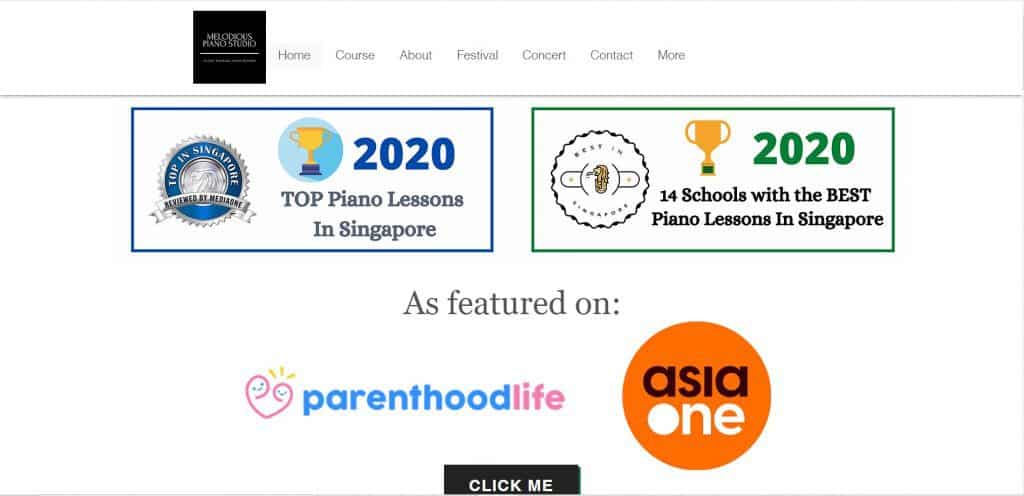 Ms Liew, who has been featured on news outlets such as AsiaOne, is a full-time piano teacher based in Singapore.
She has been teaching the piano for 10 years.
She took her piano studies under Ms. Ralitsa Obretenova, Master's Degree, Piano Performance from National Academy of Music.
Under her effective guidance, she obtained a Distinction in Diploma in Piano Performance LTCL. 
Attesting to her musical expertise, she was awarded another High Distinction in Diploma in Teaching (Early Childhood Music) by the London College of Music that is affiliated to the University of West London.
5. LVL Music Academy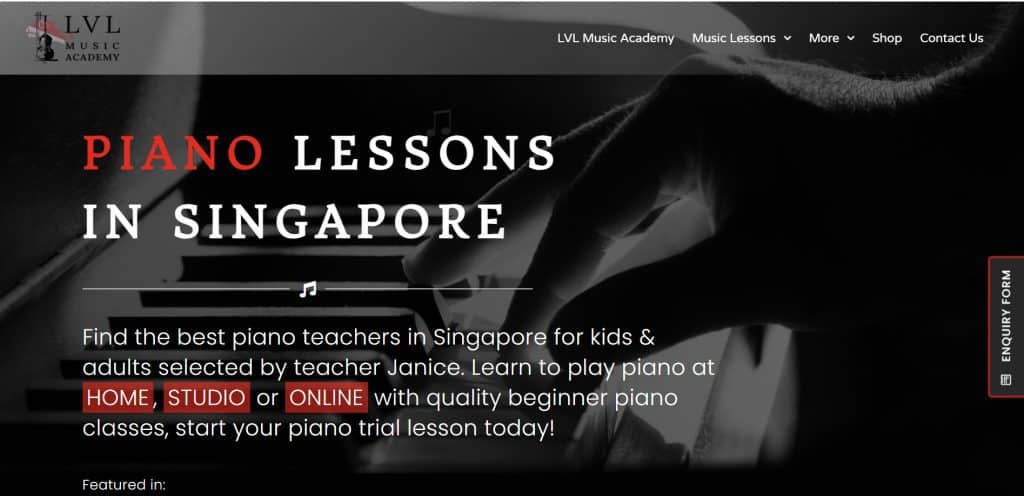 With over 100 piano teachers in Singapore, LVL Music Academy that each teacher is chosen appropriately, taking into account your current proficiency level and your specific learning needs.
You can be assured that your piano teacher will not be chosen randomly, and instead will be the best unique fit for you or your child.
They also hold online piano lessons.
These are suitable for students 8 years old & above as they will be able to handle the technology that comes with online learning.
Parts of the piano lesson in Singapore can be recorded for students to look back on and improve on areas which they are weak in.
In comparison to many other piano music schools offering piano classes in Singapore, their rates are highly competitive.
Their lesson fees are one of the most competitive in Singapore.
For example, beginner level piano lessons begin from S$40-S$50 per lesson, while Grade 1-3 lessons cost S$45-S$60 per lesson.
6. Silversnow Music School
Silversnow Music School was founded in 2016 and is MOE certified, meeting stringent requirements from the Government board.
The school offer music lessons for Piano, Violin, Guitar, Ukulele, Flute, Vocal Training, Music Theory, and Music Appreciation for all ages.
With two locations in Katong and Bukit Timah, students mostly tutored one-to-one.
The school's bespoke lessons are based on each child's aptitude and needs, ensuring that the child progresses at their ideal pace.
The school chart the students' learning journeys by providing weekly feedback on their student's progress.
They also accommodate the students' busy schedules with the flexibility to make lesson changes with advance notice.
Under the tutelage of the school's friendly and qualified music teachers, students have achieved stellar ABRSM and LCM music exam results.
Students can be assured of a conducive learning environment, as the school believes in providing students with holistic music education.
Students of Silversnow Music School are trained to be confident young individuals as all students get the chance to gain performance experience annually.
With Silversnow Music School, every child or even adult can have the perfect environment to unleash his/her musical potential.
7. Mandeville Conservatory of Music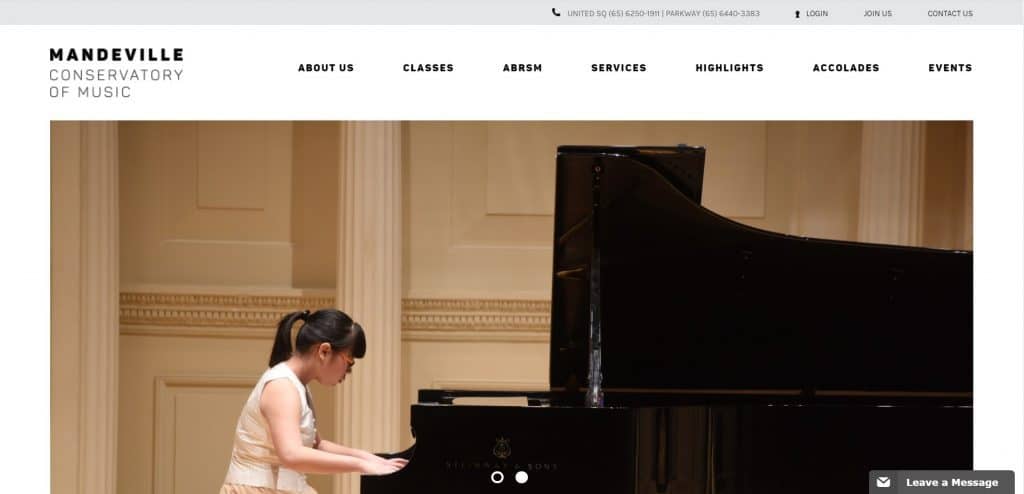 Mandeville Conservatory of Music's piano lessons are known for their tailored and highly personalised nature.
During the first few lessons, their piano teachers will strive to find out more about your past musical background and learning style.
They understand that starting with a new teacher may require some adjustments, and will design the lessons while bearing in mind various factors such as personality, age, proficiency, motivation and students' goals.
As teacher and student rapport becomes stronger, they will work on optimizing the student's learning.
The piano lesson in Singapore caters to serious students taking ABRSM/Trinity Graded and Diploma examinations, curious students who are interested in pop/contemporary/jazz music, and those who want to play the piano for leisure.
8. Adeline Yeo Piano Studio
Adeline Yeo Piano Studio teaches beginners up to grade 8 as well as diploma piano lessons to kids & adults in Singapore.
She is also a private tutor for piano lessons.
With a wealth of experience accumulated over 20 years of experience working in several teaching positions, she has had the greatest joy of teaching in music schools and private homes.
She has worked closely with students of varying nationalities and age groups (3.5 to 65+ years old).
The piano teacher in Singapore has experience teaching children with special needs, attention-deficit/hyperactivity disorder and autism.
Her piano studio is equipped with an air conditioner, books on pianoforte theories, and instruments, all in a cozy environment.
All her learning resources are within reach and there is no noise disturbance, which guarantee a more effective learning experience.
9. D-Flat Studios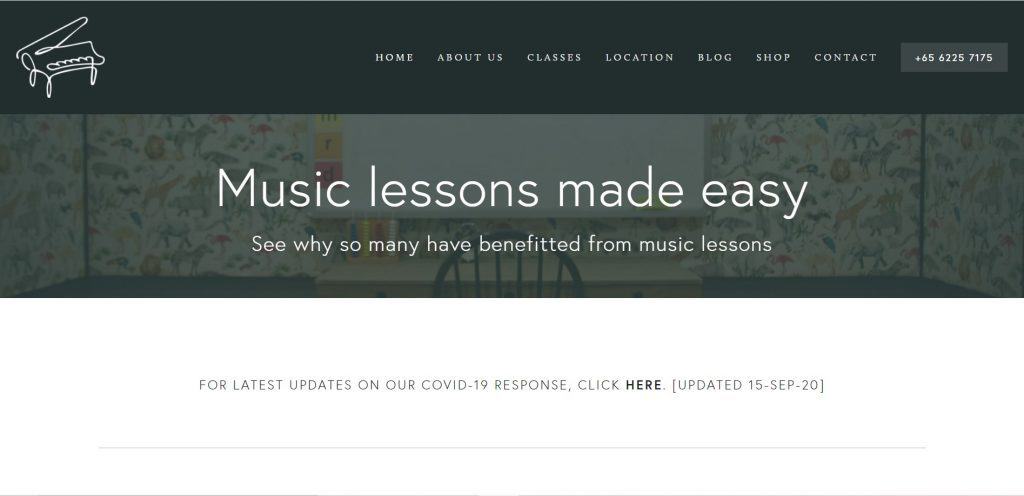 All the instructors at D-Flat Studios possess Bachelors or Masters of Music from Performing Arts Universities, or have more than 20 years of teaching experience.
Their students are engaged beyond the classroom, as we create a performance-based learning environment.
This is done through recitals, concerts, masterclasses, talks and their Professional Series.
This runs in line with the Ministry of Education's philosophy of ECA learning – Experiential, Conceptual and Application.
To keep abreast with best practices and pedagogies, they also harness EduTech by curating Theory and Sight-Reading applications into their lessons.
Students are also able to access reference performances and interpretations through technology.
D-Flat Studios Tanglin is equipped with facilities and resources essential for learning.
Four minutes away from Orchard Road, and a walking distance from Redhill MRT, their Tanglin campus is designed for enrichments, recitals and examinations.
10. Alpha Piano Studio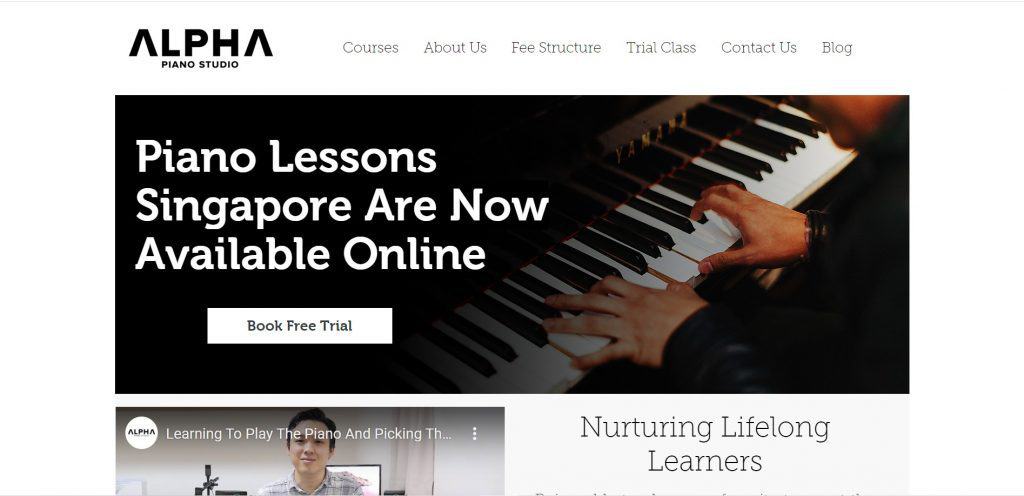 Having offered 1-to-1 piano lessons since 2012, Alpha Piano Studio welcomes students of all skill levels and ages ranging from 5 to 70 years old.
The piano lesson in Singapore strives to deliver value to students by providing quality customised piano lessons as they recognize that every student is a unique individual with varying strengths.
At the same time, they emphasize on building a strong basic musical foundation that will follow their students for the rest of their lives, and to develop in them an appreciation for music in their everyday lives. 
Their location is a seven-minute walk away from Yew Tee MRT.
One of the rooms in their home studio features an upright grand.
The other room is equipped with a high-quality digital piano along with a playback sound system to run practice tracks on.
Conclusion
Do you have any reviews and comments to share regarding our choices for the best piano lesson in Singapore?
While SBO is committed to supporting our local businesses, we welcome any feedback and anonymous sharing regarding your experience with the listed piano lesson in Singapore.
We hope that this guide will be useful in helping you to make an informed decision when it comes to finding the best piano lesson in Singapore.
Explore More Content