9 Best Korean Lesson in Singapore to Learn Korean [year]
Annyeonghaseyo.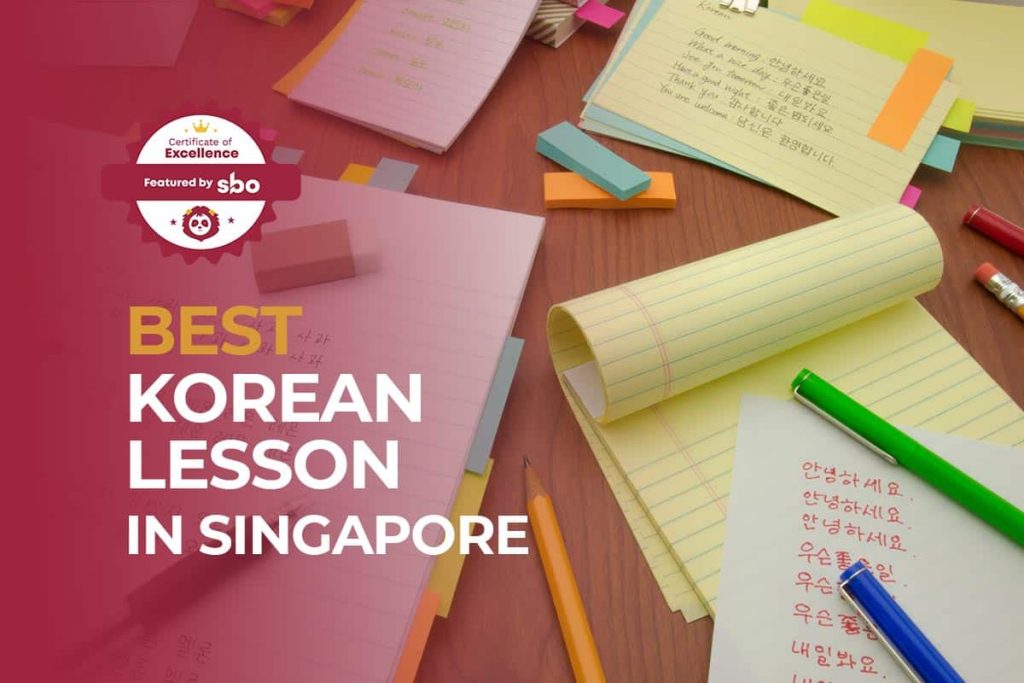 From the Hallyu wave that is sweeping around the world to the rise of K-pop in contemporary culture, many Singaporeans are scrambling to learn Korean.
Did you know that Korean vocabulary is heavily influenced by Chinese?
Due to the historical connections between the Chinese and Koreans, 60% of Korean words are of Chinese origin. About 35% are purely Korean, while 5% are from other languages.
Looking for a Korean lesson in Singapore? In this post, we've gathered all the necessary details to compile a list of the 10 best Korean lesson in Singapore.
1. SEJONG Korean Language School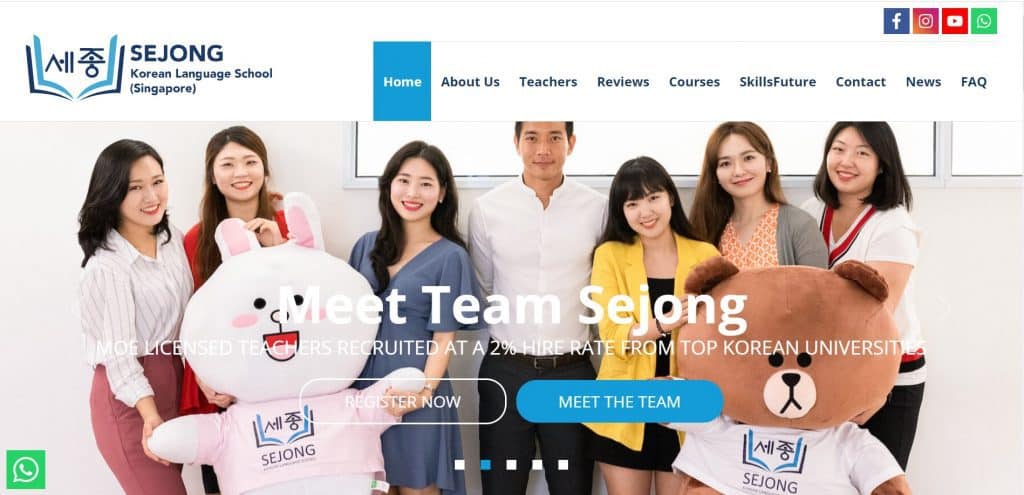 SEKONG Korean Language School has been one of the top rated Korean language schools in Singapore since 2012.
They are a Ministry of Education-registered Korean Language Centre with headquarters located a minute's walk from Tanjong Pagar MRT station.
They offer a range of Korean courses from basic for beginners to advanced level classes.
They developed the "Sejong Standard", a systematic, structured and engaging teaching method which all their teachers are trained in-house to meet.
Their teaching methodologies are vouched for by thousands of Singaporean students.
Their teachers speak excellent English, an extremely important factor when looking for good foreign language teachers, especially at the Beginners level.
2. ONLYOU Korean Language School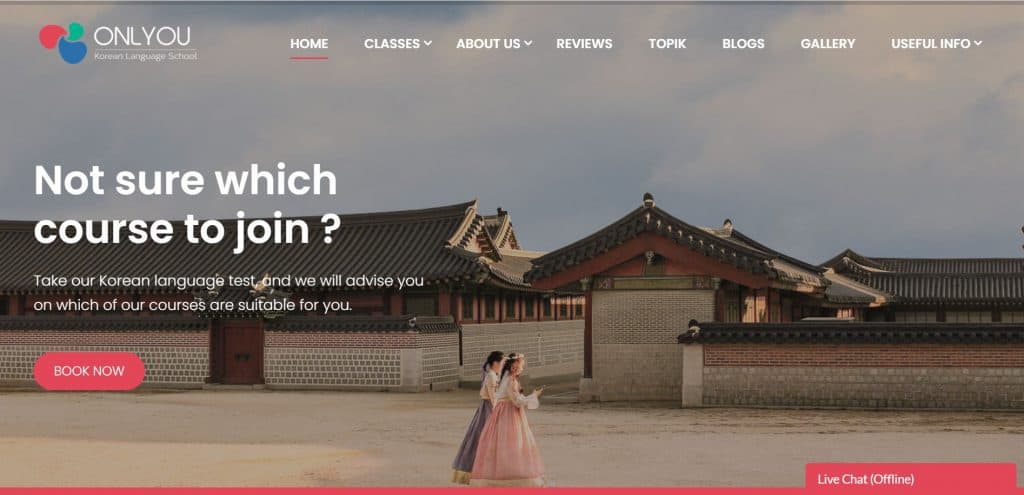 ONLYOU believes that learning Korean as a foreign language should be fun and enjoyable.
The Korean lesson in Singapore eliminate boredom and motivates learners.
Their goal is to deliver an effective lesson that stimulates learners' interest in learning and to have an accurate understanding of Korean terms.
They are also both teachers and researchers.
As a member of the Korean Society of Bilingualism & the International Association for Korean Language Education, they keep track of the latest trends and carry out research on Korean language teaching.
The Korean lesson in Singapore also uses references to K-POP/K-Dramas in class.
Their customised study materials are reviewed and updated regularly.
3. SEOUL Korean Language Centre Singapore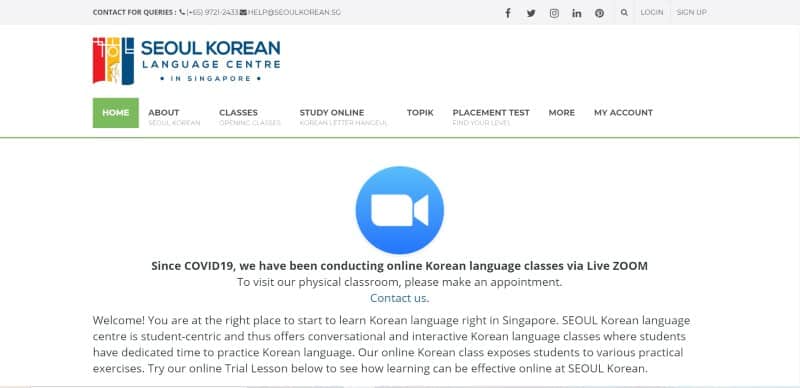 SEOUL Korean language centre is a Korean language school in Singapore conducting the best Korean classes with customised textbooks and online-based practice programs.
The Korean lesson in Singapore is highly interactive and conversational.
Their conversational Korean classes incorporates various learning materials to engage students in diverse activities to apply the spoken language they have learnt.
Since COVID-19, the Korean lesson in Singapore has been conducting lessons via Zoom.
They also offer a free trial lesson if you haven't made up your mind yet.
4. Hana Korean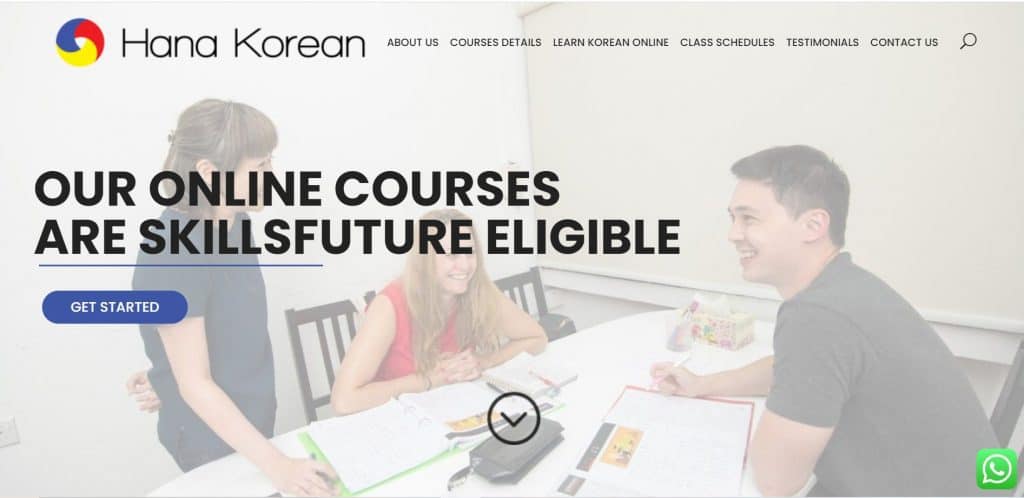 Hana Korean Language School offers both online and physical lessons for students.
Their online lessons are conducted in view of COVID-19, and are priced at competitive rates.
Dedicated trainers will also be assigned to track your progress.
Their in-person lessons are held at their language centre, which strictly adheres to safe distancing guidelines by keeping their class sizes small at five pax.
P.S. The Korean lesson in Singapore is also eligible for claims using SkillsFuture credits?
5. Korean Explorer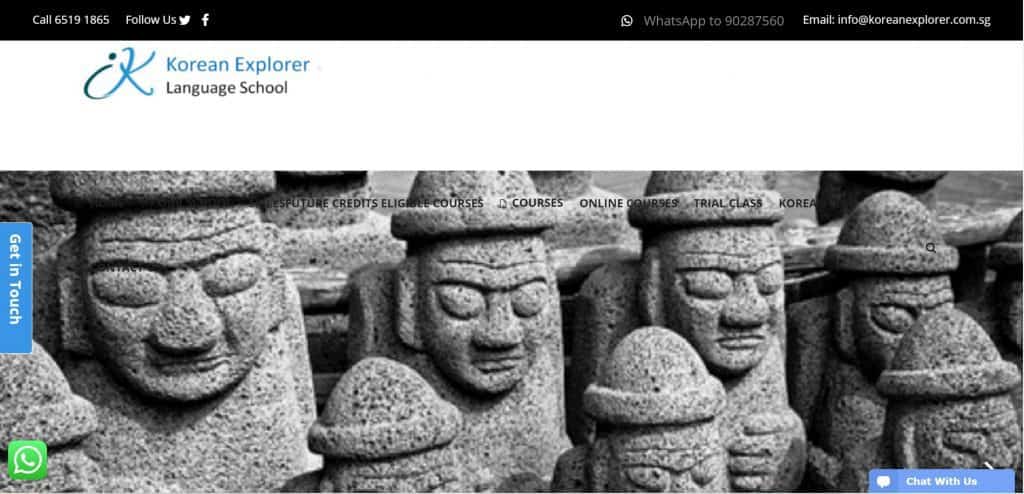 Korean Explorer is one of the best language schools in Singapore that offers well-thought-out Korean lessons using syllabus from the esteemed Seoul National University.
By joining their classes, you can learn from native Korean teachers.
Their excellent teachers are also fluent in the English language, making it easy for them to communicate with you during lessons, and answer any of your questions.
They offer a range of excellent courses, including Conversational Beginner Korean classes for those who are new to the language.
Intermediate level classes and TOPIK preparation courses are also available at the language school in Singapore.
6. iSpeak Korean Language Centre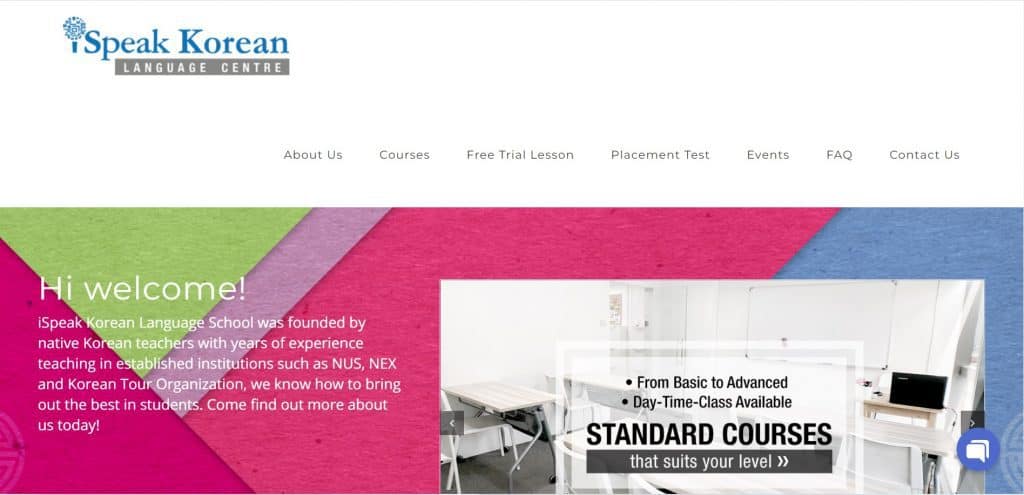 iSpeak Korean Language Centre was set up in 2014 by native Korean teachers with years of experience teaching in NUS, NEX and Korean Tour Organisation.
Their teachers are well-trained native Koreans with a teaching certificate.
They believe that an informative and entertaining learning environment is the best for students.
This can be achieved through a dynamic classroom where students are encouraged to interact with their peers as an entire class and in smaller groups.
With their systemic and rich experience in teaching, the Korean lesson in Singapore creates lively exercises which promote movement and interaction while still remaining focused on the topic at hand, thereby sparking active conversation.
7. HANOK Korean Language School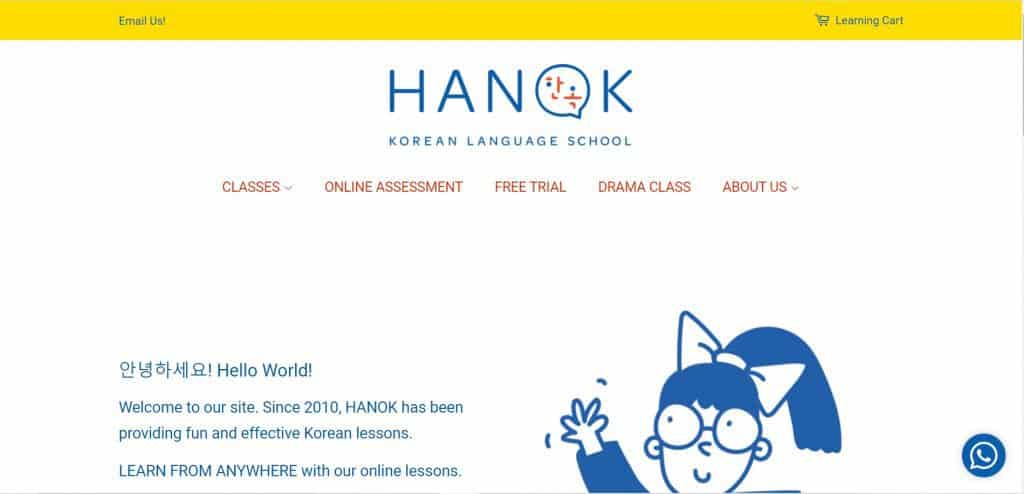 HANOK Korean Language School is a language school based in Singapore.
They conduct Korean Language online lessons in a fun, effective and interactive way.
Established in 2010, HANOK Korean Language School has taught over a thousand students learn how to read, write and speak Korean.
With experience from teaching at NUS Extension, Cambridge Institute, polytechnics, corporations and more, the institution has created a syllabus that is suited for the local students in Singapore.
The Korean lesson in Singapore offers a free trial class for beginners.
They also give out a 20% discount on tuition fees if you qualify for their BASIC 1.5 Class.
8. Daehan Korean Language Centre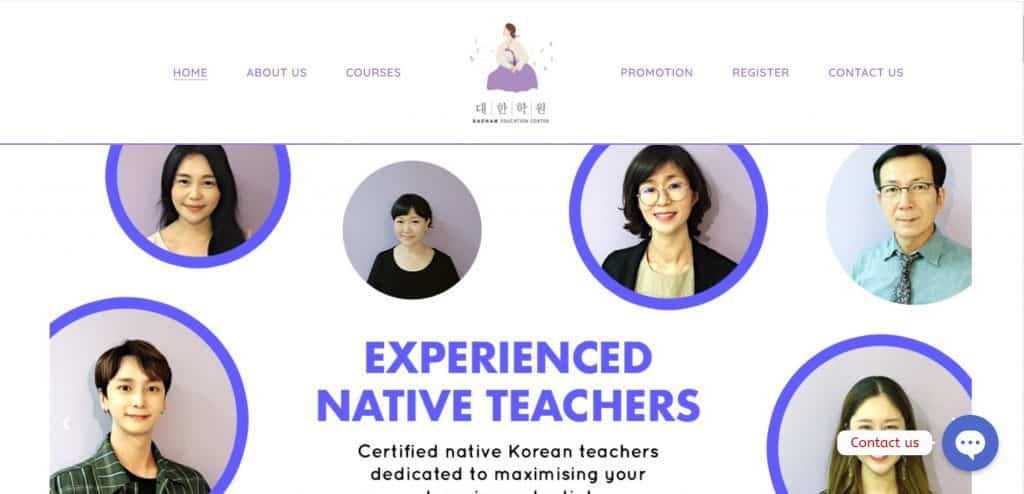 Established in 2006, Daehan Korean now has over 50,000 successful students under their belt.
With years of experience and expertise, Daehan offers interactive Korean Lessons with their certified native Korean teachers.
Regular Classes are held on weekday evenings and weekend mornings/afternoons. morning/afternoons.
Each class has an average size of 8 – 15 students. They try not to exceed 15 students per class so as to maintain the overall learning quality.
The Korean lesson in Singapore also provides a variety of options for corporations and organisations looking to have their staff trained in Korean language.
Whether you are intending on sending a single staff on course, or booking a lecture hall for 60 pax, the Korean lesson in Singapore has options to suit your requirements!
9. Kimko Korean Language Home Tuition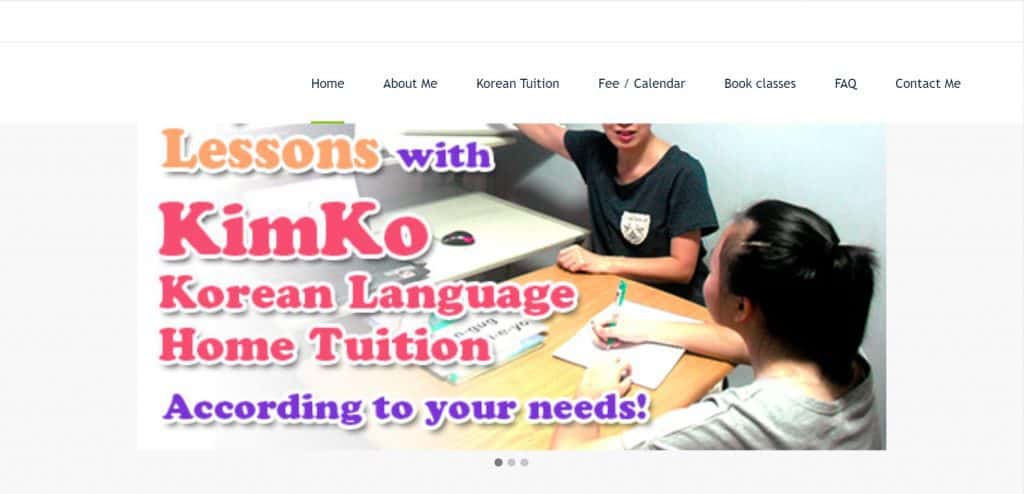 Kimko Korean Home Tuition gives you personal attention and the flexibility to master the Korean language in Singapore.
Fees begin from S$70 per hour for a 1-on-1 lesson.
The tutor of the Korean lesson in Singapore, Miss Kimko, graduated from Seong Shin Women's University in Seoul Korea and taught Korean at NUS Extension from 2007 to April 2013 (taught Basic to Advanced level using the Sogang/Yonsei/Kyong Hee textbook).
Conclusion
Do you have any reviews and comments to share regarding our choices for the best Korean lesson in Singapore?
While SBO is committed to supporting our local businesses, we welcome any feedback and anonymous sharing regarding your experience with the listed Korean lesson in Singapore.
We hope that this guide will be useful in helping you to make an informed decision when it comes to finding the best Korean lesson in Singapore.
Explore More Content