9 Best Table Tennis Lessons in Singapore to Up Your Game, Business and Life [2023]
Learn the game of ping pong to become a better table tennis player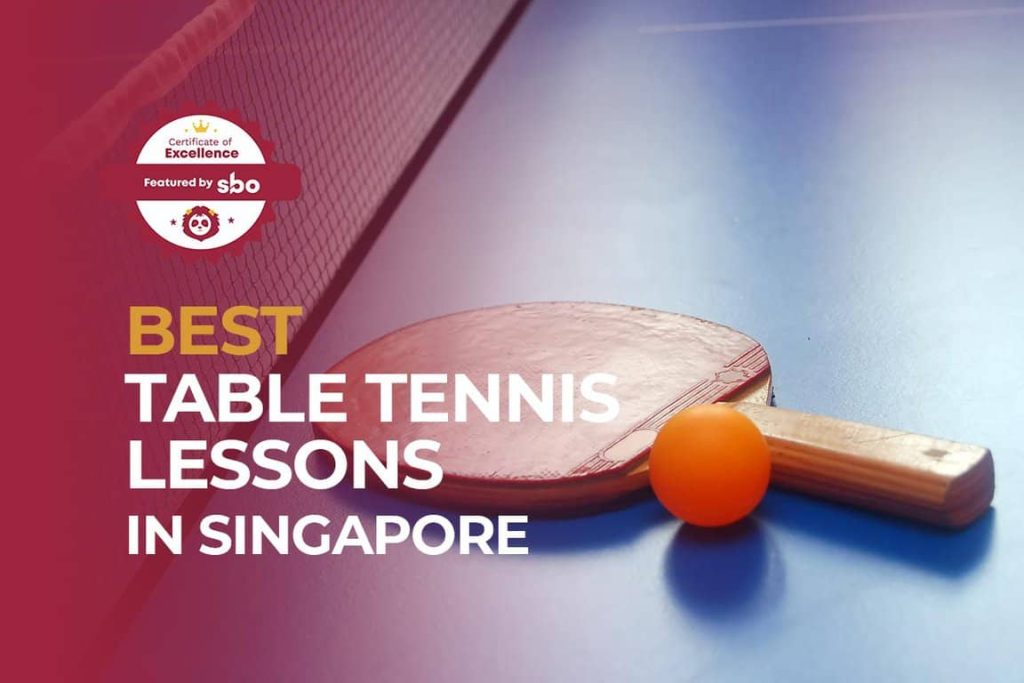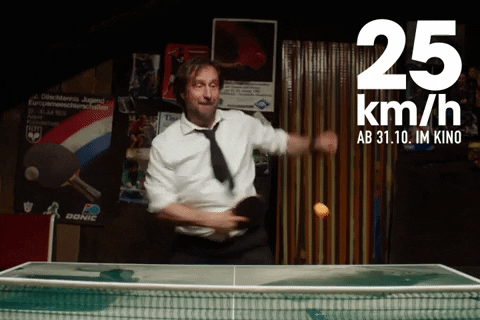 Additional content to this listicle was contributed by Sorin Petroj of Table Tennis Top.
Table tennis, widely known as ping pong, is a sport played by two or four players on a table using rackets. An Olympic sport since 1988, the popular sport is currently played by hundreds of millions of people worldwide, for which the industry is said to be worth "billions of dollars".
With just a table, net, ball and couple of rackets, who hasn't played a game of table tennis, or had table tennis lessons in Singapore when they were younger?
Competitively, the game forces you to move forward using tactics, techniques, and strategies to win the game. Socially, when you play for fun with friends or co-workers, you're developing camaraderie, learning about your boundaries and limitations, developing strategic thinking, brainstorming creative solutions to challenges, working together to solve problems, keeping everything in balance artfully, and the list goes on.
In that sense, tables tennis is the Tao of life and business!
If you want to play well, you need to master the basics: keep your eyes on the ball, and keep it on the table using forehand and backhand serves and returns.
In the same vein, if you want to have a successful business, you must also master the basics: keep your eyes on your main objective, gain revenue (preferably profit) by selling a product or service at a price that keeps your customers similarly engaged and wanting more (bring value to your clients).
Successful tennis players are strong-willed, disciplined, and ambitious. The skills learned through table tennis, like hard work and determination, will definitely apply to your business career.
But there's more to it! Did you know that the fastest roll that can be executed with a paddle is called a smash? This tactic is often used in competitive business when one company tries to gain an edge over another.
What Table Tennis Can Teach You About Business?
You can learn a lot about business strategy just by playing table tennis. When playing table tennis, you've got to apply the right amount of physical power, mental strategy, and psychological warfare to against your opponents. Drives, spins, and body moves are used to win the game.
At the start, your goal is to return the ball every time. Once you've done that much, it's time to make the game enjoyable. You can do that with spins: adding spin to the ball makes it hard to return, so you gradually begin winning points. As you improve further, you realise that placement of the ball makes a big difference and will bring your game to another level!
That said, table tennis has at least one more thing to teach business strategists. Regardless of how good you get, there's always someone better. That's what makes it so interesting. But here are the three important business lessons you can learn from table tennis.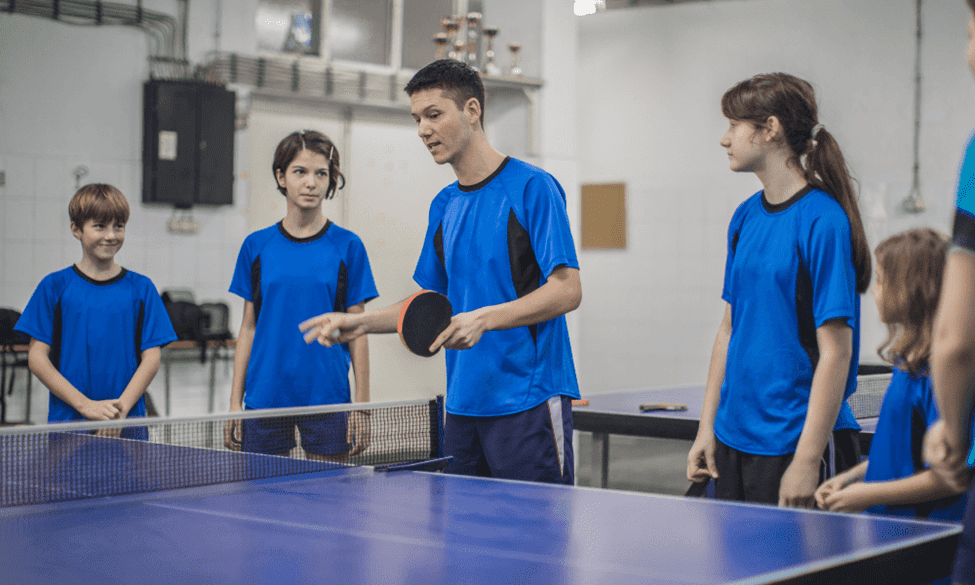 Leadership Skills & Business Lessons You Can Learn By Playing Table Tennis
How can table tennis improve your leadership skills? In a simple sense, table tennis is a strategic game, and you have to set both short-term and long-term goals to be better at it. Setting goals and doing an action plan to achieve them makes you a better leader. That said, here are some essential leadership skills and business strategies that you can learn by playing table tennis:
a) Makes You Focus-Oriented & Successful at Executing Strategy
Table tennis strengthens hand-eye coordination, concentration, and decision-making. Spatial awareness is developed and utilised due to the nature of table tennis, which makes you a focus-oriented person. When you become a better decision-maker and focus-oriented, you get to analyse your situation effectively, plan and then execute strategy.
b) Improves Your Communication Skill
In the past, business strategy has usually been a description of what to do. Table tennis has been pretty much the same. You have to make a move based on your position on the table, your opponent's position and rotation, where you want the ball to go on his side of the table, etc. In other words, a great deal of learning has to happen between knowledge as people know it and as they use it. In many cases, you don't even know that you're unsure until you try to communicate.
c) Helps Build Trust & Rapport With Clients
Table tennis can maximize your personal growth. It is not unlikely for executives to use this game as an effective business tool to gain insights from clients by building good rapport. Working as a business consultant, I have seen first-hand how table tennis is a great tool for building rapport and trust with clients. It also offers unique insights into how people think and interact with their colleagues.
d) Improves Your Thinking Skill
Being a good entrepreneur isn't just about thinking creatively; instead, you must think quickly from different angles and perspectives. Table tennis is much better at teaching people what they know than traditional methods; specifically, it takes tacit knowledge and makes it explicit.
When playing a recreational game, the most important skill is placement, hitting the ball in the direction your opponent isn't. But as you get more competitive, spin becomes more important because it helps you put your placements where your opponent can't reach them. When you play ping pong/table tennis, you have to think about two things at once: placement and spin. In business, it is like getting customers and funding.
Suggestions for Table Tennis Lessons in Singapore
Want to be a more effective leader in your work? Or are you inspired to become the next Feng Tianwei and represent Singapore at the Olympics? Take a look at some of them to help you level up your game:
1. New Century Table Tennis Academy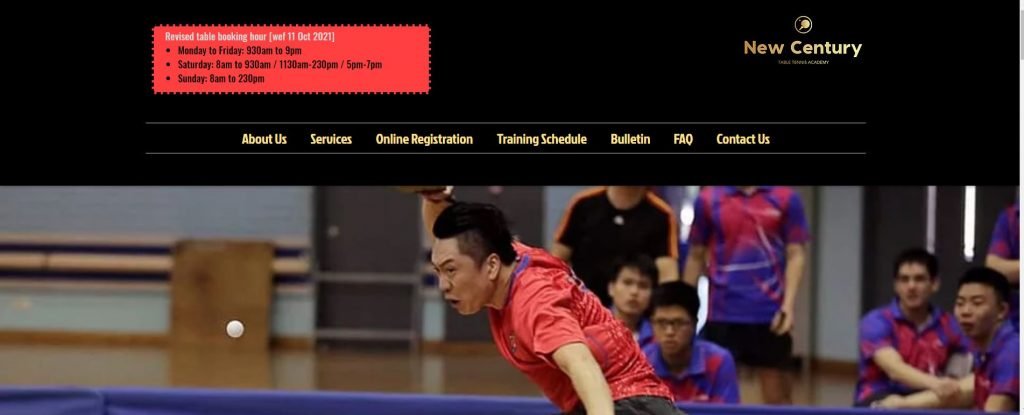 Situated in prime Katong location, the New Century Table Tennis Academy is for those who wish to have lessons at a time of their convenience.
Offering lessons from group training (children, youth & adults) to private individual training to their holiday training programme, the academy has just the perfect training programme for paddlers of various ages, skills, needs and goals.
2. Learn-To-Play (Singapore Table Tennis Association)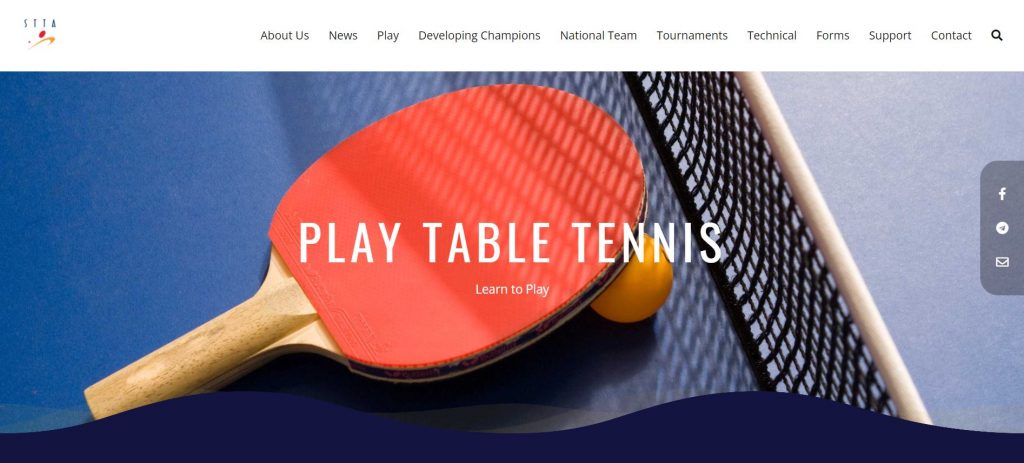 A National Sports Association affiliated to the Singapore National Olympic Council (SNOC) and Sport Singapore (SportSG), the Singapore Table Tennis Association (STTA) provides the athletes with the best possible facilities, amenities and environment for developing the sports and to reach their maximum sporting potential.
Besides collaborating with schools and community interest clubs, STTA also offers lessons to the general public such as the Learn-To-Play programme for beginners and the Continue-To-Play programme for those who wish to advance their table tennis game.
3. Alps Table Tennis Academy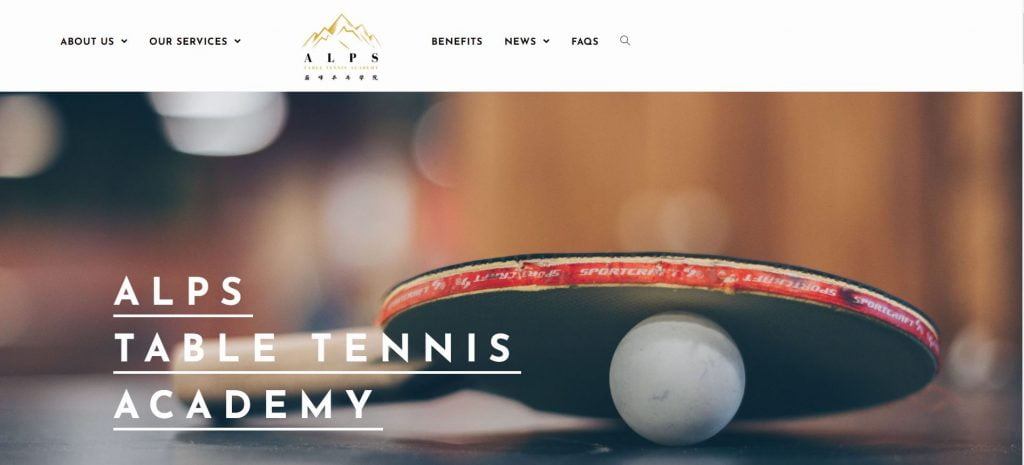 From private individual training to group classes and overseas training camps, Alps Table Tennis Academy provides table tennis classes that are curated based on students' paddling skills and goals.
The only Table Tennis Academy in the world besides China that incorporates AI robot training programmes, Alps Table Tennis Academy engages not only the best coaches with many years of experience but also the most advanced and top-notched equipment and facility to help you gain a competitive edge in training.
4. GLYX SPORTS Table Tennis Academy

Situated at Gambas Crescent, GLYX Sports Table Tennis Academy is just approximately 8 minutes away from Sembawang MRT, all at your convenience.
At the academy, students are taught in group classes by a professional coach who is also currently coaching the team at River Valley High School.
Besides group classes, the academy also has various membership schemes that offer members exclusive free table bookings and special discounts for XIOM equipment.
5. Men Kuan Table Tennis School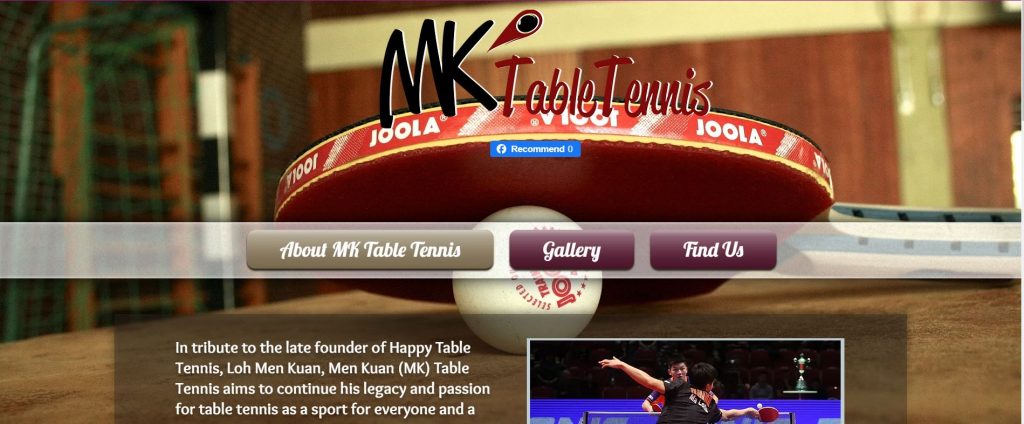 Recommended for its fun and chill atmosphere, Men Kuan Table Tennis School provides one-to-one coaching with an emphasis on serving & receiving to help beginners gain a more solid foundation in table tennis.
Currently managed by Steven Chew, the academy has expanded to a bigger facility to cater to more players and opens daily at the Kaki Bukit Recreation Center!
6. Coach Toby Cheong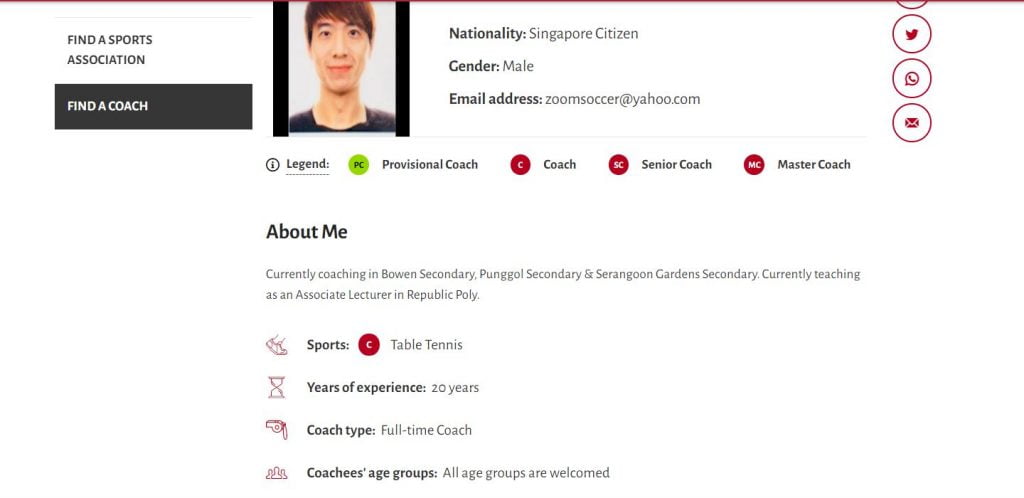 An accredited coach with 20 years of experience, Coach Toby Cheong has coached at and has helped many schools in Singapore won awards in the school zonal competitions.
Today, he is currently a full-time coach at Bowen Secondary, Punggol Secondary & Serangoon Gardens Secondary.
7. Continue-To-Play (Singapore Table Tennis Association)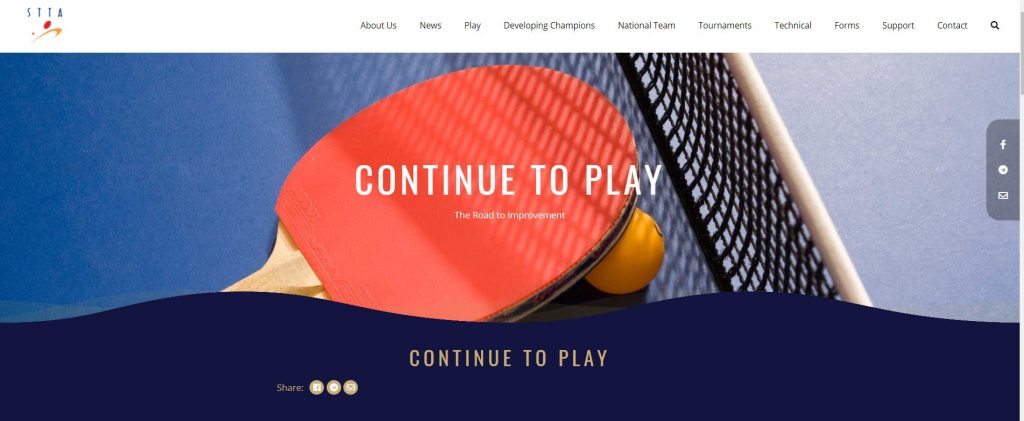 Another table tennis programme offered by the Singapore Table Tennis Association (STTA), the Continue-To-Play programme is a follow-up course for beginners who have completed the 'Learn-To-Play' programme and wish to further improve and strengthen their basic techniques of the game.
If you wish to advance your table tennis skills after harnessing the basic techniques, this may be the programme for you.
8. MyFitnessComrade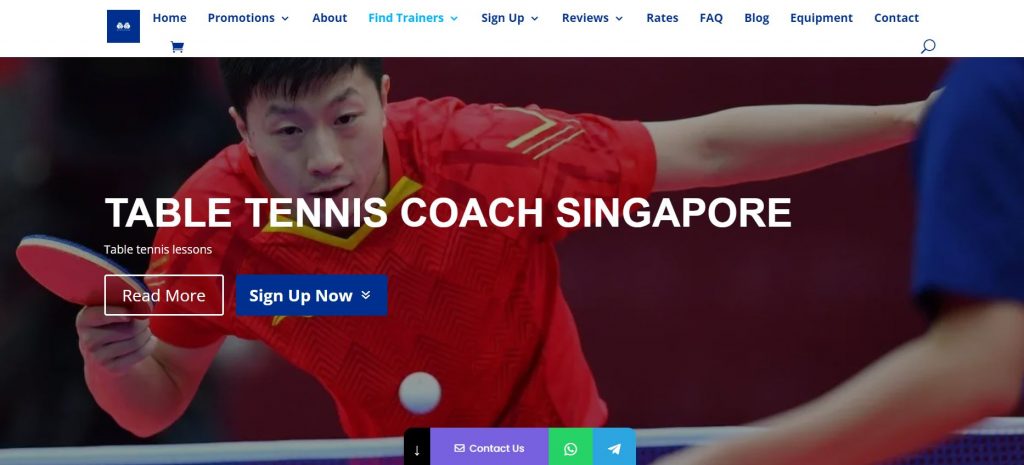 Looking for a private coach who not only has the professional qualifications but also the required mental abilities to help you grow as a tennis player?
At MyFitnessComrade, you will be offered top quality table tennis coaches at the most affordable prices.
Following this, you will be taught based on a curated 10-week lesson plan that will help beginners like you pick up table tennis in the shortest time possible.
9. Serangoon Gardens Country Club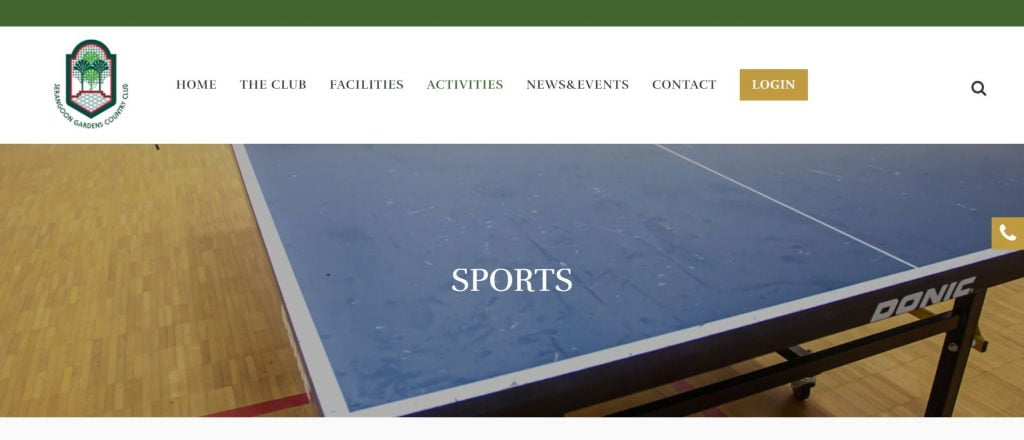 Serangoon Gardens Country Club offers table tennis lessons conducted by a National Coaching Accreditation Programme (NCAP Level 1) registered coach.
A qualified table tennis coach who has been coaching since 2006, Nicholas Chee uses creative ways of coaching to inspire interest and fun in the sport based on his coaching experience in other community centres and schools.
Conclusion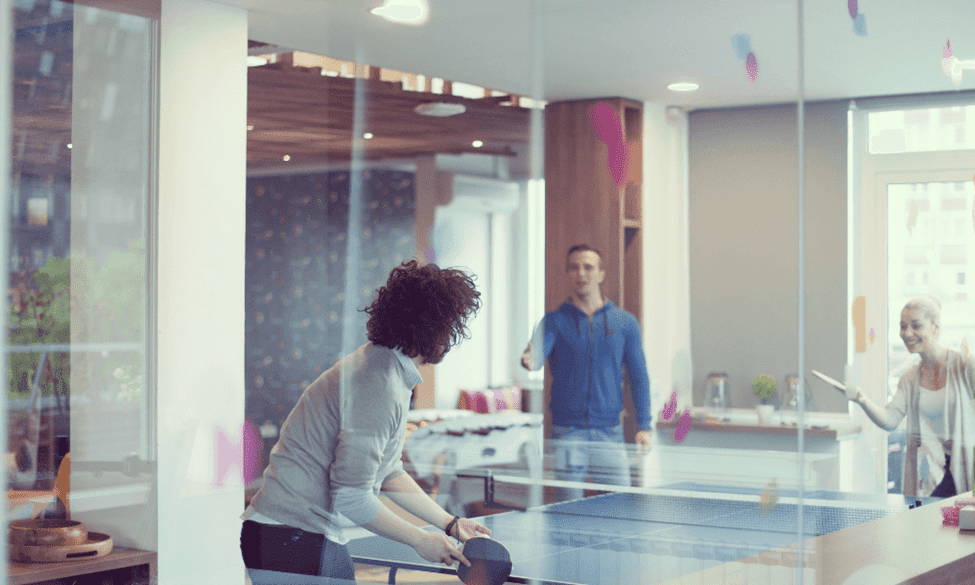 Table tennis resembles a business strategy. You can't just hit the ball anywhere; you have to know how to place it. In a doubles match, there's a whole extra dimension of teamwork. Win a crucial point, and your teammates leap up and cheer. Lose one, and they hang their heads in disappointment.
Before commencing on the next office tournament, you could get a table tennis robot for your team practice with! Check out some affordable recommendations.
Do you have any reviews and comments to share regarding our choices for the best table tennis lessons in Singapore?
While SBO is committed to supporting our local businesses, we welcome any feedback and anonymous sharing regarding your experience with our suggestions.
We hope that this guide will be useful in helping you to make an informed decision when it comes to finding the best table tennis lessons in Singapore.
Explore More Content