11 Best Swimming Coaches in Singapore to Learn Swimming [2023]
Learn swimming from one of best swimming coaches in Singapore.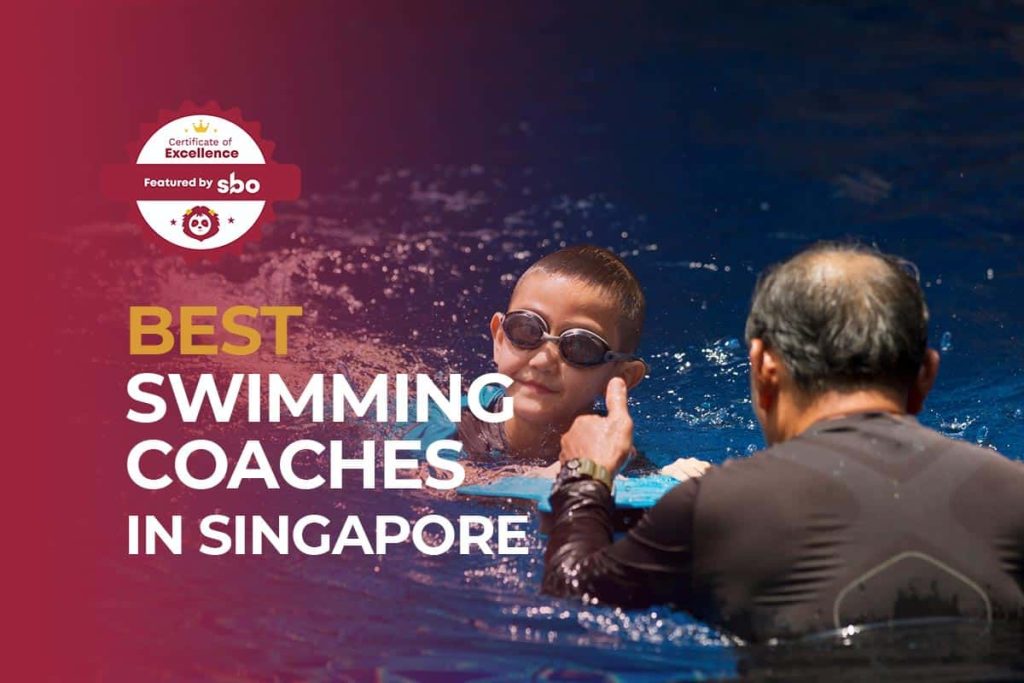 Do you want to learn how to swim but just don't know where to start?
Do you want to bring your swimming skills to the next level?
Similar to how a tuition teacher can help a student score well, employing the right swimming coach is essential in helping you achieve your swimming goals.
Regardless of whether you are a total amateur or if you are aiming for that Olympic Gold, the starting point remains the same – a swimming coach that can bring out the best in you.
With that said, here are some of the Best Swimming Coaches in Singapore to get you squared away!
1. SwimRay Private Swimming Lessons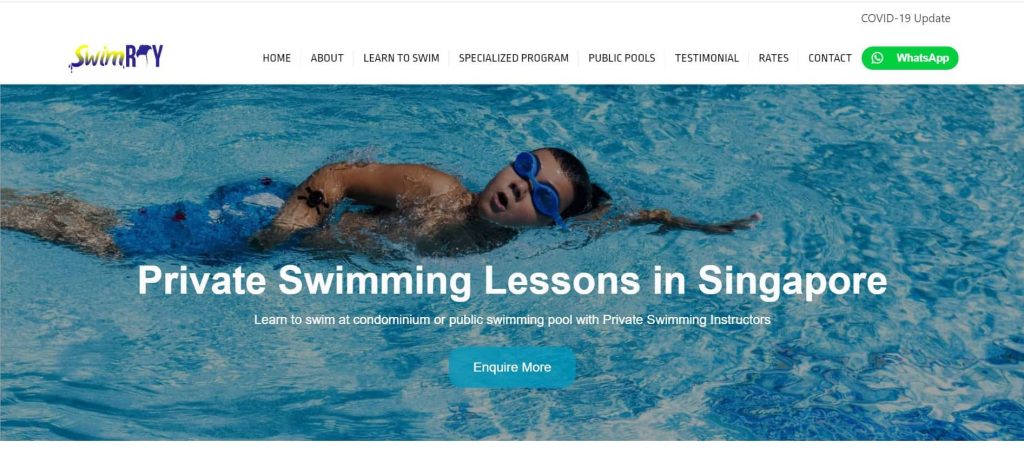 Swimray Private Swimming Lessons Singapore boasts an extensive range of swimming programs – each uniquely tailored to different goals and target audiences.
The Learn To Swim Program consists of 4 main components: Swim Assessment, Goals Setting, Swim Program, and Evaluation. This program is catered to Toddlers (2-4), Children (5-16), and Adults (Above 16). The overall aim is to empower beginner swimmers with confidence and a fun experience.
The Advanced Program consists of highly targeted lessons.
Distress Survival Swimming equips students with the skills to survive in harsh deepwater conditions so that they are able to swim to safety or back to shore.
Open Water Swimming teaches Open Water Safety and the techniques required to swim efficiently at sea.
Aquatic Fitness encompasses a great many activities: Games, Intensity, Equipment. These seek to incorporate fun into personalised amounts of workload.
2. Isplash Swim School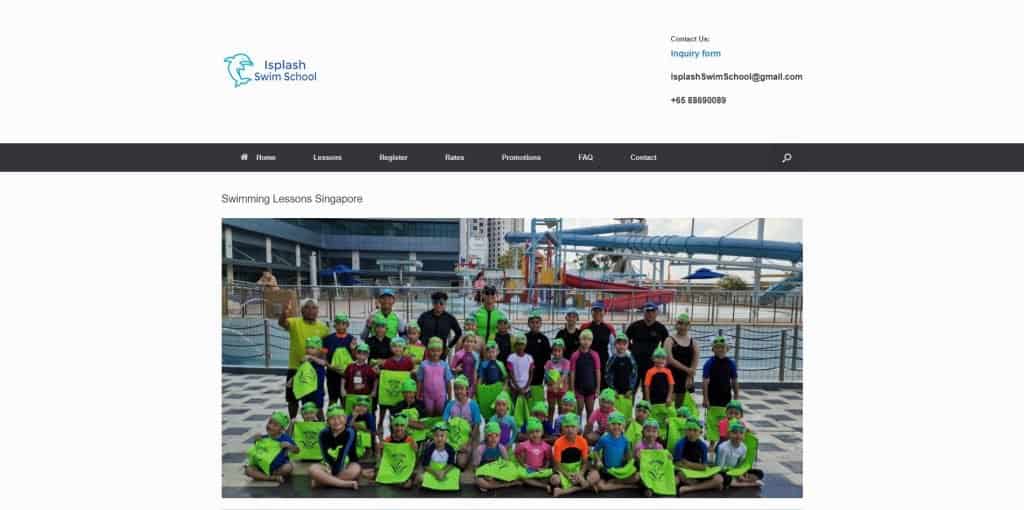 Founded by several swimming instructors, Isplash Swim School specialises in conducting swimming classes for toddlers, kids, adults and women-only. Driven by a vision and mission of excellence and dedication, the team strives to transcend their love for swimming by inspiring the young in our community to enjoy this life long skill.
Isplash also has a group of over 350 affiliated instructors and swimming schools. Their affiliated instructors possess qualifications from the National Registry of Coach (NROC), AUSTSWIM and/or Singapore Swimming Teachers' Association (SSTA).
To remain up to date with training sessions, the instructors continuously review and enhance their teaching methodology. The constant updating of their programme enables their students to learn effectively, safely and joyfully.
Their lessons are conducted weekly at Jurong West, Bukit Batok and Jurong Lake Gardens Swimming Complex.
3. Marsden Swimming School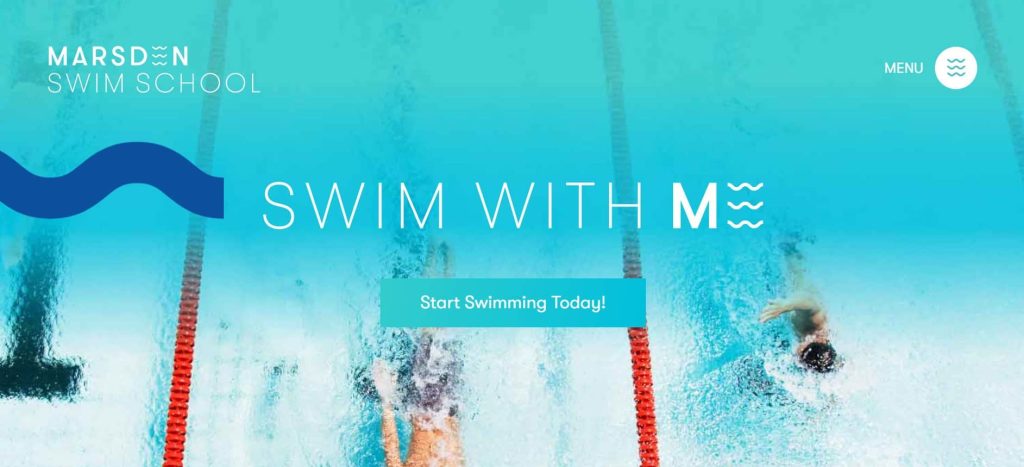 Armed with over 20 years of experience, Marsden Swimming School is not only suitable for infants and toddlers but also for whole families. As one of the top swimming coaching centres in Singapore, it remains as the only Gold Standard AUSTSWIM swimming school in Singapore.
Their dedicated team comprises AUSTSWIM-certified coaches and ASCTA squad coaches who are equipped with superior first-aid and life-saving skills. Marsden is also located within the North and West regions of Singapore.
Stages of Progression
Marsden offers a 10-stage swimming proficiency programme. A surprising fact about their programme is their adorable, ocean-themed names for the various stages.
Level 1 is known as Starfish. At this stage, beginner swimmers are encouraged to assisted in the monkey hold pose and are getting used to getting their faces wet.
Level 10 is known as Manta Rays. At this final stage of the programme, advanced swimmers are part of the Senior Club Squad and would be able to perform backstrokes, butterfly strokes and tumble turns.
Some of their training locations are located at:
Ang Mo Kio Swimming Complex, 1771 Ang Mo Kio Avenue 1, Singapore 569978 (Nearest MRT: Ang Mo Kio)
German European School Singapore, 2 Dairy Farm Rd, Singapore 677621 (Next to Skywoods Condominium) (Nearest MRT: Hillview)
4. Swish Swimming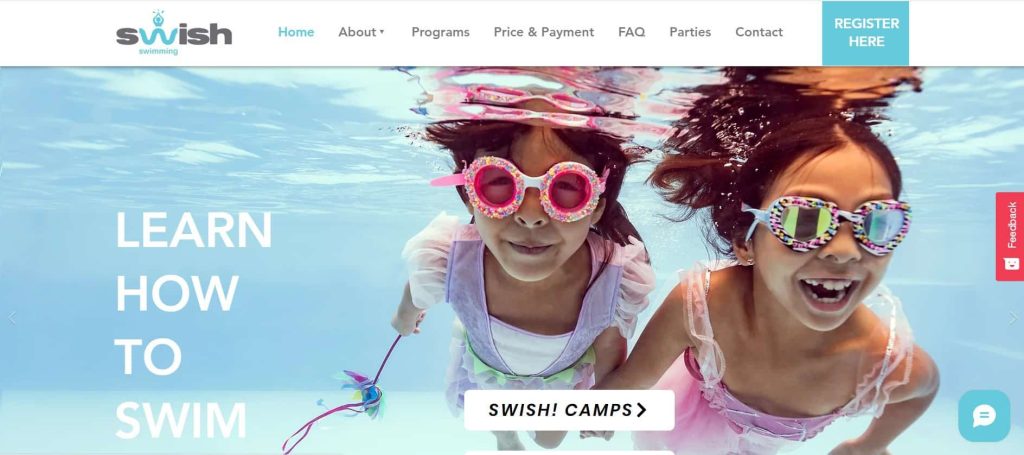 Swish Swimming is the brainchild of seasoned swimmer, Kristen Romain, who has been working as a Swim Instructor since 2010 in both Singapore and Dubai.
In her impressive portfolio, she possesses AUSTSWIM Teacher of Swimming and Water Safety and Teacher of Infant Aquatics qualifications. Her team consists of several talented and experienced Singaporean swimming coaches.
To add more clout to Swish's oeuvre of work, many satisfied clients have left glowing testimonials which can be found here.
Swish also provides an adjusted programme that enables students to progress with each level of swimming. The classes include:
The FINI classes (Parents to sit in) for children aged 4 months to 24 months
Zuma Beginner Guide for children aged 3.5 to 4.5 years old who have minimal to no swimming experience
Zuma Stroker and Zuma Technical Guide for children aged 7 years and above. This stage focuses mostly on developing and perfecting coordination of strokes and breathing.
5. SGSWIMKIDS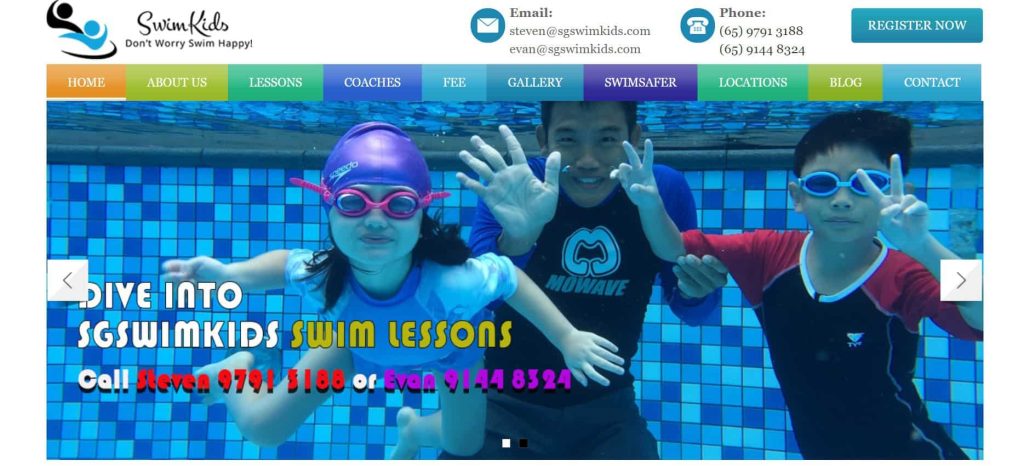 Started out by two close friends who were childhood swimming buddies, Steven and Evan always wanted to start a swimming business together for children.
SG Swim Kids focuses on training kids to be great swimmers while working with their 20-odd team of coaches who are qualified and seasoned. The duo firmly believes in remaining passionate in bringing the best out of every student and helping them to realise their potential.
SG Swim Kids also offers the SwimSafer national water safety programme introduced by the Singapore Sports Council (SSC) to encourage water safety and drowning prevention.
The programme consists of 6 stages of progressive swimming training and students who complete the course will achieve a certificate and badge.
6. Little Swim School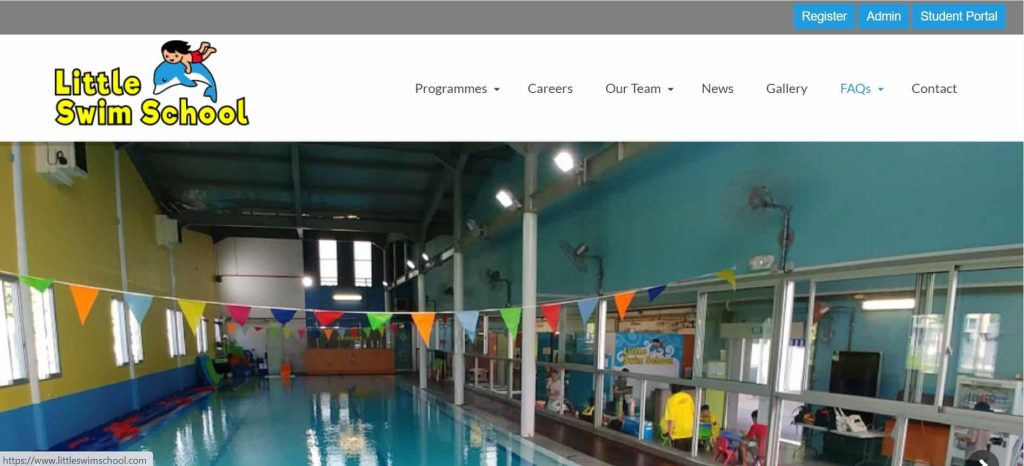 Located in various parts of Singapore, Little Swim School offers fun-filled and engaging swimming lessons for a wide range of swimmers from all walks of life and swimming capabilities.
The youngest students may be as young as 6-month-old infants to adults and even senior citizens. Some training locations include Westway (Indoors) and HomeTeamNS Sembawang.
To add an elusive kick to their programme, Little Swim School trains their students in an indoor, temperature controlled saltwater chlorinated swimming pool that is 25 metres long.
Lesson types offered by Little Swim School:
Baby Swimming Lessons
Toddler Swimming Lessons
Kids Swimming Lessons
Adult Swimming Lessons
Swim Stroke Correction
7. Able Aquatic School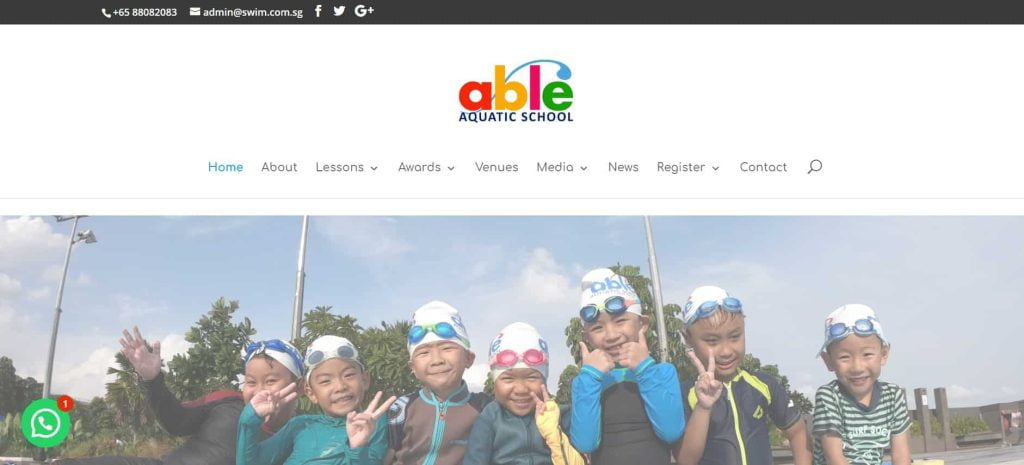 Possibly one of Singapore's oldest swimming coaching centres, Able Aquatic School (established in 1981) is the brainchild of Darryl Chua, a registered Singapore Sports Council swimming coach.
Able Aquatic School was endorsed by the Sports Education Program of Singapore Sports Council from 2006 to 2016. Thereafter, it was promoted to becoming an affiliate with the Singapore Lifesaving Society. With a team of over 400 certified coaches, swimming lessons are readily available at various locations all over Singapore.
They have structured their training programme into 6 levels (Stages 1, 2, 3, Bronze, Silver, Gold) which favours learning progression regardless of the swimmer's age or skill level.
Their training facilities may be located in various parts of Singapore.
8. Aquatics Swim School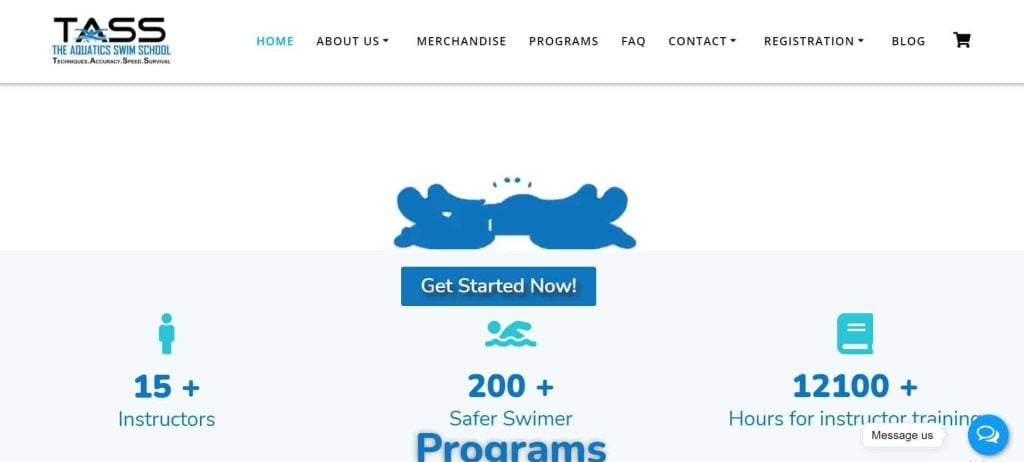 The Aquatics Swim School (TASS) upholds the values of Technique, Accuracy, Speed and Survival (TASS) through the carefully organised sessions conducted by their committed coaches.
As one of the more highly experienced swim coaching centres in Singapore, TASS continues to educate students holistically through their step-by-step progressive learning syllabus which is designed to develop their skills and confidence in the water.
Coaches are encouraged to attend regular TASS' coaches training programmes even after getting their qualifications to ensure that they uphold excellent teaching standards.
Training facilities are located at various points around Singapore.
9. Pacific Swim Team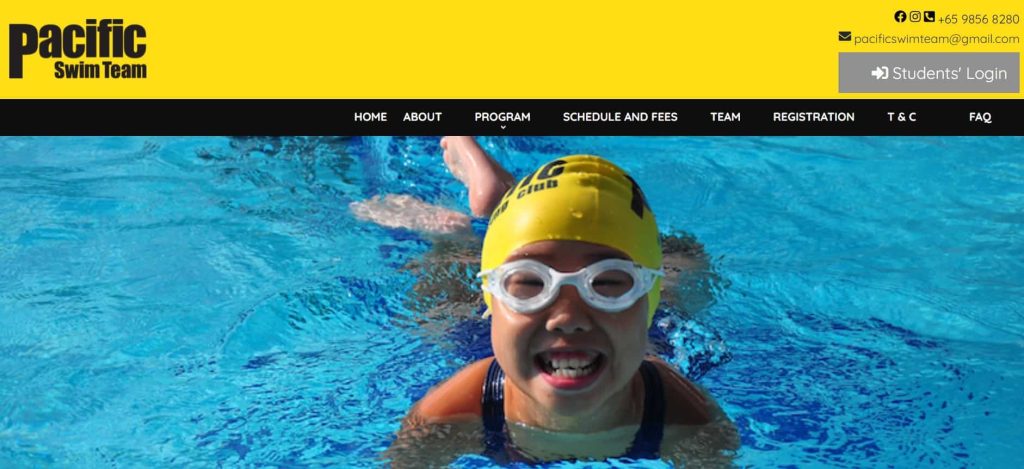 With over 20 years of structured programmes which have been guaranteed to help swimmers achieve their maximum potential, Pacific Swim Team has cemented themselves as one of Singapore's pioneer swimming coaching centres. They have attained many achievements for two types of swimming: Competitive and Lifesaving.
Some highlights that prove the effectiveness of their swimming programmes include:
Singapore National Age Group Championships 2019

Fastest 12-year-old male in 100m and 200m butterfly events
Second fastest 12-year-old female in 100m and 200m butterfly events
27 other events: Top 10 (for both senior and junior age groups)

One of their swimmers qualified for the FINA World Cup 2019
Pacific Swim Team also offers certifications in several official swimming programmes organised by Sport Singapore and the Singapore Swimming Association. These include the SwimSafer and SwimSafer Open Water programmes (Sport Singapore) as well as the Singapore Swimming Proficiency Awards (Singapore Swimming Association).
Their training facilities may be found at Senja Cashew CC, Clementi, Bukit Batok and other public swimming complexes.
10. X Lab Pro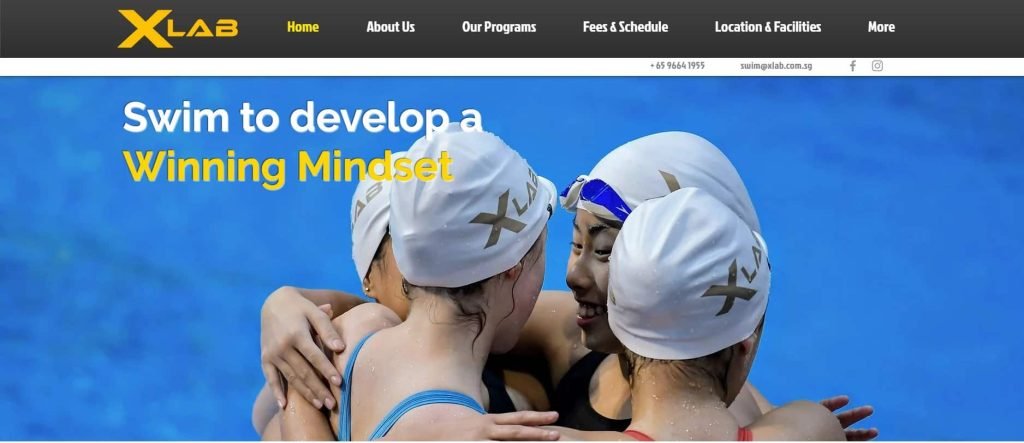 Similar to SG Swim Kids, X Lab Pro was started out by 3 childhood friends who strongly believed that sports can change a person's life significantly. Together, developed a holistic programme which encompassres the components of physical growth, growth mindset, mastery, social awareness and interaction and intelligence.
Apart from their regular coaching sessions, X Lab has referral bonuses for swimmers during different periods of the year, where major financial benefits are included. X Lab has also organised classes for swimmers of all capabilities and ages.
Training facilities may be located at GEMS World Academy (Singapore).
11. Swim2u Swim School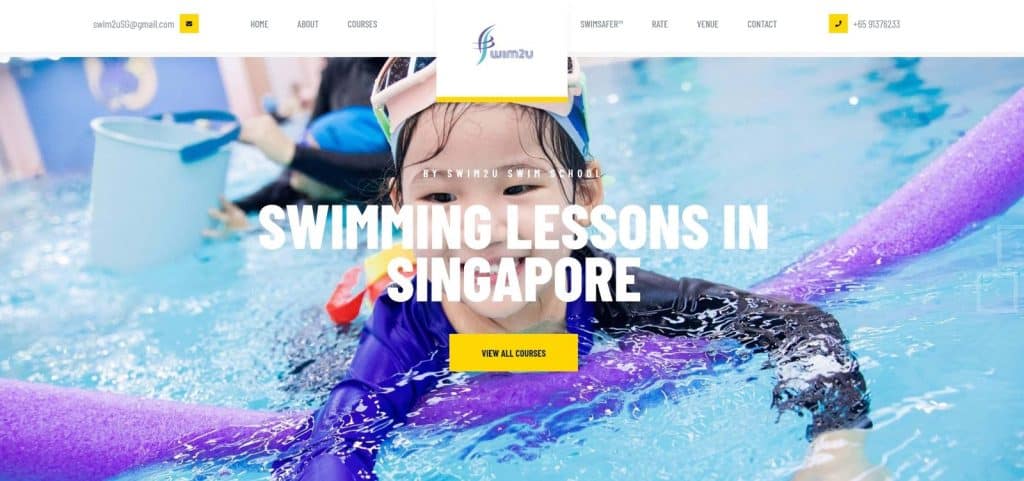 Swim2u is one of the leading swimming lesson provider in Singapore, Swim2u Swim School is proud on being awarded the Singapore SME 500 and Entrepreneur 100 Award 2022 by ATC (Association of Trade & Commerce) based on Company's business resilience, performance and cleared assessments.
The swimming lessons are conducted by group of certified professional instructors. The program is catered to Baby (below age 2), Toddlers (2-4), Children (5-16), and Adults (Above 16), Ladies and Kids with Special Needs. All Swim2u coaches are fully trained in CPR and Life-Saving skills. The coaches teaching swimming lessons over all locations in Singapore, the coaches are also on hand to conduct goal-oriented private swimming lessons for all ages, varying locations, and at your preferred timings.
Conclusion
Whether you're a beginner swimmer or a competitive swimmer who knows all the strokes at the back of their hand, there are programmes available for everyone!
Do you have any reviews and comments to share regarding our choices for the best swimming coaches in Singapore?
While SBO is committed to supporting our local businesses, we welcome any feedback and anonymous sharing regarding your experience with the listed swimming coach(es) in Singapore.
We hope that this guide will be useful in helping you to make an informed decision when it comes to finding the best swimming coach in Singapore.
Explore More Content