10 Best Kayak Rental in Singapore to Rent a Kayak From [2023]
Row, row, row your boat. Gently down the stream.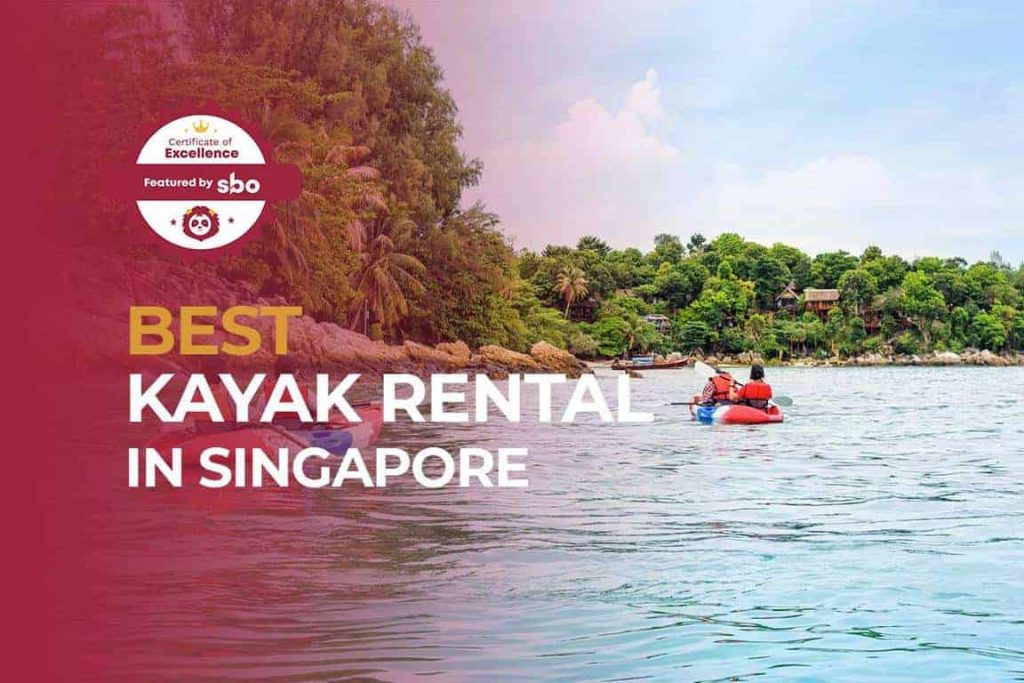 A kayak is a small, narrow watercraft that is typically propelled by means of a double-bladed paddle. 
Kayaking is a popular leisure sport in Singapore as you can wind your way through the pristine waters and bask in Singapore's natural habitat. 
It is important to note that some kayak rental places in Singapore require kayaking certification before you can rent their closed-deck kayaks, as these restrict the movement of the arms and are harder to operate compared to open-deck kayaks.
These certifications come in the form of the Personal Skills Star Award Course, with Stars (e.g. 1 Star Award, 2 Star Award) being awarded for various levels of certified kayaking proficiency.
You can sign up for these certification courses with the Singapore Canoe Federation, the Singapore Sports Hub, or the People's Association.
Looking for a kayak rental in Singapore? In this post, we've gathered all the relevant details to compile a list of the 10 best kayak rental in Singapore.
1. Singapore Canoe Federation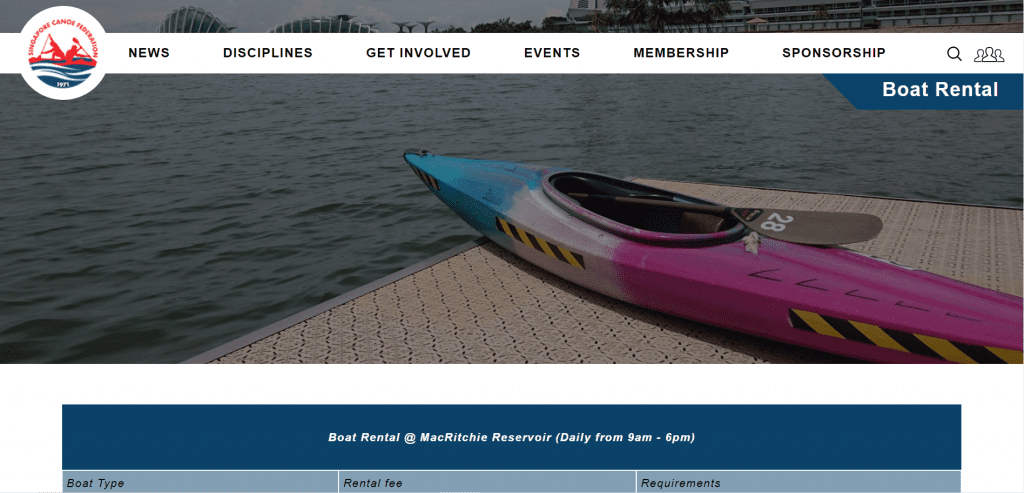 The Singapore Canoe Federation was founded in 1971 and is the National Sports Association responsible for the management, coordination, development and promotion of canoeing in Singapore.
It represents the interest of its athletes and members to Sport Singapore (then the Singapore Sports Council), the Singapore National Olympic Council, the public and other International Canoeing bodies.
Rental of their single sit-on-top kayak is priced at S$15/hr, whereas rental of their closed deck kayak is priced at S$12/hr.
They also offer additional items for loan such as the Spray Skirt at S$5/session as well as the Seat Cushion at S$5/session.
Reviews laud the kayak rental in Singapore for their top-notch equipment, sensible approach to water safety and patient coaches, making it an ideal place to kayak at.
2. Adventure Paddlers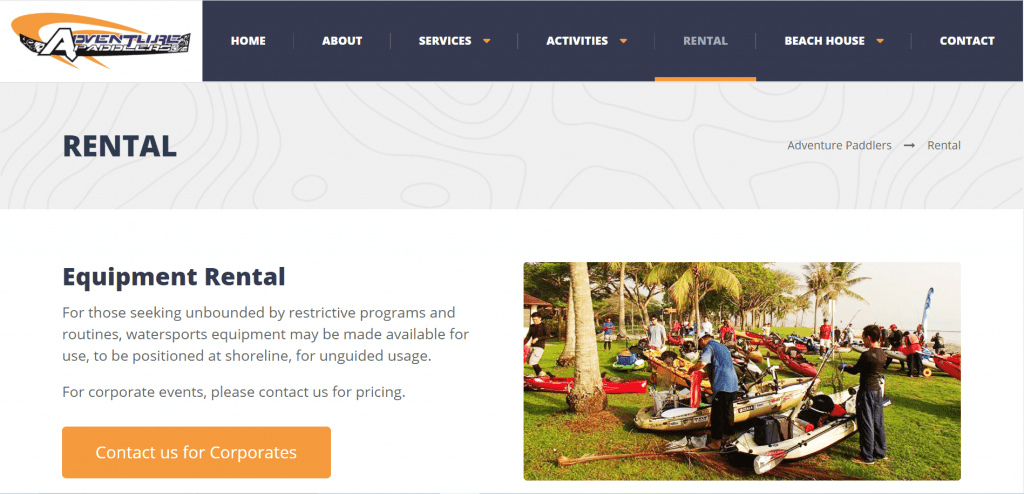 Since 1996, Adventure Paddlers has been the evergreen operator of the water sports lifestyle centre catering to the north-eastern shores of Singapore.
The kayak rental in Singapore is based in Pasir Ris and has been in the industry for 22 years.
Rental of their general sit-on-top kayak (hand-paddled with a max capacity of 1 adult) is priced at S$12/hr or S$60/day, whereas rental of their specialised sea kayak (hand-paddled with a max capacity of 1 adult) is priced at S$14/hr or S$70/day.
Reviews laud the kayak rental in Singapore for their friendly and humourous instructors. They provided amazing service at unparalleled rates in the industry.
3. Camelot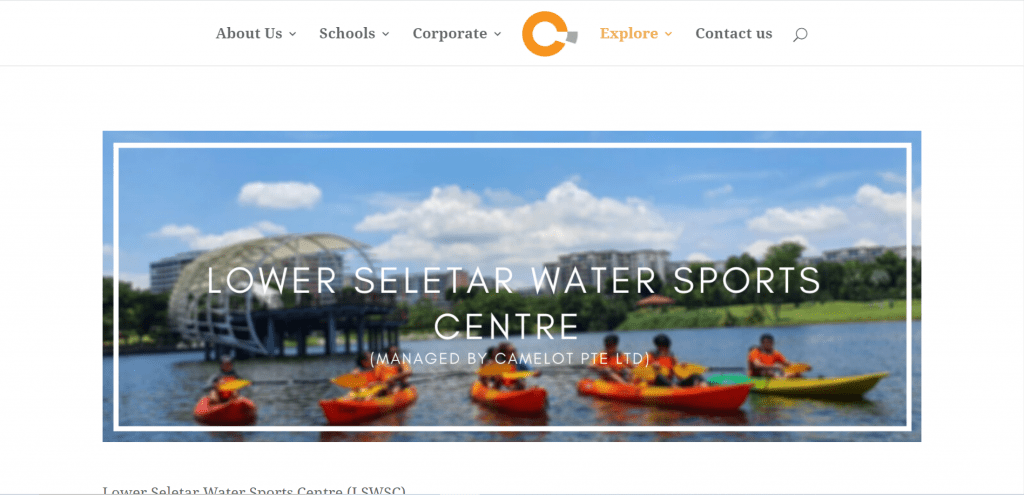 CAMELOT stands for the Centre for Affective Management, Experiential Learning and Outdoor Training.
Taken literally, CAMELOT represents the legendary kingdom of King Arthur and his Knights of the Round Table – a symbol of the strength of leadership, professional integrity and moral calibre.
Their belief in encouraging participants to learn beyond the outside of the classroom has influenced the company to adopt the Experiential Learning Methodology in outdoor education.  
Our advice is to go for their "An ABC Kayaking Experience", priced at S$25 per pax. This 2-hour long kayaking experience brings you through the winding waters of Seletar Reservoir, and you will get to learn about the flora and fauna there.
Reviews praise the kayak rental in Singapore for their friendly and professional staff, coupled with their well-maintained equipment and reasonable prices.
4. Singapore Sports Hub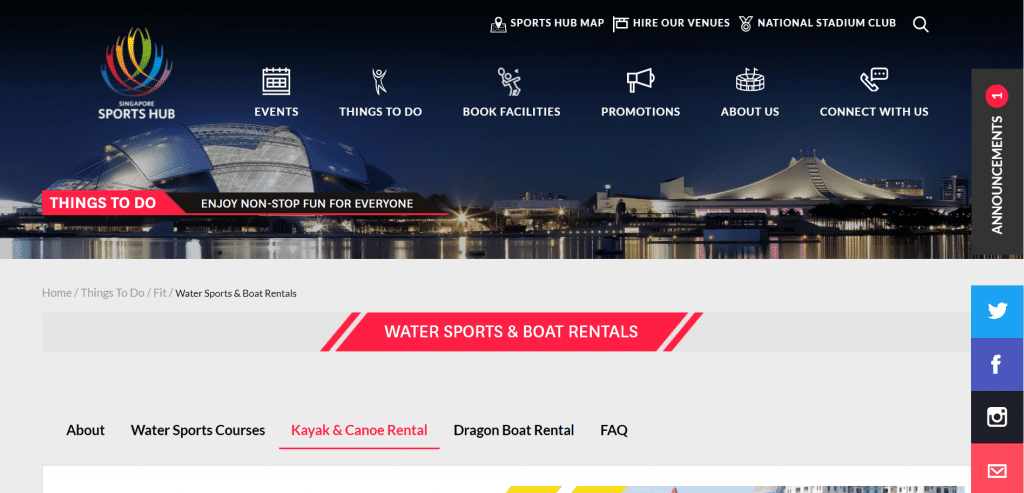 Want to enjoy the sparkling Kallang Basin while kayaking?
Well, you're in luck. Kayaks are available during Singapore Sports Hub's public operating hours for rental, simply walk in and make your booking at their Water Sports Centre.
For a 2-hour kayaking session during non-peak hours, the local resident rate for an adult is S$12.00/pax, while a 2-hour kayaking session during peak hours sees the local resident rate going up to S$14.00/pax.
Resident rates are applicable for all Singapore Citizens & Permanent Residents (flashing a valid photo ID is required).
Reviews laud the kayak rental in Singapore for having shower and locker facilities to cater to watersports participants after they have completed their workout.
5. Ola Beach Club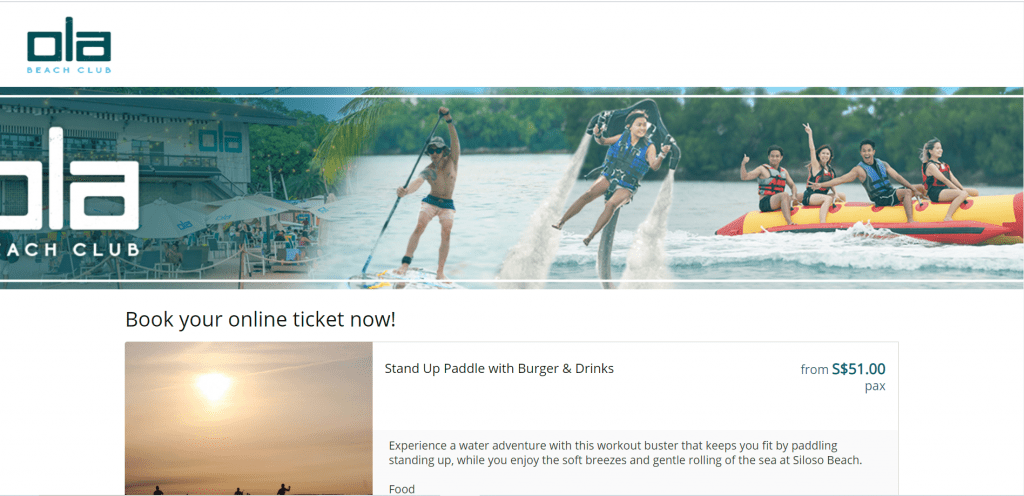 Ola was created for everyone with a passion for life. This is why Ola Beach Club is named "Ola", a Hawaiian word for life, health and well-being, as their way of giving everyone a place to experience what it means to explore the outdoors by the sea.
Our recommendation is to go for their "Kayaking with Burgers & Drinks" package, which begins from S$42.00 per pax.
You will be able to have a whale of a time while rowing your way along the gentle waters of Siloso Beach in their single kayaks with your loved ones while enjoying the tropical beauty of Southern Singapore.
Reviews laud the kayak rental in Singapore for their humble and respectful staff. The food was great and the kayaking experience was amazing, highlight reviewers.
6. Kayak Fishing Fever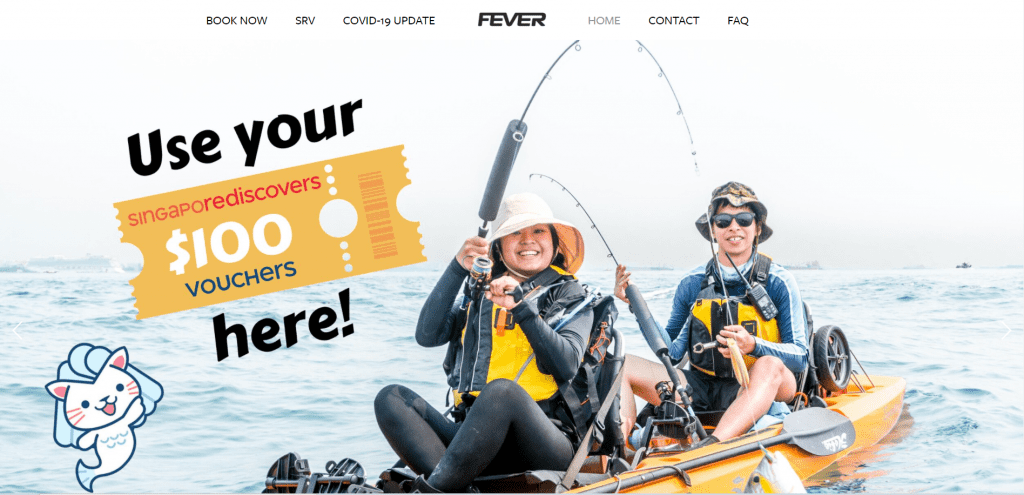 Looking for a kayak rental in Singapore that allows you to fish while kayaking?
Kayak Fishing Fever has got you covered. Their kayak is the leg-powered Hobie kayak, so you'll need to paddle your way through the waters.
It's always a small group for the kayak rental in Singapore, so you'll get the full attention of the guide.
If you're a complete beginner, our recommendation is to go for their Playground adventure.
At only 2-4 km, it's an easy route to complete. You'll fish over natural sea structures for bottom fishes like parrots, groupers and snappers.
Their weekday group promotion package is priced at S$129 per person for a group of 4 or more.
Reviews laud the kayak rental in Singapore for their guides who were constantly sharing interesting tidbits about the various fish and for helping to un-snag lines.
7. PAssion WaVe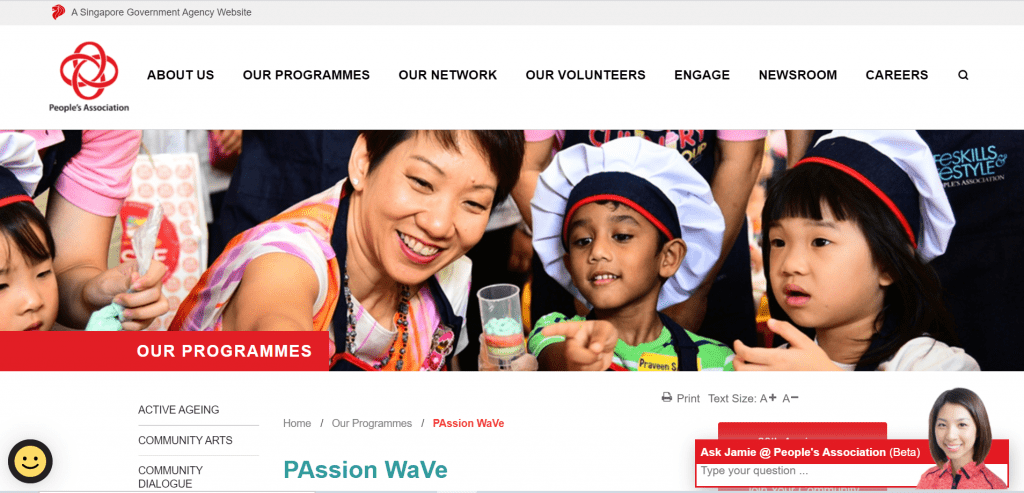 People's Association PAssion WaVe (PAWV), formerly known as Water-Venture was first coined in 2015 as PA's specialist community club offering a broad range of waterfront lifestyle programmes to the community.
PAWV is an integral part of PA that bonds people and bridges the communities through water sports and waterfront lifestyle pursuits.
Together with its partners and trainers, PAWV provides safe, affordable and exciting courses, programmes and activities to the community.
You will be able to rent a variety of kayaks from their six Passion WaVe outlets (Bedok Reservoir, East Coast, Jurong Lake Gardens, Marina Bay, Sembawang, Pasir Ris) via this online booking form.
Their kayaks include single and double kayaks.
Their rental hours are from 9 am to 6 pm on Wednesday to Sunday. All outlets are closed on Mondays and on Public Holidays.
With effect from 19 June 2020, all sports equipment offered at the six PAssion WaVe outlets has to be pre-booked online.
8. Adventures by Asian Detours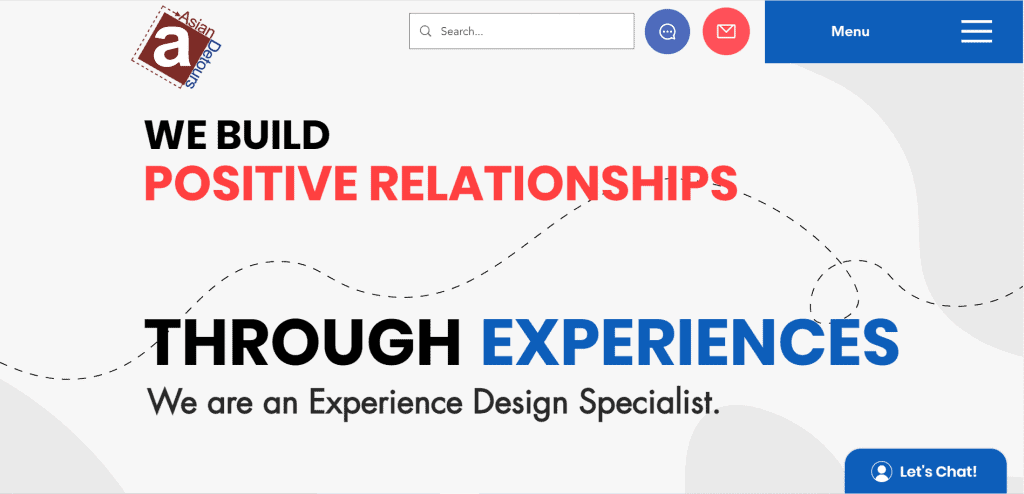 Asian Detours is an experiential-design company. They create experiences that augment education, people engagement and team development.
They work with educators, organisations and government agencies to design expeditions that are memorable and meaningful. These expeditions include kayaking at Pulau Ubin.
The kayak rental in Singapore has a Virtual Experiential Learning pedagogy in place.
Simulation-based training techniques, tools, and strategies are incorporated into the design of their Virtual Experiential learning Programs and are used as a measurement tool to improve teamwork competencies and learning objectives. 
Reviews laud the kayak rental in Singapore for their stable sea kayaks despite choppy waters. Their guides were both safety conscious and knowledgeable.
9. Kayakasia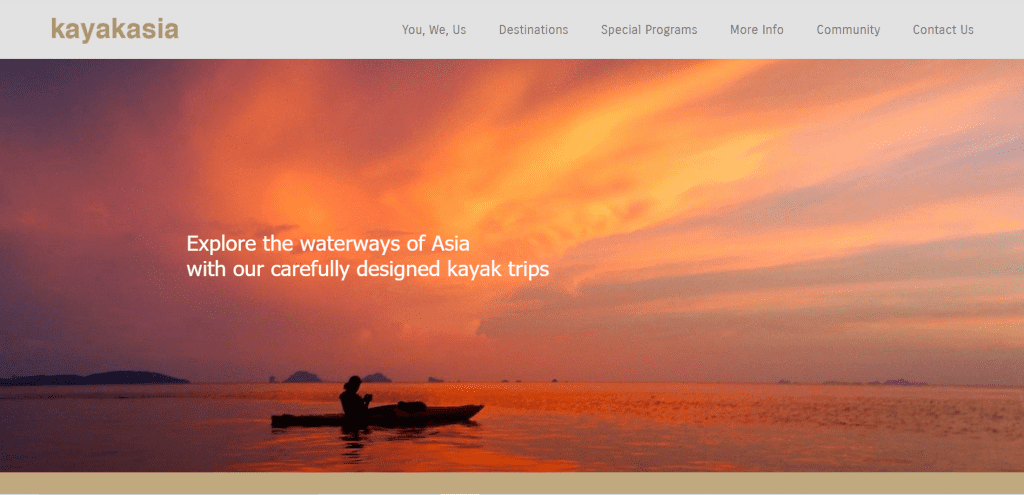 Kayakasia is an eco-adventure travel company managed by professional kayak guides, with centres in Singapore, the Philippines, Thailand, and Indonesia. They started kayak touring since the year 2000 and know the region like the back of their hand.
Looking to kayak in a mangrove-dense area?
Our recommendation is to go for Kayakasia's Mandai Rivers tour, where you will be able to paddle in awe as birds of diverse species and colours roost above in the mangrove forest of Sungei Mandai. 
Reviews laud the kayak rental in Singapore for their friendly tour guides who will take the time to bring you around. Their guides would share their experiences.
10. GetMyBoat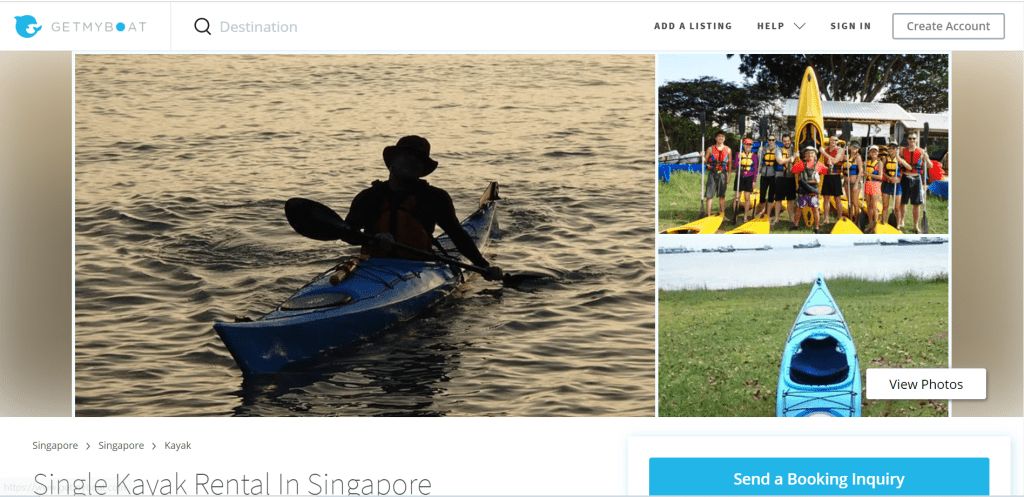 GetMyBoat is the world's largest boat rental and water experience marketplace. They bring millions of customers to great boat owners and facilitate their booking.
There is a listing for single kayak rental in Singapore on GetMyBoat.
The owner, Gilbert, offers single kayak rental for a minimum of 2 hours for only $20.00. You have to fork out an additional $10.00 for every subsequent hour of kayak use.
There is also a cancellation policy that gives you a full refund up to 5 days prior.
Conclusion
Do you have any reviews and comments to share regarding our choices for the best kayak rental in Singapore?
While SBO is committed to supporting our local businesses, we welcome any feedback and anonymous sharing regarding your experience with the best kayak rental in Singapore.
We hope that this guide will be useful in helping you to make an informed decision when it comes to finding the best kayak rental in Singapore.
Explore More Content