10 Best Kickboxing in Singapore for Fitness Workout [2023]
Sign up for kickboxing classes in Singapore for a fitter you!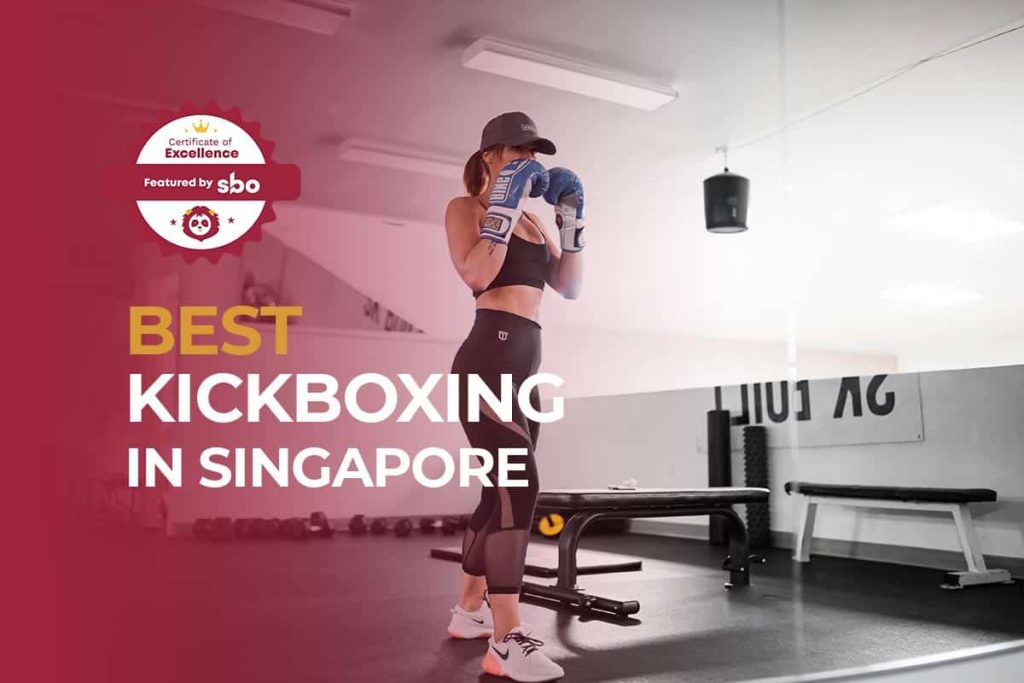 Do you feel that you have gained weight while working from home? Or are you not used to staying at your desk all day while back in the office?
If so, we recommend you sign up for kickboxing in Singapore.
In this article, we have organised a list of the 10 best kickboxing lessons in Singapore for fitness workout.
Reminder: before commencing any high intensity activities, you should assess your current physical condition and limits, ensured you have sufficiently adequate rest and hydration, as well as put on suitably appropriate footwear (some affordable recommendations here).
1. Evolve MMA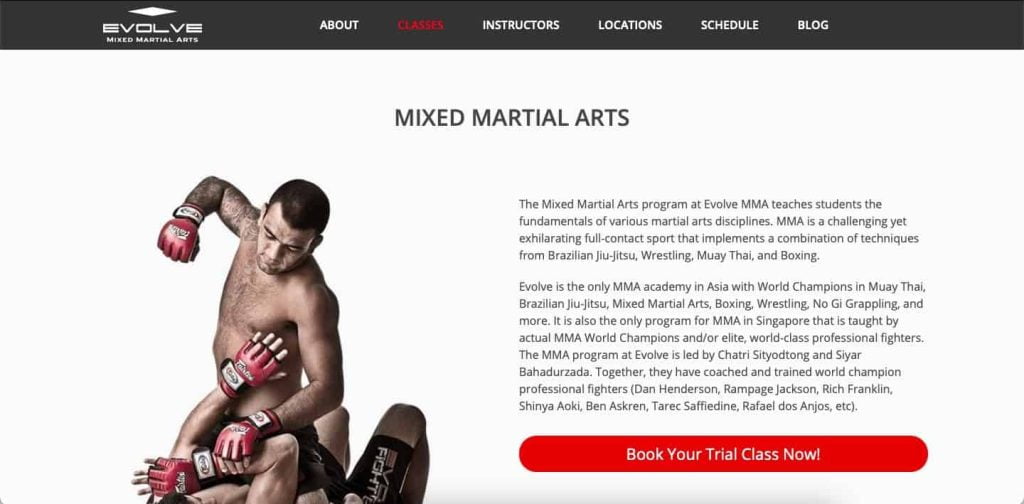 Evolve MMA teaches a variety of classes which includes kickboxing. Its kickboxing instructors are all authentic Muay Thai World Champions. Evolve MMA also has the largest Muay Thai Program globally for any gym, camp, or school, including camps in Thailand.
On top of that, Evolve MMA has separated its kickboxing lessons into tiers for Beginners, Intermediate and Advanced students, which allows you to learn according to your needs.
Also, if you managed to enter as a member of the Evolve Muay Thai Competition Team, you will be trained to compete in local amateur Muay Thai competitions as well as to travel to the birthplace of Muay Thai, Thailand, to compete at the highest professional levels.
Before you sign up for a full course, Evolve MMA offers a test drive experience with a 30-minute Complimentary Trial Class with a World Champion.
These classes are available for all ages, skill levels, and genders. All you need to do is to leave your contact information on Evolve MMA's contact page and they will get back to you.
2. Fitness First Kickbox Fusion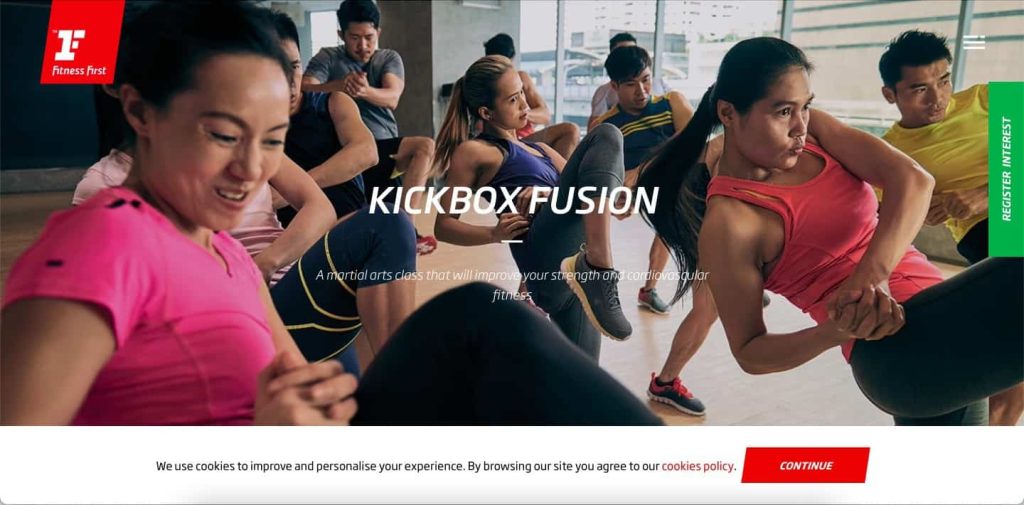 Kickbox Fusion promises to bring you a medium to high workout which will last for 60 minutes. As such, the workout is also more suitable for those who are already used to working out.
Kickbox Fusion by Fitness First is more flexible as you can pick a club with a class timing that is suitable for you, on their website.
MyFit customized membership plan costs from S$125 per month, whereas an Unlimited Access membership costs from S$192 per month. For MyFit membership, you can choose between a 4 or 12 months package.
On the other hand, Unlimited Access membership allows you to choose from a 1, 4, or 12 months package. The good thing about the packages is that you do not have to stick to one type of lesson only. With the membership, you can try out a variety of classes and maximize your membership to the fullest.
Fitness First usually opens from 6 am to 11 pm on weekdays, 7 am to 9 pm on weekends, and 9 am to 8 pm on Public holidays. However, it is best to check with your club for the exact class time for Kickbox Fusion.
3. Active Red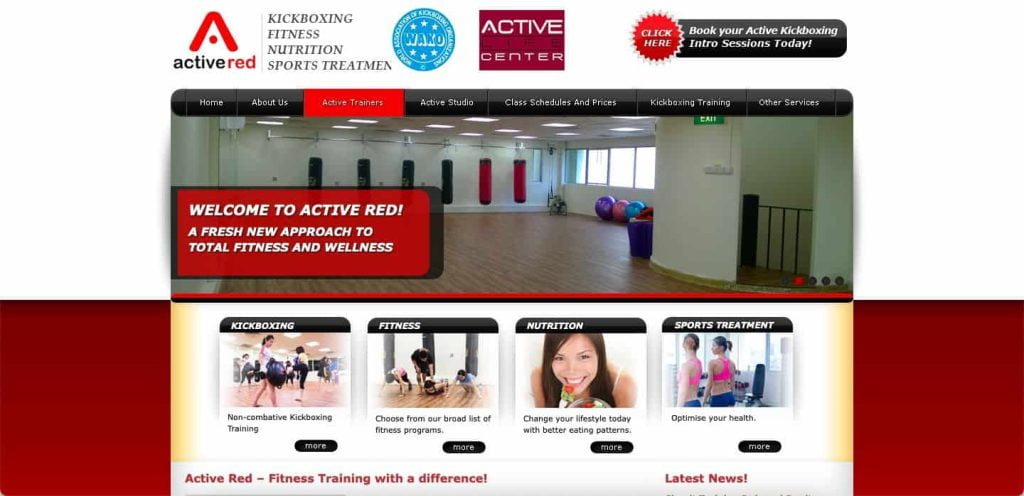 At Active Red, classes are done primarily for general fitness, and no experience is needed. Classes are done in pairs and if you do not have a partner, instructors will make the necessary arrangements for you to be partnered with someone.
As such, it is a great way to meet new people while working on your fitness goals! Active Red also conducts courses for the People's Association, which shows their vast experience in conducting group lessons.
For group classes, it is conducted in small private groups of 10 to 14 people to ensure personalized attention from the trainer and to facilitate the mastering of proper Kickboxing techniques.
Classes are structured according to 4 progressive levels — Introductory, Beginner, Intermediate and Advanced. Active Red offers 2 to 3 sessions per week for each level, giving you the flexibility to book sessions to fit your schedule.
Private group sessions are also available and this can be arranged for groups of 3 to 10 friends. Active Red also conducts private sessions and corporate group classes, and you can contact them for more information.
The duration for all classes is 1 hour but do note that shower facilities are not available so you may want to bring extra towels for wipe downs after class.
A 1-hour introductory workshop costs S$40 per session per person. A 6-months group class membership costs S$720 for 24 sessions. Personal training packages at Active Life Center costs S$150 for a single session and those conducted at home will cost S$180 for a single session.
4. WAKO Kickboxing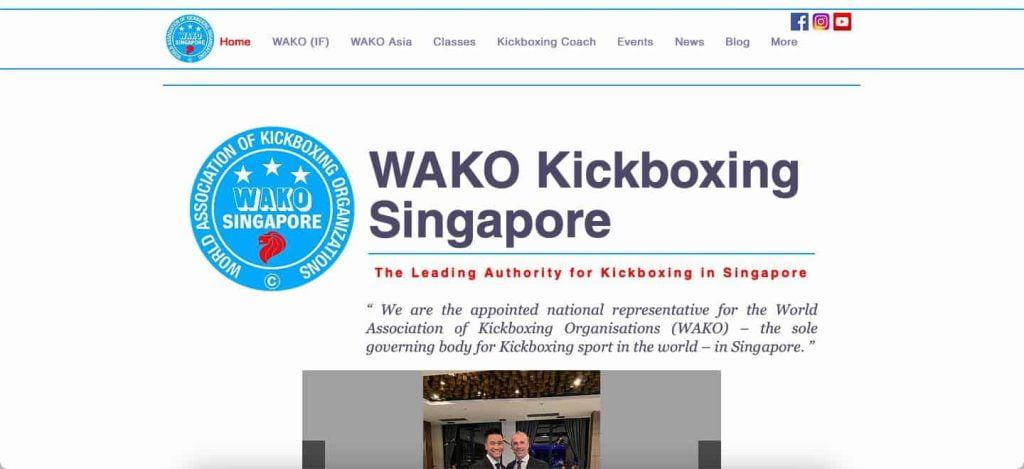 WAKO Kickboxing is the appointed Singapore representative for the World Association of Kickboxing Organisations (WAKO), which is the sole governing body for Kickboxing sport in the world.
As such, you can be assured that the lessons they provide are truly authentic to kickboxing.
For group classes, an active kickboxing trial lesson costs S$40 for one hour, and an actual lesson costs S$840 for 24 sessions of one-hour lessons.
For personal training, a trial lesson costs S$200 for one hour, and an actual lesson costs S$1200 for 10 sessions of one-hour lessons.
For home-based personal training, a trial lesson costs S$250 for one hour, and an actual lesson costs S$1800 for 10 sessions of one-hour lessons.
With WAKO kickboxing, you can even train to get Kickboxing Instructor Certification. The course costs S$696, inclusive of GST, and would require a total of 40 hours of training on weekends.
5. Zesty Kickz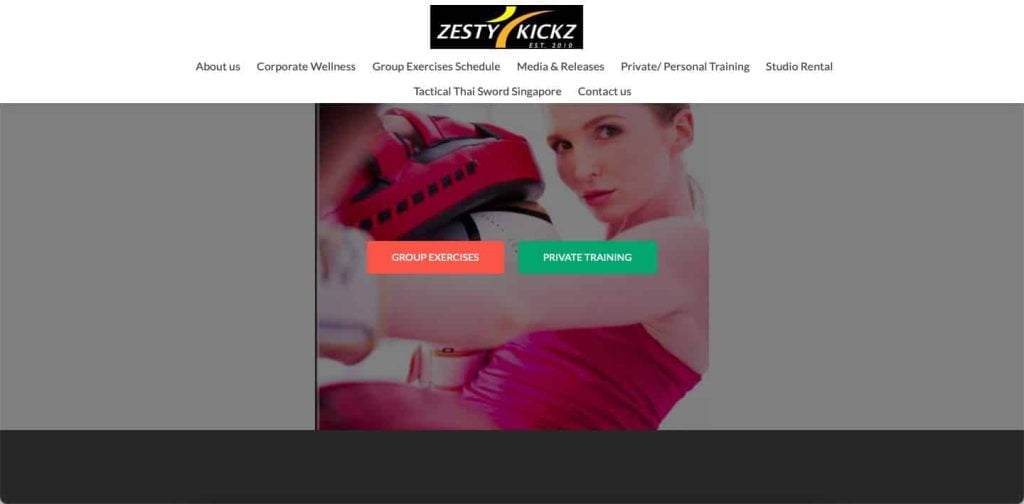 Zesty Kickz offers kickboxing for various groups of clients.
For corporate wellness, Zesty Kickz offers Muay Thai Kickboxing. However, you would have to contact Zesty Kickz to find out the rates for this program.
For group exercises, Zesty Kickz offers Ladies Muay Thai kickboxing every Monday and Wednesday, from 12:30 PM to 1:20 PM. The rate for this program is S$80 per month, which is more affordable compared to other agencies.
For private or personal training of kickboxing, a trial session costs S$150. After which if you would like to continue, 5 sessions cost S$900 and 10 sessions cost S$1500.
6. Impact MMA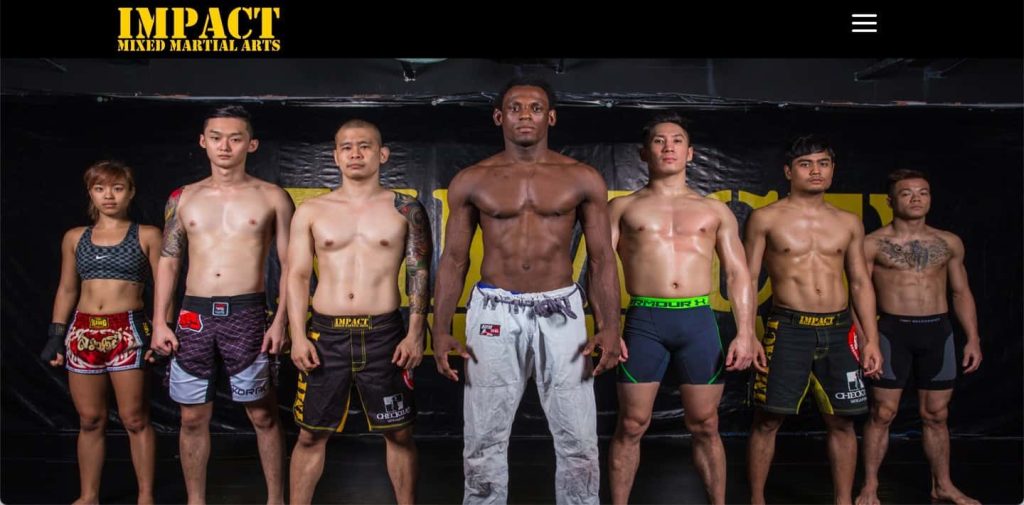 Impact MMA has only one branch which is located at Shenton House. This is convenient for office workers who work near the CBD area to attend lessons before and after work.
Kickboxing classes are available at various timings on weekdays from 0730 to 2145 and weekends from 0930 to 1730. There is also a junior squad program for children aged 4-16 years old. This way, you can train together with your children.
Unlimited Lunch-Time Classes costs S$139 per month. Junior Squad package costs S$79 for four sessions per month. The walk-in for Cardio Muay Thai, as a member, costs S$25 per class.
Personal training is also available at S$90 per hour. On top of the above, there are also other packages, based on your needs, which can be viewed on their website.
7. Juggernaut Fight Club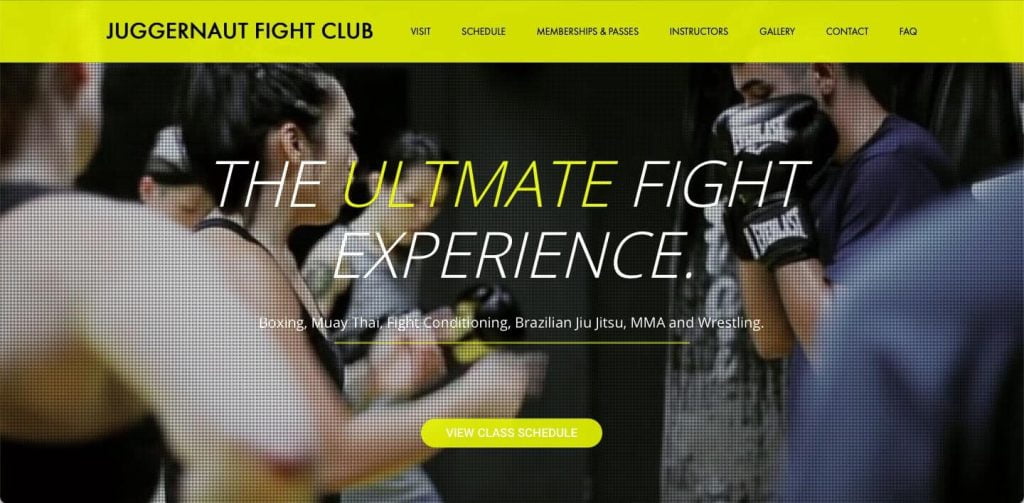 Juggernaut Fight Club is open from Monday to Saturday and has only one branch located near Bugis MRT / Nicoll Highway MRT.
While Juggernaut Fight Club does not offer free trials, they do allow you to purchase a 1-day pass to try out their class. Also, all classes and personal training sessions are one hour per session, so you can easily slot sessions into your schedule.
There are a few types of membership programs for Juggernaut Fight Club.
If you want unlimited classes for 2 out of the 5 disciplines, which includes Muay Thai kickboxing, it will cost S$200 per month.
If you want unlimited classes for unlimited disciplines, it will cost S$250 per month.
If you are still unsure, you can purchase an unlimited day pass that costs S$35 and try out different classes to find one which suits your preference.
One specialty of Juggernaut Fight Club is that it offers single and double personal training, where single costs S$120 per session and double costs S$200 per session.
8. 1nfinite Academy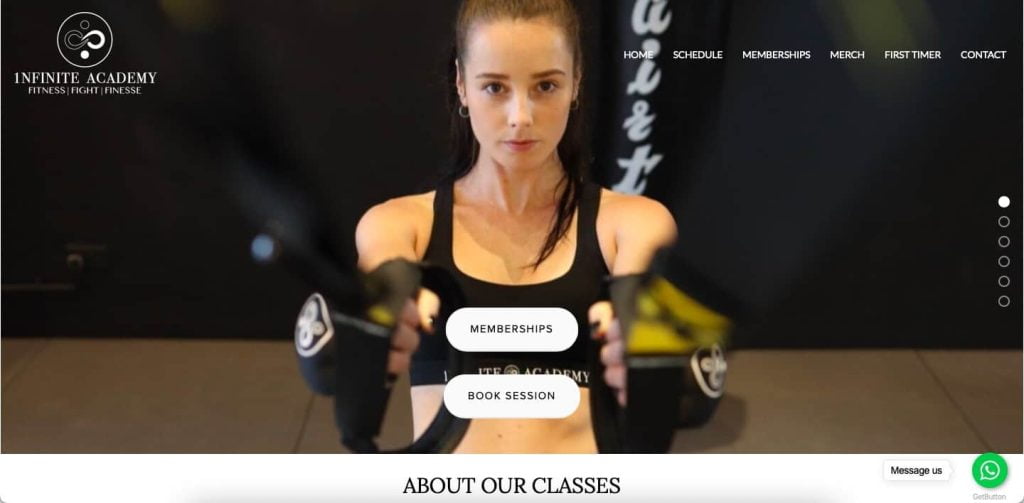 1nfinite Academy offers unlimited membership for 1-month, 6-months, and 12-months, which costs S$300, S$270, and S$240 per month respectively.
Other packages include the 8 Pack Monthly Package which consists of 8 sessions available for 1 month and costs S$178. The Drop-In Package consists of 1 session only and costs S$45. The Trial Package is limited to first-timers only and costs S$55 which is valid for 7 days.
1nfinite Academy's 45-minute workouts are Kick-Boxing inspired high-intensity interval training (HIIT), making use of body weight and resistance exercises in addition to traditional martial arts conditioning.
With a maximum of 8 people per class, members will constantly rotate between the equipment stations, which ensures maximum use of energy.
If you are interested, you can book a session online on their website. Furthermore, 1nfinite Academy also sell merchandises including fitness outfit, protein drinks, and beauty products.
9. FAMA
For new members wanting to join FAMA, they offer a free week trial, where FAMA can understand your fitness goals and you can have complete access to their variety of classes which includes Muay Thai kickboxing.
FAMA offers Muay Thai kickboxing for everyone from complete beginners to experienced competitors, so you do not have to worry about attending a class that you cannot keep up to.
Moreover, if you sign up for FAMA membership, you can have full access to over 110 classes a week, not just limited to Muay Thai kickboxing. There are also various types of memberships such as day passes, monthly plans, and annual plans along with great discounts for families and referrals.
Most importantly, FAMA is open 7 days a week, so you would have no excuses for missing that Sunday workout class!
FAMA also provides great facilities such as clean showers, fresh towels, free refreshments, chill-out area, TV, Wi-Fi, and laundry service for your workout gear.
10. Savate Club

Savate Club trains participants in a fully equipped gym, including a boxing ring, boxing bags, and fitness machines. The soft floor also prevents joint injuries and softens any falls. Changing rooms are at your disposal, including showers, toilets, and cold drinking water fountains.
Sessions at Savate Club consist of 3 parts:
Technical/tactical drills
Strength & conditioning
Sparring
​Sessions would normally start with one or two Kickboxing techniques, and then practice them through some drills. The routines mainly focus on cardio, muscular endurance, and speed, which are the main physical necessities for kickboxing. After which, classes will end with sparring.
The costs are as follows:
Yearly membership: S$1000
Monthly membership: S$200
Walk-in: S$30
Conclusion
Do you have any reviews and comments to share regarding our choices for the best kickboxing in Singapore?
While SBO is committed to supporting our local businesses, we welcome any feedback and anonymous sharing regarding your experience with the listed agencies for kickboxing in Singapore.
We hope that this guide will be useful in helping you to make an informed decision when it comes to finding the best kickboxing in Singapore.
Featured Image by Anastase Maragos on Unsplash
Explore More Content