11 Best Pole Dancing Classes in Singapore To Keep Fit [2023]
Try out a new sport with our compiled list of the 13 Best Pole Dancing Classes in Singapore!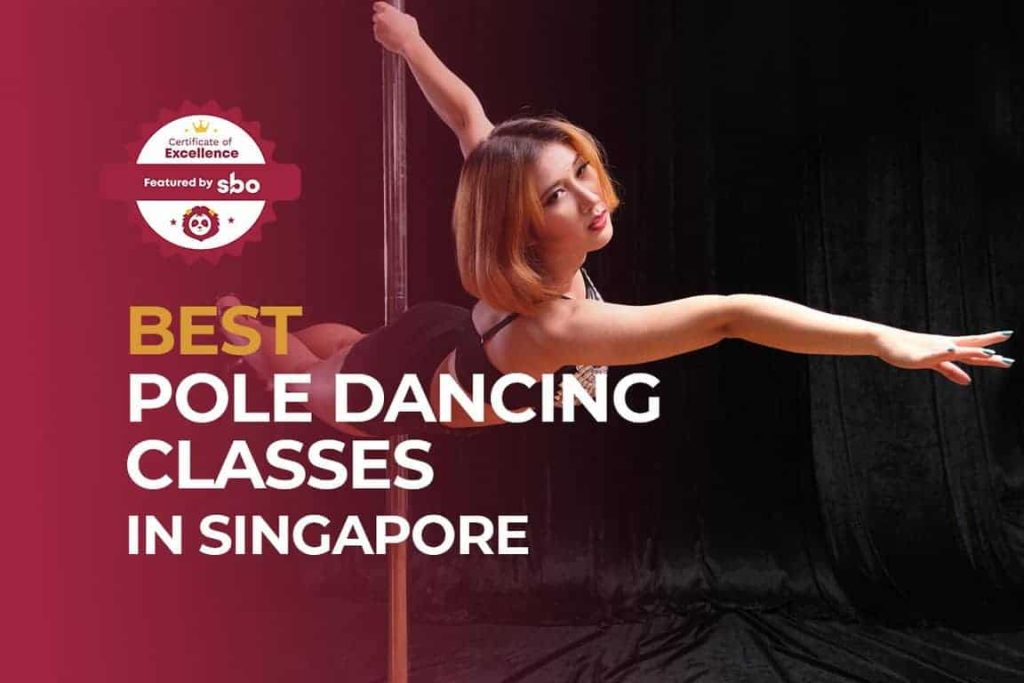 No longer just associated with looking sexy, pole dancing has became one of the mainstream sport around the world.
Today, pole dancing is an internationally recognized, competitive sport that stands for strength, endurance, fitness and creativity and the sport has two disciplines: the static pole and the spinning pole.
What Should I Expect for Pole Dancing?
Pole dancing is not as difficult as people think, at least not to begin with!
Your instructor should initially be teaching you moves that you can do with your current fitness level. As your fitness level and skill level improves, you'll learn harder moves to match.
You'll work on spins, floorwork, transitions, and tricks, with the focus being on building strength and flexibility. A pole fitness class focuses more on the strength and gymnastics of pole, but they may also feature short routines and some dance elements to help you to link moves together.
Still interested? Check out our compiled list of the 13 Best Pole Dancing Classes in Singapore below!
1. SLAP Dance Studio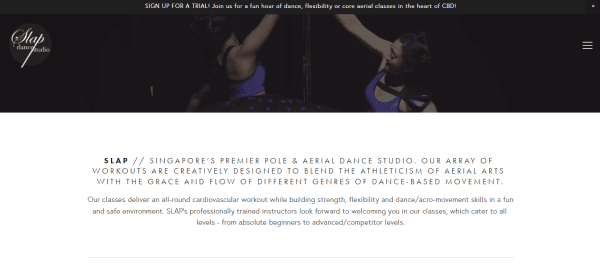 SLAP Dance Studio is Singapore's Premier Lap, Aerial & Pole Dance Studio. Their array of workouts is creatively designed to blend the athleticism of aerial arts with the grace and flow of various dance genres and movement.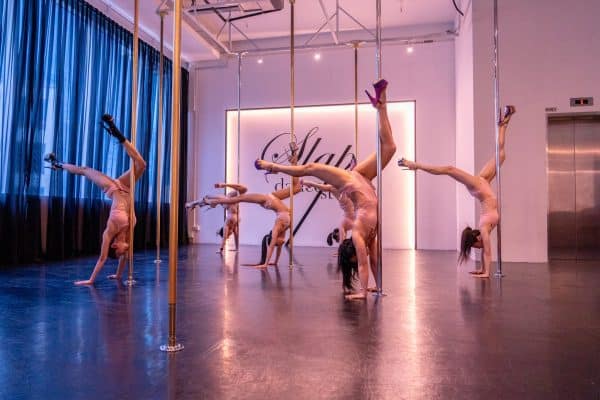 Their pole dancing classes deliver an all-around cardiovascular workout while building strength, flexibility and dance/acro-movement skills in a fun and safe environment. Try out their pole dancing classes with SLAP's professionally trained instructors! From absolute beginners to advanced/competitor levels, their instructors will be able to cater to all levels.
Other than the various difficulty levels, they also provide speciality classes that include using heels, with fluid transitions as well as fusing pole movements and tricks with lyrical dance.
2. The Brass Barre Pole Studio (orchardgateway)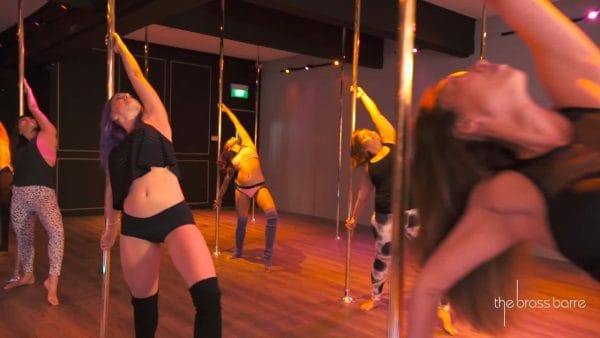 The Brass Barre is Singapore's premier pole dance studio that conducts pole dance, exotic & flexibility classes for all levels, from absolute Beginners to High Advanced. Pole dancing is a sport that trains strength and discipline, and it is a dance that celebrates the lyrical beauty of the human form, regardless of your age and body type.
If you have pole danced before, you will know how important your gripping ability becomes when you are trying to master tricks and transitions. Due to its fantastic absorbent qualities, brass pole skins offer the dancer the ultimate grip – you can get no better!
Imported from Australia, The Brass Barre uses The Pussycat Poles that are hand polished, genuine brass – no coatings! The greatest benefit of brass pole skins is they allow you to perfect your tricks quicker, with better form, and more confidence, as you spend less time worrying about slipping.
3. PXD Pole Studio – The New Academy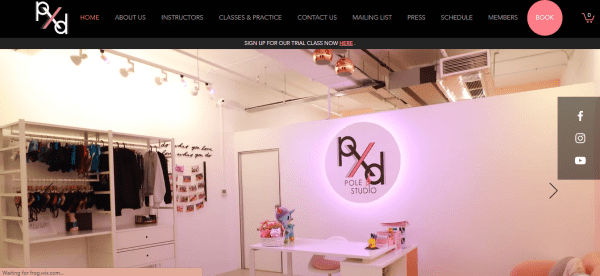 POLE DANCING is about mastery and artistry. It is a form of movement which combines a unique set of technical skills with the flow of the dance. The team at PXD POLE STUDIO is made up of a group of Passionate Pole Dancers who embody Versatility and believes in having fun.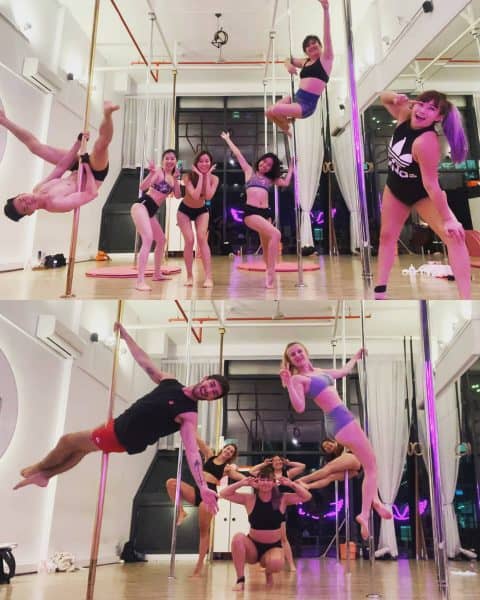 Ready to kick start your Pole journey? Join PXD in their Mythic Syllabus level classes where you get to learn a series of Pole tricks, spanned across 8 different levels. At the end of it, you will graduate and be equipped with Intermediate Pole Dancing skills.
Upon graduating from the Mythic Syllabus level classes, you may choose to advance your Pole skills with our Masters Syllabus level classes. There are 3 challenging levels in this syllabus, each with its graduating requirements before advancing to the next level. At the end of it, you will graduate and be equipped with Advance Pole Dancing skills.
4. Milan Pole Dance Studio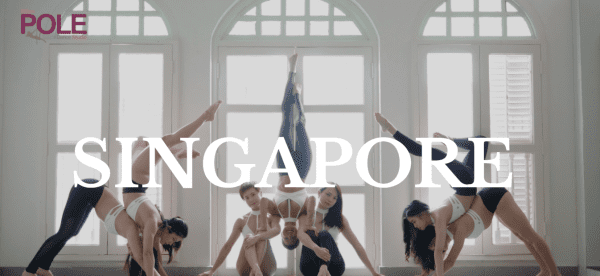 With three studios located in the eclectic neighbourhood of Bukit Pasoh & Keong Saik within steps from Outram Park MRT, check out Milan Pole Dance Studio's renowned pole and aerial fitness classes in Singapore!
Unsure of what to wear during a pole dancing class?
It is advised for students to wear fitting, comfortable clothes that do not restrict movement. You should wear shorts for pole classes and bring knee protection and socks for dance classes.
Milan Pole Dance Studio can also help you organize a party to make your celebration amazing! Bottled water will be provided and depending on the level of experience in the apparatus of choice, their team can adjust according to your needs.
5. Groove Dance School
In Groove Dance School, they believe that while dancing is always fun and enjoyable, safety and results are also important. Their dedicated and specialized instructors are deeply passionate about their dance specialization, and ensure quality in every lesson for all students. So be prepared to have good fun while feeling better, getting fitter and looking sexier with every lesson!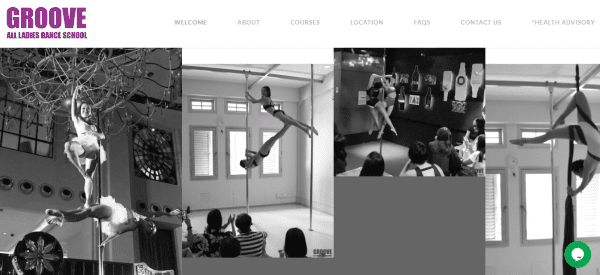 In less than 5 years, Groove Dance School has entered the international scenes of the industry, having performed and participated in the Asia Pacific Pole Dance Championship 2010 in Brisbane Australia.
Groove's pole dance classes are suitable for all ladies, regardless of dancing experience, fitness level or body shape. Their classes are conducted progressively for all students to grasp every dance move at ease. Don't worry if you can't perfect the move the first time, as all dance moves are revised in every class.
6. Studio Sands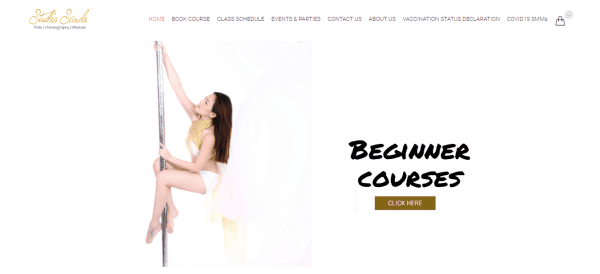 "Prior to joining Studio Sands, I have no pole dancing experience (except for one time during my hen's party organized by my girlfriends). I had this perception that my arms are weak and I can't imagine myself supporting my whole body weight on a pole. After attending the 1st lesson, I realized that my worries were unnecessary. I've learnt a few moves from her class and discovered that pole dancing is not just about strength, it's also about having the momentum and skills."
– Evelyn Cheo
For pole dancers in Singapore who are looking to grow in a more holistic way through this art form, you will be pleased to know that Studio Sands train on both the left and right arms, with each level consisting of both spinny and static pole moves.
In addition, Studio Sands offers both 40mm stainless steel poles (easier for small hands!) and 45mm (international competition standards) stainless steel poles to suit your training needs.
You're new to pole dancing? Great! Here is the course for you! Through a simple routine, you will learn basic pole spins, how to efficiently climb and sit on the pole. At the end of the course, you should feel your body becoming leaner in preparation for what is to come in Beginner tide.
7. Breathe Dance Company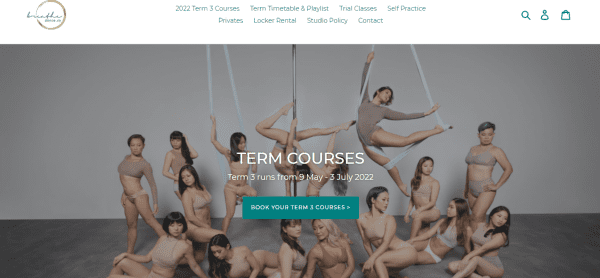 Breathe Dance Company is a dance studio that offers a wide variety of pole dance, adult ballet, floor work and flexibility classes. Their friendly professional instructors have over a decade of dance experience in various genres of dance, as well as other movement skills and choreography for every class.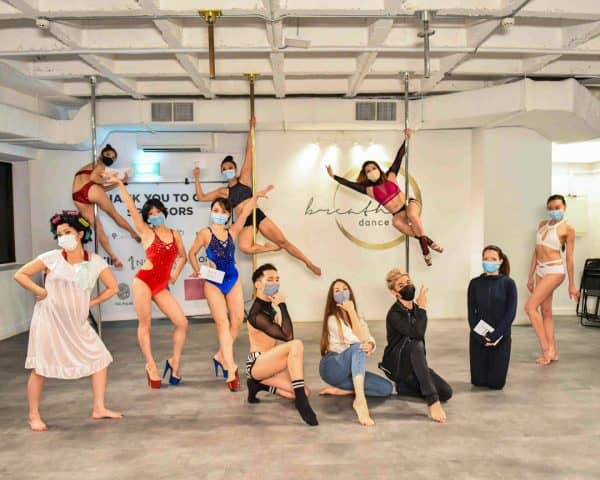 Breathe Dance Company welcomes newcomers in their Beginners classes and if you have zero dance background, fret not! Other than group classes, they provide one-to-one private classes as well. They have students as young as primary school kids so what's stopping you from trying?
8. Diva Pole Academy Singapore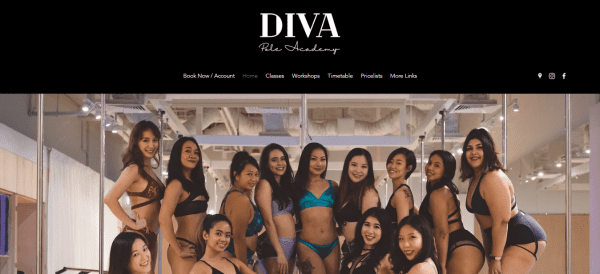 DIVA is the coming together of a new generation of pole dancers aspiring to promote a healthy pole community, to support & empower the pole & aerial dance community by fostering a safe, creative space for all dance & movement artistes.
Reviews commonly mentions the gorgeous infinity mirrors and pretty lightings that brings everyone to love this sport first with their eyes. The friendly instructors plan for the choreography and engages all your senses while giving you tips in ways to excel in pole dancing.
9. Mauve Dance Studio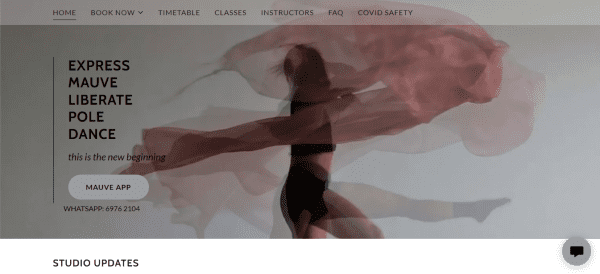 Mauve Dance Studio has 5 instructors who started their passion for pole dancing without any form of experience. Their love for pole started when they became intrigued by the ability of pole fitness to combine both strength and gracefulness in a seemingly seamless way.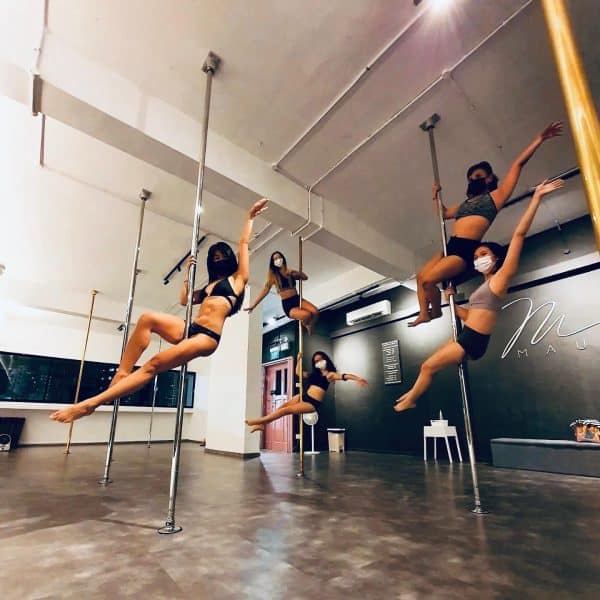 Beyond upper body strength, pole dancing gives you strong core muscles. Your stomach muscles, abs and lower back muscles are all used to perform moves where you need to climb, lift your legs or hold their weight.
So when the instructors mention that pole dancing is a complete body workout, don't think otherwise.
10. Studio Starfire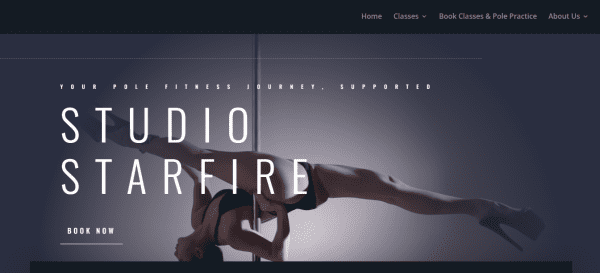 Studio Starfire is a boutique pole fitness studio located in Singapore's CBD area, just a 5-minute walk from Tanjong Pagar MRT station. Their talented team of studio instructors offers pole instruction, exotic dance and yoga-based stretch classes, to help support your fitness journey.
Do you know some of the benefits of practicing pole dancing?
1. Cardio
The level of cardio activity employed can be helpful in lowering cardiovascular risk, and consequently may also help stall the development of many inflammatory diseases, such as type II diabetes mellitus, heart disease, amongst others.
2. Strength
Pole fitness is able to involve participants in a full-body workout, given that these exercises activate arm, core and leg muscles. In addition to pure physical strength, integrity of action is also required. This requirement makes this sport more demanding than many others.
3. Stress Management
Pole fitness activity can be helpful in both enhancing one's self-perception, as well as to help guard against anxiety
By stabilizing the heart rate and blood pressure as well as stimulating the production of endorphins, pole fitness activities can help participants become more resistant to chronic stress.
11. Sirene Pole Studio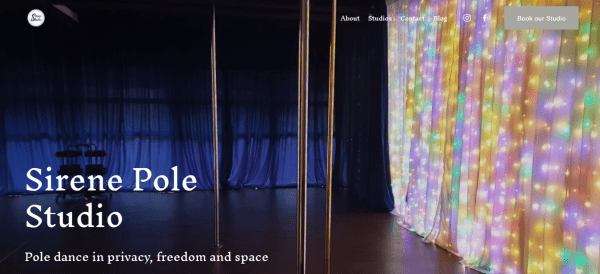 Sirene Pole Studio is the first and original private pole studio in Singapore, founded by pole sisters for the pole family. They considered all the issues faced during pole practice carefully and planned our space to minimize them. Their studios feature signature fairly lights and velvet curtains, bringing the privacy that allows you to bring forth your inner self.
They have 2 locations for you to choose from and various packages for a different number of people so do check them out!
Conclusion
Do you have any reviews and comments to share regarding our choices for the best pole dancing classes in Singapore?
While SBO is committed to supporting our local businesses, we welcome any feedback and anonymous sharing regarding your experience with the above pole dancing studios in Singapore.
We hope that this guide will be useful in helping you to make an informed decision when it comes to finding the best pole dancing studios in Singapore.
Looking for some other fitness activities? Head over to our compiled list of the 10 Best Aerial Yoga In Singapore for an interesting time there.
Explore More Content