10 Best Aerial Yoga in Singapore To Improve Your Flexibility [2023]
Today, we'll be sharing the 10 Best Aerial Yoga in Singapore so stay tuned to find out more.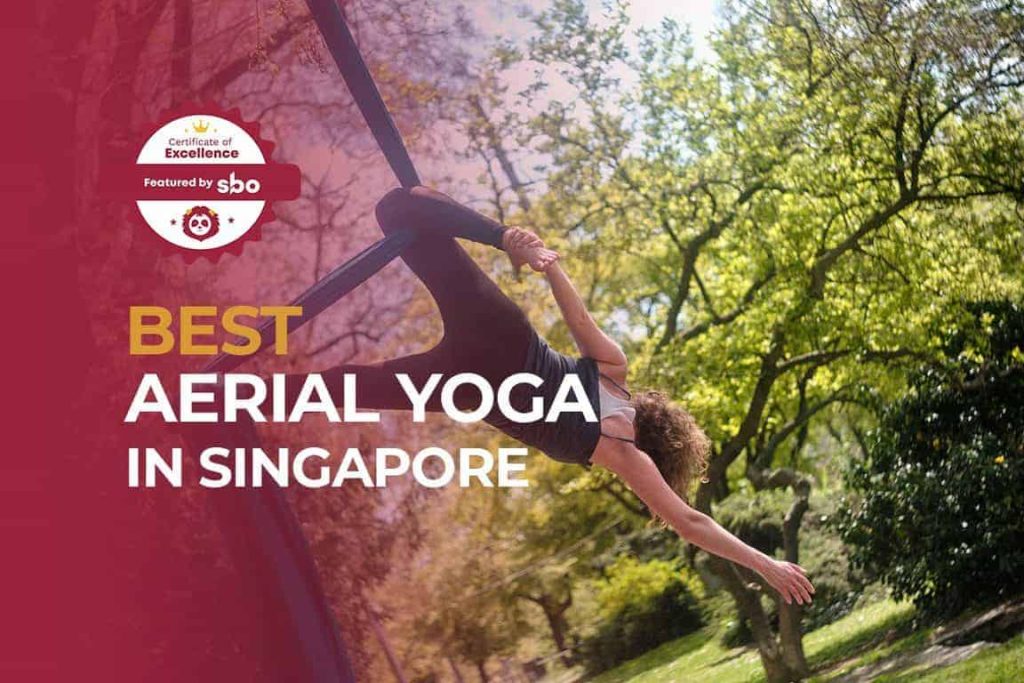 Yoga has been a rising trend for many people and you may be surprised to hear that there are various types of yoga to practice! Today, we'll be sharing the 10 Best Aerial Yoga in Singapore so stay tuned to find out more.
What is Aerial Yoga? How does it Benefit Me?
In an aerial yoga class, you perform the same poses you do on a yoga mat, except you use a silk hammock that's suspended from the ceiling as a prop to support you through the various flows. The purpose of the hammock is to help you improve flexibility and build strength while allowing you to do more challenging poses without added pressure on your shoulders, spine, or head.
Aerial yoga facilitates low impact exercises by combining strength training, stretching and cardiovascular endurance. This means that with the support of the hammock, you can adjust the intensity of the exercise to suit your level while also lessening the impact on joints.
1. Trium Fitness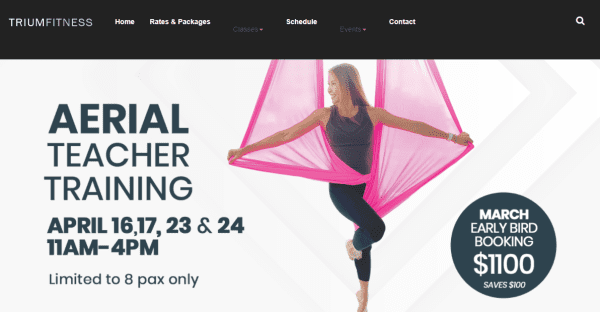 "Here at Trium Fitness, we are not just a yoga studio, but a family. There is a community of yoga lovers here you can be a part of and build relationships with-whether it is the conversations at our cosy corner over tea or member nights where we celebrate milestones and events together."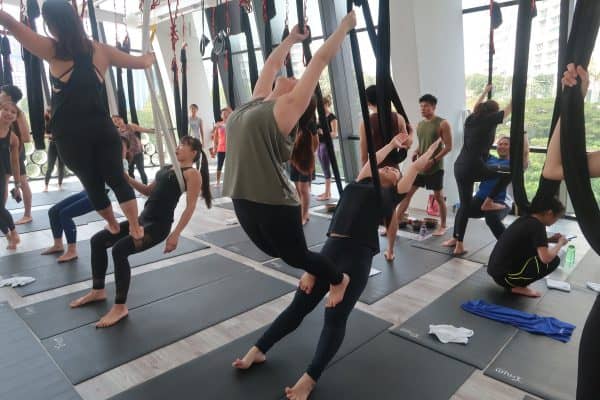 As a community that cares about you, Trium Fitness provide top-quality services for your convenience, clean facilities maintained frequently. More importantly, their instructors are caring and experienced, and are fully certified to teach, guide and challenge anyone, from beginners to veterans.
Their team of instructors aspire to be involved in your life and get to know you as a person. With a relatively wide range of classes and a strong focus on Aerial yoga, you can find the perfect fit with their classes so join them for innovative workshops where they offer an exclusive, enjoyable experience such as Blindfold yoga and Beer yoga. Contact them to find out more!
2. Club Yoga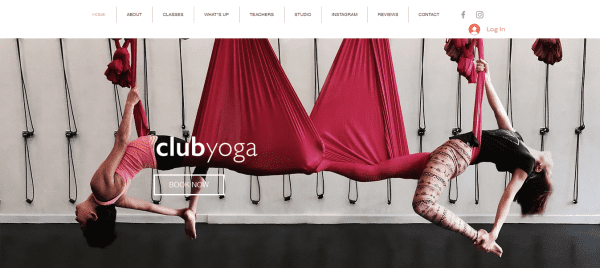 Club Yoga is a welcoming place of community, where experienced yogis and newbies get together to move mindfully and grow deeper breaths and intentions.
They aim to make the transformational practice of yoga accessible to everyone through affordable yoga classes and packages for all levels, guided by the very founders of Club Yoga Singapore dedicated to making your journey enjoyable and as full as possible. Whether you're a new yogi looking to try something new or an experienced practitioner seeking to enhance your practice, there are over 30 classes you can try at Club Yoga.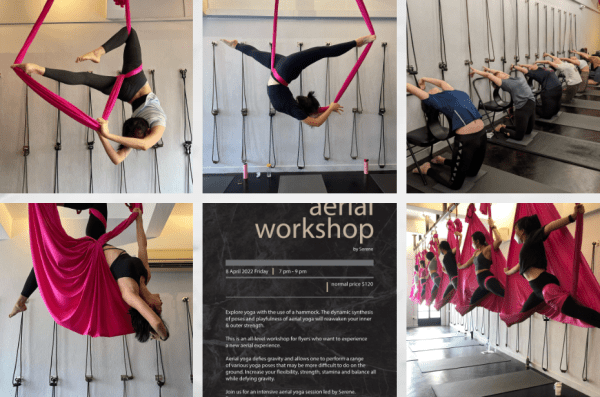 Stretch your limitation with props-assisted or cardio-induced yoga in our contemporary classes, and explore your full potential with alignment-focused yoga in our traditional classes. Take time to explore the different kinds of yoga that work for you. Above all, have fun!
3. Hale Yoga Tanjong Pagar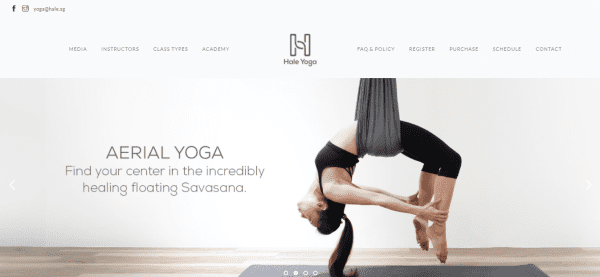 Hale is a contemporary yoga studio offering professional guidance to those seeking a balance of mind and body. They aim to bring the best practice to every practitioner, regardless of your experience or fitness level.
Introducing their Aerial Yoga classes! Aerial Yoga would expose students to the Aerial Yoga hammocks while exploring a repertoire of stretches, inversions and/or transitions.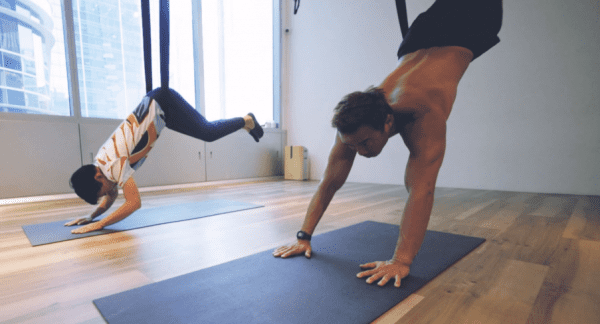 Do you know that Hale Yoga is the only yoga studio in Singapore that works with 2 types of fabrics – parachute trapeze and stretchy silk? The reason behind the different fabrics is that they cater to a different type of poses and allows for a more personalised experience.
4. Yoga Mala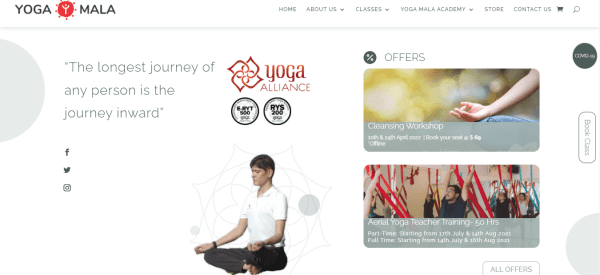 With an emphasis on breathing techniques and meditation, Yoga Mala practices thoughtful and reflexive yoga to promote both physical and mental well-being. Their team have studied and now, brought together many of the world's greatest yoga and spiritual traditions, uniting this wisdom into a comprehensive framework within today's lifestyle contexts.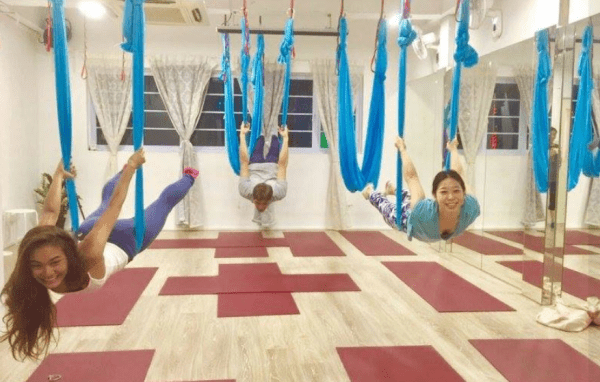 Their yoga studio offers varying styles of yoga classes that range from traditional Hatha, Hatha Flow, Vinyasa, Ashtanga, Pranayama, and Meditation, etc. They also provide Yoga Teacher Training, Private Yoga Consultations, Private & Corporate Yoga Classes, Corporate Meditation, and Health & Wellness Classes, etc.
With the desire to offer the highest quality in Yoga, Yoga Mala would provide the best experience for you!
5. MotionWerkz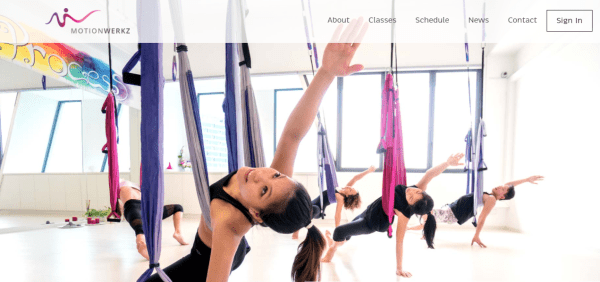 MotionWerkz Swing Fitness classes offer a unique array of traditional yoga moves enhanced by the addition of a specialised swing. The Swing used is non-bouncy and sturdy, promoting movements that are fluid and stable. The emphasis is on yoga-specific alignment and form with elements of Pilates, aerial acrobatics and TRX to further elevate awareness of your body.
More about their classes?
The centrally-located studio is well-ventilated and spacious, filled with an abundance of natural light and warm homey touches. With class sizes kept small, everybody gets sufficient care and personalised attention from the instructor to stay safe and can comfortably focus on the class at all times.
6. Adedance Artistic & Aerial Productions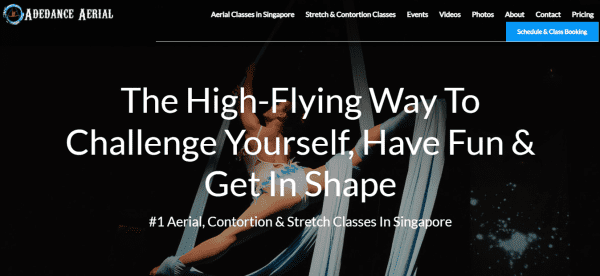 Adedance Artistic & Aerial Productions Pte Ltd (or in short AAA Productions) is an aerial and dance-focused performance agency operating in Singapore. Here's a brief introduction of their aerial classes!
Aerial Silks: A beautiful and graceful form of aerial dance performed on long silk, suspended from the ceiling/rig points. It's a great way to improve strength and flexibility, whilst also a spectacular and artistic endeavour.
Aerial Hoop: The aerial Hoop (or Lyra) combines power and flexibility in an activity that is not only fun but fantastic conditioning training for the student. It's also a great introduction to aerial being slightly easier and lower to the ground.
Aerial Pole: Aerial Pole presents a whole new challenge to anyone who already loves regular pole class. Experience a new freedom of movement and artistry with this apparatus that is suspended from the ceiling and not attached to the floor.
With this introduction, you are ready to decide on your first lesson with AAA Productions!
7. Refindery Fitness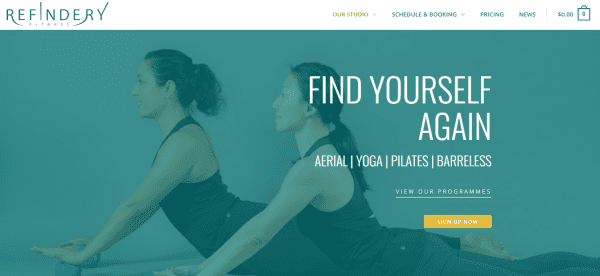 Take that inner journey through the path of mindful exercise to improve your physical condition. Living in a fast-paced city where juggling is a norm and not a circus act, we easily lose ourselves to constant activity and noise.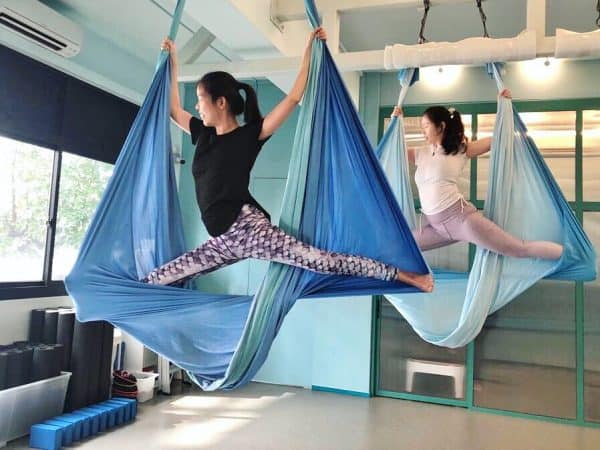 Here at Refindery Fitness, they have created a safe and nurturing environment with a progressive teaching approach to help you reconnect with yourself through their offerings of Aerial, Pilates and Yoga classes. While the team are passionate about sharing our fitness knowledge, they also infuse wellness elements into each class for a holistic experience that soothes your mental and emotional states.
8. Aerial And Floor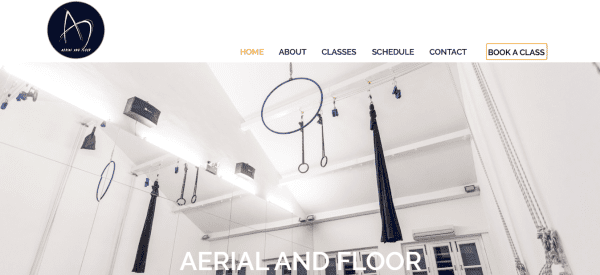 Being avid lovers of aerial and acrobatic arts, Denjz and Eunice materialised their long-held dreams in June 2017 to open Aerial and Floor, an aerial fitness space at the heart of Chinatown.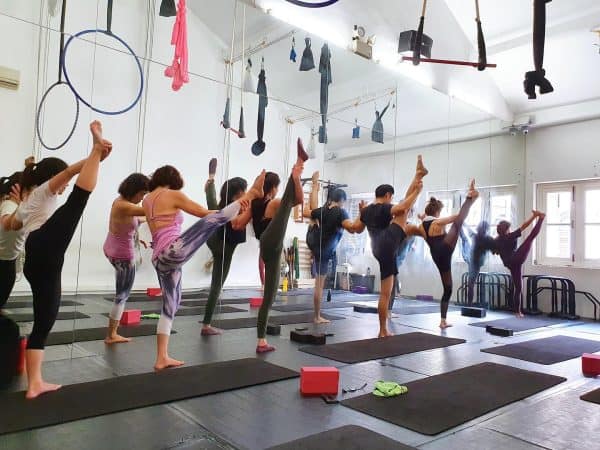 The dynamic duo has a clear vision – make aerial and acrobatics arts achievable and relevant for any person, and groom passionate individuals keen on pursuing this art form professionally. They strongly believe that freedom of expression should be a way of life, and hope Aerial and Floor will be the inspirational haven where everyone is welcome to explore and experiment with their desired art form.
Drawing from their experiences after years of teaching acrobatic fitness, Eunice and Denjz have tailored a comprehensive syllabus for their aerial classes to suit individuals from all walks of life. They aim to reach out to all generations and inspire many others to make aerial and acrobatic arts an integral part of their lifestyle.
9. Starz Aerial Dance School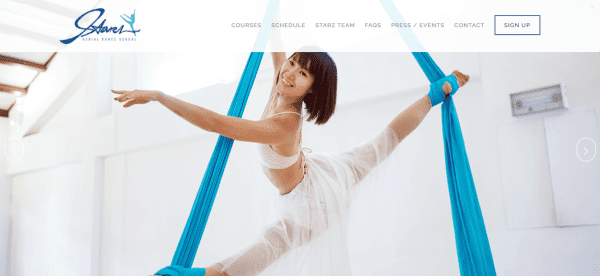 "Stars – Luminous points held together by mutual gravitation in the night sky. Just like them, we are bound together by the shared passion for the aerial arts. The luminosity represents dreams, yours and ours."
At Starz Aerial Dance School, they inspire you to fly, to search deep within to make the seemingly impossible possible, and to illuminate the world as supernovas.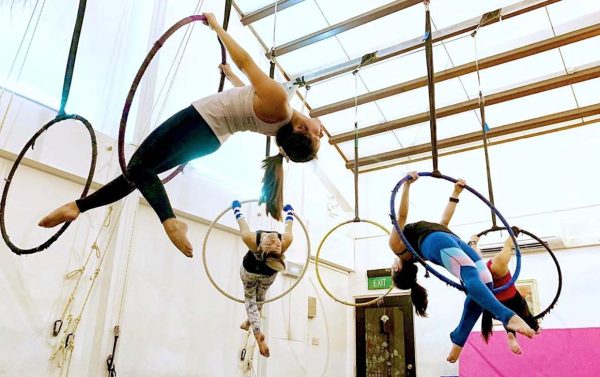 Whether you are taking that first step, or an avid learner, or an aspiring performer, their team is committed to delivering quality teaching in a safe nurturing environment to help you realise your fullest of potential. They hope to build a galaxy of Stars, a community of aerial artists who share this passion.
10. IDANCE YOGA & FITNESS STUDIO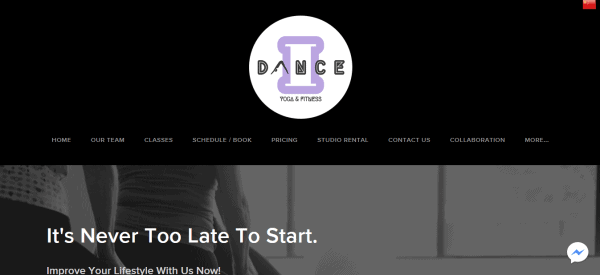 As people tend to overlook the importance of a healthy lifestyle, IDANCE YOGA & FITNESS STUDIO feel that people living in this bustling city should all slow down for a moment and take some time to exercise regularly.
Hence, they offer many kinds of classes for their students, including different types of Yoga classes, Aerial related classes, Pilates Mat, Barre Fusion, Cardio excise, Mat Science, TRX suspension training classes, HIIT (High-Intensity intermittent Training) and even Trampoline Fitness!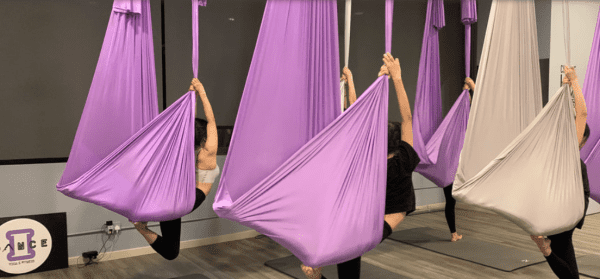 Their team consist of qualified and experienced trainers who are certified internationally. They are a group of passionate people in pursuit of striving for excellence in health and fitness and are always upgrading their skills and knowledge with the ever-changing world so that they can deliver the best and most updated lessons to their students.
By aiming to create a fun and cosy place for everyone, I am sure that you will enjoy your time there!
Conclusion
Do you have any reviews and comments to share regarding our choices for the best aerial yoga in Singapore?
While SBO is committed to supporting our local businesses, we welcome any feedback and anonymous sharing regarding your experience with the above aerial yoga studios in Singapore.
We hope that this guide will be useful in helping you to make an informed decision when it comes to finding the best aerial yoga studio that suits your needs.
Looking for some extraordinary workout experience? Head over to our compiled list of the 10 Best Zumba Class in Singapore and you might just find what you need!
Featured Image by Benjamin Wedemeyer on Unsplash
Explore More Content