10 Best Fish and Chips in Singapore for Classic British Comfort Food [2021]
We've fished out the best fish and chips in Singapore!
Food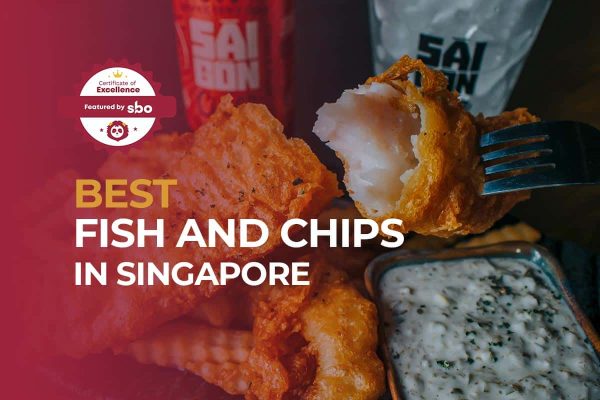 Our team at SBO.sg is committed to being a one-stop avenue to connect local businesses and consumers. We hope that our research efforts can help you save time and money by finding you the best deals without having to search around the vast world-wide-web.
That lightly seasoned, crunchy batter and soft, buttery fish within is what makes fish and chips one of the classics to order at any Western food place. No matter if it's hawker stalls, cafes or restaurants, fish and chips can be commonly found in our local food scene.
With this authentic British delicacy in abundance, we've fished out only the most noteworthy places to be featured on this list. Have your pick from our best fish and chips in Singapore!
1. Greenwood Fish Market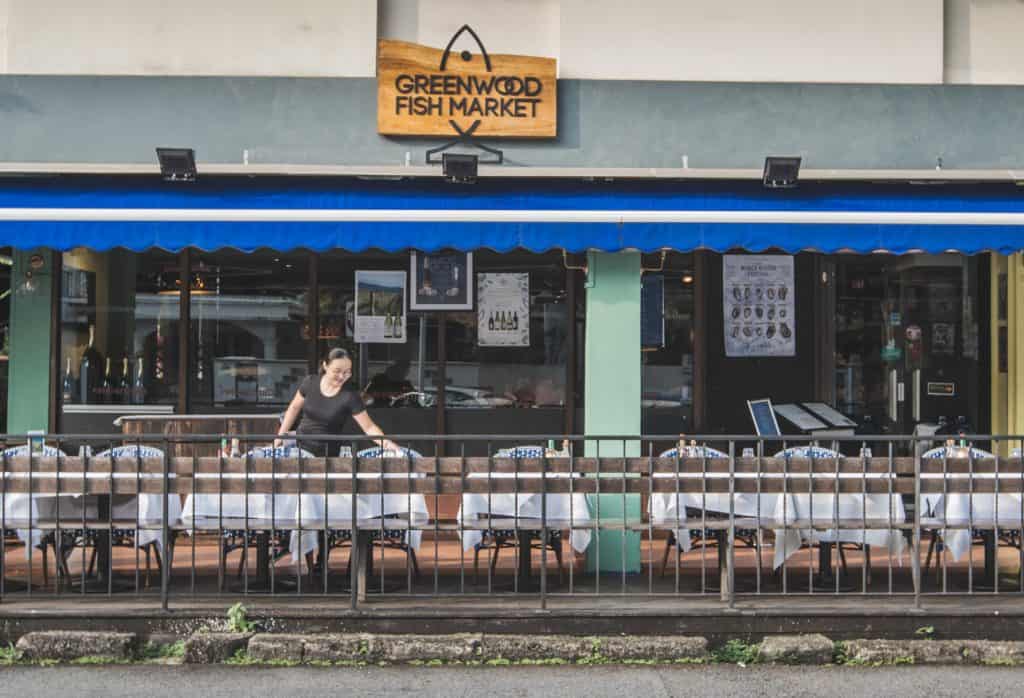 Source: Timeout
Greenwood Fish Market is a well-loved seafood restaurant and supermarket with over 30 selections of fresh catches daily.
Order their House Fish & Chips for the indecisive eaters, you won't go wrong with freshly fried dory fish that comes with a crispy, addictive batter. Served with a side Calamansi Vinaigrette Salad, it gives a good acidic balance that whets your appetite.
You can also opt to have your preferred type of fish served deep-fried instead for a more customised dining experience. No wonder they're one of the best fish and chips in Singapore!
2. Fish and Chicks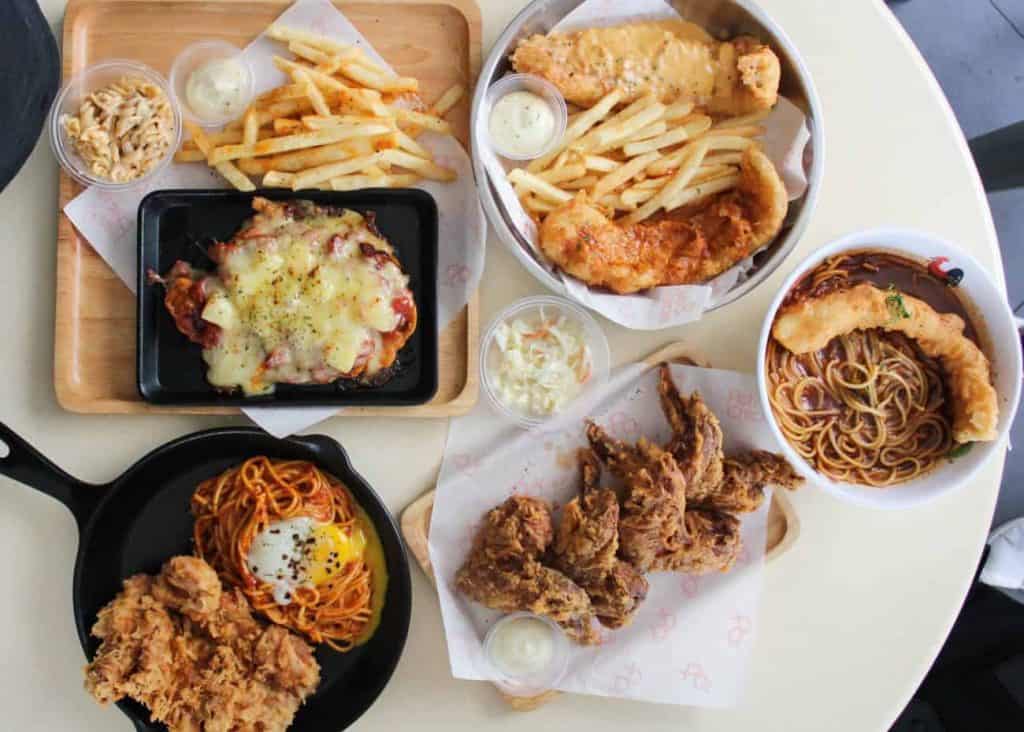 Source: Miss Tam Chiak
Fish & Chicks is a humble hawker stal that rose to fame after their release of the trendy pairing of Salted Egg and Chili Crab sauces in their fish & chips.
Being such a hit with Singaporeans, it prompted them to open numerous branches all over the island, making them one of the best fish & chips in Singapore to try!
Named aptly as the Best of Both Worlds, this IG-worthy fish & chips with both Salted Egg and Chili Crab sauces continues to draw in crowds. The savoury and spicy combo, with reasonable portions, makes it a satisfying meal for your belly and wallet!
3. Lad & Dad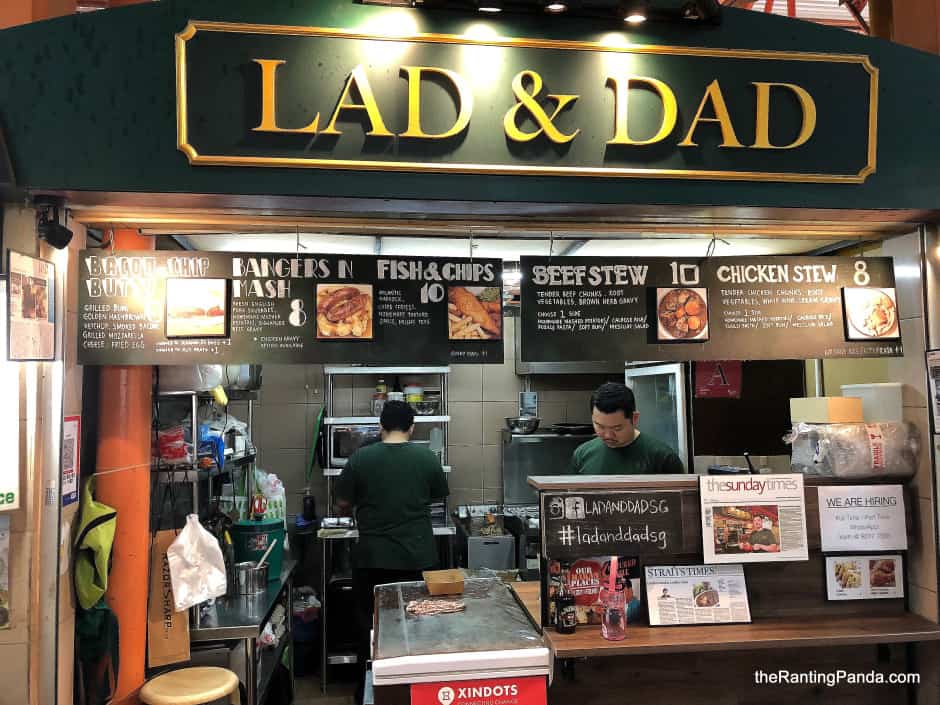 Source: The Ranting Panda
Another one of the best fish and chips in Singapore that was borne from a humble hawker stall, Lad & Dads has since moved to a full-fledged restaurant and pub at Tanjong Pangar.
They are a modern British gastropub that serves hearty British delights, with the classics like Fish & Chips, Bangers & Mash and more!
Their batter truly takes the cake in this dish, with beer battered Atlantic haddock that gives a crispy and flavourful texture. It is served together with thick coated chips, mushed peas, tartar sauce which helps give a good balance of tastes and textures to this fish & chips.
4. Smiths Authentic British Fish and Chips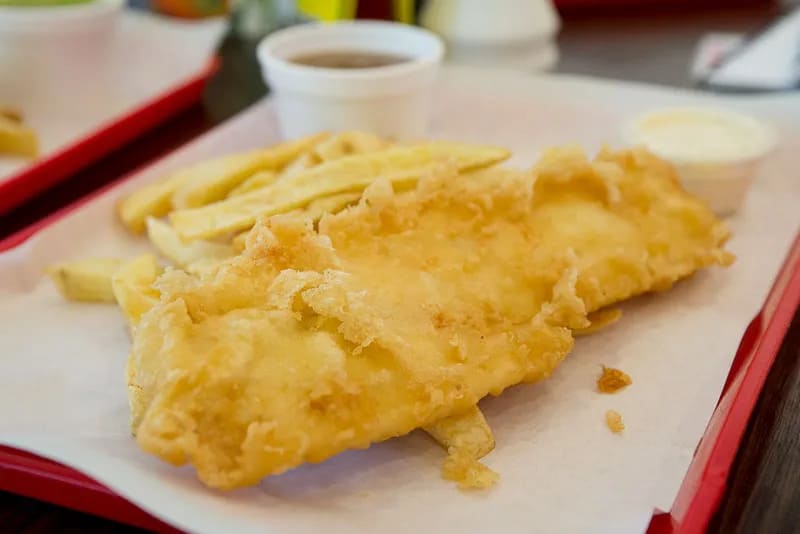 Source: Seth Lui
Although prices here are considered steep for a self-service British food joint, they house some of the most authentic and best fish & chips in Singapore, having been around for more than 10 years.
They certainly live true to its name, focusing on the traditional fish choices of cod or haddock as opposed to dory fish for their fish & chips. Other choices of fish include wholetail Whitby scampi, halibut and even their Fish Cake & Chips, which include a blend of cod and haddock fish meat. Diners can also opt to have their fried fish battered upon request.
Something special to note is their Gluten Free Days every Tuesday, for diners with dietary restrictions!
5. Sprmrkt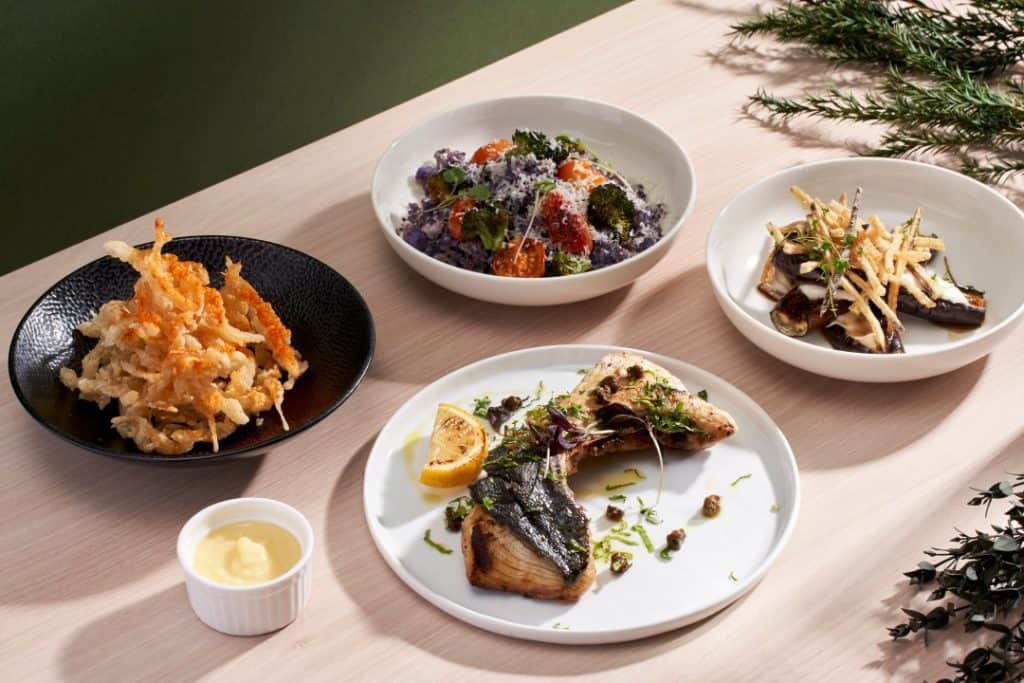 Source: Ms Hannah Chia
Sprmrkt is an artistic dining concept that brings customers together through their love for the arts and Western cuisine.
Among the array of delicious Western mains served at their restaurant, one dish that stands out in aesthetics and taste will be their Blackened Fish & Chips, hands down.
Their take on this comfort British food involves squid ink sauce in their crispy batter, giving it a charcoal-like exterior. This dish comes with fries, kimchi slaw and a slice of lemon for that extra zest. Its stellar execution of flavours and aesthetics makes it one of the best fish and chips in Singapore!
6. The English House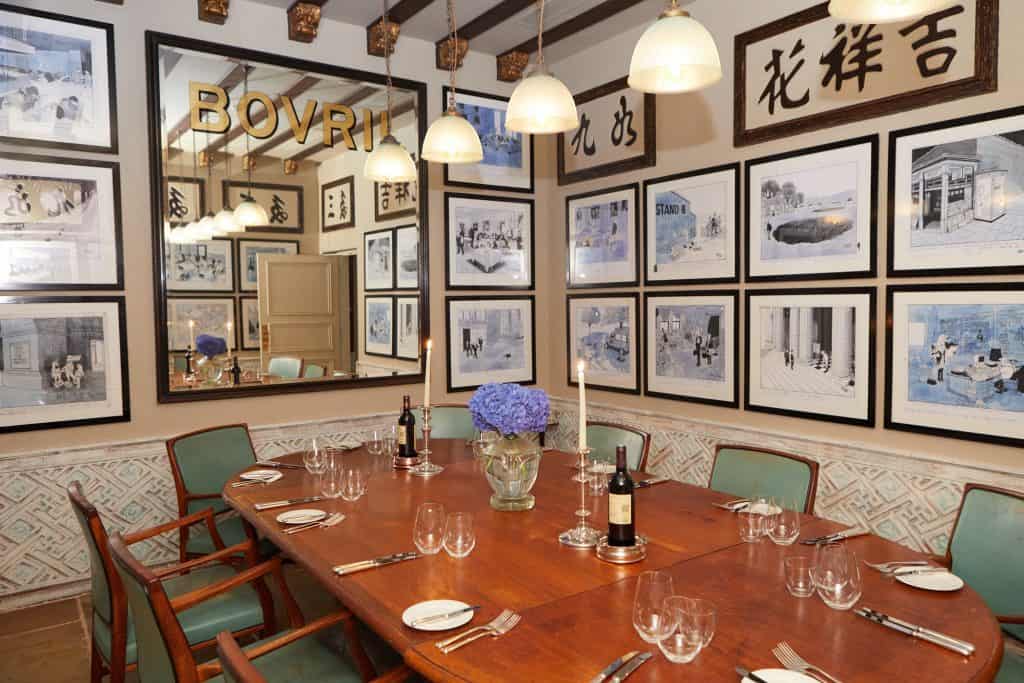 Source: Timeout Singapore
Transport yourself back in time to Singapore during its colonised days, here at The English House. Its English-style interior design, with vintage dining ware and exquisite artworks, makes it one of the poshest restaurants for the best fish and chips in Singapore.
Opened by renowned celebrity chef Marco Pierre White, the restaurant's menu sticks to the classics but served with such flair. Without a doubt, Fish & Chips are one of their must-orders.
Just a beer-battered fish served with thick-cut fries, tartare sauce and mushy peas may not sound exemplary at first, but it is after all hearty British food prepared authentically.
Diners can choose between haddock, cod or monkfish, with price points in ascending order. It is understandable that many may find their prices too steep, but the freshness and quality are arguably worth the penny.
7. Cheek Bistro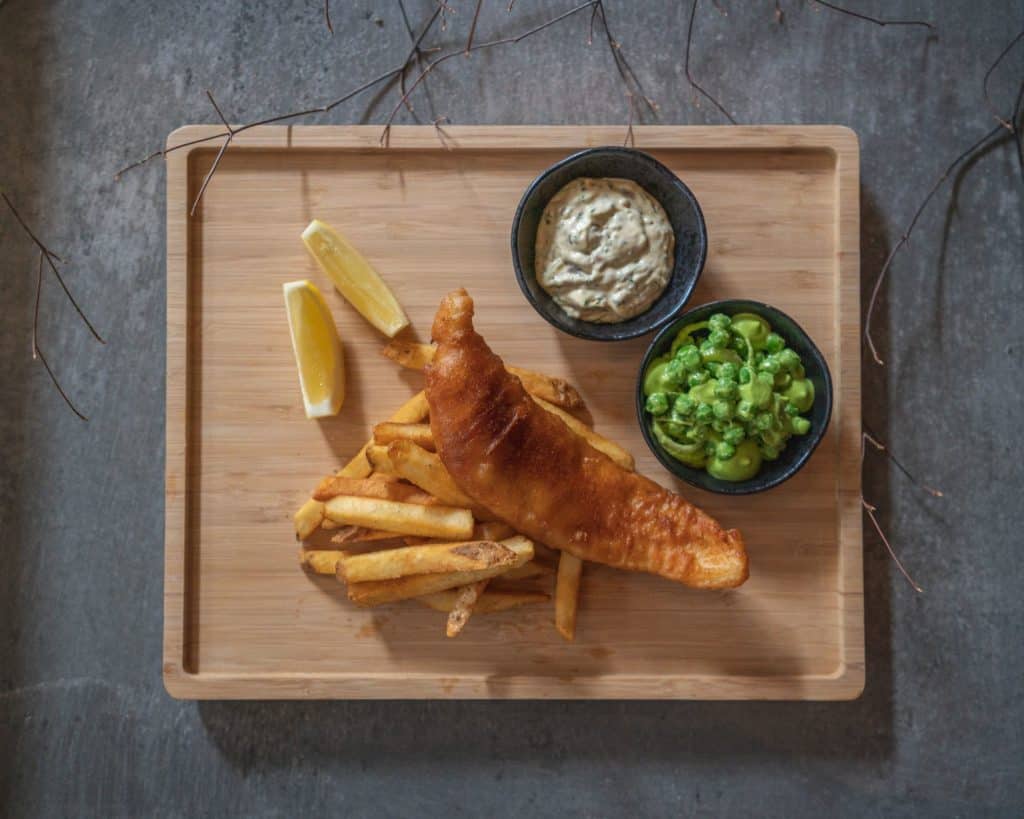 Source: Lifestyle Asia
Opened by a chef husband and wife duo, this Australian bistro brings simple dishes, executed with creativity and flair to the table. Formerly known as Cheek by Jowl, it was a private dining restaurant that was awarded the prestigious Michelin star in 2017 and 2018.
As you would have guessed from the title of this article, one of their menu highlights that we will be focusing on today is their Suntory-beer-battered Fish & Chips, which is one of the best fish and chips in Singapore!
Blanketed in the crispy beer-batter is a delectable piece of red snapper that gives a firm bite. Pair it with their sides such as mashed peas, thick-cut fries and tartare sauce with a tinge of green chili, giving a good marriage of tangy and savoury!
8. Rejoicings
Source: U Make Me Hungry
Moving on from the more upscale eateries for the best fish and chips in Singapore, we have a friendly neighbourhood hawker stall with hearty, no-frills and value-for-money Western grub!
Located at Telok Blangah Food Centre, this friendly Western stall specialises in Western cuisine, with the standard fish & chips as well as their special Crispy Battered Fish & Chips.
Something about this batter makes it extra crunchy and tasty, leaving diners wanting to have more of each bite. Although deep-fried, it is not overly oily with a touch of buttery fragrance. This place is open till after midnight, so if you're craving fish & chips in the middle of the night, this is the place to go!
9. Angie's Oyster Bar & Grill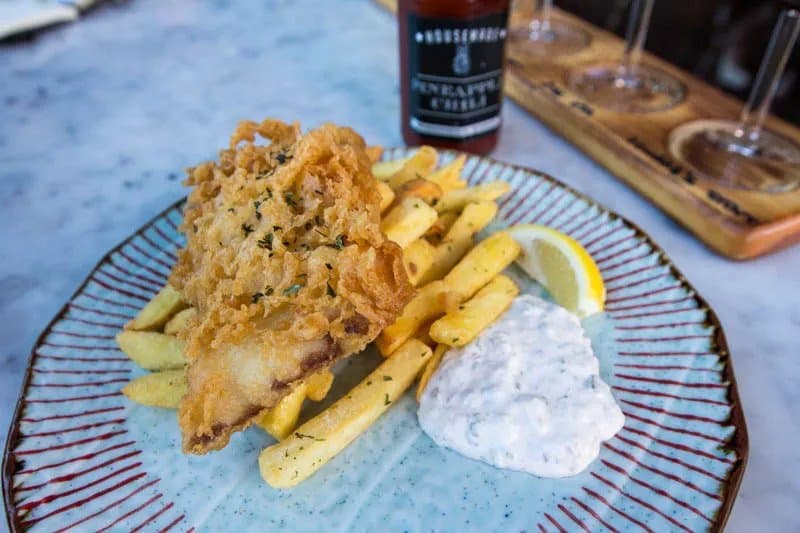 Source: Seth Lui
Angie's Oyster Bar & Grill may be predominantly known for their $1 oysters, but only true fans will know that another worthy catch here is the best fish and chips in Singapore.
Their rendition features a New Zealand wild-caught ling fish with stout tempura battered, served alongside crushed peas and jalapeno tartare sauce. Slices of lemon are also provided, giving a good splash of acidity to cut through the savouriness.
The cherry on top will be the breathtaking scenery at this restaurant which overlooks the CBD skyline, giving diners a magnificent view to enjoy with their seafood!
10. Bread Street Kitchen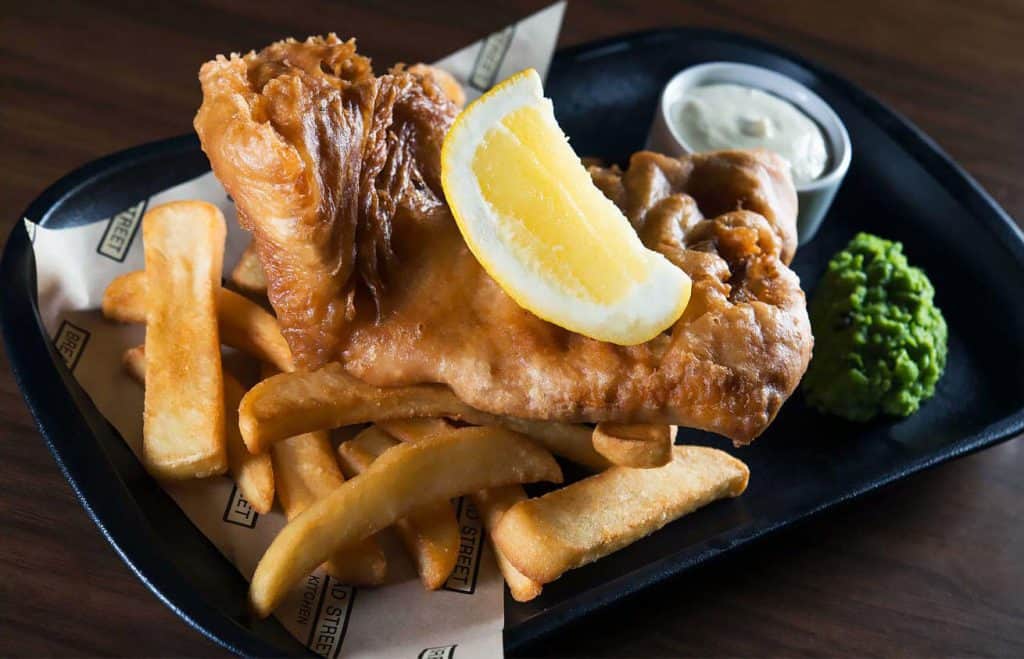 Source: Marina Bay Sands
Last up on this list, Bread Street Kitchen houses some of the best fish and chips in Singapore, being under celebrity chef Gordon Ramsey's group of Michelin-star establishments.
Offering British and European mains and bar bites, one of their menu's specialities has got to be the British favourite, Fish & Chips.
The restaurant preserves the traditional British culinary heritage by preparing this classic dish with its quintessential toppings, like mashed peas, thick-cut fries and tartare sauce. Their fish is deep-fried to perfection, with a crunchy batter and flaky centre.
Conclusion
In terms of Western food, fish and chips take the lead for being one of the most popular choices among Singaporeans. From your coffeeshop's nostalgic Western food stall to high-end restaurants, we've all had our fair share of this British classic.
Craving for other kinds of Western food? We have for you some of the best affordable Italian restaurants in Singapore for some good ol' pasta!
Featured Image by Mai Quốc Tùng Lâm on Unsplash
In this article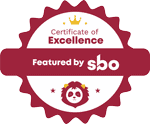 Are you featured in this?
Display this exclusive SBO badge proudly on your website!