10 Best Prawning in Singapore For An Interesting Day Out [2023]
Check out this guide for the Best Prawning in Singapore to escape from the hectic work or study life!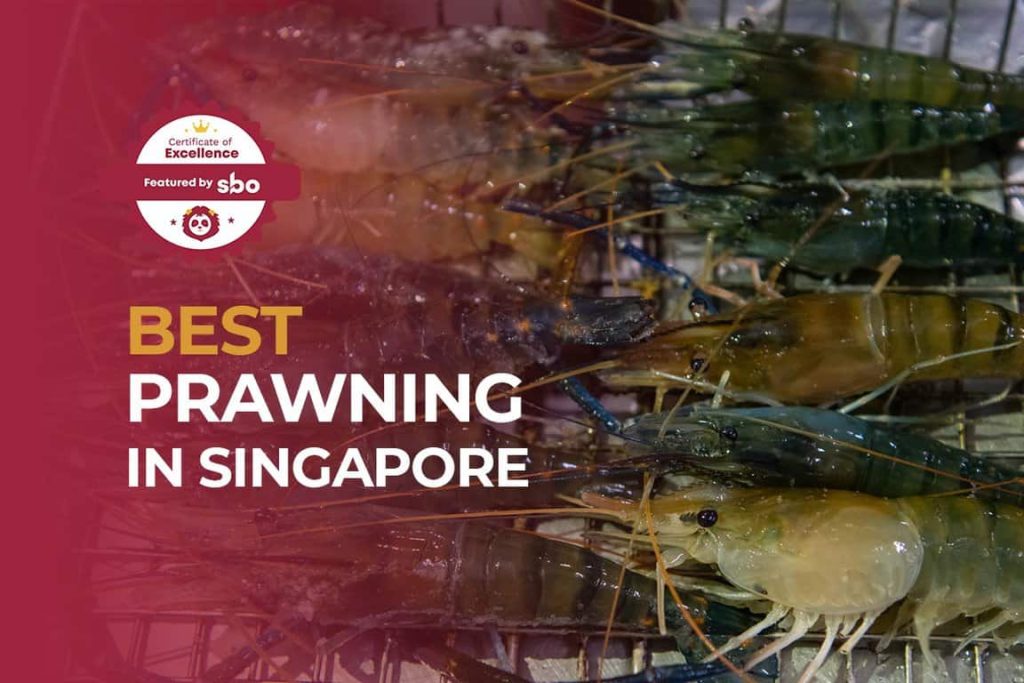 Singapore might be a tiny red dot on the world map but it certainly has many interesting activities for you to explore. Some of those activities include ice-skating, escape rooms, laser tag, or even pottery classes for those that prefer a peaceful weekend.
What about an activity that offers peace, thrills, and food altogether? Yes, that's right, I'm talking about Prawning. In today's guide, we'll be introducing the 10 Best Prawning in Singapore for an escape from your hectic work or study life!
1. Ah Hua Fishing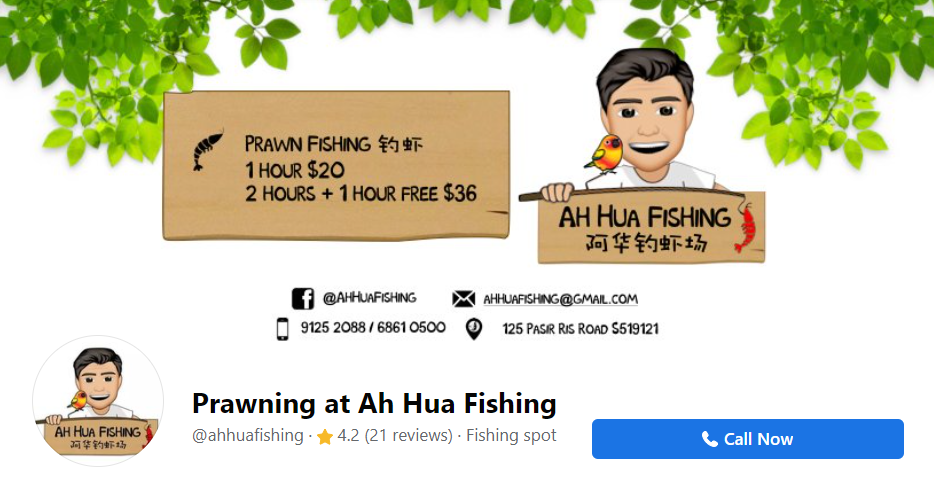 A fishing spot located in the countryside where the air is cleaner, and the life is quieter. Ah Hua Fishing strives to be an outlet of escape from the urban sprawl of the city, a space where everyone can relax & enjoy precious moments with their loved ones.
Reviews reflected the customers' preference of a quiet ambience with chill vibes, where the customers are able to hang out with their friends and family. With the help from the staff there, even amateurs were able to catch some prawns there within the first few hours!
2. Nelly's Prawning & Cafe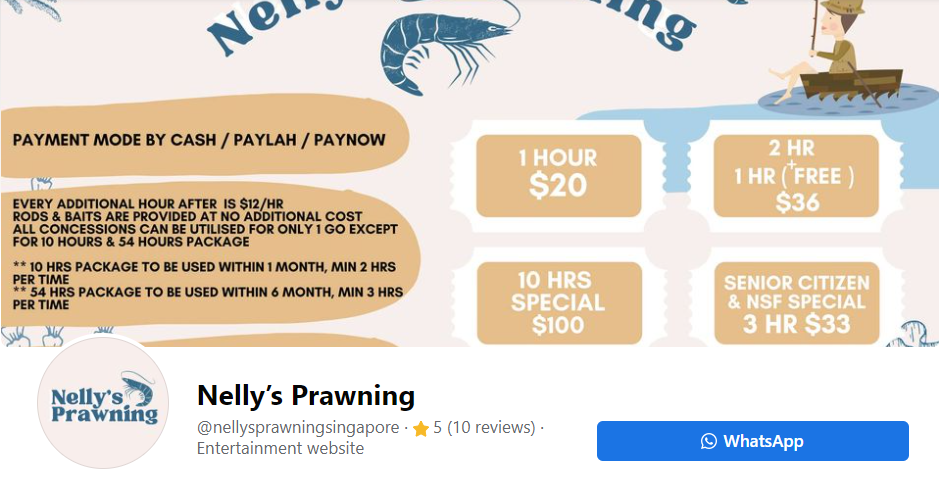 Open 24 hours daily, Nelly's Prawning & Cafe provides an all-rounded experience. Not only do they have ponds for prawning lovers, but they also serve snacks, drinks, ice cream, and old-school biscuits, great for families with young children. Besides that, they also have many activities for kids such as their recent activity for kids to explore the life cycle of chickens.
To provide more entertainment for the entire family, Nelly's have been planning for the upcoming engagement such as kids paper net fishing, fish spa, rollerblade skating and trampoline for kids, etc. It'll be an eventful day there with all those activities so head down there for an enjoyable bonding day!
3. ORTO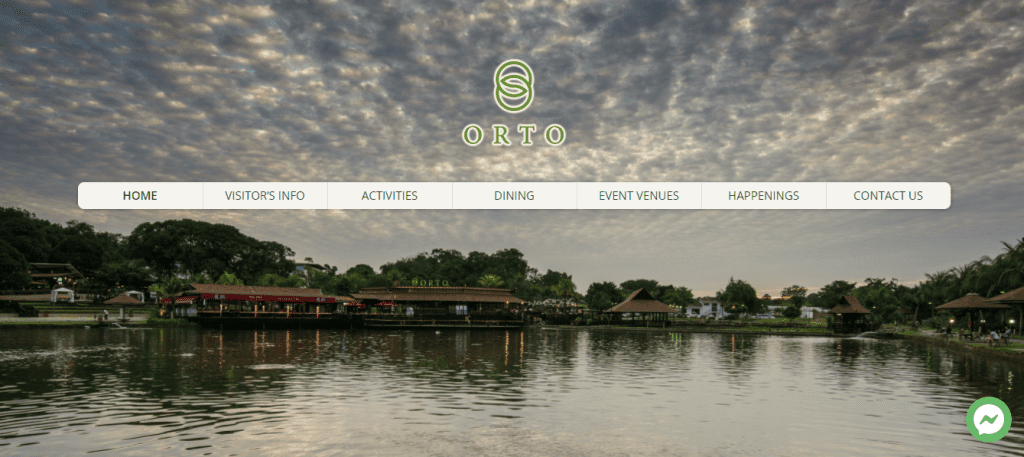 A sanctuary for nature lovers, ORTO is a 555,000 sqft (about the size of 7 football fields) lush greenery located in the northern part of Singapore. It is the country's first multi-recreational park that is open to the public 24 hours a day, catering to all-day and night activities such as prawning. Formerly called Bottle Tree Park, ORTO has been revamped and refurbished, yet retained its old kampong charms and rustic feel. The cool, scenic, and relaxing ambience makes the park a fitting venue not only for family outings but also for company events and parties.
Accessible and conveniently located near Khatib MRT, ORTO offers a quick and easy respite from the city's hustle and bustle, providing fun and recreational activities that are meant to help you relax, bond with family and friends, and get closer to nature. To complete the exclusive prawning experience, you can head over to the slew of restaurants there that serves a diverse set of cuisines and dishes, catering to different taste buds and budgets.
4. D'Best Fishing @ Pasir Ris Town Park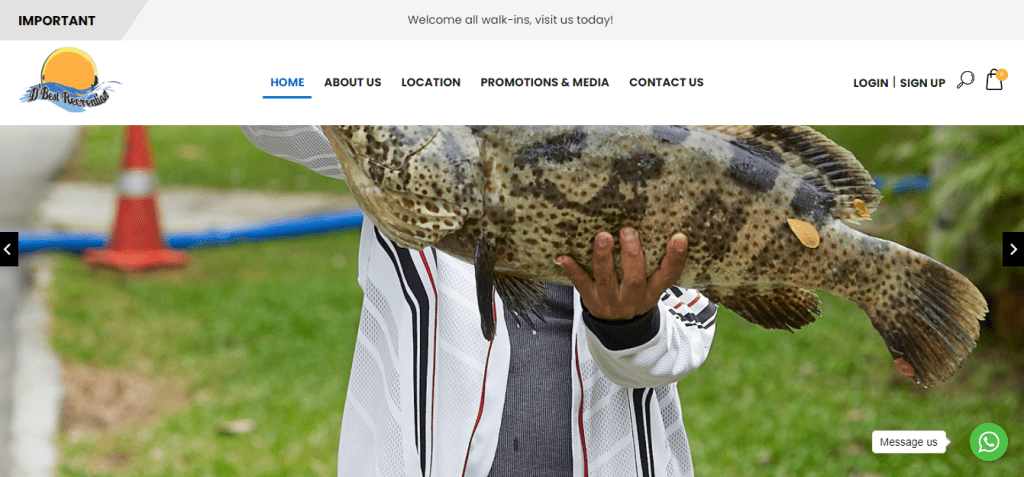 D'Best Fishing is one of the top recreational destinations in Singapore and home to the largest fishing ponds on the island. Their ponds are filled with a diversity of seawater fishes daily so that anyone – amateurs, professionals, young and old – can have a great time casting their lines. Aside from fishing, they also offer many other activities for you to enjoy, such as prawning, as well as soon-to-come crabbing, lobstering and more. Top it off for the day, check out their various delightful restaurants and bistros, and you'll be sure to come back for more!
With over 300 reviews, D'Best Fishing manages to sustain 4.3 stars out of the maximum 5.0. Being one of the pioneer fishing locations, D'Best was said to have ample parking spaces, a wide variety of catch, and a good catch rate.
5. Iwarna Aquafarm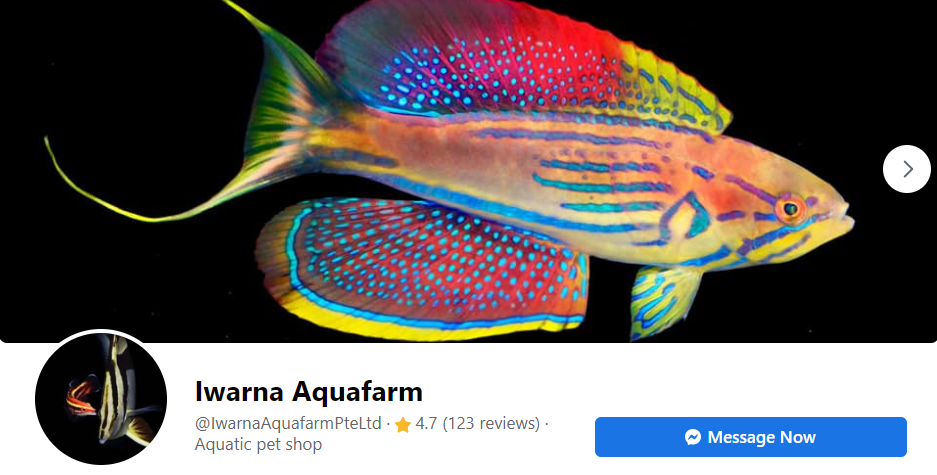 Located at the far end of Singapore, Iwarna Aquafarm will surely bring solitude to your prawning experience and you'll be promised some space of your own for your prawning session. Accessible only by car, this prawning aquafarm will be off the grid to most people. Thus, it is surely an ideal place for those who dislike crowds and waiting for queues.
Iwana Aquafarm will surely feed both the stomach and the mind. With a grill to cook your catches, $10.50 an hour is definitely more than worth it. In fact, $10.50 per hour is probably one of the cheapest prawning that you can find in Singapore so what are you waiting for? Head down to Pasir Ris for an enjoyable outing!
6. Punggol Riviera Prawning 海老釣り堀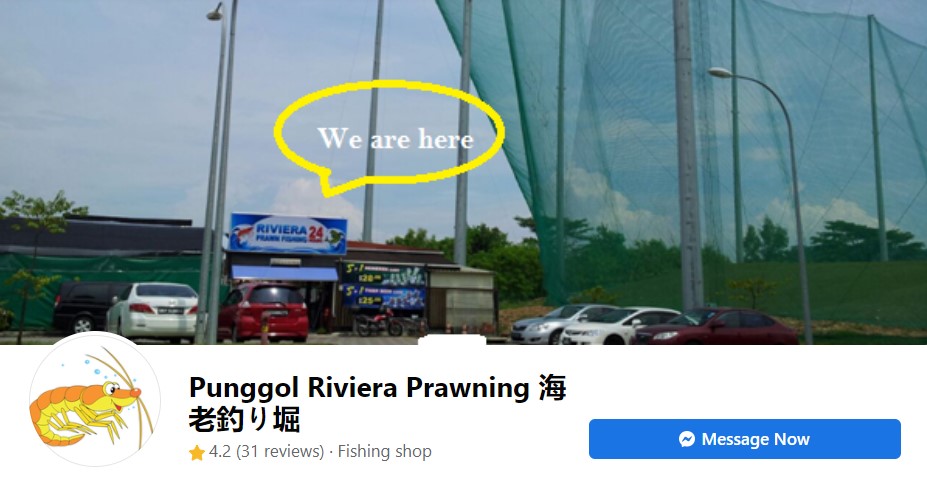 Located next to the Punggol Golf Course in the northeast of Singapore, Riviera Prawn Fishing is a great place to bring your friends and family for prawning adventures. If you are looking for a tranquil place to relieve your stress, try them out! Here you can have no distractions and focus on only having a peaceful and soothing time. With all your catches, have a delicious BBQ session with your loved ones at their dining area! They also offer a reward system when you can catch their specially tagged prawns.
This secret hideout is hidden away from the crowd to ensure that you get the best rest there so make sure to visit this restaurant and catch some fresh prawns today.
7. East Coast Prawning Pte Ltd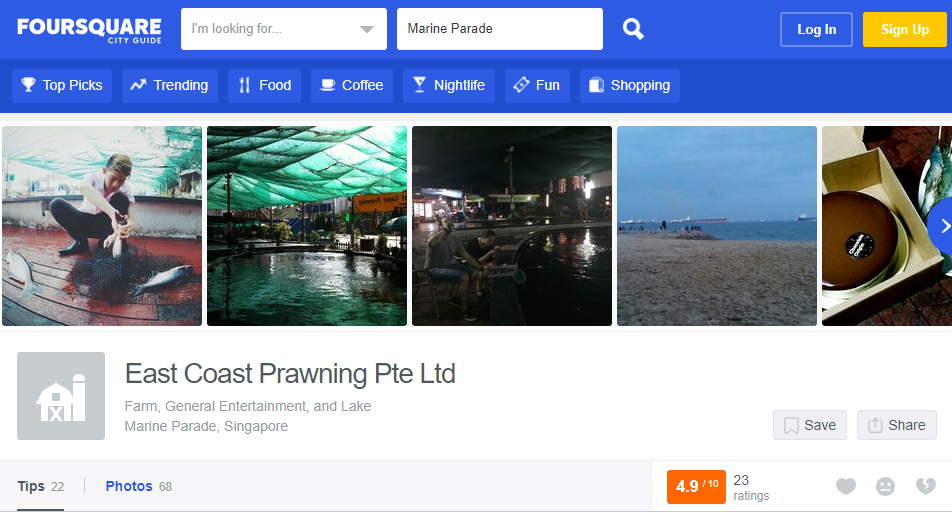 Speaking of East Coast and many would think of East Coast Park (ECP) where you can cycle, jog, rollerblade, or have a family bonding time with the BBQ pits and open space there. However, many missed out on East Coast Prawning which is situated at the end of ECP.
Opened on 28th Feb 2009, East Coast Prawning has been providing quality catches and a place for quality time with your loved ones. Other than mainstream prawning, they also have "Longkang" Fishing for you to relive those nostalgic days and your catches can be brought home too! If you're going ECP, why not try out a different activity this time?
8. Hai Bin Punggol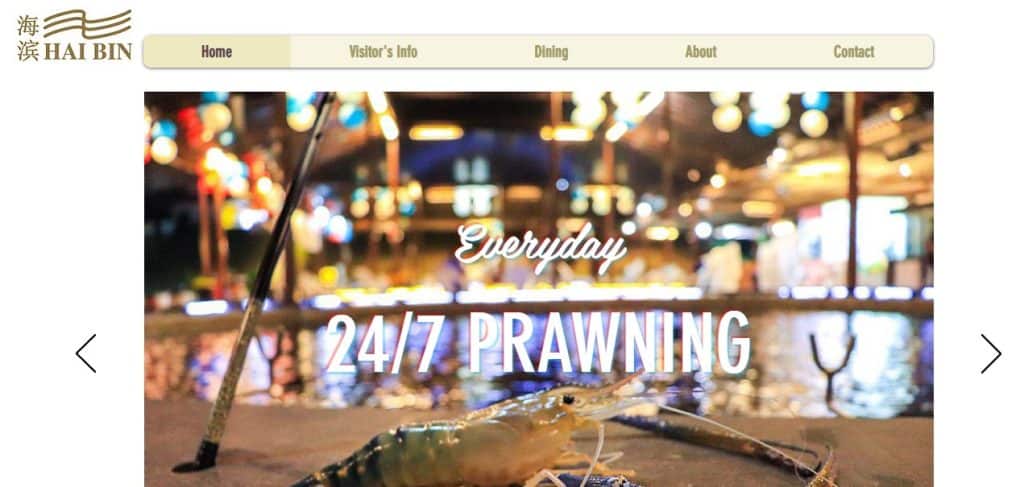 Established in 2007, as a Prawn Fishing Pond in Sin Ming Avenue, Bishan, Hai Bin has since grown and expanded to provide high-quality prawn fishing experiences to their customers. It all started with a man who had a passion for fishing and a dream to revive the Kampung spirit and lifestyle in the heart of Singaporeans. The late founder of Hai Bin, Alex, decided then that he would make it his dream to create a space of rest and relaxation that might revive the passion of fishing amid our hectic urban lives.
With a vision to promote Prawn Fishing as a lifestyle activity in Singapore, they strive to deliver and manage the best quality prawning venues to their clients through their capable family of staff who specializes in various aspects of the business.
9. ATC Fishing Village @Jurong Hill
Located in the West, ATC Fishing Village @Jurong Hill provides you with a relaxing and thrilling prawning experience. To enjoy some excitement, they also have a Tagged Prawn Rewards system, where you'll have a chance to win $2, $5, $10, or one free hour of prawning, based on the colour of the tag attached to the prawn.
Reviews complimented the catches there, with BBQ pits provided for grilling. However, some feedback with regards to the payment were noted such that customers are charged by headcount and not by per rod.
10. Fish@AMK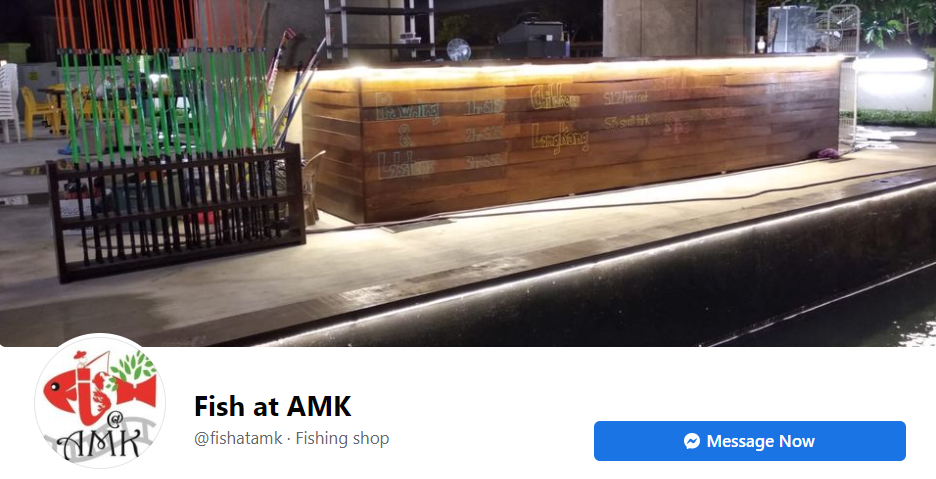 Fish @ Ang Mo Kio is Singapore's First Concept prawning in the great outdoors with the perfect shelter so you never have to worry about rain or shine!
Besides prawning and fishing, Fish @ AMK also holds a lucky draw regularly where you get to win cash prizes and vouchers! Prizes are given on a specific day, from 2 pm to 7 pm with an hour interval. Just keep and bring your value cards or tiger cards received from fishing there and drop them into the lucky draw box before noon on the stated date to win some prizes!
Next draw date is on 30th January, Sunday so don't say bojio!
Conclusion
What do you think about our recommendations for prawning? Do you have other suggestions with regards to your best prawning spots? If you do, we welcome any feedback or anonymous sharing regarding your prawning experience!
We hope that this guide will be useful in helping you to make an informed decision when it comes to finding the best Prawning in Singapore and have fun.
Explore More Content