10 Best Escape Room in Singapore to Escape From Life's Troubles [2023]
At least escape rooms provide a temporary respite from life.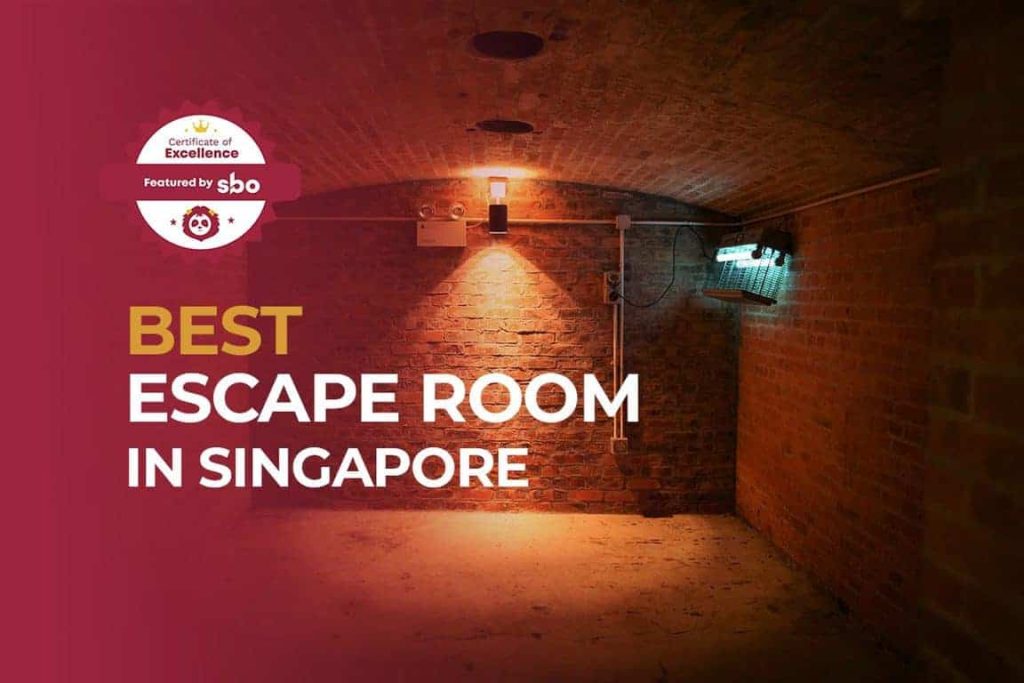 An escape room in Singapore, also known as an escape game, puzzle room or exit game, is a game in which a team of players discover clues, solve puzzles, and accomplish tasks in one or more rooms in order to accomplish a specific goal in a limited amount of time.
The goal is often to escape from the site of the game.
Looking for a escape room in Singapore? In this post, we've gathered all the relevant details to compile a list of the 10 best escape room in Singapore.
1. Xcape Singapore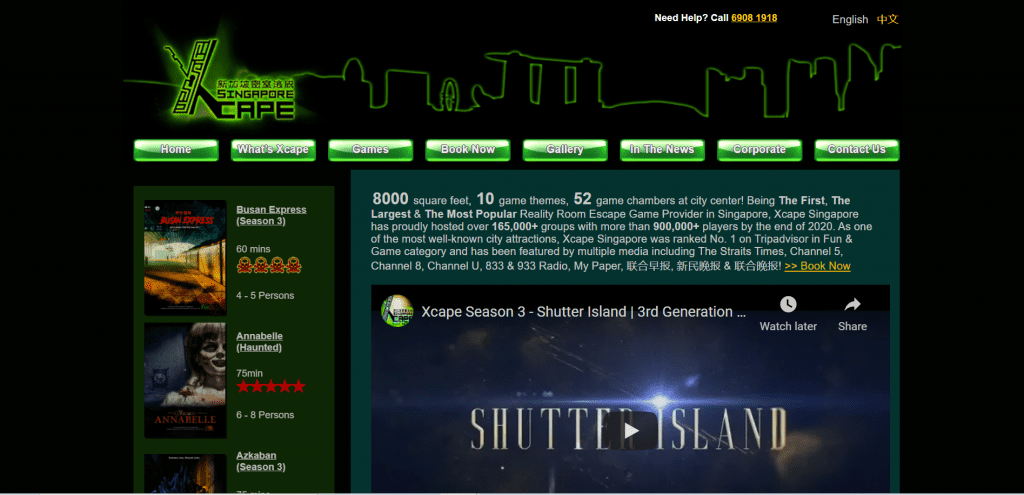 Xcape Singapore is the largest Reality Room Escape Game in Singapore with Hollywood's touch and feel.
With a commitment to providing city dwellers with a novel concept of entertainment, you will not only find sophisticated environments for you to exercise your investigative talents in; you will also be pulled into breath-taking story plots that will put you in the place of the protagonist in a thriller!
Our recommendation is to give their "Busan Express (Season 3)" a try. The 60-minute long experience is set in 2040 when a mysterious virus has spread across the world.
Everyone infected by the virus has turned into bloodthirsty zombies. You are one of the selected few lucky citizens to be transported by train to the Busan quarantine zone and you must try to avert the plight of being turned into a zombie.
Reviews laud the escape room in Singapore for their properly maintained props as compared to other escape rooms in Singapore, although their prices were steeper.
2. Trapped Escape Room Singapore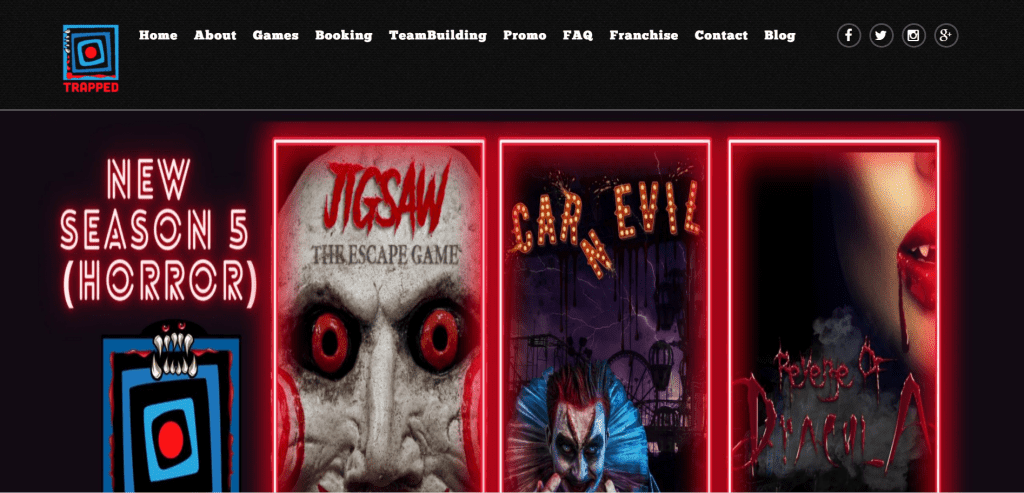 Trapped Escape Room Singapore is a leading Escape Room Singapore & Corporate Team Building company that specialises in 5D Real Life Escape games.
They aim to offer the next-generation experiential form of entertainment for everyone to enjoy.
There are eight game themes for you to choose from and you'll be able to bring five friends along given the COVID-19 situation.
Our advice is to give their "Escape From Pulau Tekong" room a go, with its novel plotline and excellent use of props.
Reviews praise the escape room in Singapore for their friendly staff who would lend visitors a helping hand whenever they were unable to solve the puzzles.
3. Lost SG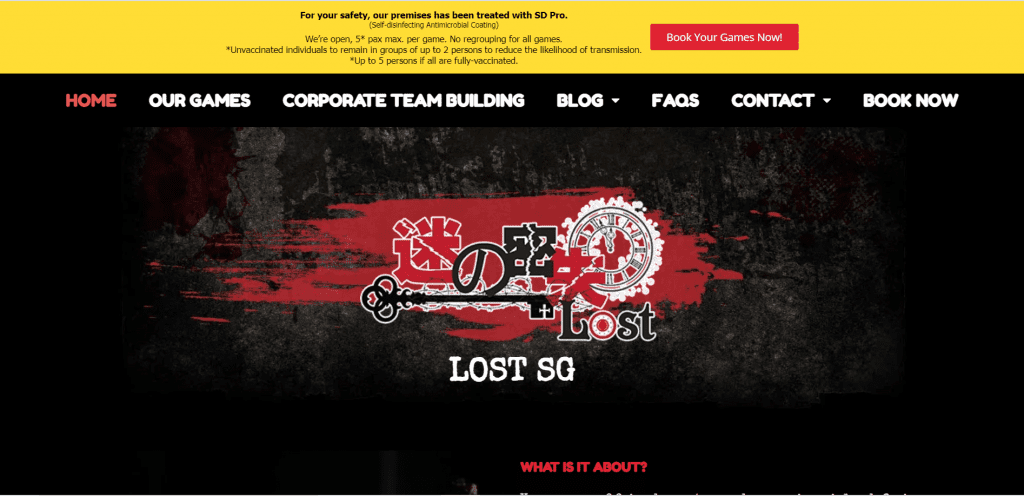 Lost SG is a high-technology, top-rated 60-minute escape room in Singapore where players put their heads together to make sense of thought-provoking clues and solve seemingly abstract puzzles to escape from a locked room in record time.
Their outlet at Peace Centre spans over 2,500 square feet and features five unique escape room games.
From their beginner-level Alcatraz to their new creation the Mausoleum, you will be challenged and amazed with up to 11 other friends.
In total, Lost SG's outlet can take up to 56 players at a time — so bring your friends along!
Reviews laud the escape room in Singapore for the well-thought-out design of their escape rooms. The lights and sound effects were apt to match the overall mood.
4. Captivate Escape Rooms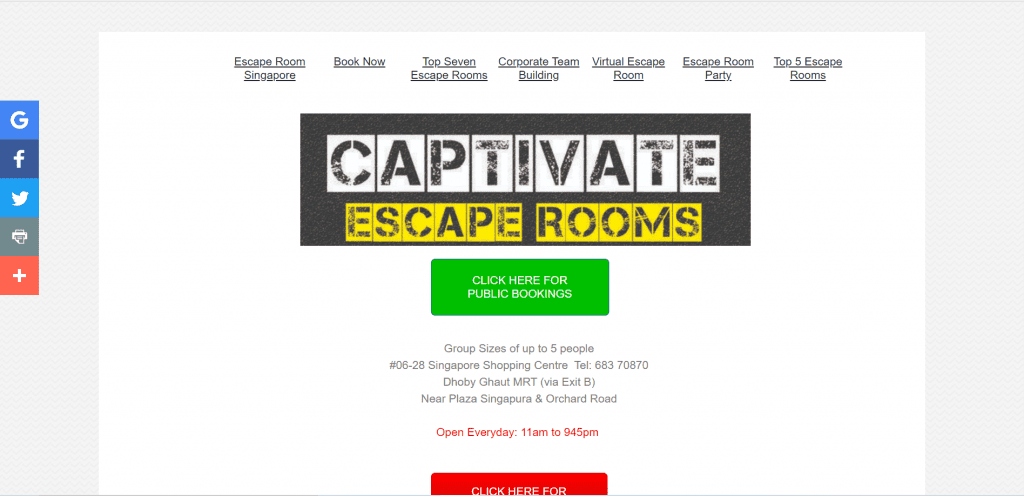 Brimming with challenging puzzles and clever escape room technology, Captivate Escape Rooms is the place to go to if you wish to have a whale of a time. They allow group sizes of up to 5 persons given the present COVID-19 situation.
Our recommendation is to give their "Mythical Beasts" room a try, with breathtaking props and unique puzzles woven elegantly into the mythical escape room story.
The escape room in Singapore also offers virtual escape rooms in Singapore in light of the COVID-19 situation.
With their CreatEscape software, you can create your own Escape Room based training using their spectacular 3D virtual visualisations and an intuitive authoring tool.
They also offer ready-built virtual Escape Rooms.
Reviews laud the escape room in Singapore for forcing participants to think out of their box. Their escape rooms are also very well-lit compared to other places.
5. The Escape Artist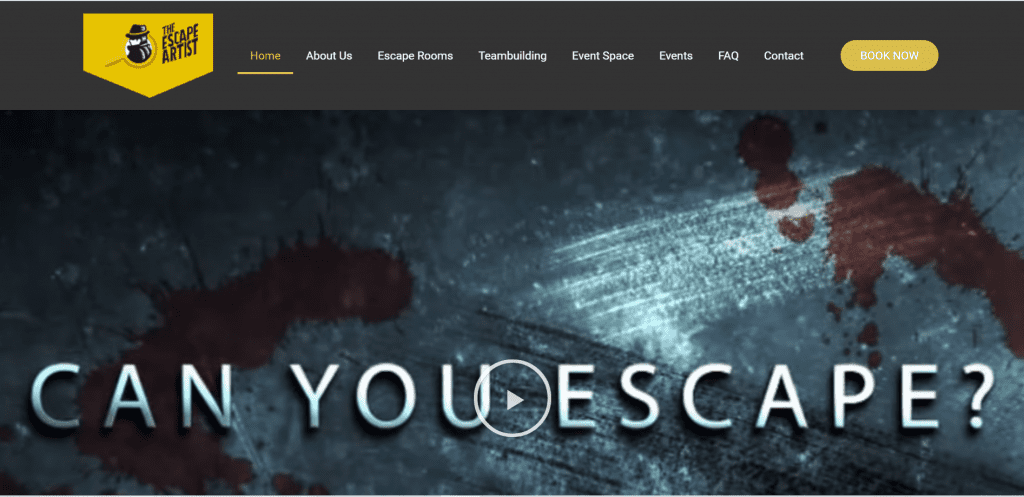 At The Escape Artist, they take pride in being pioneers and breakers of new ground, being the first to bring the fun and excitement of real-life escape room games in Singapore.
Today, they are one of – if not the best – operators of escape room games in the market, and they incorporate distinctive themes into their puzzles.
Looking for an escape room that sends chills down your spine?
Our suggestion is to go with "Dr Frank", whose story starts with the disappearance of a woman named Mary. Ever since then, more women have started to vanish into thin air.
Your investigations lead you to the hospital where Mary worked, and after repeated interrogations, her colleague Dr Frank Shelley finally agrees to give you critical information.
Arranging to meet him at his house, you arrive only to find the door ajar, and no response from within. You awaken to find yourselves imprisoned and chained. Your only hope lies in working together to find a means of escape.
Reviews praise the escape room in Singapore for being one of the more affordable but difficult ones. The well-crafted puzzles required some careful deciphering.
6. Lockdown Escape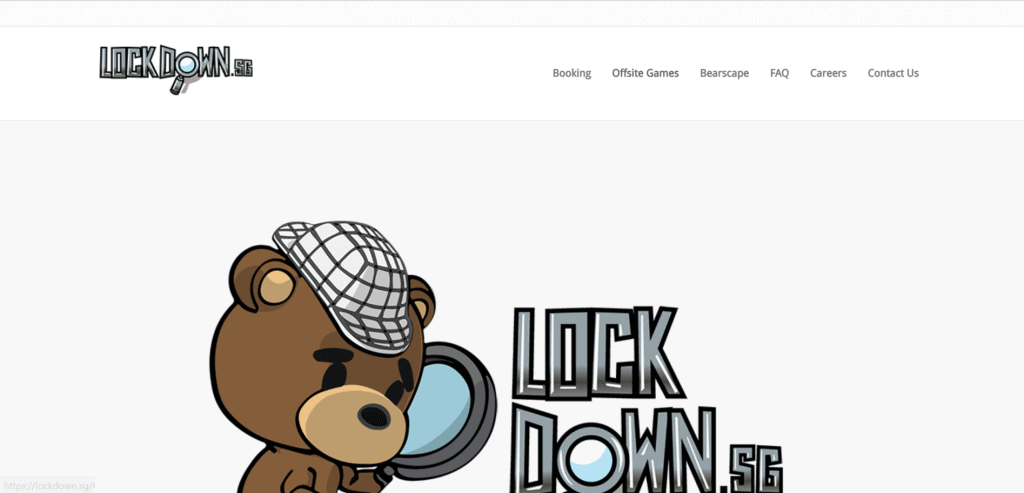 Lockdown Escape is an immersive in-person escape room game simulating online video games.
In the game, the player is locked in a room and must exploit his or her surroundings in order to escape. The escape game requires players to be observant and use critical thinking skills in order to solve the challenges quickly.
Our recommendation is to give their "Bearcraft: Dream World" escape room a go, which is suitable for 3 to 8 players and is set in the fictitious world of Minecraft.
The game's storyline revolves around you, a video game addict, being trapped in your dream and this is a real-life game which you must win in order to wake up!
Reviews laud the escape room in Singapore for their fun and thought-provoking puzzles, which allows families to enjoy bonding time with an educational slant.
7. Virtual Room Singapore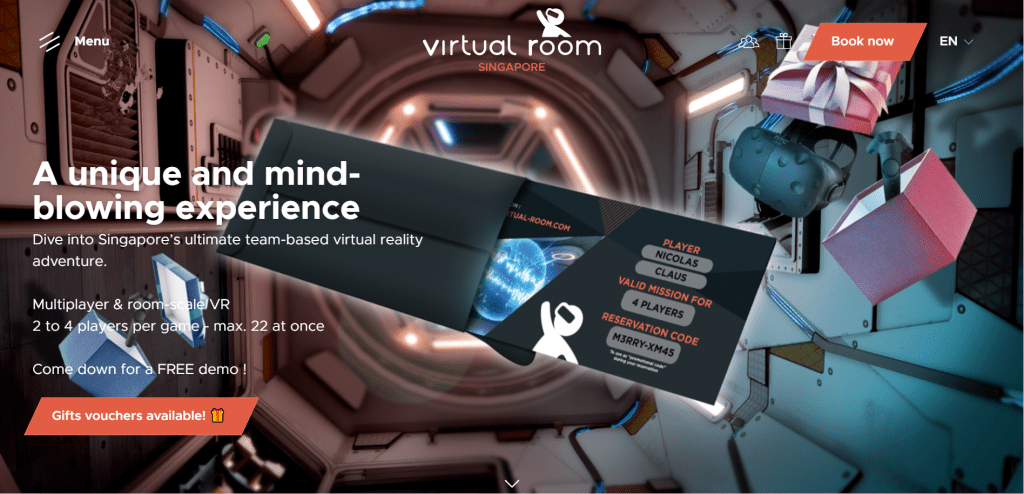 Virtual Room adds a modern twist to the traditional escape room experience by incorporating Virtual Reality cinematic elements.
Played in groups of 2, 3 or 4 players where each player will have his or her own dedicated Virtual Reality headset, players will collaborate with one another to solve the room's puzzles.
Our recommendation is to go with their "Are We Dead?" escape room, designed for 2-4 players.
The story is set in the year 2040 in a secret military base after an infection devastated the planet creating a rampant zombie population. The goal is for you, as a zombie, to save your entire race before the scientists find an antidote.
Reviews laud the escape room in Singapore for their gamemasters, who were very professional in helping players with their gears and sharing the game's instructions.
8. The Fun Empire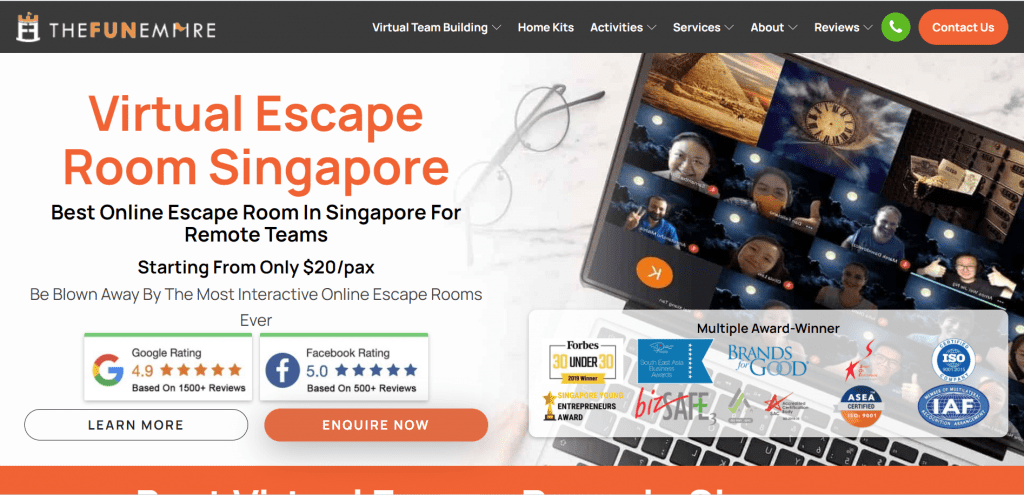 The Fun Empire is proud to present Singapore's first and only Virtual Escape Room Experience!
They have taken their popular physical Escape Room experience online and developed their very own original Online Escape Room for participants to be fully engaged in a totally immersive virtual environment with an exciting storyline.
Our recommendation is to go with their highly raved about "Curse of the Werewolf" theme, which is set in a small ancient village.
Mysterious werewolves hide in the dark, attacking innocent villagers at nightfall. As descendants of the Village Chief, the onus falls on you and your teammates to lift this curse and save your village. 
Their facilitators are trained with their proprietary ASEA™ Quality Training Management System (ISO 9001 Certified) to ensure the best Virtual Escape Room experience for you.
The virtual escape room in Singapore requires only two people to kickstart and can accommodate an unlimited number of participants via Zoom.

9. PartyMojo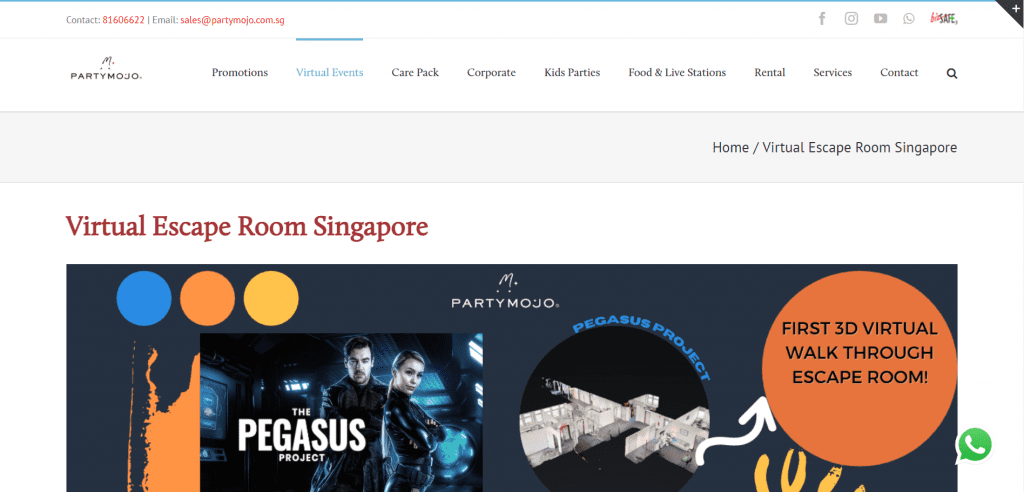 Looking to try your hand at a virtual escape room in light of the COVID-19 measures?
Our recommendation is to go with PartyMojo's virtual escape room, whose novel storyline revolves around an undercover agent who has accidentally discovered something amiss in the giant telecommunications group Synder Corp.
He has gone missing from 1st March. Your job is to find clues in the Synder Corp Building and unravel the truth behind their latest mobile app – Pegasus Project!
The virtual escape room requires a minimum of 4 people to kickstart, and the company can cater to 1,000 attendees by splitting the participants into smaller escape rooms that will be held concurrently.
The escape room in Singapore will be held via Zoom.
10. JNR Entertainment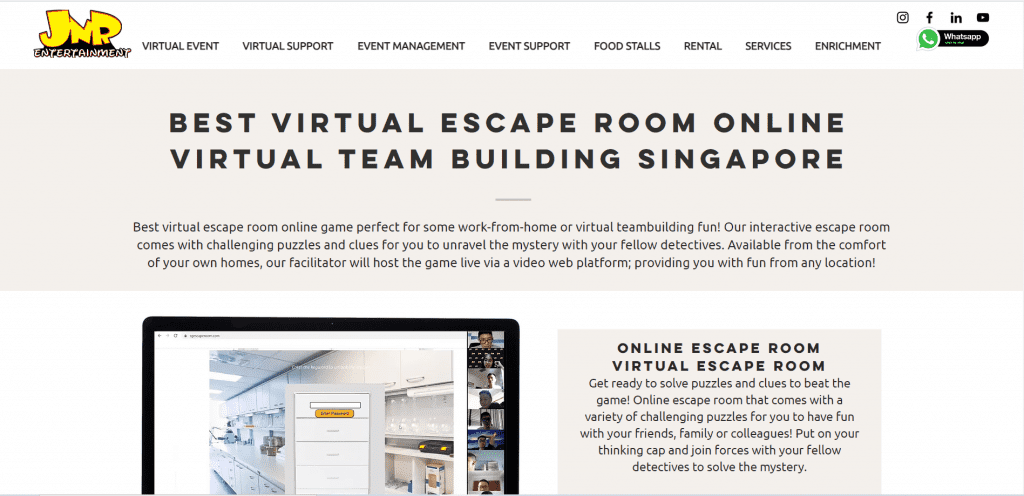 JNR Entertainment's interactive escape room comes with challenging puzzles and clues for you to unravel the mystery with your fellow detectives.
Available from the comfort of your homes, their facilitator will host the game live via Zoom or Webex!
Our recommendation is to go with their "Deheist Adventure" theme, inspired by the Netflix series "Money Heist". You will work together with your team to uncover the clues left behind by The Professor and the team.
The various clues are left behind strategically inside the Mayor's mansion to help your team to solve the mystery.
The escape room in Singapore requires 4 players to start a game and can cater to up to hundreds of participants per session by splitting them into breakout rooms.
Conclusion
Do you have any reviews and comments to share regarding our choices for the best escape room in Singapore?
While SBO is committed to supporting our local businesses, we welcome any feedback and anonymous sharing regarding your experience with the best escape room in Singapore.
We hope that this guide will be useful in helping you to make an informed decision when it comes to finding the best escape room in Singapore.
Featured Image by Kdwk Leung on Unsplash
Explore More Content