10 Best Online Trading Platform in Singapore to Start Investing [2023]
Check out the 10 best online trading platforms in Singapore to start investing and make money today!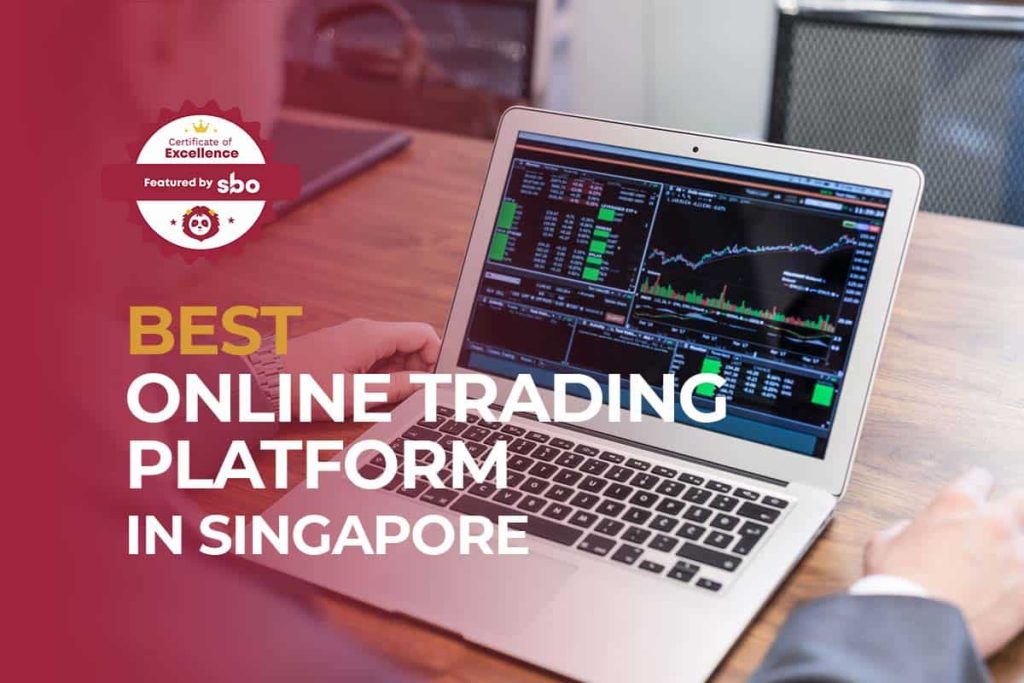 Investing is the most important advice everyone should follow as it can ensure present and future long-term financial security. Investing will allow you to take charge of your financial security, grow your wealth and also generate an additional income stream, helping you plan ahead of retirement.
Investing should start as early as possible as it allows compound interest to do its wonders. But with so many online trading platforms to choose from, it can get pretty overwhelming, especially for new investors.
As such, we have compiled a list of the 10 best online trading platform in Singapore for you to choose from, making sure you get the right online broker to start your investment journey.
1. Tiger Brokers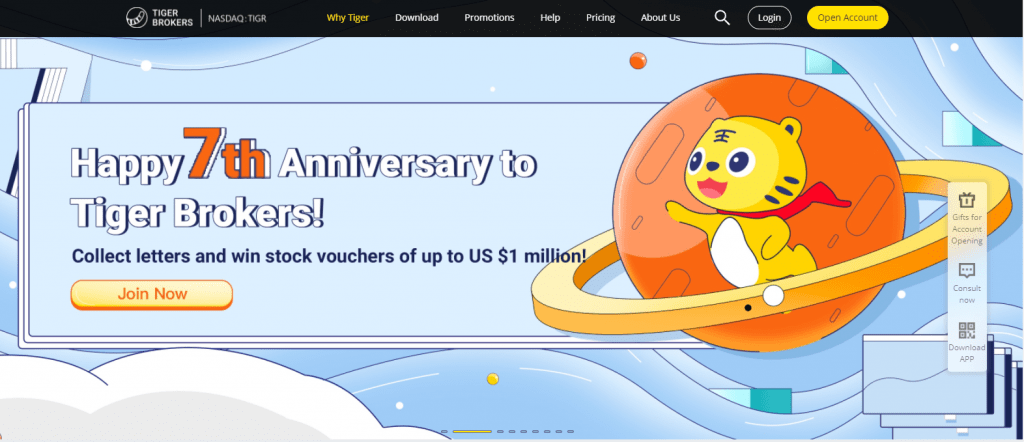 Backed by Xiaomi and listed on NASDAQ, Tiger Brokers made it to the list of best online trading platforms in Singapore with their competitive commission fees and easy access to global markets. These include Singapore, USA, Hong Kong, China and Australia, where you get to access stocks, ETFs, options, warrants, CBBCs, REITs, futures, and more on multiple markets from a single account.
Sign up for an account now to start your online trading journey with Tiger Brokers today!
2. moomoo (by Futu SG)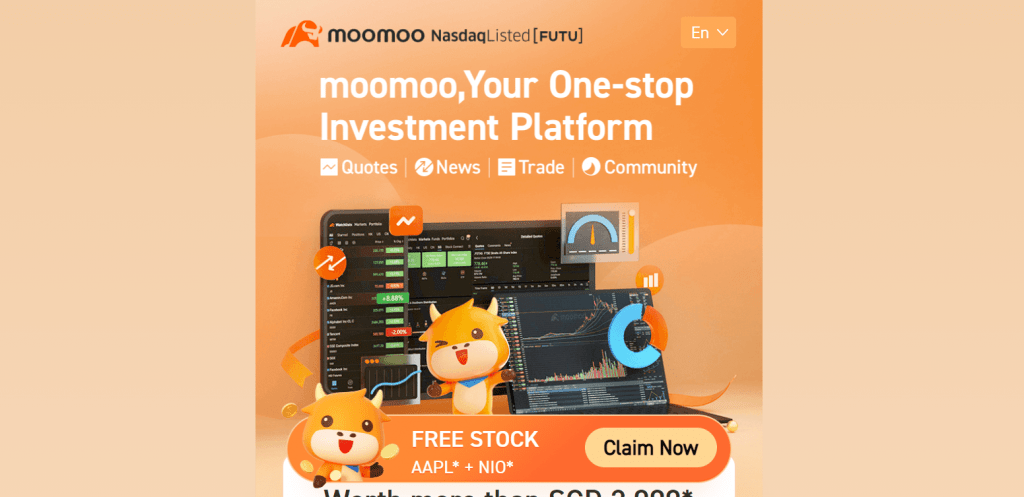 Making to the top of the list of the best online trading platforms in Singapore, moomoo by Futu SG announced its arrival by offering a free AAPL share pre-launch and during their launch.  With a host of tools at your disposal, you can easily find popular stocks and the hottest industries to sink your money in. It can screen by market cap, percentage change, turnover, trade volume, P/E and more. With a commission fee of just US$0.99 for US stocks, HK$3 for HK stocks and S$0.99 for SG stocks, moomoo by Futu SG would be a great choice for newbie investors.
3. IG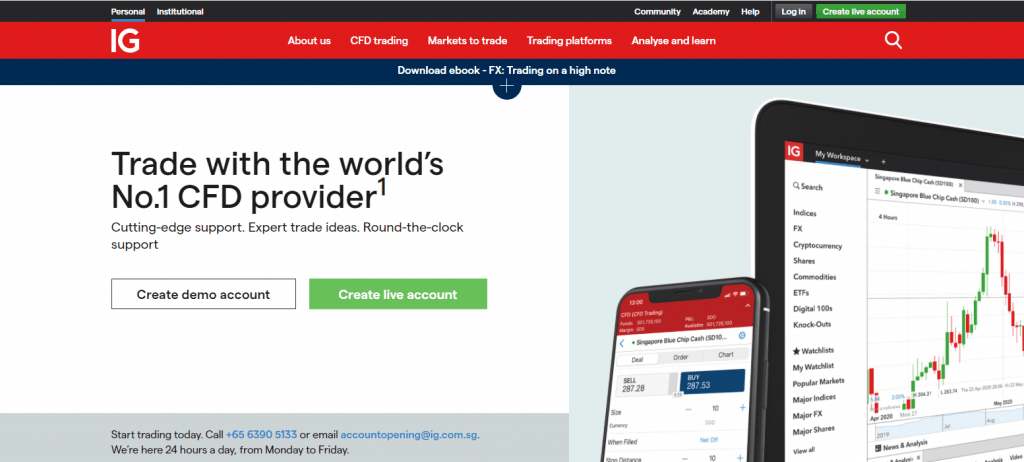 An award-winning mobile app, IG has over 45 years of history, a listing on the London Stock Exchange, several regulatory approvals from top-tier jurisdictions around the world, and multiple awards. With such an impressive track record, it's not surprising IG made it to our list of the best online trading platforms in Singapore.
With more than 17,000 markets and 104 FX pairs, IG offers one of the largest selections of CFDs and forex trades (FX) on the market. IG also has one of the most user-friendly trading platforms and so newbie investors rest assured you will have a great time on the app. You can also get to enjoy free online courses and webinars with IG Academy. T&Cs apply.
4. POEMS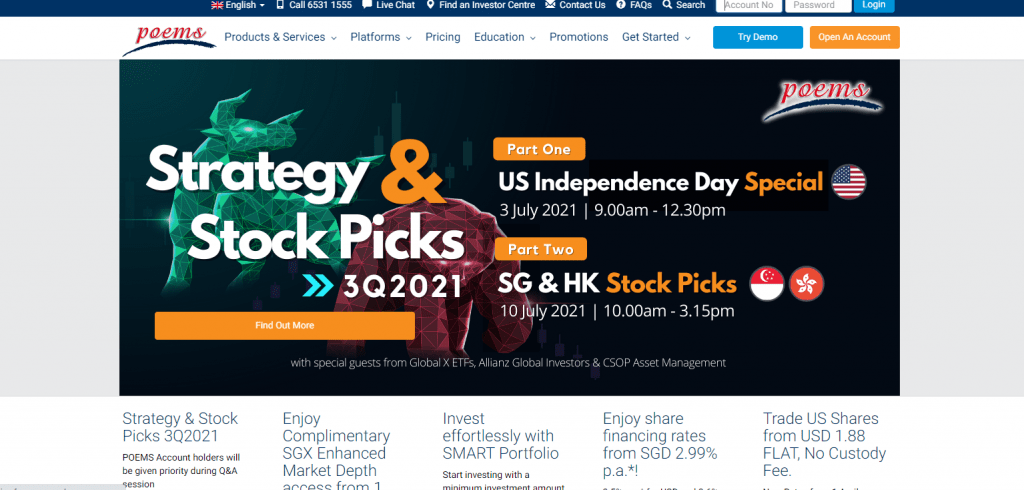 With over 40 years of history, POEMS is one of the most experienced online brokerages in Singapore. Having amassed over 40,000 types of financial products in its catalogue, POEMS is active in 15 markets around the world such as US, UK, Australia, Japan and Hong Kong.
With POEMS, you will be allowed to conduct multiple methods of account funding, and most of them do not carry any service fees. All in all, POEMS is a dependable choice for investors and traders who want wide market access, trustworthiness, and a big selection of different instruments.
5. Interactive Brokers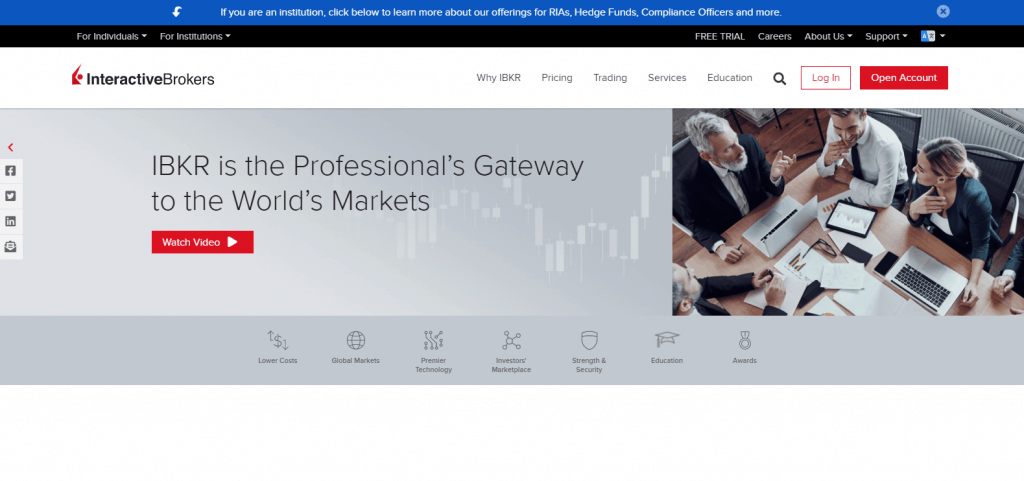 Interactive Brokers (IBKR) was listed on the NASDAQ since 2007 and has recently opened an office here in Singapore in July 2020. Prior to its opening in Singapore, IBKR is already a well-known brokerage and has been used by many investors in Singapore.
A Singaporean will need to be an IBKR Pro user in order to use IBKR in Singapore. As an IBKR Pro user, you can get to enjoy all the offerings IBKR has available, including their advanced technology such as IBKR algorithms, APIs and tools that IBKR Lite users cannot access. As an IBKR Pro user, you can gain access to more than 40 ETFs with no transaction fees. T&Cs apply.
6. Saxo Markets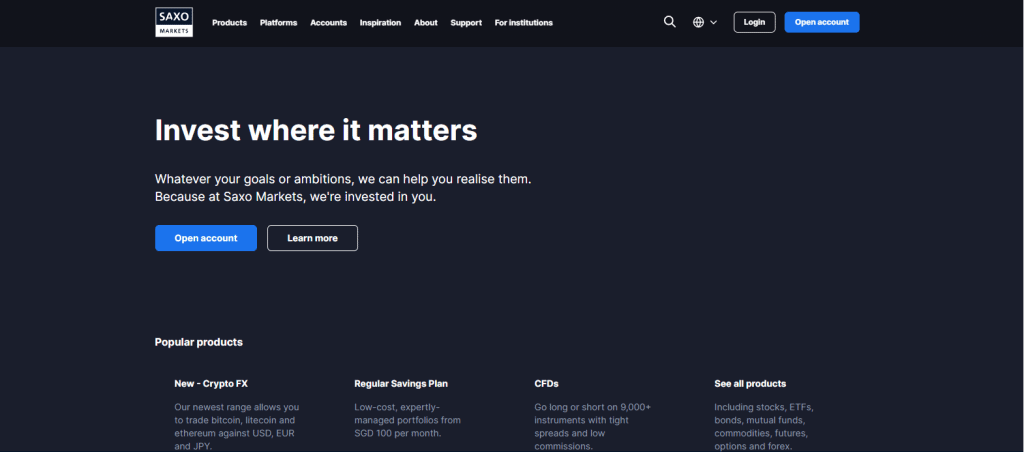 As a highly popular choice among investors, it's not hard to see why Saxo Markets made it to the list of best online trading platforms in Singapore. The online broker has one of the largest range of trading instruments, offering everything from regular stocks and bonds to advanced products such as forex, CFDs and other leveraged products. They even have regular savings plans and managed portfolios, catered especially for those who prefer a more passive style of investing.
In addition, you can get to access their rich learning hub with loads of inspiring and educational content to guide you in your investment journey.
7. OANDA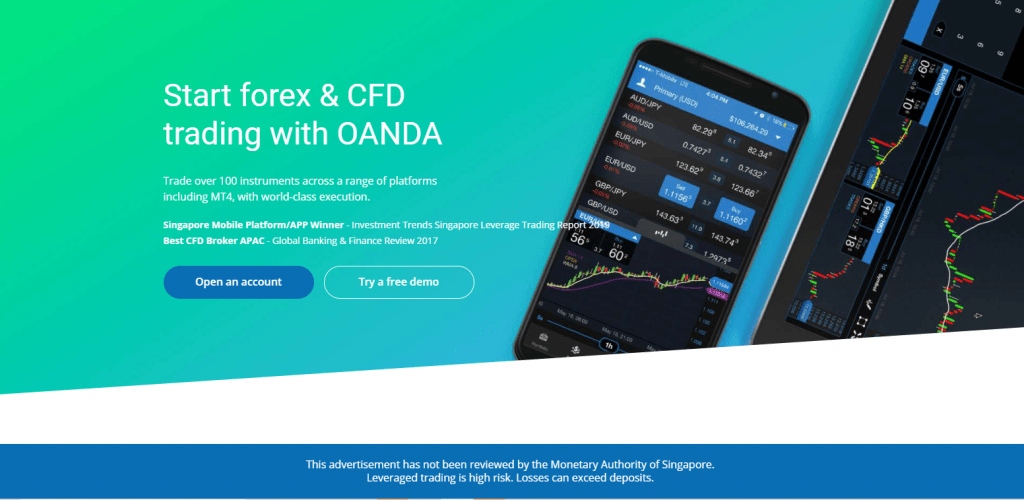 Oanda has a proven track record of over 25 years of experience and multiple regulatory approval around the world, including in Singapore and other tier-1 jurisdictions. As such, Oanda is a trusted online brokerage for many traders of FX and CFDs. At Oanda, investors can access over 70 FX pairs, and some 55+ CFDs in commodities, metals, bonds and indices.
Aside from that, Oanda also provides high-quality research and educational materials that traders can utilise to improve their chances of success. This consists of a mix of news headlines, in-house content and premium resources from leading think-tanks.
Therefore, Oanda would be best suited for experienced traders and long-time investors who have already found their preferred trading focus. Nevertheless newbie traders can still benefit from an Oanda account for the top-quality research and news. You can also gain access to reduced spreads when using OANDA's commissions pricing option. T&Cs apply.
8. UOB Kay Hian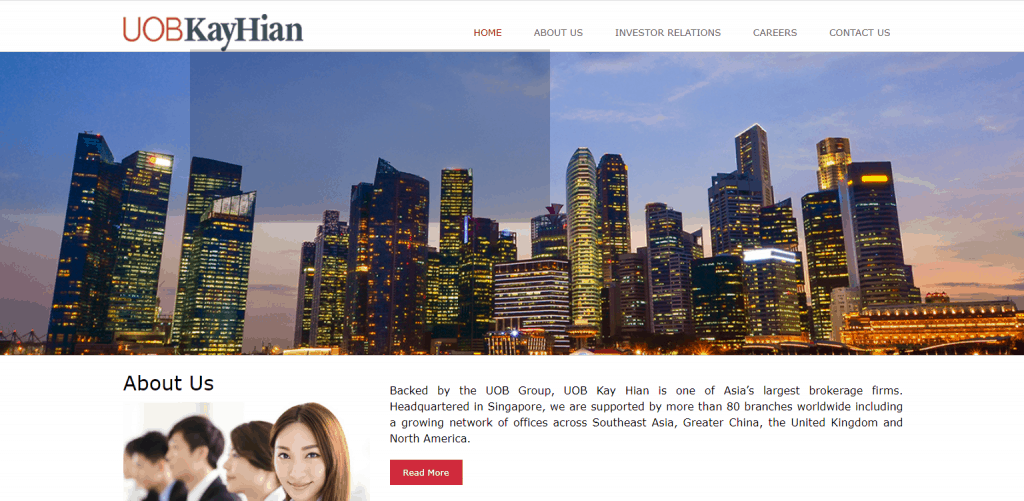 What's better than to end off the list of the best online trading platforms in Singapore with UOB Kay Hian? As the largest broker in Singapore, UOB Kay Hian has a wide selection of investment instruments: UTs, ETFs, Bonds, CFDs and FX. A surprising fact, however, is that UOB Kay Hian trades in surprisingly few stock markets – Singapore, Malaysia, Hong Kong and the United States.
Despite so, with the assurance of largest broker in Singapore backed by reputable bank, you can be sure to count on UOB Kay Hian to start your investment journey.
9. City Index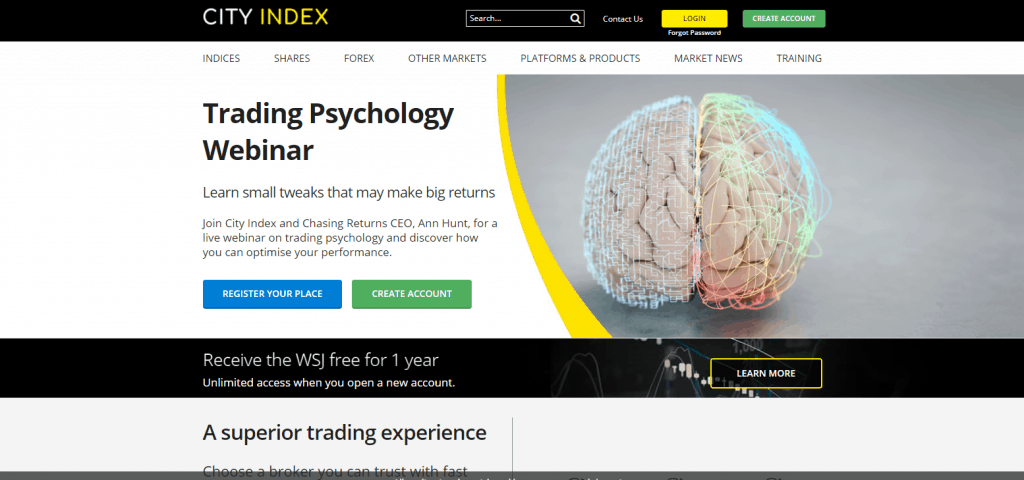 Another on the list of the best online trading platforms in Singapore is City Index, which was founded in 1983 as the trading brand of the NYSE-listed GAIN Capital. As a leading global CFD and FX broker, City Index is authorized by several financial authorities around the world, including the Monetary Authority of Singapore (MAS), the UK's Financial Conduct Authority (FCA) and the Australian Securities and Investments Commission (ASIC).
With its long history of 38 years, global presence backed by its listed parent company, and approval by some of the top financial regulatory bodies in the world, City Index is considered a safe and trustworthy trading platform for traders and investors.
As a welcome gift, all new customers can get to enjoy a one-year all-access membership to The Wall Street Journal (worth S$480) when you make a min. deposit of S$6,500 upon account opening. T&Cs apply.
10. Maybank Kim Eng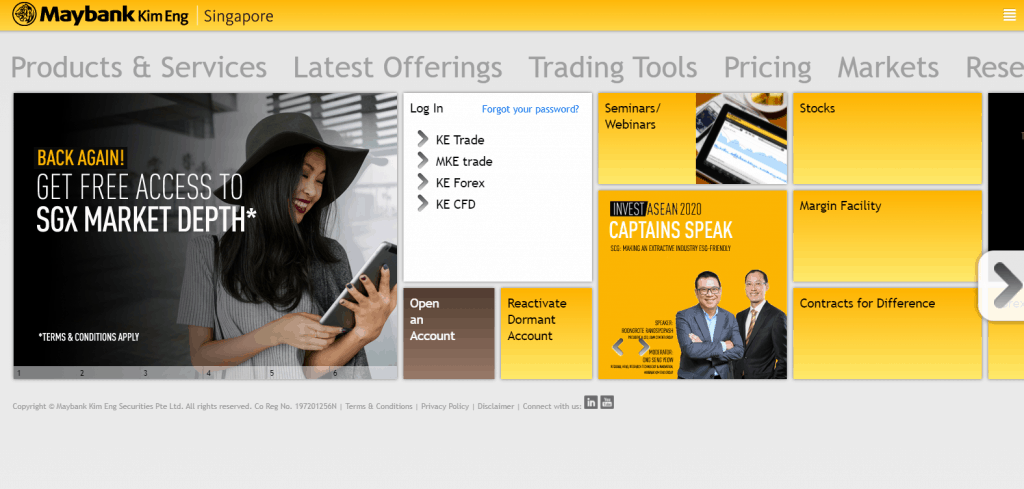 Maybank Kim Eng is the fully-owned investment arm of Maybank. With its wide range of instruments and market access, Maybank Kim Eng serves as a one-stop shop for those looking to build a diversified investment portfolio. Offering a mix of leveraged and non-leveraged trade instruments, such as stocks, shares, ETFs and bonds, along with FX and CFDs, Maybank Kim Eng caters to a wide range of investor types and goals.
All in all, Maybank Kim Eng is a great starting place for investors wanting to dabble in different types of instruments. Maybank Kim Eng is currently having a promotion – Earn 1 reward point for every S$5 of commission paid. Exchange these for rewards such as trade rebates or shopping vouchers. T&Cs apply.
Conclusion
Do you have any reviews and comments to share regarding our choices for the best online trading platforms in Singapore to start investing in?
While SBO is committed to supporting our local businesses, we welcome any feedback and anonymous sharing regarding your experience with the listed outdoor furniture in Singapore.
We hope that this guide will be useful in helping you to make an informed decision when it comes to finding the best online trading platforms in Singapore to start investing.
Explore More Content