10 Best Personal Loans in Singapore for Quick Cash [2023]
In urgent need of money? Check out the 10 best personal loans in Singapore.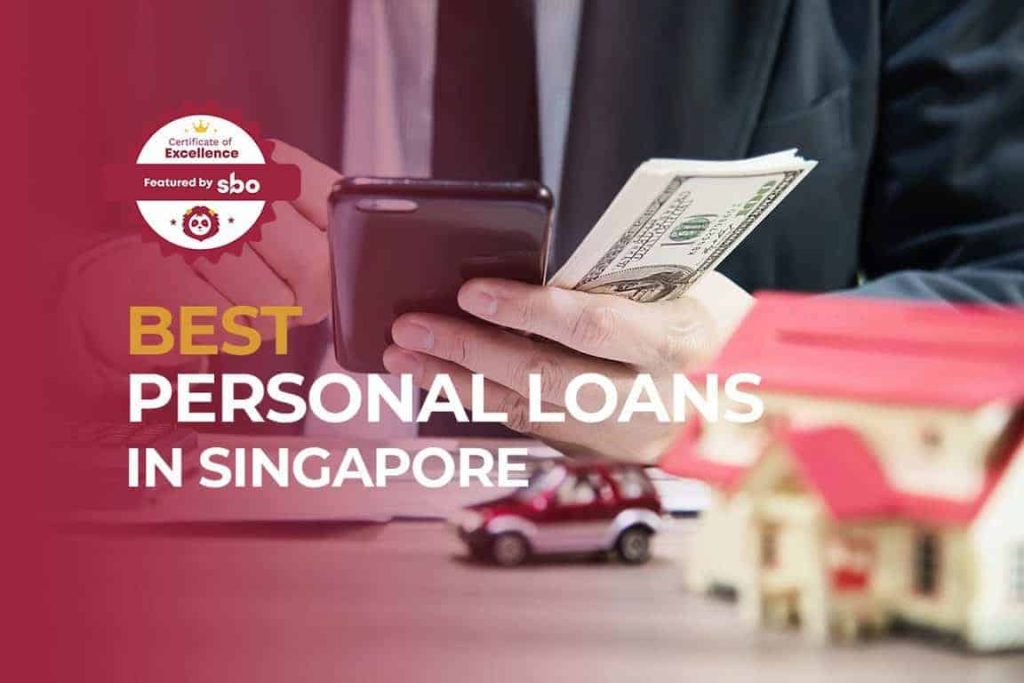 If you are in urgent need of money and can't seem to borrow them from your friends or family, getting a personal loan could just be the right solution for you.
You can get a personal loan from a bank or financial institution and pay the money back via fixed instalments spread over a period of time.
Different personal loans offer different repayment terms and most importantly, different interest rates. Check out our 10 best personal loans in Singapore to get the right personal loan that best fits your needs.
1. UOB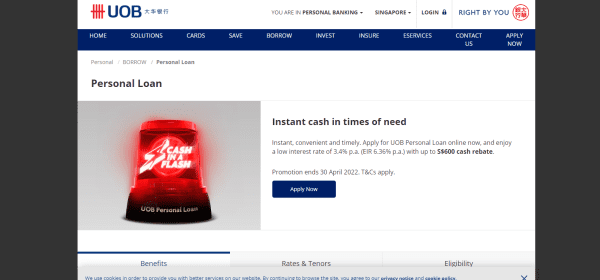 UOB Personal Loan offers a low interest rate of 3.4% p.a. (EIR from 6.36% p.a.). You can get up to S$600 cash rebate when you apply for a loan amount of at least S$30,000.
This loan amount can be combined across Credit Card Personal Loan and CashPlus Personal Loan applications. Loan tenor ranges from 36, 48 and 60-months.
2. HSBC

There is a Flash Sale currently going on with HSBC Personal Loan. You can get additional cashback of up to SGD1,000 (0.5% of approved loan amount) on top of the promotional offers when you get an approved Personal Line of Credit Instalment Plan with a minimum loan size of SGD10,000 and tenor of at least 2 years. Limited time only.
3. DBS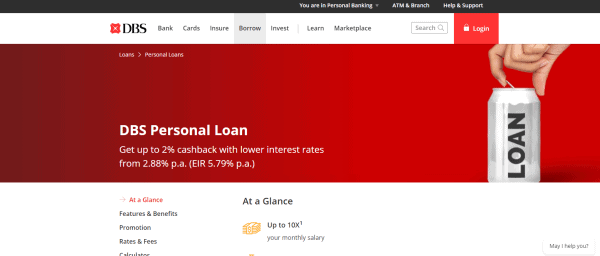 DBS Personal loan allows you to get cash of up to 4X of your monthly salary or 10X if your annual income is S$120,000 and above.
If you are an existing Cashline or Credit Card customers or a new customer currently with your salary credited into a DBS/POSB deposit account, you can enjoy instant approval and get cash instantly.
4. Citibank
You can count on Citibank QuickCash to get you the cash you need, anytime. Convert your unutilized credit limit to cash in your Citi Deposit Account in 60 seconds.
It is simple and hassle-free without any documents nor hidden fees. Get cash anytime on your mobile phone and repay with plans up to 60 months.
5. OCBC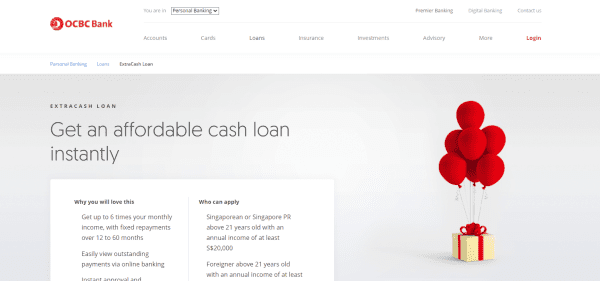 With OCBC personal loan, you can get a lump sum of up to 6 times your monthly income in cash. Make repayments easily using their Online or Mobile Banking feature via funds transfer, through cheque deposit, or with cash deposit machine.
6. Standard Chartered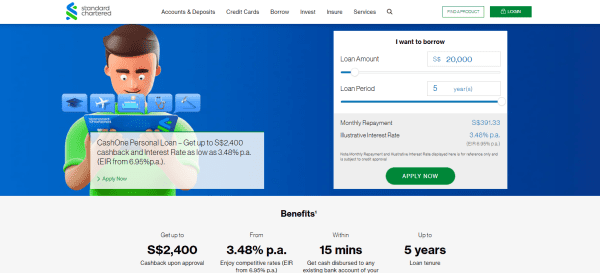 With CashOne Personal Loan, you can get up to S$2,400 cashback and interest rates as low as 3.48% p.a. (EIR from 6.95%p.a.).
The loan tenures are up to 5 years, and you can get cash disbursed to any existing bank account of your choice within just 15 minutes.
7. CIMB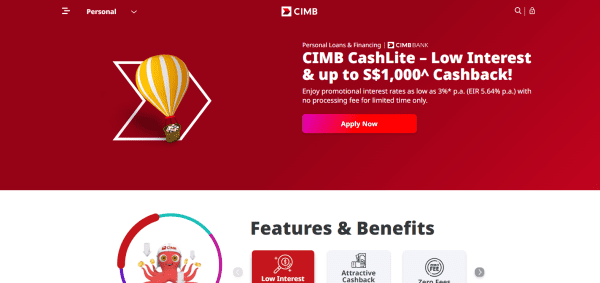 CIMB CashLite offers one of the best personal loan in Singapore, allowing you to enjoy promotional interest rates as low as 3%* p.a. (EIR 5.64% p.a.) with no processing fee for limited time only.
8. Maybank2u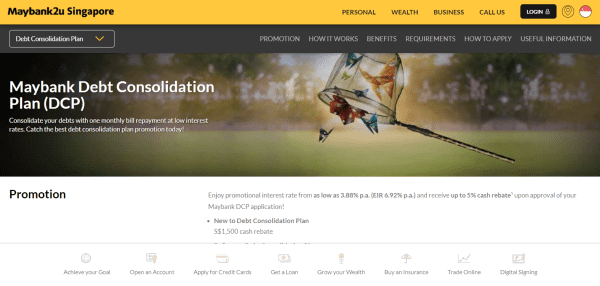 At Maybank, they provide a range of personal loans and financing solutions catered to your specific needs.
Their debt consolidation loan account consolidates all your unsecured credit facilities (credit card/credit line) outstanding balances across multiple financial institutions into one fixed monthly repayment.
9. Bank Of China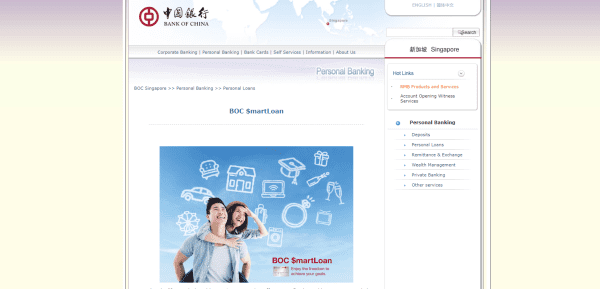 Bank of China wants you to enjoy the life you desire with BOC $martLoan that offers you a fixed monthly repayment period of up to 7 years. With just S$6 a day, you can get extra cash of S$10,000.
10. Bugis Credit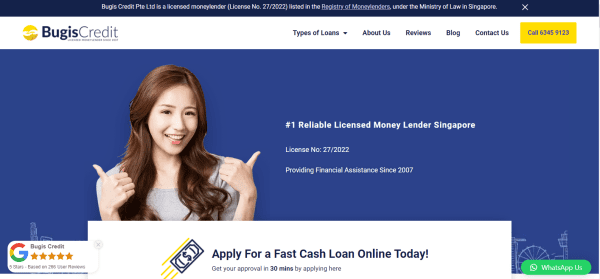 At Bugis Credit, they provide customized services, making sure you get the best personal loan for your interest. They will help you with all your financing needs and help you plan when head down for a quick consultation session.
Their professional loan officers will walk you through each step and help you understand how your personal loan matters.
Conclusion
Do you have any reviews and comments to share regarding our choices for the best personal loans in Singapore?
While SBO is committed to supporting our local businesses, we welcome any feedback and anonymous sharing regarding your experience with the listed personal loans in Singapore.
We hope that this guide will be useful in helping you to make an informed decision when it comes to finding the best personal loans in Singapore. If you are also interested in getting a loan for your SME, you can check out our 10 best business loans in Singapore for SMEs.
Explore More Content