11 Best Licensed Moneylender in Singapore for Personal Loan [2023]
Find the best licensed moneylender in Singapore for personal loan.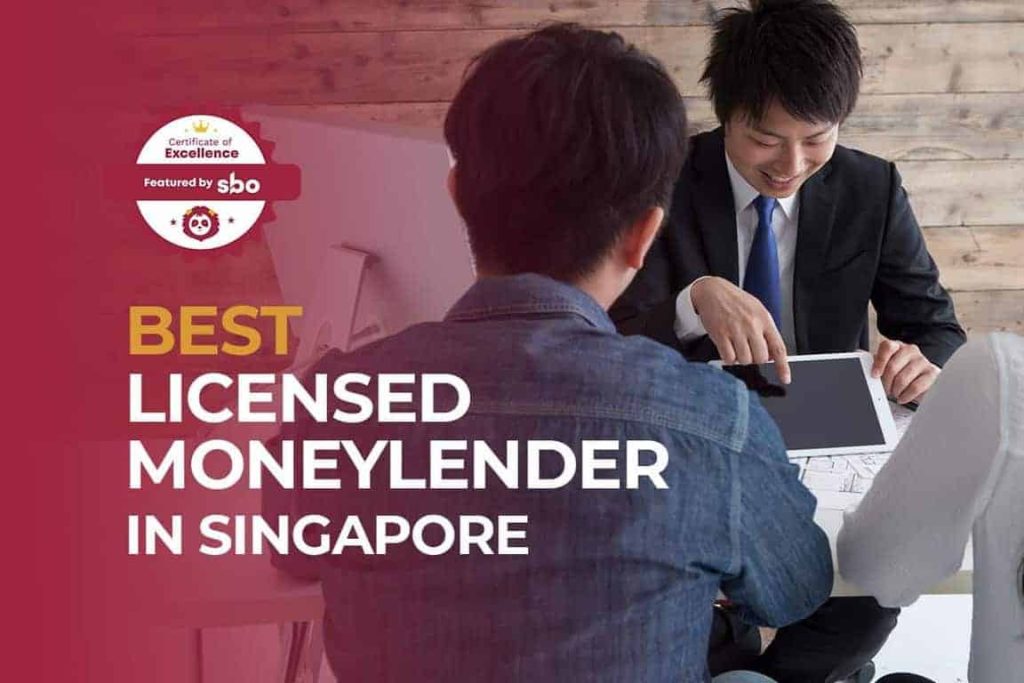 If you are in need of money to tide yourself over this period, perhaps you can consider taking up a personal loan from a licensed moneylender in Singapore. With the looming stagflation, a personal loan is a form of credit that can help you to make a big purchase or consolidate high-interest debts.
As personal loans in Singapore typically have lower interest rates than credit cards, they can be used to consolidate multiple credit card debts into a single, lower-cost monthly payment.
According to a study conducted by Finder.com, nearly one in three Singaporeans (32%), or an estimated 928,000 people have reportedly taken out a personal loan in the past twelve months.
Singaporeans who have taken out a personal loan cite covering basic expenses as their main priority. More than one in 10 or 13% who have taken out a personal loan said this.
Singaporeans intending to take out a personal loan should check that the moneylender that they approach appears in the Ministry of Law's List of Licensed Moneylenders in Singapore so that they would not end up in a precarious legal position. Find out more about the pros and cons of lending from licensed moneylenders if you are worried that you may end up in a loanshark situation. Licensed moneylenders are not loansharks! They are financial companies with proper licenses to operate as lenders in Singapore.
Looking for a licensed moneylender in Singapore to help you alleviate your financial woes? In this article, we have gathered a list of the 11 best licensed moneylender in Singapore who can help to make your personal loan process convenient and quick.
1. Crawford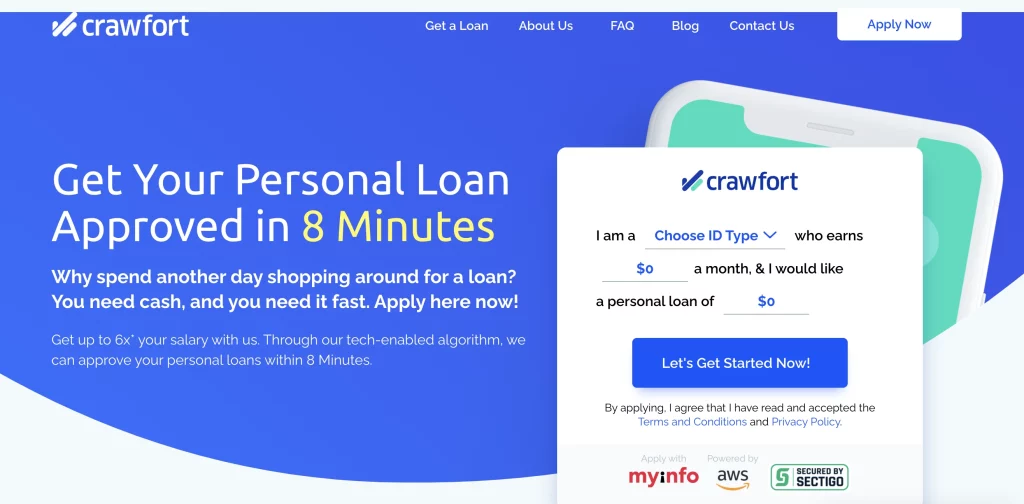 First on the list of Best Licensed Moneylender is Crawfort. It had been established for more than a decade, since 2011.
Every step of their process is tailored to boost convenience. They have digitalised everything from application to credit scoring to payment.
Just in 8 minutes from application, you will know if your loadn is approved or not.
They are also the first to implement the repayment of funds through SAM/AXS machines which makes repayment even simpler.
2. 118 Credit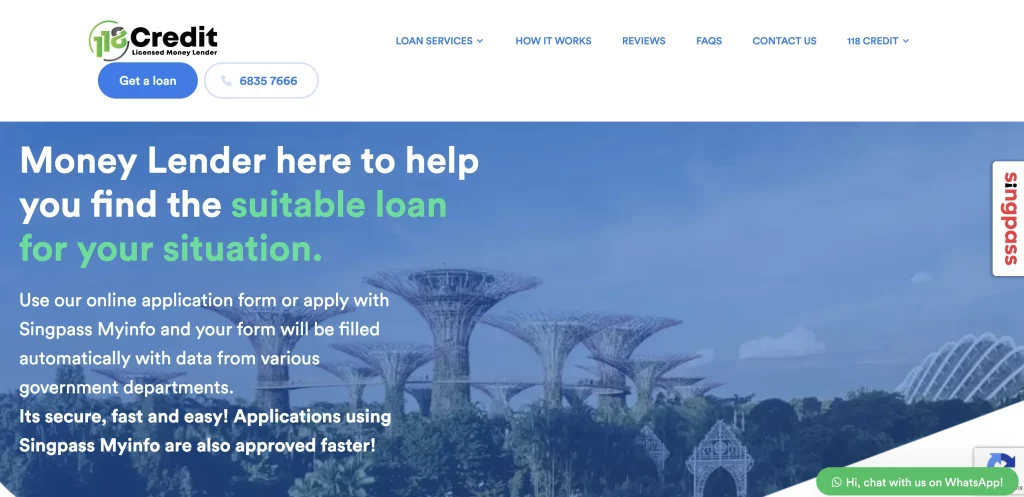 Since 2010, 118 Credit started operation as a loan agency that provides an extensive range of money lending services for those in need of quick cash and relief, with tailored loan packages and no hidden fees.
As a moneylending company with a long history, they have abided by the ever-changing tight regulations imposed by MinLaw to provide good lending practises and to increase the privacy and protection of borrowers.
In 2021, 118 Credit became a licensed moneylender with Singpass Myinfo application services to improve the loan application process to provide a hassle-free experience.
3. GS Credit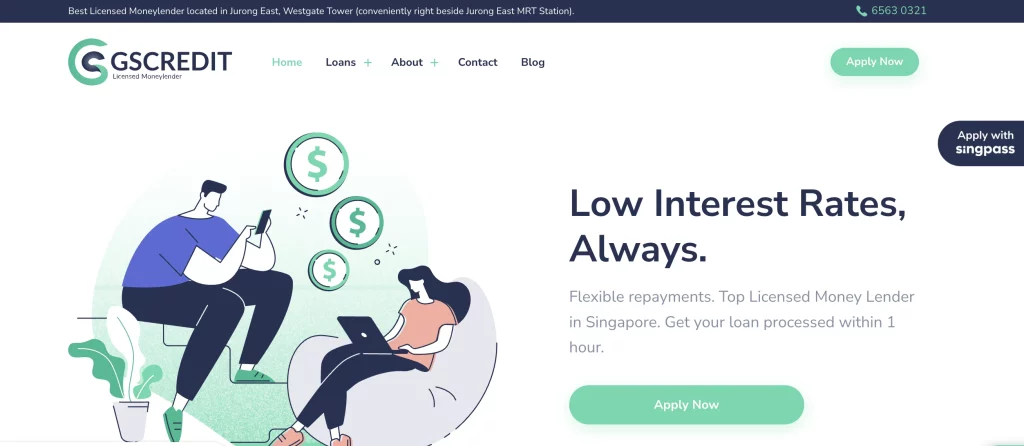 As one of the most trusted licensed moneylenders in Singapore, GS Credit strives to maintain the highest standards of professionalism and transparency.
When applying for a personal loan at GS Credit, you can be assured of its fast processing and quick approval process.
All loans are processed within an hour.
Your personal loan will be instantly disbursed to you once it has been approved.
4. Cash Mart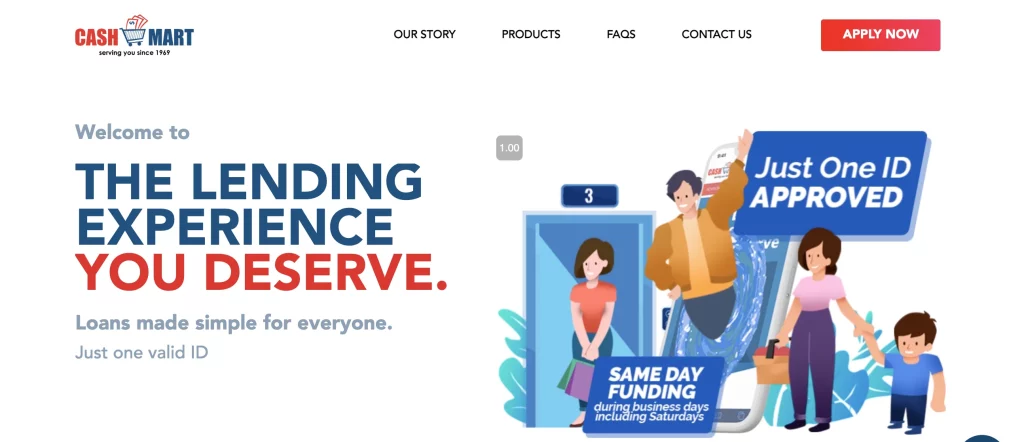 Cash Mart is an award-winning private licensed moneylender in Singapore. For over 50 years, Cash Mart stays committed to building relationships with customers by providing the best lending experience they deserve.
Cash Mart is a fast growing online and mobile lending platform in Asia, consistently providing customer-centric service: quick, simple, convenient, and transparent.
As a reputable licensed moneylender, Cash Mart recognises that markets do fluctuate but values don't. This is why they have stayed by their customers and colleagues side through their good and challenging times.
5. Avis Credit (SG) Pte Ltd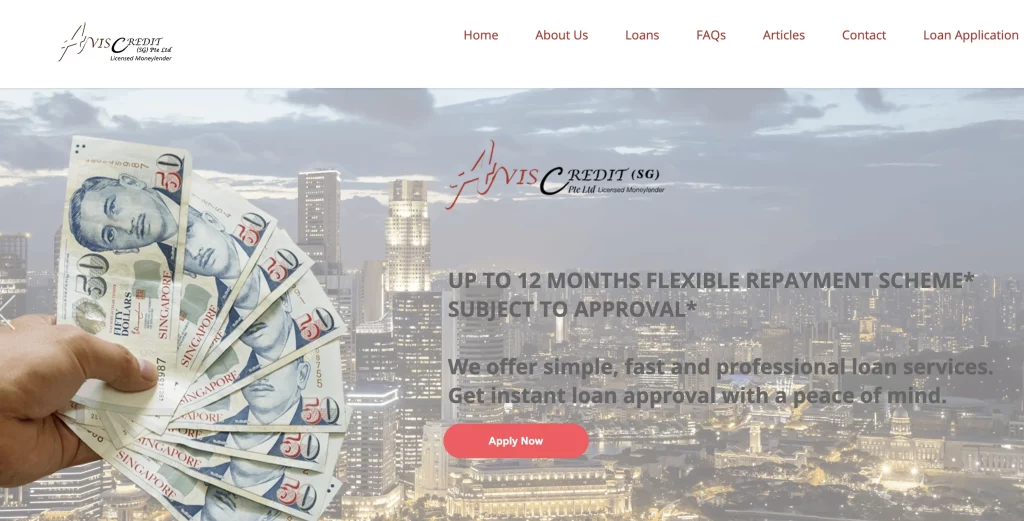 Established in 2011, Avis Credit (SG) Pte Ltd is a licensed moneylender in Singapore that is well-known for being a reliable source of fast approval and flexible repayment moneylender. They offer their clients a wide range of loan packages, whether they are short-term or long-term at a competitive rate.
They offer personal, short-term and business loans that are provided to you based on your requirements and information that you have given them.
6. Accredit Moneylender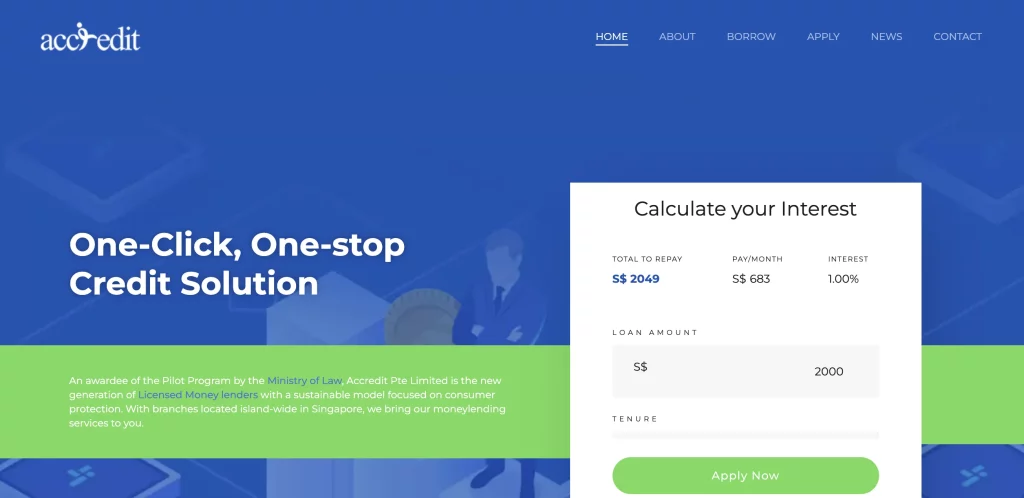 Founded in 2002, Accredit Moneylender is a subsidiary of Quick Credit Pte Ltd who are industry veterans providing transparent and quality services to their clients.
The licensed moneylender in Singapore works on a sustainable model that is focused on consumer protection. Your personal data is protected with industry standard HTTPS (TLS1.2) and passed penetration testing.
Accredit Moneylender provides loan service such as short term credit, debt consolidation, personal loan and business financing with fast and easy cash approval for loan applications made within the same day. There are no hidden costs incurred for any loan applications made. Fees payment are made upfront and transparent.
7. Fast Money

Next licensed moneylender on this list is Fast Money. Applying for a personal loan with Fast Money is quick and efficient using their online application form. No application fees are needed.
Fast Money offers its loans at some of the lowest interest rates in the region.
Their loans are open for application to Singaporeans, Permanent Residents and foreigners with valid passports.
Instead of simply making unreasonable demands like other personal loan providers, they will also make arrangements to provide you with a flexible repayment period to resolve your financial woes.
8. Lending Bee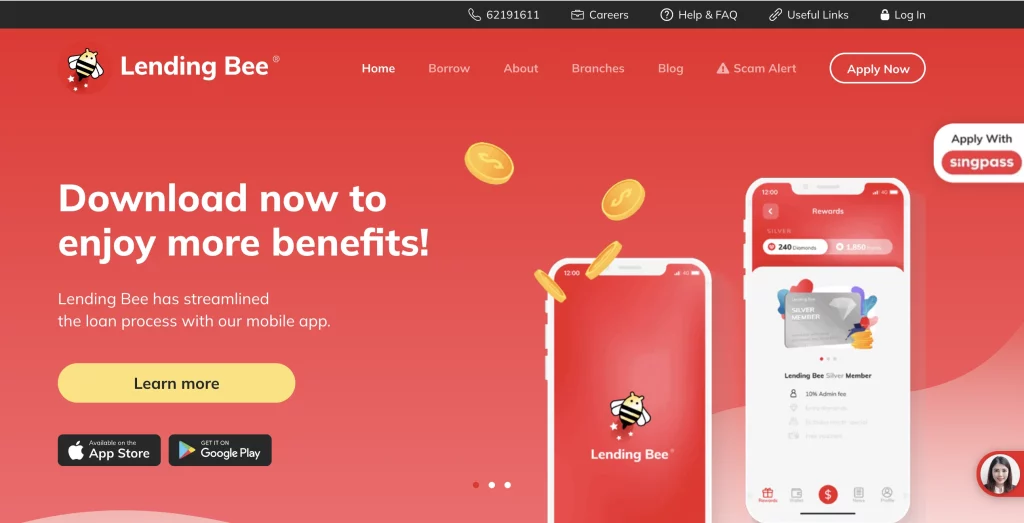 As a subsidiary of Credit 21 Pte Ltd, Lending Bee is a knowned licensed moneylender in Singapore.
Out of 156 licensed moneylenders in Singapore, Lending Bee was one of the six selected by the Ministry of Law to pilot alternate business models for moneylending.
As such, you can be assured that they are a reliable and licensed moneylender with huge capital backing. They are able to quickly provide you with a personal loan which suits your needs.
To make the application process more convenient, Lending Bee has created a mobile application for its customers. Their mobile application is available on both the App Store and Google Play.
9. GoldStar Credit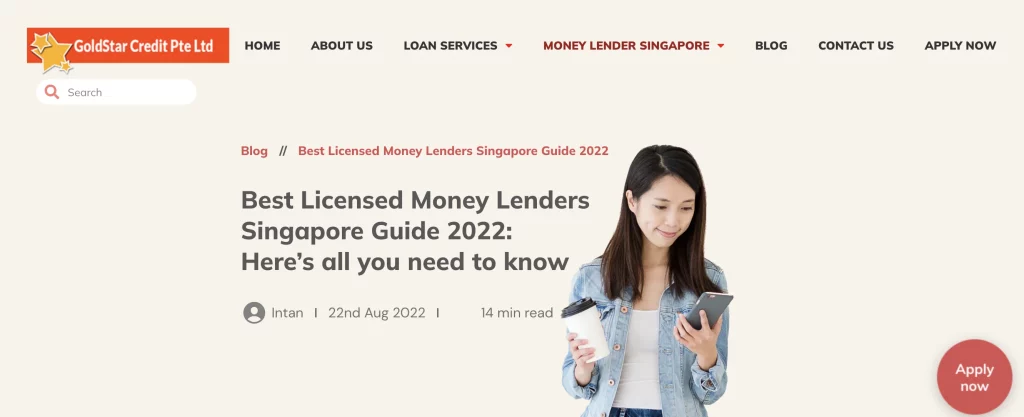 Goldstar Credit Pte Ltd is a licensed moneylender in Singapore that help their clients achieve the best possible outcomes with relevant financial solutions tailored to their financial needs.
They provide a wide range of loan services such as personal loan, business loan, payday loan, debt consolidation loan, medical loan and wedding loan. These loans are readily available on the spot and are affordable for their clients with low interest rates and monthly repayments.
10. Credit 21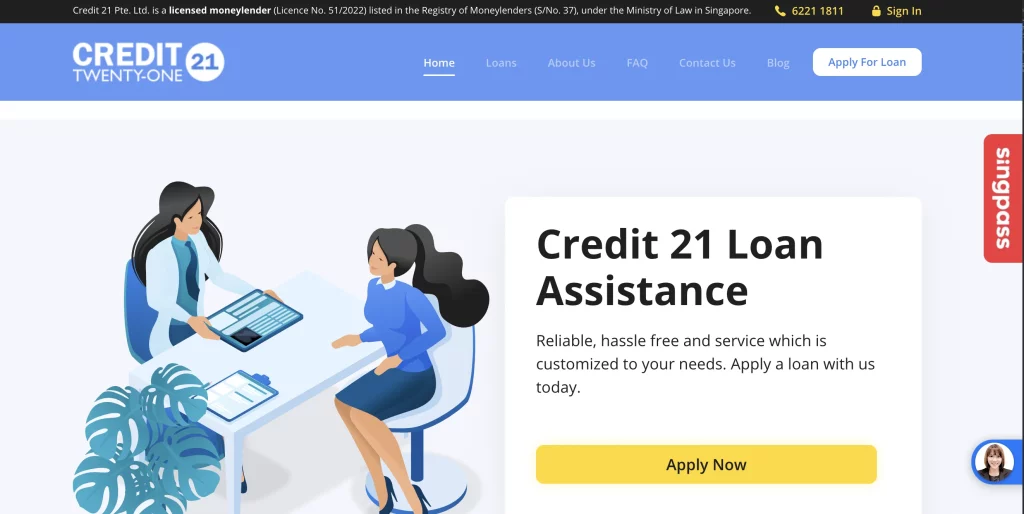 With 16 years of experience, Credit 21 is a credible and reliable player in the local money lending industry.
Credit 21 aims to provide convenient and hassle-free loans so that borrowers can receive timely financial aid. Borrowers can expect up to $100,00 in untenured loans at one of the lowest interest rates in the market.
As a testament to their credibility as a licensed moneylender, they were acknowledged by the Ministry of Law as one of the six firms piloting new business models for money lending.
11. Galaxy Credit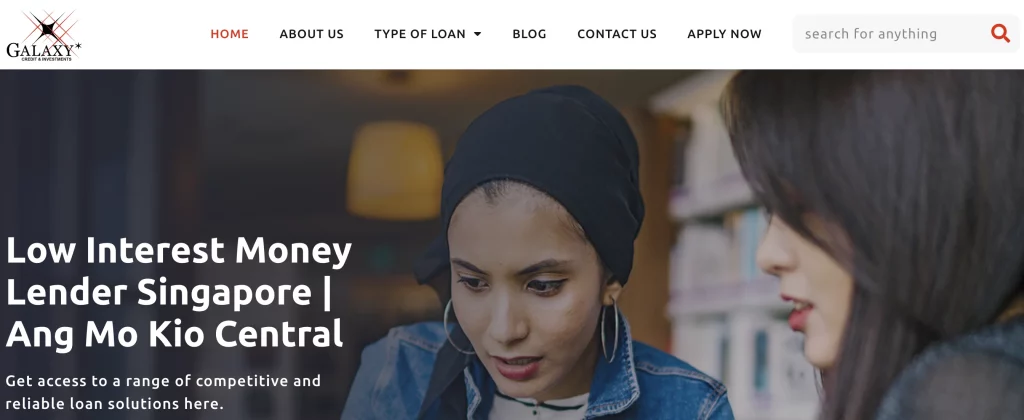 The final licensed moneylender listed here is Galaxy Credit. With a personal loan cap of S$150,000, Galaxy Credit Investment's interests rates are as low as 3.9% per term. No processing fees or deposits are needed.
You can easily apply for a personal loan by submitting online through an online form at the comfort of your own home. Their representative will contact you within one working day.
Once your loan is approved with the loan agreement signed, the firm will disburse the money via cash, bank transfer or cheque on the spot.
Every case is special and they go the extra mile to provide a repayment cycle that fully suits your financial capabilities.
FAQS about Licensed Moneylender In Singapore
11 Best Licensed Moneylender In Singapore Summary
Do you have any reviews and comments to share regarding our choices for the best licensed moneylender in Singapore? We welcome any feedback and anonymous sharing regarding your experience with the listed moneylender in Singapore.
We hope that this guide will be useful in helping you to make an informed decision when it comes to finding the best licensed moneylender in Singapore.
Explore More Content