9 Best Business Credit Cards in Singapore for Your Business to Run Smoothly [2023]
Sign up for a business credit card for your business to run smoothly.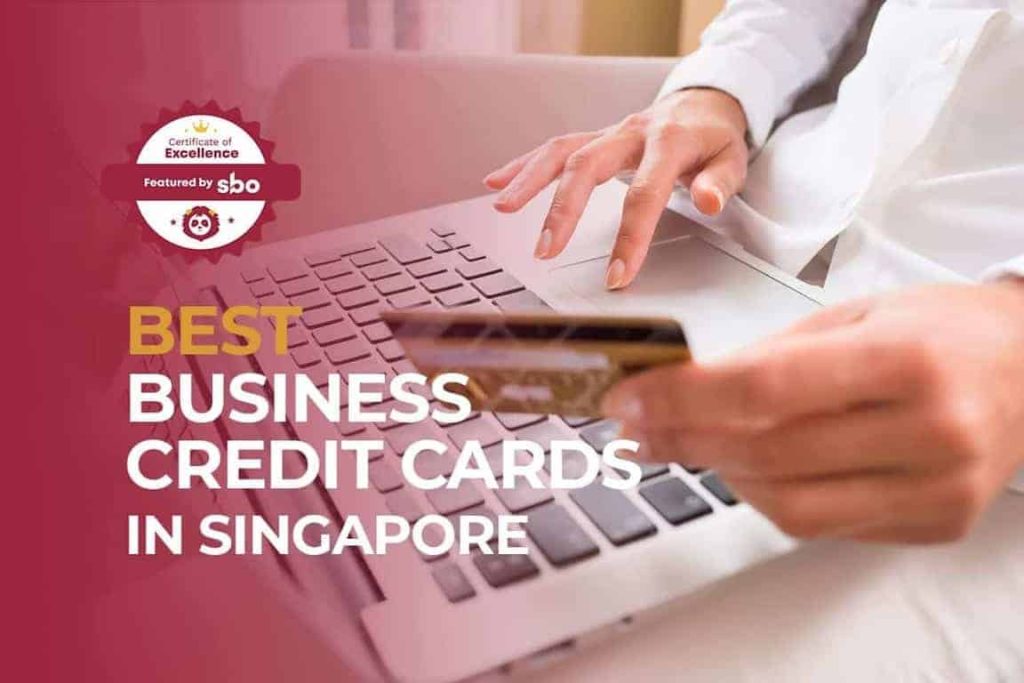 Depending on your business needs, getting a business credit card would come in handy in servicing the different needs of your business. Running a business can be challenging and a business credit card can make cash management simpler for you.
In this post, we've gathered all the necessary details including unravelling reviews and testimonials to derive a list of the 10 best business credit cards in Singapore for your business to run smoothly.
1. AMEX Corporate Green Card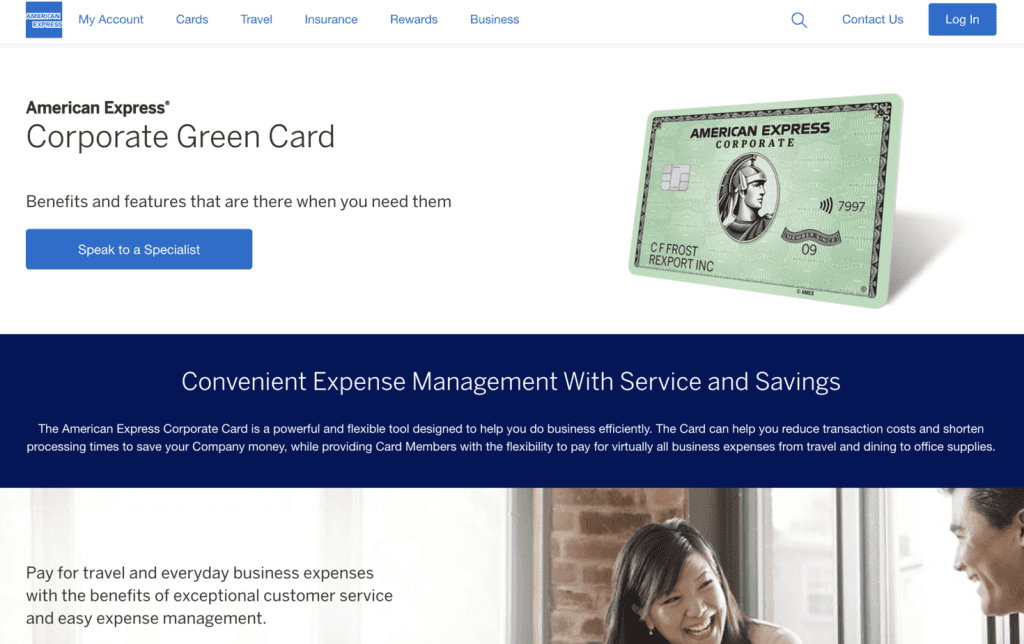 | | |
| --- | --- |
| Type of Information | Details |
| Website | |
| Eligibility | |
| Fees | |
The American Express Corporate Card is a powerful and flexible tool designed to help you do business efficiently. The card can help you reduce transaction costs and shorten processing times to save your company money while providing card members with the flexibility to pay for virtually all business expenses from travel and dining to office supplies.
Gain access to their dedicated American Express Consulting, where their consultants tailor cost-saving solutions that will assist you with expense management.
2. Amex Singapore Airline Card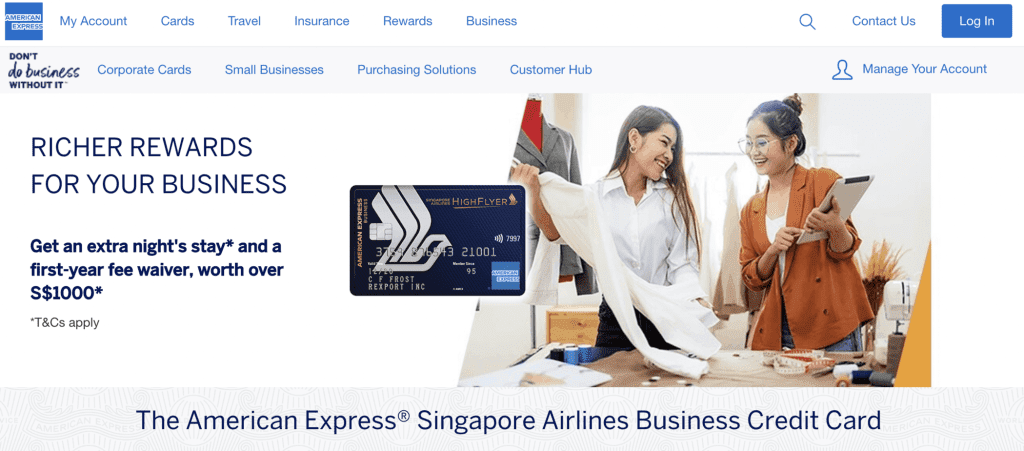 Type of Information

Details

Website

Eligibility

Age: 21 years and older
Income for Singapore citizens & Permanent Residents: S$30,000 per annum
Income for Foreigners: S$60,000 per annum

Fees

Primary Card: S$299 per year
Supplementary Card: S$99 per year (First 2 Cards free)
When you sign up, you'll get a S$300 statement credit for your business when you spend S$5,000 in the first 3 months. Other perks we like is the ability to collect HighFlyer points when you spend on flights and with Singapore Airlines Group.
As the name suggests, this card would be most suited for businesses that require employees to travel frequently. They also offer 51 interest-free days from the transaction date until repayment is due.
3. DBS Visa Platinum Business Card

| | |
| --- | --- |
| Type of Information | Details |
| Website | |
| Eligibility | Income: S$30,000 and above per annum |
| Fees | S$192.60 (Inclusive of GST) per year |
In essence, this is a business credit card that gives you perks for charging your business expenses to your card to enjoy a host of benefits and privileges. Some of which includes that of complimentary travel accident insurance and also the redemption of points for vouchers, air miles or 0.4% cash rebate.
Some of its pro-business features include that of recurring bill payments which consolidate bill payments to various suppliers into a single credit card statement for clarity sake. This reduces the additional fuss and allows you to concentrate efforts on your daily operations. To improve cash flow, there is room for the extension of credit terms up to 55 days at 0% financing cost.
4. DBS Visa Business Advance Debit Card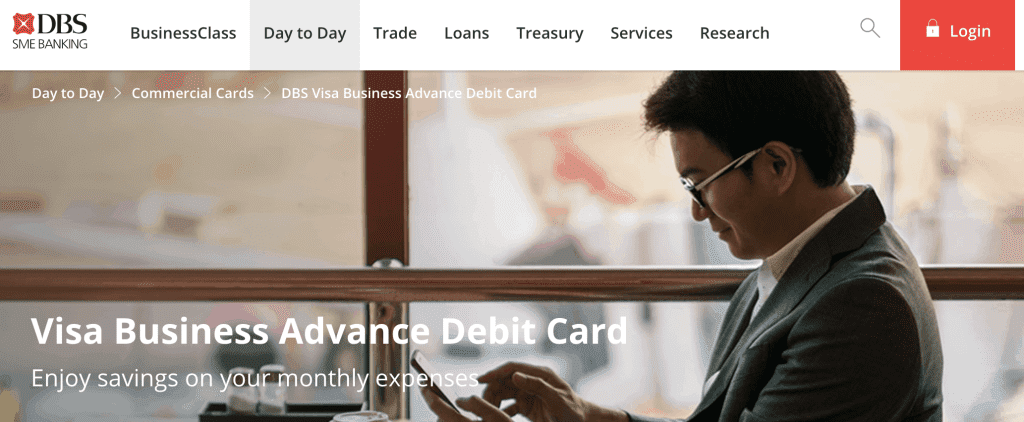 | | |
| --- | --- |
| Type of Information | Details |
| Website | |
| Eligibility | Required Account: DBS Business Account |
| Fees | No annual fee |
Another of our DBS favourite picks has got to be the Business Advance Debit Card. This business credit card allows you to save on your monthly expenses and earn 0.3% cash rebates on all charges, credited to your Business Account quarterly.
They currently have ongoing promotions where minimum spending of S$500 a month within the first 3 months of card issuance to receive 5% cashback on your spending.
5. UOB Visa Platinum Business Card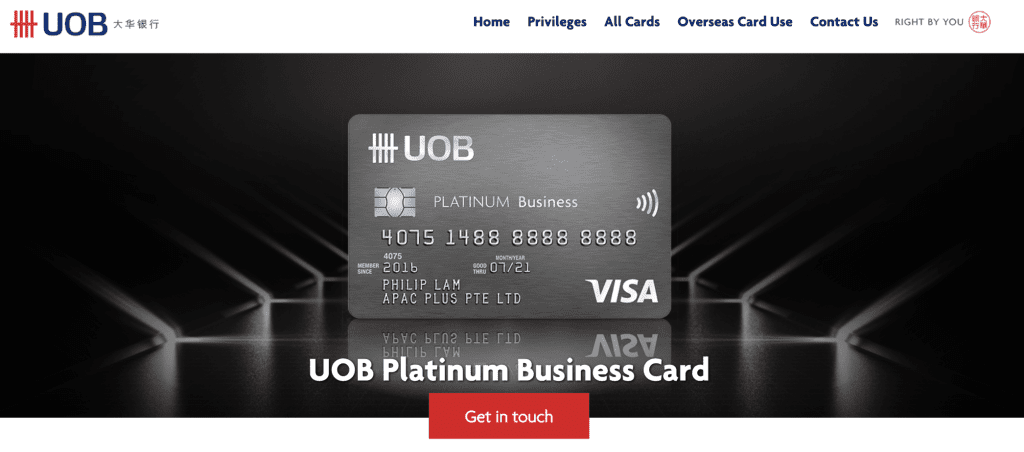 Type of Information

Details

Website

Eligibility

Differing requirements for different company types can be found

here

Fees

Annual fee: S$180
Replacement card: S$20
Stay in control of your business expenses with flexible cash flow solutions using the UOB Platinum Business Card. We like them for their Mastercard Easy Savings program which allows you to earn automatic cash rebates on your business expenses at participating merchants such as Apple, United Airlines and SF Express (delivery services).
They also have pretty flexible payment terms, where you can enjoy extended payments terms of up to 51 days.
6. Citi Corporate Card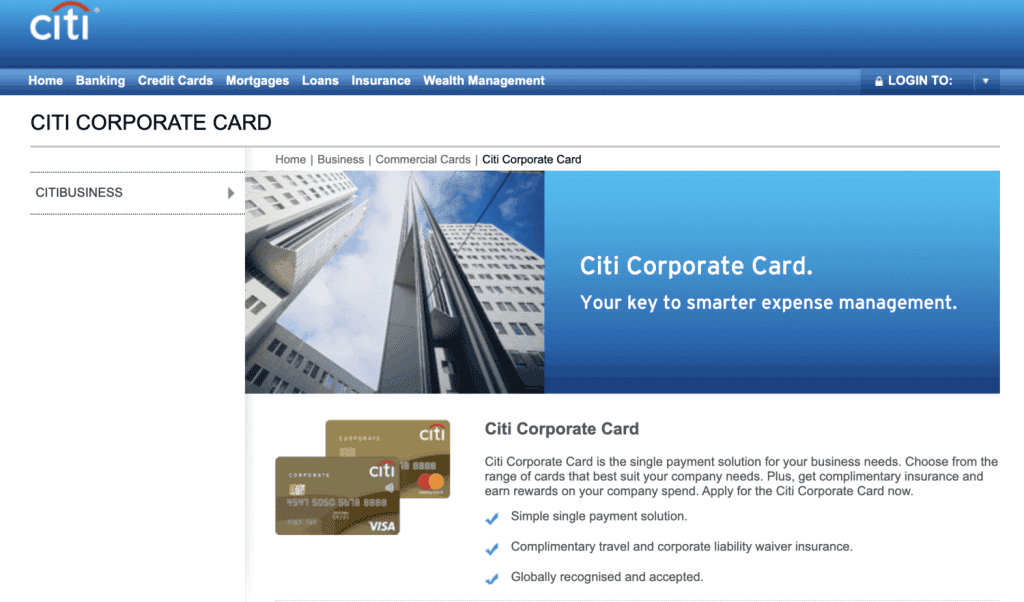 Type of Information

Details

Website

Eligibility

– Minimum net worth of a company starts at S$50,000 depending on years of operation.
– Employee must be 21 years of age and above
– Minimum annual income for Sole Corporate Liability and Joint & Several Liability: S$30,000 for both Singaporeans/PR and foreign employees.
– Minimum annual income for Cardmember Liability and Personal Liability: S$30,000 for Singaporeans/PR and S$42,000 for foreigners

Fees

S$150 per card (excluding GST)
The Citi Corporate Card is a globally recognised and accepted card. One of the company perks you'll get is the complimentary travel accident insurance of up to S$1,000,000 per cardmember.
The rewards program is also pretty solid – Earn 0.3% cashback of the company's annual spending when you put all your corporate expenses onto the card for sole corporate liability.
Do check out their website for the different tiers of benefits available for different company types.
7. Aspire Visa Corporate Card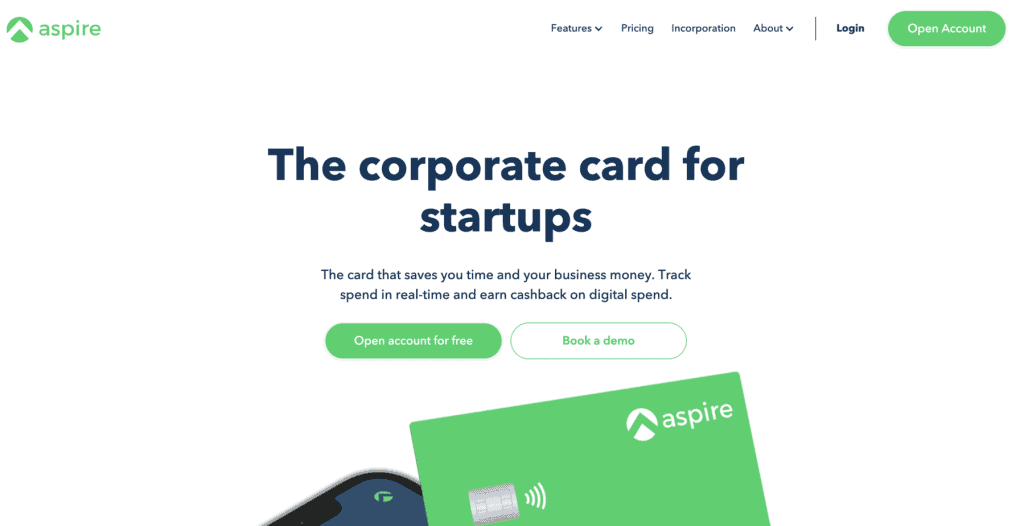 Type of Information

Details

Website

Eligibility

Any business can open an Aspire account if it is incorporated in Singapore and if it falls within our 

Acceptable Use Policy

.

Fees

Local Payments

:

– Cards are free with no fees on SGD payments

– 0.7% fees on FX payments (4x cheaper than average bank fee)

– More details on card fees 

here
Foreign Currency Payments

– Daily FX rate from VISA + 0.7% FX charge to cover the exchange charges
What we love about the Aspire Corporate business credit card is its cashback, which they boast to be better than that of what their bank counterparts offer – Earn 1% cashback on digital spend, and save up to 5x on international payments. If your team needs multiple cards, the Aspire Corporate business credit card offers unlimited cards at no additional cost.
One common question is whether one is able to use this card if they do not have a business incorporated in Singapore. You can incorporate an account with our partner via our website. It's cheaper (incorporation packages are 16% off rack rates) and faster (only 1 working day) than any other solution in Singapore.
Get Free Corporate Card
Issue cards to your staff. Earn cashbacks for your purchases!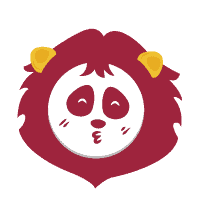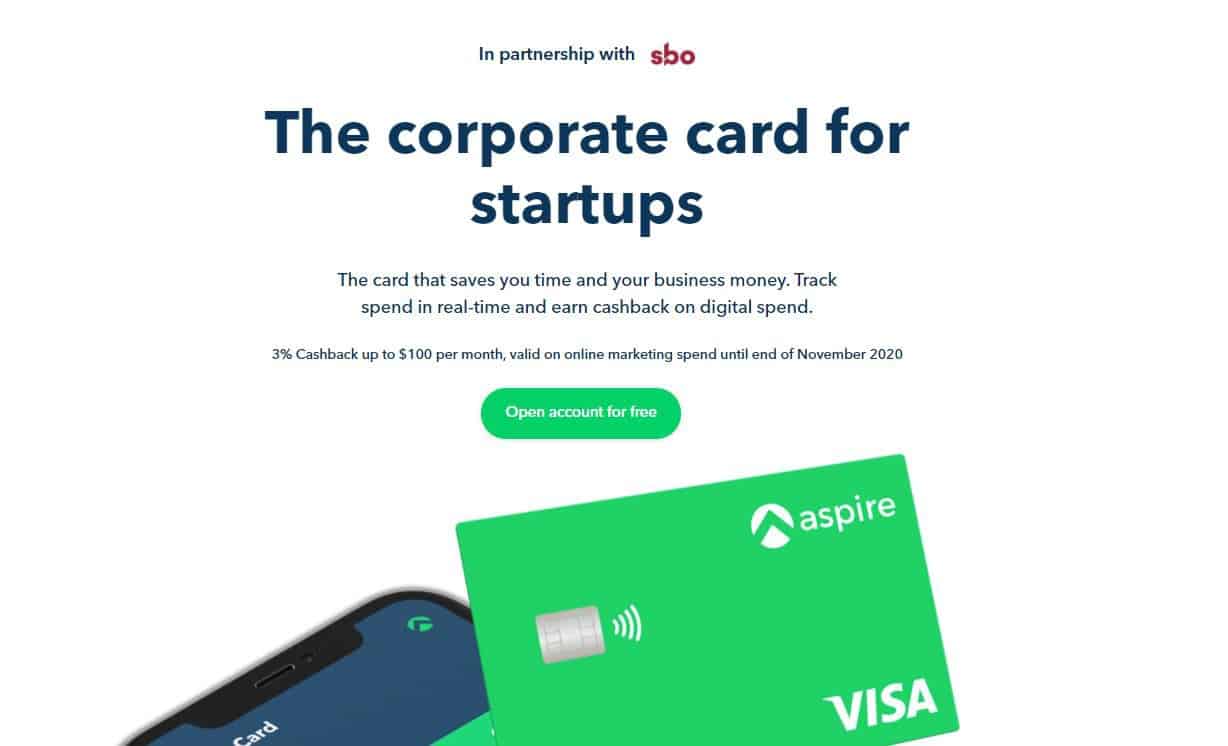 8. Finaxar Flex Visa Card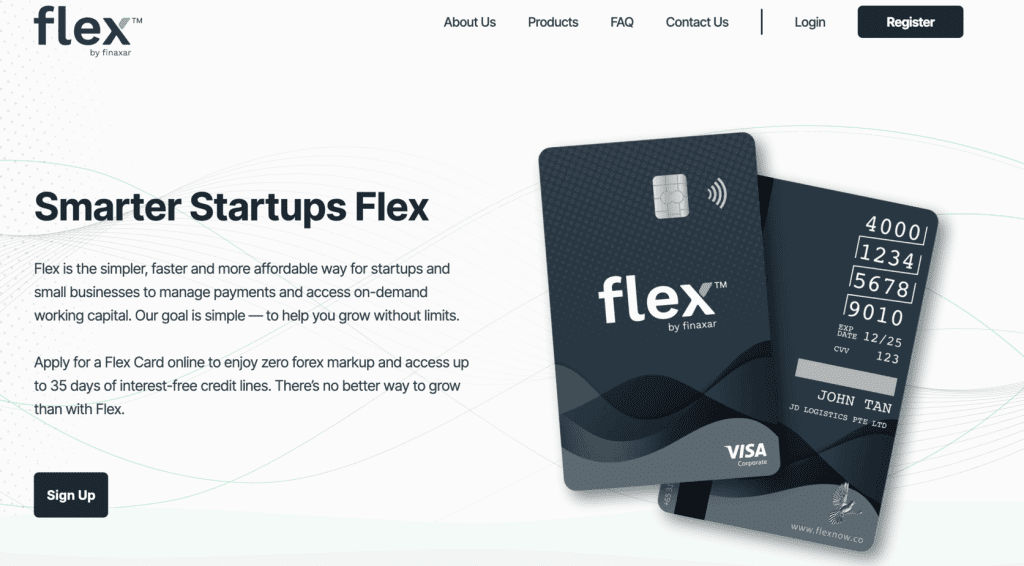 | | |
| --- | --- |
| Type of Information | Details |
| Website | |
| Eligibility | |
| Fees | |
Flex by Finaxar is a unified spend management solution jointly developed in partnership with leading global payments technology company, Visa. With the aim of providing businesses with a platform to unify spending, payables and receivables, the solution is part of Finaxar's focus to transform and digitise SME finance.
Recognising the common problems faced by SMEs, this business credit card is designed with SMEs in mind, to help in spending regulation and transaction tracking. With the issuance of physical and virtual Flex Visa corporate cards, businesses can capture and monitor invoices, initiate payments and reconcile their payments using their accounting software via a single platform.
9. Standard Chartered Visa Business Credit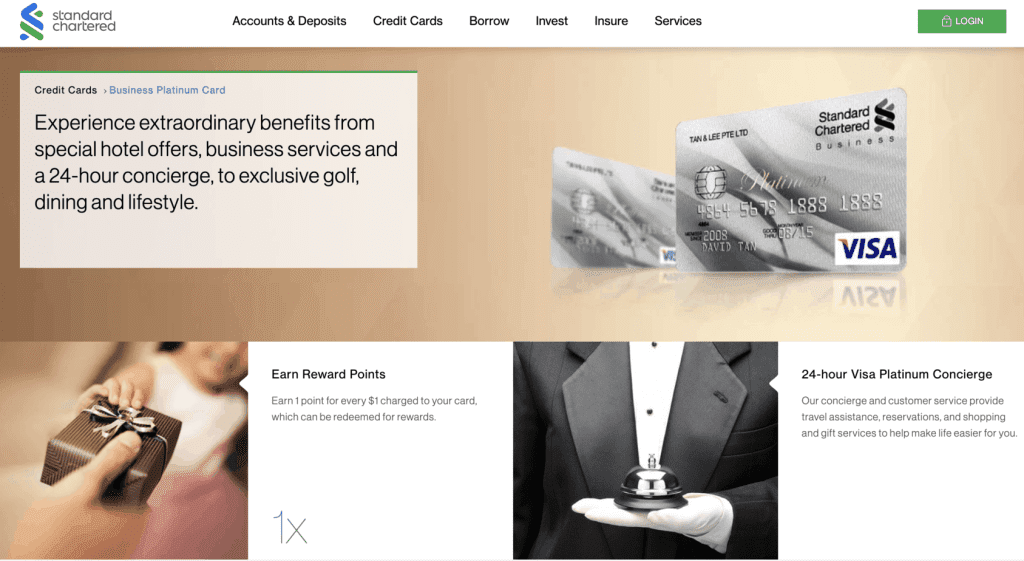 Type of Information

Details

Website

Eligibility

Age: 21 to 65 years old

Minimum Annual Income:
– Singapore Citizens and Permanent Residents: S$30,000
– Foreigners with Employment Passes: S$60,000

Fees

$160.50 including GST (waived for first 3 years)
The Standard Chartered Business Platinum Card has multiple features that make it all the more suitable for businesses. The SC Easy Bill Rewards Points gives you cash back or bonus interest when you make eligible payments to education institutions, insurance premiums, rental or the Inland Revenue Authority of Singapore ("IRAS") with your Bank credit cards.
We also like their 0% interest instalment plan valid for all transactions above S$500 charged to your eligible Standard Chartered Business Credit Card. Depending on the type of business you'll be running, this perk is attractive if you'll have to make big-ticket purchases.
Conclusion
Do you have any reviews and comments to share regarding our choices for the best business credit cards in Singapore?
While SBO is committed to supporting our local businesses, we welcome any feedback and anonymous sharing regarding your experience with the above-listed best business credit card picks in Singapore.
We hope that this guide will be useful in helping you to make a better decision when it comes to finding the best business credit cards for your business in Singapore.
Explore More Content