Engage the Best Corporate Secretarial Services for your Business and focus on growing [2023]
Secure your business interests with the best corporate secretarial services in Singapore!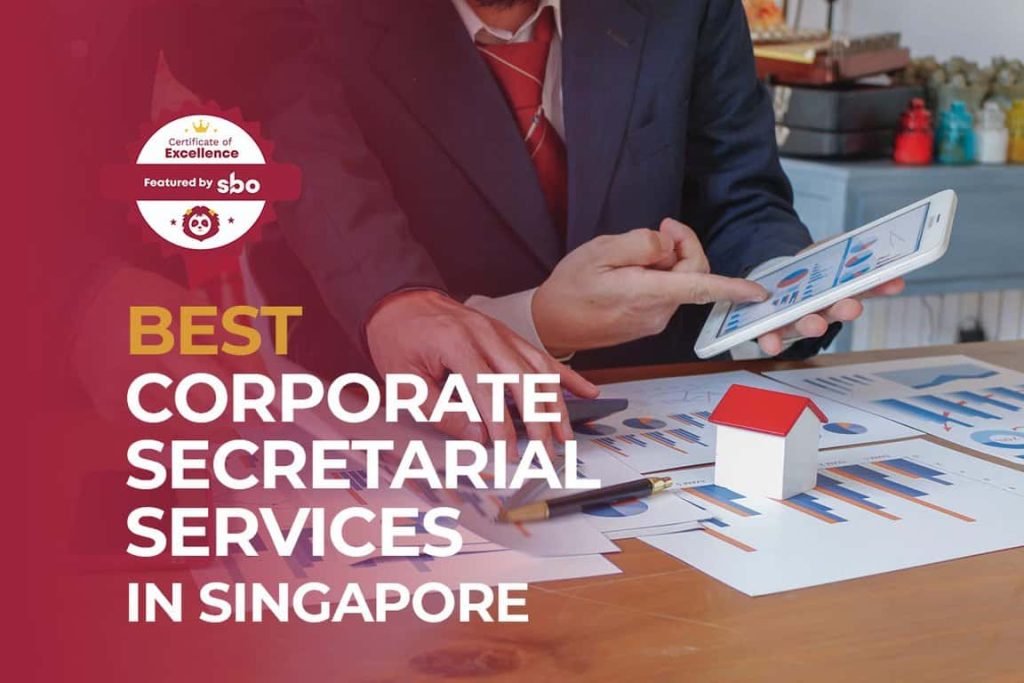 When you are starting a local company in Singapore, it is important to know that as a director, you need to appoint a company secretary. No, the company secretary is not someone who will help you to make coffee in the morning or arrange meetings with your clients.
What is company secretary?
Company secretary is an important role who is legally responsible for making sure that the company and directors adheres to the rules and regulations set up by ACRA; such as maintaining company register, submit annual returns and prepare minutes for shareholders' meetings. Usually a professional company secretary will also offer incorporation services as a package.
According to Companies Act 1967, all companies must appoint a corporate secretary within 6 months of incorporation and the position cannot be vacant for more than 6 months; if not the company director will risk a penalty of up to $1,000.
Some business owners prefer to save money and appoint a family member as company secretary. This may complicate things in the future if the person does not know what to do.
Focus on what you do best. Give your business the security it deserves by leaving non-entrepreneurial affairs to the experts and granting yourself some peace of mind with the best corporate secretarial services in Singapore!
1. SOAS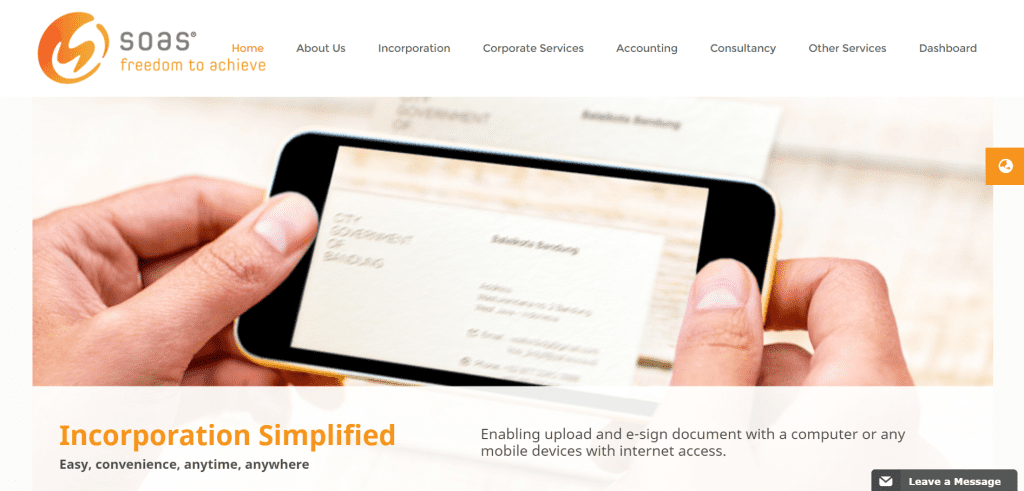 This corporate secretarial service offers far more than the basics and is especially useful for firms looking to upgrade themselves and get modernized for maximum returns.
With their range of services that include document digitization, retrieval and archival, you can keep your company relevant by integrating it into the technological world without losing its core identity.
2. Metropolitan Management Services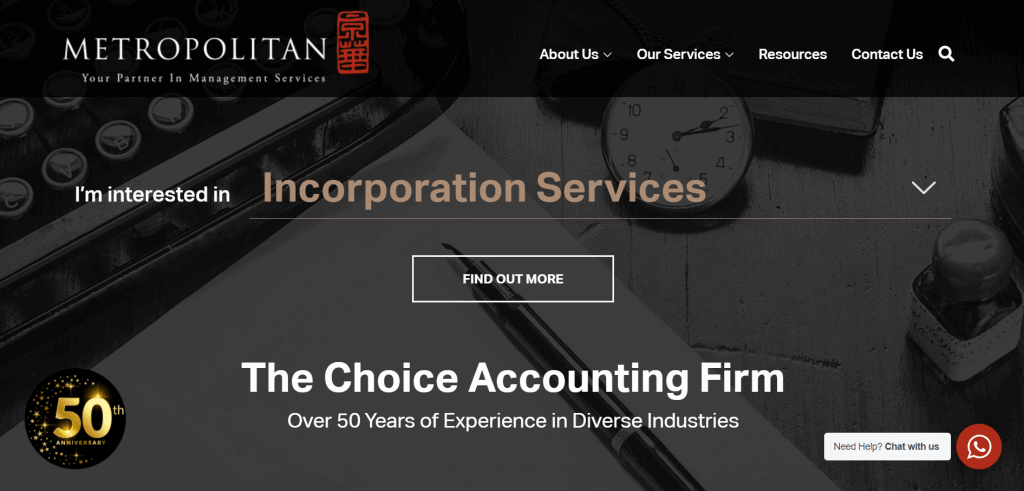 While ideas and material resources are important to maintaining the health of your firm, few things are as essential as harnessing the full potential of your people.
At this corporate secretarial service, beyond ensuring that your company gets the resources it needs to maintain smoothness of operations, you will also get access to further develop for your most precious asset – human capital.
3. OneStop Professional Services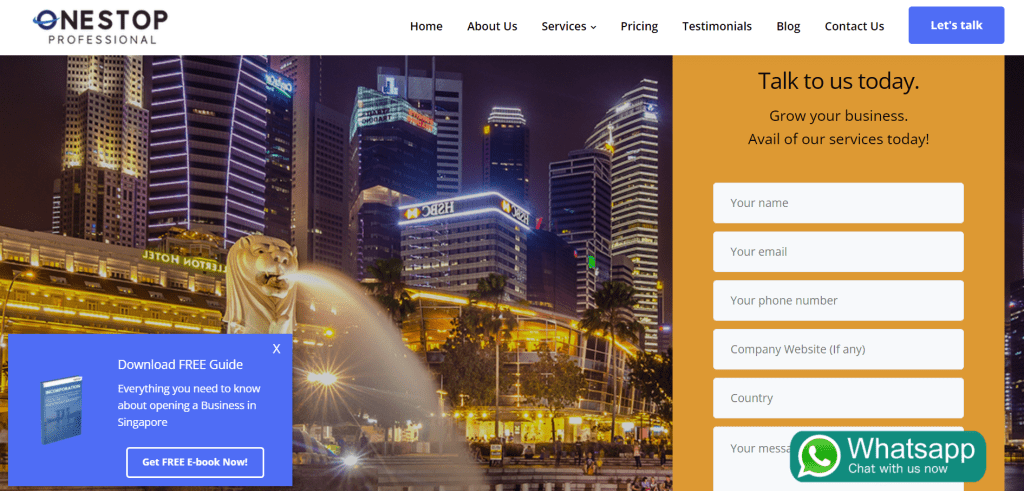 This corporate secretarial service ensures that you needn't take a gamble when it comes to the intricacies of company law.
With their expertise in Singapore's corporate norms and rules, here you get to go about expanding your reach without worrying about overlooking an obscure detail that might potentially set you back immensely.
4. Timcole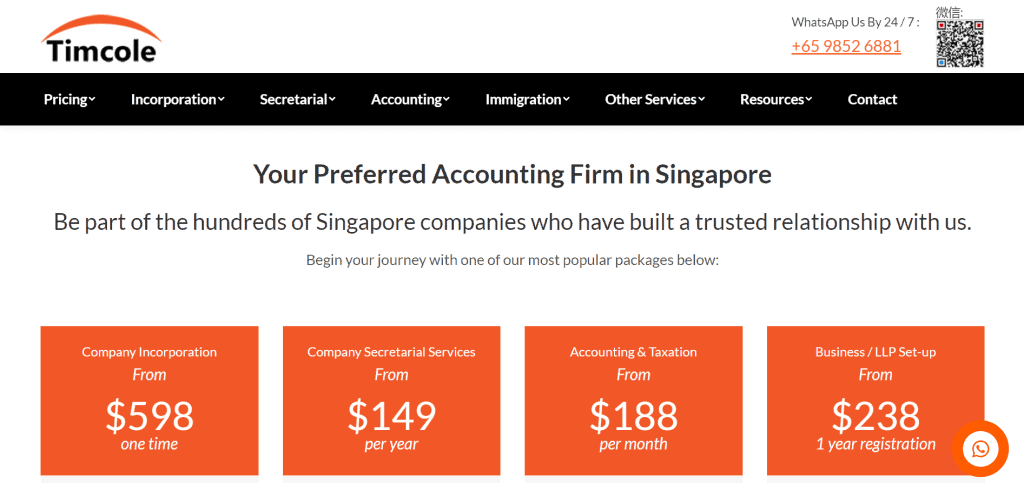 At this corporate secretarial service, you can opt for their VIP secretary package which will allow you to avoid the hassle of waiting endlessly for replies and updates, and instead, let you have a direct line to a customer account manager.
If you are currently engaging the services of another secretarial firm, this service will also provide you with complimentary transition services for a seamless switch.
5. Piloto Asia
Running your own business often means that you do not comply with regular office hours because there's just so much to do at your own time while the world sleeps. Having constant access to support is therefore probably a huge benefit that cannot be understated.
With this corporate secretarial service's 24 hour response availability, you can get the help you need whenever you need it.
6. Singapore Corporate Services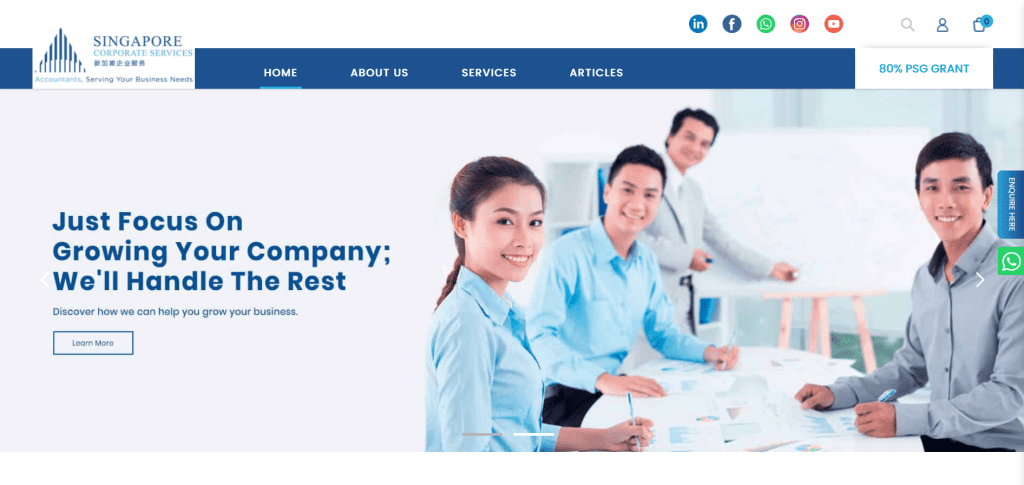 With this corporate secretarial service, you can get far more than the basic secretarial tasks done for you. Their wide array of services includes many other equally daunting and intricate matters such as auditing and settling income tax.
As an SME themselves, this service knows what up and coming businesses need to grow and will provide its SME clients with the most appropriate packages.
7. CorporateRoom Services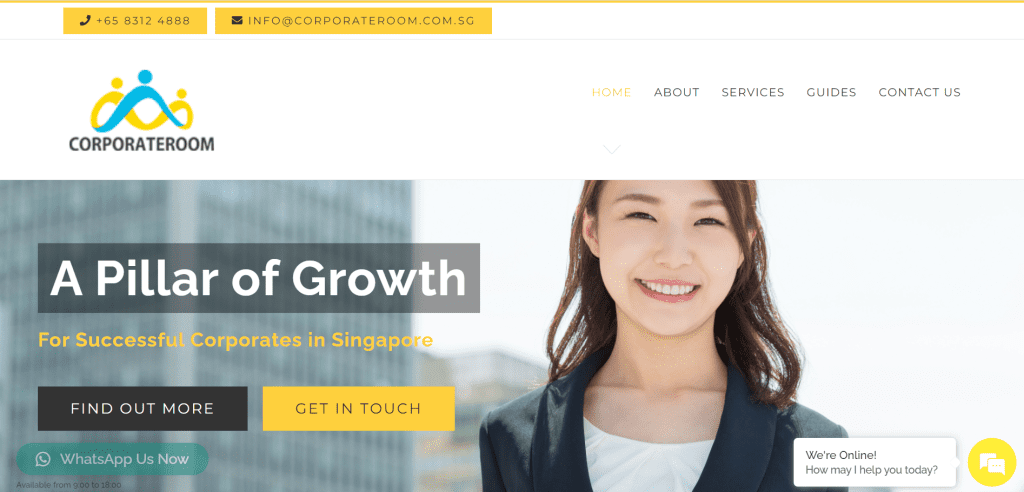 While many corporate secretarial services may be able to offer a working knowledge of corporate law in Singapore, this corporate secretarial service goes a step further by allowing clients to tap into its extensive regional connections to better boost performance.
Engage their success planning services too and expand your horizons!
8. Ascend Corporate Service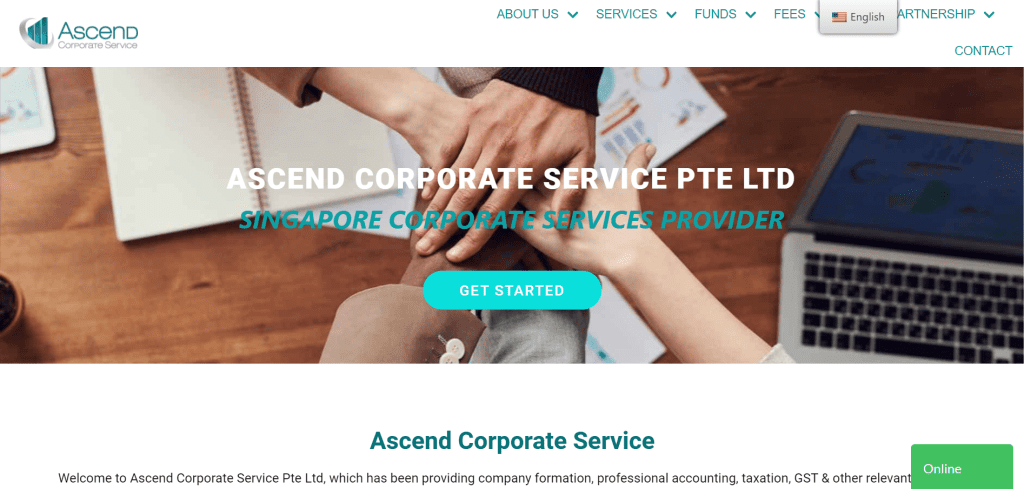 This corporate secretarial service boasts a thorough range of provisions including both audited and unaudited financial report services to cater to your company's unique needs.
Check out their packages and gain access to a one-stop solution that will both fulfil your secretarial needs as well as assist you with many other important tasks such as bookkeeping.
9. FidCorp Services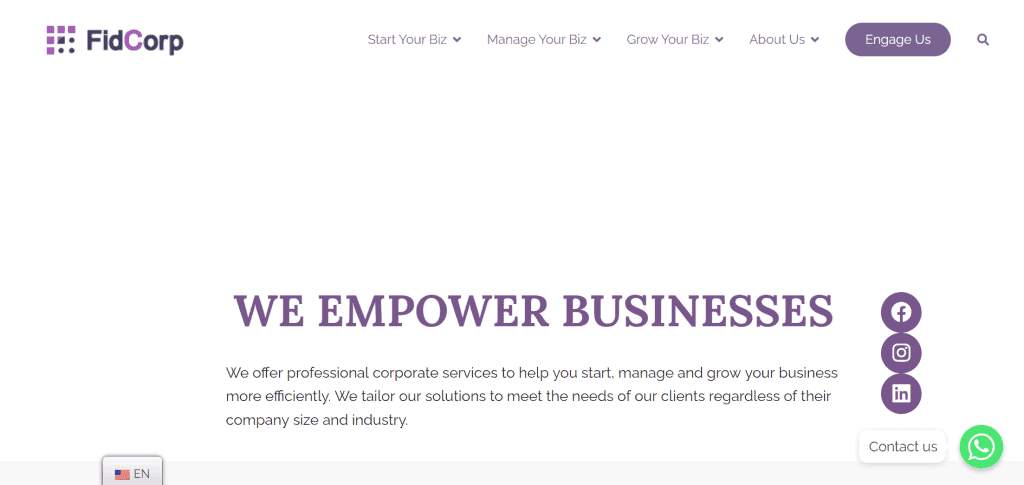 This corporate secretarial service offers a one-stop solution to your various business needs, ranging from Xero services to accounting and payroll services.
With their ability to develop specially catered systems to suit your firm no matter how large it is or what industry you're in, you can rest assured that regardless of your unique circumstances, you'll find something that fits here.
10. Jaanik Business Solutions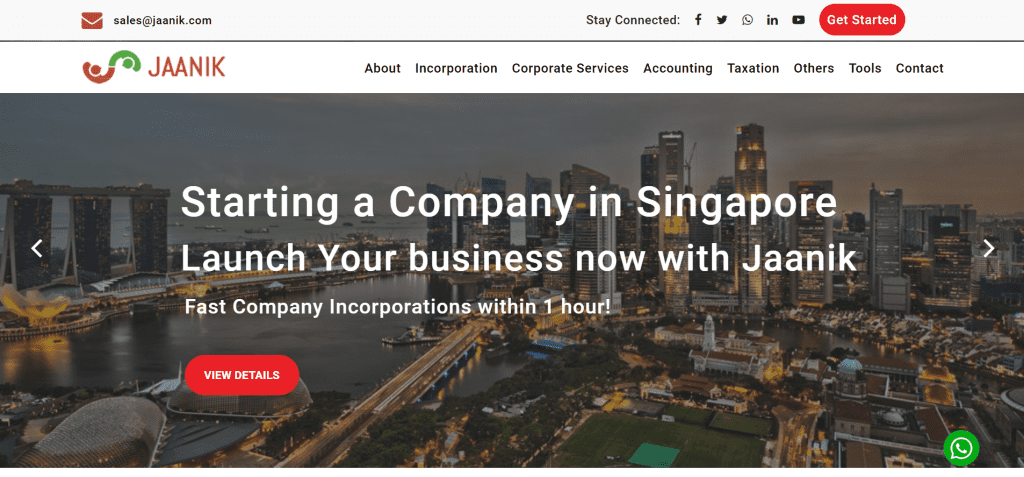 This corporate secretarial service offers a team of highly qualified specialists in a wide range of areas including secretarial roles, auditing and company incorporation.
With their accompanying tools that include business grants and company name check services, here you'll definitely get a good deal that's all the more enhanced with their affordable prices.
11. Alpha Business Solutions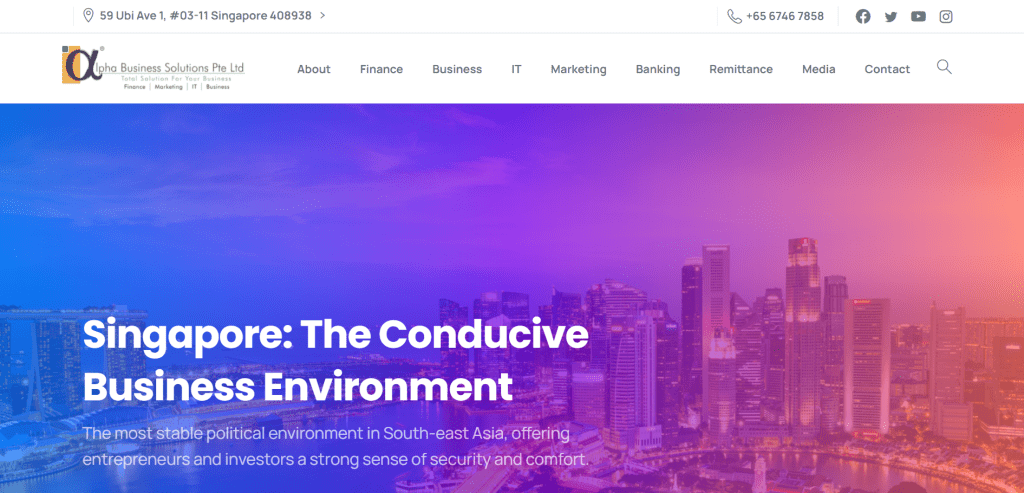 At this corporate secretarial service, you can enjoy a wide range of services that include but are not limited to IT, marketing, banking and even media choices!
Besides enjoying all these options under one roof, you can also opt to utilize their virtual office at a very competitive price and adopt a prestigious official address in the CBD for your business.
12. Leftright Corporate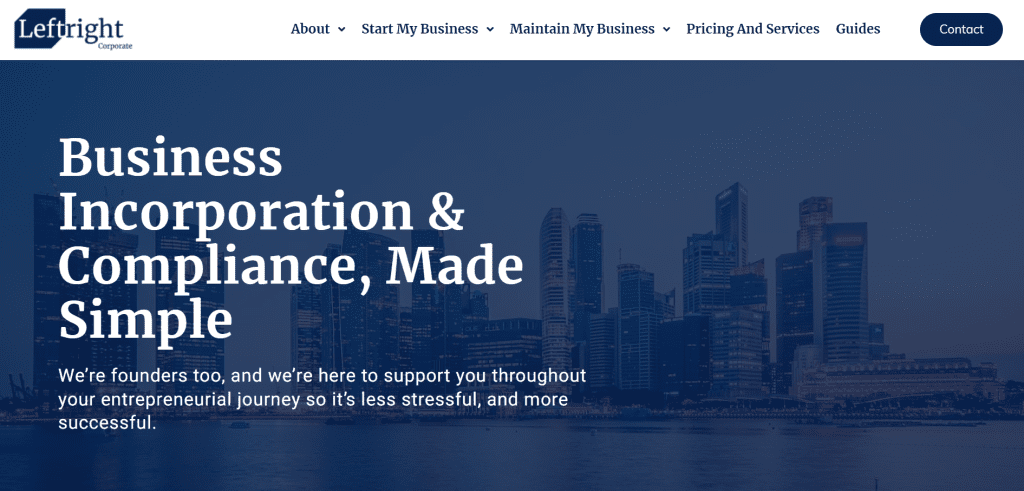 This corporate secretarial service offers products that cater to those seeking to start a business as well as those who wish to maintain their business.
With options for both locals and foreigners basing their firms in Singapore, this service truly has something for everybody and offers quality options at great rates too!
13. ContactOne Professional Services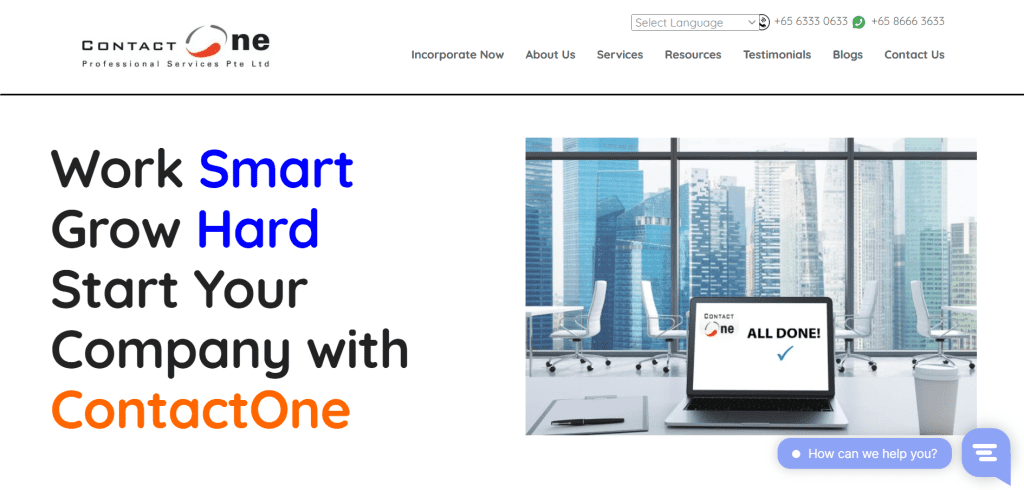 With the pandemic still lingering in its after-effects, it is definitely a legitimate concern that engaging external help for your business may be more of a financial burden than first expected.
At this corporate secretarial service though, you need not worry about being presented with an unexpectedly steep bill given their commitment to maintaining reasonable transparent fees so you will know what you're getting into.
14. Corporate Secretary Services Singapore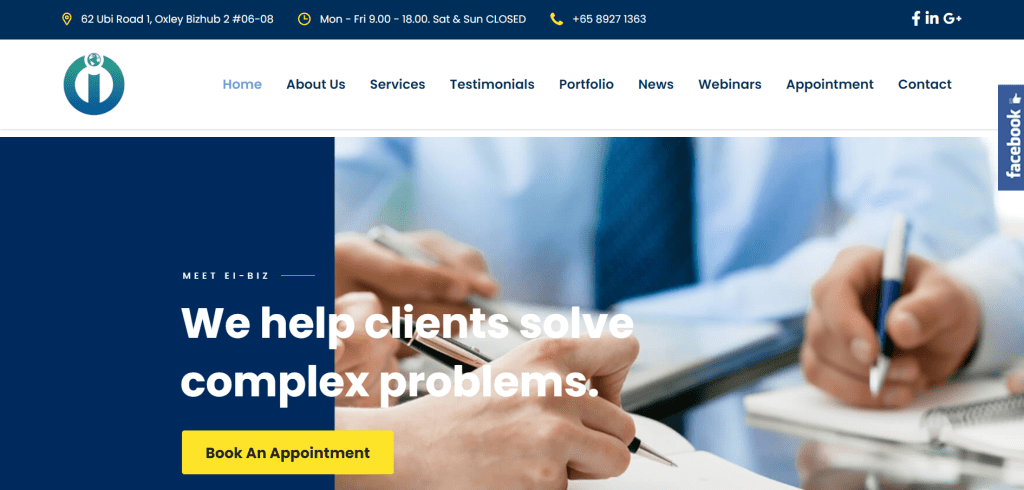 This corporate secretarial service ensures that you will not miss a deadline or form and is committed to breaking down seemingly insurmountable problems for you and offering practical solutions.
Besides providing laudable basic secretarial functions, this service can also help you in other significant and tricky matters such as applying for government grants.
15. Sleek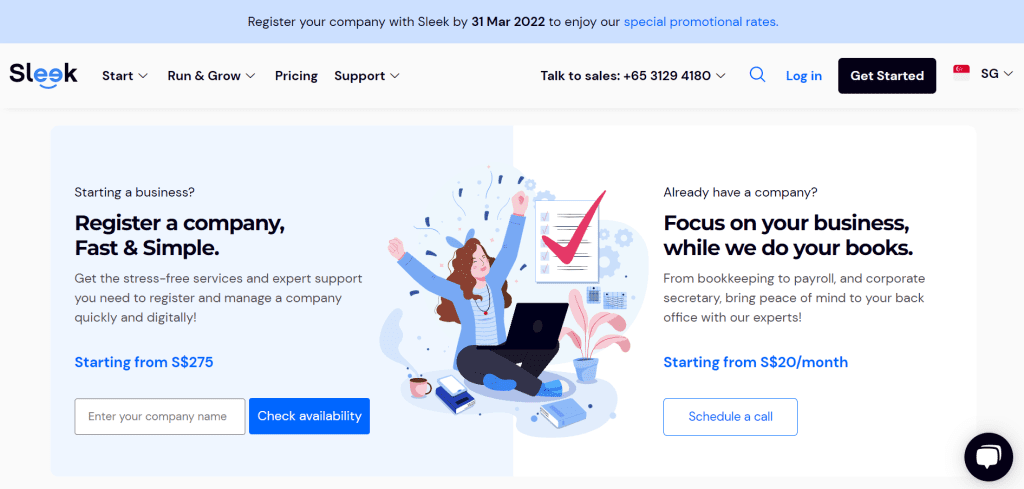 At this corporate secretarial service, you need not anxiously wait for outcomes. With their registration process that takes only up to a day, here you can turn your ideas into proper ventures almost instantly.
Plan ahead with their transparent pricing that will leave you with full financial autonomy and no unpleasant surprises.
16. HeySara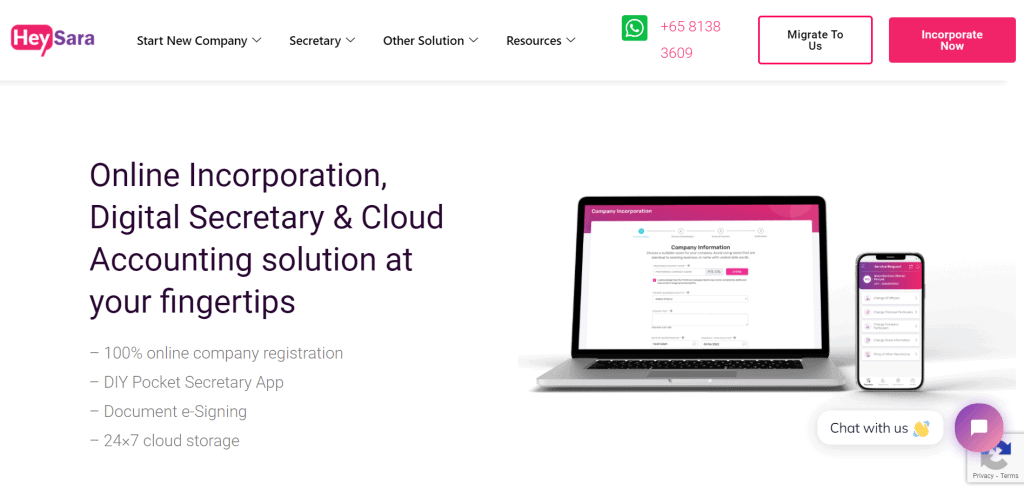 With this corporate secretarial service, having access to secretarial benefits could not be more convenient. Their pocket secretary app allows you the tools to facilitate your company operations from your mobile device, while also allowing you to customize tasks.
With their provision of both routine and non-routine secretarial services, you'll truly have everything you need at your fingertips.
17. 3E Accounting Pte Ltd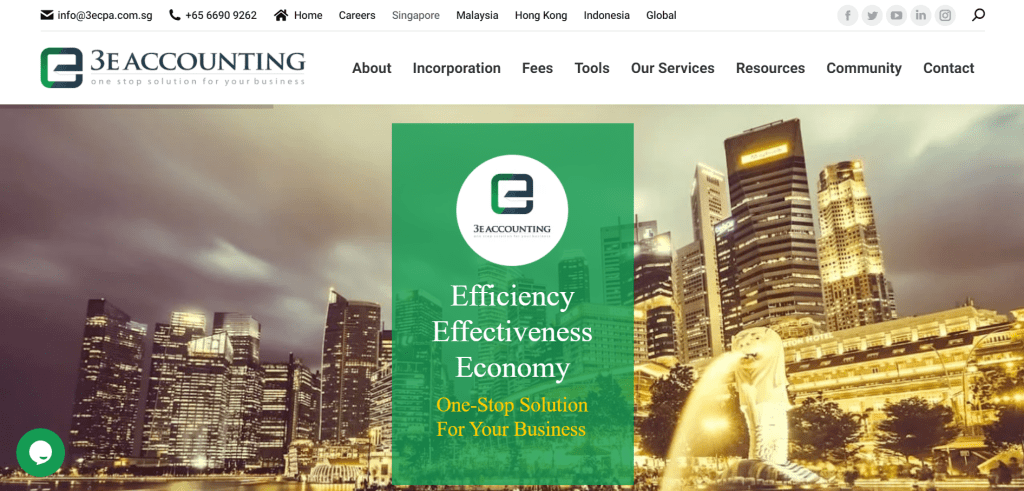 While you may primarily be seeking a provider of corporate secretarial services, it never hurts to leave more tough tasks to the trained experts.
At this service, you can simultaneously get access to compliance assistance while also having help with other daunting aspects of running a business such as web design services and software development.
18. Lanturn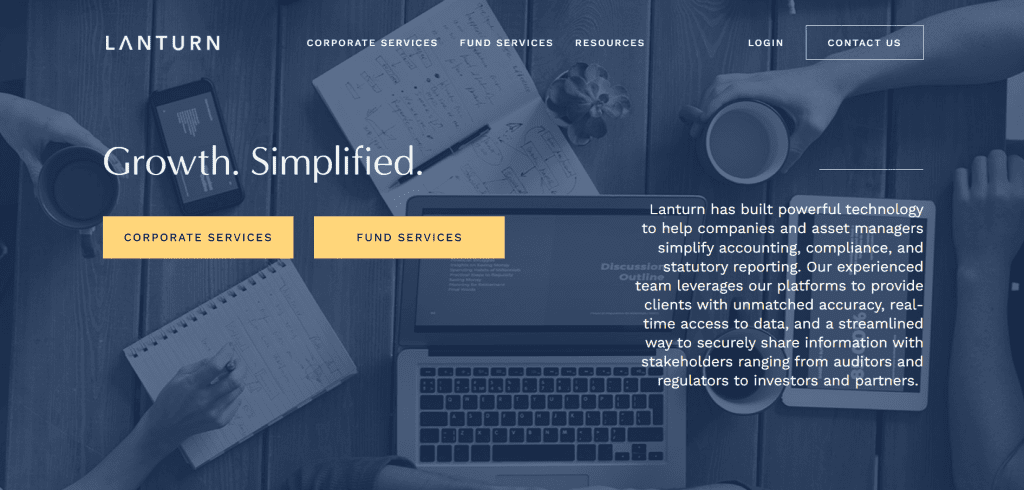 While the human touch may be important to ensuring warmth and comfort in corporate dealings, this corporate secretarial service balances the involvement of people with the accuracy of advanced technology to provide that advice given is based on trustworthy data.
Its extensive array of services which include fund-related matters mean that you get to maximize the precision of their resources in many fields for your enterprise.
19. Corporate Services Singapore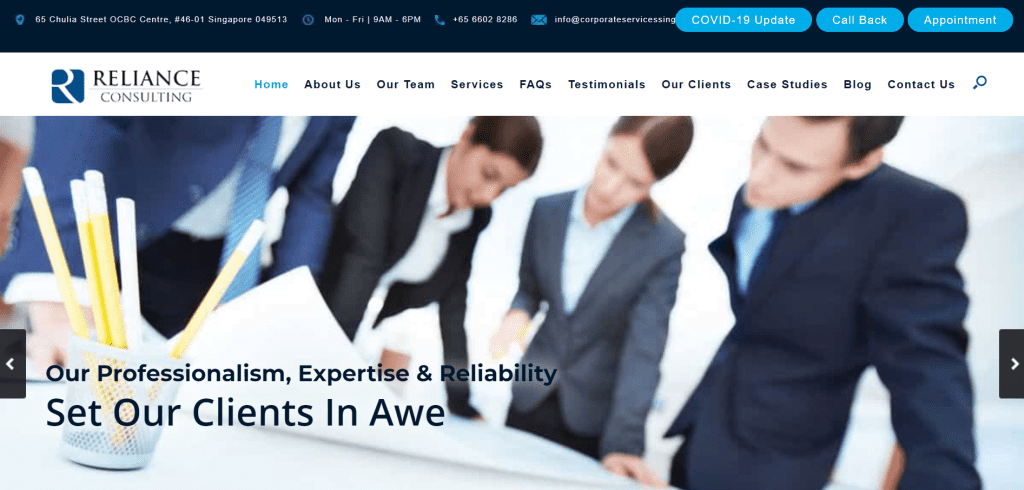 This corporate secretarial service matches access to expertise with the ability to maintain financial prudence through their various bundle packages that allow you to get more for far less.
With their tiered secretary packages, you need not choose between spending exorbitant amounts of money and having to handle everything yourself.
Opt for one of their various secretarial packages and get the service you need at a price you're comfortable with.
20. VentureHaven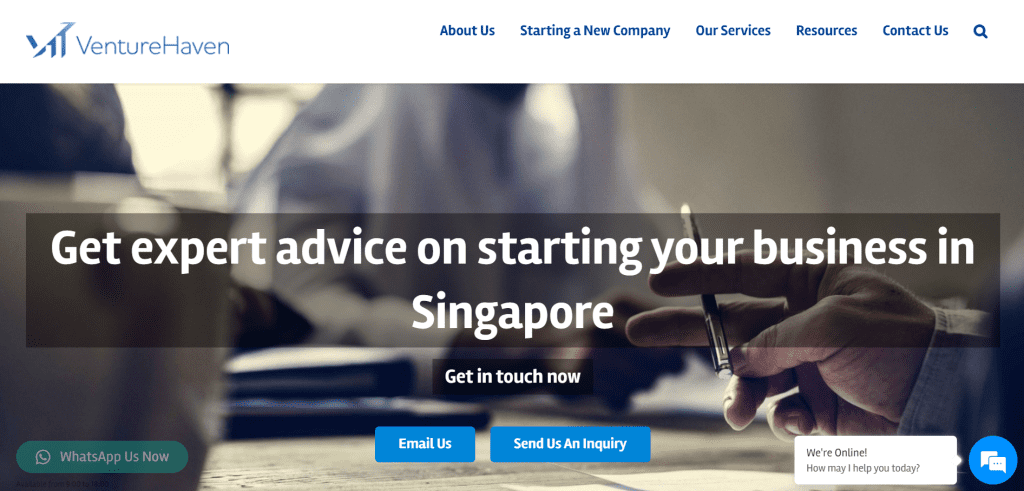 This corporate secretarial service takes on a holistic approach when helping its clients to manage their businesses.
With an equal emphasis on helping you attain security, efficiency and growth for your company, here you can strive to develop a sustainable model for your current operations while not forgoing future expansion!
Conclusion
Do you have any reviews and comments to share regarding our choices for the best corporate secretarial services in Singapore?
While SBO is committed to supporting our local businesses, we welcome any feedback and anonymous sharing regarding your experience with corporate secretarial services in Singapore.
We hope that this guide will be useful in helping you to make an informed decision when it comes to finding the best corporate secretarial services in Singapore.
Explore More Content