9 Best Business Insurance in Singapore Every Company Should Know [2023]
Insurance is a necessity for every company. Do check out our list of the 10 best business insurance in Singapore that every company should know and have.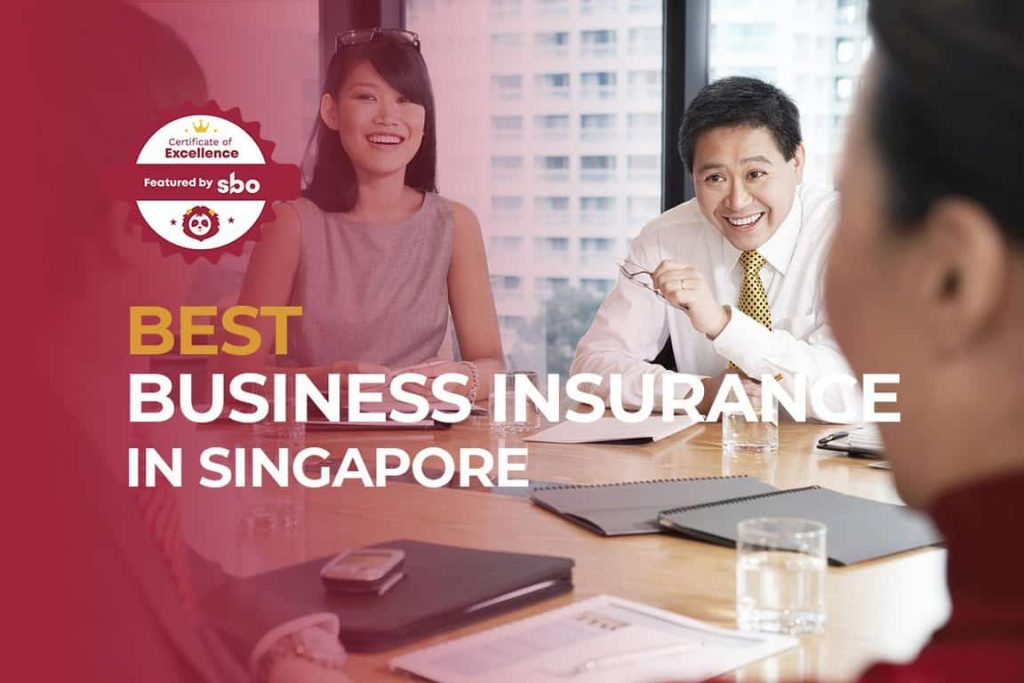 Have you heard of the saying 'Better safe than sorry'? Running a business can be extremely risky, where accidents and events can happen when you least expect them. This is why many companies make sure that they have sufficient insurance to protect them in case anything unfortunate happens.
There are many insurances a company has to take note of and purchase, which can get overwhelming especially if you are a new business. As such, we have put together a list of the 10 best business insurance in Singapore every company should know to ensure that you are well-protected.
1. AXA SmartPlan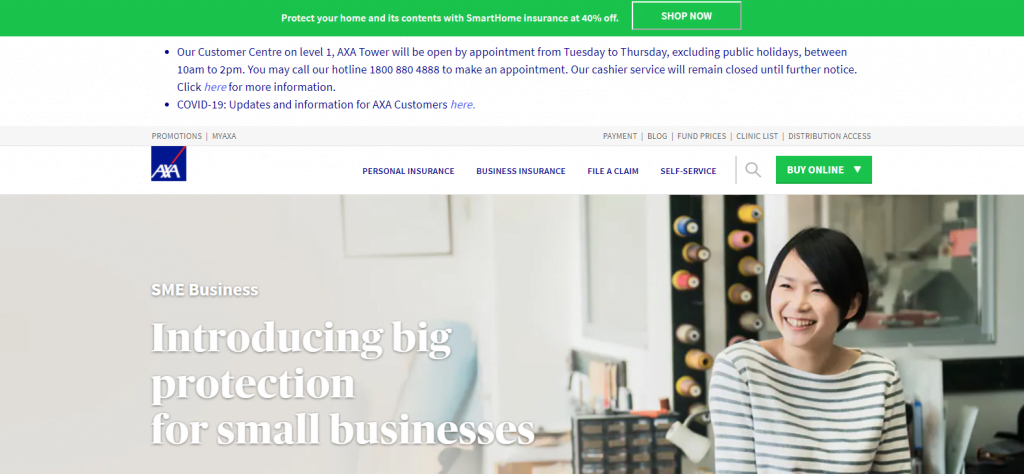 AXA SmartPlan has over 8 coverages under 1 policy. They make sure all their clients get the right amount of protection with just one simple and cost-effective package. They cover all property risks, work injury compensation, business interruption and liability.
All property risks include the loss or damage to buildings, stocks, machinery, furniture, and other contents. Their work injury compensation will cover Medical leave wages, medical expenses and lump-sum compensation for all your employees.
As for business interruption, AXA SmartPlan covers your business for the loss of profits when there is an interruption in operations. Lastly, they will compensate against any claims in the event that someone is inadvertently injured or suffers an accident that your business is responsible for.
AXA also has a SmartCare plan that covers health, disability and rising healthcare costs for your employees and their family members. If you wish to find out more, you can do so at the website.
2. Etiqa Business Owners Super Suite (BOSS)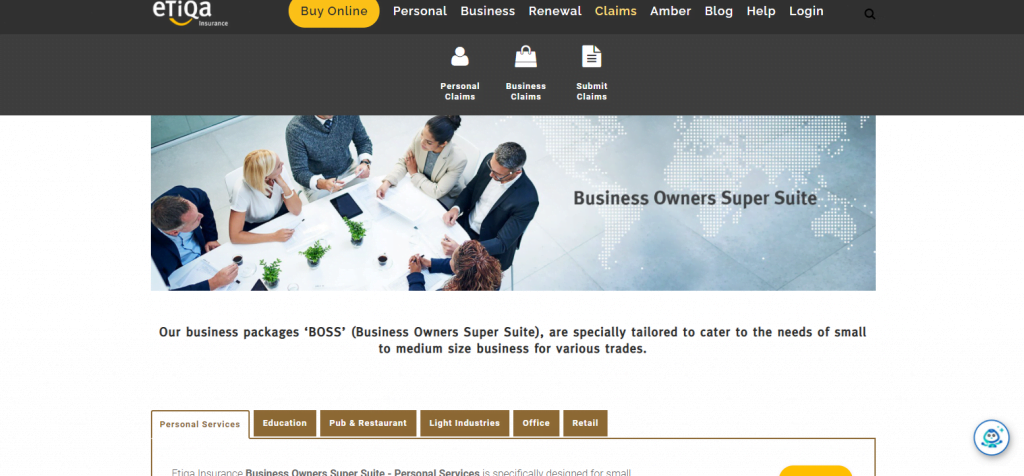 Etiqa Business Owners Super Suite (BOSS) has numerous business packages, each specially tailored to cater to the needs of small to medium-size businesses for a particular industry. Some of the industries include Personal Services, Education, Pub & Restaurant, Office, Retail and Light Industries.
If your business is in any of those industries, you can check out their website to find out more. Some of the common risks that they insure include theft of keys, seasonal stock increase, external signs, external blinds and many more. They also have a standard suite of business packages, that has a lower premium as compared to the super suite.
3. Pacific Prime Business Insurance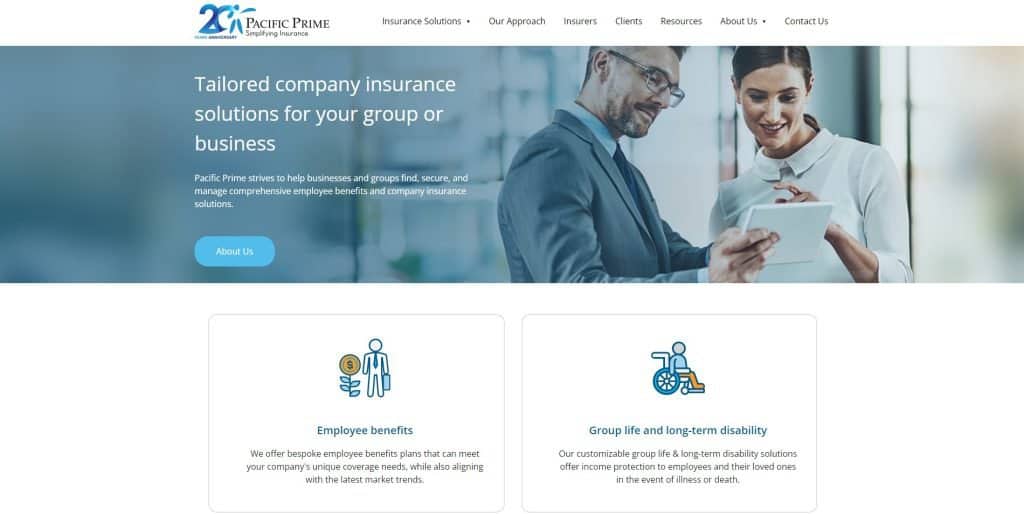 Pacific Prime is a registered insurance broker in Singapore, that has a variety of insurance plans to cover you and your business. They are an international group with offices in Hong Kong, Singapore, Dubai and Shanghai, and is backed by more than a decade of experience developing innovative health insurance solutions for their clients.
Pacific Prime Business Insurance covers Third Party Liability which ensures that you are insured should any persons not under your employment meet an accident that requires ensuring whilst on your business premises, or somehow through your business.
They also have employees' work compensation and employees' benefits such as group medical insurance and personal accident insurance. Lastly, they also provide insurance for properties.
4. UOB BizCare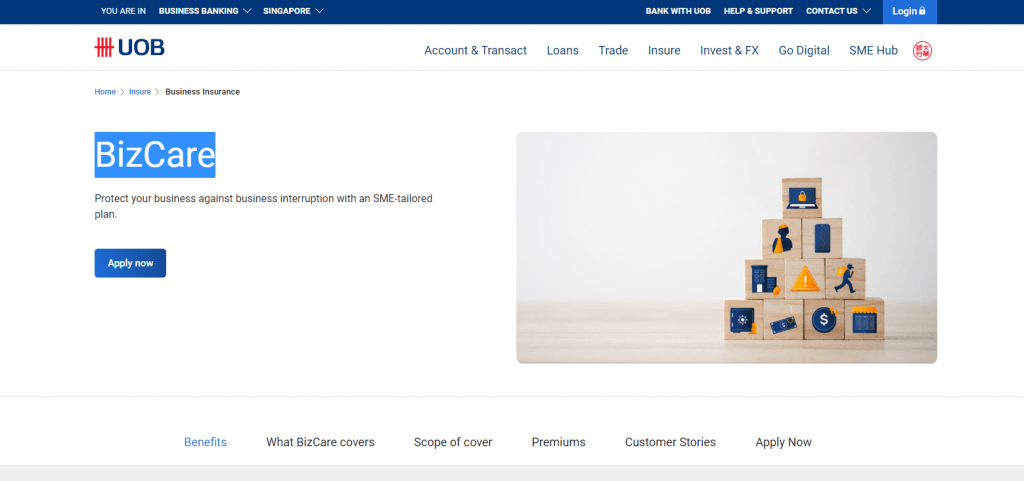 UOB BizCare is business insurance in Singapore that has an SME-tailored approach. They cover a wide range of risks exposure including cybersecurity threats. They also cover electronic equipment and fidelity guarantee and many more. You can get an instant approval for this insurance as there is no underwriting required.
UOB BizCare has 3 tiers of plans – Plan I, II and III. Each tier has differing levels of coverage and premium plans, with Plan I being the most affordable. It is a fuss-free process to sign on to this business insurance, from enrolment to renewal, so you can save time and save energy for your business.
5. Chubb SME Package Policy (Select+)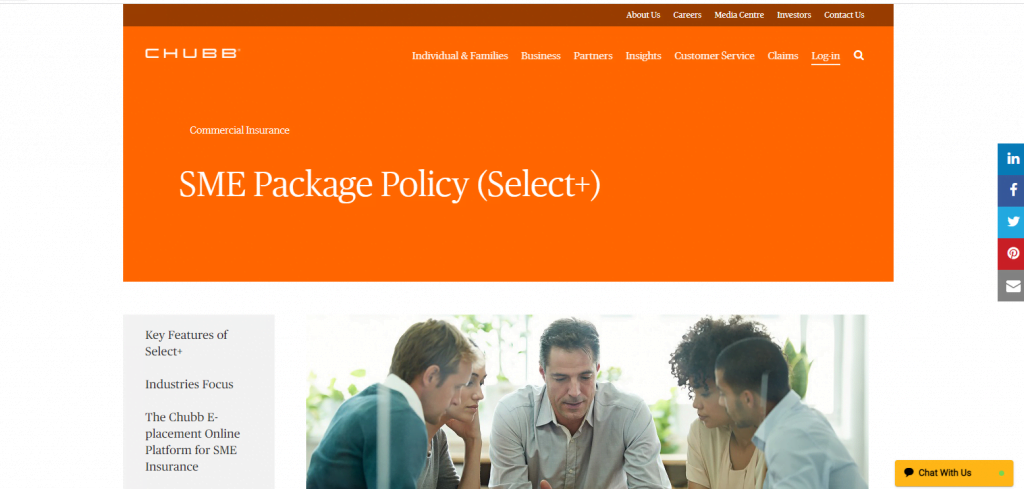 Chubb SME Package Policy (Select+) is a package policy for Small and Medium Enterprises (SMEs), to offer wide standard cover with optional add-ons. Some of the key features include property money, public and general liability, fidelity guarantee, workers' injury compensation, group personal accident and many more.
Chubb understands that SMEs are more vulnerable to fluctuating economic conditions and business interruptions as they have a way smaller cash flow. As such their Chubb SME Package Policy (Select+) is extremely flexible, with multiple add-ons that take into account your company's budget while meeting your insurance requirements.
6. AIG SME Package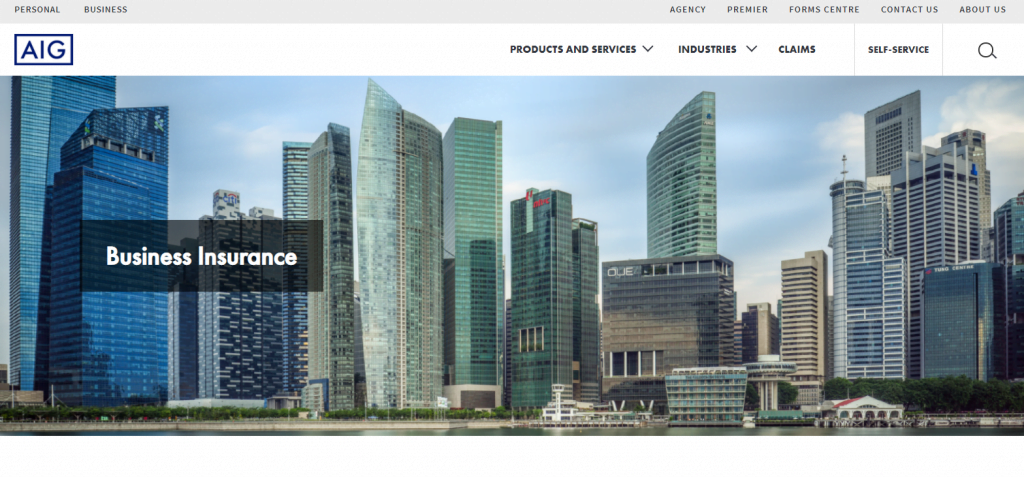 AIG SME Package is a flexible multi-line insurance with essential covers for small and medium-sized enterprises in Singapore. They offer simple packaged products that contain the right amount of coverage needed for micro and small businesses, as well as bespoke solutions that can be tailored to the needs of those with more complex insurance needs.
You can choose from three different plan types across 6 different industries such as food, beauty, education, healthcare, office and retail. If none of them suits you, you can tailor your insurance plan as well.
7. MSIG Business Plus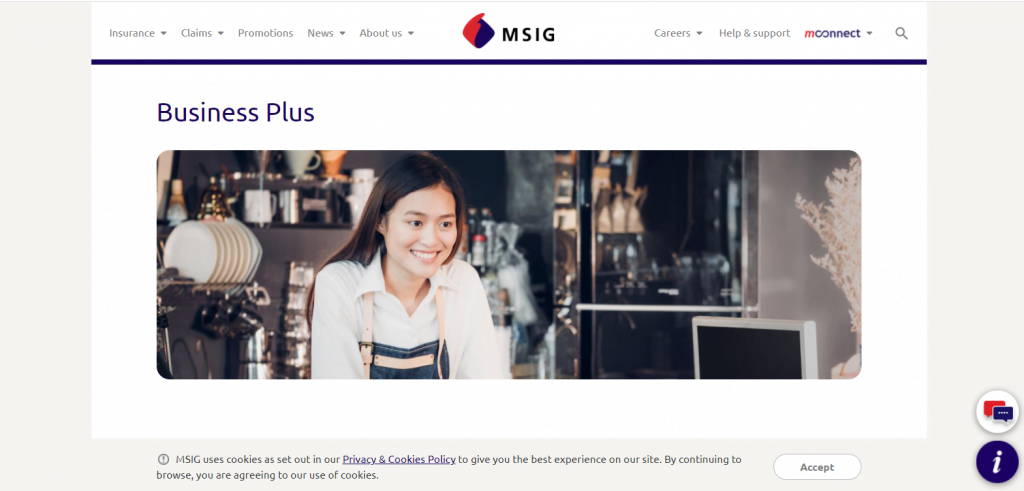 MSIG Business Plus is a comprehensive and flexible package for SMEs. They have 8 essential covers. Their basic plan provides insurance for Theft & Hold-up (first loss basis), Fire & Extraneous Perils (contents), Public Liability, and many more. They also have optional add-ons such as fidelity guarantee and Deterioration of Stock.
MSIG Business Plus is suitable for businesses that are in the Office, Service, Retail and Food & Beverage businesses. Whatever the size your company is, MSIG will always have the plan you need. They also make sure that they cover every single aspect of all your business as they understand that every business is more intricate than it seems, and so are its needs.
8. QBE Business Insurance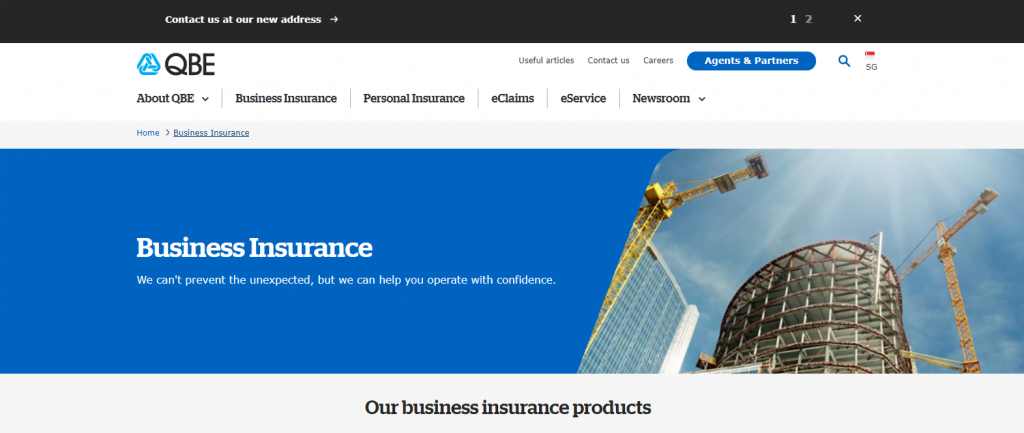 As Singapore s oldest registered Australian company. QBE Business Insurance is a trusted provider of specialist expertise and professional insurance services. Their insurance specialists are highly experienced and trained to be extremely client-focused.
All their leading-edge products are tailored to deal with everything from complex risks to more simple and straightforward insurance needs. They live by the motto where if they prevent the unexpected, they can help you operate with confidence instead.
9. Provide
Provide was started by technology entrepreneurs and insurance experts. They are an Insurtech company that aims to build a radically improved insurance experience for all business owners in Singapore.
They use state-of-the-art online technologies to create the best coverage, save you money, and simplify your life when it comes to protecting your business. You can get to save up to 25% of your premiums because they partner with SME financing firms, medical testing firms so as to offer you exclusive deals.
Conclusion
Do you have any reviews and comments to share regarding our choices for the best business insurance in Singapore?
While SBO is committed to supporting our local businesses, we welcome any feedback and anonymous sharing regarding your experience with the listed business insurance in Singapore.
We hope that this guide will be useful in helping you to make an informed decision when it comes to finding the best business insurance in Singapore Everyone Should Know.
Explore More Content