11 Best Accounting Services in Singapore to Keep Your Finances In Check [2023]
Have no idea how to do your business's accounting? Here's 11 best accounting services in Singapore you can count on to keep your finances in check.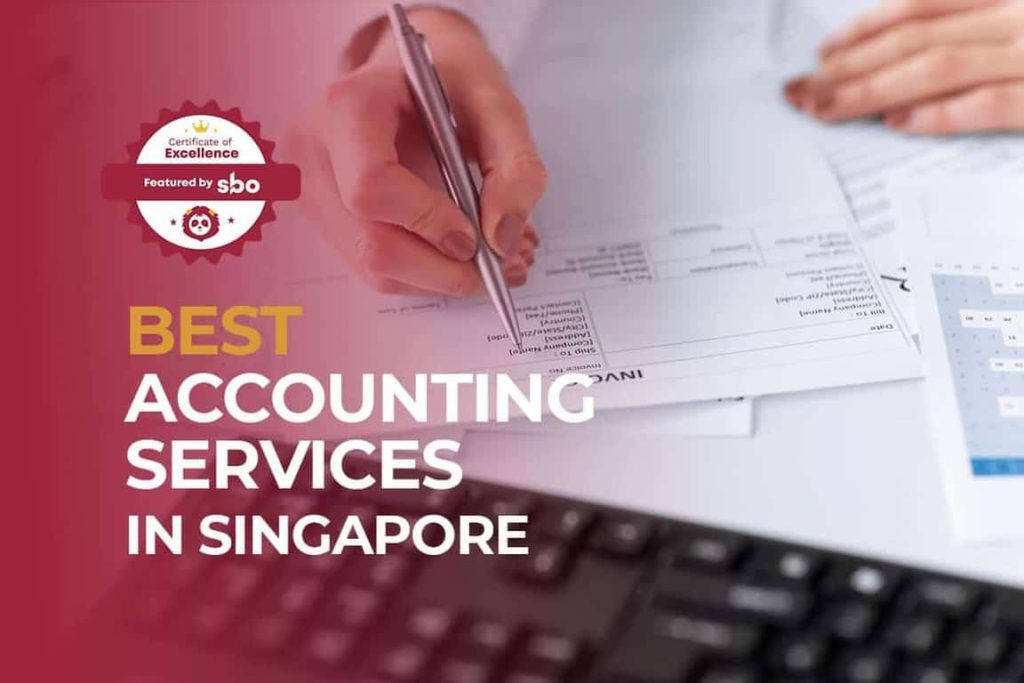 Healthy accounting records are crucial to a business' success. We need accounting to track all our business expenses, to ensure that we have healthy cash flows. Without proper records, businesses may end up getting confusing with all the different transactions.
We know that it may be tough for small businesses to hire their own in-house accounting team to manage the business' accounts and finances due to budget restrictions. As such we have compiled a list of the 11 best accounting services in Singapore you can count on to keep your finances in check.
1. Counto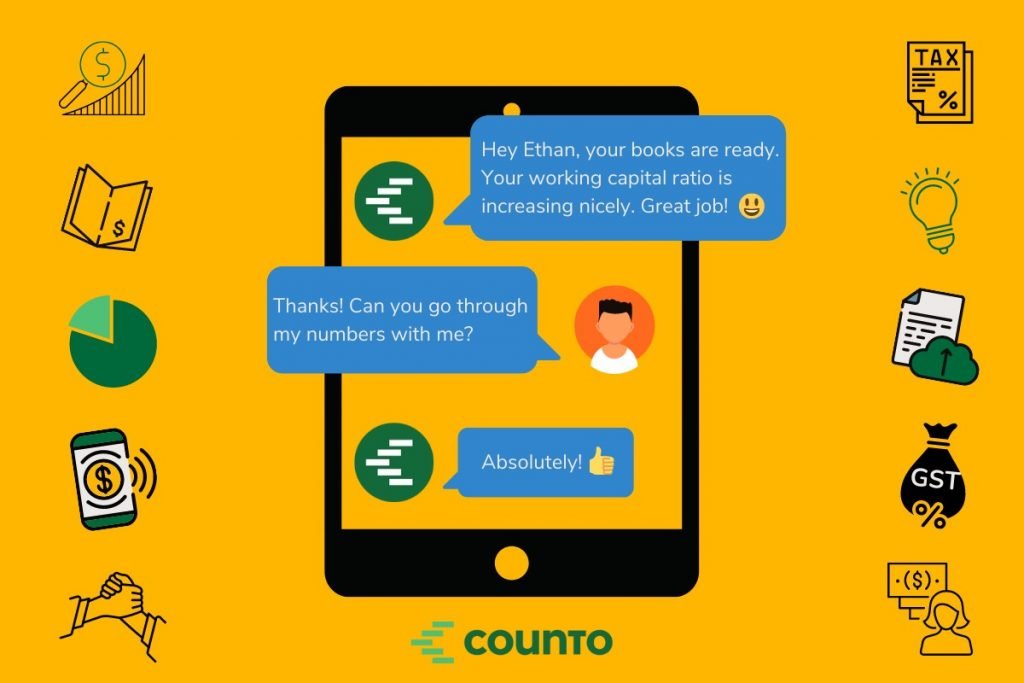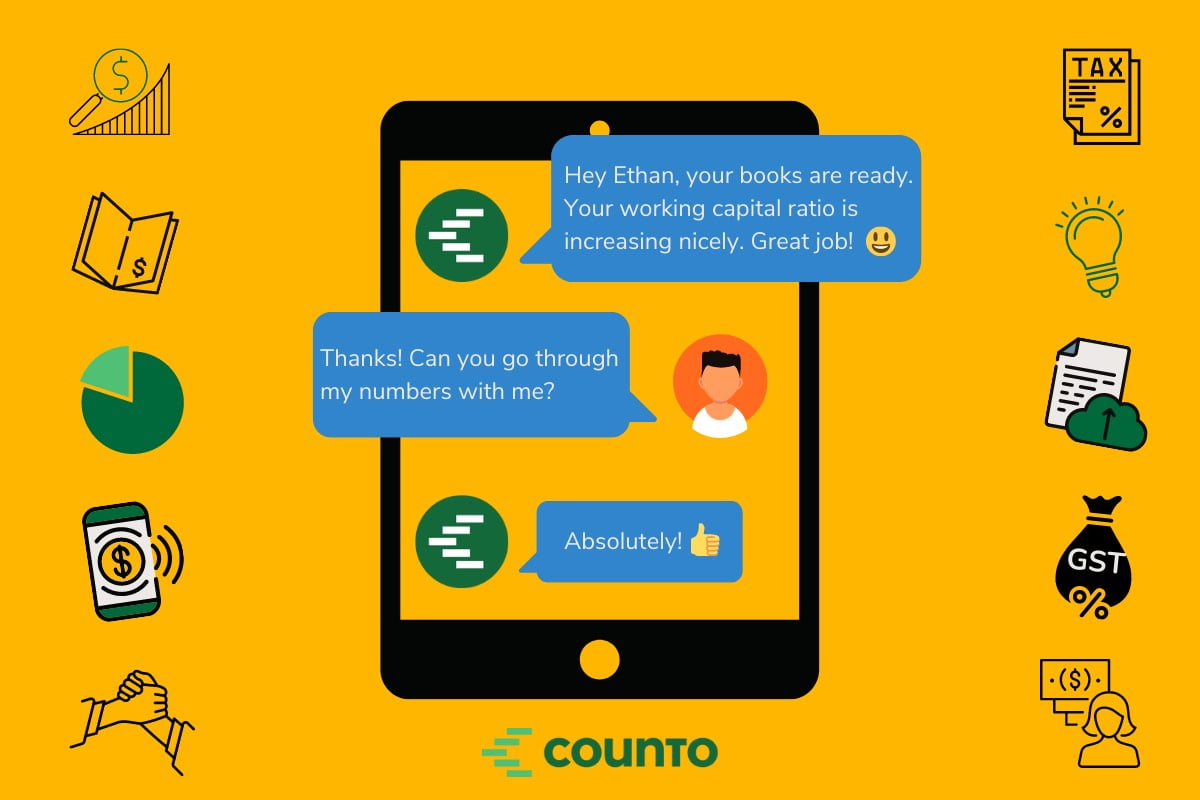 Counto has everything you want in an accountant and more. They were handpicked as the top accounting service in Singapore due to their use of artificial intelligence in their accounting processes.
Offering bookkeeping, tax filing, incorporation, and CFO services, together with data analytics to help run and grow your business, Counto prides itself on its fast response time. Their team works round the clock to ensure that you get what you need, even at night and during weekends.
One interesting feature of Counto is that they use their own IRAS-approved AI tax software, which efficiently eliminates the need for manual processes and drastically lowers your compliance costs. Through AI, accounting tasks are simplified, resulting in faster workflows and increased accuracy.
Furthermore, their accounting plans are based on your revenue. The less you earn, the less you pay. Counto is the only accounting service to offer unlimited transactions to ensure that you receive the most transparent and affordable prices in the market.
2. Sleek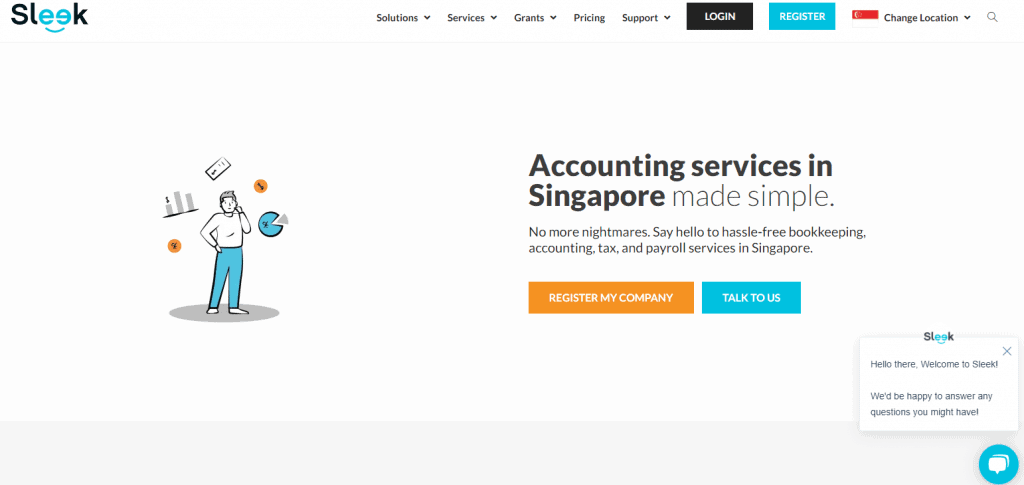 As one of the top accounting firms in Singapore, Sleek aims to make its services as affordable as possible, while maintaining high-quality services. Rates for accounting services are transparent with no hidden costs and start at S$100 per month. They provide a full range of accounting services so you do not need to look for other firms to take care of other accounting needs.
Sleek offers 4 different accounting packages with different inclusions. This helps the clients to choose the most appropriate plan for their business's needs and budget. They also look after your company's compliance with IRAS and ACRA. From services such as preparing your unaudited financial statements, balance sheet and more.
3. Timcole Advisory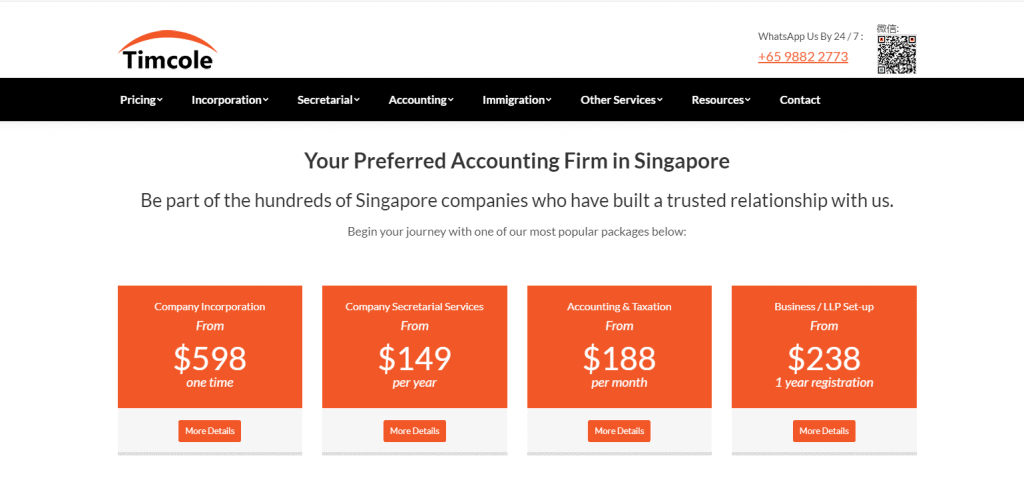 As a professional secretarial and accounting firm in Singapore, Timcole Advisory acts as the "one-stop solution" that can serve all your outsourced business needs, from secretarial, to corporate finance, payroll and tax.
Their core value is to provide fast, effective and proven solutions to all of their clients. Their team of accountants have years of experience in the field and provide a full suite of corporate advisory solutions and accounting services to SMEs across various industries, including F&B, Retail, logistics, Construction & Engineering, E-commerce, and more.
4. Win Global Solutions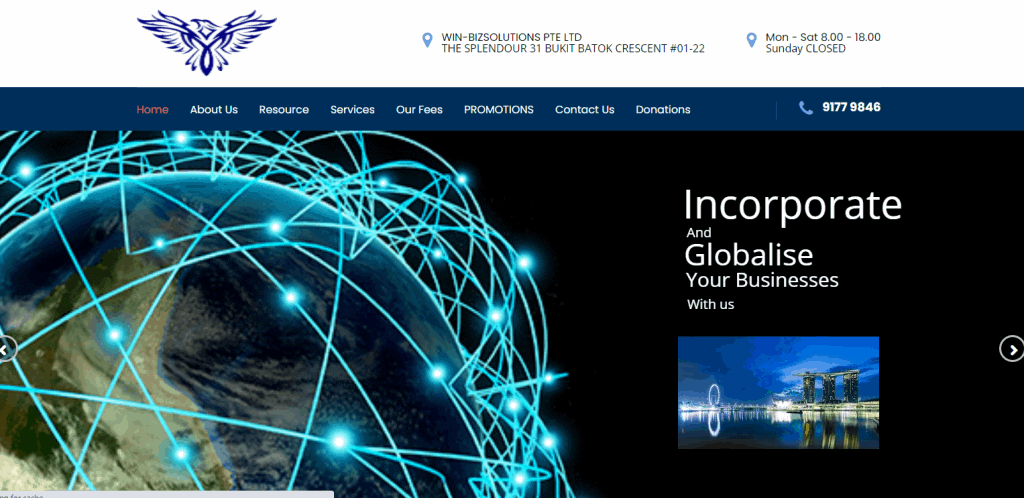 Win Global Solutions has a mission to be the top of business support provider for all businesses operating in the Asia Pacific and Australia. They offer a comprehensive range of business solutions including accounting, taxation and compliances necessary to position your enterprise at the forefront of the relevant industry.
They aim to realize and increase your business potential. To do so, they have a team of professionals who always strive to listen to what their clients had in mind and work tirelessly to provide a solution for them to achieve the goals they desire.
5. JCP Accounting Services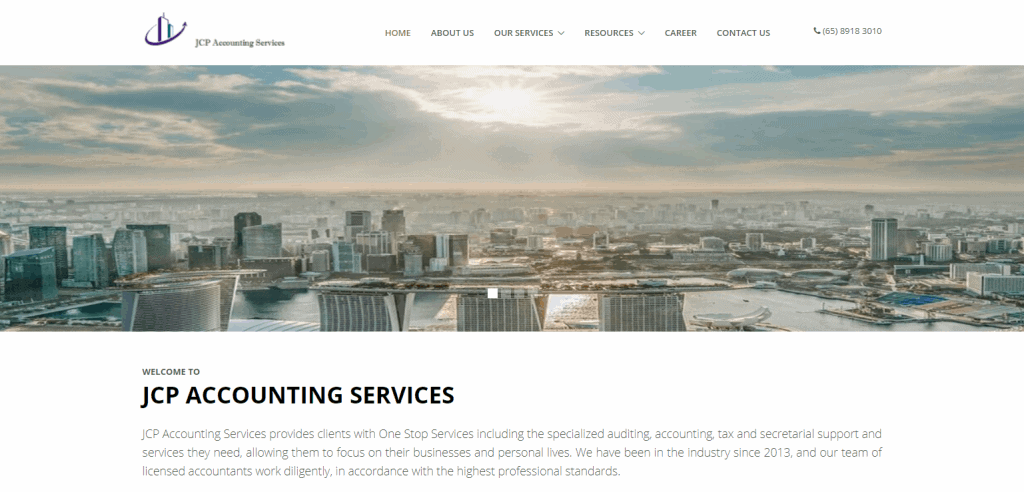 As a One-Stop Service, JCP Accounting Services offer a wide range of financial services, including specialized auditing, accounting, tax and secretarial support and services.
Been in the industry since 2013, their team consists of highly experienced professionals with extensive experience in Singapore's financial, tax, corporate, and regulatory milieu. At JCP, they take great pride in building long-term customer relationships by ensuring that their clients receive the highest quality service.
6. WLP Group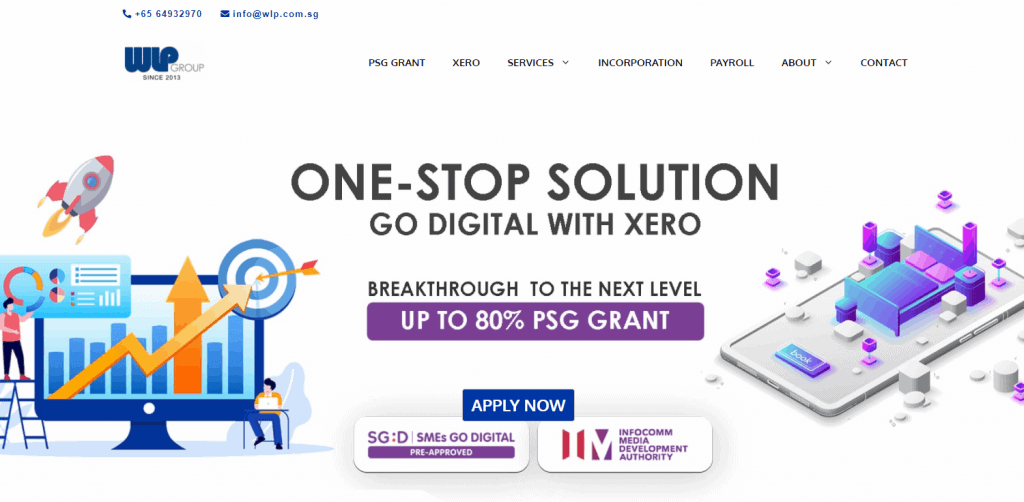 Founded in 2013, W.L.P Group is a global trusted corporate service provider, offering integrated solution services beyond excellence. Their mission is to offer corporate services striving towards their 3 core concepts – Efficiency, Consistency and Integrity.
They provide a range of professional services such as setting up a local company in Singapore, payroll outsourcing services, tax and accounting and many more. They have a team of highly experienced professionals who possess extensive experience in the Singapore corporate milieu.
7. A1 Business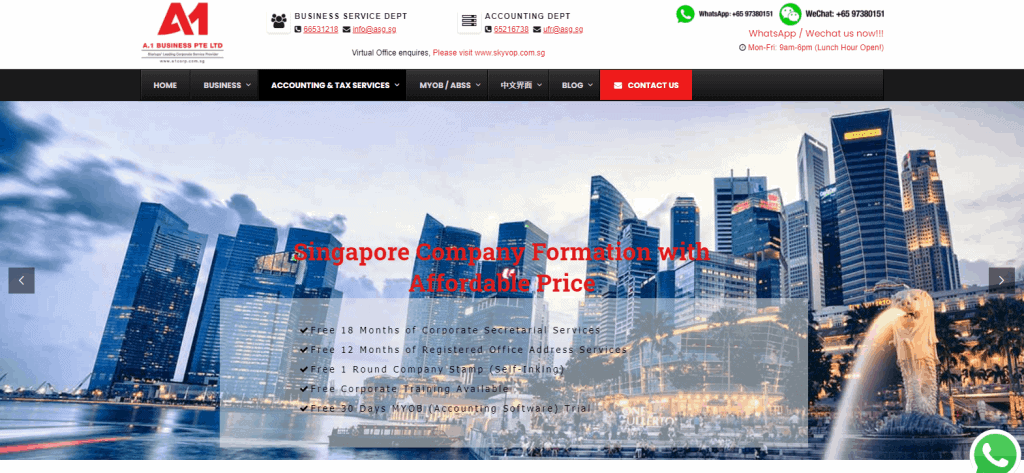 12 years into the business, A1 Business provides one of the best accounting services in Singapore, offering highly affordable and value-for-money services for their clients. Their team of accounting professionals are highly qualified and experienced, making them reliable and confidential.
They pledged to provide the best customer service by making sure that their team is well knowledgeable and constantly updated with new information. They respond swiftly and actively to each and every one of their customers' enquires. By presenting the most effective solutions available, they seek to maximize their customers' satisfaction.
8. Assembly Works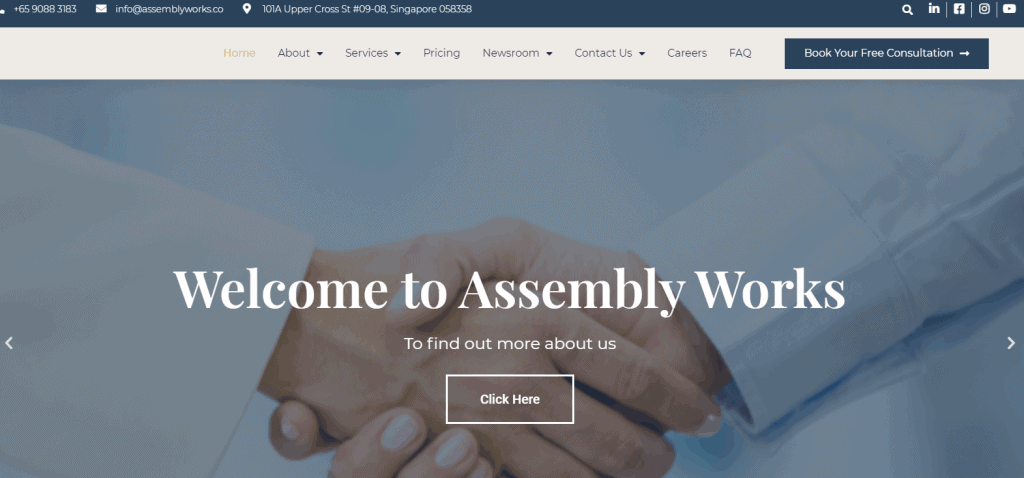 Founded by Shining Yeo, with the passion to navigate the challenging financial and Singaporean regulatory landscape. Assembly Works offer high-quality financial services to its clients while maintaining the highest levels of professionalism, integrity and accuracy.
They are committed to maintaining a direct, personal, and confidential relationship with all their clients and make sure to work closely with them from routine bookkeeping solutions to major financial decisions. They work around the clock to make sure that they provide the services and information clients need when they need it.
9. Accounting Solutions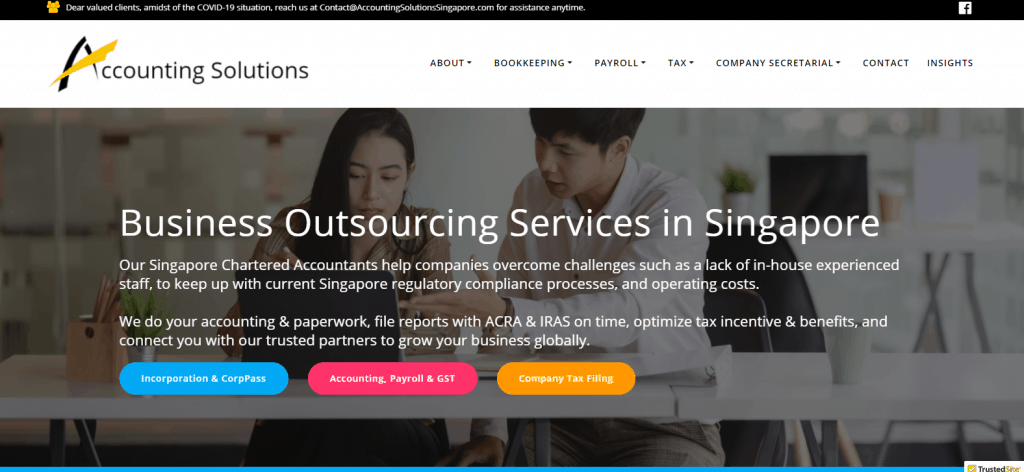 Since 2010, Accounting Solutions is on the mission to bring quality and cost-efficient business solutions to Singapore companies. Their team of highly experienced and qualified Singapore Chartered Accountants help companies to overcome challenges such as a lack of in-house experienced staff, to keep up with current Singapore regulatory compliance processes, and operating costs.
Accounting Solutions tailor-made its services according to the needs and preferences of each client and prides itself on having transparent pricing with no surprise fees or complex fee packages. Their team of dedicated professionals always deliver services efficiently and fulfil all statutory compliance for their clients.
10. U Ventures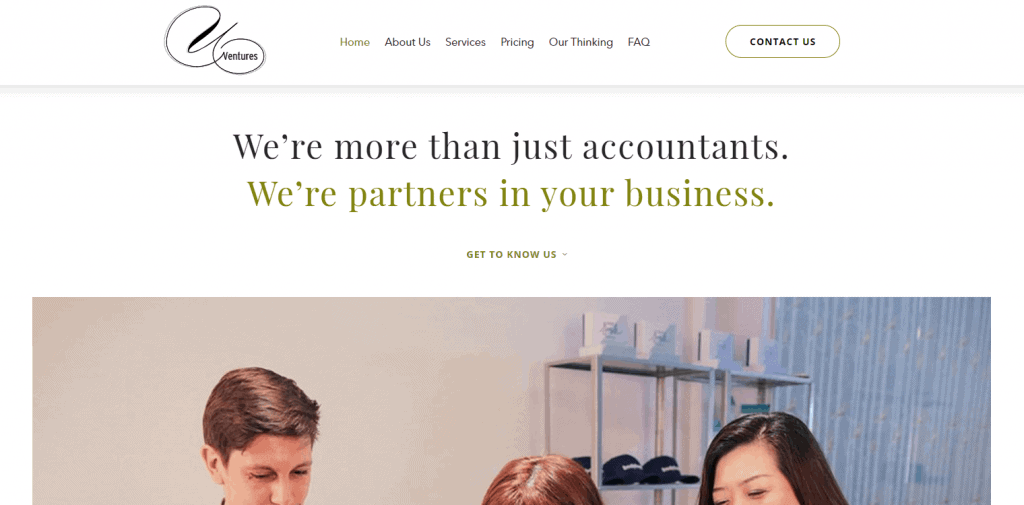 U Ventures was founded in 2010, with the purpose to help start-ups focus on getting their business off the ground without the worry of spending unnecessary time amassing info about required procedures. They strongly believed that accounting should not be hard and should be affordable for all.
They specialise in several aspects of accounting, secretarial and tax incentives including but not limited to, book-keeping, incorporation of a company, financial planning and tax savings.
11. YOSS Services

YOSS Services prides itself on being your one-stop service provider. They offer a comprehensive range of services which include company incorporation, corporate services, bookkeeping and accounting, payroll, Goods and Services Tax (GST) and taxation services for both individuals and small to medium-sized private limited companies in Singapore.
They have a team of professionals who work tirelessly to ensure timely compilation of GST and tax computation for submission to the Inland Revenue Authority of Singapore (IRAS). Mandatory filing of annual returns to Accounting and Corporate Regulatory Authority (ACRA) are monitored, met with corporate regulatory requirements under the Companies Act and comply with timely submissions.
Conclusion
Do you have any reviews and comments to share regarding our choices for the best accounting services in Singapore?
While SBO is committed to supporting our local businesses, we welcome any feedback and anonymous sharing regarding your experience with the listed outdoor furniture in Singapore.
We hope that this guide will be useful in helping you to make an informed decision when it comes to finding the best accounting services in Singapore.
Explore More Content