10 Best Franchise Business in Singapore To Be Your Own Boss [2023]
Here are our top picks for best franchise business in Singapore for those who are considering owning one!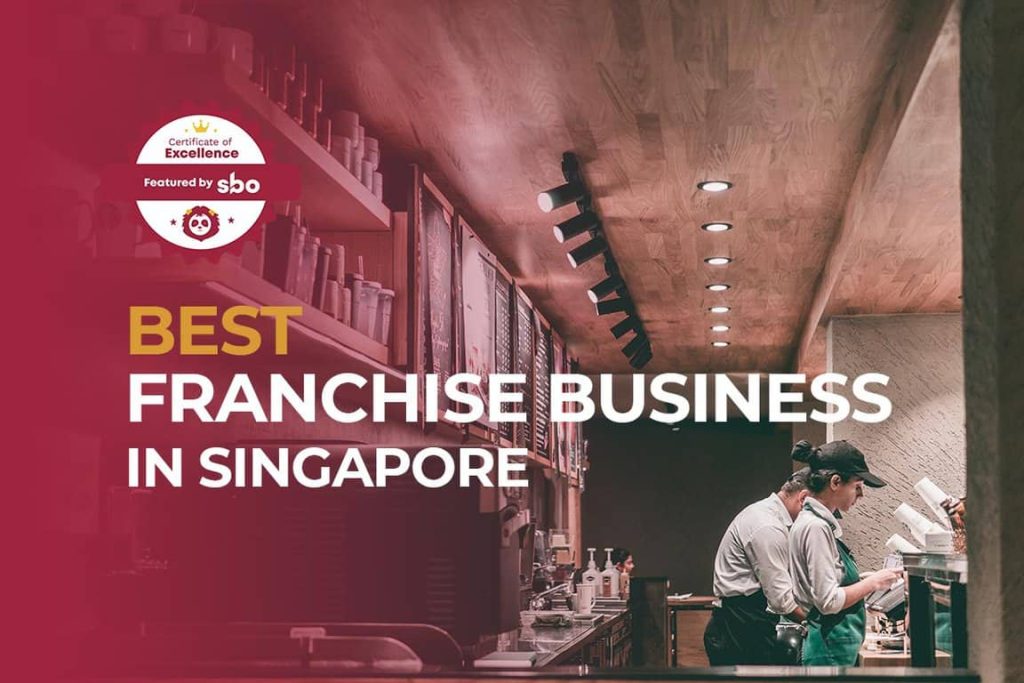 Starting a franchise business can be an alluring option where we see many success stories of entrepreneurs who have run successful franchises.
However, can one identify the business which is best suited for them? Here are our top picks for best franchise business in Singapore for those who are considering owning one!
1. Bodyfit Training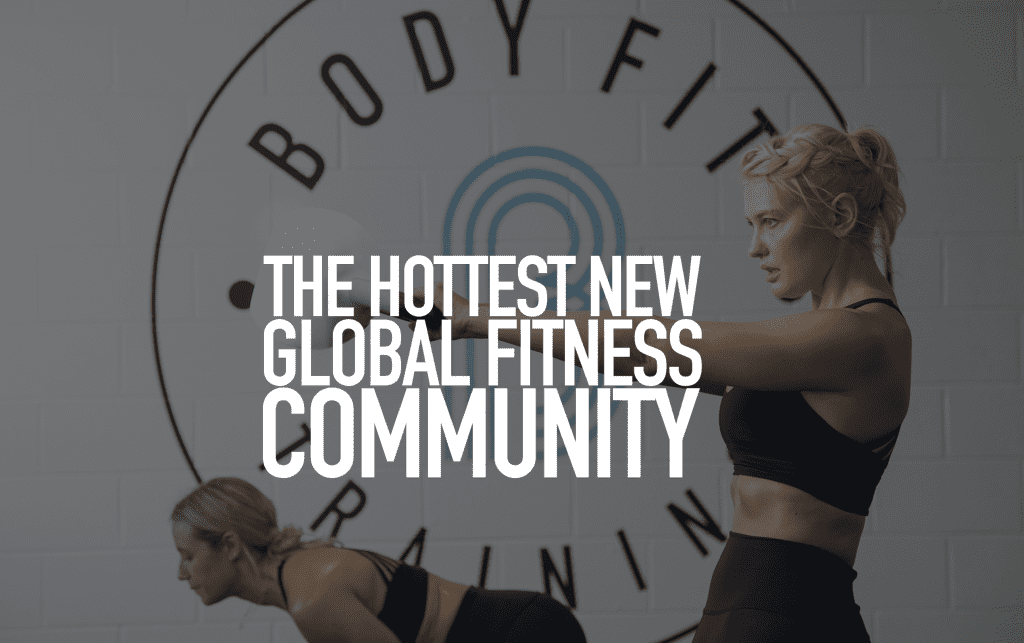 One of the hottest fitness gyms that have taken Singapore by storm, it is not uncommon to see a BFT outlet whether you're in the Central Business District area or in the heartlands. BFT has outlets all over Australia, New Zealand, Singapore and also the United States with Singapore having expanded rapidly over the past 3 years to have over 16 outlets island-wide now.
They have a form over there on their website that one can easily indicate their interest in owning a BFT franchise, so do give this a thought if you're looking at opening a franchise business in Singapore!
2. Ritual Gym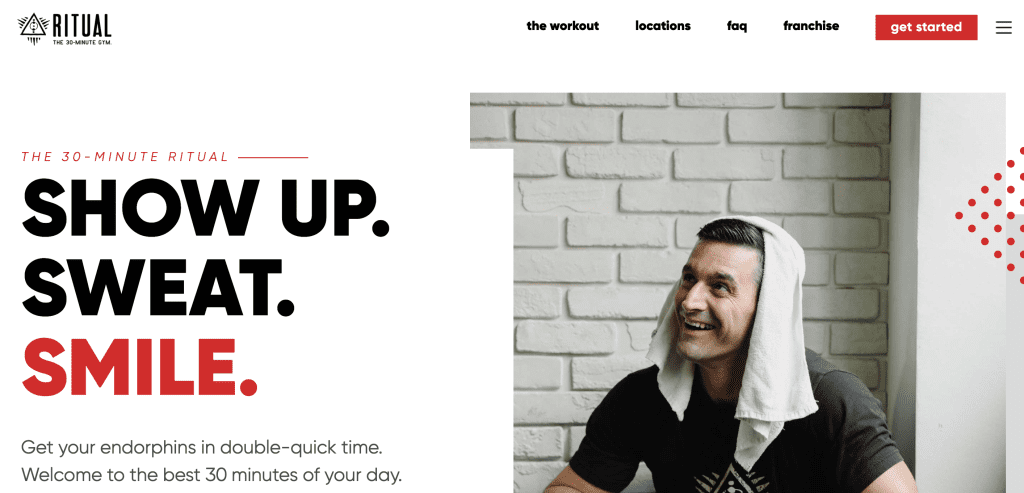 Another gym franchise to consider if you're looking to start a franchise business in Singapore – Ritual Gym. One of the key value propositions is really about making exercising convenient through the short and sweet 30 minutes sessions.
The team at ritual provides manuals, location sourcing help, marketing to train franchise owners on the ways to most effectively run the business, allowing you to realize returns as quickly as possible.
3. JustEdu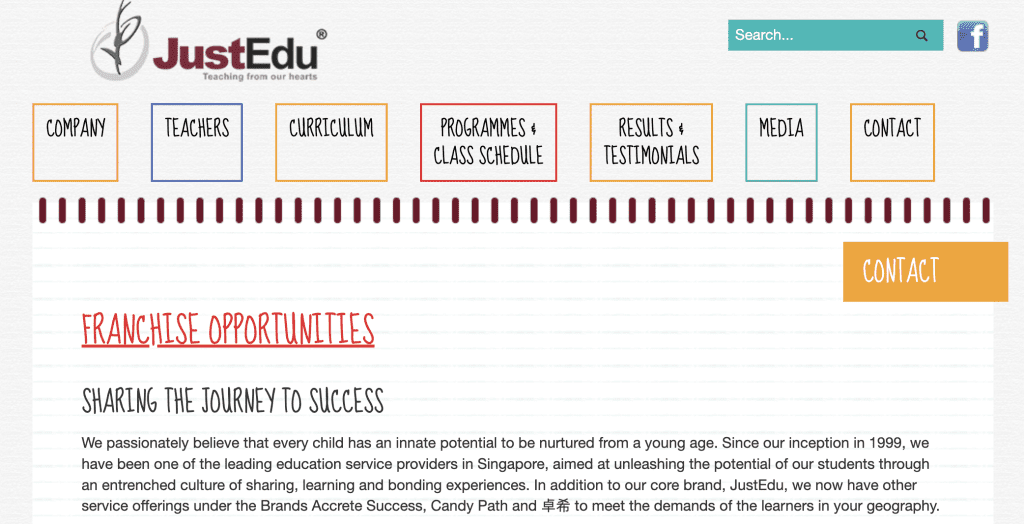 Since their inception in 1999, they have been one of the leading education service providers in Singapore, shaping generations after generations of students, helping them prepare for the major milestones in their education.
If you possess this passion for nurturing students and want to start your own franchise business, do reach out to the team to find out more on how you can develop this education business concept!
4. Mindchamps
MindChamps offers opportunities for potential business owners who want to help children discover their full potential. MindChamp boasts a unique education pedagogy, focussing on how to learn rather than what to learn.
This multi-award-winning franchisor has the experience and the know-how for entrepreneurs who are willing to get involved in every aspect of the business and are in for the long run, so do not hesitate to contact them for franchising opportunities.
5. Jidechi Desserts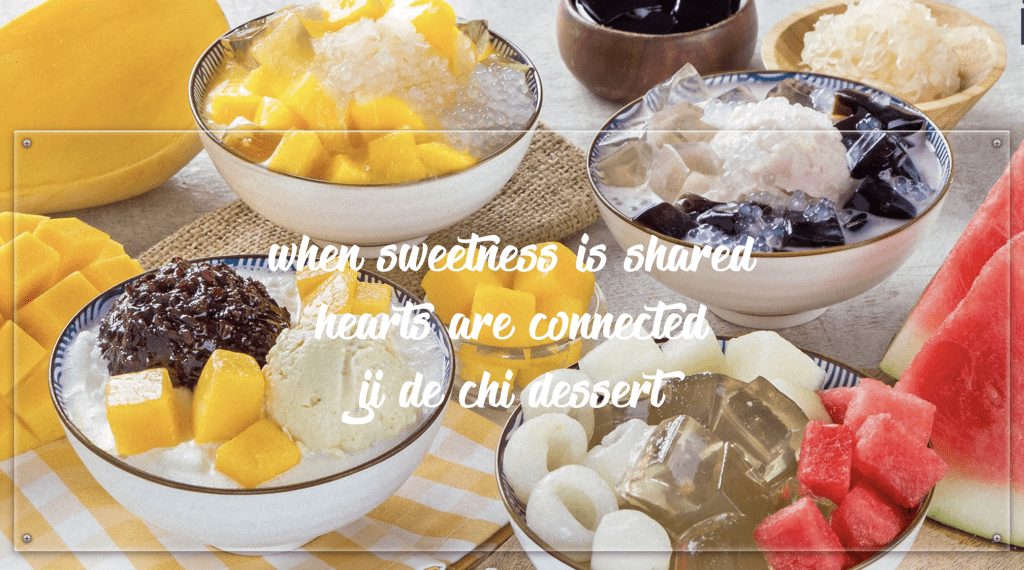 Chinese desserts have always been a crowd favourite in Singapore despite the many dessert trends which come and go. I got to say that Ji De Chi's menu is extremely extensive, with shaved ice desserts, hot and cold sweets and also waffles/pastries to go along with your desserts.
With 10 outlets island-wide and a handful under planning, it goes to show the popularity and demand for Chinese desserts in Singapore and is definitely an option you want to consider if you love their desserts!
6. An Acai Affair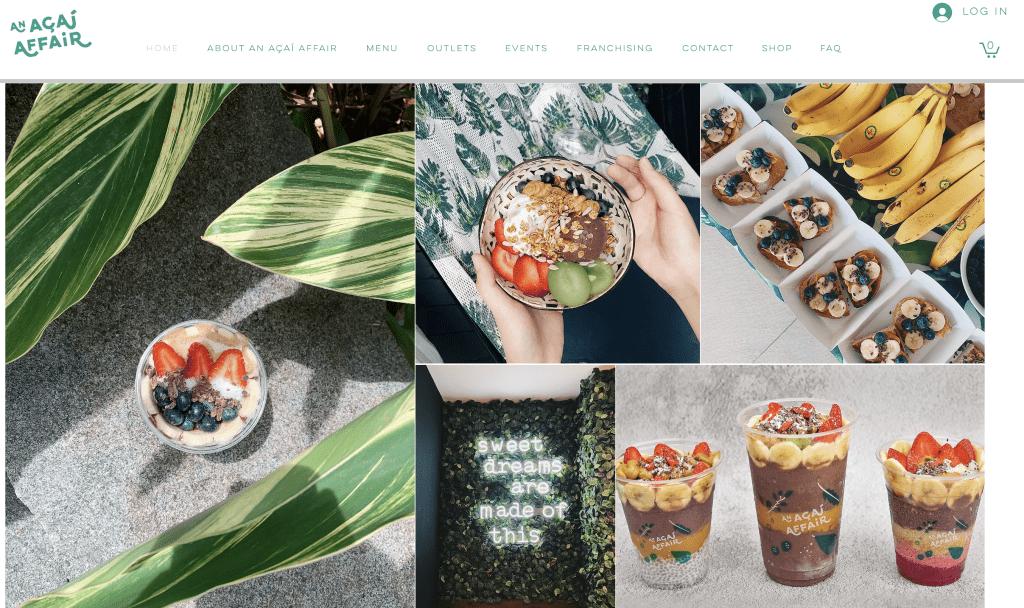 Acai has definitely taken the local food scene in Singapore by storm with its pretty acai bowls topped with nuts and berries and An Acai Affair is one of the pioneers of this healthy eating concept.
With 10 outlets island-wide currently, the team is always on the lookout for franchisees who share a similar passion for acai and have the capabilities to bring the brand to more communities.
7. Ya Kun Kaya Toast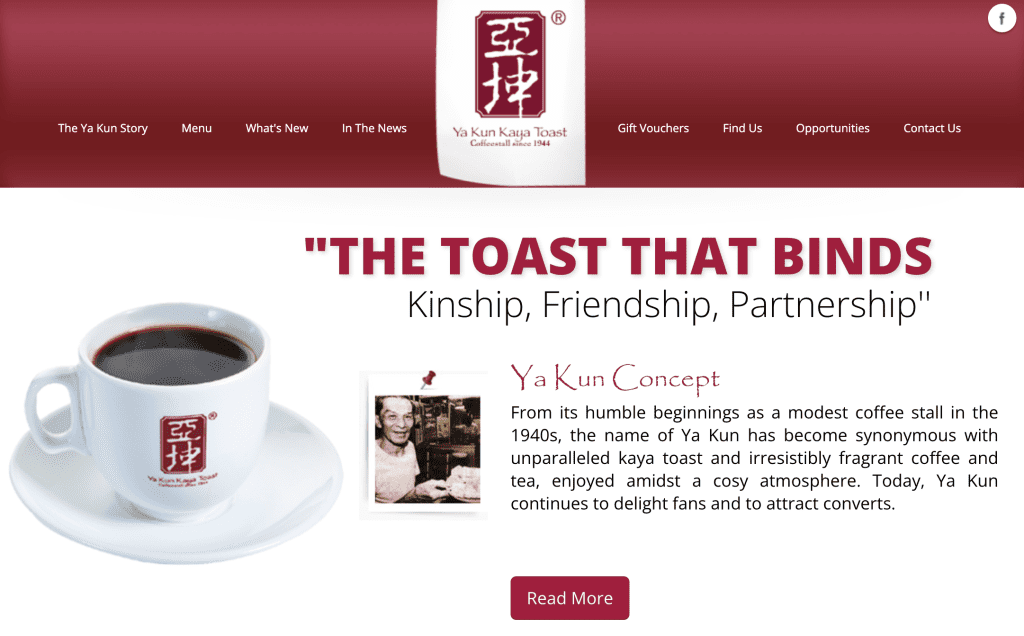 Who does not love a kaya butter toast with thick slabs of butter sandwiched between well-toasted bread? Toast is a very Singaporean style breakfast staple and it is commonplace to see Yakun outlets filled with people regardless of the time of the day as many have toast as a tea time snack too.
If you're looking to bring this local brand to different parts of Singapore or even overseas, we think this would be a good option given the brand name being a recognisable and well-loved one amongst Singaporeans.
8. Gong Cha
If you want to bring your passion for boba tea to greater heights whilst embracing your entrepreneurial spirit, owning a Gong Cha franchise might just be it!
The global appeal of Gong cha can be traced back to their start as a local brand in Taiwan—the birthplace of bubble tea, they've taken those traditional techniques worldwide through enhanced quality controls, a well-established supply chain and premium bubble tea.
9. Prata Wala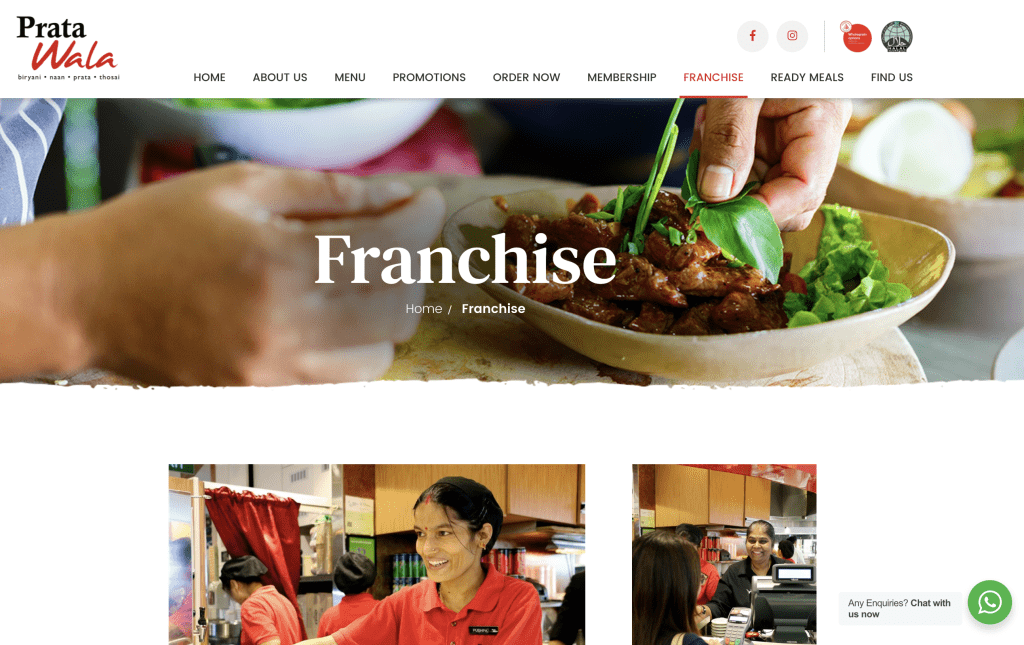 First Gourmet has exciting, innovative and successful F&B brands that are available for franchising in Singapore and in overseas markets and one of which is Prata Wala, a Halal-certified Indian Restaurant, serving Indian favourites from North and South Indian cuisines since 2009.
Today, Prata Wala has established itself in Singapore with 4 mall-located outlets at Chinatown Point, Jurong Point, and Northpoint and one food court stall located at Coastal PlayGrove (Prata Wala Signature). If you're keen to own one, do reach out to the team via the enquiry form above!
10. Charles & Keith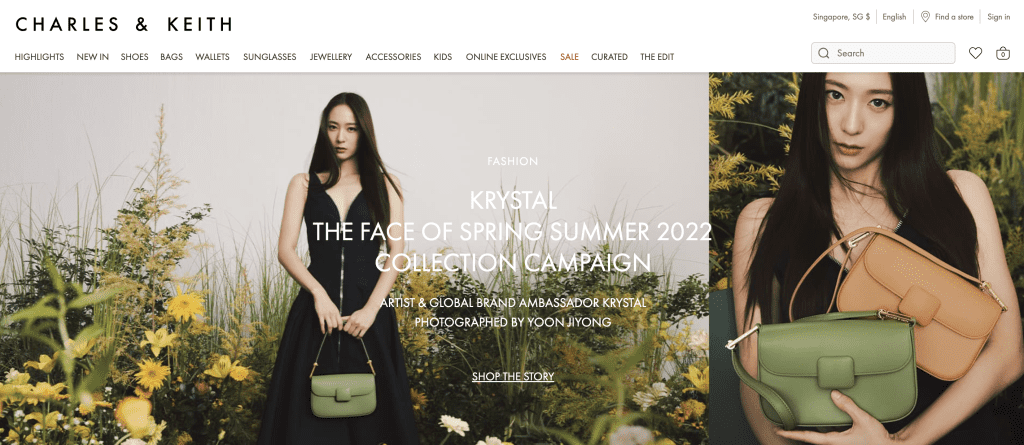 This shoe and bag fashion brand has crafted a unique name for itself in Singapore and also globally with its frequent drops and brand reputation. If you have a passion for fashion and possess experience in retail operations, do reach out to the team to enquire more about opening a Charles & Keith franchise.
Conclusion
Do you have any reviews and comments to share regarding our choices for the best franchise business in Singapore?
While SBO is committed to supporting our local businesses, we welcome any feedback and anonymous sharing regarding your experience with the above-listed best franchise business in Singapore.
We hope that this guide will be useful in helping you to make a better decision when it comes to finding the best franchise business in Singapore.
Featured Image by Vaishnav Chogale on Unsplash
Explore More Content