10 Best Maid Insurance in Singapore – Our Top Picks [2023]
Your domestic helper plays an important role in your household, protect her with the right coverage today!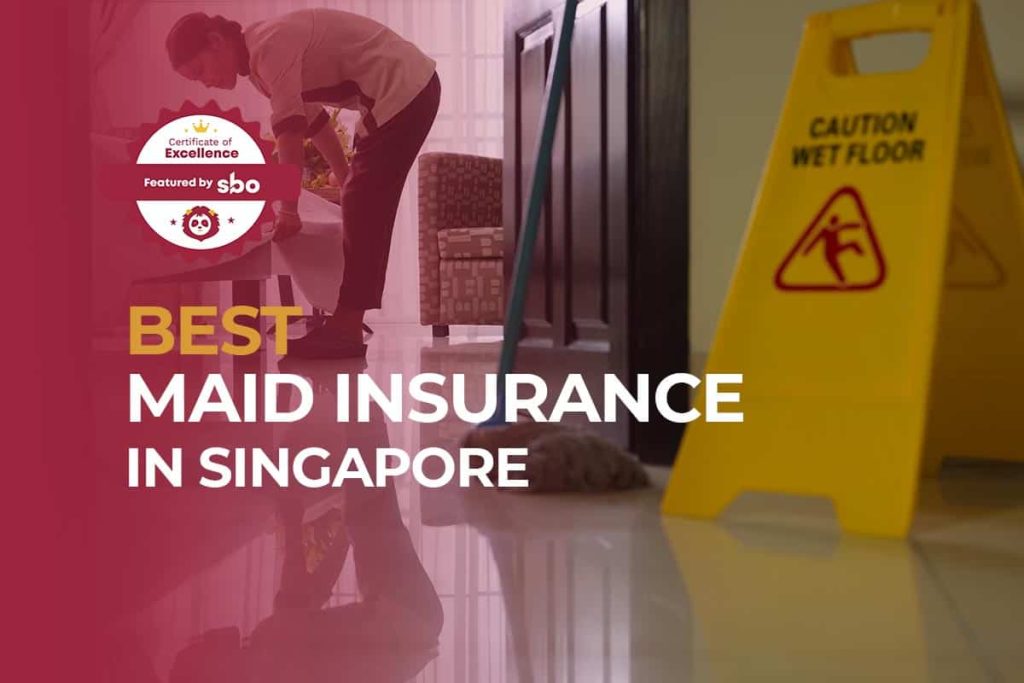 While purchasing maid insurance in Singapore may not be an uphill task, it is also not an easy decision as there often lies overlooked factors for consideration. The Ministry of Manpower (MOM) in Singapore mandates that one would need to buy medical, personal accident and liability insurance for their domestic helper as parts of medical obligations to the domestic helper.
Most maid agencies offer insurance as part of the contract, but if you choose to opt-out and source for the insurance package which can best cater to your foreign domestic worker needs, this article would probably come in handy. Or if you're simply looking to get more protection and coverage that is most suited for your domestic helper's needs, read on to find out more on some of the most popular industry offerings!
Insurance policies can cover a whole lot of areas and these are just some of the few:
Personal accident coverage
Medical expenses coverage
Repatriation and termination expenses
Replacement Maid Expenses
Wages and levy reimbursement
Termination Expenses
Here is our list of the 10 best maid insurance in singapore that we think are worth considering.
* Check out the special promos SingSaver has managed to arrange with some of the maid insurance providers.
1. FWD Essential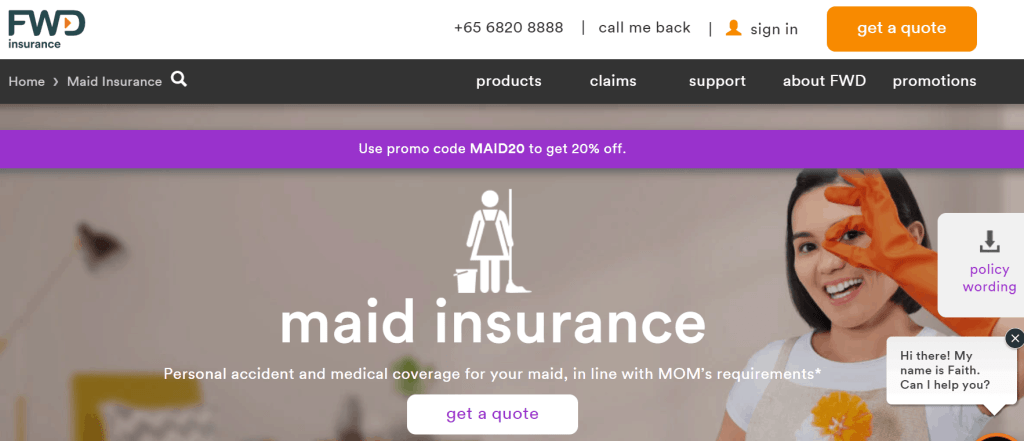 FWD's maid insurance plans are known for their comprehensive suite of medical coverage. With a focus on medical needs, FWD offers an array of independent medical add-ons such as cashless outpatient medical expenses which pays up to $30 SGD per doctor's visit. Also, their 6 month medical examination package covers MOM's mandatory 6-monthly medical tests (for pregnancy and syphilis).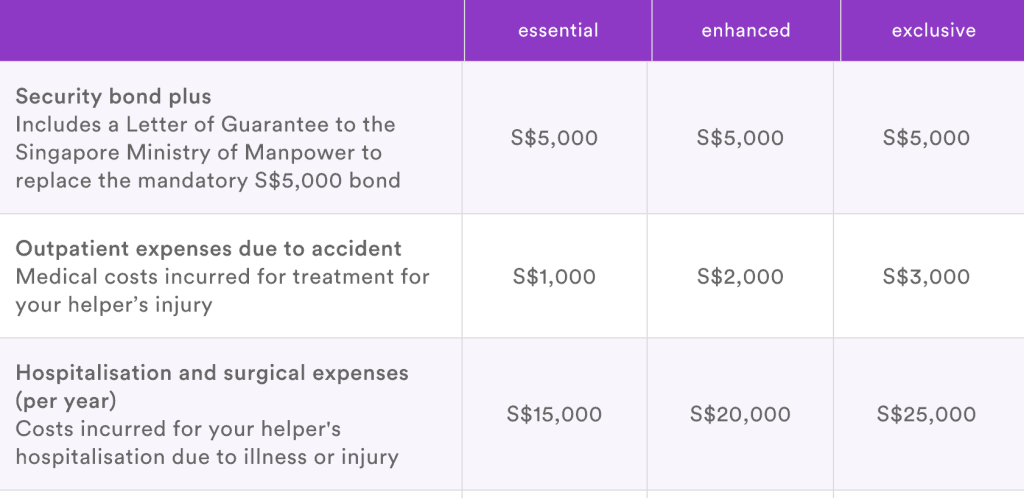 What We Like About FWD Essential
Independent Add-ons: Offers flexibility in the case of one holding an existing maid insurance from any insurer, he/she would be able to purchase the attractive independent add-ons from FWD.
Comprehensive range of add-ons: In addition to the high level of coverage, the range of add-ons offer customisability, for each client to only add the necessary insurance needed which are best suited to the needs of their domestic helper.
2. NTUC Income Domestic Helper Insurance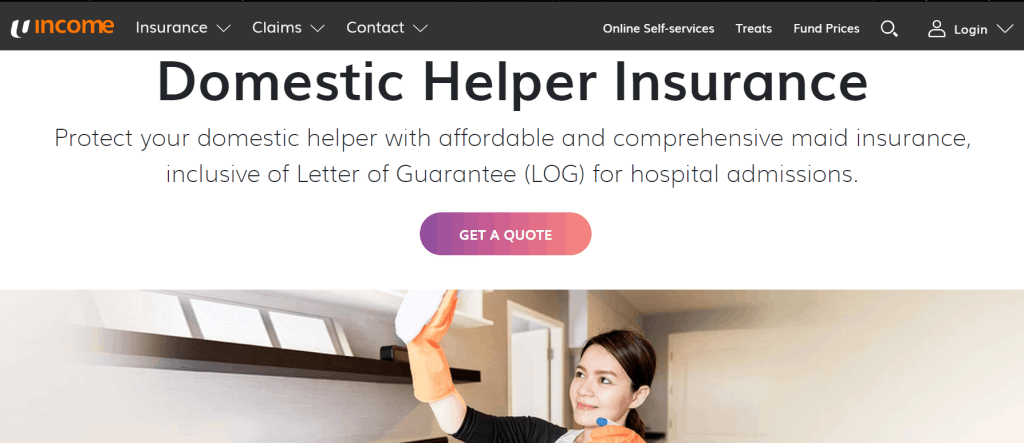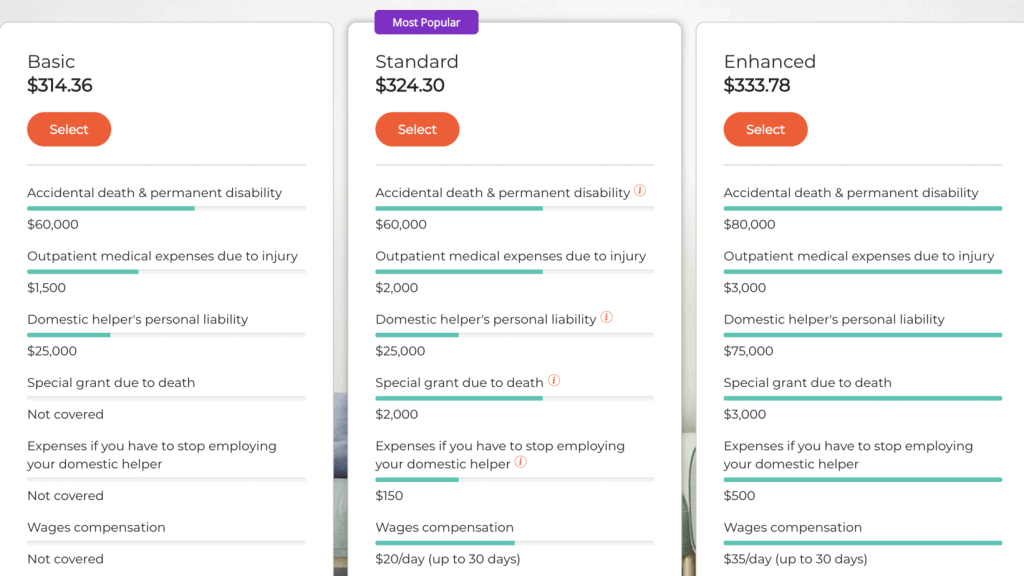 What we like about NTUC Income Domestic Helper Insurance
Convenience: One thing we note is the courier service provided, where after they handle all the paperwork for your helper's work permit renewal and insurance, they will courier the documents right to your doorstep. Coverage and add-ons wise, the NTUC insurance is pretty much similar to other industry offerings but at a much heftier rate. If budget ranks at the top of your priority, this would likely not be your preferred choice.
3. TIQ eProtect Maid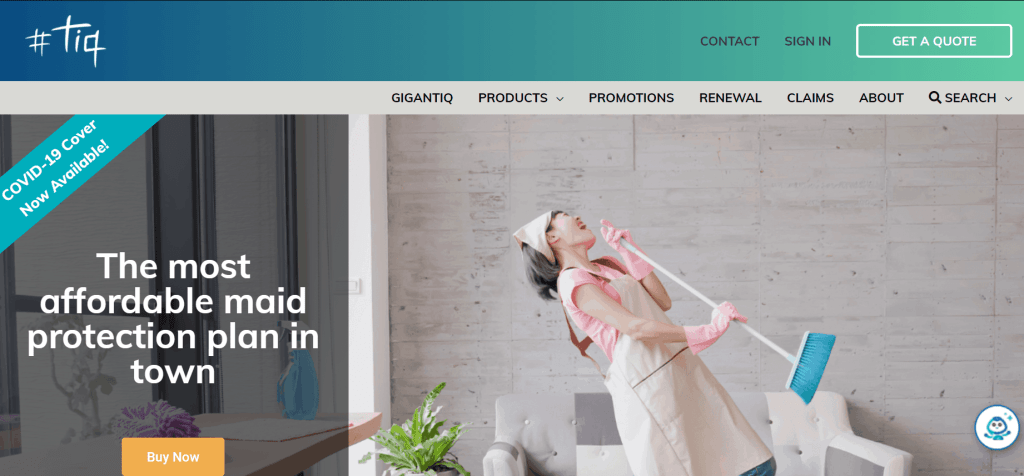 TIQ eProtect Maid insurance offers 3 plans under its umbrella of schemes with different levels of sum insured. They also offer a multitude of add-ons to customize your eProtect Maid insurance plan, some of which includes critical illness coverage in case of such unfortunate incidents and also home coverage due to fire, burglary or theft by maid.

What We Like About TIQ eProtect Maid
Affordability: Maid insurance made affordable, flexible and easy – touted as one of the most affordable insurance plans in Singapore, do consider this if budget is high up your priority list. On top of its competitive offerings, there is a 25% discount going on now.
User-Friendliness: Another plus point of eTiQa's insurance is their online platform which allows you to get a quote in seconds, saving you lengthy and time-consuming calls / research just to compare prices.
In addition, SingSaver is currently having a promotion for TIQ eProtect Maid with a S$5 reward via PayNow when you apply. Etiqa is also offering a promotion for this plan with 20% off your premiums when you use promo code MAID20. Valid till 31 December 2021. T&Cs apply.
4. MSIG MaidPlus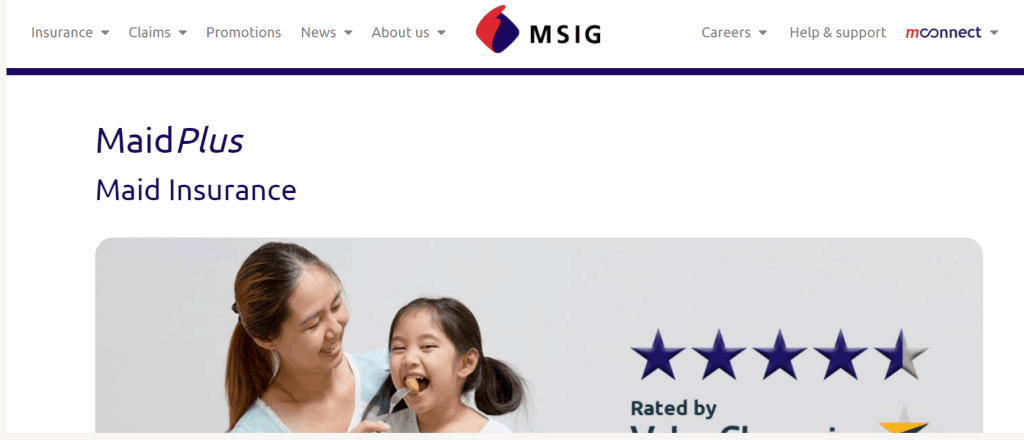 MaidPlus is known for its extensive coverage on both fronts – higher employer liability coverage and higher benefits for the domestic helpers. This would be a good option for those who value the security of having more coverage over costs. There are 3 plans to choose from, the Standard, Classic and Premier plan. When comparing 26-month premiums, the Standard plan costs 12% below average, making it one of the cheaper options on the market.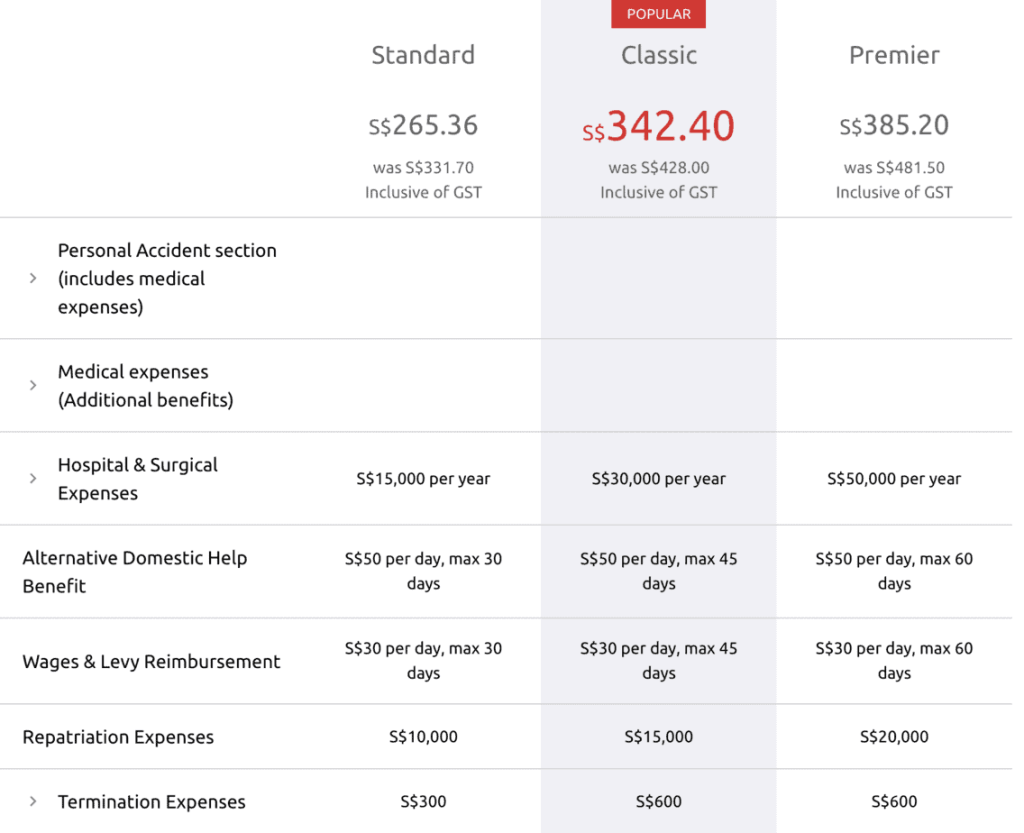 What We Like About MaidPlus
Value for money: The price for the amount of coverage in its standard plans makes it super worth it, benchmarking it other industry offerings. However, do note that MaidPlus only comes in the 26-month plan, without the 14-month plan option.
What's more, SingSaver is currently having a promotion for MSIG MaidPlus insurance plan with a S$20 reward via PayNow when you apply. MSIG is also offering a promotion for this plan with a 20% off your premium when you apply. For Classic and Premier plans, your helper can enjoy a free medical checkup from MSIG. Valid till 19 December 2021. T&Cs apply.
5. AIG Personal Accident Plan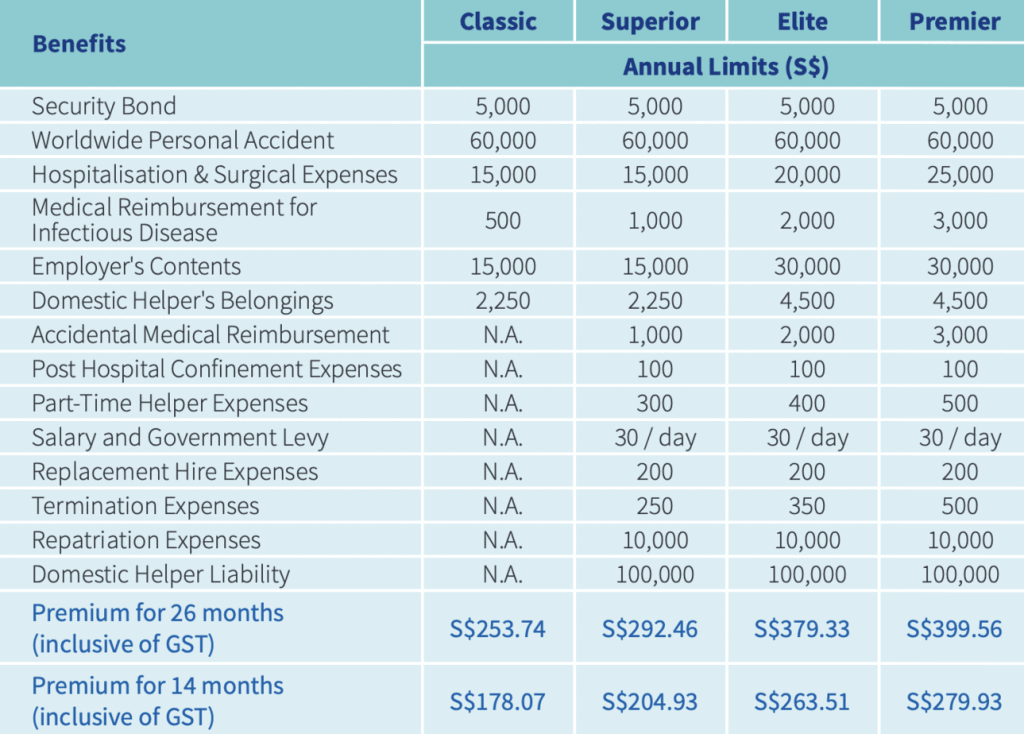 What We Like About AIG
AIG has a extensive range of plans to choose from, to find the one that would best meet your needs and budget. It has about equal emphasis on medical benefits for your domestic helper and also liability coverage for yourself. The superior plan price lies slightly on the higher end while the classic plan provides just the most basic coverage, at a slightly higher price than its peers.
6. Great Eastern MaidGR8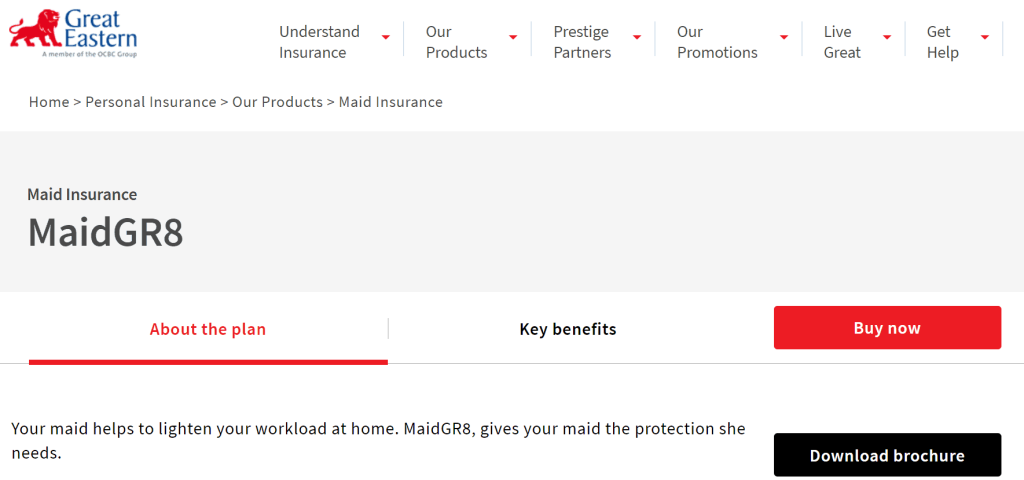 The GR8 Maid plan confers great benefits to the employer with extensive liability coverage. If you are looking to avoid lawsuits or to get a greater safety net, the GR8 Maid plan might be just what you are looking for.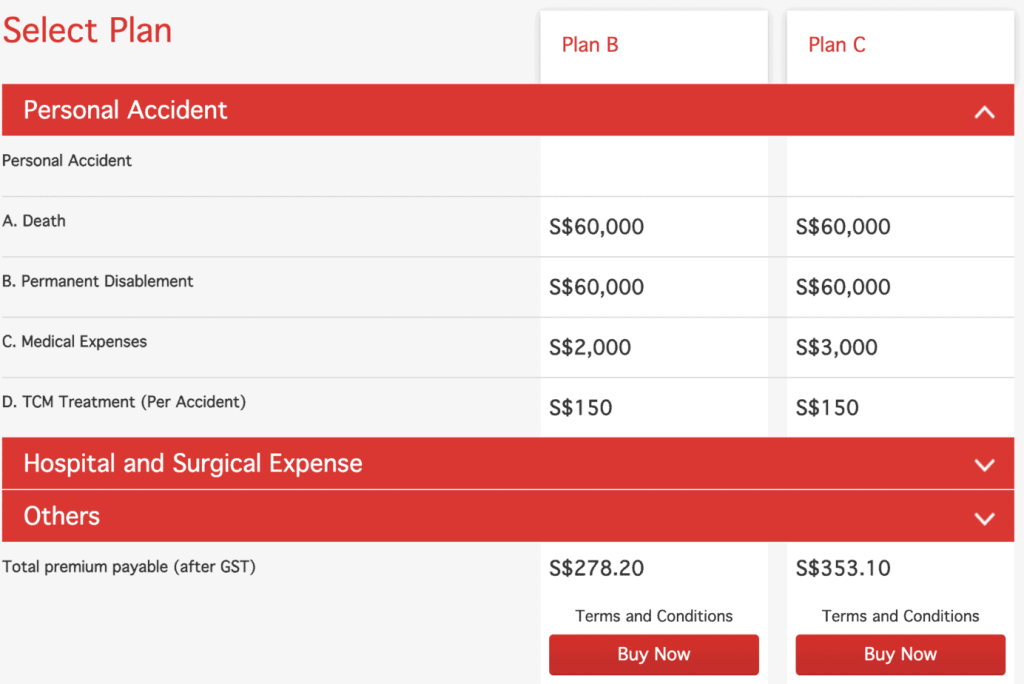 What We Like About GR8 Maid
Though it may not offer the most attractive rates, it's definitely value for money – depending on what you're looking for really! The amount of coverage for the price, especially with the focus on employer liability coverage ranks this amongst the top few in our list.
7. Sompo MaidEase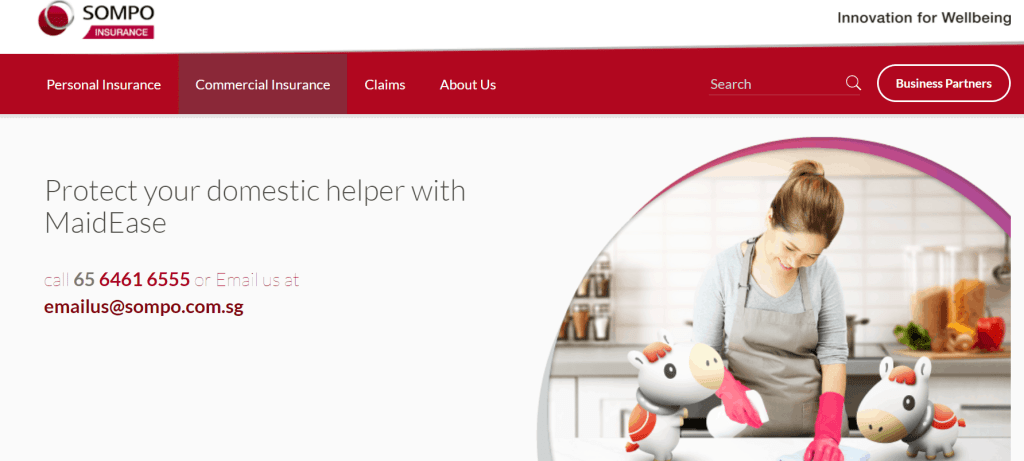 Sompo's premium rating is computed for 24 months period in line with Work Permit Period. They do not charge any premium for the additional 2 months buffer period required by MOM for the current work permit. As such, these additional 2 months cannot be transferred to the next Work Permit renewal period or extension period.

What We Like About MaidEase
Though not one of the more popular policies out in the market, its unique medical coverage is a deciding factor for choosing MaidEase. From guarding against dengue fever to Chinese physician treatments, it covers medical expenses related to these treatments, something we do not see in many other policies.
8. HL Assurance Maid Protect 360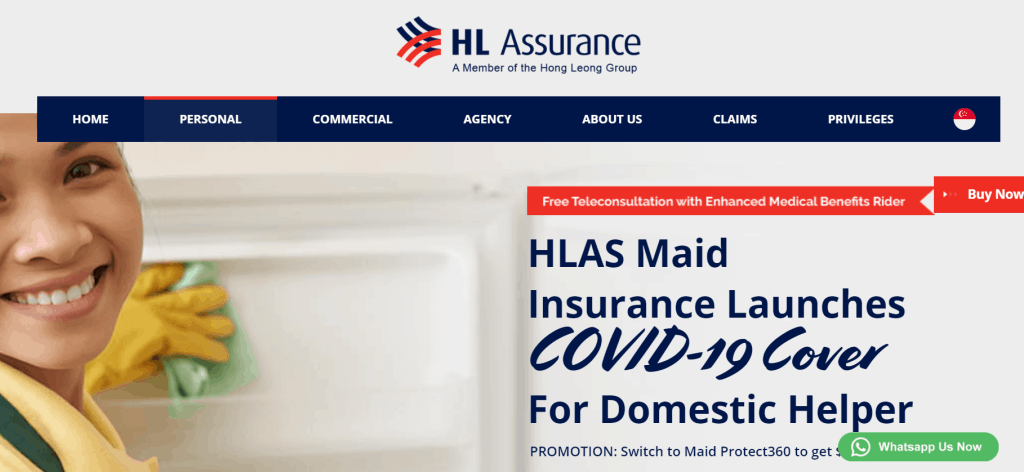 Comparing across the board, the Maid Protect 360 plan may not offer the most competitive prices but its coverage for your domestic helper is extensive. However, limited liability protection benefits for the employer may not appeal to those looking for more employer coverage.
In short, the Maid Protect 360 plan, for the range of offered benefits is not as value for money compared to other insurance plans at similar price points but there seems to be more aspects of coverage. This may not be your go-to option unless you are looking for the most basic set of services.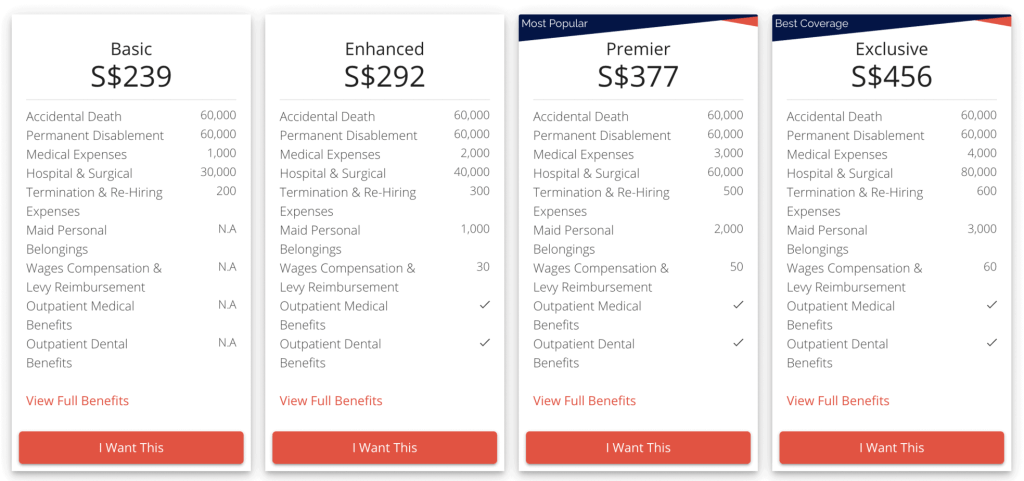 What We Like About Maid Protect 360
Medical Coverage: Maid Protect360 also provides you with optional covers to save up to 50% when your maid does her 6-monthly medical check-up in the List of Clinics For Six-Monthly Medical Examination and/or Enhanced Medical Benefits to give your helper more coverage and protection against infectious Diseases, critical Illnesses and COVID-19. Employers will also enjoy savings of up to 50% on medical GP consultation when your maid visits the panel of preferred clinics.
Speaking of which, SingSaver is currently having a promotion for HL Assurance Maid Protect 360 with S$10 reward via PayNow when you apply. Valid till 31 December 2021. T&Cs apply.
9. AXA Smart Helper

Through the cost might be a little more on the 'hefty' side, if you are looking for a plan with more comprehensive medical coverage, SmartHelper might be the one for you. Do consider this if you have a more flexible budget and are looking for a plan which offers a wider coverage of a range of medical conditions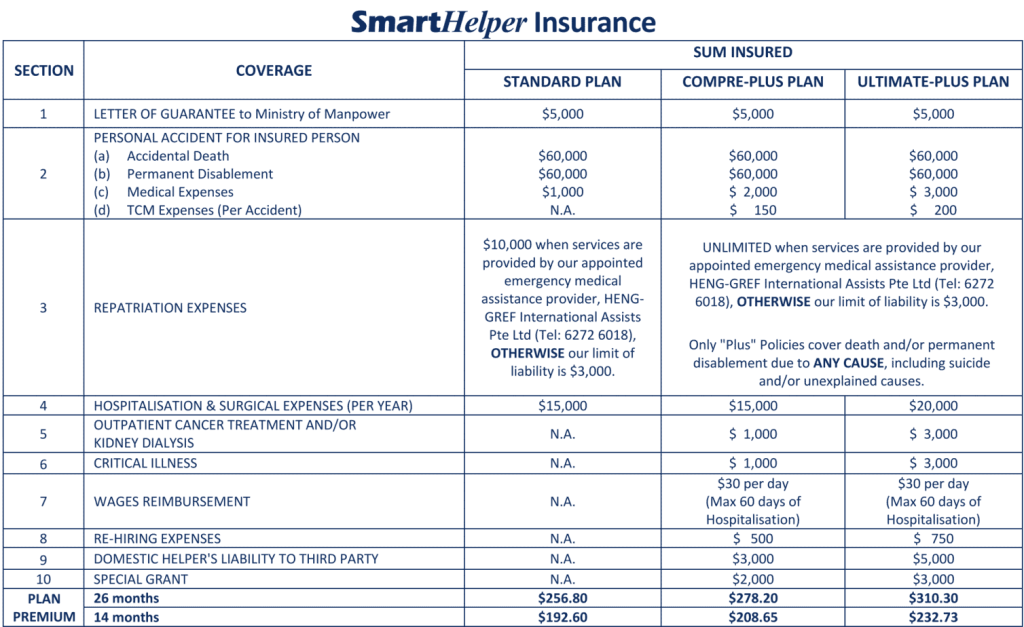 What We Like About SmartHelper
The range of unique add-ons: From Top-Up Covers for Hospitalisation & Surgical (in blocks of $5000), Psychiatric Care and also dental care, these add-ons are not commonly seen in other maid insurance plans.
10. DBS Maid Protect

Maid Protect is an insurance plan underwritten by Chubb Insurance Singapore Limited, providing coverage in line with MOM's revised requirements. Currently, DBS is offering a 15% discount on Maid Protect packages purchased from 1 June 2021 to 30 September 2021.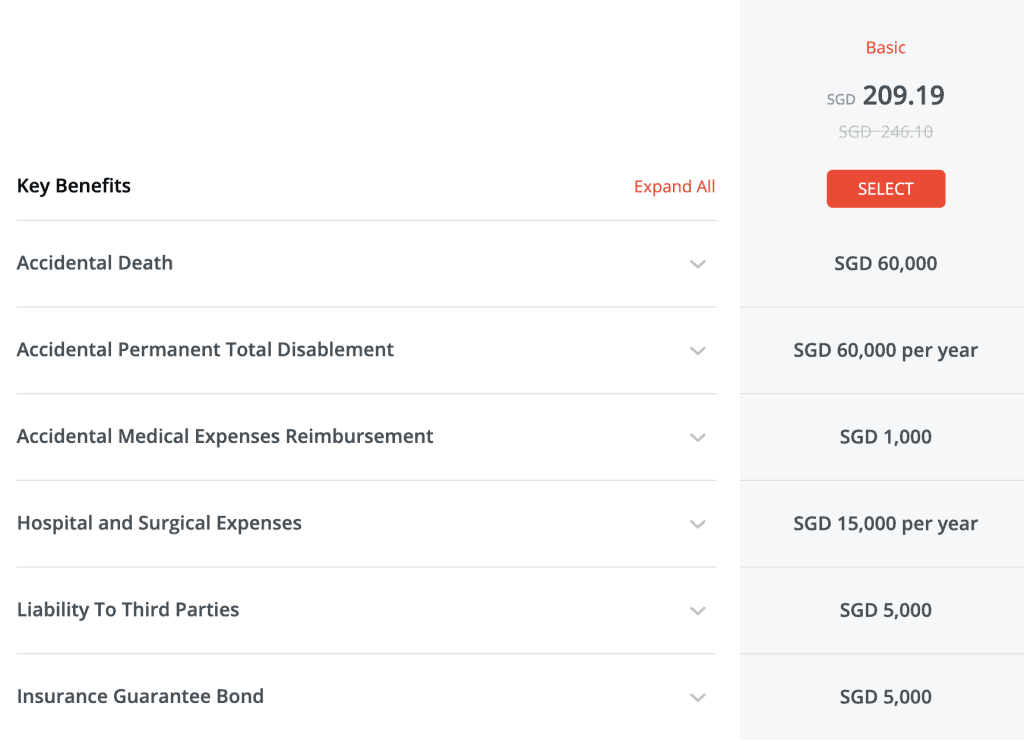 What We Like About Maid Protect
Its comprehensive insurance coverage for your maid and how easy it is to apply for the policy online. If you are looking for a package with basic coverage at a great cost, Maid Protect might just be what you're looking for! However, do note that the policy only comes in the 26-month option.
Conclusion
Do you have any reviews and comments to share regarding our choices for the best maid insurance in Singapore?
While SBO is committed to supporting our local businesses, we welcome any feedback and anonymous sharing regarding your experience with the above-listed maid insurance policies in Singapore.
We hope that this guide will be useful in helping you to make an informed decision when it comes to finding the best maid insurance in Singapore.
Explore More Content