10 Best Slimming Tea in Singapore for Health Benefits [2023]
Are you looking to lose weight in a natural way? Here's 10 best slimming tea in Singapore for you to try to help you shed a few extra pounds.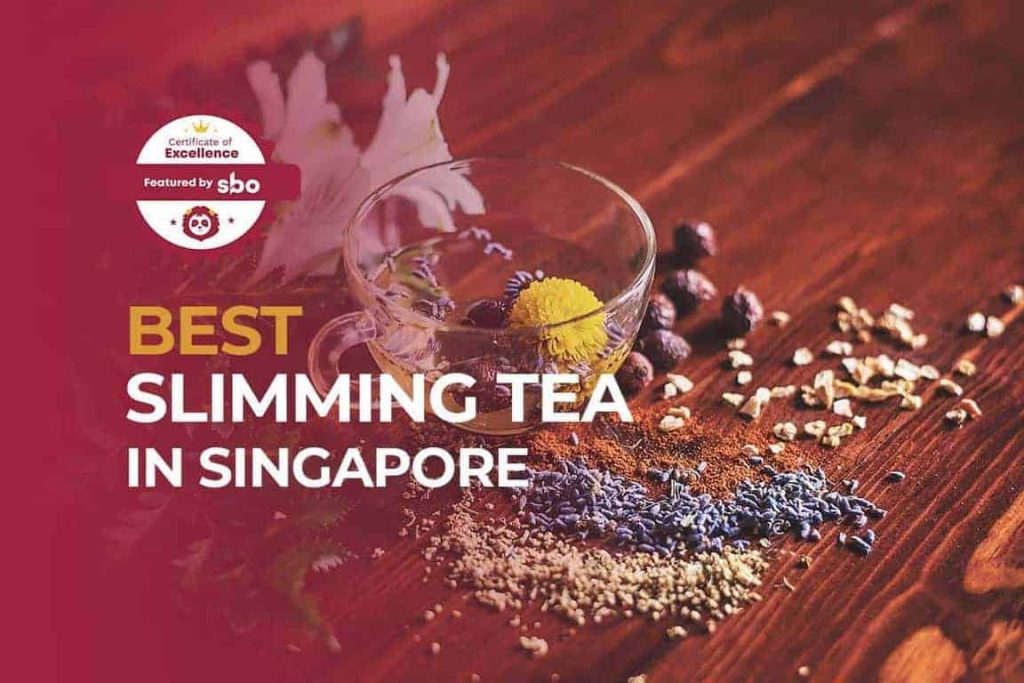 Having trouble trying to lose weight? Slimming tea is a great addition to your weight loss plan and possibly the best one, especially if you are sick and tired of crash diets and tiring exercise schedules. Apart from the obvious reason for losing weight, slimming tea can also provide many other health benefits. For example, slimming tea enhances metabolic rate, prevents ageing signs, and many more.
There are many varieties of slimming teas available in the market, with great health benefits and good taste. Different slimming tea has different properties that help in weight loss. To understand better which type of slimming tea in Singapore is best for you, do read this article to find out more.
1. SHAPE TEA Slimming Tea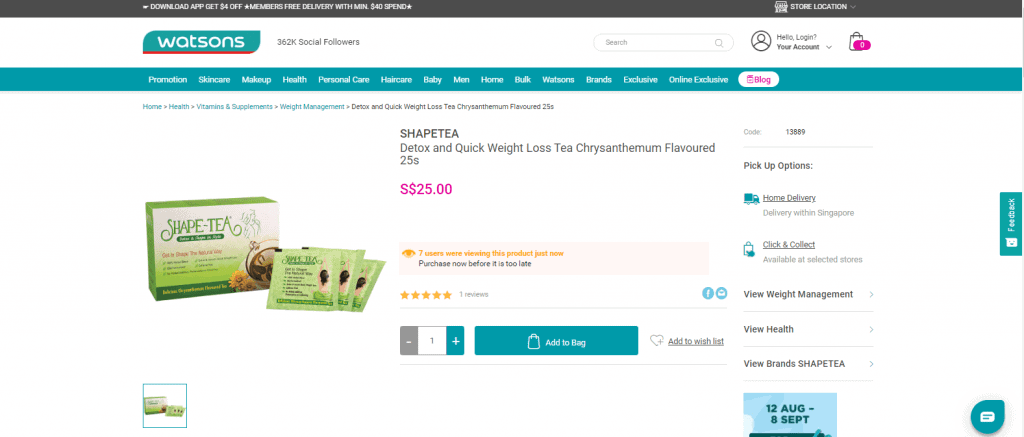 First on the list of the best slimming tea in Singapore is SHAPE TEA Slimming tea, a 100% herbal blend that is formulated in the United States. SHAPE TEA Slimming tea has no added additive, preservative or colouring and is a herbal blend of chrysanthemum flowers, senna leaves, senna pods and Garcinia Cambogia fruit rind extract, with a mildly sweet taste with a note of honey.
SHAPE TEA Slimming tea has remarkable weight loss inducing properties to keep you looking great always. If you are a fan of the chrysanthemum smell and prefers to consume safe and organic ingredients, this slimming tea would be a great fit for you.
2. SkinnyMint Ultimate Teatox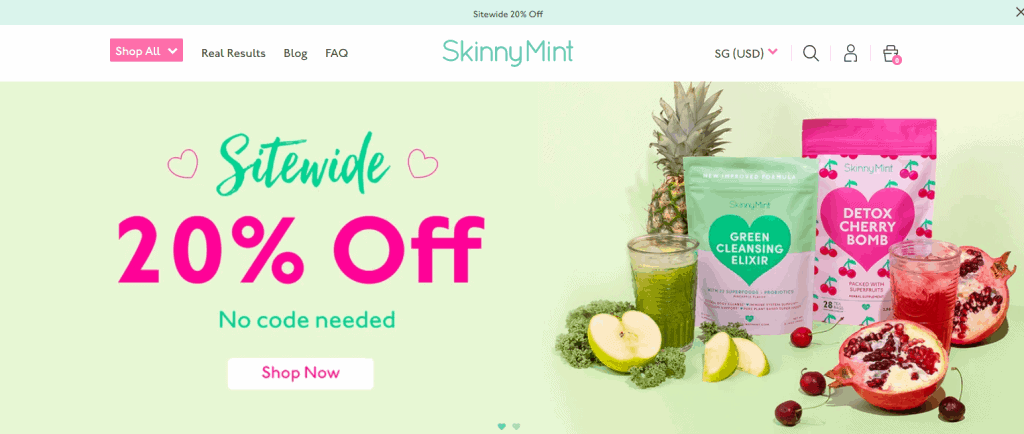 Skinnymint slimming tea is an easy 2 step tea detox program that can help you to see results in just 28 days. It reduces bloating and promotes healthy digestion and helps the body get rid of that sluggish feeling. Skinymint slimming tea also boosts your immunity with its antioxidant-rich ingredients such as Green Tea, Nettle Leaves and Guarana fruit.
As one of the best slimming tea in Singapore, its unique cleansing formula combines effective ingredients to flush out harmful toxins and cleanse your system with every sip. With ingredients such as Yerba Mate that not only help to curb your appetite, but also has metabolism-boosting properties, you can be sure to shed off some pounds around your waistline.
3. AFC Tobashi Slimming Tea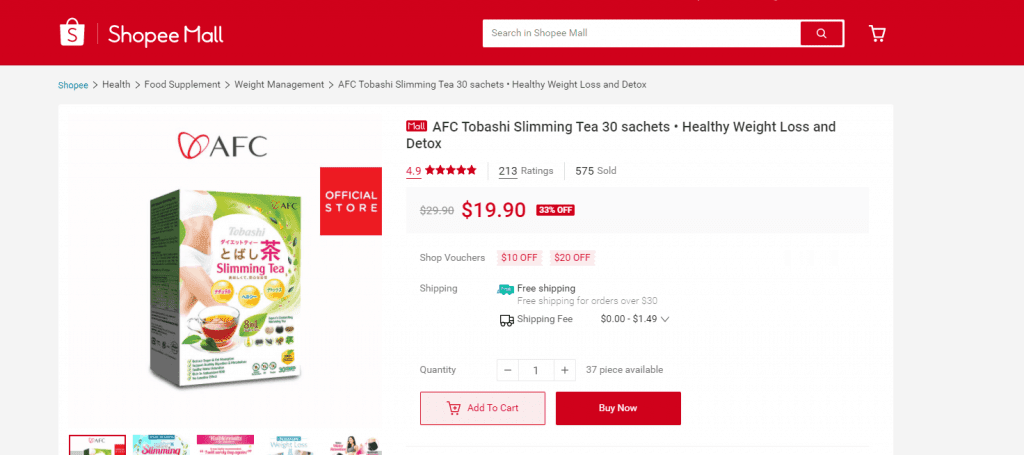 AFC Tobashi Slimming Tea is one of the more affordable slimming tea out there in the market that still does its job quite well. With a blend of eight superb herbs with slimming and health benefits., AFC Tobashi Slimming Tea removes excess fat deposits, especially around the tummy area, and support bowel regularity.
AFC Tobashi Slimming Tea has a mild pleasant taste with no hint of bitterness. It contains only natural and non-toxic ingredients such as green tea, honey, lemongrass, and lotus leaf, with no additives and chemicals added.
4. AVALON Slimming Healthy Green Tea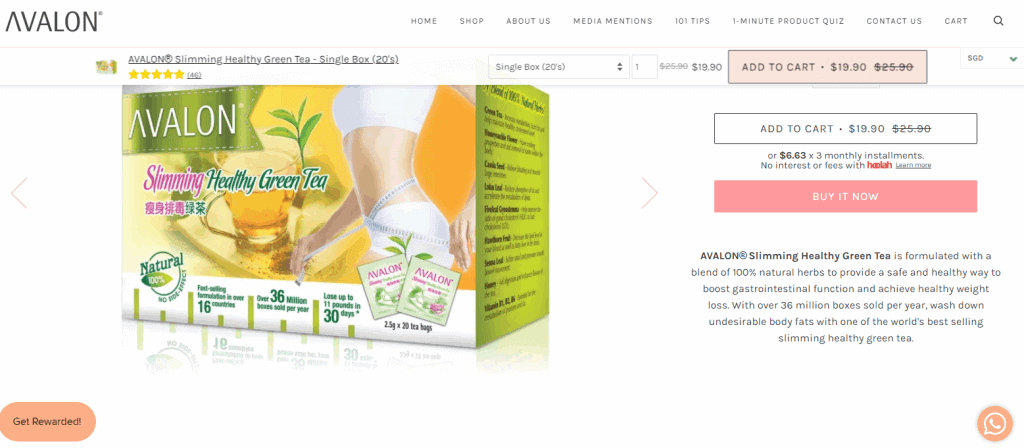 As one of the world's best selling slimming healthy green tea, AVALON Slimming Healthy Green Tea is formulated with a blend of 100% natural herbs that provides a safe and healthy way for you to lose weight naturally. There are over 36 million boxes sold per year with worldwide shipping.
AVALON Slimming Healthy Green Tea breaks down your fats and boosts your gastrointestinal function so as to achieve healthy weight loss. It can lower your calories intake, relieves water retention and promotes regular bowel movement, making it a great drink for detox and cleansing purposes.
5. Cosmo Cleanse Organic Detox Juice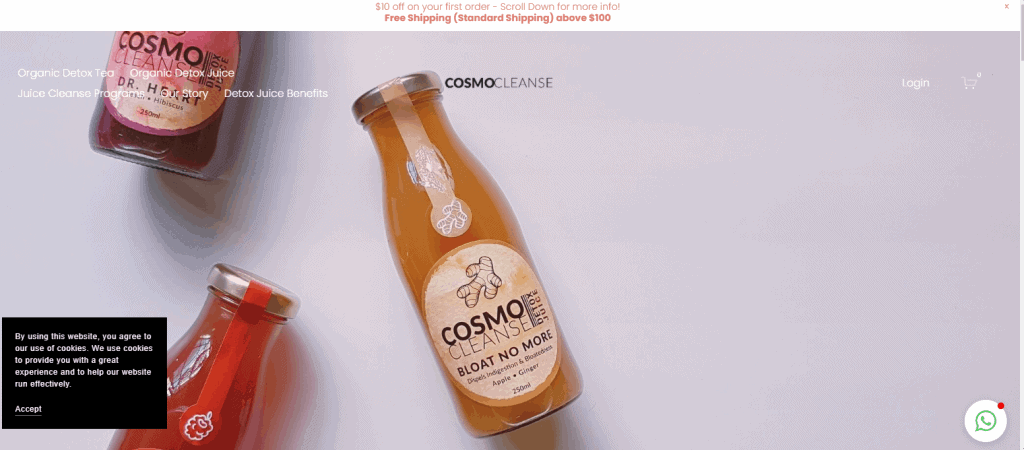 Cosmo Cleanse Organic Detox Juice has a unique formulation of detox juices that are cold-pressed to perfection in France, 100% certified organic and 100% vegan. It contains no preservatives and additives and contains functional foods that have superb slimming properties.
Apart from Cosmo Cleanse Organic Detox Juice, they also have other slimming tea such as Organic Detox Tea with 10, 20, 30 days teatox, and Detox Juice Cleanse, with 1, 3, 5 days cleanse, for you to choose from.
6. 21st Century Herbal Slimming Tea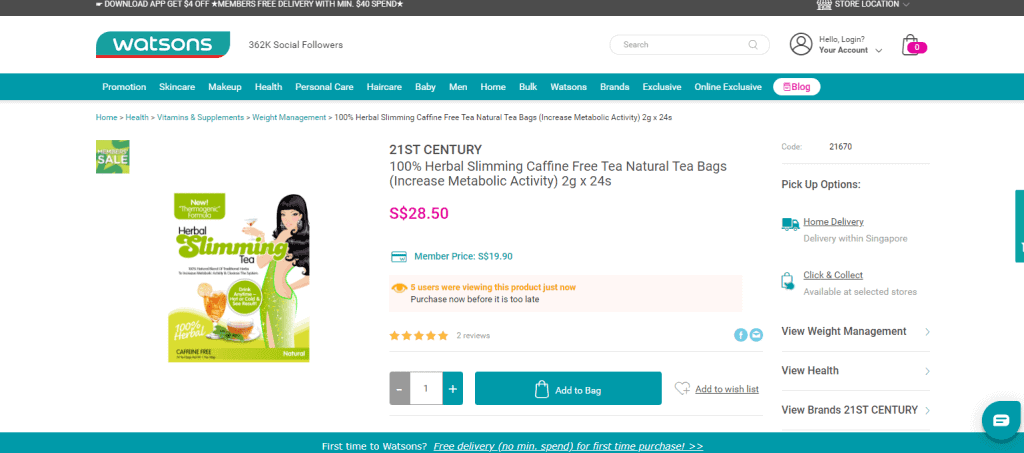 The 21st Century's Herbal Slimming Tea is one of the best slimming tea in Singapore and would be the best fit for cold and warm drinks, offering a rich and satisfying taste in hot or iced tea. It is a blend of 100% natural herbs which provides a light delicious caffeine-free beverage with that aids digestion and contributes to weight loss.
This slimming tea also combines herbs to promote a "Thermogenic" reaction which increases metabolic activity. That being said, it will help to eliminate the excess calories and toxins.
7. Teami 30 Day Detox Pack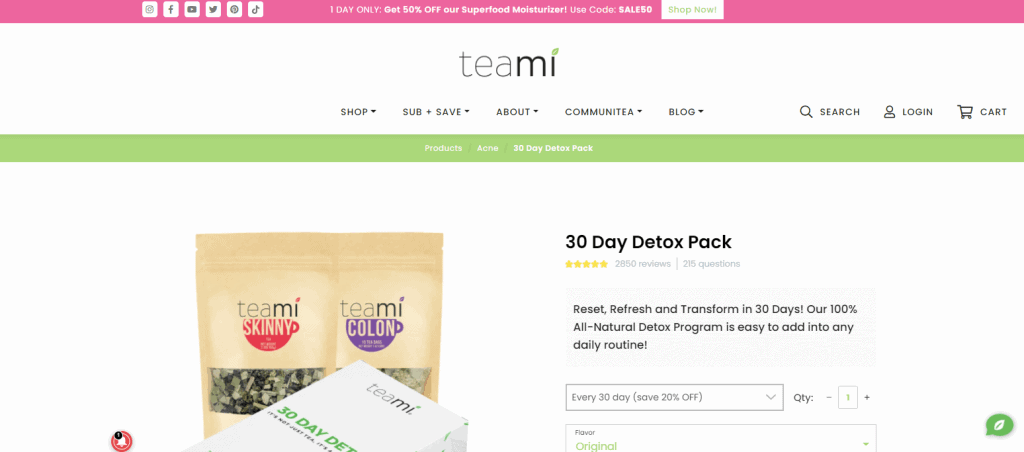 Teami 30 Day Detox Pack is a 100% natural, plant-based detoxifying cleanse that can reset and refresh your body. All you need to do is drink your Teami Skinny every money and drink your Teami Colon every other night before bed..
This 30-day program is perfect for everyone's lifestyle, regardless of your current wellness journey, If you purchase from Teami, you will be able to get a free detox accountability E-book with the best detoxing tips and their 23 Healthy Recipes E-book with simple, delicious recipes you can make at home.
8. Yogi Tea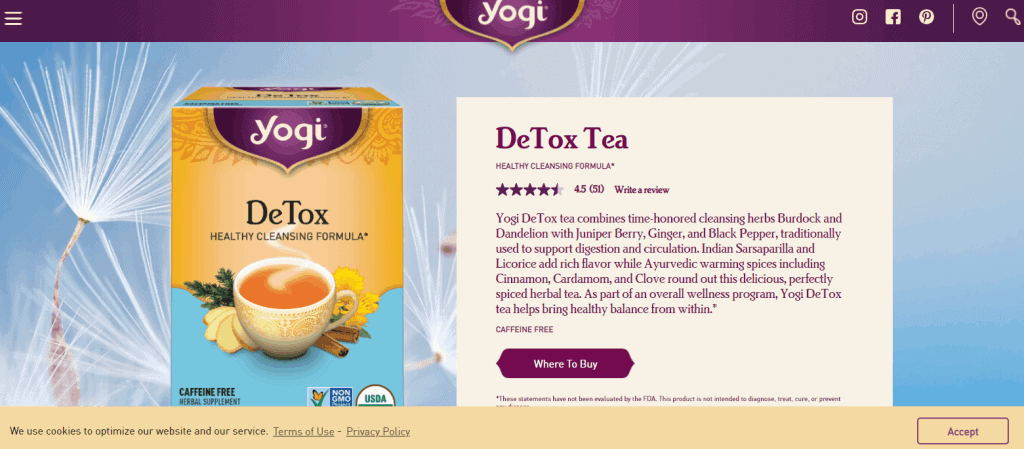 Yogi DeTox slimming tea combines time-honoured cleansing herbs Burdock and Dandelion with Juniper Berry, Ginger, and Black Pepper, traditionally used to support digestion and circulation. It contains purifying herbs formulated to support healthy liver and kidney function, and leave you feeling refreshed.
The Indian Sarsaparilla and Licorice add rich flavour to the tea while Ayurvedic warming spices including Cinnamon, Cardamom, and Clove round out this delicious, perfectly spiced herbal tea. Yogi DeTox tea helps bring healthy balance from within.
9. T2 Tummy Tea Herbal Tea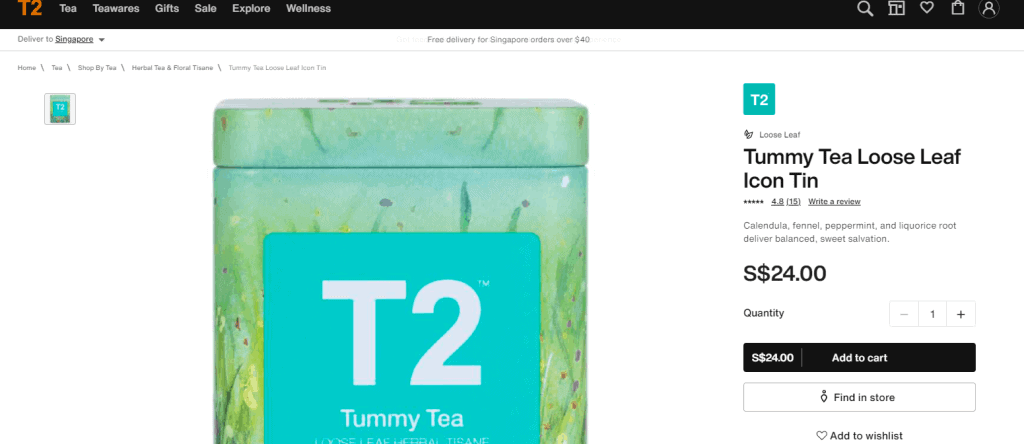 T2 Tummy Tea Herbal Tea is loaded with soothing peppermint, liquorice root and fennel, settling any belly woes and sugar cravings that you have. It is a perfectly soothing blend of fresh and bright peppermint, making it the perfect way to end a big meal, or just treat your tummy to a comforting sip.
This loose-leaf wellness Tea is best brewed 2-3 minutes at 100 degrees Celsius in your favourite loose leaf tea Infuser. If you are feeling overloaded, just take a sip up this tea and you will be set.
10. Gaia Herbs Cleanse & Detox Herbal Tea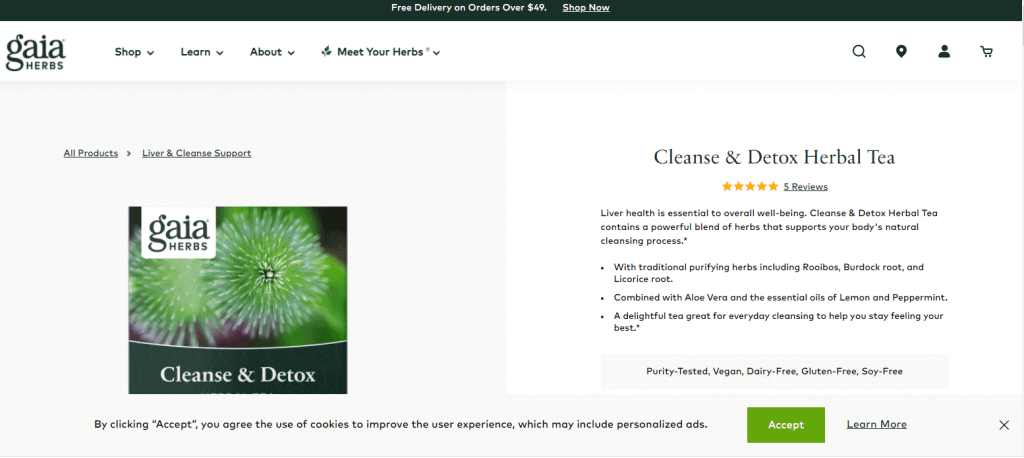 Last on the list of the best slimming tea in Singapore is Gaia Herbs Cleanse & Detox Herbal Tea, a delightful tea great for everyday cleansing to help you stay feeling your best. This herbal tea is produced in Tuscany, Italy, by Aboca, the herbal supplement leader in Europe since 1978.
Cleanse & Detox Herbal Tea contains a powerful blend of herbs that supports your body's natural cleansing process. It has traditional purifying herbs such as Rooibos, Burdock Root, and Licorice roots, and supports your body's natural cleansing process, making sure your liver stays healthy.
Conclusion
Do you have any reviews and comments to share regarding our choices for the best slimming tea in Singapore?
While SBO is committed to supporting our local businesses, we welcome any feedback and anonymous sharing regarding your experience with the listed outdoor furniture in Singapore.
We hope that this guide will be useful in helping you to make an informed decision when it comes to finding the best slimming tea in Singapore.
Featured Image by Lisa Hobbs on Unsplash
Explore More Content