10 Best Alcohol Delivery in Singapore for Chugging Good Times At Home [2023]
You're just a few clicks away from happy hour with these 10 best alcohol delivery in Singapore!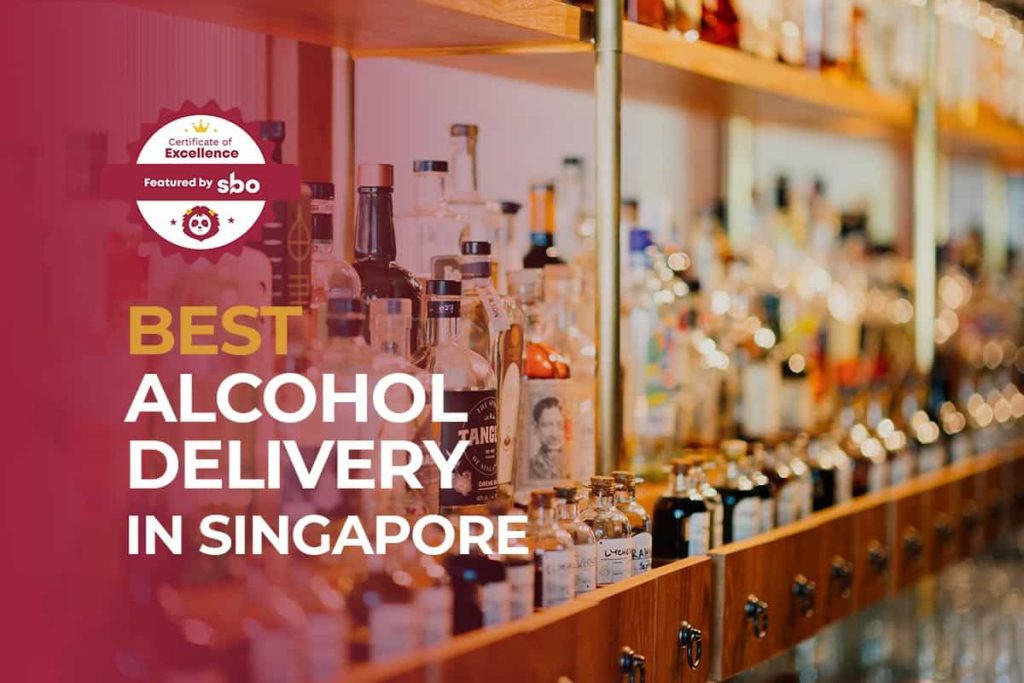 Let's face it: going out to restaurants or bar for a tipple or two will never be the same after COVID.
Yeap, we can already hear you sighing, which is why we have scoured the net to find the 10 best alcohol delivery in Singapore for you to get your fix sorted right in your PJs!
Whether you had a crazy day at work or want to celebrate a special occasion, this list is guaranteed to satisfy the everyday drinker to discerning connoisseur.
1. Paneco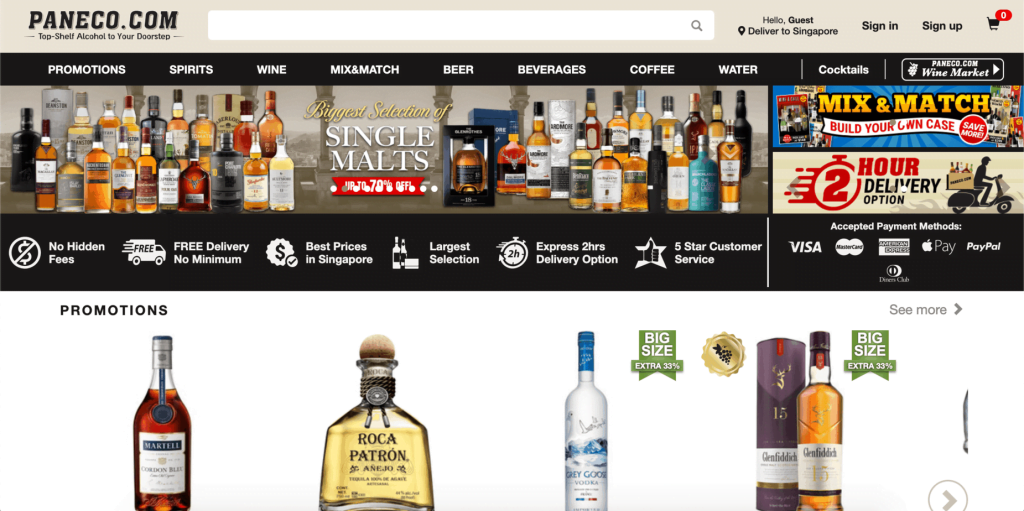 Boasting over 1,500 products from over 300 brands and 40 countries, Paneco is one of the largest online alcohol retailers around the world.
Offering one of the best prices for alcohol delivery in Singapore, get everything you need from whisky, vodka, gin and sparkling wine and have it swiftly delivered to your home on the same day for just $8, or enjoy free next day delivery with no minimum!
Reviews talk about the exquisite range of wines and whiskies, as well as the flexible staff and helpful after-sales support. Many have been ordering from Paneco for years now and continue to be wowed by their awesome service, great deals, and amazing packaging!
2. Prime Liquor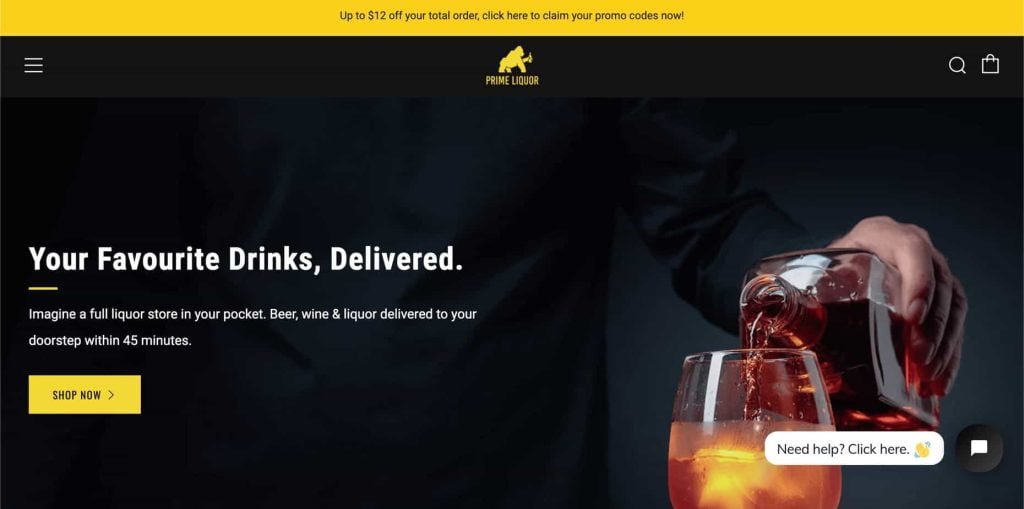 Want to get beer, wine or liquor delivered to your doorstep within 45 minutes? Prime Liquor offers a specially curated collection of alcoholic beverages ranging from soju, gin, tequila, wine, champagne and ready-to-drink cocktails at pocket-friendly prices.
Striving to be the ultimate alcohol retailer in Singapore by connecting alcohol lovers to the widest selection of booze at an affordable price tag, they even offer thoughtfully curated gift boxes to surprise your loved ones.
For those who are looking to save some dollars, they also have a Thrifty section with everything under $70. Every order even comes with tracking so you know exactly when you'll receive your order!
Reviews talk about the fuss-free process, great customer service and courteous delivery partners. Customers appreciate the prompt delivery even with last-minute orders and how they came in superb condition.
3. Jarbarlar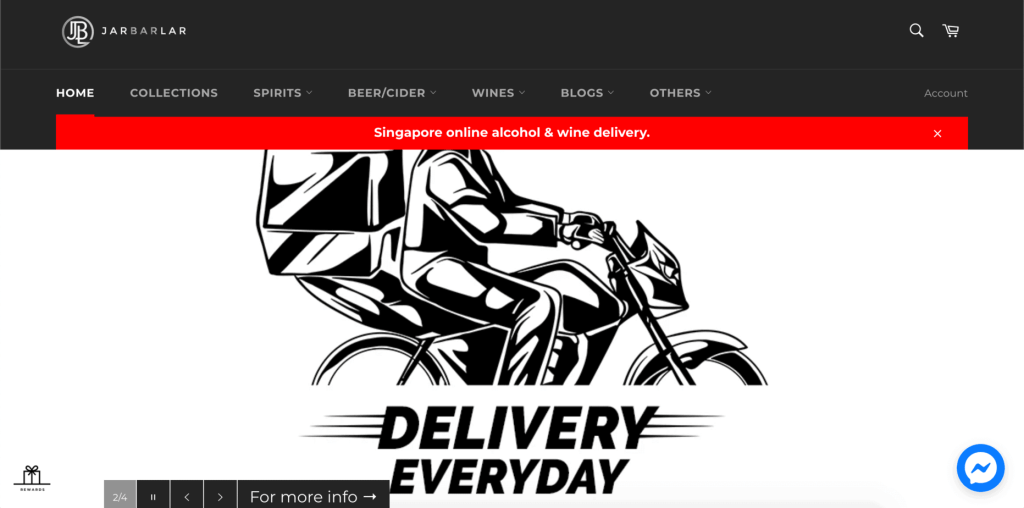 As Singapore's leading online alcohol distributor and liquor store, Jarbarlar offers an extensive catalogue of premium alcohol such as beer, cider, blended malt whisky and wine.
Aiming to become the largest liquor e-tailer in Singapore, Jarbarlar's priority is to serve alcohol lovers the best experience and get you ready regardless of the occasion.
Reviews talk about the responsiveness of the team and fast delivery. With great deals and discounts when you purchase more, this is the perfect time to stock your home bar with your essentials!
4. Asher BWS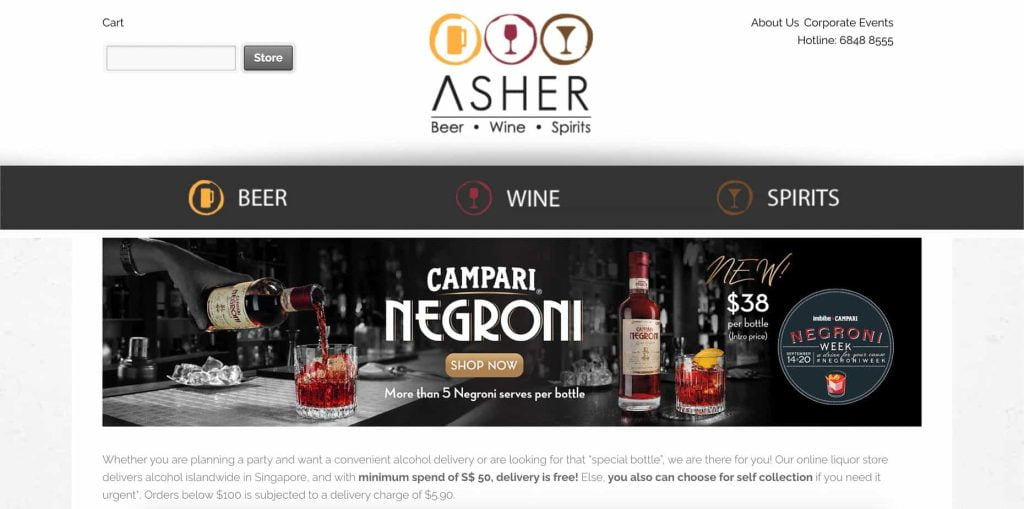 As one of Singapore's largest and oldest wholesale distributor that works directly with local brand owners, Asher BWS offers a deep collection of unique beers, wines, whiskeys, ales and other spirits from around the world.
With various bundles and promotions happening, they also offer mixers and gift sets that will have you spoilt for choice.
Reviews talk about the well-curated gift sets and the team's impeccable service in making sure everything was smooth and fuss-free.
5. Alcohol Express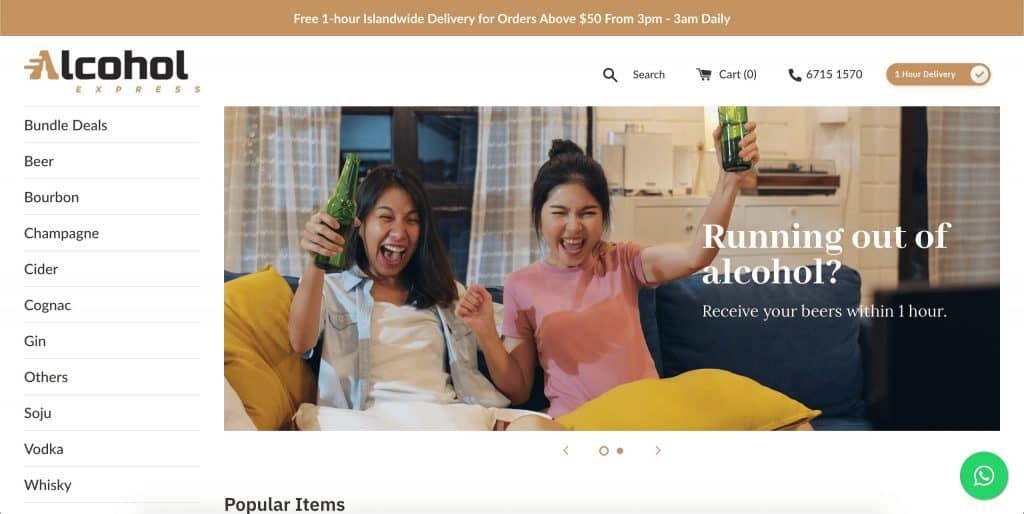 Relatively new in the scene, Alcohol Express has already exceeded customer expectations with their 1-hour delivery service and irresistible bundles.
Shop from brands such as Martell, One Shot, Monkey Shoulder, HITE and Grey Goose and dive into a wide selection of beer, bourbon, cider, gin, vodka, whisky and wine ready for your next party.
Reviews talk about the seamless ordering process and bundles that were perfect for hosting house parties!
6. Oak & Barrel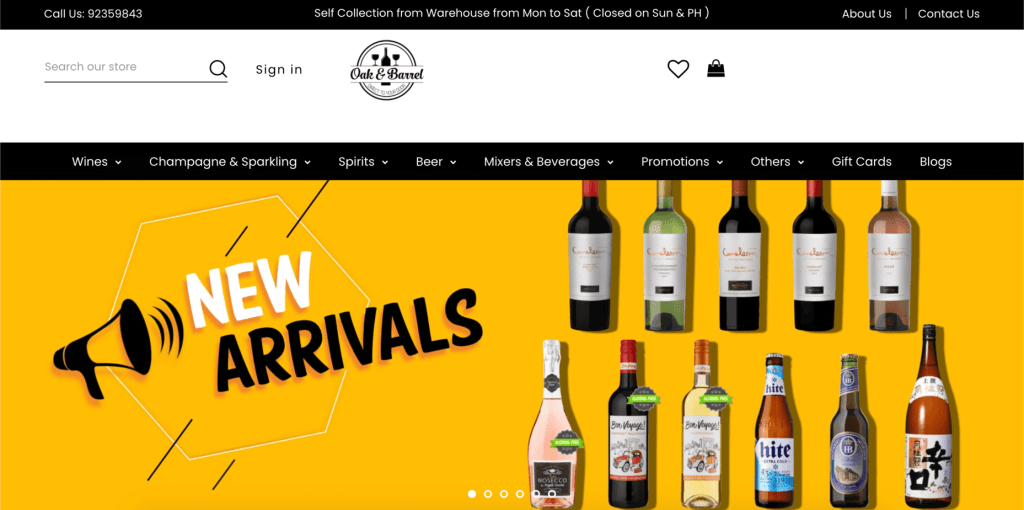 Oak & Barrel is on a mission to provide a wide range of premium liquor and alcoholic drinks at great value prices that cater to a diverse range of drinking preferences.
From curated wine, champagne and spirits to beer and even non-alcoholic beverages, the team imports and works directly with brand principals to keep costs low. Purchase favourites like Jim Bean, Asahi, Jinro, Carlsberg, Erdinger and The Shy Pig at supermarket friendly prices all year round!
Reviews talk about the value-for-money prices, timely delivery, attractive promotions, and secure packaging.
7. Thirsty Beer Shop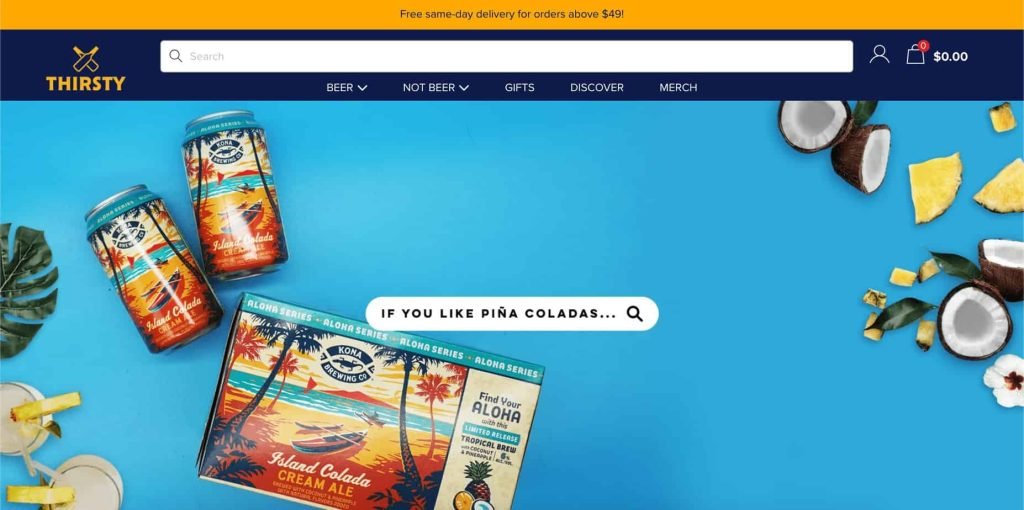 For a good selection of beers, ciders, hard soda and wines, Thirsty knows them best.
A dedicated online craft beer shop that aims to deliver simple, fun and affordable craft beer experiences, you'll find flavour profiles ranging from Light & Refreshing, Bold & Bitter, Fruity & Juicy to Complex & Spiced in your favourite styles starting from as low as $3 a can!
Also available are adorable gift boxes, sampler sets and a range of merchandise such as bottle openers, glassware and buckets.
Reviews talk about the great customer support and unique selection of beers. Many customers have also bought the gift boxes and said it was well-received by their loved ones!
8. Drink2Connect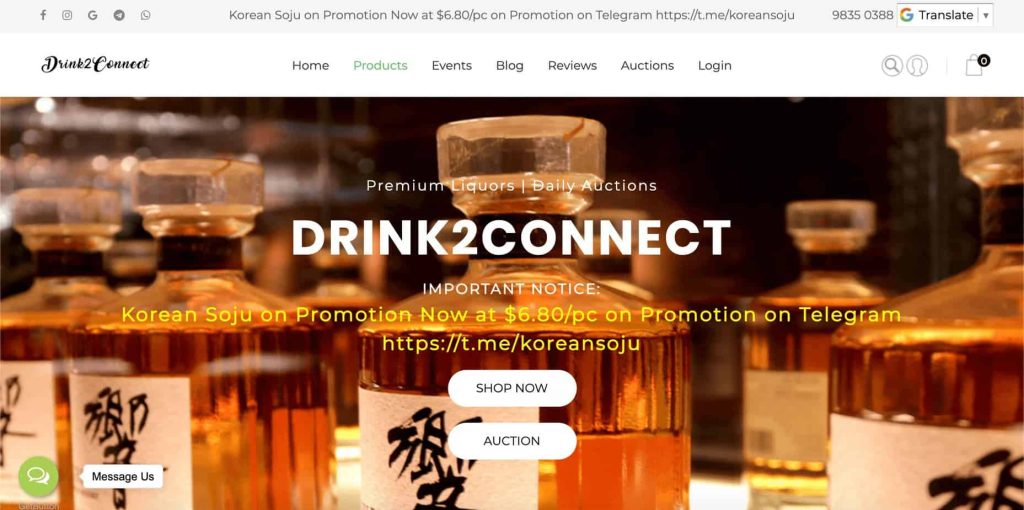 Whether you are looking for a place to get your wedding wine, buy or sell liquor or attend a wine tasting session, it's hard to walk away empty-handed at Drink2Connect.
Priding themselves as the connoisseurs of premium liquor with a focus on Japanese whisky and sake and premium Scotch whisky, the owners boast over 20 years of experience in the industry and are more than happy to guide you along in your drinking experience.
Shop from their collection of soju, beer, champagne and wine; featuring brands such as Absolut, Yamazaki, Macallan, Moet Chandon, Sapporo and Dassai.
Reviews talk about the quick and fuss-free ordering and delivery process and commend the owner, Cass's wealth of knowledge in giving recommendations. If you are looking for rare bottles at competitve prices, try your lucky at Drink2Connect!
9. Temple Cellars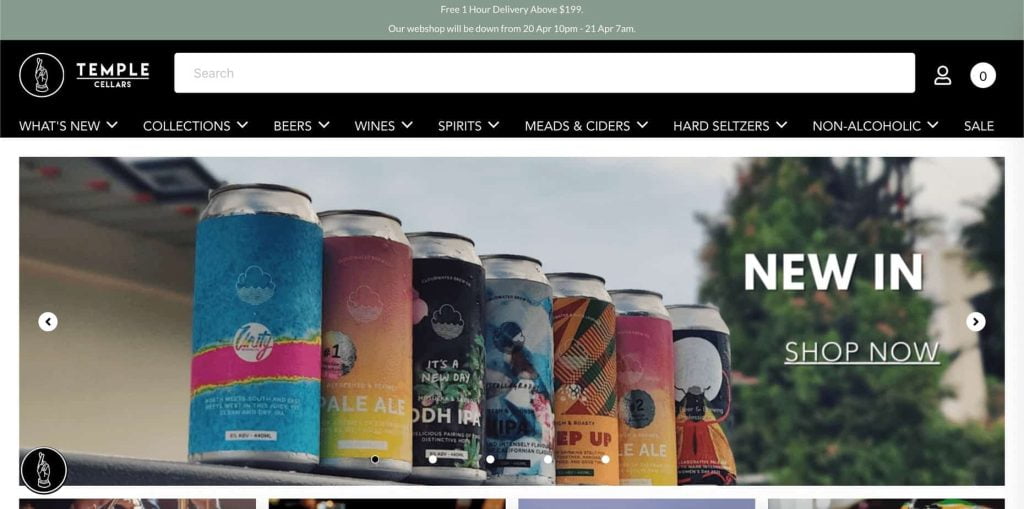 Boasting one of Singapore's largest selection of craft beers, wines and spirits, Temple Cellars specially curates an inventory of the best craft beverages to stock on your shelves.
Their extensive catalogue includes alcohol categories such as beers, wines, spirits, sakes, ciders, meads and even non-alcoholic beverages from small, independent producers with quality products. They even feature vegan-friendly and minimal intervention wines.
If you fancy having your drinks served chilled to your home, Temple Cellars have their own cold trucks to get the job done. If you are looking for a place to chill or hang out with your friends or colleagues, you are almost more than welcome to drop by their store.
Reviews talk about the extensive selection of beverages, friendly staff and efficient delivery process. A great place to try out new and interesting tipples from all over the world.
10. The Wooden Table

Primarily a wine and spirits store, The Wooden Table promises no hidden fees and a large selection of beverages ranging from beer, bourbon, cognac, gin, sake, soju, tequila and wines.
Purchase from either their online store or Carousell where reviews talk about the excellent and accommodating service of the team and the comprehensive selection of drinks to choose from.
Customers also love how responsive the owner is and appreciate him taking the time to explain the different liquors and giving recommendations.
Conclusion
Do you have any reviews and comments to share regarding our choices for the best alcohol delivery in Singapore?
While SBO is committed to supporting our local businesses, we welcome any feedback and anonymous sharing regarding your experience with the listed alcohol delivery in Singapore.
We hope that this guide will be useful in helping you to make an informed decision when it comes to finding the best alcohol delivery in Singapore.
Featured Image by CHUTTERSNAP on Unsplash
Explore More Content