Get Best Priority Banking in Singapore For the VIP Treatment You Deserve [2023]
Find the best priority banking in Singapore to jump the queue.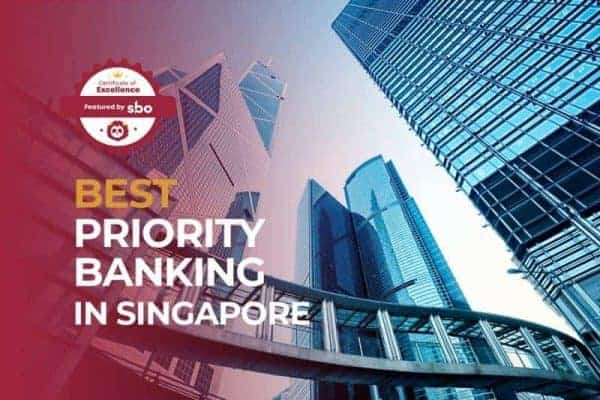 When you have reached certain milestone in life, you are affluent enough to decide if you want a different banking experience. Just like how a business class passenger will receive more premium services, priority banking allows you to feel like a VIP everytime you walk into a bank. If you wish to experience such exclusive relationship with your bank and do find out more about the best priority banking services in Singapore.
What is Priority Banking in Singapore?
Priority banking is targeted at high net worth customers who can afford to deposit and transact large amounts of money with a bank. This is done by incentivising these wealthy clients with preferential treatment.
Benefits of Priority Banking in Singapore
Priority banking allows customers to receive perks from their banks. These include:
1. A Dedicated Relationship Manager
Need financial advice or help to manage your investments? Your dedicated relationship manager will always be on standby to lend you a helping hand.
2. Priority Queuing
Skip the queue at your local neighbourhood bank. Some banks even have exclusive branches for their priority customers to carry out their transactions.
3. Higher Interest Rates
Banks give out measly interest. While your interest rates as a priority customer are unlikely to beat inflation, at least they are better off than chump change.
4. Better Foreign Exchange Rates
If you're a frequent flyer who goes overseas often for business trips, you can look forward to purchasing more foreign currency with better foreign exchange rates.
5. Preferential Loan Packages
You're perceived to be less of a risk due to your large amount of capital, so you can look forward to enjoying more attractive interest rates when you take out loans.
Hold On… What's the Catch?
The bad news is that in order to become a priority banking customer, you would first need to park a certain amount of assets with the bank. These include cash left in saving accounts, bonds, shares, unit trusts, ETFs and REITs. These usually require tens of thousands in savings minimally in the Singaporean context.
In this post, we've gathered all the necessary details to compile a list of the 10 best priority banking in Singapore for your banking needs.
1. Standard Chartered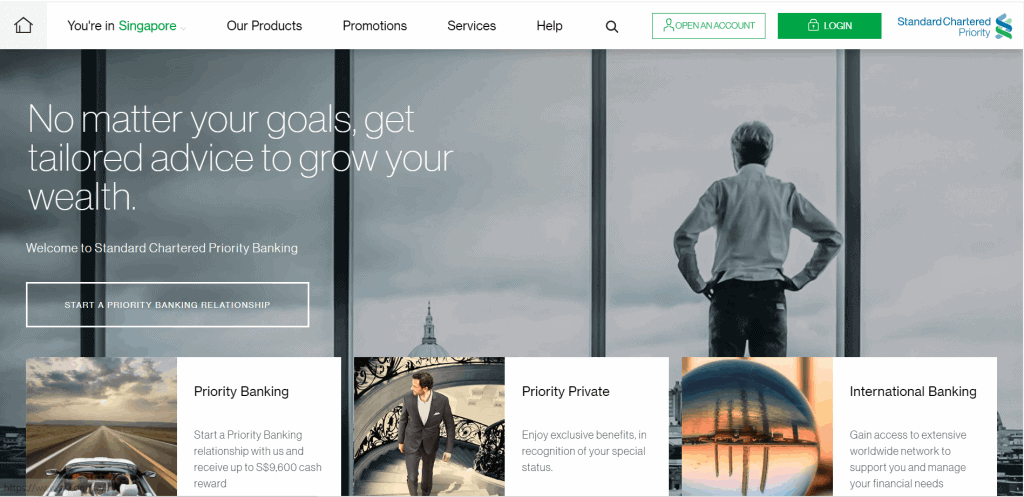 If you're looking for a priority banking in Singapore with monetary incentives, go for Standard Chartered. Simply start a Priority Banking relationship with them and receive up to S$9,600 when you bring in minimum fresh funds of S$200,000. You can even receive up to S$1650 upon three successful referrals to priority banking.
To continue being a Priority Private client, you need to top up and maintain your account balances with the Bank to at least SGD 1.5 million. Your membership and eligibility for the programme will be reviewed annually in December.
If, at the time of review, you have maintained a minimum of SGD 1.5 million in assets under management for the preceding 12 months, your membership will be renewed for a period of another 12 months, starting in January.
Benefits of signing up as a Priority Private client with them include carefully curated experiences such as a priority private concierge.
To help you travel with a greater peace of mind, this complimentary concierge service provides favourable rates and priority reservations at more than 400 handpicked restaurants with your Priority Banking Visa Infinite Credit Card.
2. OCBC Premier Banking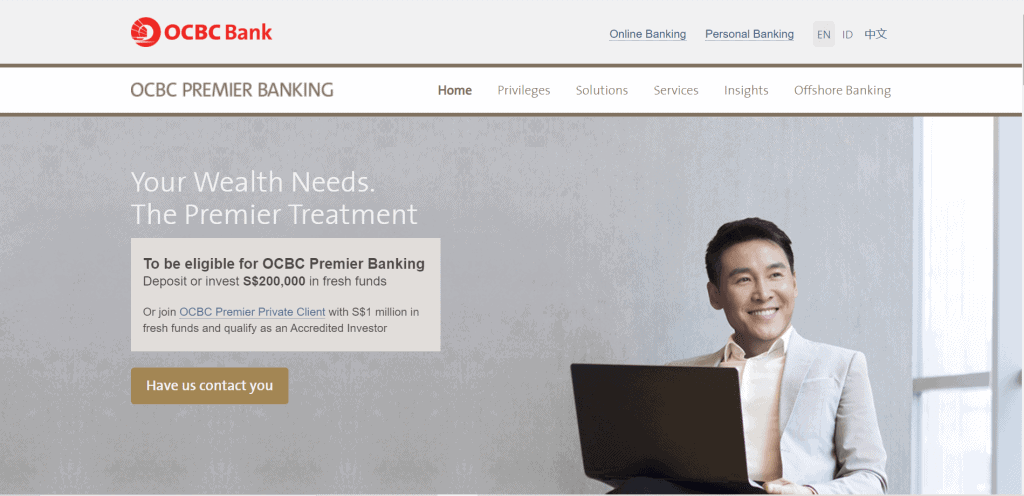 To be eligible for OCBC Premier Banking, simply deposit or invest S$200,000 in fresh funds. Or join OCBC Premier Private Client with S$1 million in fresh funds and qualify as an Accredited Investor.
Banking privileges include: receive up to S$2,750 when you start a Premier Banking relationship with S$350,000 fresh funds. You can also invest in the 30 largest TECH-themed companies listed on HKEX with the Lion-OCBC Securities Hang Seng TECH ETF, available as a Blue Chip Investment Plan counter.
Each of their Premier Banking Centres is uniquely designed for a refreshingly different experience whenever you bank with them. Selected centres are open on Sundays from 11 am to 7 pm.
Also, as an OCBC Premier Banking Customer, priority queues will ease your way at selected OCBC Bank branches.
Lifestyle privileges include: earn VOYAGE Miles and enjoy unparalleled rewards with no expiry or blackout periods and dedicated concierge services from VOYAGE Exchange with the OCBC Premier VOYAGE Credit Card.
3. Citi Priority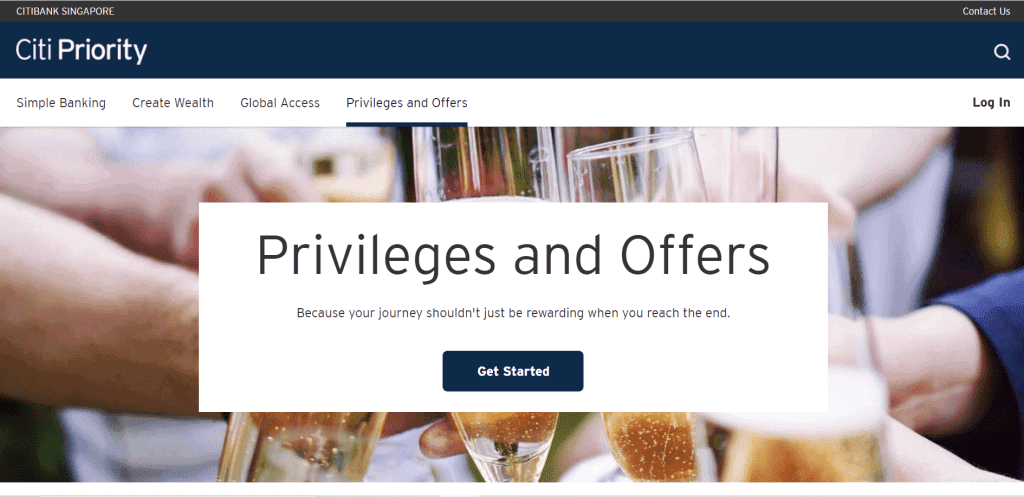 To enjoy priority banking in Singapore with Citi Priority, you need a minimum balance requirement of S$70,000. Get up to S$313 when you start a Citi Priority relationship with the minimum sum. That's not all: you can also earn up to S$100 cash reward for every successful referral.
Lifestyle privileges of choosing Citi Priority as your priority banking in Singapore include discounts from their partners.
For example, you can enjoy 30% off your bill at Wan Hao Chinese Restaurant, Singapore Marriott Tang Plaza Hotel. You can also enjoy 15% off on all First Health Manuka Honey products (what a sweet deal!).
As a Citi Priority member, you can also receive bite-sized tips on financial planning and digital investment solutions that are time and fee-saving. You can also enjoy banking wealth packages with preferential rates and personalised services.
Citi also has a mobile application that simplifies banking with instant payments & transfers and real-time balance updates.
4. UOB Privilege Banking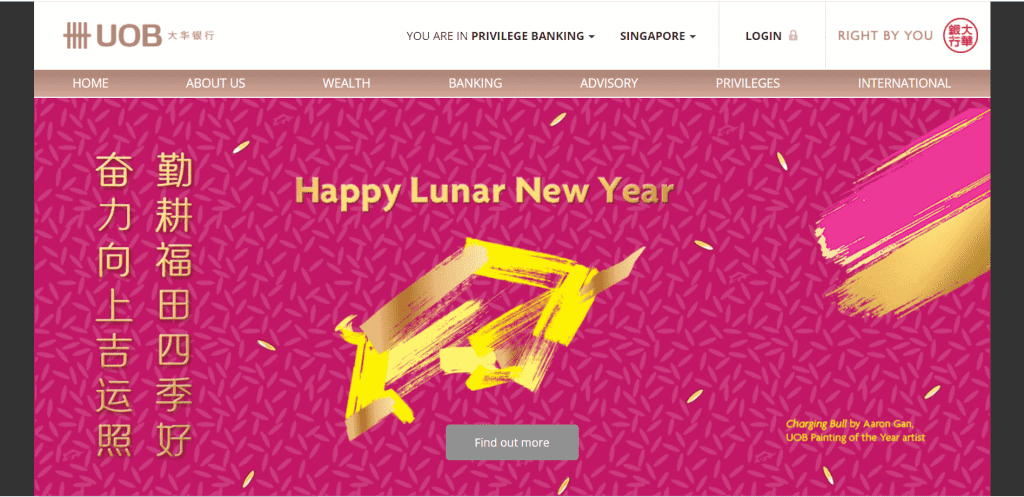 Simply start a priority banking in Singapore with UOB Privilege Banking with a minimum of S$350,000 in deposits and/or investments.
As a member, you can look forward to enjoying higher interest rates, such as 0.55% per annum on SGD Deposits with UOB Privilege Account, and 0.30% per annum on USD deposits with Global Currency Premium Account.
They have a suite of birthday deals for members. These include 20% off regular-priced items and complimentary delivery from Ewineasia, and 18% off room rates with complimentary birthday and room upgrades from Four Seasons Hotel.
5. Maybank Privilege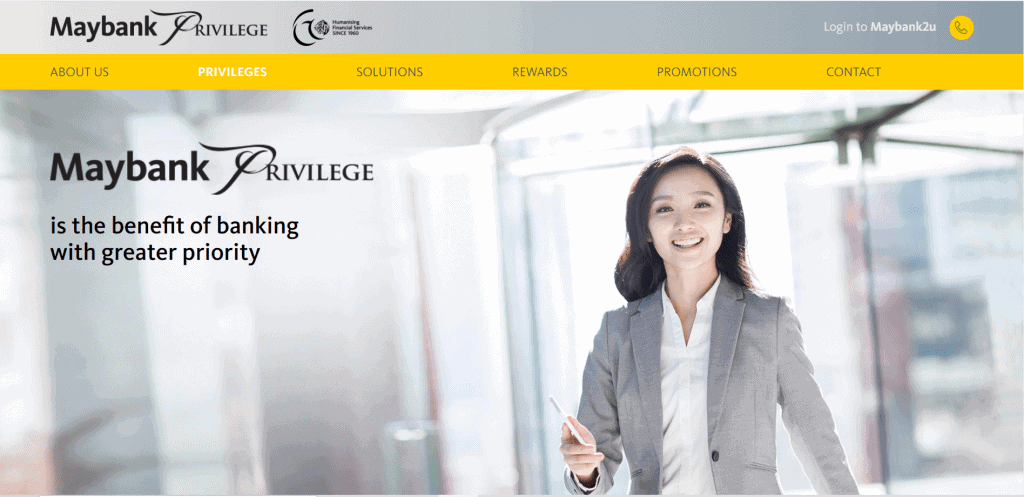 If you don't have much capital on hand, you can still enjoy the benefits of priority banking by becoming a Maybank Privilege customer with deposits and/or investments of S$50,000 or more with them.
As a Maybank Privilege customer, you can look forward to enjoying greater priority banking in Singapore with a dedicated express counter at every Maybank branch.
With the Maybank Privilege Horizon Visa Signature Card, you can also be rewarded with up to 3.2 air miles (8X TREATS Points) for every dollar spent on dining and travel expenses at home or abroad.
A Personal Financial Advisor, supported by a team of specialists, will also be on hand to listen and offer advice, ensuring your needs are addressed in confidence.
Lastly, you can receive preferential pricing on your banking transactions and investments. You can also gain access to a 24×7 hotline with a priority queue.
6. HSBC Premier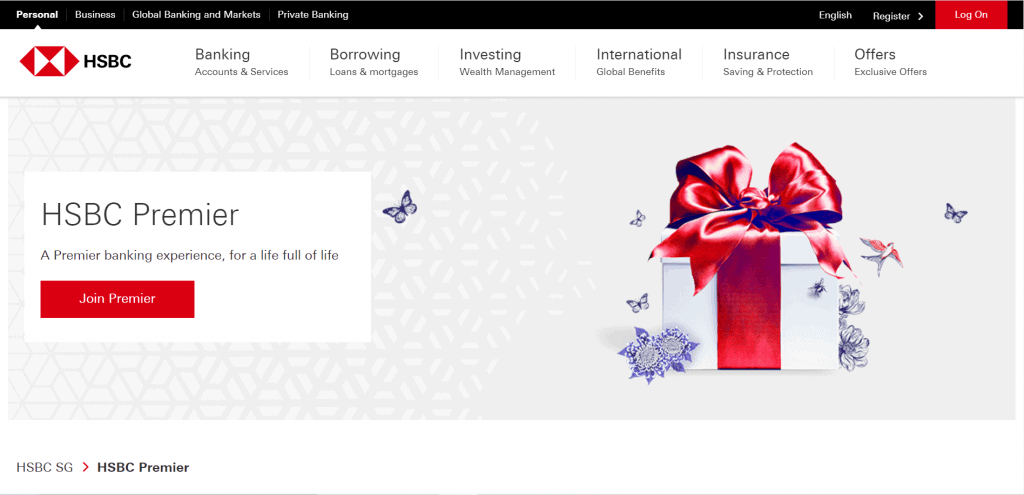 To apply for HSBC Premier for priority banking in Singapore, you need to check that you meet at least one of the following criteria:
You can place a minimum of SGD200,000 (or its equivalent in foreign currency) in your Total Relationship Balance
You credit a monthly salary of at least SGD15,000
You have a Singapore property loan of at least SGD800,000 or an Australian property loan of at least AUD200,000
As a welcome reward, you will receive SGD588 cash credit when you deposit fresh funds of SGD200,000 in deposits and investment (minimum SGD50,000 in eligible Wealth products).
HSBC Premier also provides overseas education support. If your children are considering to further their education overseas, they can open a Premier Bank account in their new country/region, while still living in Singapore.
With a Premier Bank account, they'll receive a debit card, supplementary credit card and cheque book, all before their big move, for stress-free packing. So, they can access their money as soon as they arrive in their new country/region.
And they'll have a dedicated Relationship Manager to support them in their overseas country/region.
7. CIMB Preferred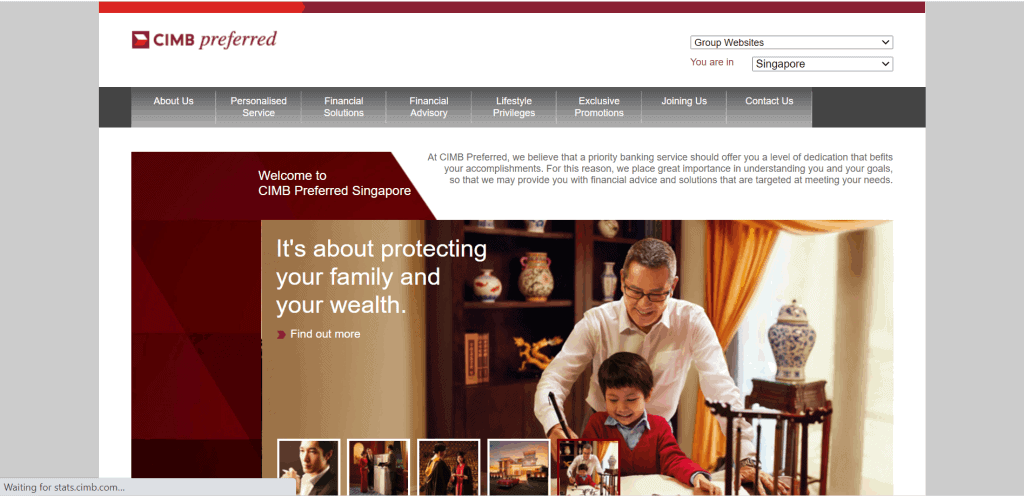 CIMB Preferred aims to provide you with a level of unparalleled priority banking in Singapore that helps you to grow your wealth at every stage of your wealth management journey.
A CIMB Preferred membership is yours when your Total Relationship Balance (TRB) reaches SGD 250,000. Your TRB is a combination of any individual deposit and/or investment product.
Their personalised services include:
A dedicated Relationship Manager to advise you on your portfolio and assist you with your daily banking needs
CIMB Preferred At-Your-Service to assist you in your enquiries and banking transactions via phone, fax or email
Instant recognition and preferential treatment at any CIMB Preferred centre or CIMB Bank branch across the region
8. RHB Premier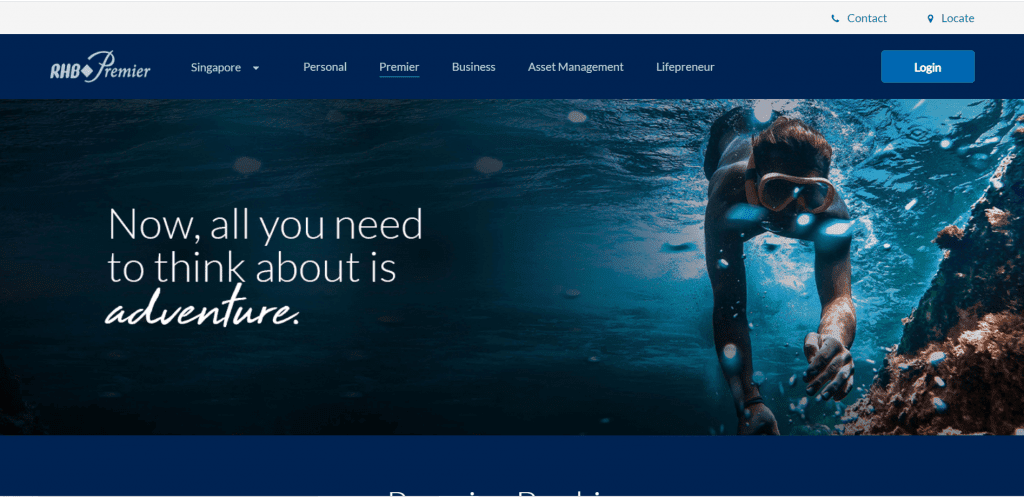 To experience priority banking in Singapore with RHB Premier, you are required to have a Total Relationship Balance of $200,000. Your Total Relationship Balance is a combination of any individual deposits, investments and/or investment product.
As an RHB Premier member, you can gain privileged access to Fullerton Healthcare Group's VIP facilities such as dedicated waiting lounges, discounted consultation fees, and exclusive rates for health screening packages.
You can also gain exclusive access to their Premier Banking Lounge at the RHB Premier Banking Centre at Cecil Street.
A deposit or investment facility with RHB also accords you the services of a dedicated Relationship Manager focused on growing your wealth and financial success.
9. DBS Treasures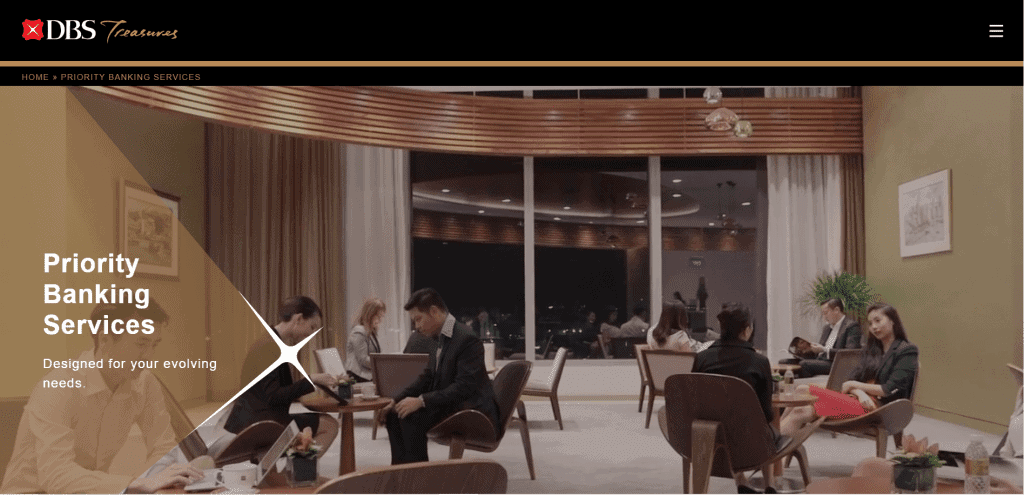 To experience priority banking in Singapore with DBS Treasures, start placing S$350,000 in investible assets with them.
As a DBS Treasures customer, you can gain access to 11 DBS Treasures Centres throughout Singapore to confidentially discuss your investments and financial needs. You can also enjoy priority banking services at DBS branches.
You can also open an account in any of their country banking centres without the need to travel there, while simply meeting and maintaining the minimum financial portfolio balance requirement only for your country of origin.
Need cash in a hurry? You can withdraw up to USD5,000 from DBS Treasures Centres located in Singapore, Hong Kong, India, Indonesia, China and Taiwan.
10. Citigold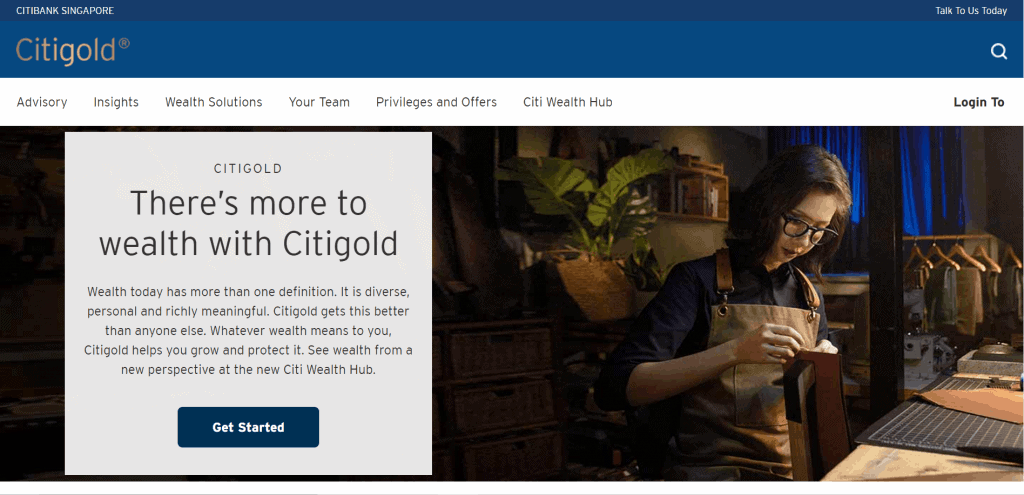 Citibank private clients are called Citigold customers, one tier above Citi Priority. The minimum deposit/investment amount to qualify as a Citigold customer is $250,000.
There is one more tier above Citigold, known as Citigold Private Client, which requires assets of at least $1,500,000 for priority banking in Singapore.
You will also have a dedicated Citigold Relationship Manager, who puts you and your needs at the core of the Gold Conversation. Your Relationship Manager will have an in-depth conversation to understand your current financial position, goals and needs, to determine a suitable investment portfolio for you.
With Citigold Total Wealth Advisor, you can also set your wealth goals and track your progress at your convenience via Citibank Online or your Citi Mobile® App.
Thoughts about Priority Banking in Singapore?
Do you have any reviews and comments to share regarding our choices for the best priority banking in Singapore?
While SBO is committed to supporting our local businesses, we welcome any feedback and anonymous sharing regarding your experience with the listed priority banking in Singapore.
We hope that this guide will be useful in helping you to make an informed decision when it comes to finding the best priority banking in Singapore.
Explore More Content