7 Best Plumbers in Singapore Licensed By PUB [2021]
If you face any water piping and sanitation issues, it is wise to look for the best plumbers in Singapore that are licensed by PUB
Services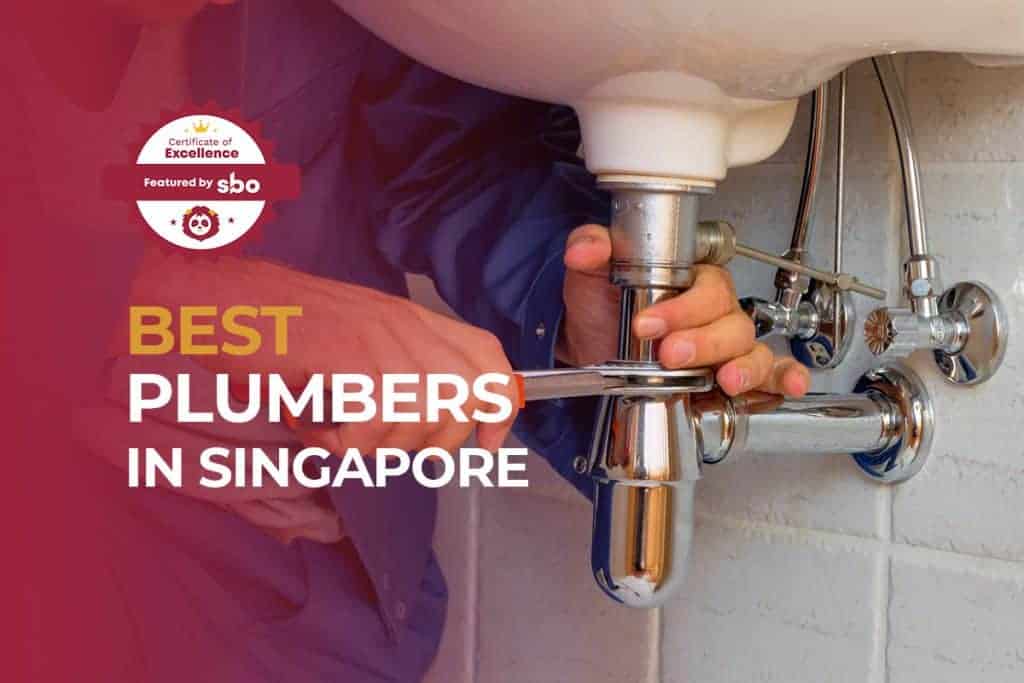 Our team at SBO.sg is committed to being a one-stop avenue to connect local businesses and consumers. We hope that our research efforts can help you save time and money by finding you the best deals without having to search around the vast world-wide-web.
We know the terrible feeling of having to endure with a choking sink, clogged toilet bowl, faulty water heater or leaky tap. If you are facing these problems, then it is time to get help from one of the best plumbers in Singapore.
By getting professional help from one of the best plumbers in Singapore, you will be able to get your water piping and sanitation issues fixed in no time.
Before you get help, it is important for you to know that there are 2 types of plumbing works: Water Service Plumbing Work and Sanitary Work.
Water Service Plumbing Work refers to the laying, installation, alteration, repair or replacement of water pipes, tanks, taps and fittings in the drinking water supply system, for the conveyance of water supplied by the Public Utilities Board (PUB).
Sanitary Work, on the other hand, deals with sanitary discharge pipes, and sanitary appliances which could be a water closet or urinal. These works involve installing, charging or relocating toilet bowls and sanitary piping system, for carrying used water from the building to the used water system.
Do take note that all plumbing work carried out without a valid PUB Plumber License is considered an offence. The penalties could be a fine not exceeding S$10,000 or imprisonment for a term not exceeding 3 years, or both.
In this post, we've gathered all the necessary details including unravelling reviews and testimonials to derive a list of the 7 best plumbers in Singapore.
1. Mr Plumber Singapore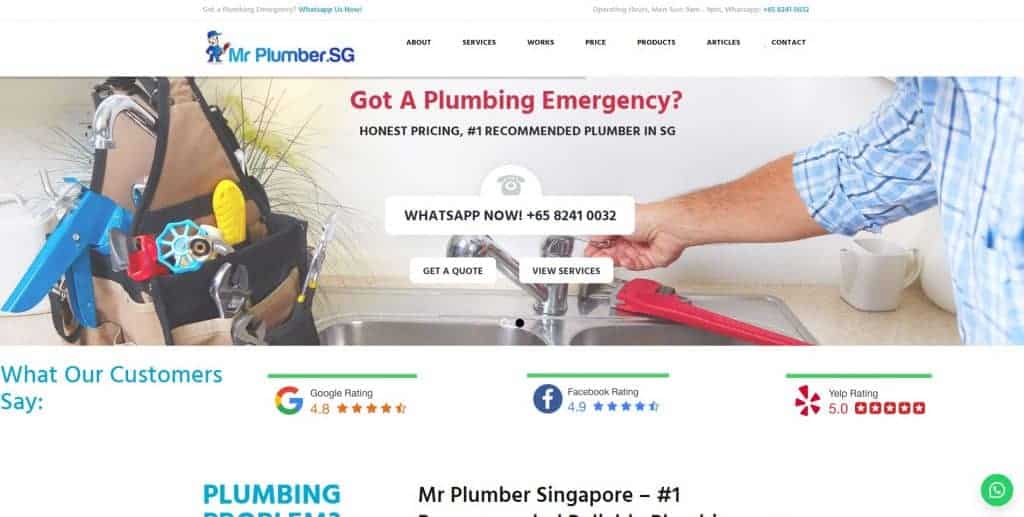 With more than 10 years of experience, Mr Plumber Singapore provides high quality and trustworthy plumbing services. Their plumbers are not just experienced but also able to deliver quality workmanship.
They provide a full range of plumbing services in Singapore such as plumbing chokes & repair, plumbing installation/replacement & repair as well as plumbing leaks & pipes repair in residential and commercial areas. For every plumbing works they carry out, they place an emphasis on an honest and transparent quote.
Their dedication to providing their clients with the best has earned them excellent reviews on online platforms such as Google and Facebook.
2. AG's Plumbers & Renovators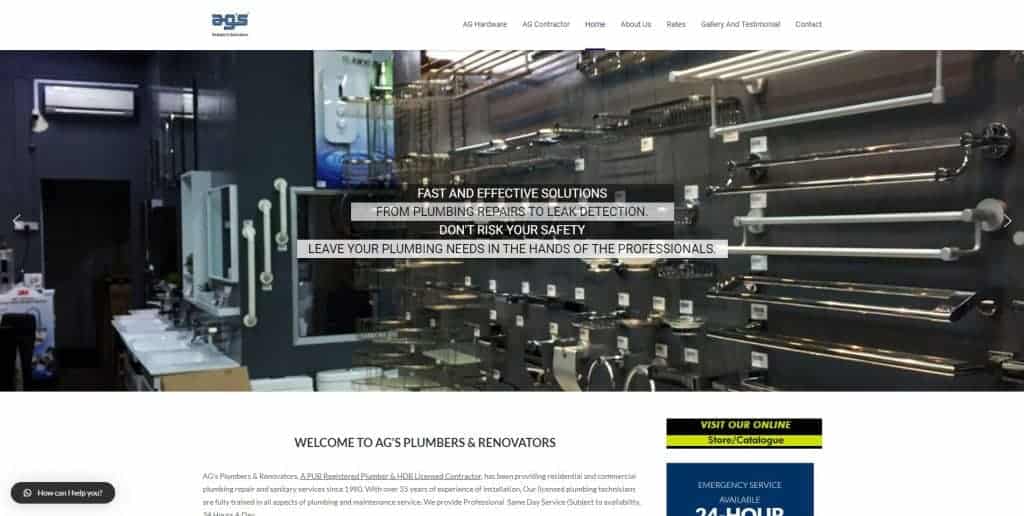 Founded in 1980, AG's Plumbers & Renovators is a PUB-licensed plumber and HDB-licensed contractor which provides residential and commercial plumbing services as well as sanitary services.
Their plumbers are well-trained in all aspects of plumbing and maintenance service. In particular, they specialised in water leakage detection and repair. If you have a plumbing issue in need of urgent attention, their plumbers are available 24/7 to attend to your problems.
If you need to replace your plumbing accessories, you can shop at their hardware store for the various hardware on sale.
3. PS Plumber Singapore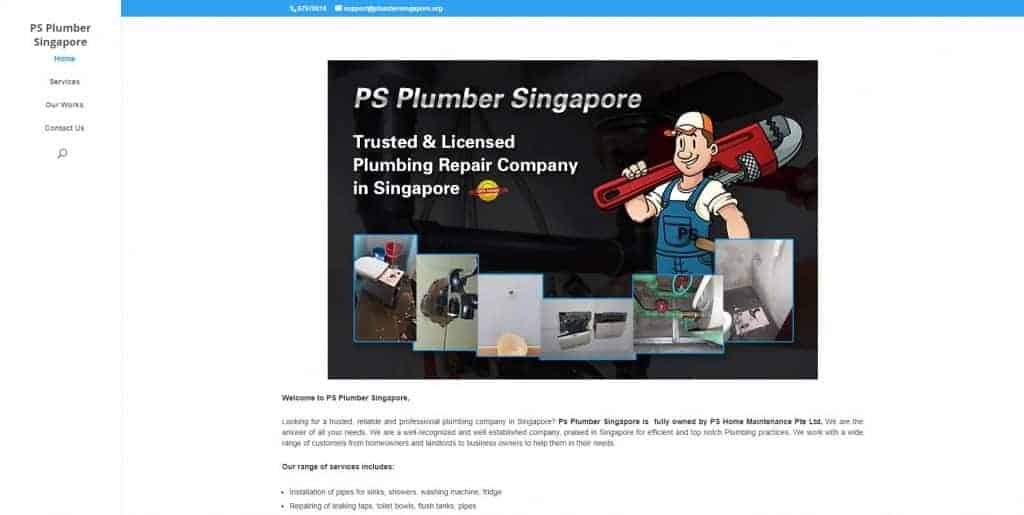 PS Plumber Singapore is your trusted, reliable and professional plumber to look for to resolve your plumbing issues. They provide efficient and top quality plumbing services that will keep you in a peace of mind.
Their range of services that they provide include the installation or replacement of sinks, taps, bidet, toilet bowls and pipes, repairing flush tank leakage and burst pipes.
PS Plumber also provide a free and no-obligation quotes based on your needs so you do not have to be concerned about budgets.
4. Family Plumber Singapore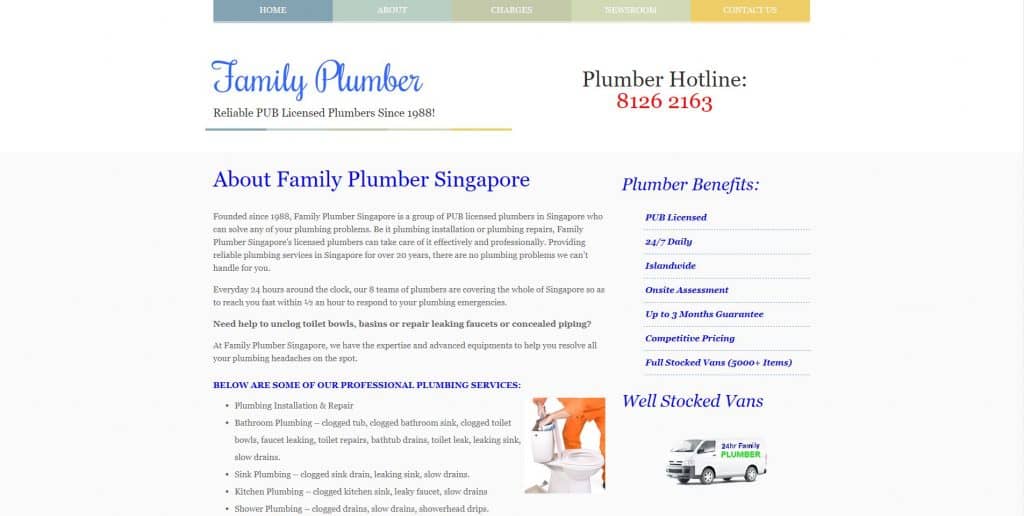 Founded in 1988, Family Plumber Singapore consists of a group of PUB licensed plumber service who possess the expertise and advanced equipment to resolve all sorts of plumbing issues that you may face.
They provide professional plumbing services such as plumbing installation and repair, bathroom plumbing, sink plumbing, water leak detection, unclogging drains and toilet renovation.
For any urgent plumbing issues, their plumbers are available 24/7 to rectify the problem, they are ready within half an hour.
Family Plumber offers their most competitive pricing and no-obligation quotes. They will only commence work when you give you an approval.
5. 24 Hours Plumber Service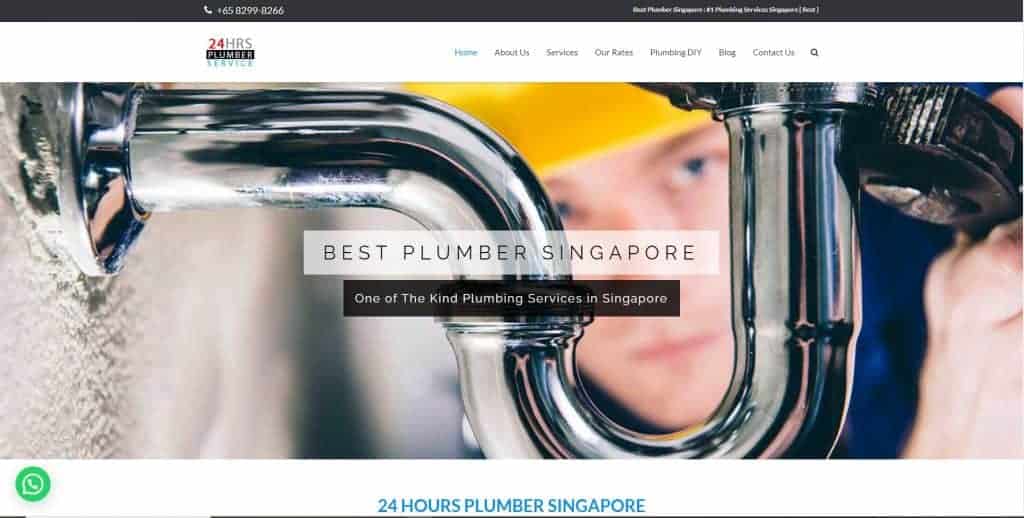 24 Hrs Plumber Service consists of a team of accredited and licensed plumbers in Singapore with over 25 years of experience. They are well-trained and equipped to resolve complex plumbing issues and possess an excellent comprehension of your plumbing problems.
They provide various types of plumbing services such as plumbing repair/installation/repair of toilet/sink taps, shower mixer tap, washbasin, sink, toilet/urinal bowl as well as toilet auto sensor flush valve. They also help to clear blockages from areas such as a manhole, main pipe and rainwater downpipe manually or using machinery. Rest assure that their services are available 24/7.
6. Kiasu Plumber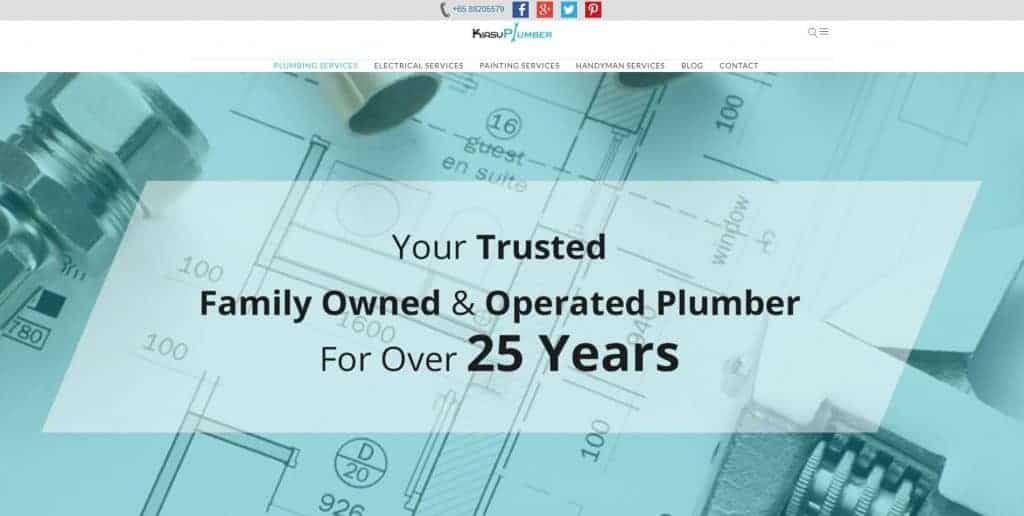 Established in 1998, Kiasu Plumber is Singapore's leading plumbing service. They consist of a team of well-trained PUB licensed plumbers that can resolve all your plumbing issues, even the most complex, efficiently and with the most advanced tools.
They provide various type of plumbing services such as water leakage detection, repair and fixing, faucets and sinks repair as well as backflow prevention. To add value to their clients, they also provide electrical, painting and handyman services.
You can assured of a quick response by them. Plumbers are stationed in various parts of Singapore to ensure a prompt arrival to your place. They are available 24/7 and will be ready within half an hour.
7. SG1 Plumber Singapore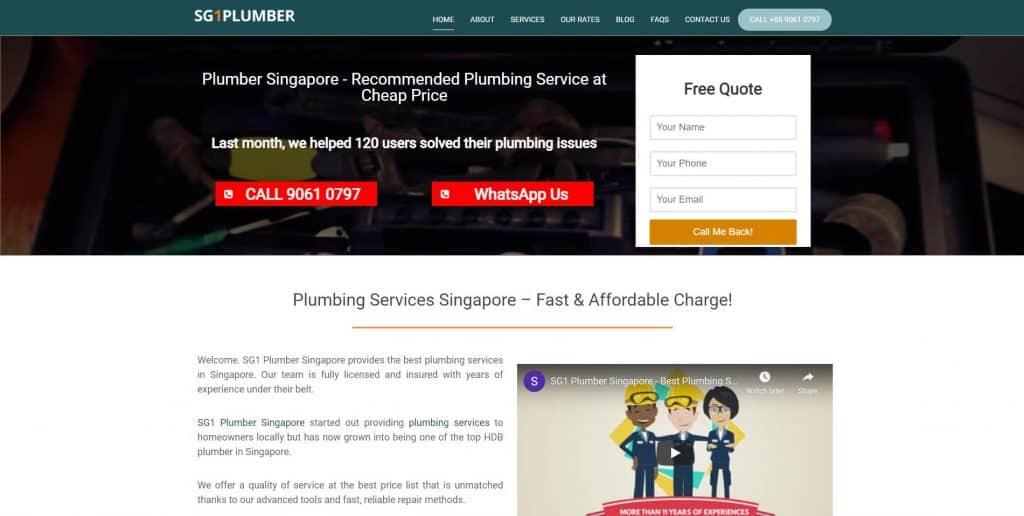 SG1 Plumber Singapore was founded in 2015, aiming to provide quality plumbing services. Their plumbers are licensed by PUB and have years of experience in the profession.
They provide a wide range of plumbing services such as water heater installation & repair, toilet repair, toilet flush system, roof leaking repair and waterproofing. You can expect timely delivery of service when engaging them. After the work is done, you can be guaranteed a follow-up service within 7 days and 30 days workmanship warranty.
SG1 Plumber Singapore offers plumbing services at reasonable pricing with no hidden or unnecessary fees.
Conclusion
Do you have any reviews and comments to share regarding our choices for the best plumbers in Singapore?
While SBO is committed to supporting our local businesses, we welcome any feedback and anonymous sharing regarding your experience with the listed plumbers in Singapore.
We hope that this guide will be useful in helping you to make an informed decision when it comes to finding the best plumbers in Singapore.