10 Best Payday Loans in Singapore to Tide You Over Until Your Next Paycheck [2022]
Kaching.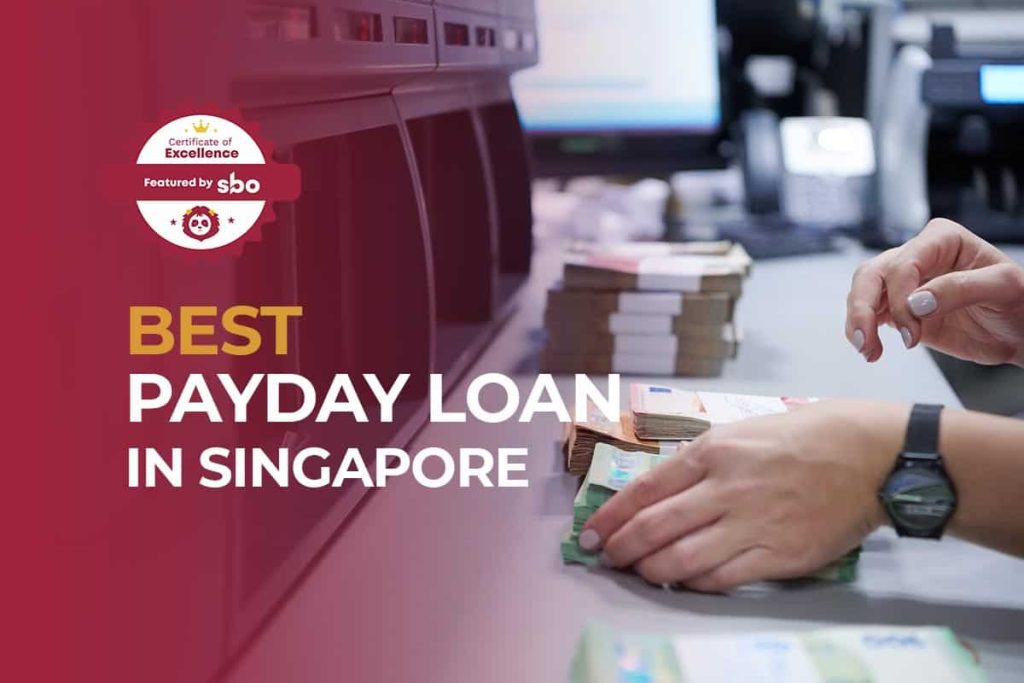 We've all been there before: your savings have run dry and you need a sum of ready cash to tide you over until your paycheck at the month's end.
A payday loan is a short-term, high-cost loan that gives you money that you need until you receive your next paycheck.
Generally, your paycheck is used to pay off this loan.
Hence, it's a way of "pulling forward" your income by a few weeks or days in exchange for a high interest rate and fees.
A payday loan is a relatively easy loan to get because lenders seldom check your credit score, and only ask for proof of income to ensure that you will be getting paid soon.
This also means that a payday loan will have to be smaller than your paycheck, so you should not count on it to provide a huge amount of money.
Wherever possible, borrowers should strive to get their payday loan from a licensed moneylender in Singapore for a peace of mind. These licensed moneylenders can be found under the Ministry of Law's List of Licensed Moneylenders in Singapore.
Looking for the cheapest payday loans in Singapore? In this post, we've gathered all the necessary details to compile a list of the 10 best payday loans in Singapore.
1. Credit Hub Capital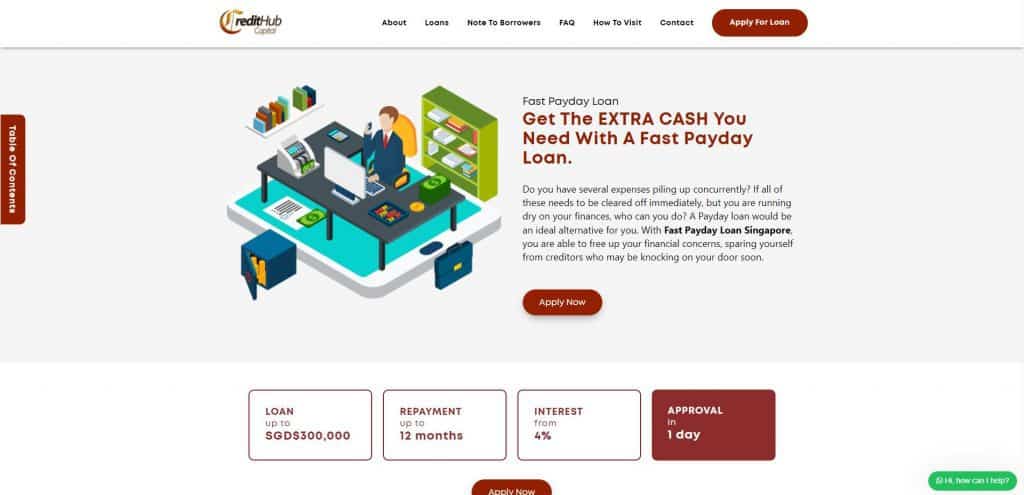 Established in 2010, Credit Hub Capital is one of Singapore's most credible moneylenders.
They provide a comprehensive range of financial assistance plans to clients, including foreigner loans, business loans, payday loans, and personal loans.
The payday loan provides one of the lowest interest rates in town to employed Singapore Citizens or Permanent Residents.
The payday loan is also open to Singapore Pass holders for application to tide them over a short time period.
The application for the payday loan is convenient, fuss-free and simplified.
You simply need to fill in their online application form available on the website.
Thereafter, you should receive a response from their staff within a few working days.
Lastly, your payday loan will be sent to you following the approval of your application and signing of the payday loan contract.
2. Credit Excel Capital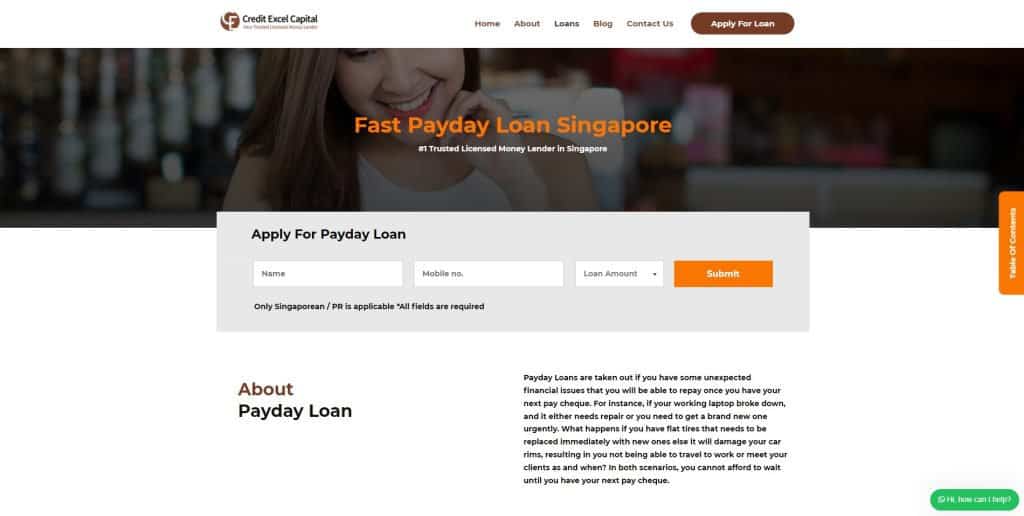 Established in 2010, Credit Excel Capital is a reliable and trustworthy moneylender.
They do not give much weight to your credit history when approving your loans.
Credit Excel Capital is also not a big fan of one-size-fit-all loan packages. They are of the opinion that the circumstances of every individual are unique.
Hence, their loan officers are taught to analyse your financial needs with sensitivity.
All loans issued are thoroughly designed to ensure that they are within your financial means.
The payday loan is open to application for all locals and foreigners who are above the age of 21.
Borrowers must also be gainfully employed in Singapore.
3. ValueMax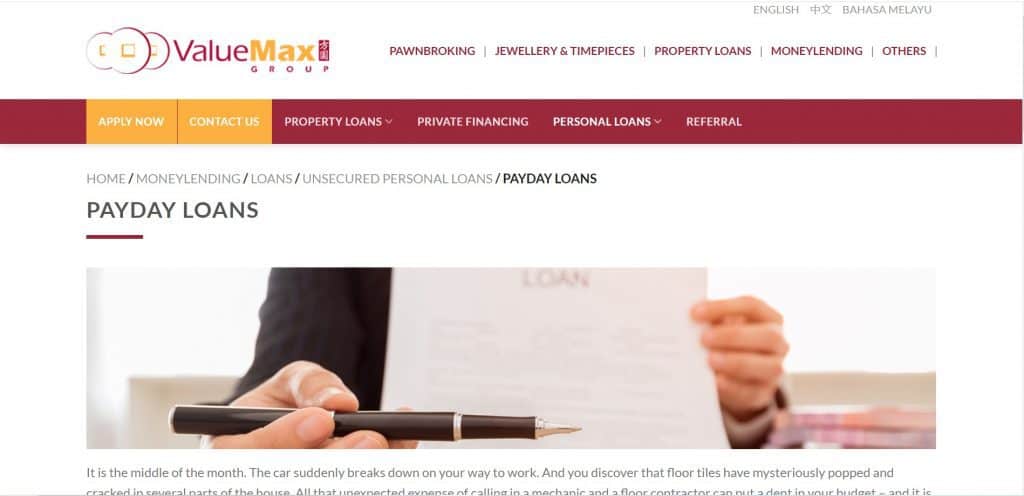 Having been serving the community in Singapore for over three decades, ValueMax is one of Singapore's largest and most established pawnbroking chains.
Opened in 1988, the decades-old pawnbreaker has since been awarded the title of the People's Choice for pawnbreaking, loans and other related financial solutions.
Their payday loan in Singapore has a speedy approval process.
Simply fill in their application form at their office, and they will revert with a loan eligibility decision within one or two working days from the date of application.
You will also receive your loan money in a jiffy. Loans will be disbursed instantaneously in the form of cash upon loan approval.
You don't have to wait for cheques to be cleared or for funds to be electronically wired to your bank account.
4. Bugis Credit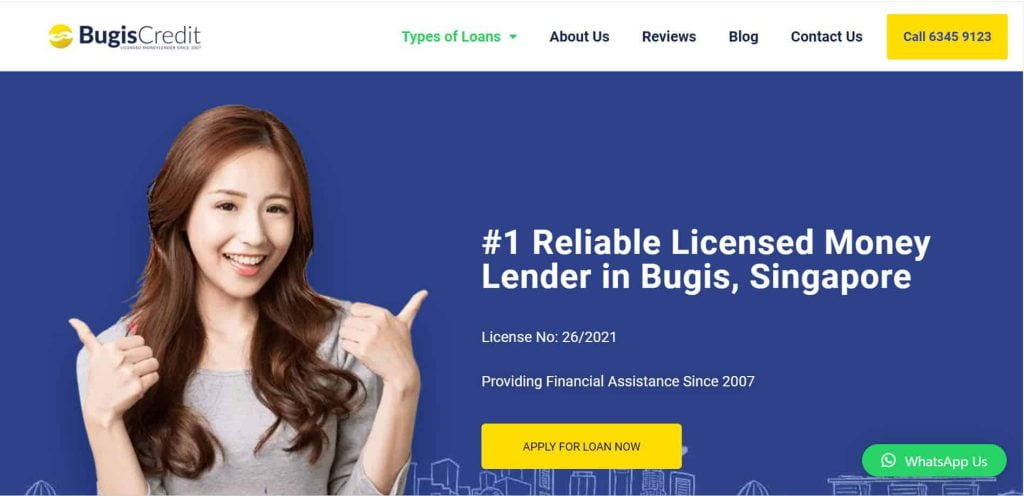 Established in 2007, Bugis Credit is one of Singapore's most respected moneylenders, offering personal, business, monthly, payday and foreigner loans.
Bugis Credit is a licensed money lender that is regulated by the Ministry of Law.
They provide customised loan plans and will not solely consider your credit scores.
To be eligible for their payday loan, you need to be at least 18 years old.
Singaporeans and Permanent Residents need to be drawing a minimum salary of SGD$1500, while foreigners need to be drawing a minimum salary of SGD$2000.
5. Fortune Credit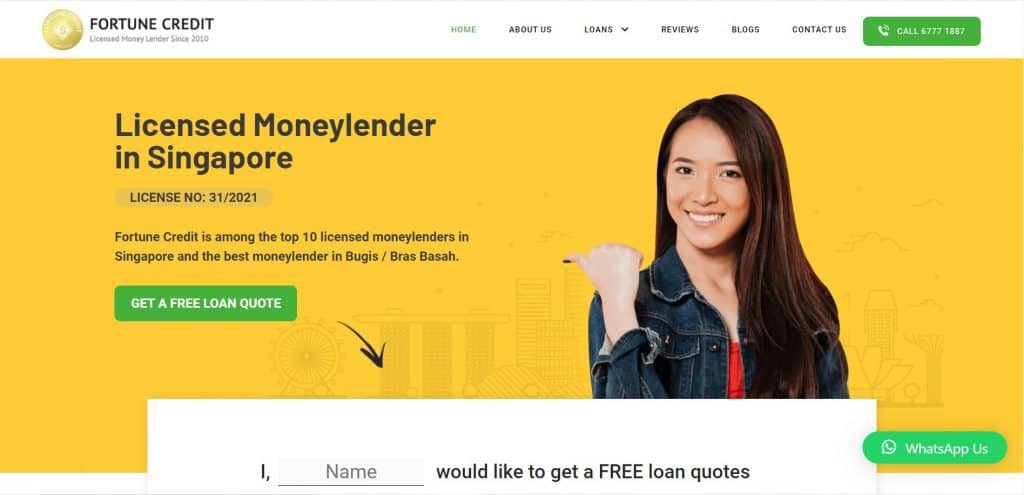 Since 2010, Fortune Credit has remained committed to delivering an excellent money borrowing experience to their customers.
The company is regarded as one of the top 10 licensed moneylenders in Singapore by Loan Advisor.
When it comes to taking up a payday loan in Singapore, banks usually reject the application due to low or bad credit history.
But they complete an evaluation of your capability to repay the loan which is based on your current financial condition.
In other words, the assessment is not based on your credit history. In general, you only need to prove that you have a reliable source of income to repay the loan.
Fortune Credit can disburse the loan amount, typically, in only an hour with an easier loan application process, at low-interest rates, and with no hidden charges.
This is in contrast to banks which require more time to disburse the loan.
6. Capital Funds Investments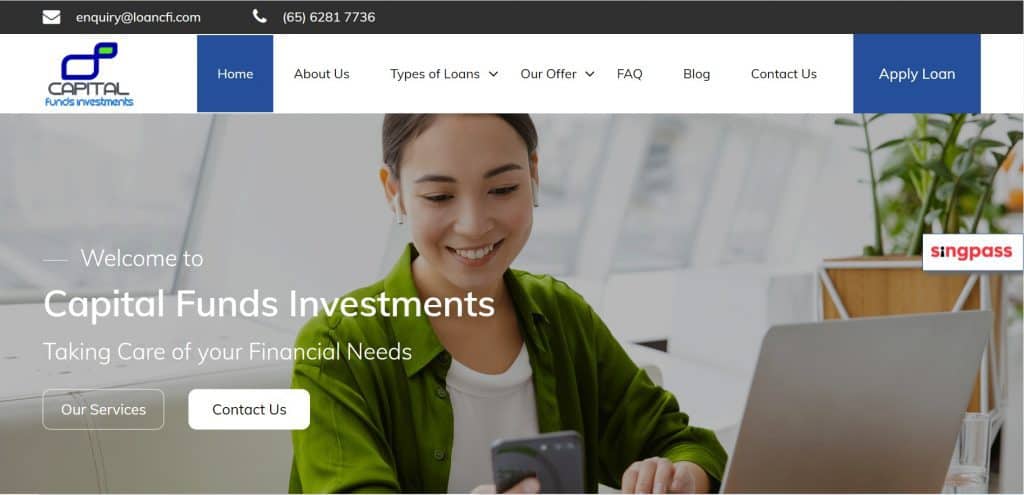 Capital Funds Investments is a licensed moneylender that gives you access to urgent cash resources needed to lighten your debt and start bettering your life.
The company has dedicated financial service experts to sit down with you to discuss your financial needs.
Their advisors will help you figure the loan amount you need before helping you to come up with a suitable timetable in which to repay the loan.
They even have a Monthly Installment Calculator on their website!
To take up their payday loan, only three documents are needed for application:
NRIC / Employment Pass
Income Tax (Notice of Assessment)
Most Recent Pay Slip
7. Raffles Credit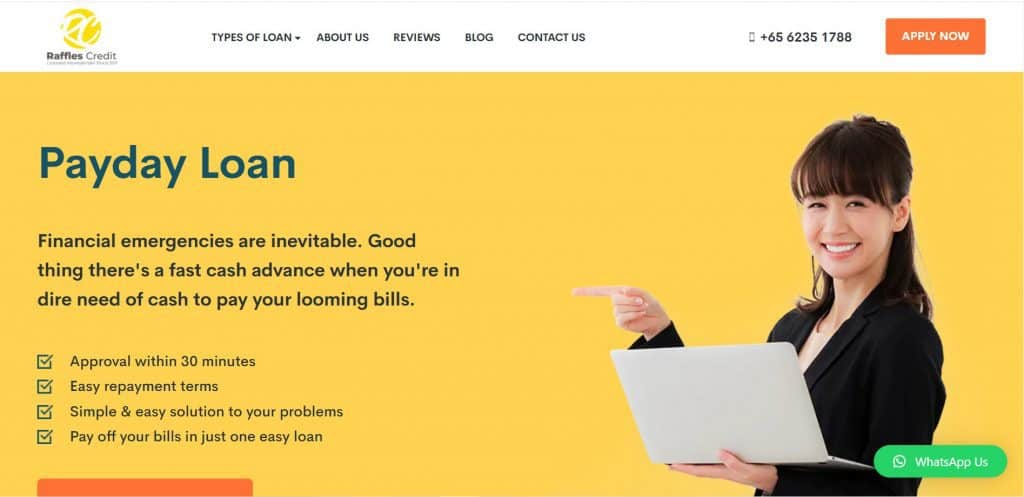 Established in 2011, Raffles Credit is one of the most prominent licensed moneylenders in Singapore with the best curation of loan packages for clients.
The application process for the payday loan is speedy and convenient.
You may expect to receive your borrowed cash within an hour, or upon the signing of the contract when you're contacted to go down for the signing of the contract.
Google reviews sing high praises of the payday loan in Singapore; they attest to the professionalism and responsiveness of their staff, and excellent customer service.
Many also claim that the transaction is hassle-free and completely transparent.
8. Credit 21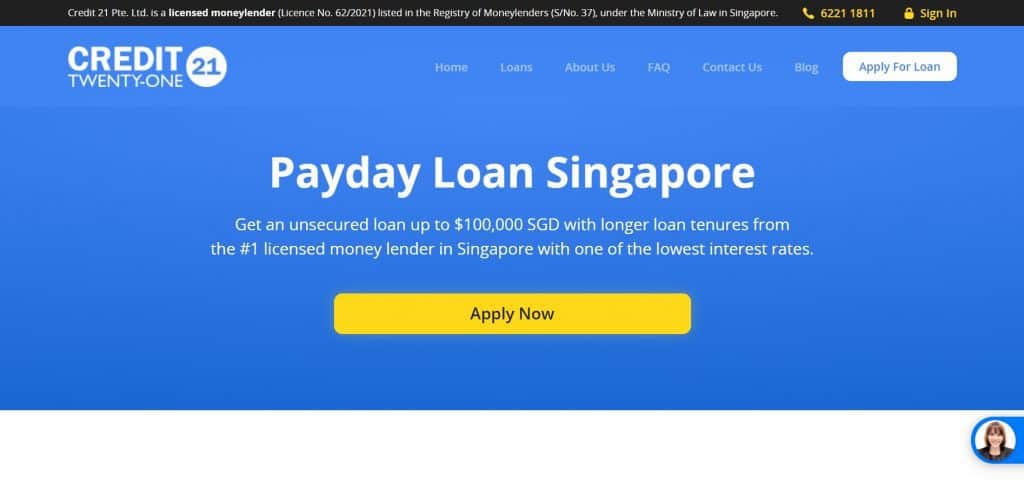 Credit 21 is a legal money lender in Singapore registered with the Ministry of Law.
In fact, they are so well-recognised in Singapore that they are one of the six new firms piloting alternative business models together with the Ministry of Law.
With more than 16 years in the industry, Credit 21 has disbursed over S$100 million in loans to satisfied customers.
Their application process takes only three minutes to complete and approved loans will be disbursed within 24 hours to clients.
Do you also know that you can apply for payday loans from the company to better your credit ratings?
Each time you apply for a payday cash advance, the credit rating authorities are informed.
Once you repay the loan, a positive feedback is sent to the authorities. This way, your credit worthiness is improved significantly.
Google reviews laud the payday loan for their friendly staff who will take the time to explain all the terms and conditions of the loan clearly.
9. Aero Credit Pte Ltd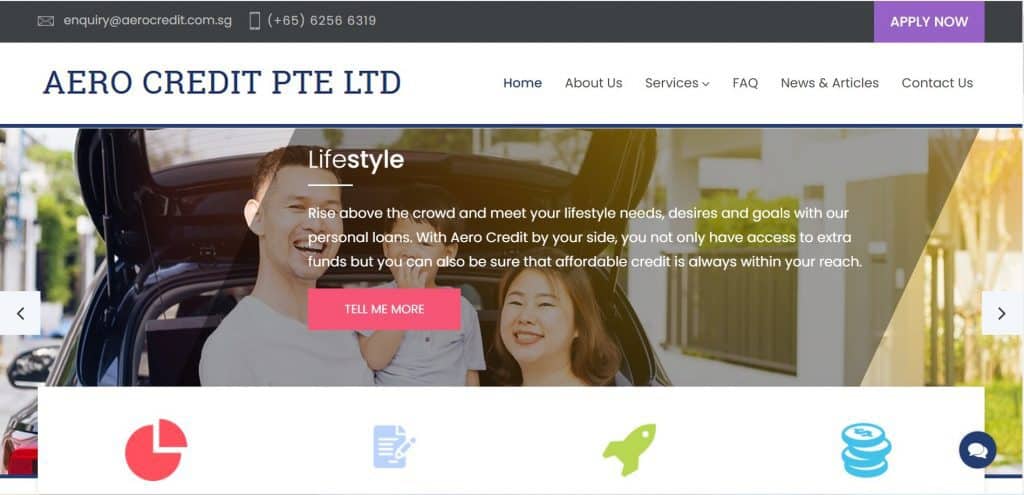 One of Singapore's most reputable moneylenders, Aero Credit is staffed and managed by trusted professionals since its establishment in 2010.
Aero Credit differentiates itself from its competitors by providing a fast credit assessment, where they will check if your employment history and credit rating enable you to be eligible to apply for their payday loan in Singapore.
When you apply for a payday loan from them, you can avoid dismal situations where you end up being rejected from banks due to poor credit score.
They also have an Online Enquiry Service for you to check if you are eligible for a loan.
10. Cash Direct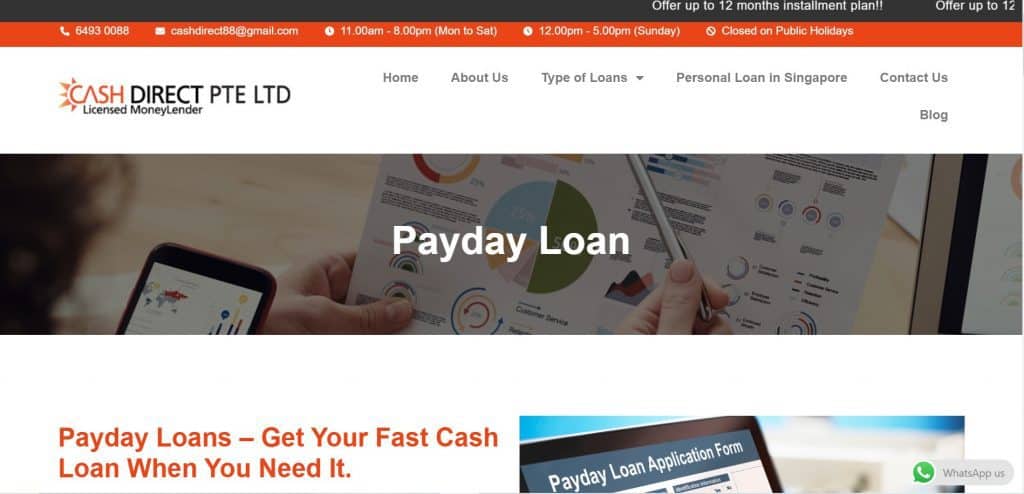 Starting out as a sole proprietor in 2006, Cash Direct was incorporated as Private Limited in 2017, and moved to Vision Exchange, Jurong East, Singapore recently.
Cash Direct offers flexible monthly repayment schemes that are as follows:
1-Month Repayment: A payday loan in Singapore is taken on 6th January, your repayment date will fall exactly one month from the date you collected your loan. Your loan should be paid back in full plus interest by 6th February.
2-Month Repayment: A payday loan in Singapore taken on the 6th of January can be split into two separate payments instead of paying the loan at once. And then, the repayment dates will fall on 6th of February and 6th of March.
3-Month Repayment: This enables you to have the flexibility of splitting the repayment into three installments in-between receiving the loan and having to repay it. As an example, just like in the above, a payday loan borrowed on the 6th of January can be divided into three separate payments to be paid once every month for 3 months. Hence, instead of you having to pay a lump sum, repayment dates will be on on 6th of February, 6th March and 6th April.
Conclusion
Do you have any reviews and comments to share regarding our choices for the best payday loans in Singapore?
While SBO is committed to supporting our local businesses, we welcome any feedback and anonymous sharing regarding your experience with the listed payday loans in Singapore.
We hope that this guide will be useful in helping you to make an informed decision when it comes to finding the best payday loans in Singapore.
Explore More Content
Are you featured in this?
Display this exclusive SBO badge proudly on your website and get more sales!