8 Best Mortgage Loan in Singapore With Differing Benefits [2023]
Looking for a mortgage loan to finance your property? Check out the 8 best mortgage loan in Singapore that can best fit your financing needs.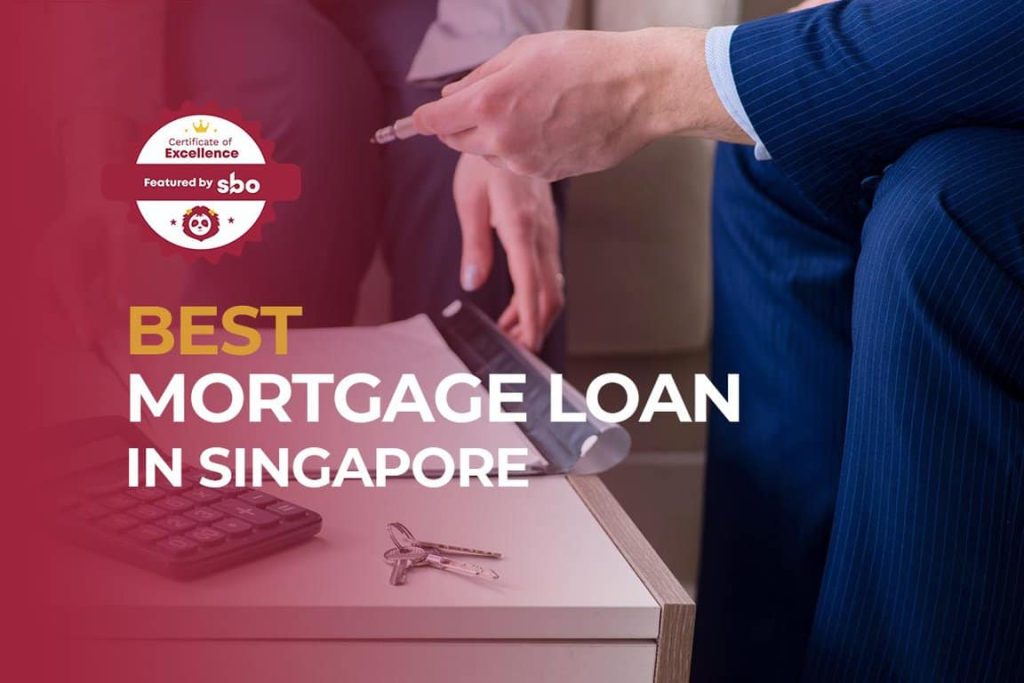 Buying a house or a property can be a huge financing commitment, especially in Singapore where properties are really expensive. If you have any problems with financing your property, getting a mortgage loan can be a great way to help you solve your financing needs.
Before getting a mortgage loans, there are a few factors you need to consider. Some of these factors include the interest rates, the flexibility of monthly repayments, the tenure of the loan etc.
To help you make better decisions, we have listed out the 8 best mortgage loan in Singapore with differing benefits so that you can get a mortgage loan that will best fit your needs.
1. HSBC SmartMortgage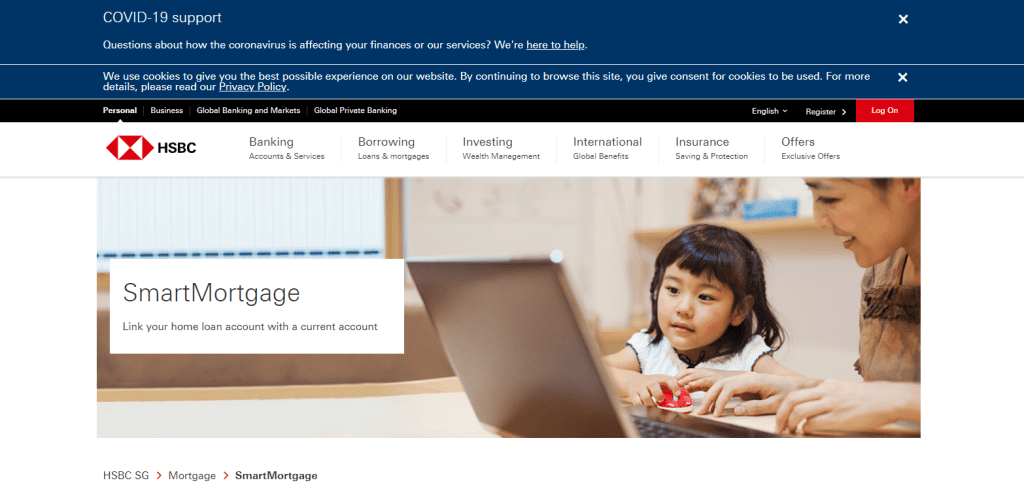 HSBC SmartMortgage loan allows you to link your current account to your loan home. This means that any interest rates you earn from your current account can be used to pay for your home loan, giving you the flexibility to maximize control in both your finances and savings.
2. Standard Chartered Mortgage Loan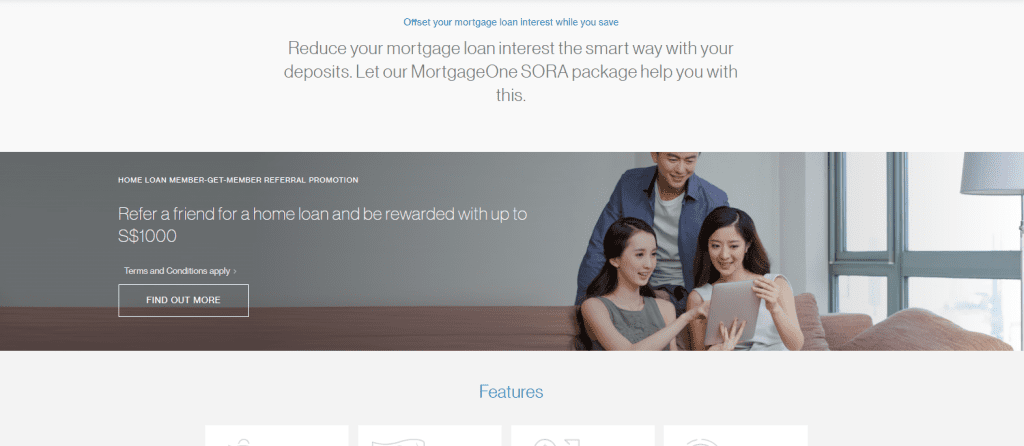 Standard Chartered Mortgage Loan offers one of the best mortgage loans in Singapore with their MortgageOne SORA package.
All interest rates earned from your saving deposits can be used to offset against your loan interest and any excess interest earned can be used to reduce your outstanding loan principal.
Their interest rates are also pegged against the Singapore Overnight Rate Average (SORA) or Fixed Deposit Rate (36M), so you can be assured that all pricings are transparent and safe.
3. DBS Home Loan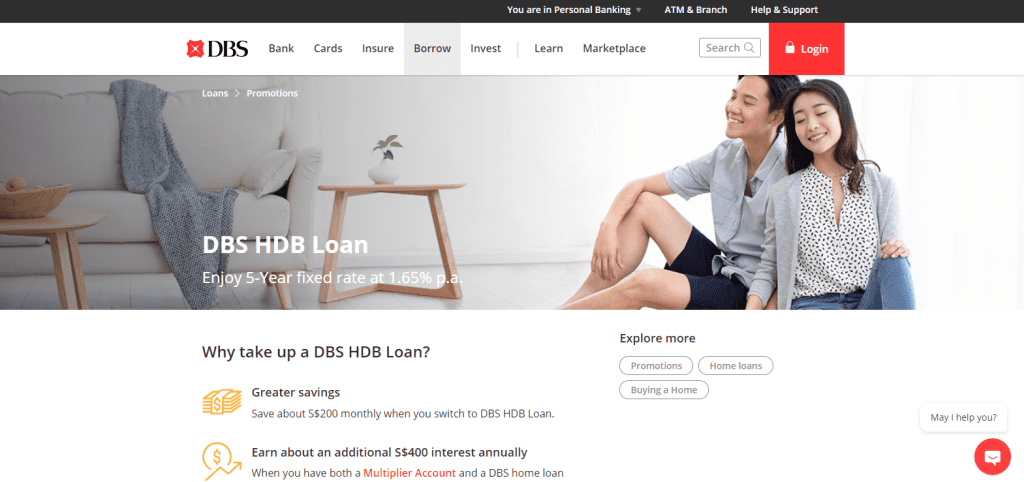 With DBS home loan, you can get to save up to $200 monthly and an additional $400 annually if you have a DBS Multiplier account when you take up a DBS Home Loan.
In addition, when you refinance your home loan to DBS with a minimum loan amount of S$250,000, you can get a $2000 cash reward.
With such attractive monetary perks, DBS home loan is one the most highly rated mortgage loan one can find in Singapore.
4. OCBC Home Loan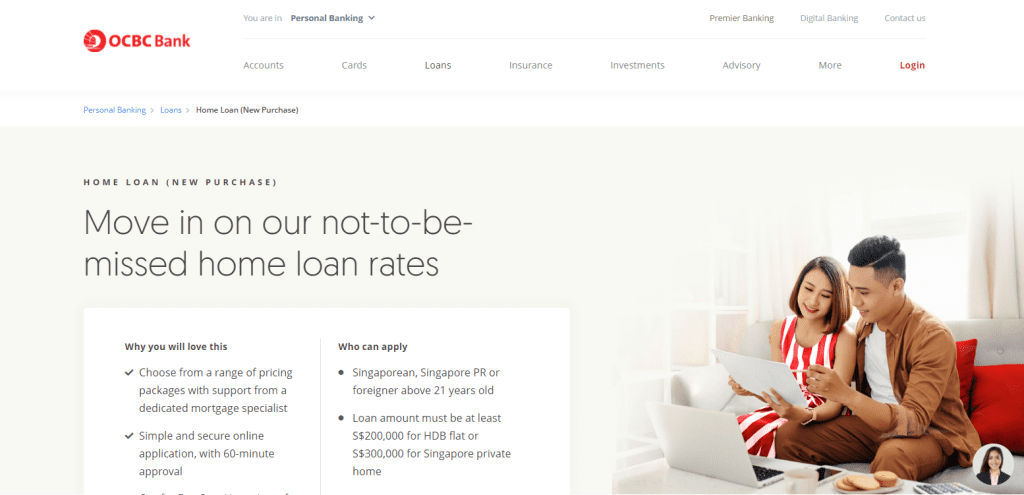 OCBC Home Loan offers a wide range of fixed and variable pricing packages that can best suit your needs. Homeowners can borrow up to 75% of property's valuation, and will be able to get their home loan approved within 60 minutes.
The application process is extremely simple and secure where you will apply online via MyInfo. You can also opt for Eco-Care Home Loan to enjoy more savings on your mortgage loan, making OCBC Home Loan one of the best home loan in Singapore.
5. Maybank Home Loan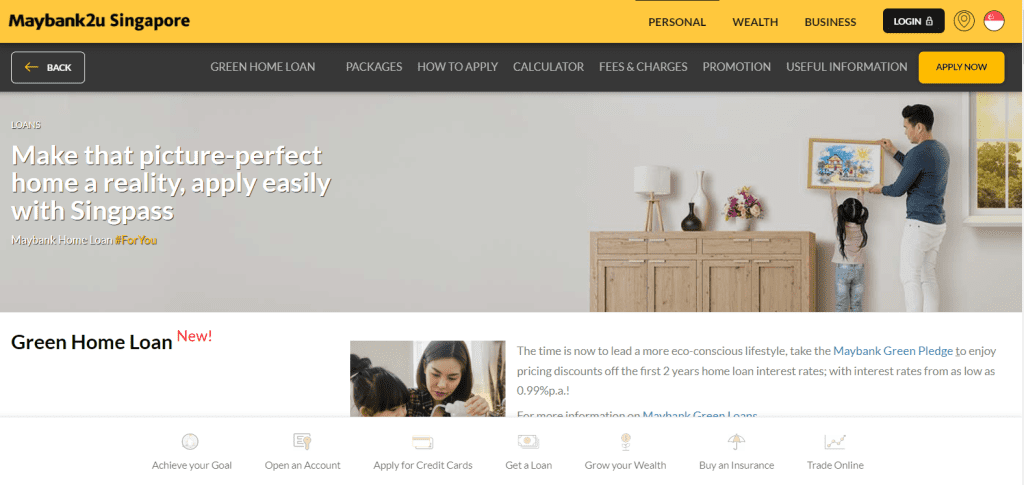 In a bid towards sustainability and a more eco-conscious lifestyle, Maybank offers green home loans where you can enjoy great pricing discounts off the first 2 years home loan interest rates; with interest rates from as low as 0.99%p.a.. Also you can receive up to S$2,000 in cash and S$300 in shopping vouchers when you successfully refinance your existing home loan to Maybank
All applications for the Maybank property loan can be done online, anytime, in the comforts of your own home and have your personal data auto-filled with ease using Singpass, making the process simple and convenient. You can receive up to S$300 voucher when you refinance your existing property loan to Maybank upon successful application.
6. UOB Private Home Loan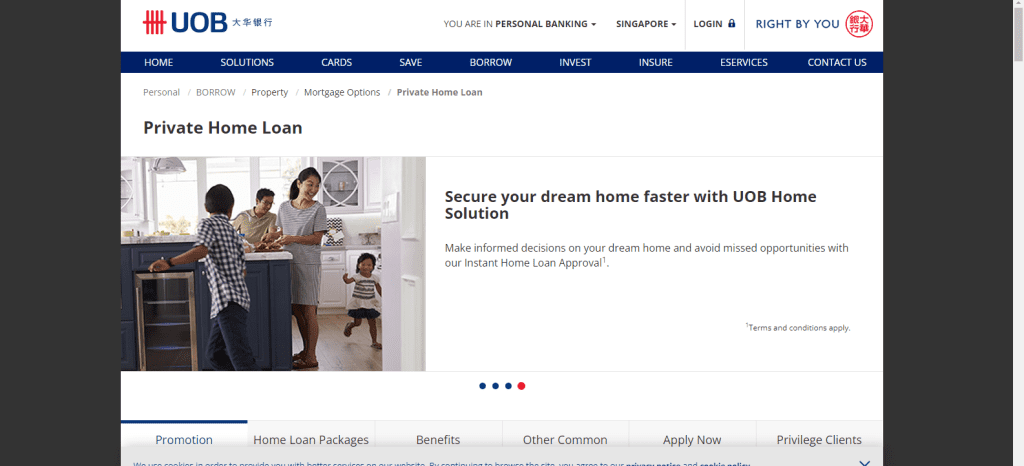 At UOB, you can choose from a range of competitive pricing packages with support from their dedicated mortgage bankers.
You can receive up to S$3,400 worth of cash and gifts, inclusive of S$2,200 in cash for refinancing, which will be available exclusively when you apply online.
There are multiple flexible options you can choose from to pay down your loan partially or customize your loan to ensure you get the most out of it.
7. SBI Home Loan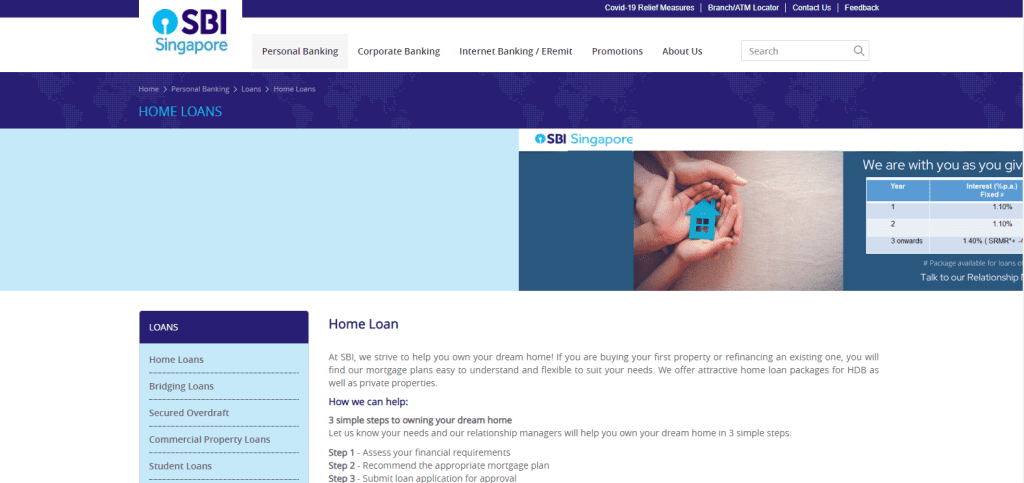 At SBI, SBI Home Loan aims to help all homeowners own their dream home. Whether it is your first property or you are refinancing an existing one, you can be assured that all their mortgage plans are easy to understand and flexible to suit your needs.
They offer a wide range of home loan packages that are catered for your financing needs for HDB as well as private properties.
8. Citibank Mortgage Loan

Citibank offers a wide variety of mortgage loans such as low-down-payment mortgages and jumbo mortgages. They are extremely flexible, with a loan tenure of either 10, 15, 20 or 30 years. Home owners can enjoy fixed interest rates for 5, 7 or 10 years, that may be renewed after 6 months.
However, you will need to request help from a loan officer to complete an online mortgage application. If you would like to have a customized mortgage, it will only be available at a physical branch.
Conclusion
Do you have any reviews and comments to share regarding our choices for the best mortgage loan in Singapore?
While SBO is committed to supporting our local businesses, we welcome any feedback and anonymous sharing regarding your experience with the listed mortgage loan in Singapore.
We hope that this guide will be useful in helping you to make an informed decision when it comes to finding the best mortgage loan in Singapore.
Explore More Content