10 Best VPN in Singapore for Greater Privacy [2021]
Find the best VPN in Singapore to surf the web with greater privacy.
IT & Cybersecurity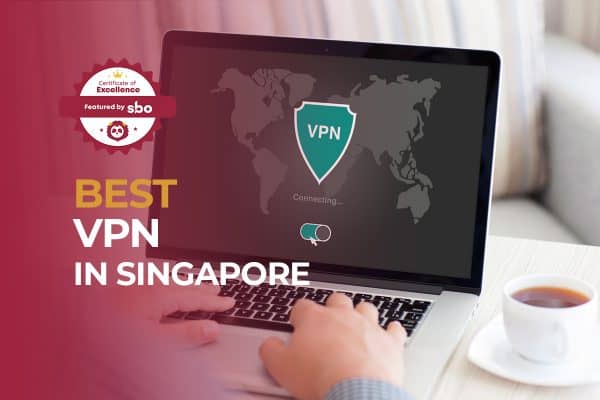 Our team at SBO.sg is committed to being a one-stop avenue to connect local businesses and consumers. We hope that our research efforts can help you save time and money by finding you the best deals without having to search around the vast world-wide-web.
Ever wished to surf the web in complete privacy, free from the prying eyes of your Internet service provider or the local authorities?
This is where a Virtual Privacy Network (VPN) in Singapore comes in. A VPN in Singapore masks your local Internet Protocol (IP) address from anyone who is trying to monitor your connection to the web, cloaking you in privacy.
Factors to Consider When Choosing a VPN
Some factors you may have in mind when picking a VPN in Singapore are:
1. Security
There's no point choosing a VPN that is lacking in security if its very purpose is to secure your Internet connection from prying eyes. The most reliably encrypted VPNs can thwart the efforts of hackers who wish to break into your network.
2. Speed
Speed is a major factor to consider if you're looking to use your VPN to stream non-laggy YouTube videos or to download massive files onto your computer.
3. Accessibility
If you're a frequent traveler, you would probably want to access the Web regardless of where you are. Find out how many countries your VPN server is based in.
Hold On… Is a VPN Illegal in Singapore?
There are no laws in Singapore restricting you from using a VPN. However, using a VPN in Singapore is illegal if you are using it to access sites that are deemed to be unlawful by the government, such as pirated content, which falls under the Copyright Act.
In this post, we've gathered all the necessary details to compile a list of the 10 best VPN in Singapore for heightened privacy in the online world.
1. NordVPN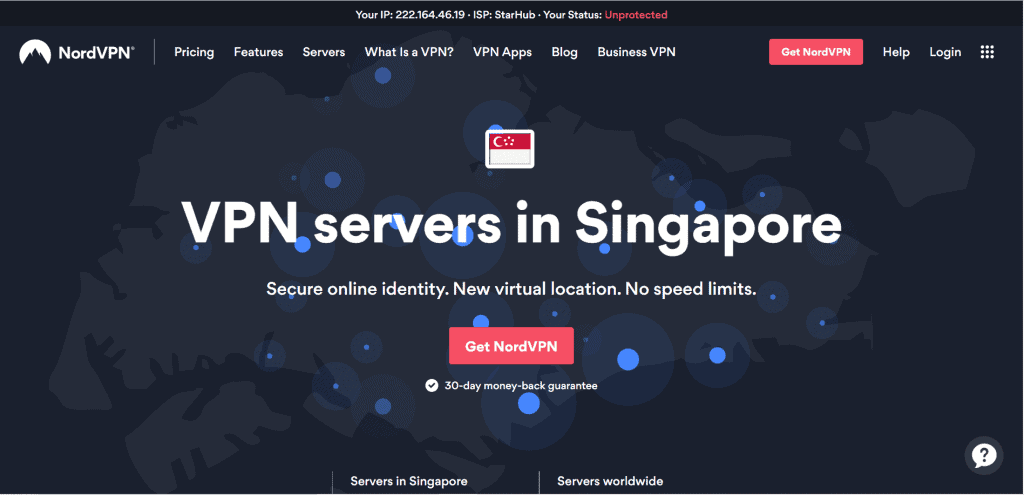 With hundreds of secure servers, sharing your sensitive files couldn't be safer. NordVPN hides your IP address from your ISP and protects your data with the AES 256-bit technology – the world's most advanced encryption method.
When it comes to peer-to-peer sharing, you also need speed. They have hundreds of secure specialized P2P servers around the world for the fastest experience.
NordVPN also offers unlimited bandwidth, six simultaneous connections and 24/7 customer support. Plus, they do not log any of your data.
Their standard VPN package, which comes with a 30 day money-back 100% guarantee, costs USD$3.71/month over a horizon of 2 years.
2. Surfshark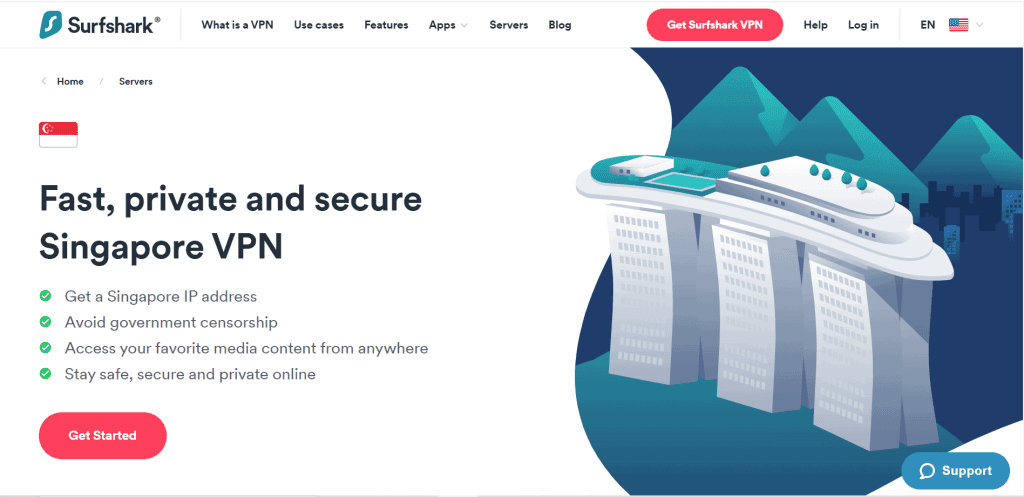 Surfshark, which has over 3200 servers worldwide, has a strict no-logs policy. Your browsing activity is completely private every time you surf with a VPN, which helps you take back control of your data online.
Their standard plan begins at SGD$3.31/month over a period of 24 months. To give you a greater peace of mind, Surfshark also offers a money-back 30 day guarantee.
3. ExpressVPN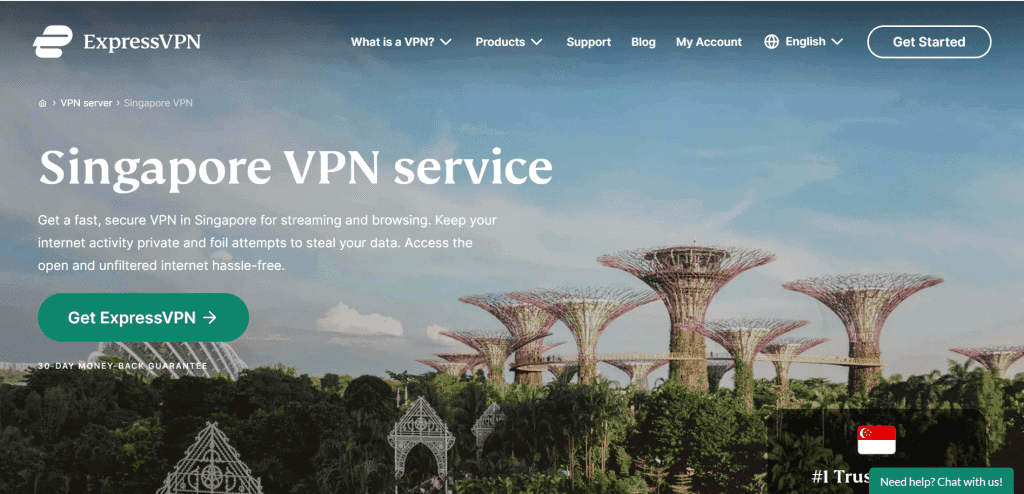 ExpressVPN users in Singapore can connect to 160 server locations in 94 countries and counting to mask their IP address. ExpressVPN does not keep activity logs or connection logs, and their TrustedServer technology ensures their servers never store personal information.
A single ExpressVPN subscription includes software solutions for every device in your home, including gaming consoles like PlayStation and Xbox and smart TV systems like Apple TV and Amazon Fire TV Stick.
ExpressVPN's high-speed network works like a charm with services such as Netflix, Amazon Prime Video, and more. With ExpressVPN, you can watch securely without bandwidth caps, throttling, or data limits.
Their standard plan, which comes with a 30 day money-back guarantee, costs USD$8.32/month over a period of 12 months. All plans include all ExpressVPN apps, 24/7 customer support, and high-speed unlimited bandwidth.
4. CyberGhost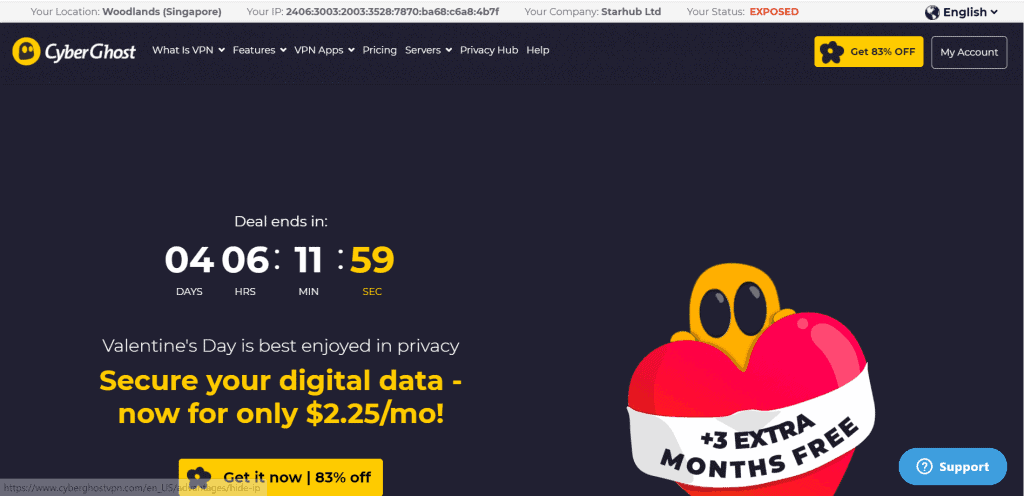 Here at CyberGhost VPN, they always strive to offer our community of over 30 million users friendly apps, safe VPN connections, and reliable service. They have over 6900 servers, 7 simultaneous connections, and dedicated streaming servers.
Transparency is in CyberGhost's nature as a VPN in Singapore. And back in 2011, they took it a step further. That's when they reached a milestone: being the first company in the VPN industry ever to publish a Transparency Report.
Since then, they have made a tradition out of publishing our Transparency Reports. That's why in 2018 they began including more details in our reports, such as key statistics about our infrastructure.
Their standard plan, which comes with a 45-day money-back guarantee and strictly follows a no-log policy, costs USD$2.25/month over 3 years.
5. IPVanish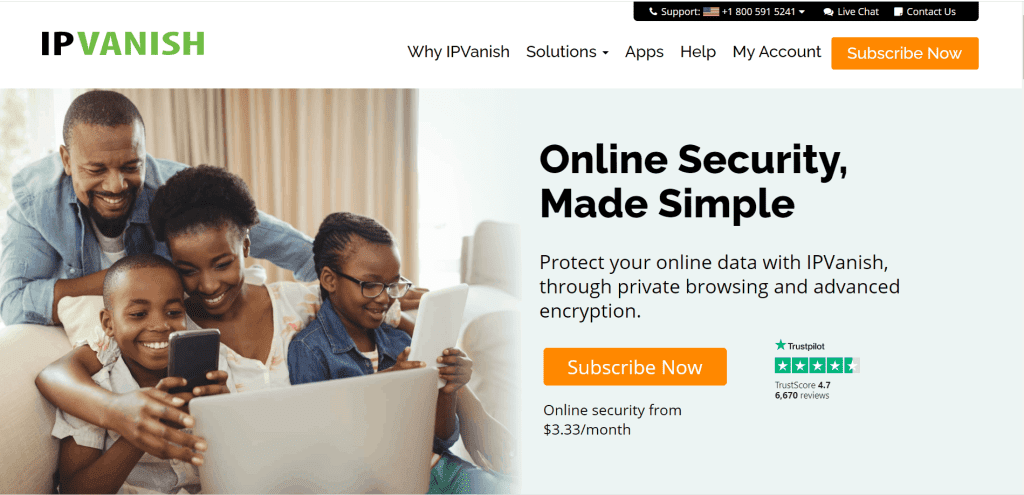 Providing reliable VPN service for more than eight years, IPVanish is committed to giving subscribers the quality care they deserve. With 24/7 customer support through phone, email, and live chat, a team member is always available to answer questions or lend a helping hand.
IPVanish spans 40,000+ IPs on 1,600+ VPN servers in 75+ locations, giving anyone the power to browse the internet anonymously and access a secure network, no matter where they are located.
Their standard plan, which comes with a 30-day money-back guarantee, is priced at USD$3.33 per month for the first year.
6. SaferVPN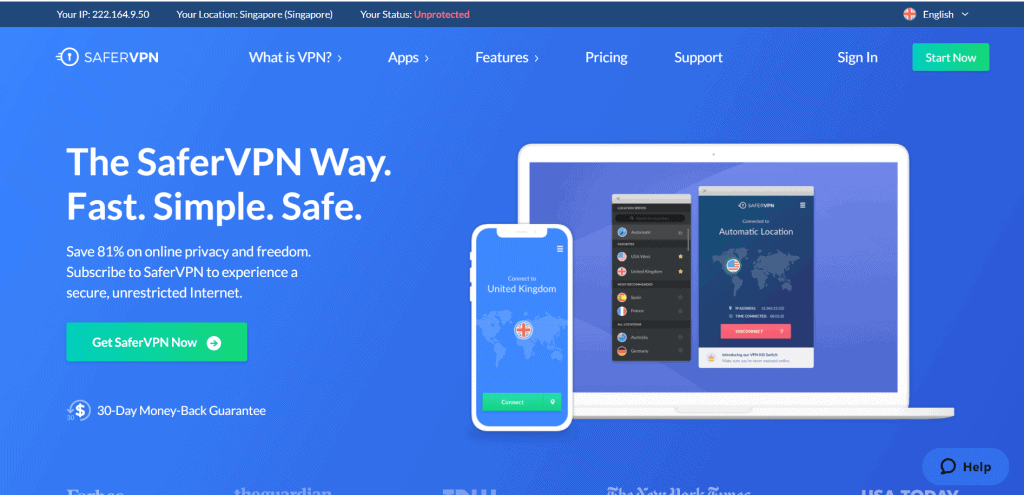 SaferVPN has over 1300 high speed servers in more than 50 worldwide locations. They manage their global server network 100% in-house to provide you with the fastest and most stable connection possible.
With SaferVPN's Advanced Encryption Standard 256-bit protection, Automatic Wi-Fi Security, and proactive VPN Kill Switch, you can be sure that your data always passes through a secure and private channel.
Have any questions or concerns? Their friendly customer support staff is here for you 24/7. Contact them anytime, via live chat or email.
Their standard plan, which comes with a 30-day money-back guarantee, is priced at $2.50/month over three years. You can also get single-click and seamless apps for all your devices, including a free unlimited Chrome Extension.
7. TorGuard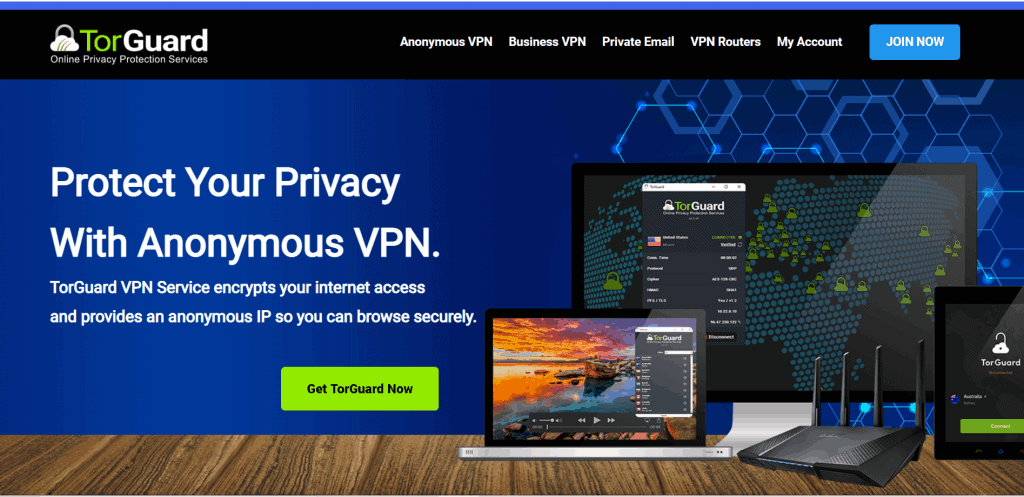 TorGuard offers a massive network of 3000+ global VPN servers in over 50+ countries. They allow you to get unlimited bandwidth and zero throttling from anywhere in the world.
TorGuard's software is pre-configured to protect your data with 256-bit AES encryption, DNS/IPV6/WebRTC leak blocking, kill switch, and more.
TorGuard allows you to bypass even the strictest of VPN blockades with invisible SSL Stealth VPN access. TorGuard has the most advanced encryption and protocols in the world. They use AES-256 encryption with SHA-512–alongside unique uncrackable protocols like Stunnel, OpenVPN, SSTP and SSH tunnels.
TorGuard's anonymous VPN begins from USD$9.99 monthly and from USD$59.99 annually. If they don't exceed your expectations, you'll also get a 100% refund within 7 days, no questions asked.
8. Norton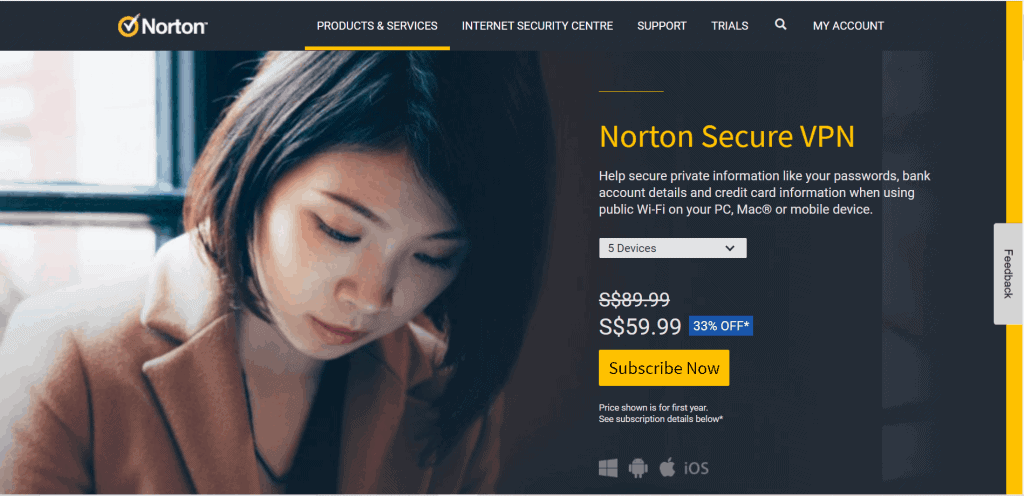 Norton is one of the most comprehensive VPN in Singapore. As you bank, shop, and browse online, Norton 360 Deluxe helps protect not only your internet connection with a Secure VPN but also helps protect your personal devices against malware, viruses, ransomware and other online threats.
Norton's bank-grade Wi-Fi security encryption means you can use your Mac, PC or mobile device for secure browsing, even on public Wi-Fi hotspots or unsecured networks.
Their Norton 360 Deluxe plan costs S$59.99 for five devices for the first year. They provide a 60 day money-back guarantee as part of your annual subscription.
9. FastestVPN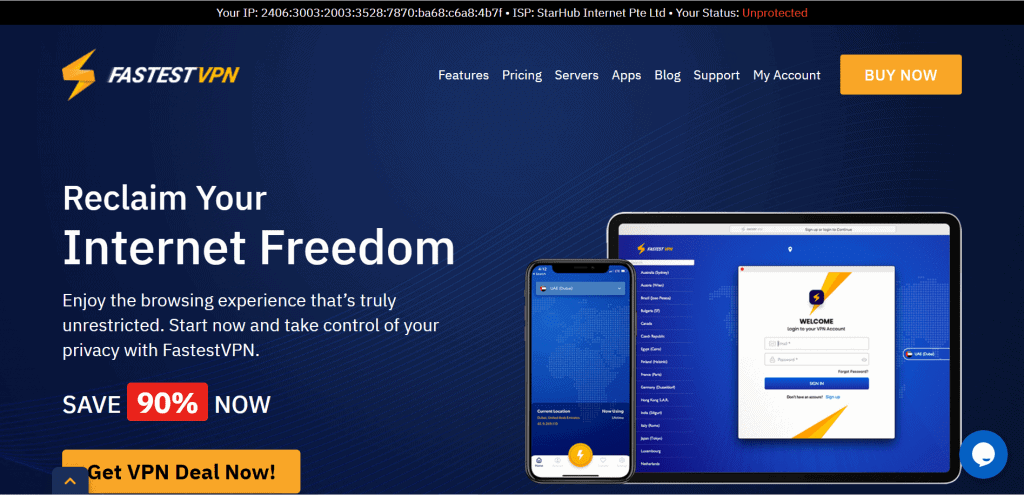 FastestVPN's connectivity features ensure a smooth and easy-to-use experience. For instance, FastestVPN is compatible with over 20 devices such as Xbox, Roku, PS4, Kodi, Linux and more. You can connect up to 10 devices and use them simultaneously with a single FastestVPN subscription.
Concerned about DNS leaks, which send your internet requests outside the VPN tunnel, exposing your IP address? Fret not, as FastestVPN ensures high security with its built-in DNS leak protection.
You can also look forward to getting digital freedom, privacy and security with FastestVPN's high-end encryption technology. For example, FastestVPN protects your data with military-grade 256-Bit AES encryption which is trusted by security professionals worldwide.
FastestVPN's plan is priced at one of the lowest rates in the market: at USD$0.66 per month over 5 years. It also comes with a 15-day money-back guarantee.
10. ProtonVPN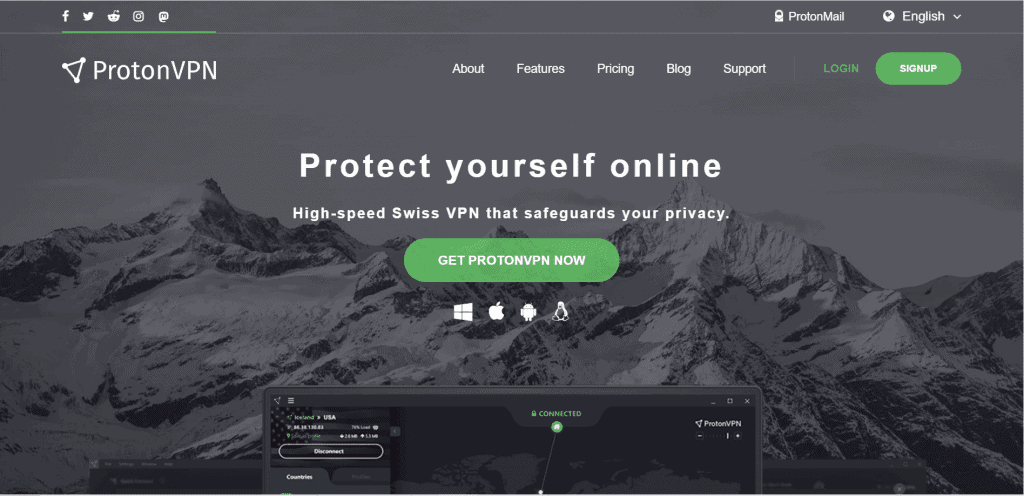 ProtonVPN uses only the strongest encryption to protect your Internet connection. All your network traffic is encrypted with AES-256, key exchange is done with 4096-bit RSA, and HMAC with SHA384 is used for message authentication.
ProtonVPN's Secure Core architecture also gives their secure VPN service the unique ability to defend against network-based attacks. Secure core servers are located in hardened data centers in Switzerland, Iceland, and Sweden, protected by strong privacy laws, and operated on their own dedicated networks.
They use only VPN protocols which are known to be secure – IKEv2/IPSec and OpenVPN. ProtonVPN does not have any servers that support PPTP and L2TP/IPSec, even though they are less costly to operate. By using ProtonVPN, you can be confident that your VPN tunnel is protected by the most reliable protocol.
They even have a free plan comprising 1 VPN connection, servers in three countries, and with no-logs or ads. You can upgrade the plan for more features at a fee.
Conclusion
Do you have any reviews and comments to share regarding our choices for the best VPN in Singapore?
While SBO is committed to supporting our local businesses, we welcome any feedback and anonymous sharing regarding your experience with the listed VPN in Singapore.
We hope that this guide will be useful in helping you to make an informed decision when it comes to finding the best VPN in Singapore.
>