10 Best Audiologist in Singapore to Have a Better Hearing [2021]
Find the best audiologist in Singapore to have a better hearing
Health & Wellness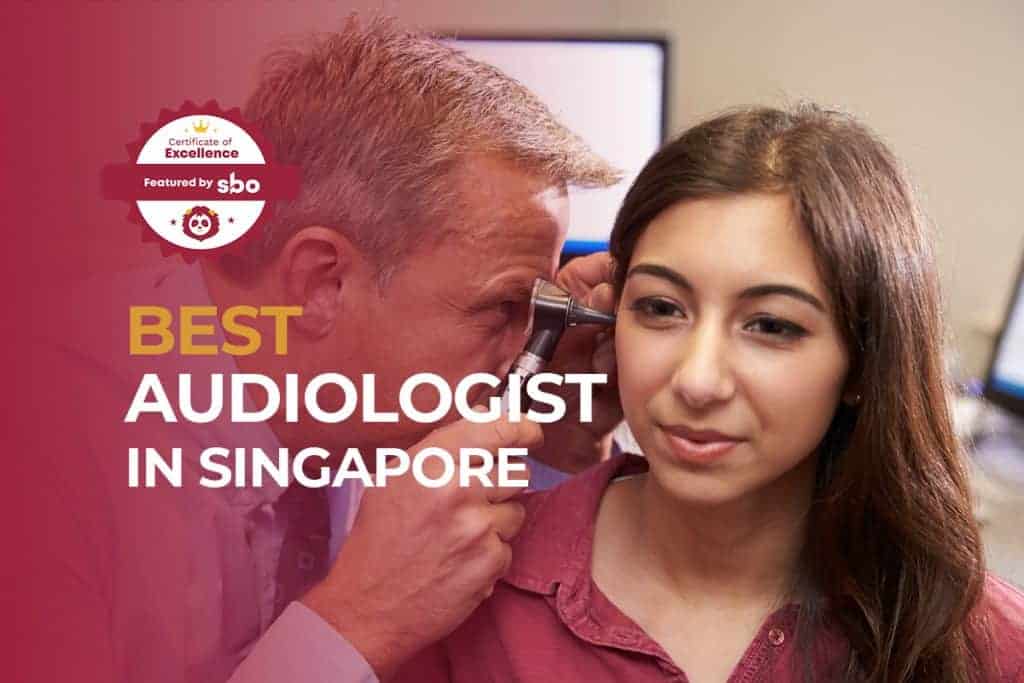 Our team at SBO.sg is committed to being a one-stop avenue to connect local businesses and consumers. We hope that our research efforts can help you save time and money by finding you the best deals without having to search around the vast world-wide-web.
Are you having trouble hearing even from a short distance? Has your hearing condition come to a point of disruption for daily routine? If so, this calls for a visit to the best audiologist in Singapore.
With treatment from the best audiologist in Singapore, you can be assured that you are one step closer to having a better hearing and returning back to your daily routine.
In this post, we've gathered all the necessary details including unravelling reviews and testimonials to derive a list of the 10 best audiologist in Singapore to have a better hearing.
1. The Hearing Solution Group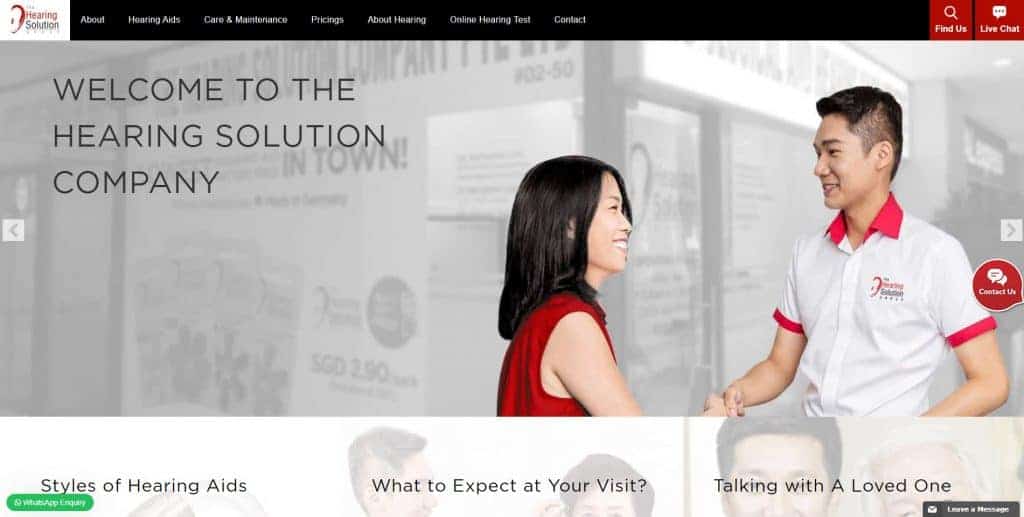 The Hearing Solution Group comprises of a team of experienced audiologists and hearing care consultants who dedicate themselves to providing all their patients with the best long-term hearing and communication solutions.
They offer hearing aids from the well-known brands namely Starkey, Siemens, Signia and BHM which are suited to any individual's hearing requirements, user preferences and budgets.
The Hearing Solution Group believes that the key to a long-lasting hearing aid is proper care and maintenance. Batteries and accessories for cleaning and drying are available for hearing aid users.
What's more, hearing aid users can approach The Hearing Solution Group for repairs. They offer repairs for hearing aids of various brands such as Phonak and Starkey.
A free hearing test is available either online or at one of their hearing centres if you want to know the state of your hearing.
2. LynneLim Ear Nose Throat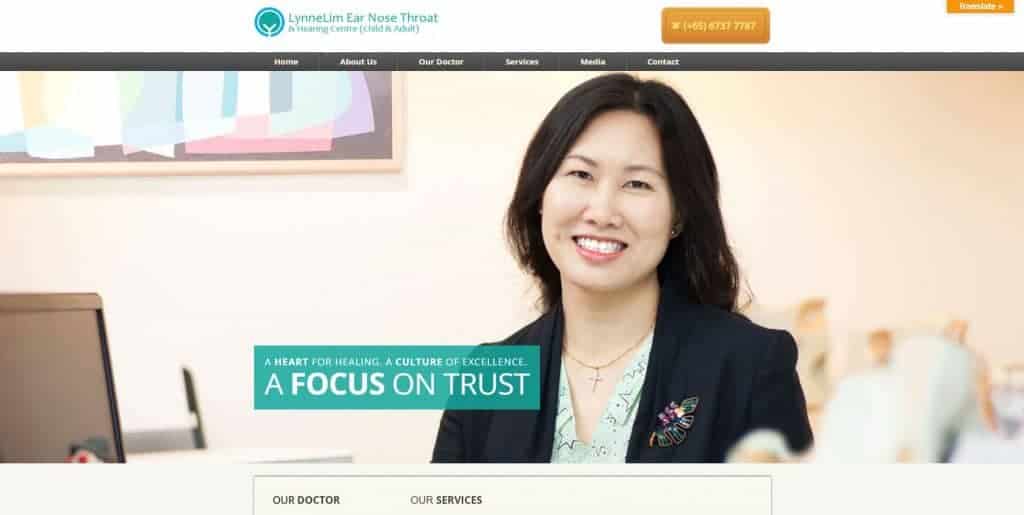 Led by an experienced ENT specialist in Singapore Dr Lynne Lim, her ENT and Hearing Centre provides comprehensive treatment for various conditions that includes your hearing issues.
Ms Nadiah Khalil, their centre's experienced audiologist attends to all your hearing issues. She specialises in audiological diagnostic testing, vestibular testing and Auditory Processing Disorder (APD) assessments.
The centre offers treatment for various ear conditions such as hearing loss, tinnitus, ear canal infection and otitis media.
They also provide services that help to manage your hearing disorder. This include cochlear and middle ear implants. Hearing aids from well-known brands like Resound and Phonak are available based on your hearing needs.
3. hearLIFE Hearing Care Centre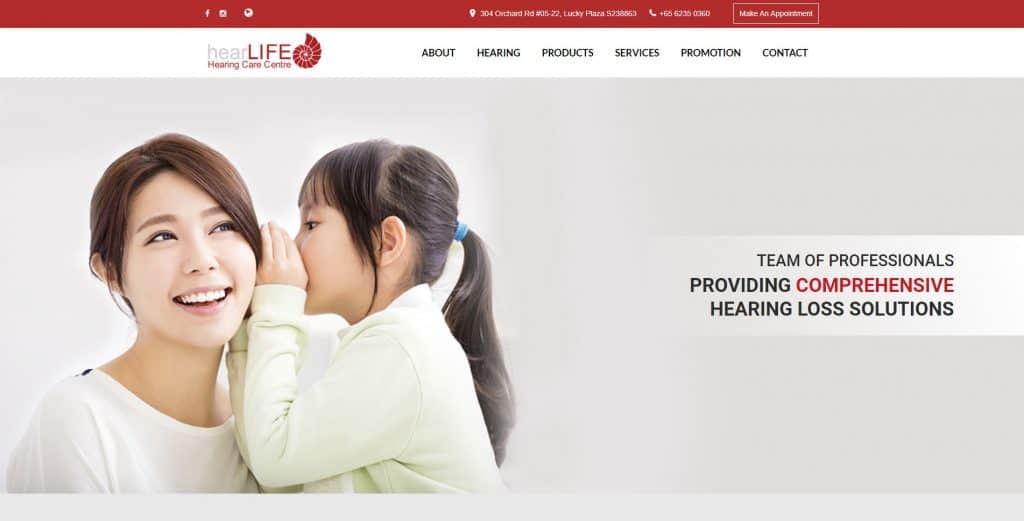 hearLife Hearing Care Centre is an established hearing aid and implant provider in Singapore. Rest assure that your hearing needs are well-taken care of by their experienced audiologists and hearing care specialists.
They provide various hearing services that ranges from audiology assessments, paediatric assessments for children, tinnitus management, auditory verbal therapy to industrial screening services.
All treatments are carried out with the latest diagnosis equipment from the renowned Grason-Stadler (GSI), a world leader in audiology assessment instrumentation. They also have one of the largest soundproof rooms in Singapore to give you the most accurate diagnosis.
hearLife offer various products that will help to manage and even improve your hearing condition such as hearing aids from leading brands and hearing implants. Accessories such as batteries, customised earbuds and protective gear are available to meet your aftercare needs.
4. Digisound Hearing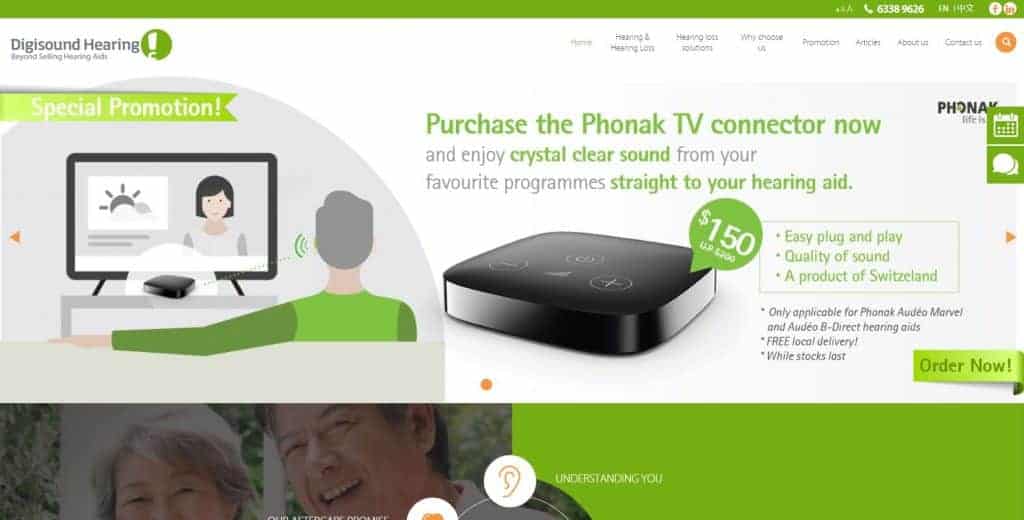 With over 10 years of experience in hearing health, Digisound Hearing remain steadfast in providing outstanding professional audiological services and hearing care to their patients.
They provide personalised consultations that allows their audiological professionals to meet the different needs of every patient.
You can also take a free hearing test online or at one of their hearing centres if you are concerned about having hearing problems.
Hearing aids from the leading brands, Phonak and Unitron are available with various styles that will suit you best and improve your quality of life.
Because they are concerned about your well-being, Digisound provide aftercare services ranging from follow up appointments, six monthly check-ups, reassessments to service appointments.
5. Faith Hearing Specialists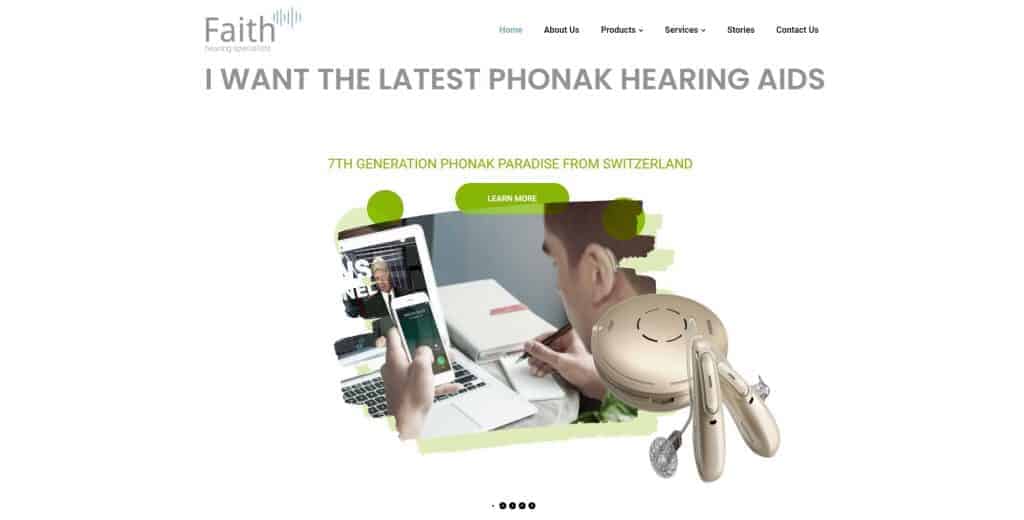 Headed by an experienced audiologist in Singapore Dr Charmaine Teo, Faith Hearing Specialists commit itself to providing effective hearing solutions to hearing loss and tinnitus individuals with the best medical expertise and hearing aid technology.
Faith Hearing Specialists provide various hearing services for children, adults and industrial workers such as hearing aids services, cochlear implant services as well as tinnitus and hyperacusis management services.
Phonak and Resound hearing aids of different styles and colours are available. Accessories such as customised ear plugs and batteries are available as well for an enhanced hearing experience.
6. Listening Lab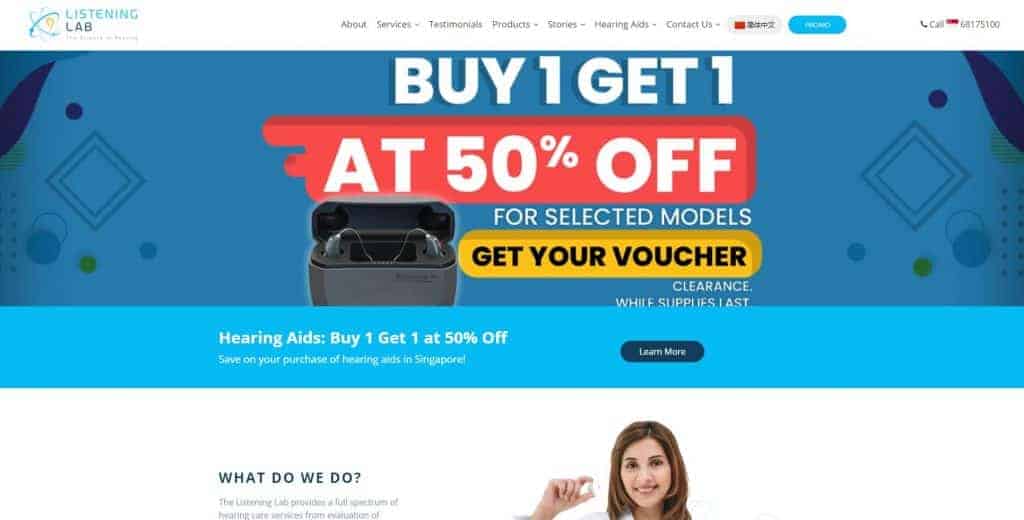 Founded by a group of experienced audiologist in Singapore, the Listening Lab provides a variety of comprehensive hearing services to all their patients of personal and corporate settings.
There are a range of services from hearing aid fittings, tinnitus relief, hearing aid maintenance and cleaning to a lifetime aftercare program. Whichever type of service that you engage with the Listening Lab, you can be assured that your hearing need is well taken care of.
Various types of hearing aids from the leading brands Signia, Phonak and Resound helps you to manage your hearing condition and go on with your daily life.
7. The Hearing Specialist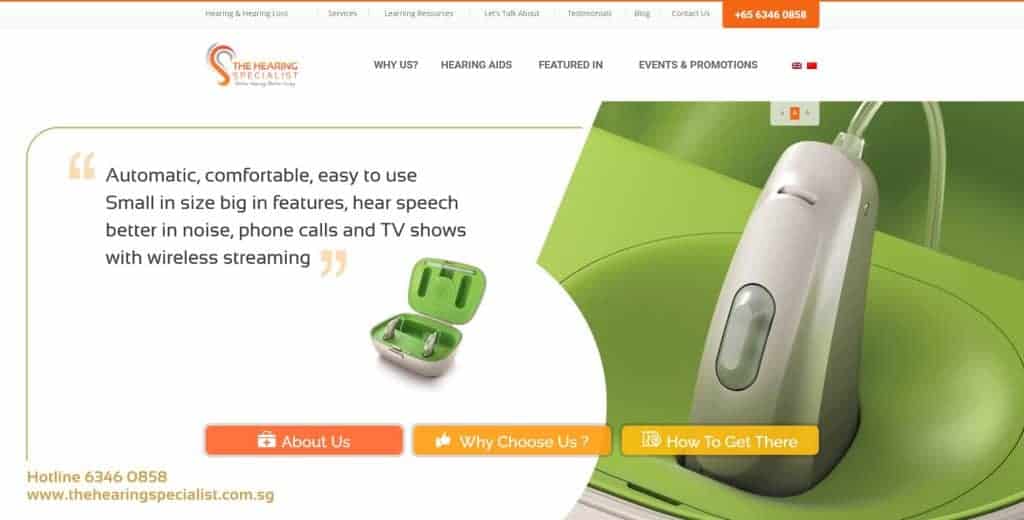 Founded in 2010 by a team of qualified audiologist in Singapore, The Hearing Specialist is a one-stop audiological centre that dedicates itself to providing the best hearing solution to their patients so that they can have a better lifestyle.
They provide various types of hearing services from diagnostic hearing assessment, hearing aid evaluation and fitting to tinnitus counselling and management.
If you find yourself unable to travel due to unforeseen circumstances, their house call services allow you to get the same quality treatment from wherever you are.
The Hearing Specialist offers technological savvy hearing aids to meet hearing needs of their patients in this digital age. Some of these interesting features include precise fine-tuning and programming, wireless technology, powerful noise reduction, programs for various listening situations, automatic focus and sounds amplification as well as sound/music therapy for tinnitus.
8. Clariti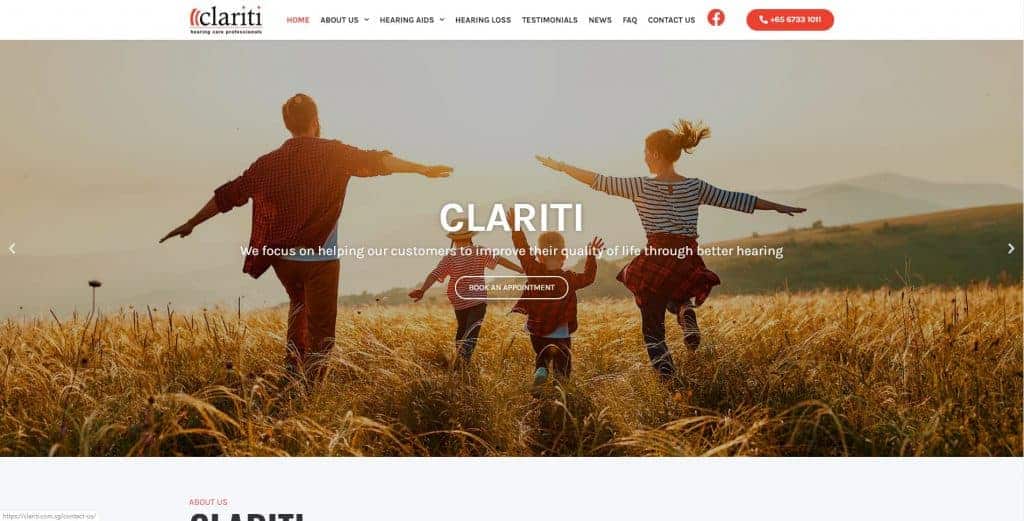 Being a member of the Hearing Professionals Association in Singapore, Clariti provide quality hearing services to their patients so that they can have a better quality of life.
To do this, Clariti only offer hearing aids of premium quality from the well-known brands Phonak, Signia and Resound. These hearing aids are equipped with the latest technology that can handle background noises and dynamic listening environment.
Their focus on providing quality service has helped them won the hearts of their customers and earned them numerous awards such as the ASME Entrepreneur of the Year Award, Phonak Highest Customer Satisfaction Award and the Siemens Quality Assurance Award.
9. Amazing Hearing Centre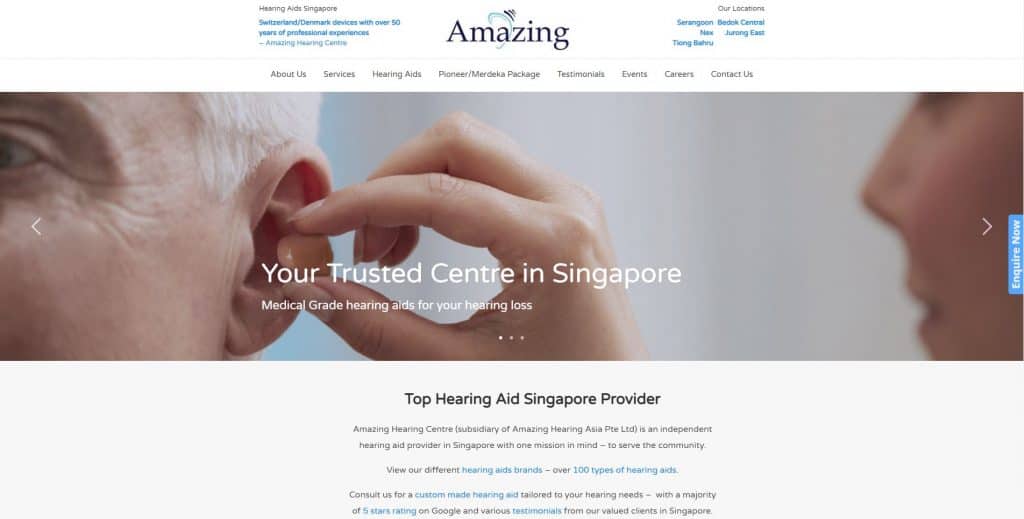 A subsidiary of Amazing Hearing Asia Pte Ltd, Amazing Hearing Centre is an independent hearing aids provider in Singapore that aims to help people with hearing difficulties to have a better quality of life with the use of customised hearing aids that are tailored to their patient's hearing conditions.
Believing in giving their patients the best, Amazing Hearing Centre provide various hearing services such as a free hearing test, a free check up for all hearing aids, cochlear implant procedure as well as home/hospital visit (Each visit charged at S$300).
They offer various types of hearing aids from Resound and Sonic which are designed to meet different cosmetic preferences and address different levels of hearing loss.
Here's a good news for those holding Pioneer Generation and Merdeka Generation Cards: You are entitled to a 20% off to all HSA-approved premium hearing aids. This package include a manufacturer warranty up to 4 years and yearly hearing tests.
10. Pwee Hearing Centre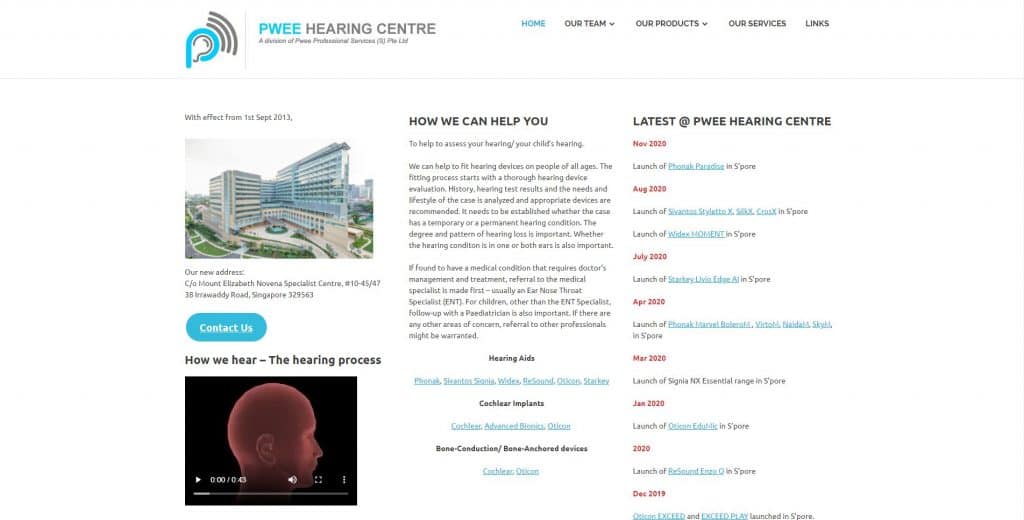 Headed by Consultant Audiologist in Singapore Dr Pearl Pwee Swee Lin, Pwee Hearing Centre provide various forms of hearing services that helps to meet your hearing needs.
These services range from ear and hearing tests, device recommendation/programming, device troubleshooting, spare parts and repairs to guidance sessions.
They offer hearing aids from the leading brands including Widex, Starkey and Oticon. Bone conduction and cochlear implants are also available for those who are looking for a more sophisticated hearing solution.
Conclusion
Do you have any reviews and comments to share regarding our choices for the best audiologist in Singapore?
While SBO is committed to supporting our local businesses, we welcome any feedback and anonymous sharing regarding your experience with the listed audiologist in Singapore.
We hope that this guide will be useful in helping you to make an informed decision when it comes to finding the best audiologist in Singapore.