10 Best Recruitment Agency in Singapore to Find a Job [2023]
Find the best recruitment agency in Singapore to find a job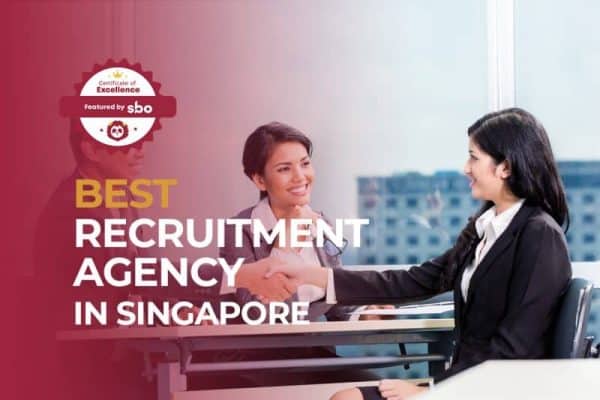 It is hard to find a job during such a volatile period like this. Perhaps you can make your job search easier by looking for the best recruitment agency in Singapore.
The best recruitment agency in Singapore has the necessary expertise in the relevant industries to help you find a suitable job position.
In this post, we've gathered all the necessary details including unravelling reviews and testimonials to derive a list of the 10 best recruitment agency in Singapore to find a job.
1. Randstad Singapore Recruitment Agency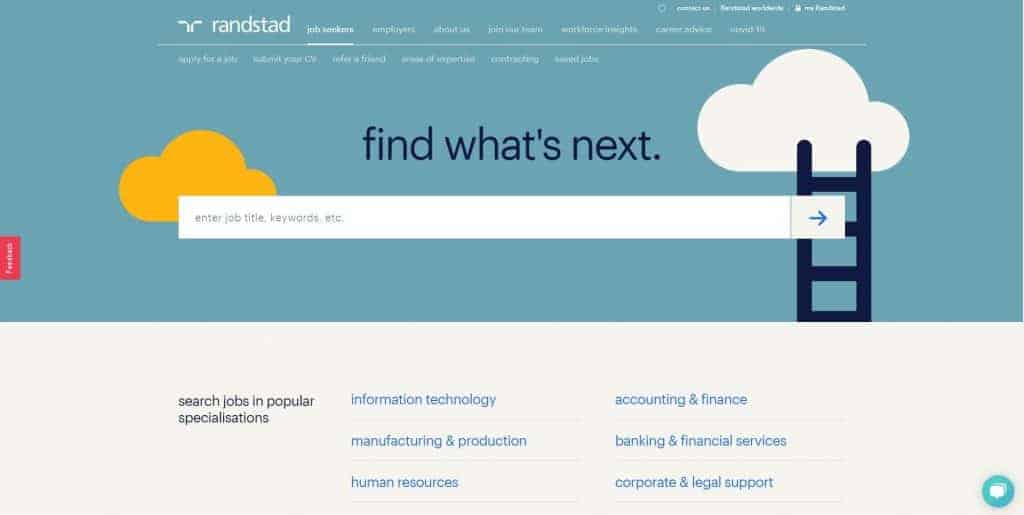 Having over 25 years of experience in the local market, Randstad Singapore offers dedicated and specialised talent recruitment services across various skills and disciplines such as non-profit organisations, startups, small-and-medium enterprises (SMEs), public agencies and multinational companies (MNCs).
If you are currently searching for jobs in popular specialisations like IT, accounting and finance, banking and finance services, sales or corporate and legal support, consider looking at their platform.
Besides offering talent recruitment services, Randstad Singapore also provides companies with an extensive range of HR solutions including payrolling, contract staffing, recruitment process outsourcing, managed services programmes and outplacement.
2. Michael Page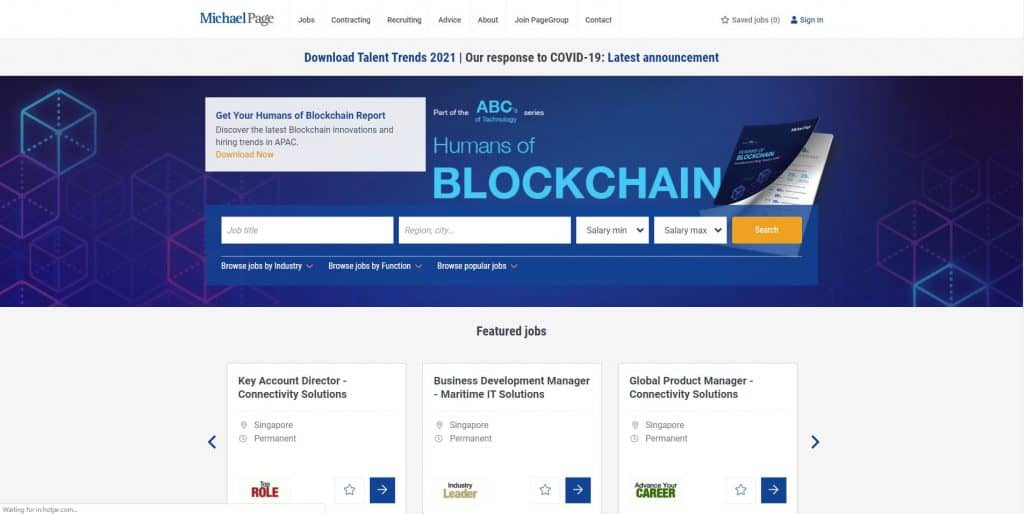 With over 40 years of experience, Michael Page remains steadfast in its mission to bring the world's best companies and brightest professionals together, helping both sides to reach their maximum potential and capabilities.
All recruitment consultants in Michael Page are industry experts. If you are looking for a job in a specific industry, they will be able to offer expert advice to both companies and professionals throughout the hiring process. Their services do not end in the hiring process. Consultants stay in touch for the long term with employees and employers to ensure their success.
Their commitment to providing quality service at an international standards have won them awards such as the Most Socially Engaged Recruitment Agency by LinkedIn in 2015, 2017 and 2018.
3. Manpower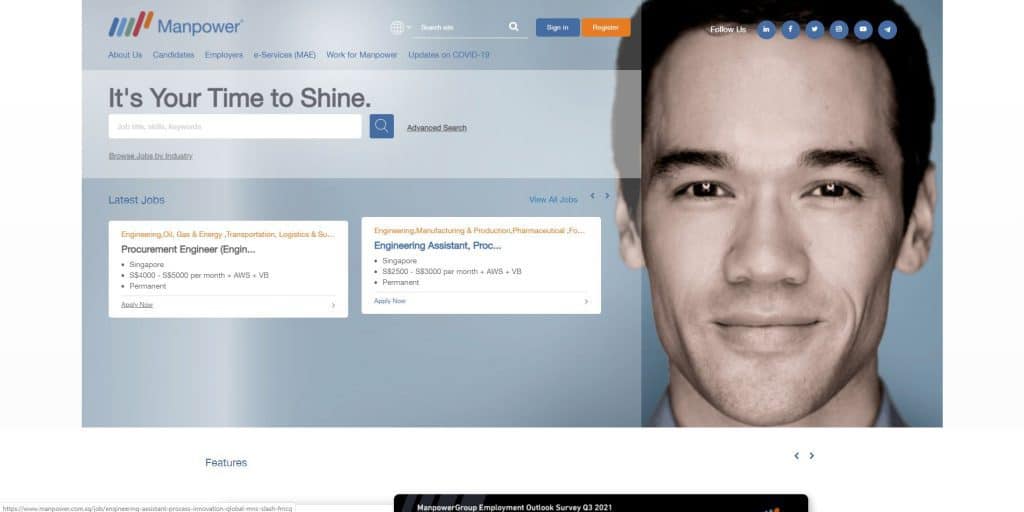 Manpower, a part of ManpowerGroup, is one of the world's leading recruitment agencies. They are experts in contingent and permanent staffing, providing organizations of all sizes with a continuum of staffing solutions to enhance business agility and competitiveness.
Job finders will be able to find jobs in several industries such as IT, Sales and Marketing, Healthcare, Banking and Finance as well as Insurance.
They have attained several awards over the years such as the HR Vendors of the Year since 2016, Asia Recruitments Awards since 2017 and the 2019 Women's Choice Awards (Best Company to Work for Women).
4. JAC Recruitment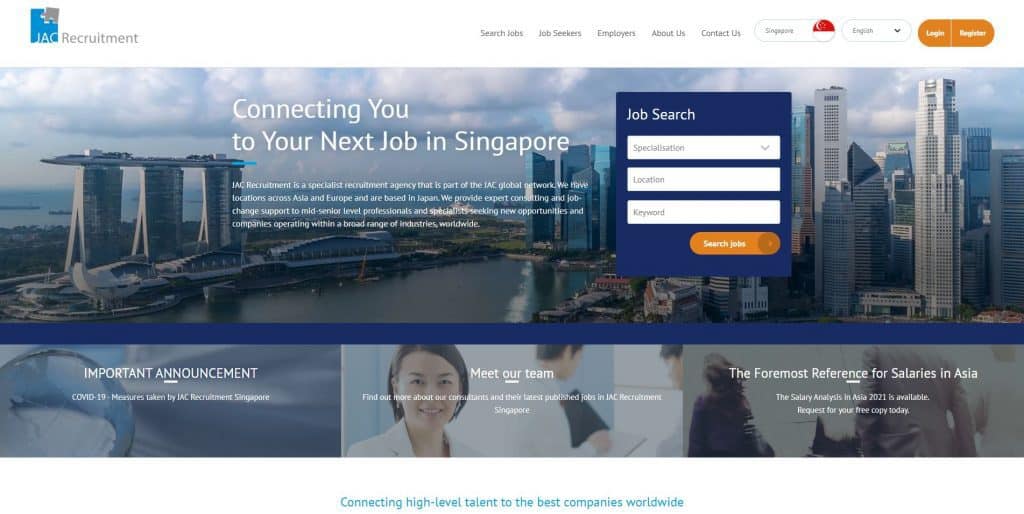 JAC Recruitment is an international recruitment agency that is dedicated to connecting companies with high-level talents all over the world.
Job seekers will be able to find jobs from various specialisations including accounting and finance, engineering and manufacturing, healthcare, hospitality and sales.
5. Robert Walters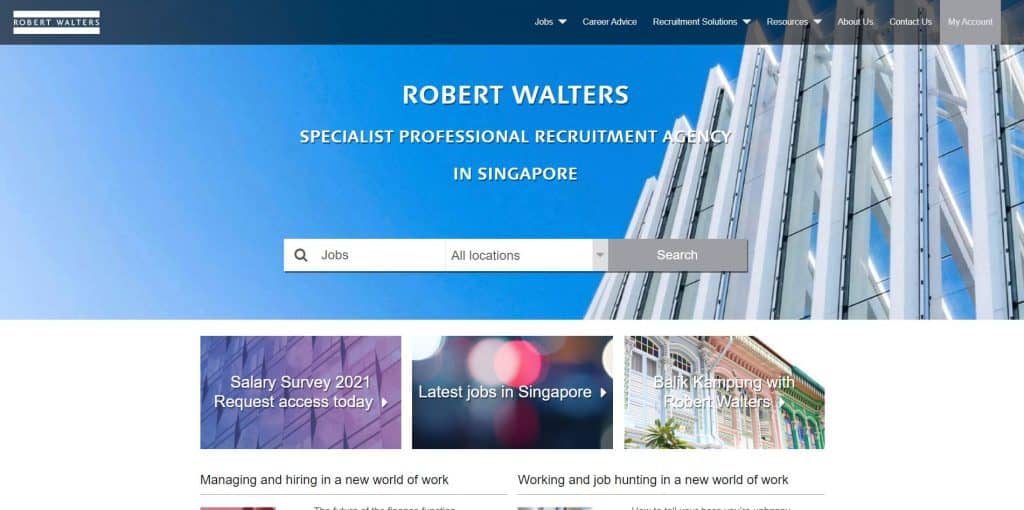 Founded in Singapore in 1998, Robert Walters recruits specialist professionals for both permanent and contract roles across various industries such as general management, human resources, legal, marketing and sales.
Their consultants are specialists in various industries. Hence, having an understanding of the needs in the market and providing innovative solutions are factors that makes them different from their competitors.
6. Hays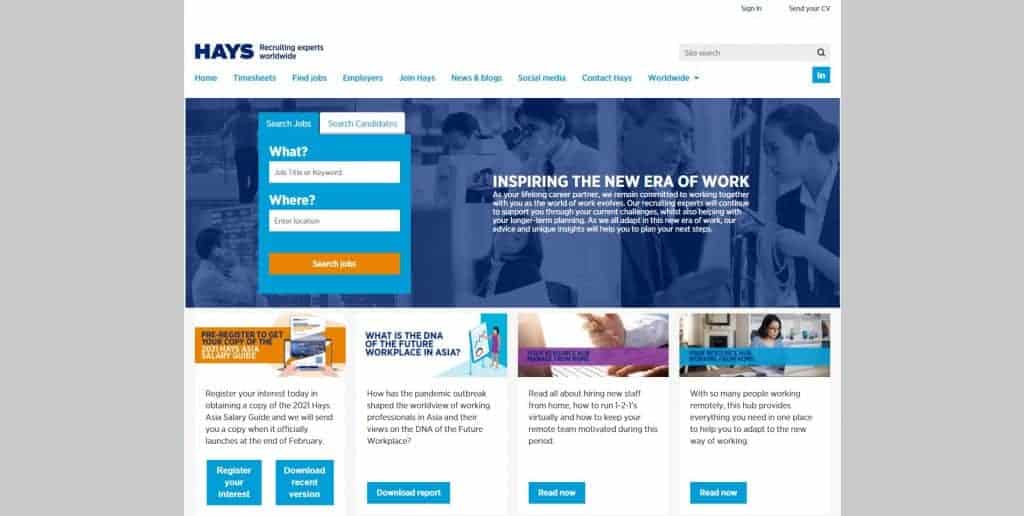 Hays Singapore is a specialist recruitment agency in Singapore that recruits qualified, professional and skilled candidates across a variety of industries and professions. This include Digital Technology, Life Sciences as well as Banking & Financial Services.
They also offer another type of service, Hays Talent Solutions, which deliver intelligent resourcing through a combination of market insight, technical excellence and unrivalled methodology that will provide talent solutions to employers.
They have attained over a decade of experience. Their track record of growth and success is evident by their accreditation of the International Quality Standard ISO 9001:2005.
7. BGC Group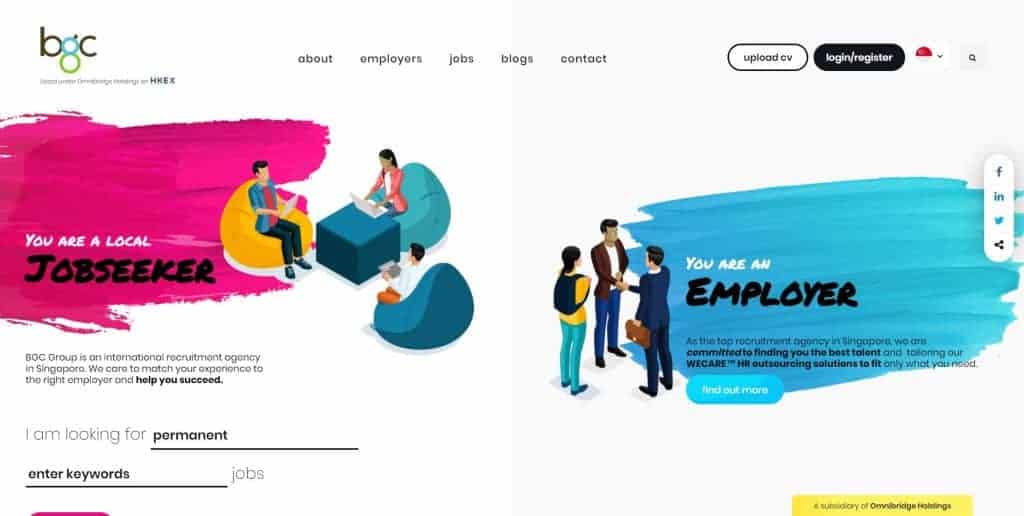 Listed under Omnibridge Holdings on the Hong Kong Stock Exchange, BGC Group is an international recruitment agency in Singapore that is committed to helping capable candidates, who may be looking for entry-level jobs or professionals who want to progress in their careers, succeed in finding rewarding careers with reputable employers.
If you are a potential candidate looking for jobs in specialised industries such as IT, Network & E-Commerce; Healthcare & Nursing; Banking & Finance as well as Government & Stat Boards.
BGC Group is also a HR Outsourcing Agency that provide the necessary HR services to companies. These include payroll & HR Outsourcing, Recruitment, Business Process Outsourcing (BPO) and Service Ops Projects.
8. Robert Half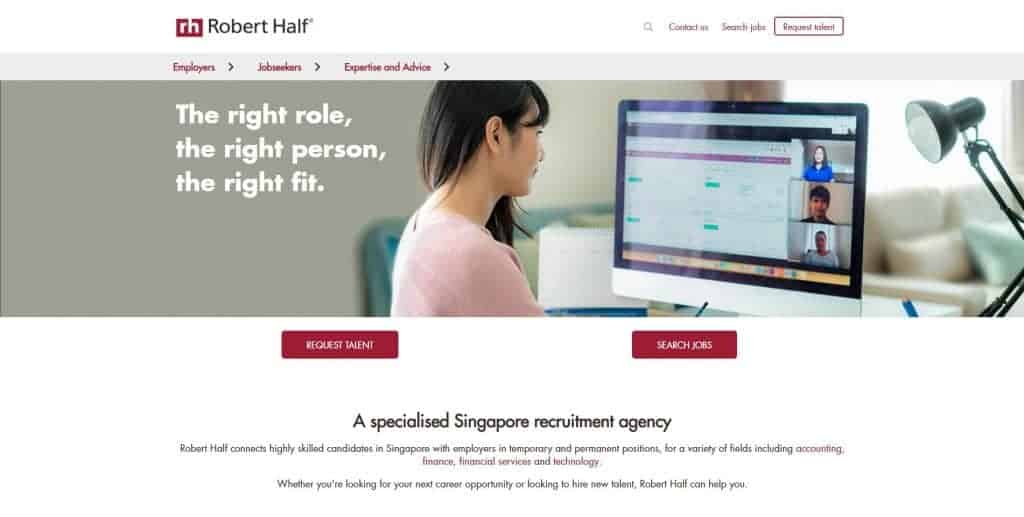 Robert Half is a specialised recruitment agency in Singapore that connects highly skilled candidates with employers in temporary and permanent positions for various industries such as finance and accounting, IT and technology as well as financial services.
In Robert Half, it is more than the process of a job search. It is about knowing you and your career goals better which will help them to find a job that is most suited for you.
Robert Half also offers training and development opportunities to better prepare you for the workforce. This could include in-depth skills building workshops in leadership, management, professional recruitment, emotional intelligence, effective communication and client-focused selling.
9. Morgan Mckinley
Morgan Mckinley is a specialised recruitment agency in Singapore that aims to ensure the successful recruitment of qualified talents for businesses.
Potential candidates can look for jobs from various specialisations such as Accounting & Finance, HR, IT, Sales, Risk Management and Supply Chain & Procurement.
With over 30 years of experience providing a range of services from permanent and contract solutions to outsourcing and consultancy services, Morgan Mckinley ensures that their clients can find their ideal job or the perfect candidate.
10. SG Recruiters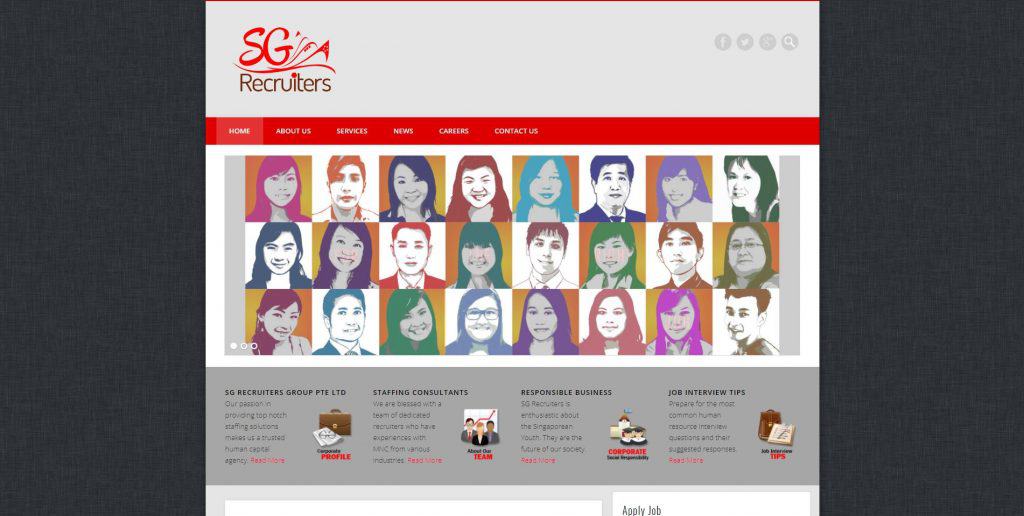 SG Recruiters is a recruitment agency in Singapore that is consist of dedicated and experienced recruitment consultants.
They provide local and foreign recruitment services that ensures the appropriate candidates are selected for appropriate organisations under a structured screening process. Some of the specialised services provided include executive search, permanent placement as well as temporary/contract placement.
11. Integral Consulting Services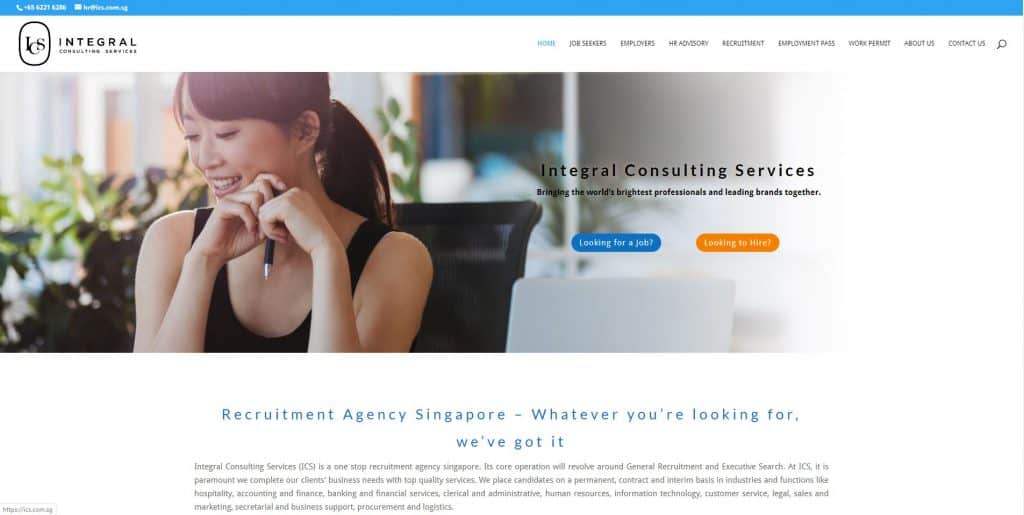 Integral Consulting Services is a one-stop recruitment agency in Singapore that revolve around general recruitment and executive search for professionals and companies.
They help potential candidates to find jobs from various industries such as Sales & Marketing, IT, Administration, Finance & Accounts, Banking and Manufacturing.
They believe in providing a personalised service for all their clients so that all of their requirements can be understood and fulfilled.
Integral Consulting Services also values privacy so that means the identities of their clients and candidates are protected and kept confidential.
12. JobPlus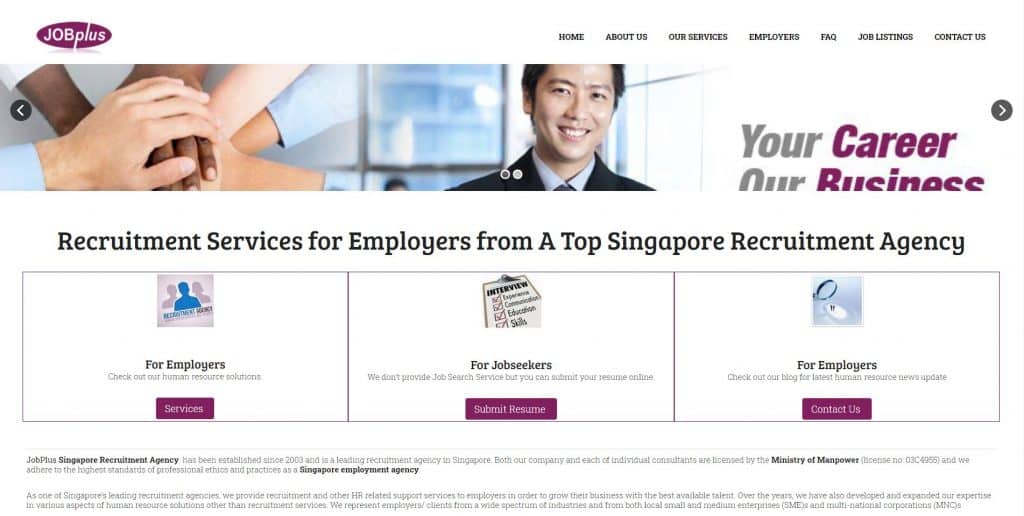 Established in 2003, JobPlus is a recruitment agency in Singapore that provides recruitment and other HR related support services to companies. These services would include permanent and contract staff placements, human resource advisory solutions, payroll management and employment pass application services.
Their recruitment consultants are committed to offering excellent, comprehensive, fast and efficient employment agency service to their valued customers whether they are candidates looking for job or enterprises.
13. Ren Ai Group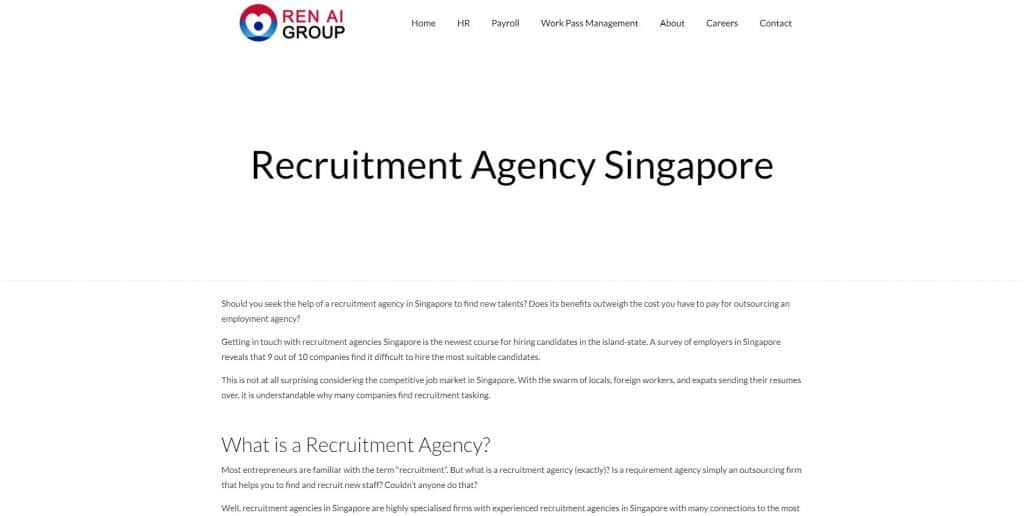 Ren Ai Group is a HR Consultancy Firm as well as a recruitment agency in Singapore. They provide services such as executive services, headcount hosting, payroll outsourcing and preparing employment contracts for potential candidates.
Ren Ai Group also provides employment services for foreigners who intend to work or start a new business in Singapore. This will include the application of a personalised employment pass in Singapore.
Conclusion
Do you have any reviews and comments to share regarding our choices for the best recruitment agency in Singapore?
While SBO is committed to supporting our local businesses, we welcome any feedback and anonymous sharing regarding your experience with the listed recruitment agency in Singapore.
We hope that this guide will be useful in helping you to make an informed decision when it comes to finding the best recruitment agency in Singapore.
Explore More Content