10 Best Cancer Insurance in Singapore to Protect Yourself [2022]
With cancer rates on an upward trajectory, get yourself insured today!
Last Updated on January 11th, 2022
Finance & Cryptos
Our team at SBO.sg is committed to being a one-stop avenue to connect local businesses and consumers. We hope that our research efforts can help you save time and money by finding you the best deals without having to search around the vast world-wide-web.
The number of people down with cancer has been on an upward trajectory. Before taking out cancer insurance in Singapore, there are a few factors to consider. Do you have a history of cancer running in the family? What is your existing health condition?
Critical illness policies provide a lump sum payout in the event you are diagnosed with a disease covered under the plan. However, buying a large coverage or early-stage critical illness plan can be quite costly for some. Here are our top 10 picks to get yourself insured today!
1. PRUCancer 360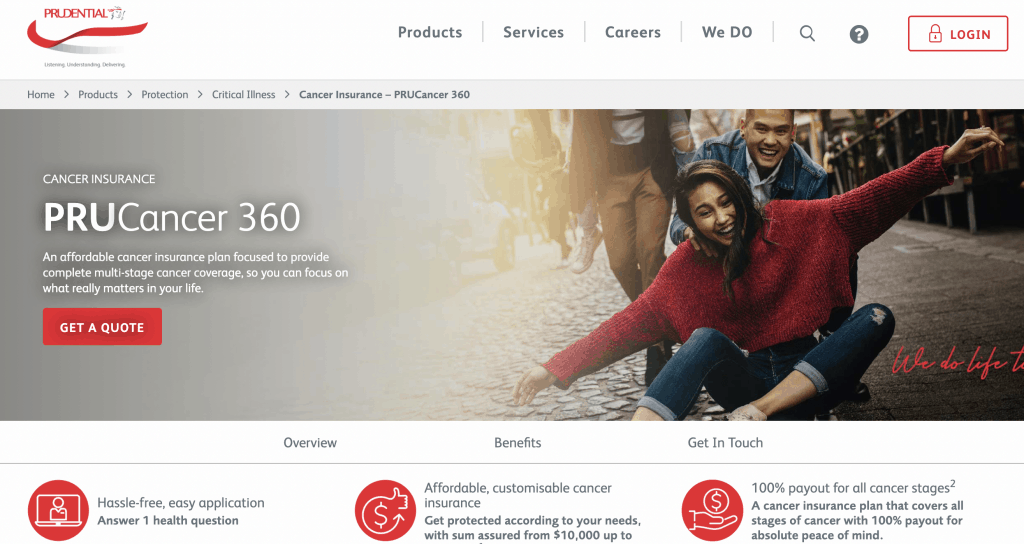 PRUCancer 360 is a cancer insurance plan with a regular premium term that provides coverage up till age 100, against all stages of cancer. It offers simple, affordable, and customisable protection coverage against cancer.
What We Like About PRUCancer 360
Customisable cancer insurance – Get protected according to your needs, with a sum assured from $10,000 up to $300,000. I would say PRUCancer is good for basic coverage though we did not find any additional wow factor that puts it above other industry offerings.
2. Great Eastern GREAT Cancer Guard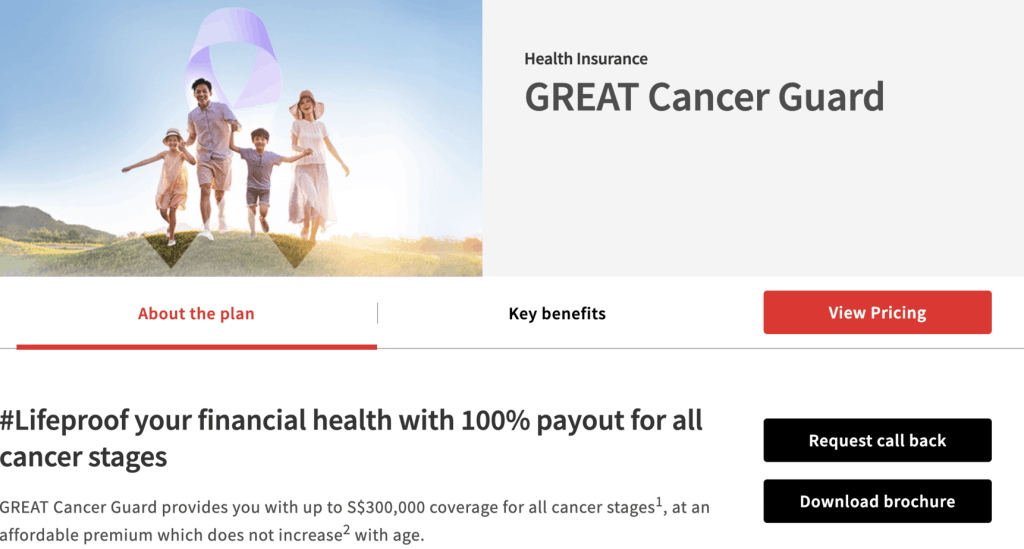 What We Like About GREAT Cancer Guard
15% off first-year premiums and the myriad of options – choosing from 5 different plans, each with different levels of the benefit amount. This allows you to choose from a variety of plans, for the one that can best meet your needs.
3. AIA MultiStage Cancer Cover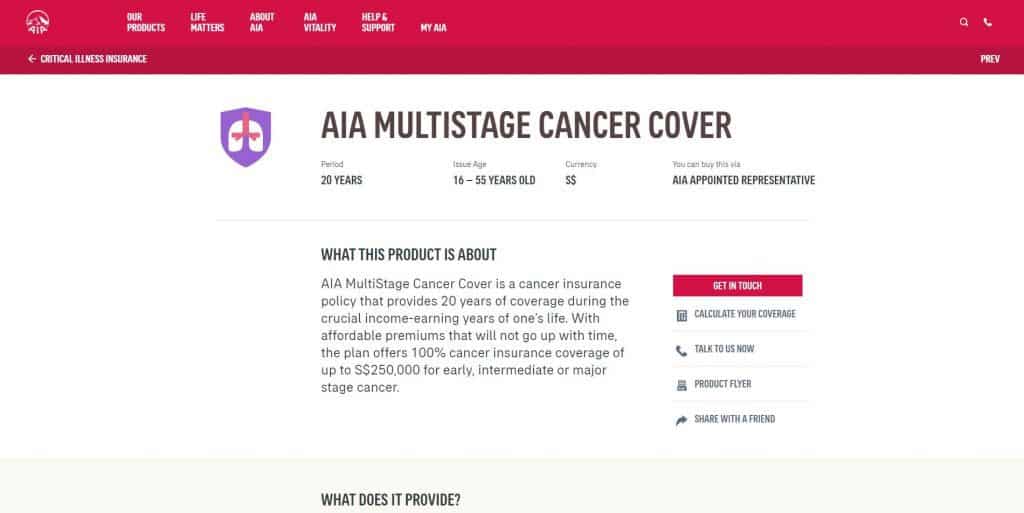 1 in 4 Singaporeans may develop cancer in their lifetime, and there are high costs required to treat later-stage cancer, which can range from $100,000 to $200,000 a year. AIA's MultiStage Cancer Cover plan is a 20-year level-premium plan which covers early, intermediate, or major stage cancer, only available to Singaporeans.
What We Like About MultiStage Cancer Cover
Premiums would not increase over time, giving one more visibility when it comes to financial planning. Also, we like the fact that there are various options to choose from – from 3 coverage amounts of 100k,150k or 250k during your crucial income-earning years.
4. FWD Cancer Insurance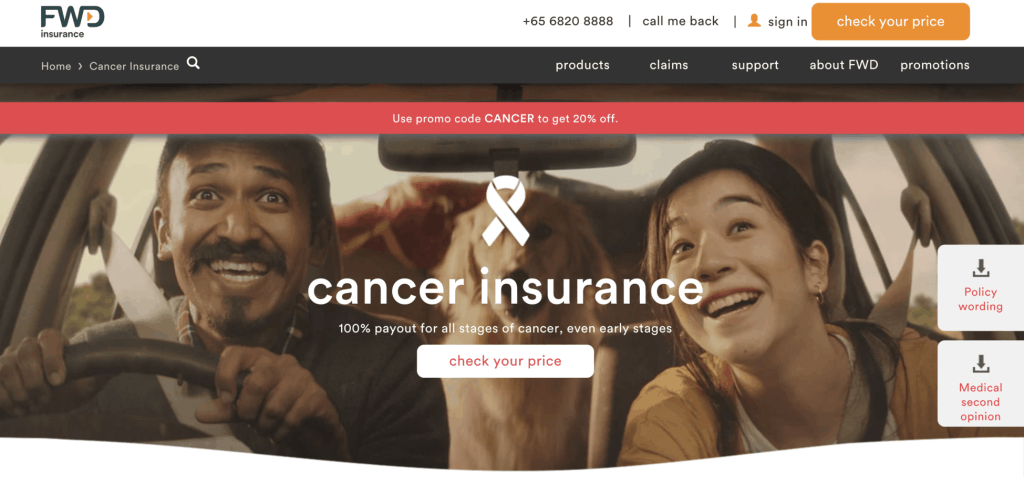 What We Like About FWD Cancer Insurance
The Medical Second Opinion service – for one to have their diagnosis or treatment plan evaluated by a team of expert physicians, done by Mediguide, a US-based company. We also like its complimentary coverage of $5,000 lump sum benefit, covering you from any adverse side effects of the COVID-19 vaccine.
5. MSIG CancerCare Plus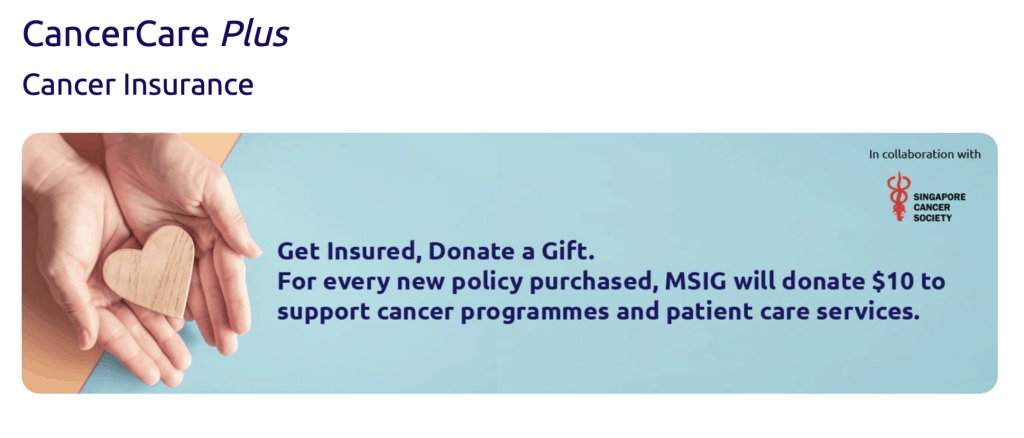 The CancerCare Plus plan is an insurance plan which provides a lump sum payment in the event of a Major Cancer or Early Stage Cancer diagnosis.
What We Like About CancerCare Plus
The coverage choice – choose between the basic and accelerated benefits. Depending on your medical and family history, if you have underlying health conditions or have a family history of specific cancer, one can opt for the accelerated benefit plan which covers multiple early-stage cancers.

Speaking of which, SingSaver is having a promotion for MSIG CancerCare Plus insurance plan – Receive S$10 via PayNow when you apply. MSIG offers 20% off your premiums when you apply. Valid till 31 December 2021. T&Cs apply.
6. NTUC Income Cancer Protect
What We Like About NTUC Income Cancer Protect
Additional advanced-stage cancer benefit – If a claim was not made for early-stage cancer, you can receive an additional advanced-stage cancer benefit of 25% of the sum assured. In addition to this, one can receive up to 100% of the sum assured in the event of accidental and non-accidental death.
7. Tokio Marine Protect Cancer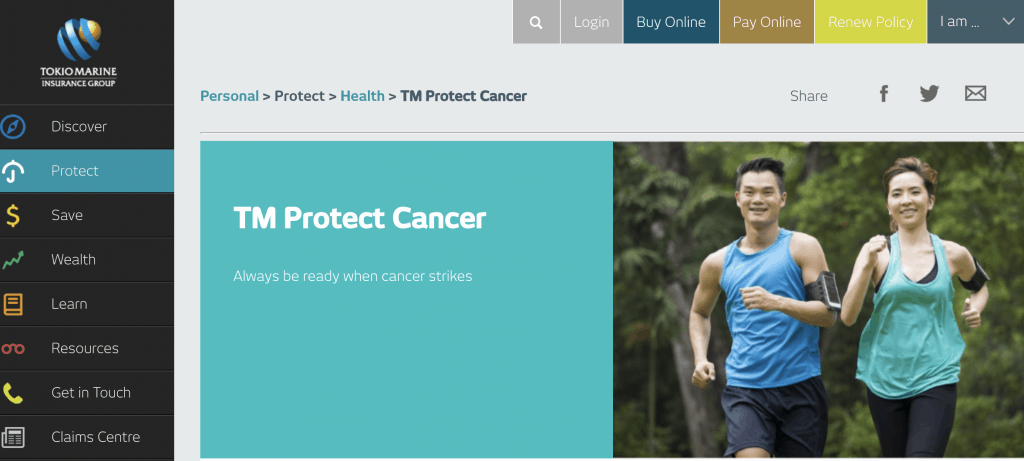 TM Protect Cancer is a non-participating term plan that provides financial aid when diagnosed with early or advanced-stage cancer, so you can stay 100% focused on recovery. This yearly renewable plan provides up to S$150,000 insurance coverage for cancer and is specially designed for adults between the ages of 30 and 65, with coverage extending until the age of 85.
What We Like About Tokio Marine Protect Cancer
It's got to be the guaranteed renewal – TM Protect Cancer offers guaranteed renewability, which means despite any future changes to your health condition; you will still be covered.
8. TIQ Cancer Insurance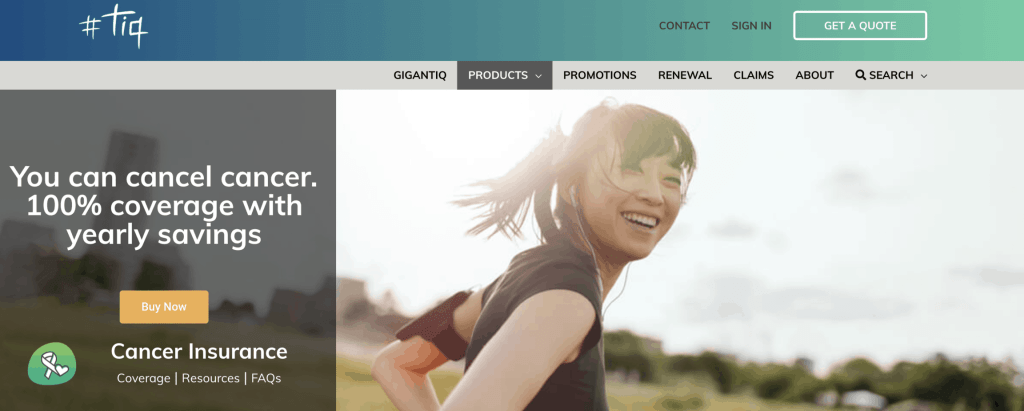 What We Like About TIQ Cancer Insurance
No Claim Discount – As long as no claims have been made during the previous year's policy term, a no-claim discount equivalent to 6% of the total premium paid for the previous year's policy term will be applied to the renewal premium.
This would be suitable for one perhaps with a lower probability of cancer, that for every year of renewal, a discount would be given on the renewal premium.
Speaking of which, SingSaver is having a promotion for TIQ Cancer insurance plan – Enjoy 20% off and receive S$5 via PayNow. Valid till 31 August 2021. T&Cs apply.
9. Allianz Cancer Protect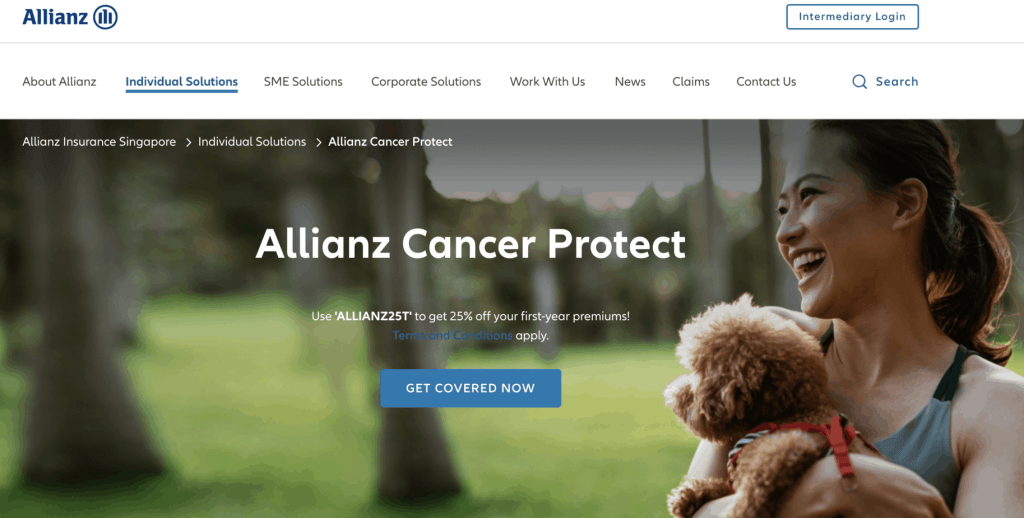 Akin to many other standalone cancer insurance plans, the Allianz Cancer Protect plan offers multiple plans – silver, gold and platinum, for one to find a plan which best suits their needs. However, do note that this policy is not a Medisave-approved policy and you may not use Medisave to pay the premium for this Policy.
What We Like about Allianz Cancer Protect
One of them has got to be the 25% discount on first-year premiums and the other would be the monthly income benefit where the patient can claim up to S$3,500 monthly for 12 months for income supplement while focusing on recovery. Allianz Cancer Protect is one of the few policies offering a discount on first-year premiums, providing an even greater incentive for taking up this policy.
10. Singlife Cancer Plan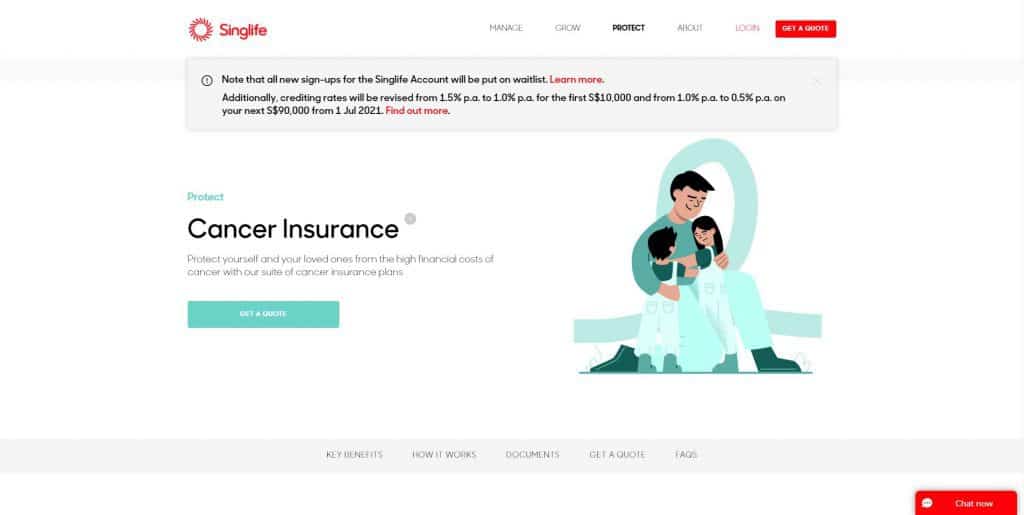 What We Like About the Singlife Cancer Plan
The most basic cancer plan offers basic cancer coverage for late-stage diagnosis, with fees starting as low as S$7.10 per month for a S$60,000 cover. If you are looking for a more comprehensive coverage, the Cancer Plus plan offers cancer coverage for all stages from as low as S$8.24 per month for a S$60,000 cover. The application process is also pretty fuss-free, from as fast as 10 minutes.
Conclusion
Do you have any reviews and comments to share regarding our choices for the best cancer insurance in Singapore?
While SBO is committed to supporting our local businesses, we welcome any feedback and anonymous sharing regarding your experience with cancer insurance in Singapore.
We hope that this guide will be useful in helping you to make an informed decision when it comes to finding the best cancer insurance in Singapore.
Are you featured in this?
Display this exclusive SBO badge proudly on your website!