SBO Chats with: Vanessa of Myo
Today, we meet Vanessa, professional emcee, performer and founder of Myo. From singing, acting, dancing to hosting, she's a creative spirit through and through.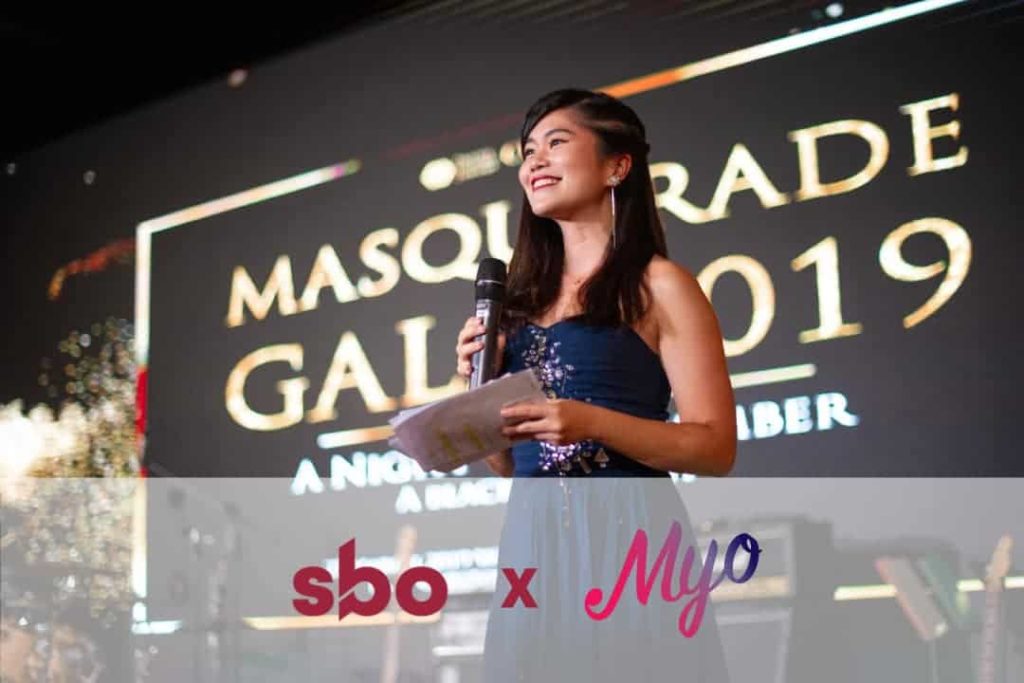 Today, we meet Vanessa, professional emcee, performer and founder of Myo. From singing, acting, dancing to hosting, she's a creative spirit through and through. Having been a part of large-scale national events, corporate events and weddings too, Vanessa's the keen mind and warm heart behind Myo, an events entertainment agency aiming to take care of every client and their event throughout their journey. Myo incorporates lessons honed from being an Arts Practitioner (in Theatre and Music) to provide a seamless event experience.
Her eyes flood with tears when she speaks about how the pandemic has been unforgiving on Myo and her community of performers and event vendors. Even as there is anguish in her voice, we see a fresh young face, light in her eyes and a killer smile – easily the life of the party up on stage. But the pandemic has taken an undeniable toll on her, and on her brainchild, Myo.
Cancellations of corporate events disguised as 'postponements'
The first cancellation had come early, in February 2020, disguised as a postponement. In hindsight, during these uncertain times, it seemed 'postpone' never meant 'postpone', especially for corporate events. For many of Vanessa's clients, each postponement was merely a delaying of the inevitable cancellation. After all, there was no apparent end in sight.
At the peak of the pandemic last year, the number of venue capacities shrank exponentially, events were rapidly downsized and weddings became more intimate.
When it came to deposits, there was another difficult decision to be made for Vanessa. The cancellation of weddings was a personal decision for many, and whilst these couples had many different vendors to work with, they might not have realised that, on the other end, vendors like Vanessa, as a business owner, had many couples to liaise with.
Hence, it became a struggle, between her personal values (being a bride-to-be herself and completely understanding the stresses couples were facing), and professional interests as to whether to refund the deposits.
Vanessa found herself trapped between a rock and a hard place. "While I empathise with the couples' wishes to recover as much as they can, breaching contracts to provide refunds out of goodwill has had significant implications both for my business as well as other vendors and clients…. " Vanessa trails off, "… and this stressful dilemma really affects mental health."
The toll on mental health
Vanessa's experiences with cancellations and postponements have taken a toll on her mental health as well as that of many of her vendors and collaborators in the wedding industry.
She sadly recalled how one couple that had already changed the date thrice, suddenly decided that they did not need an emcee and her team of musicians anymore, and requested for a refund. While Vanessa was under no obligation to do so, she offered an alternative arrangement that they may transfer the package to someone else instead — but they remained adamant.
Vanessa expressed that it was disheartening when such when such requests occurred, as that suggested that the couple did not appreciate or acknowledge the team's effort to accommodate the couple's change in dates, and the opportunity cost as a result of their commitment to the couple's date.
As Vanessa puts it, "it was us and them against COVID initially, but when they made the decision to halt, it's them against us suddenly."
Besides taking a toll on her mental health, Vanesa also highlighted that incidents of couples wanting full refunds also eat into vendors' reserves, on top of their loss of income.
However, Vanessa adds that she is very thankful to some of her couples who have been very understanding. Some were willing to forgo the deposit, some worked out a plan with her respectfully and others still expressed their acknowledgement of the work put in by their vendors by paying the full rate even though the receptions had changed into extended solemnisation ceremonies.
Despite the difficulties and challenges, Vanessa has managed to continue to persevere and she does not regret being a business owner. She's grateful to able to use Myo as a platform and opportunity to build a supportive community, and help where she can to protect the mental wellness of business owners and fellow performers in the industry.
How consumers like us can help
We then asked Vanessa how she thought consumers could support local businesses in their own ways. She mentioned that she thought it would be great if people develop a "referral mindset" – if they have a requirement for professional and reliable quality of work, first check with their own friends who are wholly invested and providing it full-time. When they also hear of needs by other people for services like F&B, events, photography, videography or any products/services, they can spread by word-of-mouth and share of the services provided by their friends.
It would mean the world to Vanessa and her vendors to be part of friends' and families' important events or journeys. Vanessa and her team would definitely do their utmost to upkeep the trust and good relationship, making these special events and journeys unforgettable indeed.
In addition, Vanessa also emphasised that "COVID has shown us how important a community is; to know you have people around you that you can rally and support one another." Vanessa empathises with all business owners out there, as she understands that managing a business can many times be a "lonely journey".
Hence, she really hopes that customers can support these business owners by recommending them to family and friends who are looking for such products or services. A small gesture of support or a kind word can really touch and uplift the hearts of these business owners amidst these difficult times.
Looking forward – Myo's adaptations to COVID
SBO is grateful to Vanessa for her time in sharing her experiences, bringing light to the mental struggles of business owners especially during the pandemic, and also given us some ideas on what we can do to help small businesses.
Myo has successfully ventured into the online space, providing services for webinars, livestream sales, virtual music events and interactive team building.
You can also check our other articles featuring other small business owners here.
Explore More Content