12 Best Personal Accident Insurance in Singapore To Give You a Peace of Mind [2023]
At least now your wallet won't cry out loud.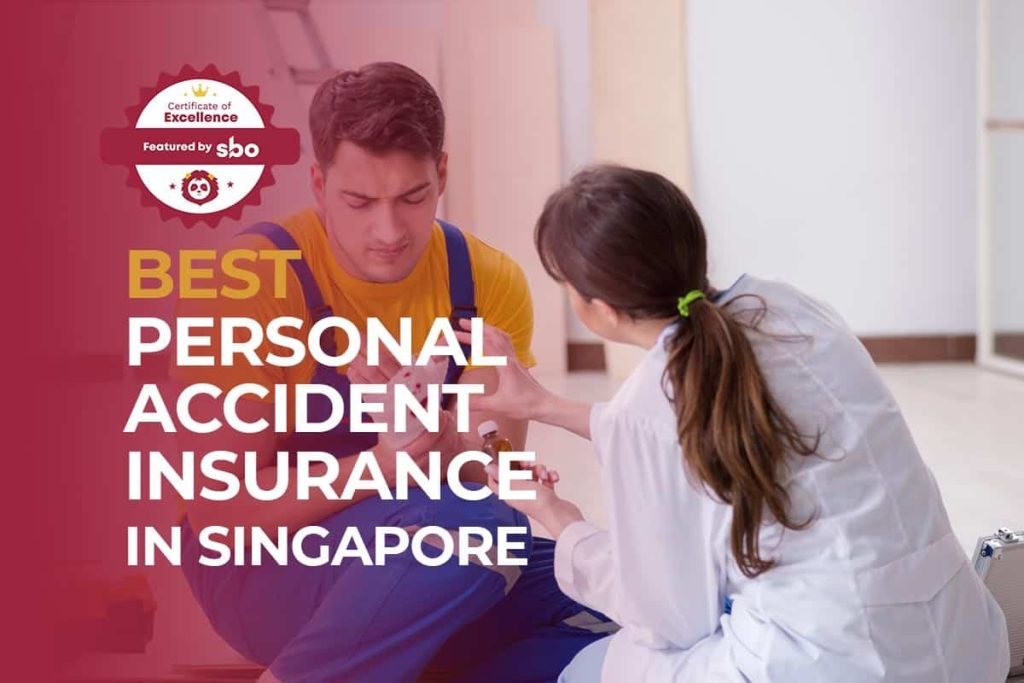 A personal accident insurance policy is a type of general insurance that provides benefits in the case of accidents.
It covers all phases of suffering an accident, from evacuation to hospitalisation and treatment, rehabilitation and recovery.
Claims for personal accident insurance can vary from small claims, such as those for ankle sprains, burns suffered during food preparation, injury from falls and food poisoning, to large claims involving death or disablement benefit payments.
In this post, we've gathered the necessary details to compile a list of the 12 best personal accident insurance in Singapore to give you a greater peace of mind.
1. AXA SmartPA Protect+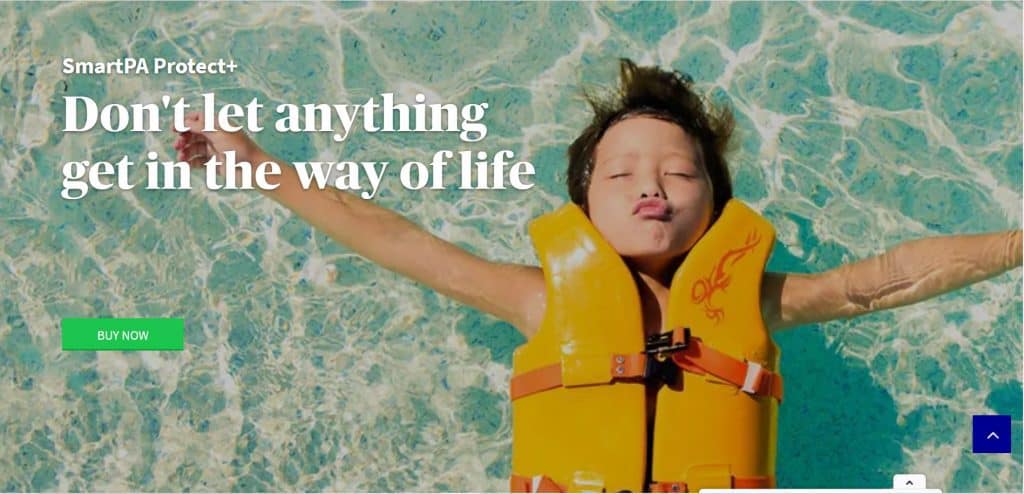 Looking for a comprehensive personal accident insurance in Singapore?
AXA has you covered with their SmartPA Protect+ personal accident insurance plan.
The plan fully reimburses your medical expenses, and home recuperation benefit.
One thing we love about the plan is how modular and customisable it is!
You can take your pick from three tiers of the plan: Silver, Gold and Premium, with the amount of monetary benefits disbursed increasing with each tier.
You can also purchase add-ons to come with your plan, with add-ons such as fractures benefit, daily hospital cash allowance and emergency medical evacuation/repatriation.
P.S. Hungry for more perks? Singsaver is currently offering a $10 cash reward via PayNow when you apply.
Furthermore, AXA is also having a 20% discount on all plans and an additional 10% family discount (minimum for 2 adults) when you buy NOW! Valid till 31 December 2021. Terms and Conditions apply.
2. MSIG ProtectionPlus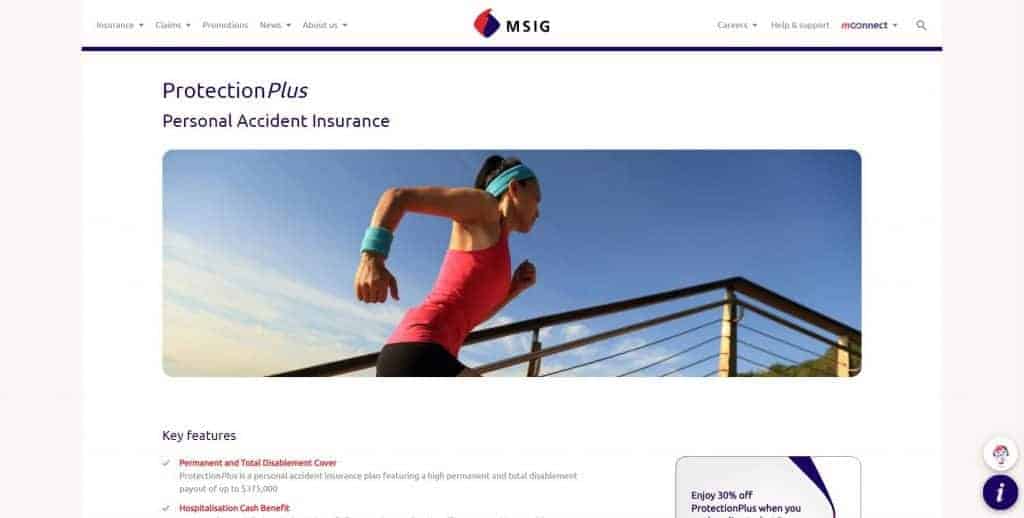 MSIG ProtectionPlus personal accident insurance plan provides the coverage that you need as you are on the go.
This plan comes in 3 different levels: Silver, Gold and Platinum plans.
This personal accident insurance plan will help you to relieve your financial stress by providing a payout of up to $375,000 for permanent and total disablement.
In the event that you are no longer able to work as a result of temporary total disablement, the plan will provide you and your family with a monthly income of S$2,400 for a maximum duration of 2 years.
When you are hospitalised, you will be entitled to a daily cash payout of $20 as a result of an accident up to 50 consecutive days.
They provide one of the most generous amount of bereavement grant in the market at $10,000 to help you ease the pain of the loss of your loved one.
You will also get value-added covers for motorcycling as well as injuries sustained during reservist training and leisure sports.
You will also have access to MSIG Assist Helpline in the event of an emergency overseas.
You get to enjoy a bonus cover at no extra cost when you and your spouse apply.
This consists of a free cover for up to 3 children and 10% off your spouse's premium plus.
Speaking of which, SingSaver is currently having a promotion for MSIG ProtectionPlus personal accident insurance plan with S$10 reward via PayNow when you apply.
MSIG is also offering a promotion for this plan with 30% off your premium when you apply. Valid till 19 December 2021. T&Cs apply.
3. FWD Insurance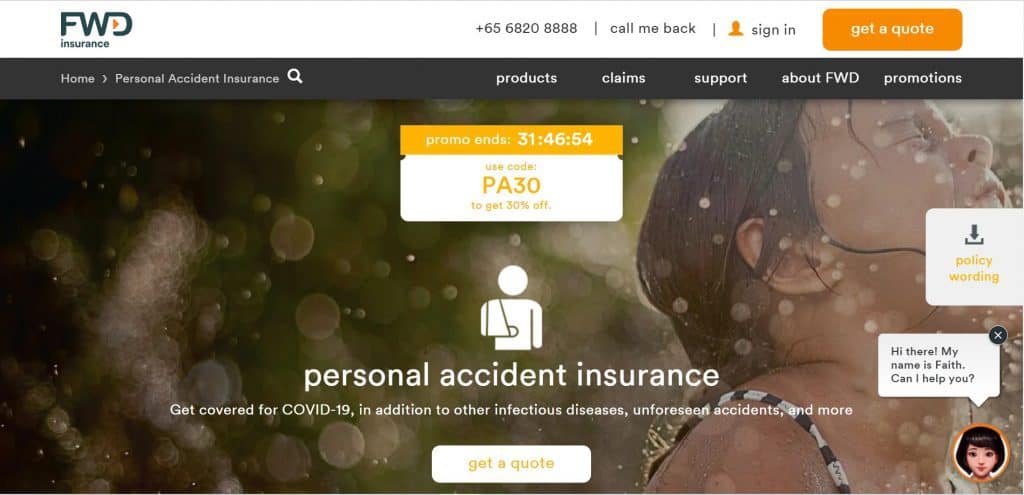 Establishing its presence in Asia in 2013, FWD only began operations in Singapore in 2016 and is the insurance business of investment group, Pacific Century Group.
The personal accident insurance in Singapore covers up to S$15,000 for inpatient and outpatient care in Singapore.
You can add a rider and receive up to S$30,000 coverage for overseas medical expenses.
You will also receive up to S$500 every day if you're confined to a hospital, or up to S$1,000 daily (up to 365 days) if you're quarantined or confined to an Intensive Care Unit, for a minimum of 3 days.
In view of the Novel Coronavirus (COVID-19) situation, customers who buy FWD's Personal Accident (PA) insurance starting from 4 March 2020 can make claims related to the outbreak following a shortened waiting period of 15 days from your policy coverage start date.
The normal waiting period of 90 days will still apply to all other Infectious Disease claims.
As with all of FWD's insurance schemes, you must be in Singapore when buying their personal accident insurance policy.
4. PRUPersonal Accident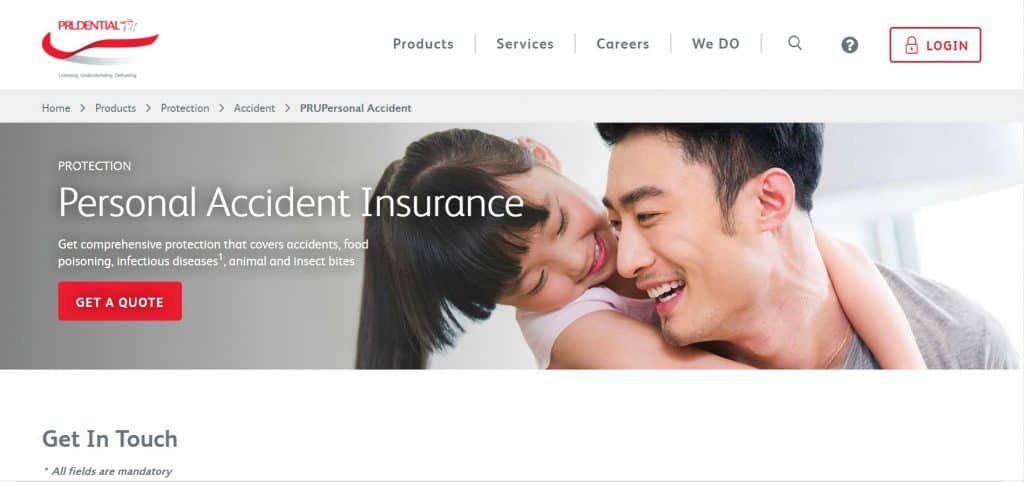 PruPersonal Accident covers against accidental death, accidents, 21 infectious diseases such as Hand, Foot and Mouth Disease and Dengue, among others.
The plan also covers food poisoning, high-risk activities, animal and insect bites.
There is an optional fractional care benefit: the plan covers additional medical expenses due to burns, fractures and broken bones, as well as reimbursement for post-accident home modification and mobility aid incurred due to accidents.
That's not all: you will also receive three times the insurance payout in the event of an accidental injury while travelling on public transport and up to a 25% increase in the sum assured in the first five years if no insurance claims are made.
5. NTUC Income PA Assurance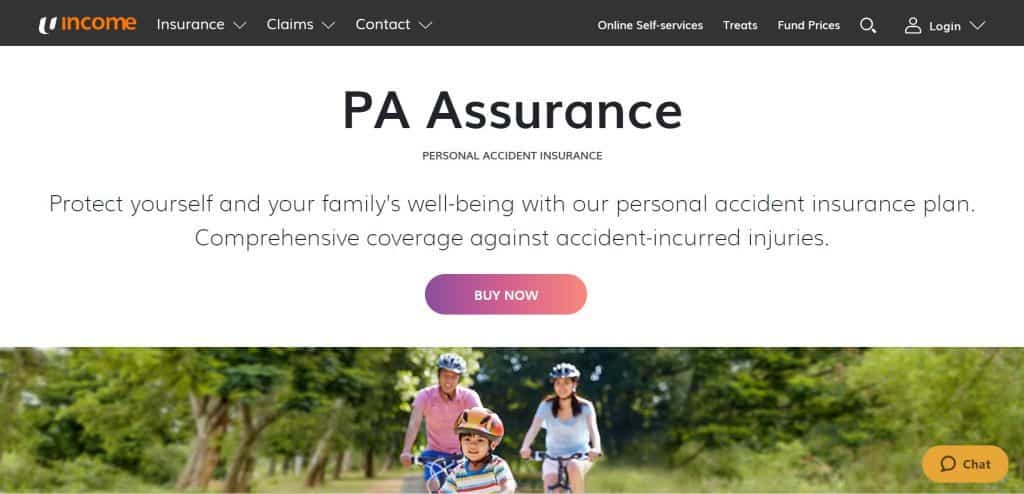 NTUC Income's Personal Accident Assurance plan provides coverage for different types of professions as well as optional protection against 21 common types of infectious diseases like Hand, Foot, and Mouth Disease and Dengue Fever.
Under the personal accident insurance in Singapore, you will receive up to $1,500,000 for permanent disability due to an accident.
You will also get reimbursement for post-accident home modification and physiotherapy expenses.
To provide added coverage against COVID-19, NTUC Income has enhanced their PA Assurance plans' benefits.
The benefits will be extended to two Income PA plans (PA Assurance with Infectious Disease cover and Personal Accident Infectious Disease policy) until 31 December 2021.
PA Assurance policyholders who do not have an Infectious Disease cover can also apply for an upgrade of your plan.
6. AIA Prime Assured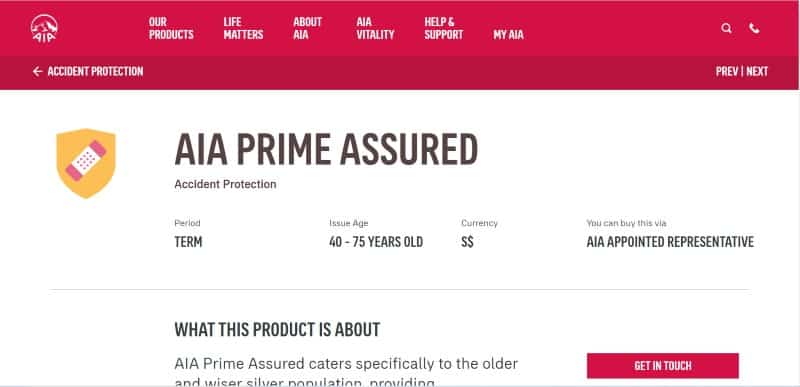 AIA Prime Assured is targeted specifically at the older and wiser silver population, providing comprehensive accident insurance anytime, anywhere.
This plan covers many of the injuries and certain ailments that unfortunately become prevalent later in life.
Apart from affecting your physical well-being, these challenges can affect you financially, particularly in retirement.
AIA Prime Assured lightens the financial burden on your shoulders so you can relax, recover and enjoy your golden years.
This personal accident insurance plan provides a wide variety of benefits to cover injuries due to an accident such as broken bones, the inability to perform 3 or more activities of daily living and even permanent disability.
It also helps you to combat common age-related illnesses such as Alzheimer's or Parkinson's disease.
That's not all: a daily allowance will be disbursed for up to 365 days of your hospital stay if you end up hospitalised.
Coverage for medical bills is also comprehensive.
Whether you need to seek home care, a wheelchair, or the services of a Chinese bonesetter or acupuncturist, you will be reimbursed for the expenses.
7. AIA Star Protector Plus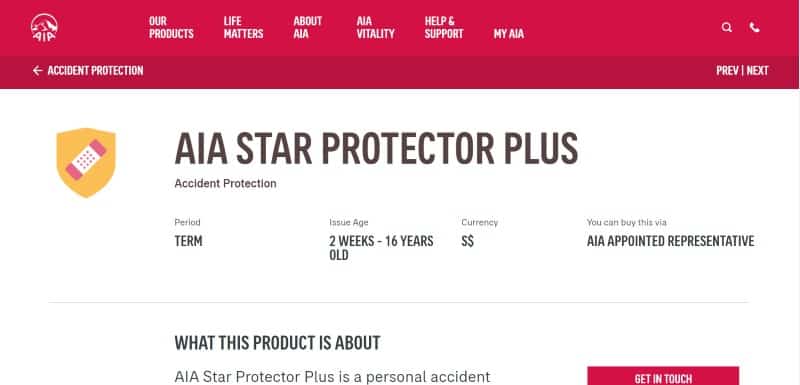 AIA Star Protector Plus is a personal accident insurance plan for children that offers reasonably-priced worldwide accident and health coverage for your kid.
It provides protection against accidental injuries and burns, as well as coverage for 16 common diseases, giving them the confidence to explore life to the fullest.
You will be able to receive a double payout if your child is disabled or suffered burns due to an accident that happened at school, on public or private transport, or as a pedestrian on the road under the personal accident insurance in Singapore.
Lastly, if you pass away due to an accident before the age of 75, they will waive the premium until your child reaches his or her 21st birthday.
They will also assist with your child's education by providing a cash payout.
Hence, you can have a peace of mind that your child will be adequately taken care of even after you are gone.
8. Manulife ReadyProtect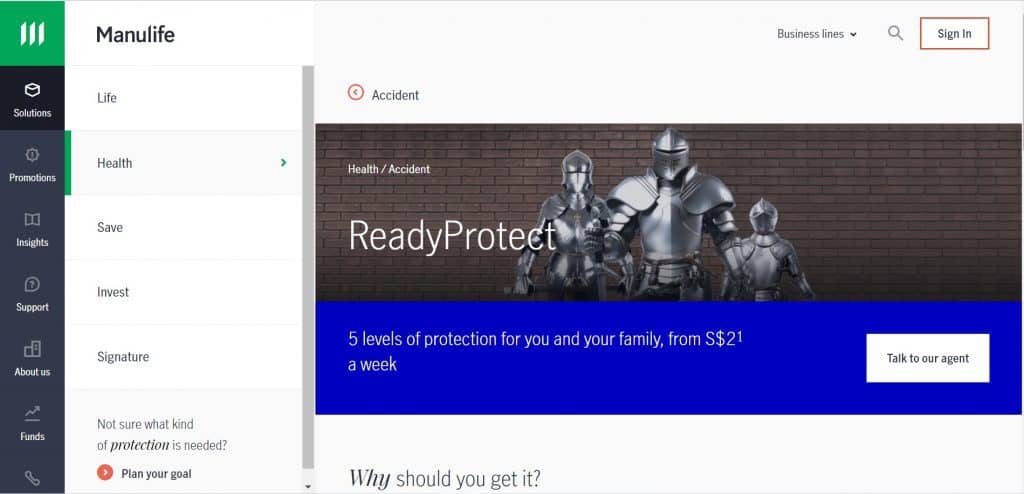 Manulife's ReadyProtect offers five levels of protection from only S$2 a week.
The personal accident insurance in Singapore provides S$50,000 to S$1 million coverage for accidental death and dismemberment and additional protection with options for income support, medical expenses, waiver on premiums, etc.
You will also be able to enjoy medical refund for accidents, Traditional Chinese Medicine or chiropractor fees, ambulance fees and mobility aids.
Under the personal accident insurance in Singapore, you will also receive two times the payout if the accidental death and dismemberment occurred on public transport.
9. Chubb PAL Protect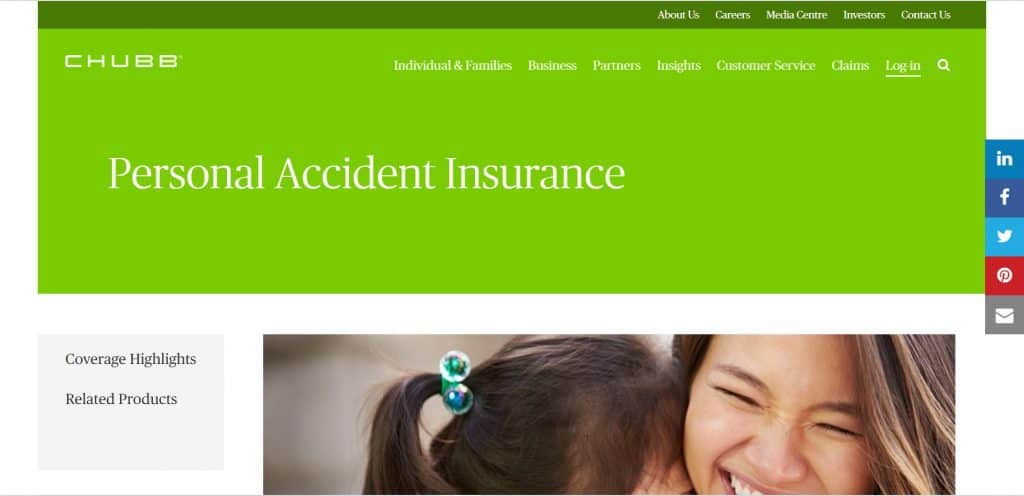 Chubb PAL Protect is an affordable personal accident insurance plan that safeguards you and your loved ones from unplanned financial troubles in event of unexpected circumstances.
It also offers you protection against 21 types of infectious diseases, food poisoning and worldwide terrorism coverage.
With coverage of up to S$1,000,000 for accident-related death or permanent disabilities plus other benefits, you can now look forward to enjoying a greater peace of mind.
You will also receive up to S$10,000 reimbursement for Accidental Medical Expenses and S$2,000 for Traditional Chinese Medicine Expenses.
P.S. Did we also mention that the personal accident insurance in Singapore also covers accidents during reservist training?
Now we are finally talking.
10. ePROTECT Safety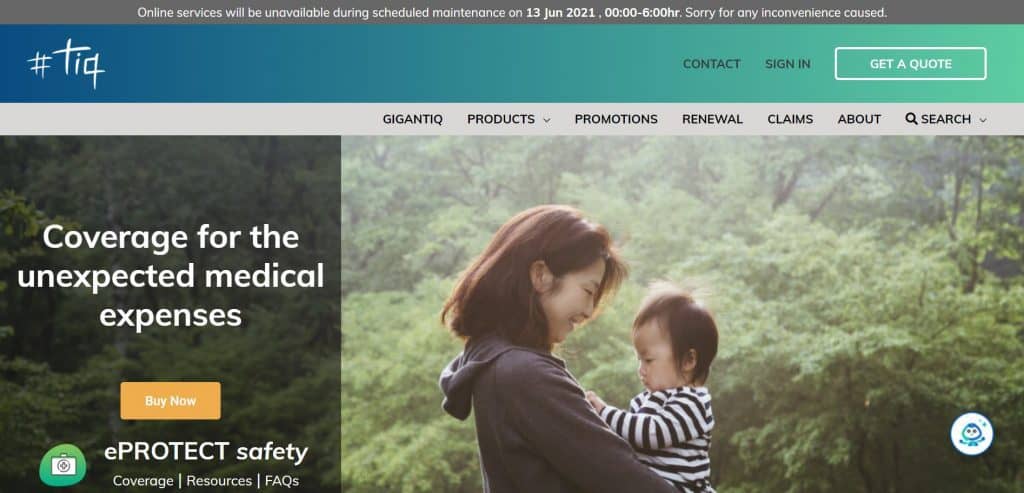 Etiqa Insurance's ePROTECT Safety covers hospitalisation expenses for 22 infectious diseases like Hand, Foot, and Mouth Disease, Dengue Fever, and H1N1.
There is S$500,000 protection for accidental death or permanent disability.
With their enhanced ePROTECT safety, you will receive extended coverage for unexpected expenses due to infectious diseases, with a monthly renewable subscription from S$18 per month.
For a limited time only, you will also be protected with their complimentary coverage for COVID-19 and Dengue Fever.
As Etiqa loves Fridays (who doesn't), you will be able to enjoy additional discounts on Fridays that allow you to save up to 40% off across various protection plans!
11. GREAT Protector Active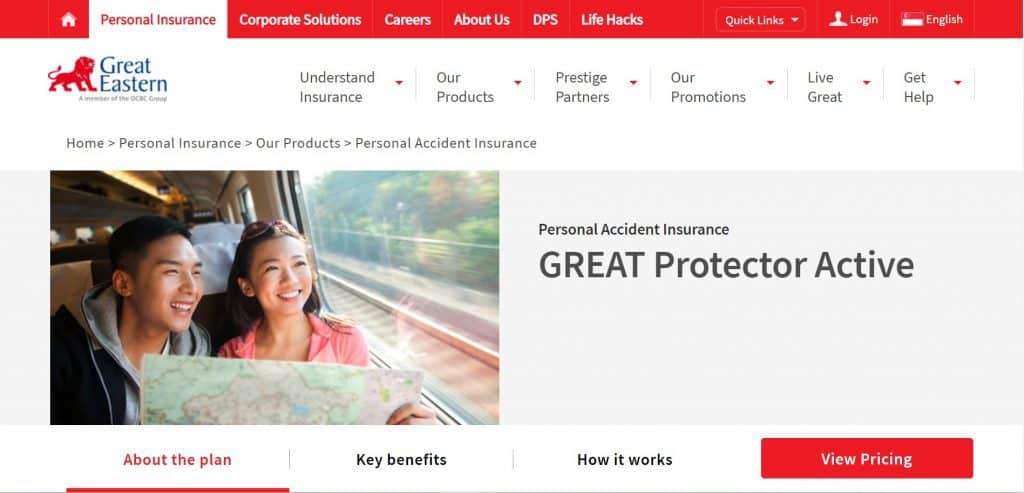 GREAT Protector Active provides up to S$3 million personal accident coverage and ramps up coverage to up to 1.5 times when you are wounded in a public conveyance as a passenger, in a road traffic accident as a passenger, pedestrian or cyclist or any accident when overseas.
Your recovery will not be at all affected as you will receive comfortable medical reimbursement of up to S$7,500 per accident.
The plan has three tiers: Basic, Classic and Elite.
The Basic plan costs S$0.88 per day, the Classic Plan costs S$1.42 per day, and the Elite plan costs S$2.33 per day.
12. PA Supreme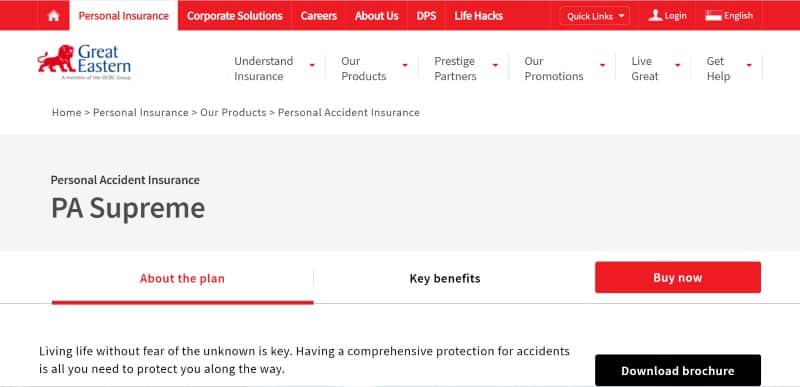 PA Supreme provides 24-hour worldwide insurance protection for you and your family anywhere in the world.
Coverage can be obtained from 44 cents per day.
You will be able to receive coverage of up to S$500,000 in case of death and permanent disablement and an S$500 weekly allowance in case of temporary disablement (coverage of up to 104 weeks).
The plan also disburses monetary benefits of up to S$50,000 for emergency medical evacuation and repatriation.
The personal accident insurance in Singapore also covers medical expenses including those by licensed Chinese physicians and the plan's coverage also extends to personal effects and belongings damaged as a result of accident.
Conclusion
Do you have any reviews and comments to share regarding our choices for the personal accident insurance in Singapore?
While SBO is committed to supporting our local businesses, we welcome any feedback and anonymous sharing regarding your experience with the listed personal accident insurance in Singapore.
We hope that this guide will be useful in helping you to make an informed decision when it comes to finding the best personal accident insurance in Singapore.
Explore More Content