8 Best Home Insurance In Singapore for a Safer Home [2023]
Compare with us the top 10 home insurance in Singapore to choose the right one for you and your loved ones!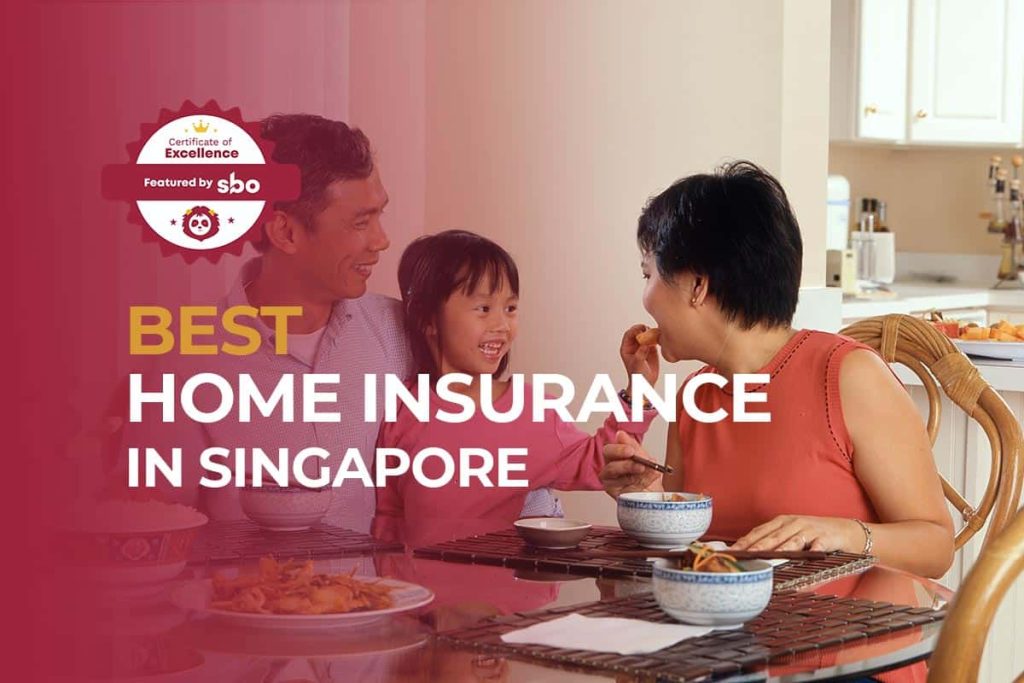 You might be thinking: since Singapore is relatively safe and sheltered from natural disasters like tsunamis and earthquakes, you wouldn't need to purchase home insurance – that line of thinking would be a mistake.
Home insurance in Singapore is essential as it provides a layer of financial protection over your home and its contents from fire, theft and other forms of damage.
There's a plethora of options of home insurance in Singapore, with many providing similar products and services; choosing the right one for you and your family can seem confusing and daunting. To make it a little easier for you, we've compiled a list of the 10 best home insurance in Singapore.

* Check out the special promos SingSaver has managed to arrange with some of the home insurance providers.
1. Tiq Home Insurance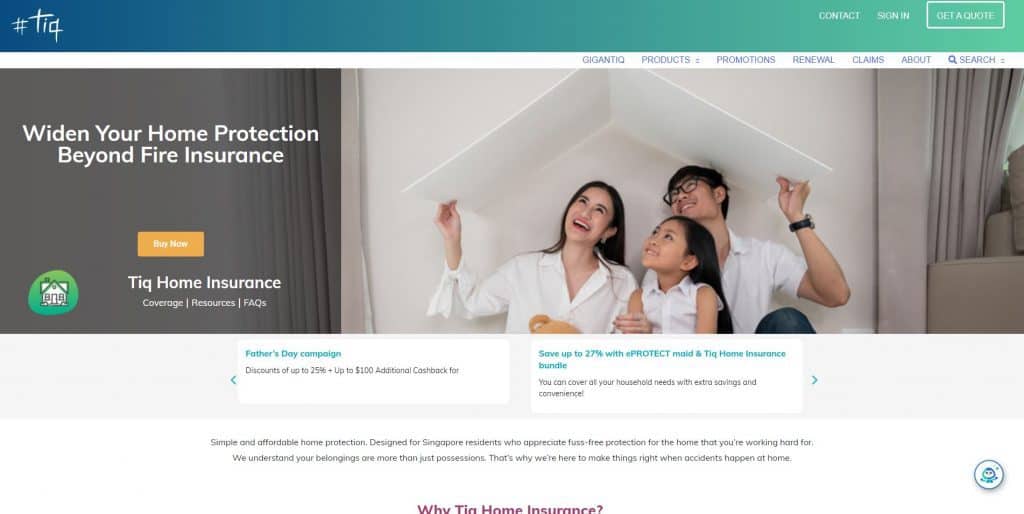 As one of the cheapest home insurance policies for HDB flats, Tiq Home Insurance by Etiqa is known for its high coverage limits, competitive prices and unique benefits, including emergency cash allowance and valuables coverage.
It offers a customisable 1-, 3- or 5-year plan for owner-occupiers, landlords, and tenants, with options to choose varying amounts of building, renovation, and contents coverage.
However, as the product has rather low valuables sub-limits and has an extra cost for miscellaneous benefits such as appliance coverage and family accidental death protection, its coverage may not be enough for high net worth consumers.
Overall, Tiq Home Insurance by Etiqa can be a good option for those looking for a comprehensive no-frills coverage.

Speaking of which, SingSaver is currently having a promotion for Tiq Home Insurance by Etiqa with a S$5 reward via PayNow and 25% off your premium when you apply. Valid till 30 November 2021. T&Cs apply.
2. MSIG Enhanced HomePlus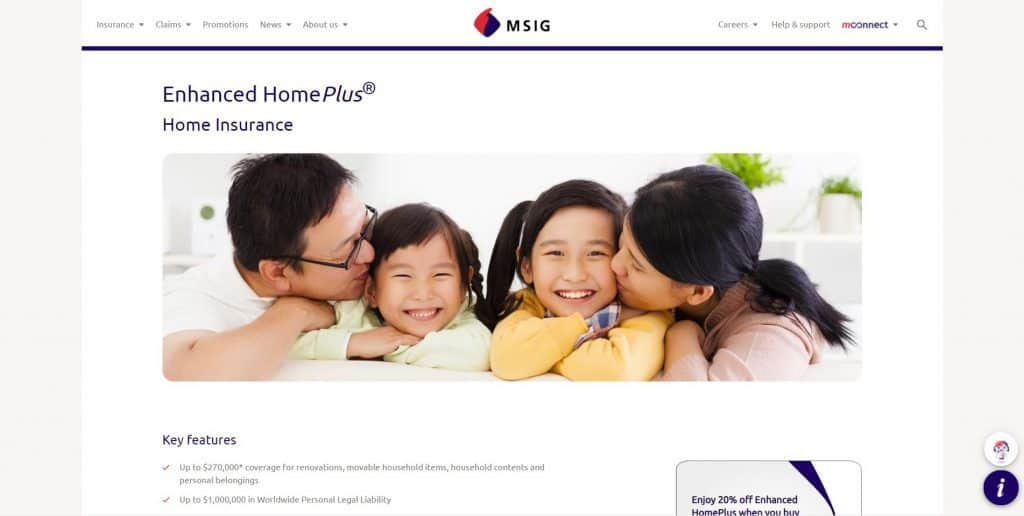 MSIG offers some of the most well-rounded features in their comprehensive plans that can give homeowners great peace of mind. Its flexibility to add coverage ensures that you are getting the exact amount of coverage you need. MSIG also offers above-average 3rd party liability and medical coverage.
In particular, MSIG's Enhanced HomePlus insurance plan consist of various features that can keep you at a peace of mind. They offer coverage for renovations, movable household objects, household contents and personal belongings of up to $270,000.
If your home is inhabitable due to circumstances such as an accident, rest assured that this plan covers your temporary accommodation costs, emergency cash, conservancy charges as well as the loss of rent. It even covers the loss of a pet during an accident at home (naturally though, the loss of a pet is just as emotional as losing a dear family member).
Overall, it's a rather comprehensive policy with widespread benefits. SingSaver is also having a promotion for MSIG Home Insurance Plan – Receive S$10 via PayNow when you apply. MSIG is also offering a promotion for this plan with 20% off your premium. Valid till 19 December 2021. T&Cs apply.
3. AXA SmartHome Plan

One of the most versatile and best-value home insurance plans on the market, AXA's SmartHome combines competitive premiums and generous sub-limits and benefits.
AXA SmartHome is best recommended for homeowners who are looking to maximise coverage and value for their money, especially for consumers looking to maximise coverage for their valuables and renovations due to AXA SmartHome's emphasis on being a high-value protection scheme. As such, its premiums typically cost slightly more than average.
The amount of coverage you can choose at AXA's SmartHome, is pre-set to certain amounts, so you risk either under or over-insuring your home. There is also no coverage for your pets.
This plan is worth consideration if you'd like high coverage for your valuables and artwork.
Adding on, there's an exclusive promotion by SingSaver for selected AXA's SmartHome plan – receive S$10 via PayNow. AXA is also having a promotion for selected AXA Smart Home Insurance Policies with 30% off your premium. Valid till 31 December 2021. T&Cs apply.
4. FWD Home Insurance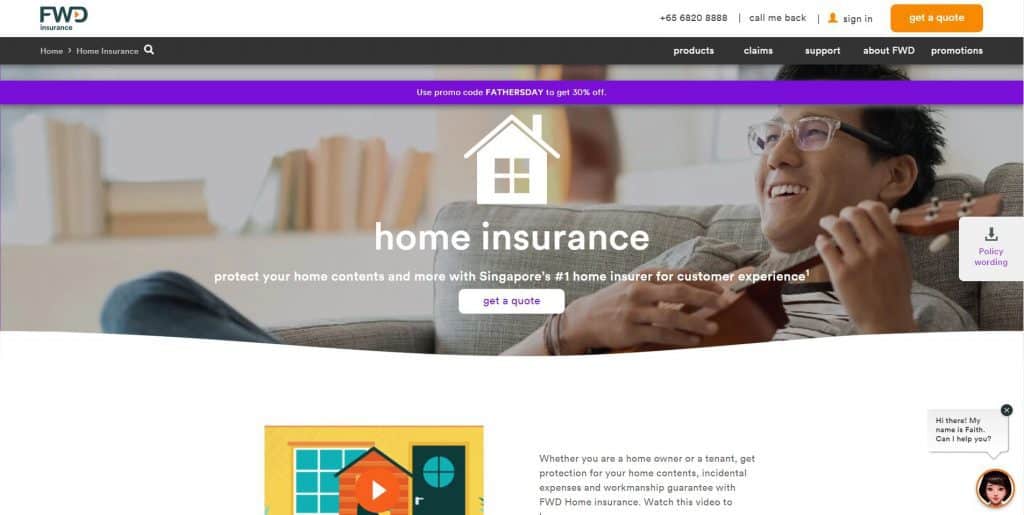 Offering competitive prices and generous coverage, FWD Home Insurance is one of the highest value-for-money plans on the market for the average homeowner – especially for HDB or Condominiums. Even when you choose to maximize your contents and renovation coverage, FWD Home Insurance's premiums still cost 46-51% below the industry average.
Also, FWD Home Insurance is highly flexible as it lets you customise your policy based on number of rooms, renovation, content and building coverage. However, despite its wide array of coverage, FWD Home Insurance may not appeal to high net worth individuals as its sub-limits for artwork, jewelry and other valuable items are quite low.
In any case, FWD Home Insurance would be a great home insurance plan to choose if you want affordable coverage for everything from pet coverage to home assistance. You can get S$5 off if you have a security system or full-time domestic helper. Best of all, FWD is currently having a promotion! Simply key in "BESTHOME" to enjoy 20% off + S$25 CapitaVoucher.
5. Income Enhanced Home Insurance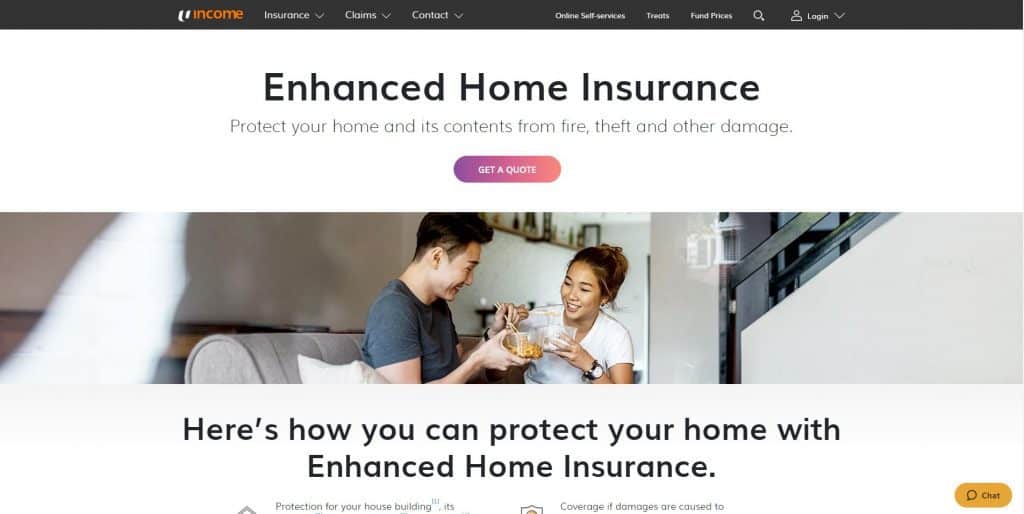 Income (previously NTUC Income) has the cheapest plan for 3-room HDB flat owners in Singapore. Their Enhanced Home Insurance plan is one of most highly rated picks for home insurance due to its focus on affordability and coverage breadth. While being one of the cheapest premiums for landlords & tenants, Income does not sacrifice key benefits of its insurance despite the low cost. Not only that, it is highly flexibility and therefore is able to cater to the needs of almost any type of consumer.
As such, you can consider this plan if you are looking for the cheapest home insurance for your small HDB flat. Income is currently having a promotion – "HDB20" for 20% off 3-year polices for HDB flats + up to S$25 CapitaVoucher or Google Home Mini; "PRIVATE25" for 25% off 3-year policies for private/landed properties + up to S$160 of CapitaVouchers (*min premiums apply)
6. Great Eastern Home GR8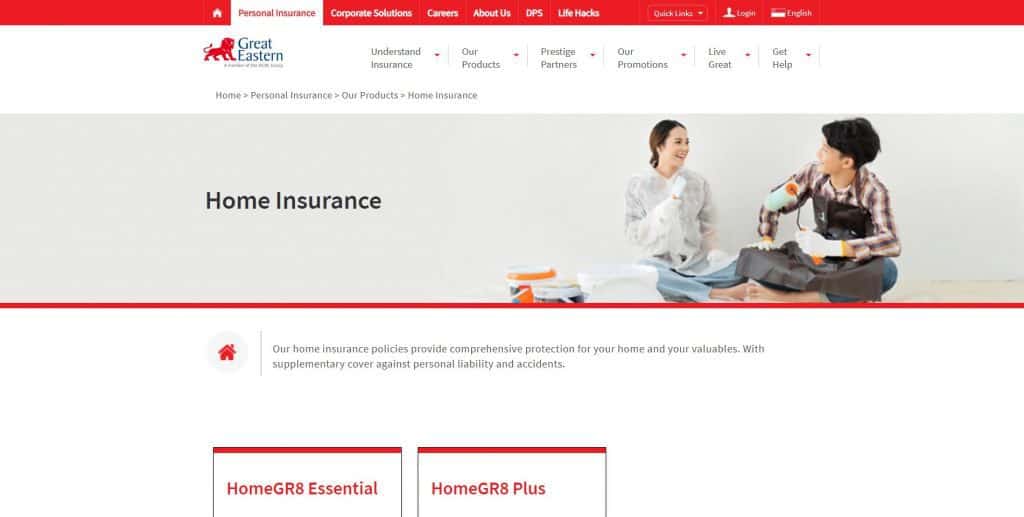 Great Eastern HomeGR8 home insurance plans are great choices for homeowners and tenants as they offer below-average premiums but above-average value for tenants & landlords.
Affordable and provide great value for money for most consumers, the plans stand out to affluent homeowners due to their wide array of peace-of-mind benefits and one of the highest valuables sub-limits on the market.
However, it may not be suitable for flat owners who are looking for a cheap no-frills plan.
Overall, you can consider this plan if you want a competitively priced plan with generous valuables coverage. They are running a promotion currently where you can get 15% off when you sign up for a 3-year plan.
7. Chubb Deluxe Home and Contents Insurance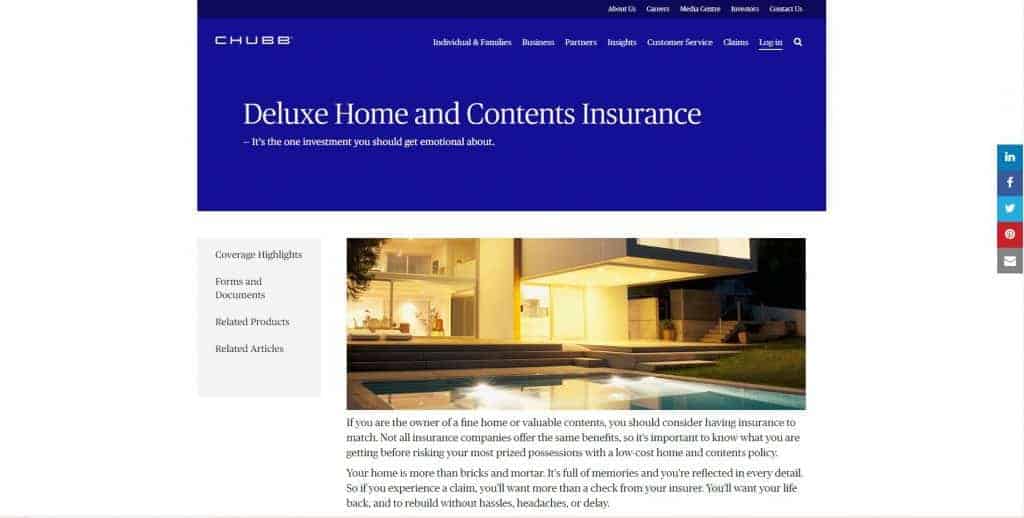 Deluxe Home and Contents Insurance by Chubb provides you with a comprehensive protection of your beautiful home and its valuable contents. Under this plan, the cost of rebuilding your home will be fully borne by them after the covered loss even if it exceeds the sum insured. (Extended Replacement Cost Coverage)
In the event you decided not to rebuild your home or replace your possessions after the covered loss, you can opt for the cash settlement option where you will receive cash compensation.
By signing up for their plan, you will have free rein to decide which craftsmen/contractors you want to rebuild your home or repair your possessions.
This plan also compensates you for the amount of money required to replace your items, up to the sum insured. Wherever you are in the world, rest assured that all your possessions will be automatically covered for accidental loss or damage.
8. Sompo HomeBliss Cosy Plan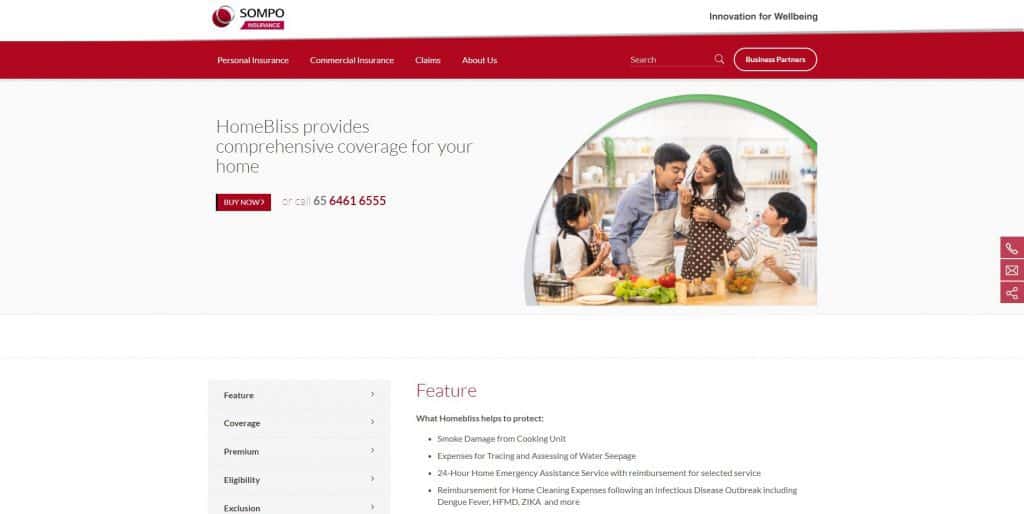 Sompo HomeBliss Cosy Plan offers coverage for home-owners, landlords, and tenants, for HDBs, condominiums, and different types of landed properties. There are many benefits to this home insurance plan. First, you can get up to S$5,000 to modify your home if you or your family members suffer permanent disability.
Also, you can get up to S$500 in the event of theft or accidental death of your pet within your home premises. Lastly, you can also get reimbursement of up to S$500 for expenses incurred to clean your home following an infectious disease outbreak.
Sompo HomeBliss Cosy Plan also provides a 24-hour emergency home assistance helpline. They are having a promotion currently where you can enjoy a 10% loyalty discount when you renew your policy.
Conclusion
Do you have any reviews and comments to share regarding our choices for the best home insurance in Singapore?
While SBO is committed to supporting our local businesses, we welcome any feedback and anonymous sharing regarding your experience with home insurance in Singapore.
We hope that this guide will be useful in helping you to make an informed decision when it comes to finding the best home insurance in Singapore.
Featured Image by National Cancer Institute on Unsplash
Explore More Content