How to Buy Crypto in Singapore? A Guide for Newbies
Own a crypto in 30 mins with this simple guide!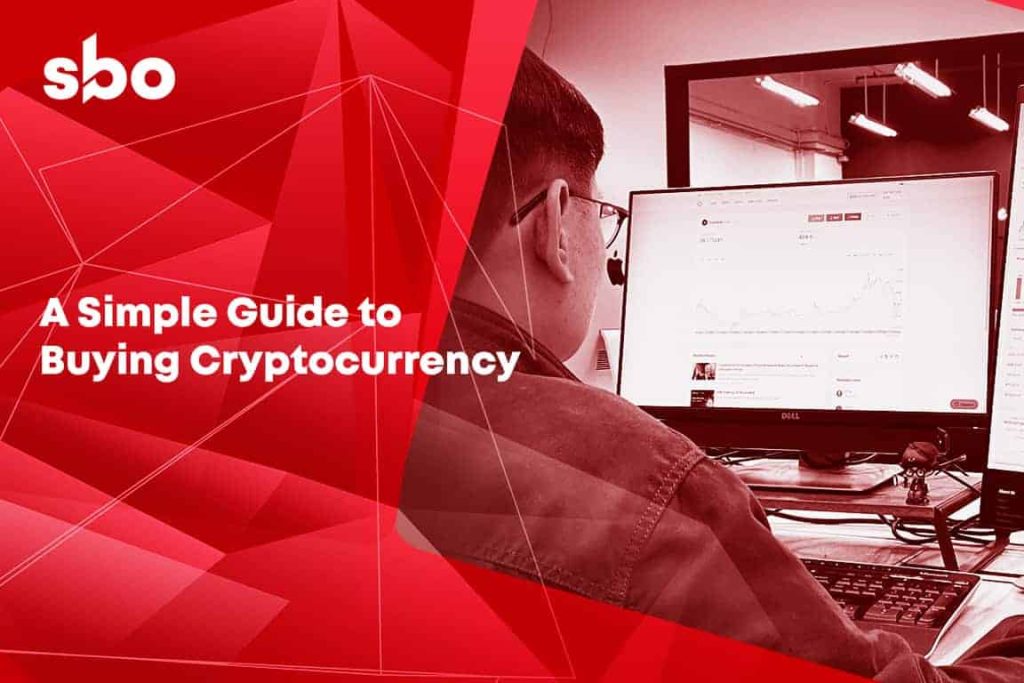 Unsure if it's still legal to buy cryptocurrencies in Singapore after Binance got banned?
Wondering how to buy Bitcoin in Singapore as a form of financial investment?
Buying your first crypto can be a very overwhelming experience especially if you are new to the concept of blockchains, digital wallets and cryptocurrencies. I was once in your shoes; at that time, there were very few resources in teaching newbies like us how to buy crypto in Singapore.
Want to know how to buy crypto in Singapore?
Read this guide; structured and written for newbies like us.
It's Perfectly Fine to Buy and Invest in Crypto in Singapore
First of all, buying cryptocurrencies is legal in Singapore.
Binance Global Exchange was banned because it did not adhere to certain conditions laid down by MAS.
In October 2021, MAS even approved DBS and Independent Reserves to offer digital payment token services in Singapore.
So, you do not have to worry about making your first cryptocurrency investment.
Bitcoin is Not the Only Cryptocurrency You Can Buy in Singapore
Bitcoin is just one form of cryptocurrency – there are many others out there!
However, with the sheer number of cryptocurrencies, there's no single platform (at least for the time being) that offers liquidity for all cryptocurrencies.
So one of the first things you should take note of is: which cryptos would you like to buy, and which the exchange offers them?
How to Buy Crypto in Singapore? Your First Coin.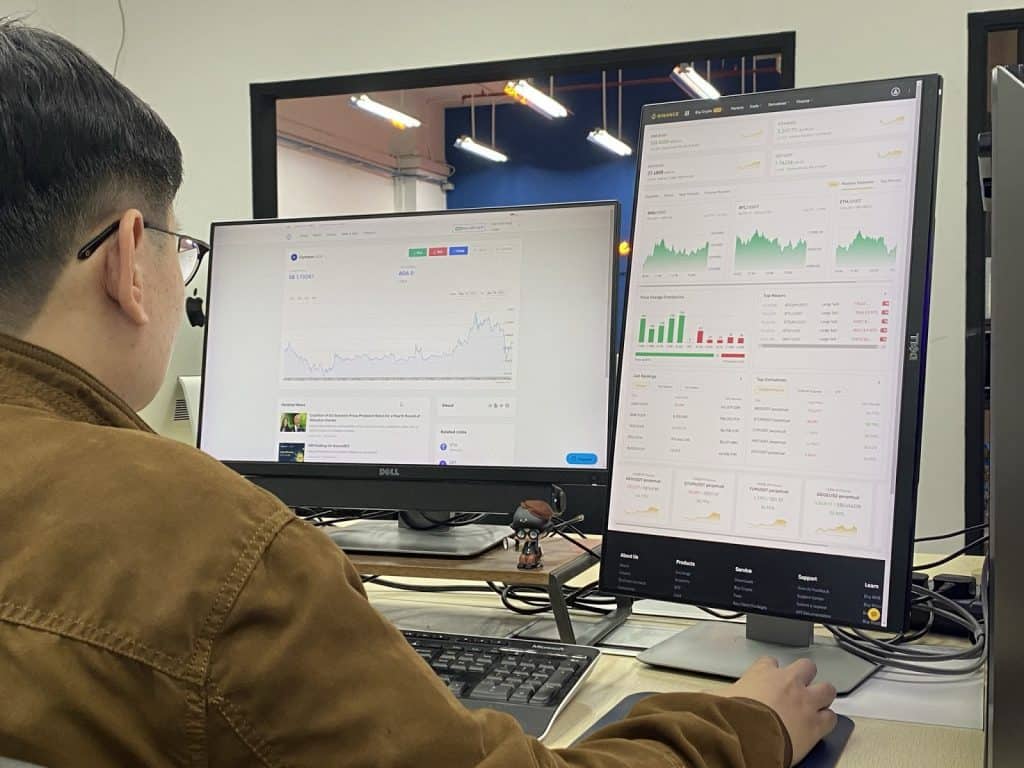 The first cryptocurrency I bought was Binance Coin (BNB) on Binance Singapore, which hasn't been in operation in Singapore any longer.
Not knowing anything back then, it felt extremely daunting at first, but looking back, buying my first cryptocurrency really was quite a straightforward process. However, as easy as the process of buying cryptocurrency in Singapore now seems to be, I still had to spend a few hours pouring through various online resources and doing my own research to be able to form a "big picture" in my mind.
What is a wallet? What is an exchange? How do I transfer?
Time spent on this could have been saved had there been a clear and easy to understand guide on how to buy crypto in Singapore.
When you buy crypto in Singapore, the initial things you'd need to determine are:
What's the cryptocurrency you'd like to purchase?
Which exchange(s) offer it?
What are the transaction fees required for buying/selling the specific crypto (transaction fees differ from crypto to crypto, as well as exchange to exchange)?
Do you intend to transfer the cryptocurrency out of the exchange to a digital wallet?
A List of Crypto Exchanges in Singapore (Non-Exhaustible)
Fiat Deposit Fees

Coin Availability

Notes

Bank Transfer: Free
StraitsX: 0.55%
Credit Cards: 4%

~70 types of cryptos

There's a limit of SGD$20,000 per day.
At the point of writing, some coins are not transferable, meaning you can only buy or sell the coins within the exchange. You are not allowed to transfer the coins to other exchanges or wallets.

Bank Transfer: 0.55%

~10 types of cryptos

There's a limit of SGD$20,000 per day.

Credit Cards: 3% to 12%

~250 types of cryptos

Expensive deposit fees from 3% to 12%. Does not support fiat deposits.

May be the next platform to be banned in Singapore since they operate similarly to Binance Global Exchange. (opinion only)

StraitsX: Free
Credit Cards: 3.5%

>100 types of coins

Credit Cards: 3.84%

~51 types of cryptos

Payment with credit cards only. You can do some trading here but limited to the available cryptos.

Debit Cards: 3.49%

~34 types of crpytos

Only support debit cards. Credit cards not supported.

Luno Exchange

StraitsX : Free

~6 types of cryptos

You only can buy a limited range of cryptos.

StraitsX : 0.6%

~8 types of cryptos

Not operating anymore.
Here are some of the crypto exchanges in Singapore you can use.
Understand Crypto Exchanges vs Crypto Wallets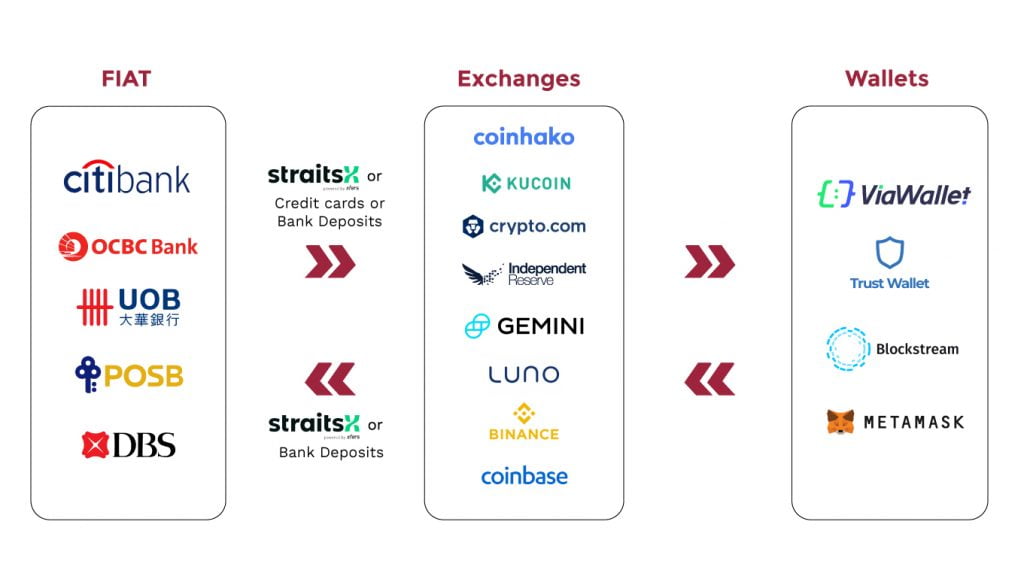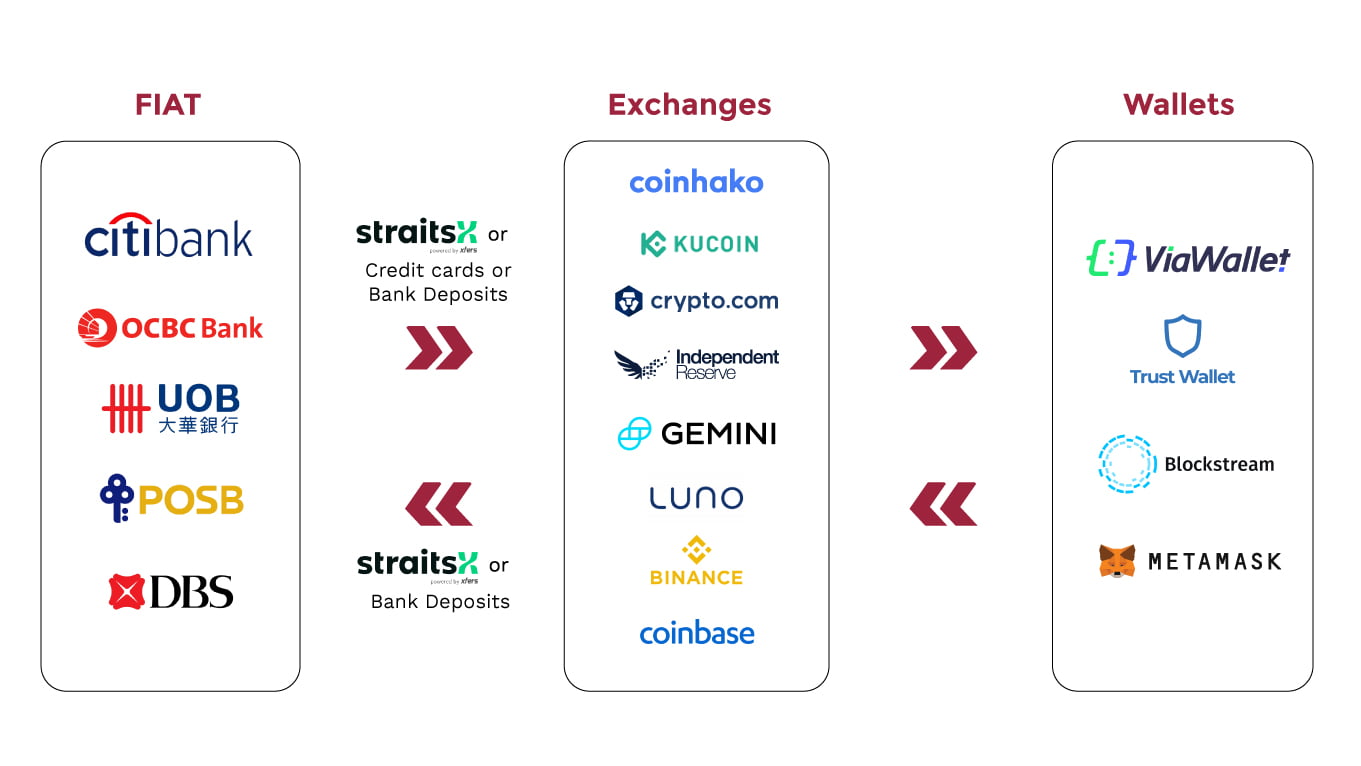 A Crypto Wallet is a medium where you store your cryptos (check out the difference between hot wallet vs cold wallet) and doubled up as a crypto account to interact with crypto applications such as games and Defi. An Exchange is a place where you deposit/withdraw fiat and trade cryptos.
The first place to deal with when you buy crypto is always a Crypto Exchange which has the ability to deposit Fiats (Singapore Dollars). Such an exchange will (usually) also allow you to withdraw Fiats too (back to your bank accounts).
After buying the crypto you want, you need to decide what to do with it:
If you want to use the crypto to purchase some assets such as NFTs, games or even real-life products, you will need to transfer the crypto to a crypto wallet.
If you want to use the crypto to ultimately invest in some Defi platforms for staking, you will need to transfer it to a crypto wallet too.
If you just want to wait for the crypto's price to go up and liquidate it, you can consider leaving the crypto in the exchange. If you are concerned about security, then you should consider moving it to a crypto wallet.
If you are interested in trading your crypto to another crypto, you can consider moving your crypto to an exchange that deals with both currencies. If you are going to swap via decentralised exchanges like Uniswap, you will need to move your crypto to a crypto wallet.
Do note though: depending on which crypto you invest in, all transfers of crypto from one location to another usually incur gas fees (transaction fees), which can sometimes go as high as USD$150! For Ethereum, during periods of high transaction activity like the launch of NFTs, folks have even encountered gas fees of US$6000! Yikes!
(check out the average daily gas price of Ethereum from August 2015 to 6 April 2022!)
Let's Buy Some Dogecoins!
To demonstrate the actual process of buying crypto in Singapore, let's try it out by buying Dogecoin.
What is Dogecoin?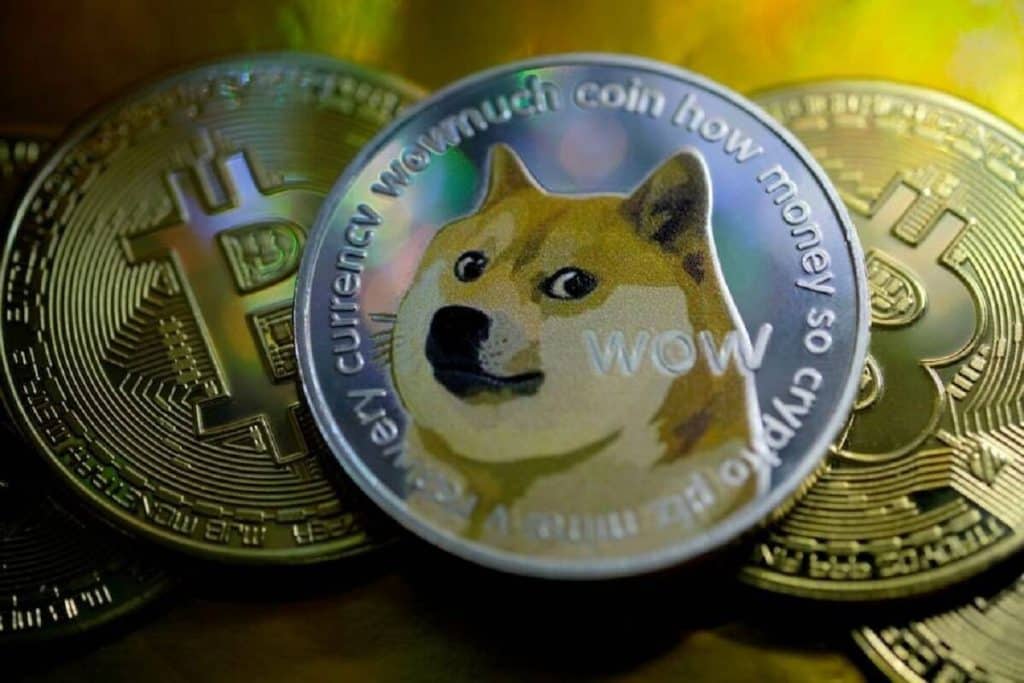 Officially, Dogecoin is a meme cryptocurrency invented by software engineers Billy Markus and Jackson Palmer, who decided to create a payment system that is instant, fun, and free from traditional banking fees.
Unofficially, Dogecoin started off as a joke with no value or purpose other than to parody Bitcoin. However, this 'joke' is now one of the most widely traded cryptocurrencies in crypto exchanges.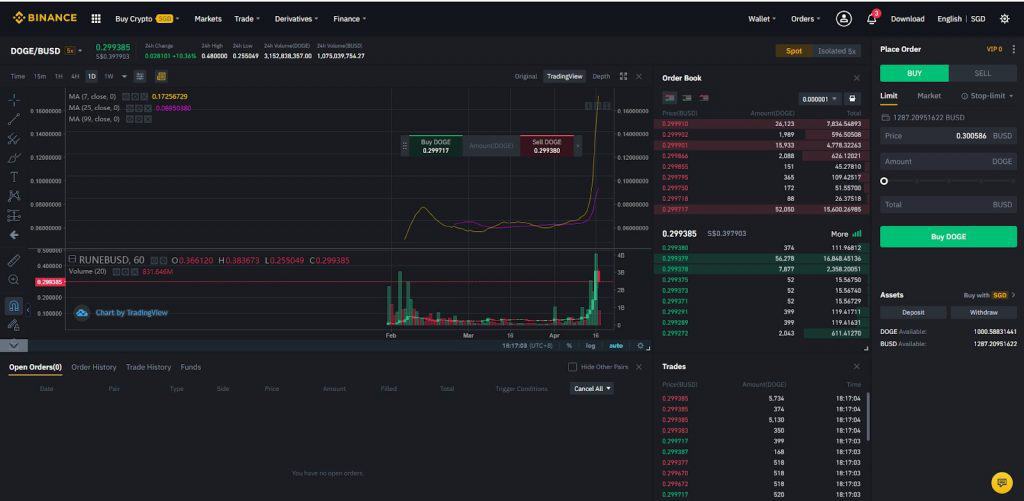 If You Had Bought $1,000 Worth of Dogecoin Back in 2020…
Everyone is talking about Bitcoin – but how about Dogecoin? If you had invested $1,000 SGD buying Dogecoin in 2020, it's worth about S$14,000 (at the point of writing)!
However, you should be aware that Dogecoin is a highly speculative crypto – I do not advise investing in Dogecoin! The only reason why I am using Dogecoin as an example is because it is more accessible to people at approximately ~SGD$0.40 per coin.
Do note that not all brokers and exchanges allow the trading of Dogecoin; there are thousands of different cryptocurrencies out there, so most brokers usually offer a limited range of crypto.
Disclaimer:

1. Do your own research to find out what the potential risks are before putting money into any cryptocurrency.

2. This is not financial advice.

3. Do not use money that you cannot afford to lose and even more important – do not borrow money to put money into cryptocurrency!
Before Buying Your First Crypto, You Need to Do the Following
Dealing with cryptocurrency is not as anonymous as some people think. In fact, the nature of cryptocurrency being a trustless ledger nowadays makes it trackable, so scammers – up yours!
To start buying cryptocurrency in Singapore, you need to do a certain degree of identity verification.
This is known as KYC (Know Your Customer). Financial institutions apply this to verify a customer's identity, essentially to make sure that they are not on any prohibited sanction lists or are known criminals using the organisation for money laundering.
To start, you need to prepare the following:
Pictures of your NRIC (both sides)
A piece of paper, marker, NRIC, and a mobile camera (for StraitsX verification)
Bank statement of the bank you plan to use for depositing and withdrawing cash
An Authentication App (For this, I am using Authy, you can also choose to use Google Authenticator App)
Singpass Application for MyInfo verification
Open a StraitsX (used to be known as Xfers) Account
You will need to know how you are going to pay money for the crypto investment. If you are buying cryptocurrency in Singapore, you can do it via StraitsX, Credit Card / Debit Card payment, or direct Bank Deposit.
StraitsX / Direct Bank Deposit require fewer fees as compared to Credit Card / Debit Card payment, however, Xfers / Direct Bank Deposit require more steps to be undertaken for payments to go through.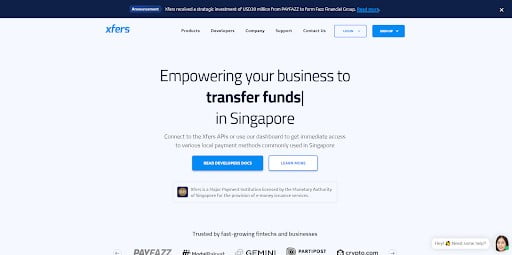 I personally prefer using StraitsX due to the lower transaction fees and speed of transaction, which is usually less than 10 minutes. Direct bank deposit will very much depend on the entity's clearing schedules, which can be around 1-2 working days.
To sign up for a StraitsX account, go to this link.
You will need to go through a series of identity verifications before you can get your account verified and ready.
StraitsX has an interesting verification process that requires you to take a selfie with a piece of paper and your identity card. You will also be required to submit your bank statement.
This process of verification normally takes around one business day.
Open a Coinhako Account
There are a few exchanges where you can purchase your first crypto, but here, I recommend you start by exploring Coinhako. Alternatively, you can consider Independent Reserve or Crypto.com.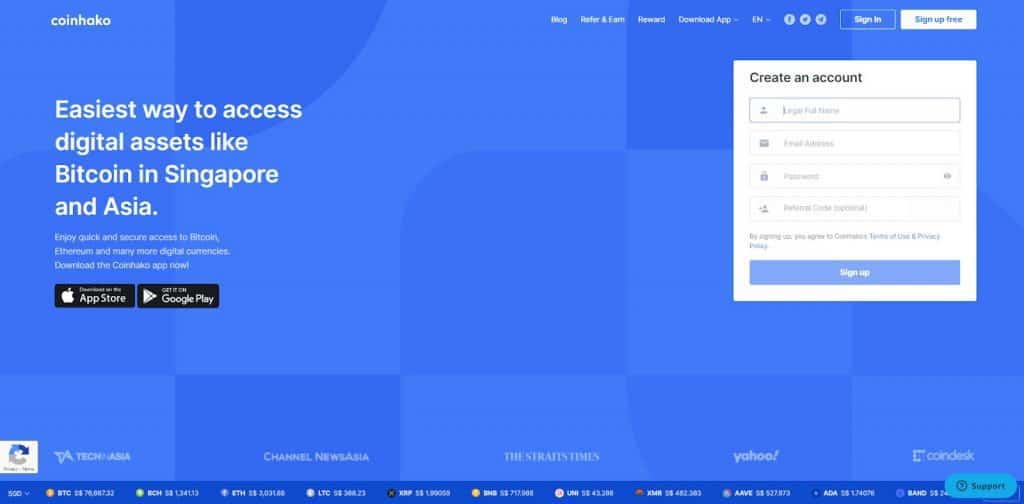 A proper exchange is more suitable to trade crypto. Coinhako is fundamentally a crypto brokerage – the platform does not allow you to set a bid or asking price. It only allows you to convert or swap cryptos at the fixed exchange rates they set.
Coinhako is one of the easiest places to buy cryptocurrency in Singapore, though it does have some limitations as a trading platform.
I recommend you to only use Coinhako as a place to purchase crypto with SGD funds; trading of other cryptos is better off at other exchange platforms such as Crypto.com
To sign up for a Coinhako account, go to this link.
Similarly, Coinhako requires you to go through identity verification before you are allowed to commence trading.
Once your Xfers and Coinhako accounts are verified, you are ready to buy your first cryptocurrency!
Funding Your Coinhako Funds
To buy your first cryptocurrency, you need to fund your Coinhako account or you can buy directly with a credit card.
As a start, we can try out by funding our Coinhako account with SGD $100. It should be enough to buy some Dogecoins!
Funding via StraitsX
On the main dashboard, simply click Deposit Cash (SGD) and StraitsX Direct Charge.
Type in $100 SGD and you will be able to observe that StraitsX charges 0.55% (55 cents for $100) as deposit fees. There are no other charges by Coinhako.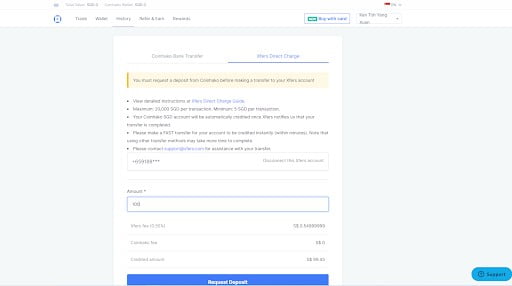 Click Request Deposits and follow the instructions carefully to make a manual bank transfer.
Once the transfer has been committed, click the "I have transferred" button and await the confirmation by Coinhako.
From my experience, this process usually requires only around 10 minutes from point of transfer to point of confirmation.
Funding via Bank Deposit
You can choose to fund Coinhako directly without going through Xfers. At the Coinhako bank transfer tab, you will be given the bank details for you to commence the transfer. Although there is no fee for this mode, there is, however, no instant confirmation, so you will be required to wait around one business day for Coinhako to process the payment.
Personally, I do not like this method, as quick confirmation is important for me. If you do not mind waiting and prefer to not paying 'possibly avoidable' fees, you can choose this mode of funding your account.
Buying Direct via Credit Card
If you choose to purchase cryptocurrency at Coinhako with a credit card, there will be a fee of 1% for Coinhako and a 3% fee for usage of credit card.
In the example below, there's a fee of $4 for $100 SGD worth of fund deposit.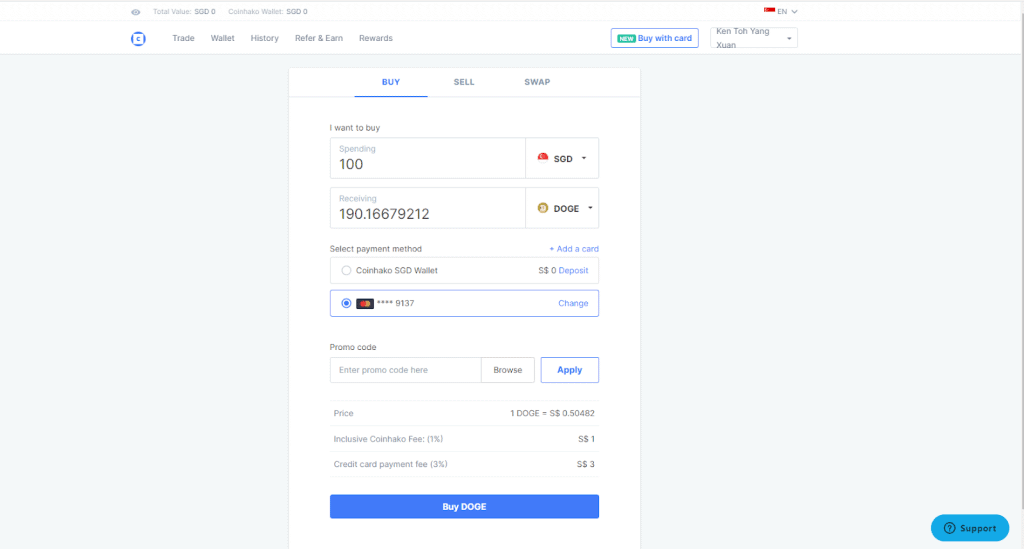 Different Fund Deposit Modes at Coinhako
Here is a summary and comparison of the different modes.
| | | |
| --- | --- | --- |
| Method | Transaction Fees | Speed |
| StraitsX | 0.55% | ~10 mins |
| Credit / Debit Card | 4% (1% Coinhako & 3% Credit Card) | ~1 mins |
| Bank Deposit | None | 1 day |
And Now, You Can Buy Your First Cryptocurrency
Once your funds are in, click on the Trade menu and key in $50 SGD to buy Dogecoin!
The system will reflect the number of Dogecoins you can purchase, depending on the exchange rate / market price at the point of time.
Do note that you only have a few seconds to confirm your order; otherwise, the quote will expire and the exchange rate will change again. (crypto prices can, and do, change very quickly, moving in or against your favour).
Once you click on the confirmation, the transaction will take a few minutes to be reflected on your holdings.
Congrats! You Own Your First Cryptocurrency!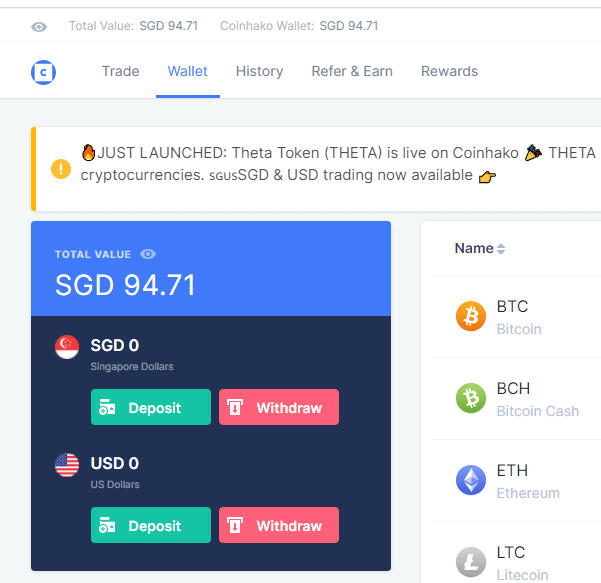 Now that you know how to buy cryptocurrency, you will need to know how to transfer it to your wallet or transfer it to an exchange for trading.
Disclosure: This post contains referral and affiliate links to 3rd party products and services. If you go through them to make a purchase, we will earn a commission at no additional cost to you. The decision is yours, and whether or not you decide to buy something is completely up to you.
Featured Image by CardMapr.nl on Unsplash
Explore More Content