Yakiniku-GO: $9.80 Value Treat Set Meal (U.P. $14.80)
About this promotion
Japanese barbecue lovers, now is the time to enjoy a Value Treat Set Meal at only $9.80 and save up to 34%!
Dig in to simple and affordable Japanese grills at Yakiniku-GO! A smoke-free and fuss-free dining experience that can be enjoyed at any time of the day. Sizzle your meat just the way you like it, and dip it in Yakiniku-GO's sauces for the perfect taste!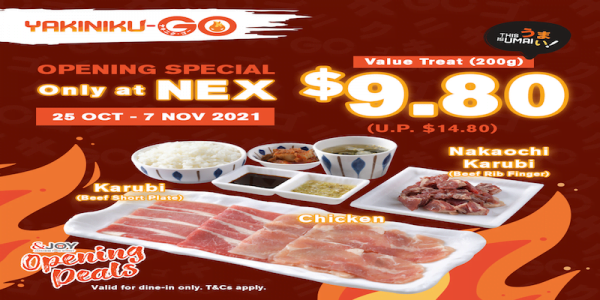 The &JOY Japanese Food Street Opening Special includes beef short plate, beef rib finger, chicken, rice, soup, kimchi or salad.
This value treat is now available at our new Yakiniku-GO outlet! Visit them at Nex #B1-78 today to claim your bundle of joy!
Terms and Conditions
Promotion is only till 7 Nov
Applicable for dine-in only
Only available at Nex mall