4Finger's: All-new cheesy cheesy chicken bundles
About this promotion
What's that crispy chicken that will rock your world?
Oh right... 4Finger's!
Get cheesy with them and have a taste of their all-new cheesy cheesy chicken!
Fret not, you're not gonna eat alone as they come in bundles!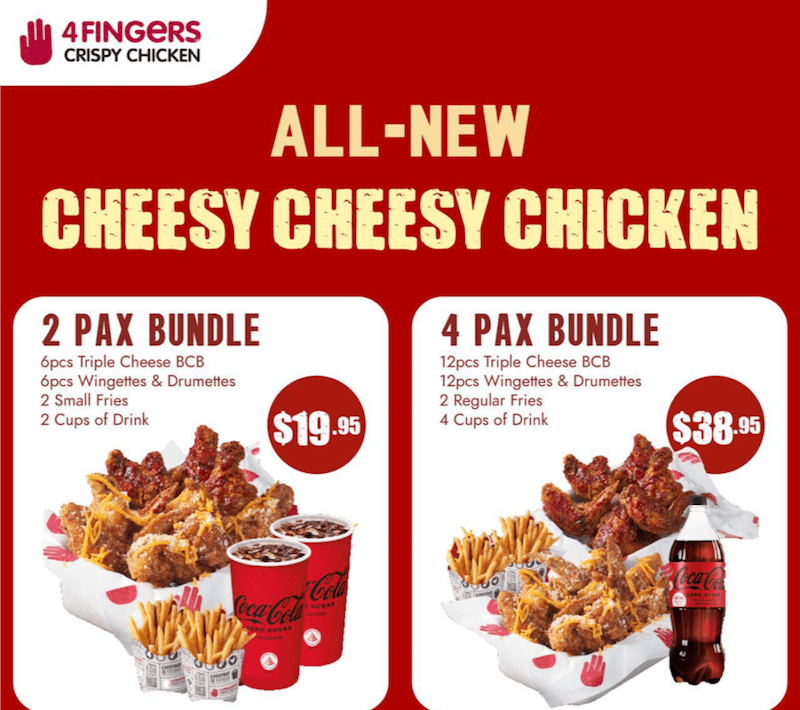 Two's a party! Order 2 pax Cheesy Bundle and kick start your festive weekend with your Cheesy kaki!
2 Pax Bundle
6pcs Triple Cheese BCB
6pcs Wingettes & Drumettes
2 Small Fries
2 Cups of Drink
Alternatively, you can also add Nacho Cheese Dip for your 4pax Cheesy Bundle order and your Christmas party is ready to go!
4 Pax Bundle
12pcs Triple Cheese BCB
12pcs Wingettes & Drumettes
2 Regular Fries
4 Cups of Drink
Order your very own set of Crispy Fried Chicken now!
These bundle deals are available at all outlets.