9 Best Foreigner Loans in Singapore that are Simple and Stress-Free [2023]
We know how tough it is to live far away from your loved ones. As such, we have rounded up 9 best foreigner loans in Singapore if you are in need of financial support.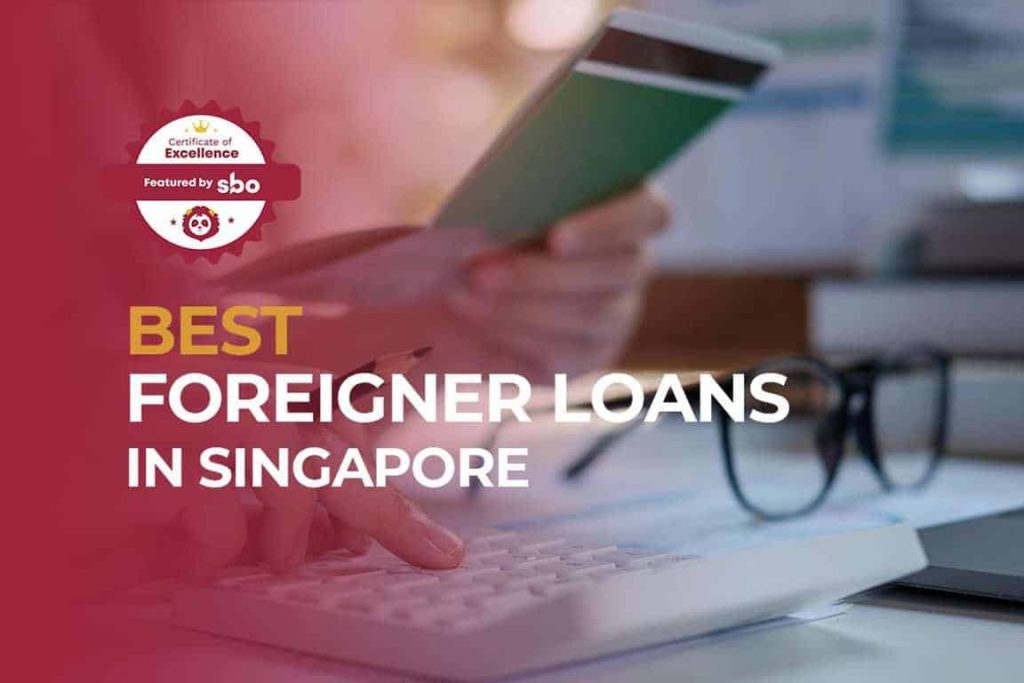 Are you a foreigner in Singapore who is living far away from home and family? If you are, you have come to the right place. We know that it can be tough and scary living in a foreign country without your loved ones by your side, but it gets worse when you are hit by financial constraints. A foreigner loan will be able to help you alleviate some of the financial constraints.
However, with so many banks and money lenders that offer foreigner loans in Singapore, you may not know which foreigner loans may be best for you. To help you, we have put together the 9 best foreigner loans in Singapore that you can sign up for.
1. CreditMaster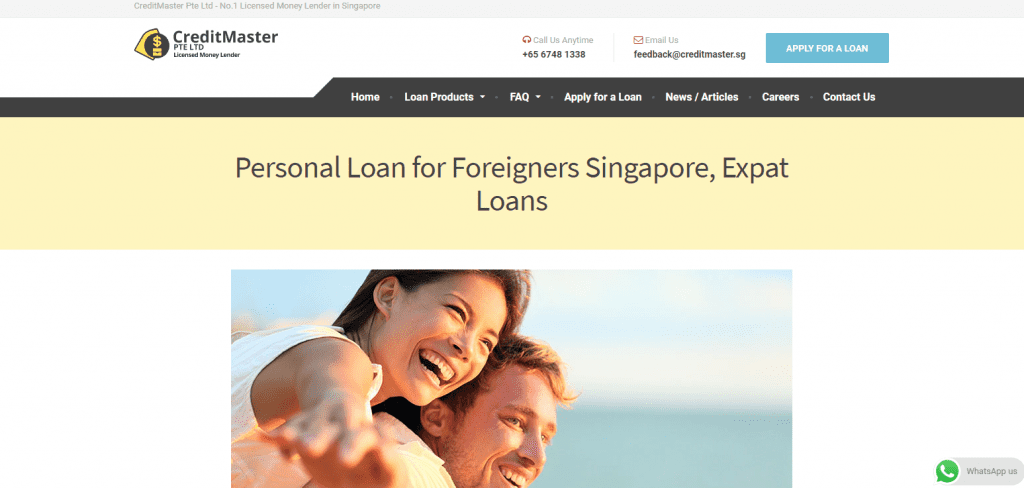 CreditMaster is fully licensed by the Ministry of Law in Singapore. They have a wide range of financial products and services to cover a wide range of needs for all their customers. Their team is made up of qualified and licensed financial advisors and consultants, who are dedicated to providing their customers with financial products that suit their unique needs.
One of their best financial products would definitely be their foreigner loans. Their foreigner loan is an unsecured term loan facility that is easy to access and flexible to meet any financial emergencies. Credit Master guarantees quick processing of the loan and adherence to all financial regulations set in the law. If you are unsure, you can always seek a consult with their team of financial experts, who will provide all information regarding the loan beforehand to ensure you make an informed choice.
2. 1AP Capital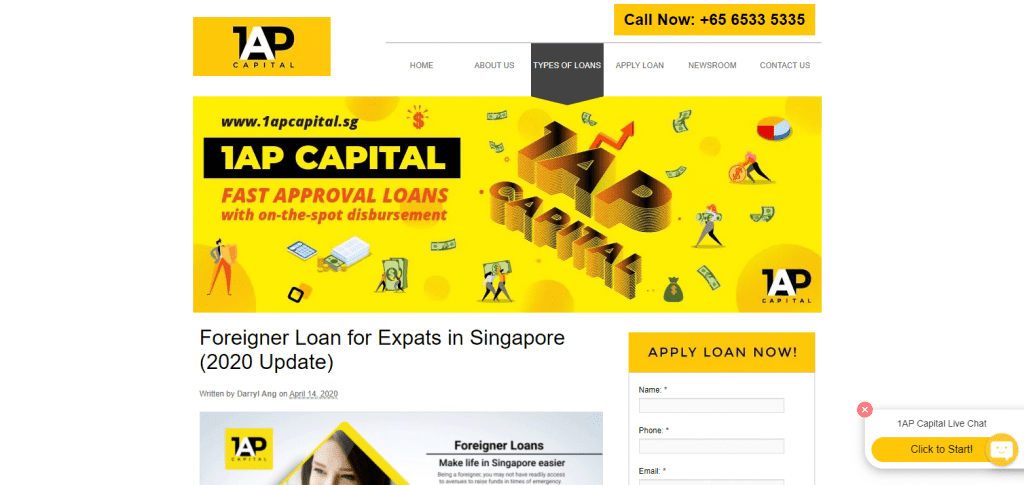 1AP Capital is a licensed money lender in Singapore with years of combined experience in its financial advisory team. They have established themselves as the first port of call for foreigner loans due to their streamlined loan application and processing.
Their loans can be used to meet many different types of emergencies including educational, living expenses, medical and any other pressing needs that you might be having. You can trust them as all their loan products are backed by a highly trained team of financial advisors with long-running experience in the industry.
If you are an expat looking for quick financing in Singapore, 1AP Capital is just the right place for you as all you need to do is to fill their simple online application and a loan assistant will get back to you within the hour to arrange for a meeting at their office. You will be able to get the cash you need without the usual processing delays.
3. Credit 21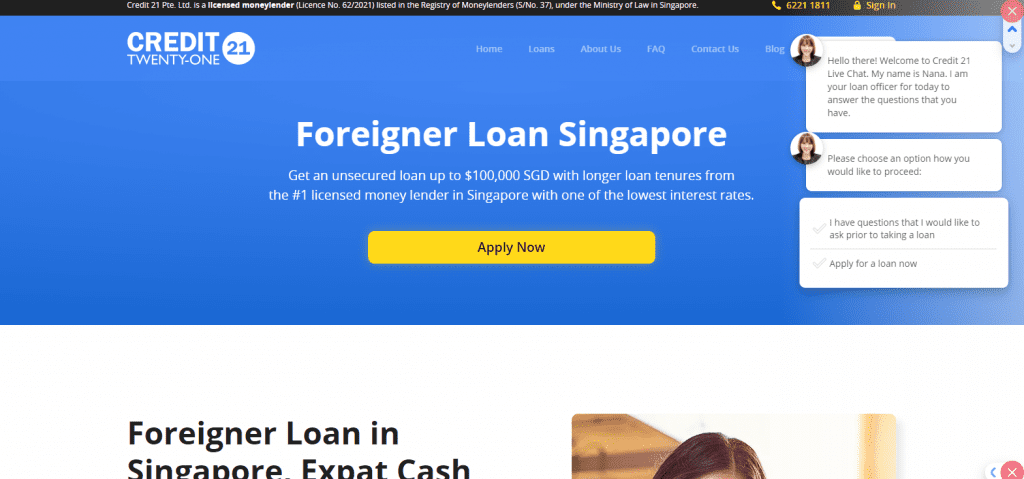 Credit 21 is the number 1 licensed money lender in Singapore. They are registered with the Ministry of Law, and has high levels of customer satisfaction ratings, indicating that they are a company you can trust. All personal information about you will be handled with the highest level of confidentiality. Their interest rate and repayment plans are also negotiable so as to tailor a solution that can best fit your needs.
All you need to do is to fill up an online loan application form, which takes less than 3 minutes, and a loan officer will be in touch with you on your application. Credit 21 has over 16 years of experience in the industry and granted almost $100 million in loan amount to its customers. Loan disbursement typically takes around 24h so you can be assured you get the cash you need as soon as possible.
4. HSBC Personal Loan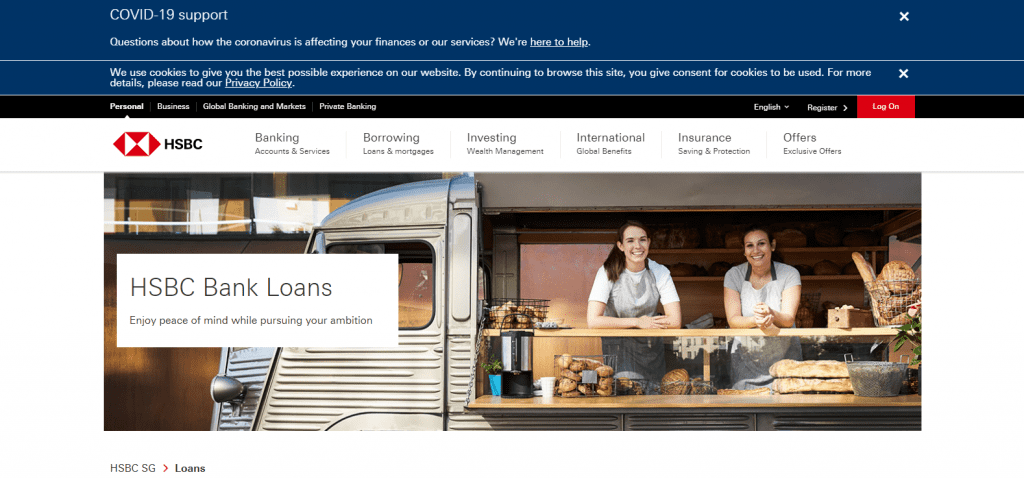 HSBC offers one of the most affordable personal loans for foreigners in Singapore. You can loan up to 8 times your monthly income, and am provided with the choice of fixed or flexible repayment. This means that you have the flexibility to spread the cost of your loan over any period of time that is best suited for you.
With HSBC Personal Loan, you will get easy access to extra cash via Debit Card, funds transfer via Online Banking or withdrawal from ATMGet cashback of up to SGD3,100 and a promotional interest rate from 3.4% per year (EIR 6.5% per year) with no fee.
5. Lendela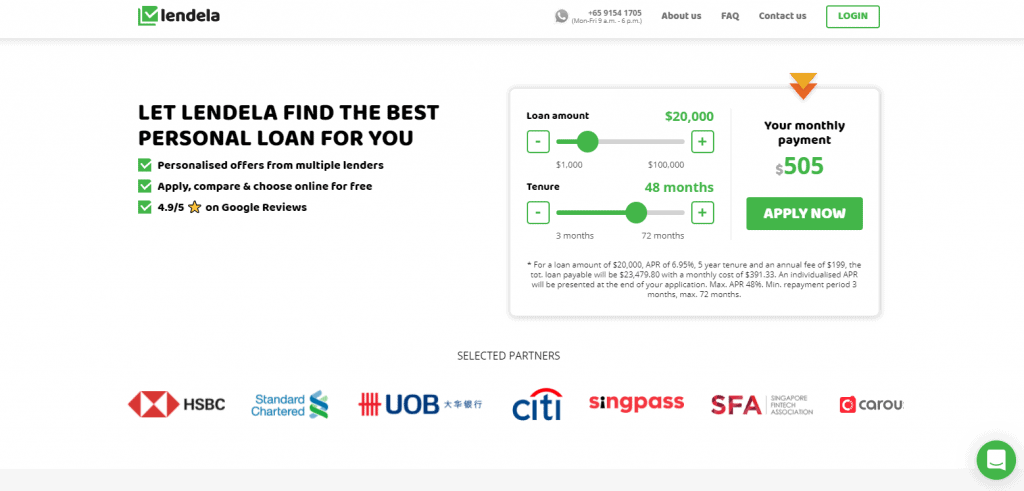 Lendela is Singapore's only true personal loan comparison service. They will help you to find the best personal loan in Singapore, and it is completely free of charge. Their goal is to make your loan application process quicker, simpler and more transparent.
All you need to do is to fill out your online application in a couple of minutes to receive loan offers from multiple banks and licensed lenders. You can then view all of your offers, compare the terms and select the best loan deal suited for you.
6. OCBC Cash-on-Instalment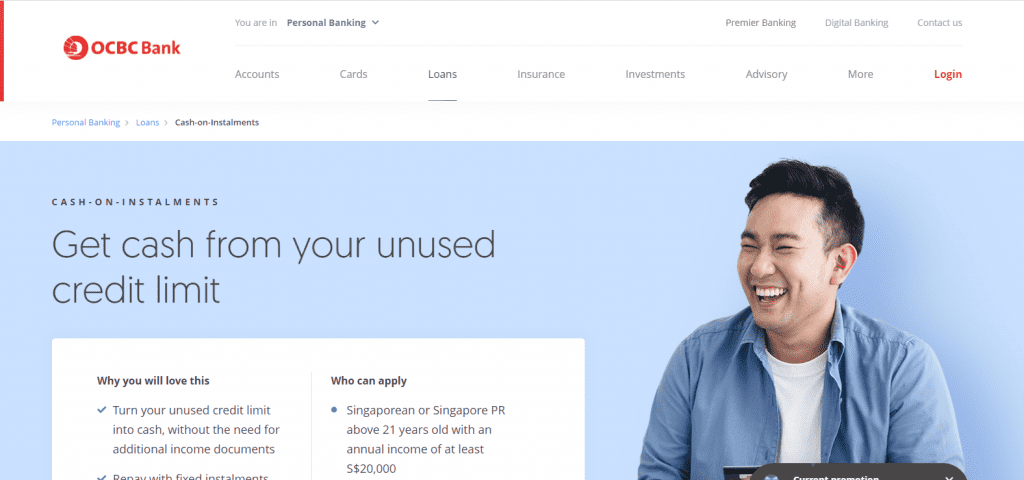 OCBC Cash-on-Instalment is a great foreigner loan in Singapore as it turns your unused credit limit into cash, without the need for additional income documents. You can get to enjoy interest rates from as low as 4.70% per annum (EIR 9.06% per annum).
Not only so, but repayments can also be made with fixed instalments over 12 to 60 months. As the monthly repayment for your Cash-on-Instalments is fixed, this allows you to manage your finances with ease of mind. As such, this will be most suitable for new bank customers.
7. HSBC Debt Consolidation Plan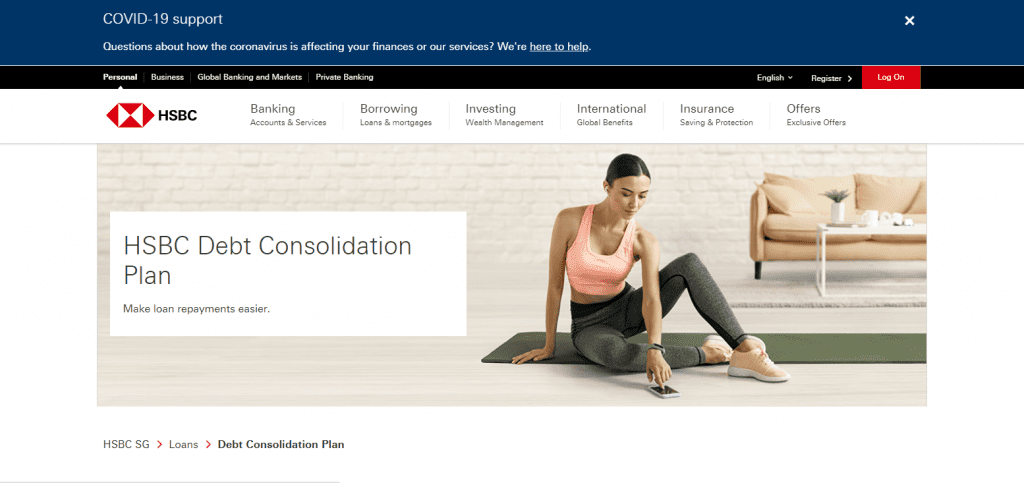 Here's another loan product by HSBC that foreigners can consider – HSBC Debt Consolidation Plan. HSBC Debt Consolidation Plan ensures a single repayment through consolidatedd bank account. You can stretch your monthly repayments for up to 10 years, which provides you with ample time to repay your loan.
In addition, you can get a complimentary HSBC Visa Platinum credit card and a free Credit Bureau Report. Get to enjoy promotional interest rates from as low as 3.4% p.a. (EIR 6.5% p.a.) with no processing fee. If you sign up now, you can receive one of these cashback offers – SGD300 cashback for new/first debt consolidation plan and 5% cashback for the refinancing of debt consolidation plan.
8. Maybank CreditAble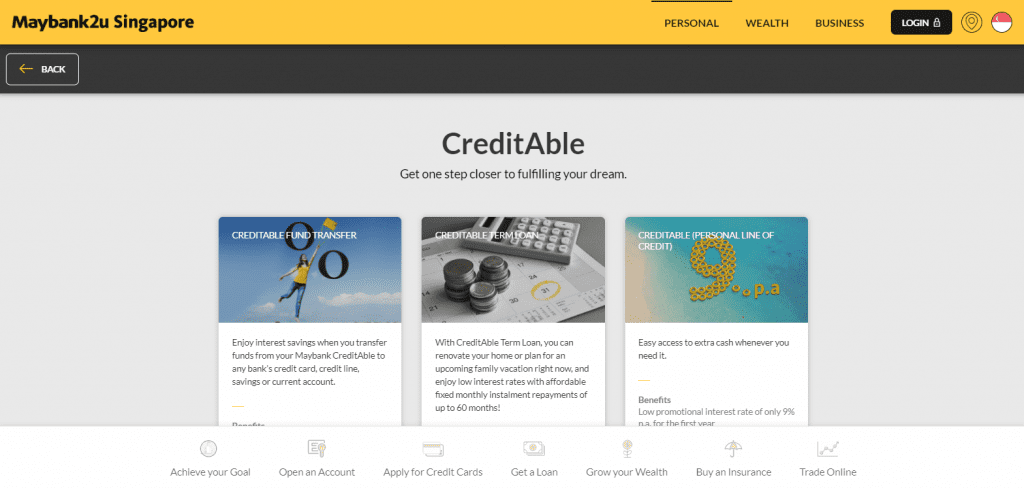 Maybank CreditAble can help you to meet your financial needs and enjoy up to 65% savings with one of the lowest interest rates. You have the choice to choose between a fixed or a flexible repayment plan. Flexible repayments from just 3% of your outstanding balance or S$30, whichever is higher
For the first year, you can enjoy a low promotional interest rate of only 9% p.a. With Maybank CreditAble, you can get easy access to extra cash when you need it through a chequebook, ATM card and Online Banking. You can also get a credit line of up to 4X your monthly income.
9. Instant Loan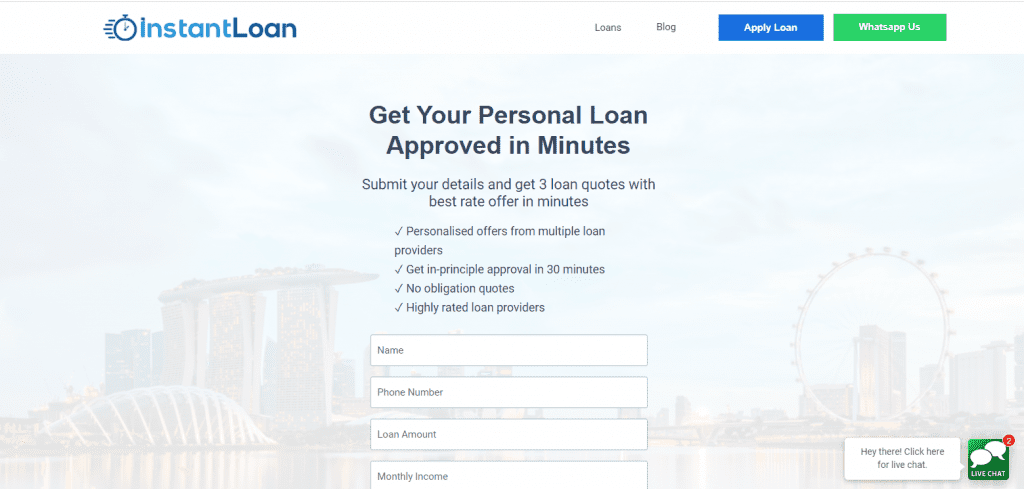 Instant loan is a platform where you can review personalised loan offers from multiple loan providers. According to your needs, you will be matched with their vetted list of legal financial institutions. All you need to do is to compare their rates and loan conditions and you are ready to go.
If you are interested, you can head down to their website and fill in an online loan enquiry to get a quote. The enquiry will be sent to their list of legal financial institutions in Singapore within minutes. A representative from Instant Loan will contact you as quickly as 5 minutes and your loan will be ready for you.
Conclusion
Do you have any reviews and comments to share regarding our choices for the best foreigner loans in Singapore?
While SBO is committed to supporting our local businesses, we welcome any feedback and anonymous sharing regarding your experience with the listed foreigner loans in Singapore.
We hope that this guide will be useful in helping you to make an informed decision when it comes to finding the best foreigner loans in Singapore.
Explore More Content