10 Best Bankruptcy Lawyer in Singapore to File for Bankruptcy [2023]
Filing for bankruptcy may just be the panacea to all your problems.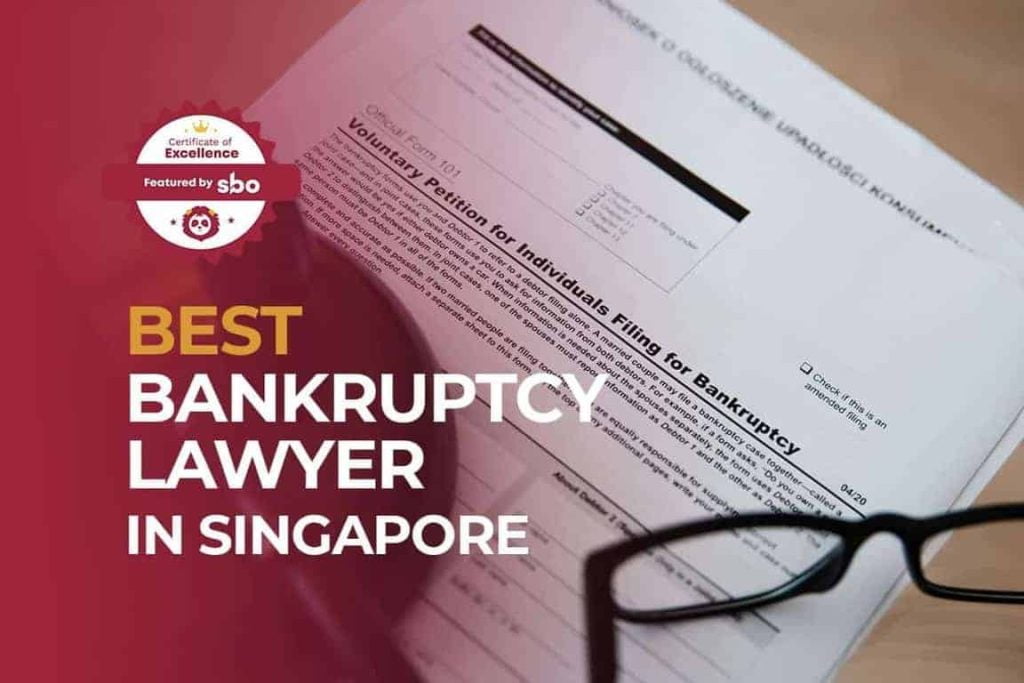 Even as the Covid-19 pandemic sent the economy into a tailspin, the number of people who were made bankrupt last year fell to the lowest in five years.
Bankruptcy is a legal process through which people or other entities who cannot repay debts to creditors may seek relief from some or all of their debts.
In most jurisdictions, bankruptcy is imposed by a court order, often initiated by the debtor.
Bankruptcy orders tumbled more than 40 per cent to 965 from 1,645 in 2019.
Official figures from the Law Ministry's Insolvency Office website showed more than 1,600 bankruptcy orders were made every year between 2016 and 2018.
Experts noted the drop in numbers could be due to the Covid-19 (Temporary Measures) Act and government support schemes which provided temporary relief.
Looking for a bankruptcy lawyer in Singapore?
In this post, we've gathered all the relevant details to compile a list of the 10 best bankruptcy lawyer in Singapore.
1. RBN Chambers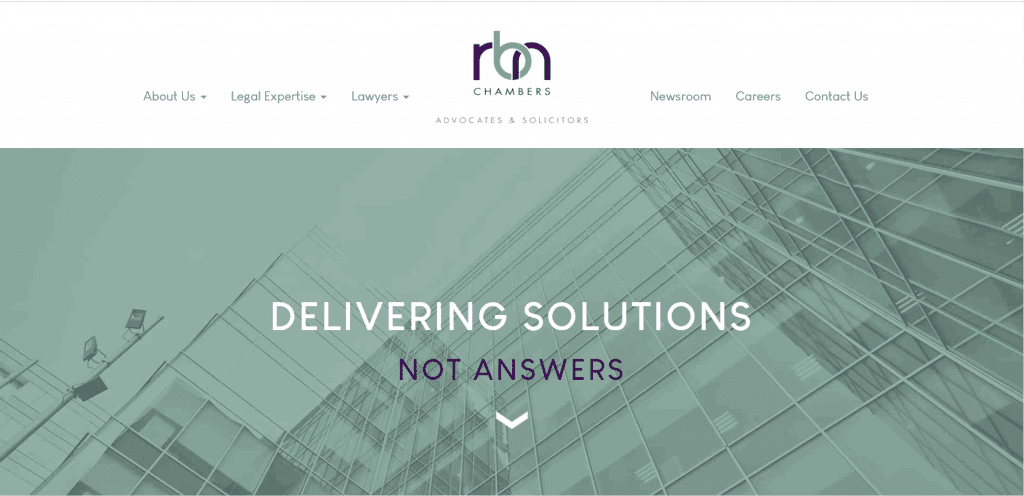 RBN Chambers LLC is a full-service law firm in Singapore, established by Mr Ramesh Bharani Nagaratnam.
Grounded in Mr Ramesh's strong dispute resolution expertise, the firm commonly advises multinational corporations, small & medium enterprises, as well as individuals in high-value disputes of differing complexities.
At RBN Chambers, their team is well-versed in both law and accounting disciplines, allowing them to provide their clients with a wealth of experience in debtor-creditor issues and an all-rounded understanding of the Singapore Bankruptcy Act.
One of their past cases was when they represented a Singaporean businesswoman in a bankruptcy application, leading to the successful implementation of a voluntary arrangement with creditors for the eventual repayment of her debts.
2. Harry Elias Partnership LLP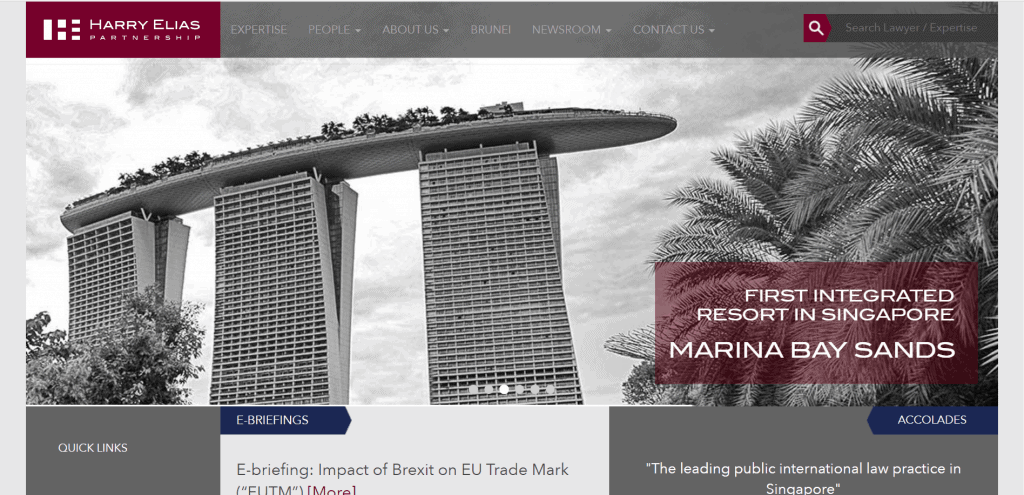 Harry Elias Partnership was founded in 1988 by the late Mr Harry Elias, Senior Counsel, who was widely recognised as "one of Singapore's foremost litigation lawyers".
The firm is one of the leading full-service firms in Singapore.
It has a long history and has played a big role in the development of Singapore as a legal centre.
Their team of insolvency lawyers in Singapore regularly advises liquidators, judicial managers, receivers and managers, creditors, companies and shareholders on restructuring exercises both in court and in private negotiations.
The bankruptcy lawyer in Singapore also advises on corporate insolvency matters such as contesting winding up applications, attending creditors' meetings, disclaiming onerous properties/agreements as well as taxation for liquidation expenses.
Aside from corporate insolvency issues, their team of specialised lawyers has accumulated extensive experience in personal insolvency matters.
These include the appointment of private trustees, advising on insolvency offences, acting in the scheme of arrangements by undischarged bankrupts for the purposes of getting discharged from bankruptcy as well as the annulment of bankruptcy orders.
3. I.R.B. Law LLP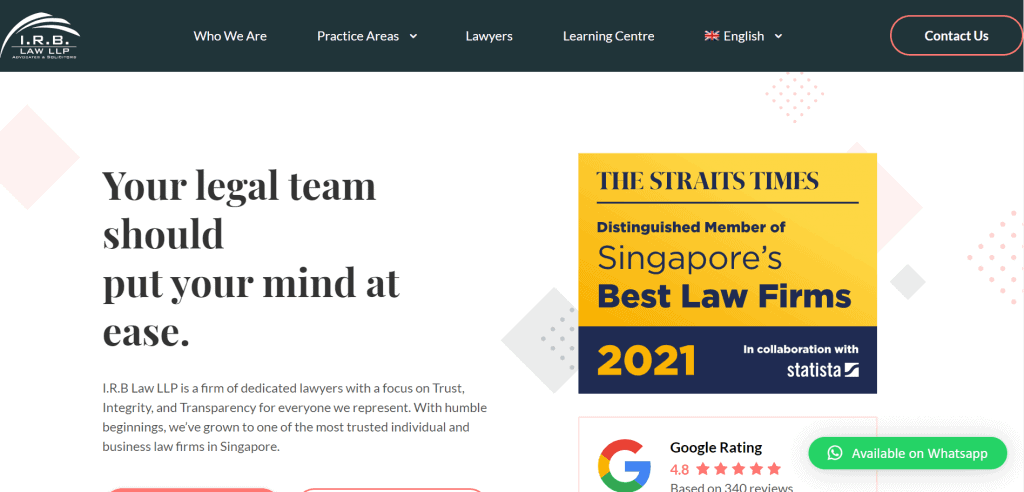 I.R.B Law LLP was founded by Managing Partner Mohamed Baiross with a vision to build a law firm that delivers effective and efficient legal services to everyone, from the man on the street to large corporations.
I.R.B Law has over 50 employees presently, enabling them to deliver a highly personalised level of service, whilst covering a wide variety of service areas across both individual and corporate law.
The bankruptcy lawyer in Singapore takes on both bankruptcy cases for companies and individuals.
Examples of insolvency areas they regularly advise on include:
Dealing with pending law suits and demands for payment (E.g. if you have been receiving letters of demand, writ of summonses, etc.)
Crisis management and security of assets (E.g. if you have been facing enforcement proceedings or cash flow crises)
Management of the timeline for bankruptcy proceedings
Schemes of arrangement (An agreement between a company in financial distress and its creditors to assist the company in repaying its debt)
4. Rajah & Tann Singapore LLP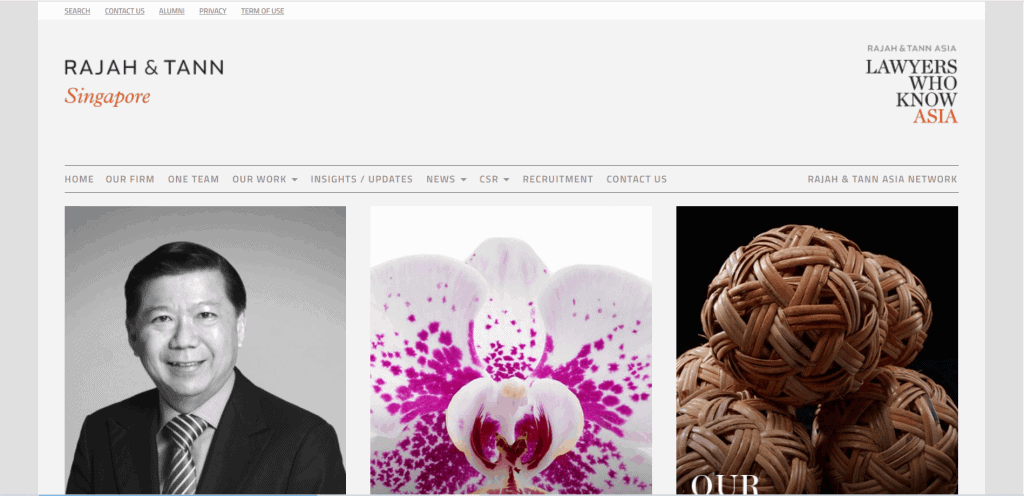 Rajah & Tann's Restructuring & Insolvency Practice Group is the biggest dedicated legal practice in Singapore dealing with banking and financing disputes, corporate insolvencies and rescues, business advisory, workouts and debt restructuring and enforcement of creditors' rights.
They have over 25 specialist lawyers in the team.
The law firm is headed by Patrick Ang, the Managing Partner of Rajah & Tann Singapore.
He is also the Vice-Chairman of Rajah & Tann Asia. Patrick is globally regarded as a pre-eminent lawyer, having been regularly named in legal directories like Chambers Global / Asia Pacific, IFLR1000 and The Legal 500 Asia Pacific.
Rajah & Tann has accumulated a wealth of experience in handling complex and high-end cases in both contentious and non-contentious matters.
In fact, the bankruptcy lawyer in Singapore has been recognised by the International Financial Law Review 1000 as the 'clear leader' in insolvency and restructuring work in Singapore and has been involved in almost every major debt reconstructing here.
5. Ramdas & Wong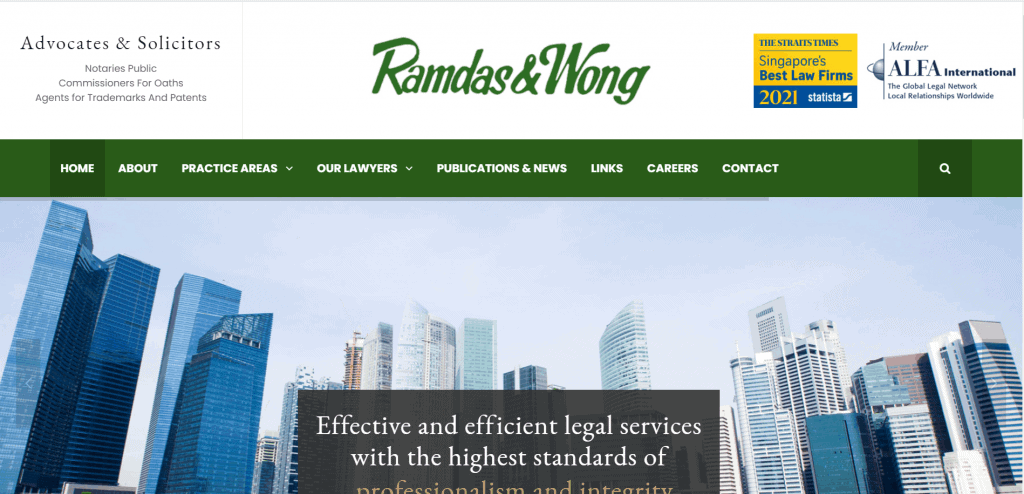 Ramdas & Wong is a local law firm set up in 1974 by founding partners Mr David Wong Chin Huat and Mr Shunmugam Ramdas.
From humble beginnings at a small office place at International Plaza, Ramdas & Wong has grown from strength to strength over the past 42 years.
They are now a full-service law firm offering affordable and reliable legal solutions to their expansive range of clients.
Their lawyers have acted for either a creditor or a debtor in bankruptcy and winding-up matters.
They have also advised on complex winding-up cases relating to parent companies and subsidiaries as well as cross border insolvency.
They have also advised corporations and individuals with regards to the procedure for either bankruptcy or winding up, and the legal implications of insolvency.
Lastly, the bankruptcy lawyer in Singapore has access to private liquidators and accountants who can offer a multi-faceted approach and a holistic solution.
6. Emerald Law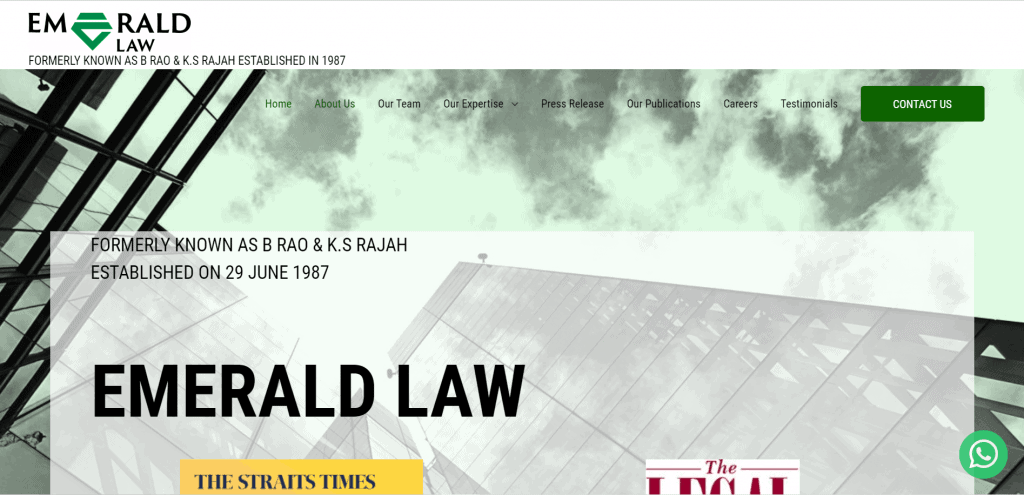 Previously known as B. Rao & K.S. Rajah, Emerald Law was established on 29th June 1987 by Mr Balu Rao, who was later joined by the late Mr KS Rajah (before he was elevated to the bench as a Judicial Commissioner in 1991).
They offer a wide range of legal solutions spanning areas such as commercial litigation, corporate law, family law, Syariah law, criminal law, intellectual property law, amongst others.
Each bankruptcy lawyer in Singapore assigned to your case is someone who has handled many similar cases before.
They each bring a personalised element to your matter, ensuring that your case is addressed with the utmost care and sensitivity.
Reviews laud the bankruptcy lawyer in Singapore for being supportive and providing effective direction.
Others speak of their professionalism and their encouragement.
7. Dentons Rodyk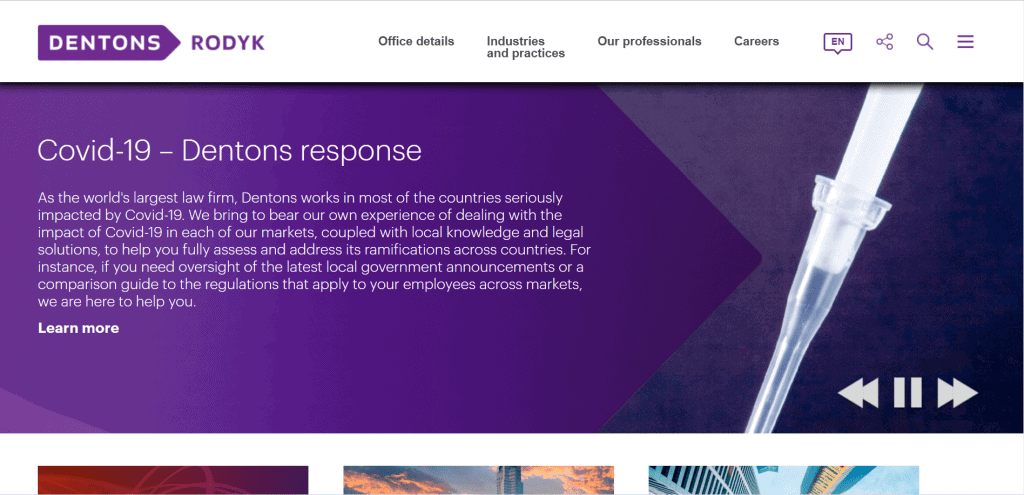 Trusted since 1861, Dentons Rodyk is one of Singapore's largest and oldest law firms with a team of around 200 lawyers offering clients a full suite of legal services necessary to do business locally and globally.
The bankruptcy lawyer in Singapore is headed by Mr Gerald Singham, Global Vice-Chair and ASEAN CEO.
They will lend you a helping hand in all areas of contentious and non-contentious insolvencies—from advice on the obligations and liabilities of management of insolvent companies and law of unfair preferences to voluntary and compulsory winding-up cases, judicial managements, debt restructurings, schemes of arrangement as well as individual voluntary arrangements and bankruptcies.
The team will include veteran lawyers who have acted in several high profile insolvencies.
These include the recent Alpine Bau GmbH insolvency, which saw a complex interaction of insolvency and construction, and in cases arising from the Barings debacle, the Asia Pulp and Paper default, the distribution of Lehman Brothers Minibond notes and the voluntary liquidation of MF Global Singapore.
8. Clifford Law LLP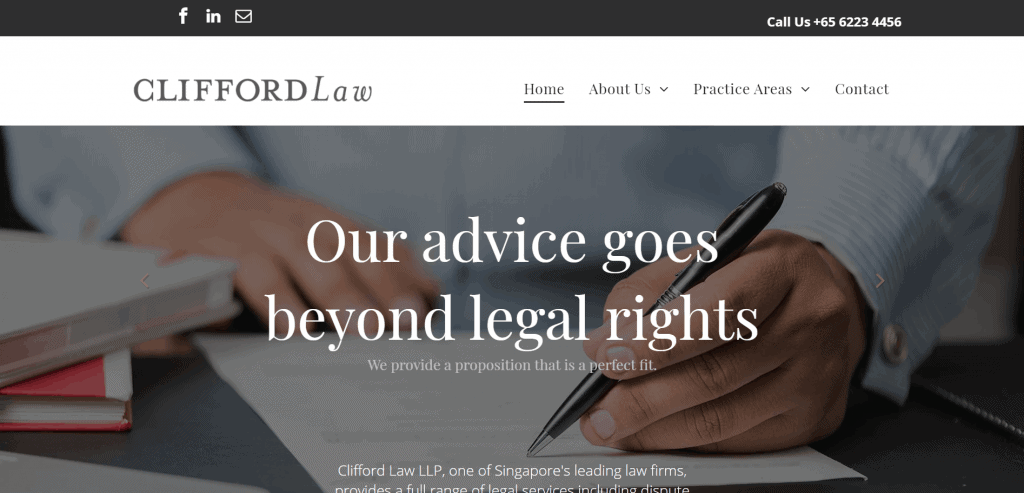 Clifford Law LLP, one of Singapore's leading law firms, has been providing a full range of legal services including dispute resolution and corporate advisory since 2005.
The law firm was co-founded by Partner Viviene Sandhu, who is a litigator with more than 22 years of experience, in all areas of civil litigation and family law.
The bankruptcy lawyer in Singapore has represented both corporates and individuals in insolvency cases.
They possess a good understanding of the commercial aspects of maintaining a positive credit policy with the need to manage the inherent risks of possessing an unhealthy level of accounts receivables.
The bankruptcy lawyer in Singapore is of the view that this is essential not only to restore and enhance shareholder confidence but also to improve liquidity and manage bad debts within the company.
They have successfully assisted their clients in developing and maintaining proficient methods to manage bad debts, as well as deploying valuable resources to recover monies owing to their clients.
9. Allen & Gledhill
One of Singapore's "Big Four" law firms, Allen & Gledhill has grown from a colonial partnership of two to become one of the biggest and leading firms in Singapore, with a notable and growing presence in Southeast Asia.
The firm was established in 1902 and is currently led by Ms Christina Ong, Chairman and Senior Partner.
Their specialist Restructuring & Insolvency Practice located in Singapore is at the centre of some of the world's most complicated cross-border insolvencies and restructurings.
With a long history of specialising in large-scale multi-jurisdictional work, their team is highly regarded and widely recognised as one of the leading practices in this area, advising on both contentious and non-contentious matters.
With their knowledge and experience of local, regional and international challenges, both legal and practical, they are able to assist their clients to achieve the most optimal outcomes in challenging times.
They act and advise in all aspects of business rescue, insolvency and restructuring, and where required, are able to draw on their extensive network of legal specialists to cover the areas of law that may arise, to ensure that their clients' interests are protected and expectations met.
10. David Nayar & Associates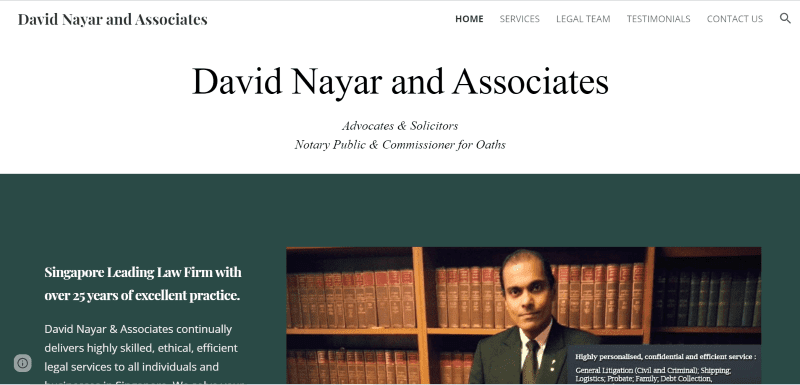 David Nayar & Associates, founded by David Nayar, is a pre-eminent law firm operating in Singapore with over 25 years of experience in serving its clients.
They consistently deliver highly-skilled, ethical and personalised legal representation to their clients.
They constantly achieve the results desired by their clients by communicating regularly and clearly, responding quickly to their clients' enquiries and managing their clients' affairs in a speedy, caring and proactive manner.
Mr David Nayar is a veteran lawyer with over 25 years of standing in the profession.
He is the Sole Proprietor of the firm David Nayar and Associates.
Mr Nayar's experience over the past two decades is extensive in both civil and criminal trials and in the appellate processes.
He is experienced in family, divorce, custody and probate matters.
Mr Nayar's legal expertise further extends to bankruptcy and insolvency, shipping, logistics, commercial transactions, joint ventures, landlord and tenant disputes and arbitration as well as corporate mergers and acquisitions.
Reviews laud the bankruptcy lawyer in Singapore for their excellent service and convenient location.
Their prices are also reasonable, according to one reviewer.
Conclusion
Do you have any reviews and comments to share regarding our choices for the best bankruptcy lawyer in Singapore?
While SBO is committed to supporting our local businesses, we welcome any feedback and anonymous sharing regarding your experience with the best bankruptcy lawyer in Singapore.
We hope that this guide will be useful in helping you to make an informed decision when it comes to finding the best bankruptcy lawyer in Singapore.
Explore More Content