Quick Word: Glenn Ang, Founder of Boutique Gym RAW Active
Glenn, the founder of RAW Active, shares with us the challenges of running a boutique gym in a crowded fitness industry in Singapore.
Last Updated on November 24th, 2020
Quick Word
Our team at SBO.sg is committed to being a one-stop avenue to connect local businesses and consumers. We hope that our research efforts can help you save time and money by finding you the best deals without having to search around the vast world-wide-web.
In SBO Quick Word, business owners and professionals share with us a slice of their industry, business and life over a quick email interview.
How did you get started on RAW?
I have no idea what I can do other than to be a personal trainer. I love to coach people as it builds upon inspiring others to be the best they can be. It is great to see that I am able to unlock their hidden potential. It's a rewarding career.
After 8 years as a personal trainer and fitness manager, I decided to step out of my comfort zone and planned to set up my own niche fitness studio. I believe in starting small and growing to the point of blowing at the seams before opening a larger location.
How did you know that this business is your destiny?
I have won several awards such as the prestigious Personal Trainer of the Year Awards on 2 occasions, (Asia Fitness Convention 2017 & Fitness Best Asia Awards 2018) so I guess that's a sign.
What were some of the challenges you faced when you started RAW?
Limited capital: The capital came from my saving for my Master Degree.
High rent: due to the prime location of City Hall.
Lack of marketing skill: Don't know how to market my business well.
Stiff competition: CBD is full of gyms and fitness centres.
Lack of manpower: 1 man team.
How did you overcome them?
Limited capital & high rent: Due to the high rent, I choose a smaller studio to start. Only when I cannot contain my clients in the current gym will I consider opening more outlets.
Lack of marketing: I received many referrals through words of mouth from my current clients. I have widened my network through Business Networking International (BNI) as well.
Stiff competition: Established my studio as a premier personal training studio specialising in whole body vibration training to differentiate myself.
What sacrifices have you made in your business journey so far?
I sacrificed a lot of my personal life, especially my family time. There's little social life to speak of, and if it's even possible to meet my friends, it's usually once in a quarter.
Sometimes I sacrifice some income because I fly to China and some other parts of Asia occasionally as part of my role as a fitness educator. Being a one-man show, my absence also means that I have to cancel classes.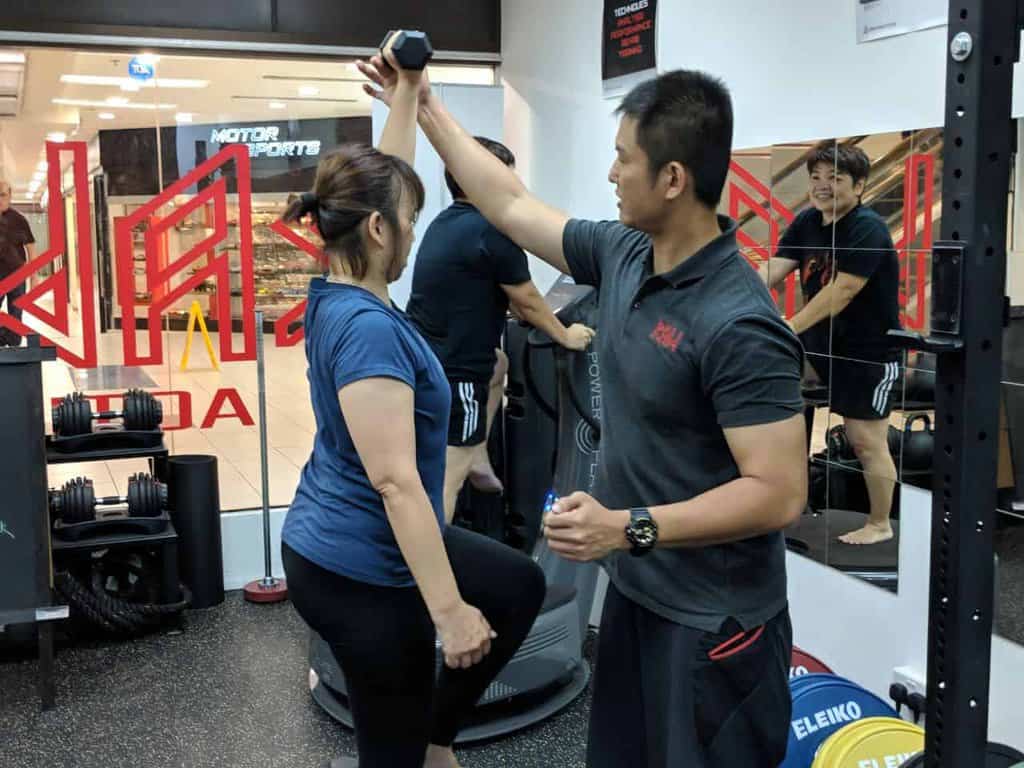 How do you keep yourself motivated?
I always remind myself about the goal that I set for RAW 2.0. I take my time to visualise how RAW 2.0 would look like every day. Weekly, I remind myself why I am doing this for.
What was your greatest setback and how did you overcome it?
When I was at my peak in my career at a mega gym as an award-winning fitness manager, I was asked to let go of my management position. My world was shattered as I had been working hard for that position for six years and then it was gone.
I composed myself after the incident and gave myself some me-time to reflect. After months of decision-making, I decided to step out of my comfort zone and set up RAW.
What are your sources of inspiration?
My third uncle, Hong Ming Quan, is one of the most positive people that I know. After suffering more than 70% burns to his body due to a plane crash in 1997, he still lives positively and inspires many military officers around him.
My friend, Darren Stephen Lim, even after being a personal trainer for 20 years, he is still one of the most humble coaches around. His humility inspires me too.
What is your definition of success?
Success is when I am able to leave a legacy of world-class elite coaches in Singapore that inspire people and coaches around the world.
If you could turn back time, what would you do differently?
I should not have hesitated! I should have set up my own business earlier!
What advice will you give to aspiring business owners?
Do your business based on your passion because you really need to dedicate 150% effort to make it work. Be prepared to make changes to your initial plan in your journey as a business owner.
Give us your elevator pitch.
There are thousands of fitness coaches in Singapore. I am the only coach who has won the prestigious Personal Trainer of the Year Award twice in Asia. I have worked on my craft of coaching my clients and educating coaches around Asia such as China, Philippines, Jakarta and Singapore. You work the hardest for your career. Don't you deserve the best training that you can get in Asia too? Let me help you unlock your hidden potential.
---
Are you a business owner? Connect with us if you'd like to share some lessons and insights in your business journey.