Trouble in Honestbee's hive?
Oh no. Will they bee fine?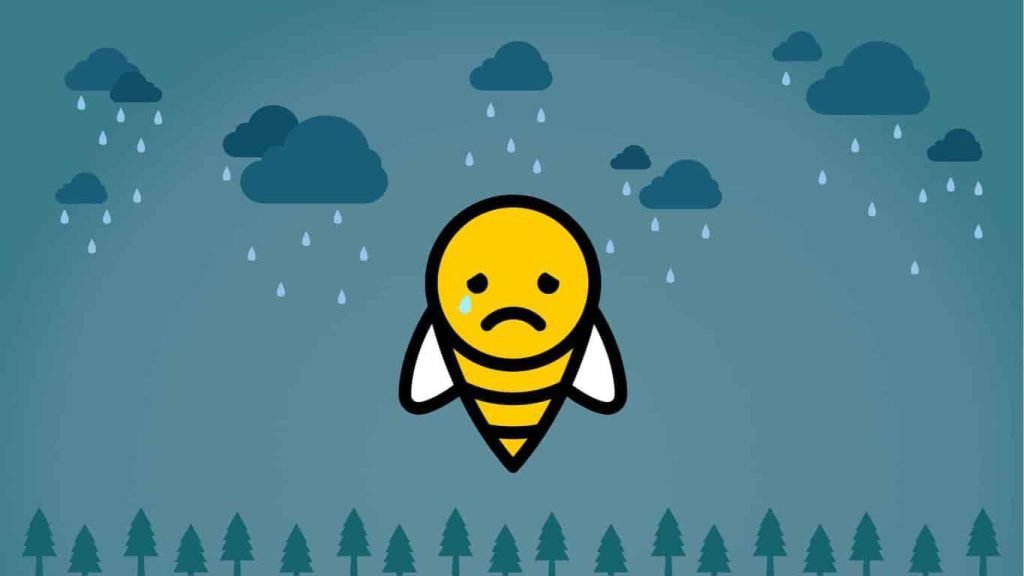 This post is best viewed on a desktop.
Latest update (15 May): Honestbee to halt food delivery service and temporarily suspend laundry service in Singapore. More at the end of this article.
A string of negative news has been surfacing out of Honestbee's hives around the world. Apart from unhappy customers in certain markets, they seem to also be facing some unhappy partners in Taiwan. There's some shuffling internally as well.
Here's a summary of what has been reported so far.
Signs of trouble?
#1: Suspension of partnership with FairPrice
The first sign of trouble (?) was reported on Mothership in January 2019. An anonymous Shopper Bee (Honestbee's way of naming someone who shops on behalf of Honestbee's customers) shared a screenshot of an internal email addressing all Shopper Bees with Mothership.
In that email, Honestbee announced that its partnership with FairPrice is "temporarily paused". FairPrice was reported to have sent out an email to all Shopper Bees as well. The anonymous Shopper Bee also claim that FairPrice's email stated that the split would be permanent.
Shopper Bee slots were also made unavailable from 31st January onwards.
Vulcan Post later wrote in an article published on 22nd April 2019 that it received an anonymous tip-off that FairPrice ended the partnership "due to outstanding debts".
Honestbee's responses
H: Yes, partnership temporarily suspended
Honestbee said that it would pay out nominal compensation for Shopper Bee slots that were taken up.
It would also address Shopper Bees' concerns and facilitate a "smooth transition".
Honestbee did not confirm Mothership's queries on the reasons behind the split, if the split would be permanent and if letting go of Shopper Bees is a result of the end of the partnership with FairPrice.
Honestbee, however, assured that Shopper Bees can still shop at other merchants and take up other roles with Honestbee.
FairPrice confirmed a "temporary suspension" in the partnership.
At the time this article was written and to our knowledge, FairPrice has yet to reinstate the partnership and still has an active partnership with Grab.
Taiwan partners allegedly owed money
#2: Taiwan partners allegedly owed money
On 1st April 2019, Taiwan media Dongshen News reports that a mini steamboat restaurant was allegedly owed three months of fees amounting to NT$120,000 (approximately SG$5269).
The restaurant alleged that Honestbee has been delaying payments since November 2018, and subsequently stopped paying January, February and March's fees.
The restaurant was five months into the partnership when it raised concerns about the debts owed. It also seems that this mini steamboat restaurant is not alone.
The report also revealed that reviews on Honestbee's Google Review page revolved around speculations of the company's financial troubles and complaints of its superficial customer service replies.
H: No financial difficulties
Honestbee Taiwan denies any financial difficulties and emphasised that the delays are "due to adjustments in payment processes and that the parent company is in Singapore".
Operations suspended at best-performing market
#3: Operations suspended at best-performing market
Honestbee Philippines announced service suspension on 20th April 2019.
In a text message sent to Esquire Philippines, an Honestbee PH representative said that "Our operations in the Philippines will be temporarily unavailable while our HeadQuarters works towards bringing the total business to a healthy and sustainable level."
H: Philippines team actively responding to queries
Honestbee PH has been responding to user queries and assuring them that "all paid but undelivered transactions will be refunded."
Retrenchments and resignations across markets
#4: Retrenchments and resignations across markets
On 22nd April 2019, Tech in Asia reports that "multiple sources within the startup" said that the company has laid off at least 50 people across several markets last week, including Thailand, Indonesia and Hong Kong.
The same report also mentioned that several senior executives have resigned, including co-founder Isaac Tay and managing director Chris Urban.
It also seems that the PH team remains intact despite service suspension, as shown in the video shared on Honestbee PH's Twitter account (attached below).
H: Layoffs confirmed
Honestbee released an official statement later to confirm the layoffs.
Suspension of partnership with U Stars supermarket
#5: Suspension of partnership with U Stars supermarket
On 24th April 2019, Vulcan Post received an anonymous tip-off of an email that Honestbee sent out to Shopper Bees that the partnership with U Stars supermarket "will be paused temporarily."
No response yet
No reported response from Honestbee regarding this temporary partnership suspension yet.
Honestbee releases official statement
Honestbee releases official statement
Vulcan Post reported on 23rd April 2019 that Honestbee released a statement to address events that have unfolded within the company.
According to Vulcan Post, Honestbee will be temporarily suspending its food delivery services in Hong Kong and Thailand" after a "strategic review". Honestbee is in the process of streamlining its operations.
Honestbee also said in the statement that "approximately 6%" of its global workforce is affected by the layoff, and the vacated positions will not be made available going forward.
TechCrunch: Honestbee running out of money, trying to sell
TechCrunch: Honestbee running out of money, trying to sell
TechCrunch reported on 26th April 2019 that its sources confirmed financial difficulties in the company.
TechCrunch spoke to several former and present employees and understood that retrenchment is happening, partners are owed debts, the service in Philippines is "paused", and Vietnam and India R&D facilities are shut down, employees in some markets may not get paid and some executives have left the firm over the past months. Below is a summary of what went down.
Two industry sources: Honestbee in talks with Grab and Go-Jek on part or full acquisition.
Source inside Honestbee: Company has told Singapore-based employees that salaries would be delayed. The staff has been paid late twice this year via bank transfers.
Source in Honestbee PH: Crystal Gonzalez, Head of Philippines, has quit the company.
TechCrunch saw that Honestbee "lost nearly $6.5 million, with around $2.5 million in net revenue for the month [of December 2018]."
Former employee: Monthly customer retention often single-digit in some markets.
Former and present employees: Honestbee doesn't have a CFO; CEO Sng and Roger Koh (cited as the CEO's right-hand man) handled finances and high-level decisions.
Sources: Executives who left include "the heads of business for Japan and Indonesia, a senior member of the team behind Habitat and the company's head of people." An executive responsible for raising capital quit within a month.
Source in Honestbee: Habitat "has switched suppliers for some items as invoices went unpaid."
Honestbee declined to comment on questions raised by TechCrunch.
Read more in this in-depth report by TechCrunch.
onestbee: Operation in 4 markets to suspend, will lay off 10% of headcount
Honestbee: Operation in 4 markets to suspend, will lay off 10% of headcount
On 30th April 2019, an Honestbee announced a halt in services in Hong Kong and Indonesia, as well as food delivery service in Thailand. It added that Japan and Phillippines' services, as well as some specific are temporarily suspended. The spokesperson cited a "strategic review" as the reason behind the decisions and confirmed that 10% of Honestbee's staff will be retrenched.
"There have been media reports regarding payroll delay for our employees. We would like to stress that this is untrue," the Honestbee spokesperson added.
TechCrunch: CEO Joel Sng fired by Honestbee
TechCrunch: CEO Joel Sng fired by Honestbee
On 1st May 2019, TechCrunch received a tip-off from two of its sources that Honestbee's CEO Joel Sng was fired.
Joel Sng: Fake news.
In a leaked internal email, Sng addressed the "fake news" that is circulating:
"Guys, just want to let everyone know of the fake news article on tech crunch. I am not an abandon ship person and I will never leave the company to be rudderless."
Honestbee: Joel Sng steps down, Brian Koo to be next CEO
Honestbee: Joel Sng steps down, Brian Koo to be next CEO
On 2nd May 2019, an Honestbee spokesperson announced that Joel Sng will be stepping down as CEO, and Brian Koo will be taking over with immediate effect.
"Brian has been our earliest supporter and a key investor. He was also instrumental in helping us define honestbee's purpose and mission from day one. I am confident that he would be able to bring the company to the next level, supported by the newly-appointed executive team comprising key leaders of our organisation," Sng said.
Koo, the newly-minted CEO of Honestbee, shared his immediate priorities, "I will be working with the executive team to conduct an in-depth review of our business to focus and align our strategic interests across our various geographies and verticals, and take the opportunity to articulate a clear vision for the future of honestbee."
Honestbee: Food delivery service and laundry service affected in Singapore
Honestbee: Food delivery service and laundry service affected in Singapore
On 15th May 2019, Honestbee announced that the Singapore market's food delivery service will be halted and laundry service will be temporarily suspended with effect from 20th May 2019.
The company said that "the decision was made to optimise the business structure, and to drive better focus and alignment with honestbee's current strategic priorities."
It also added that its grocery delivery service and Habitat remains operational.
Honestbee said that "approximately 400 delivery bees are affected by the decision," but added that "the headcount in Singapore remains unaffected."
Honestbee: Food delivery service in Taiwan suspended
On 29th June 2019, Honestbee announced that it will be suspending its food delivery service in Taiwan. It is understood that the debts are not cleared as at the time of the announcement.
VP of Marketing Christina Lim leaves
Marketing Interactive reported on 17th July 2019 that Honestbee's VP of marketing Christina Lim has left the company.
Company owes employees salary
A spokesperson from Honestbee told Marketing Interactive that the salary delay is true and has been communicated to the staff. VulcanPost's checks with two former employees confirmed the delays.
Ong Lay Ann named CEO of Honestbee, co-founder and CTO Jonathan Low resigns
Honestbee said on 29th July 2019 that Ong will be taking over from interim CEO Brian Koo. It was effective as of July 15th.
Ong has over twenty years of experience in a range of industry and has a history of reviving deteriorating businesses.
The same statement also highlighted that co-founder and CTO Jonathan Low had resigned on 11th July 2019. He is the last of the Honestbee co-founders to leave the company.
Honestbee seeks court protection against creditors; axes 38 staff in Singapore
Speaking to Today, an Honestbee spokesperson said that the company had laid off 38 staff in Singapore in a bid to pare down its debts and to ensure "long-term stability and success."
The company also said in a statement that it has filed for a court-supervised restructuring process with the High Court. The newly-appointed CEO Ong Lay Ann told Business Times that the process would give Honestbee a six-month reprieve from its creditors, protecting it against any claims of over US$180 million that it owes within that period.
This story is developing.
---
Know anything about this story? Tell us.
Want to be seen and heard? Contribute or advertise with us.
Explore More Content