Budget 2021: Emerging Stronger Together (The Business Edition)
We give you a summary of Budget 2021 and how the proposed changes will affect local businesses.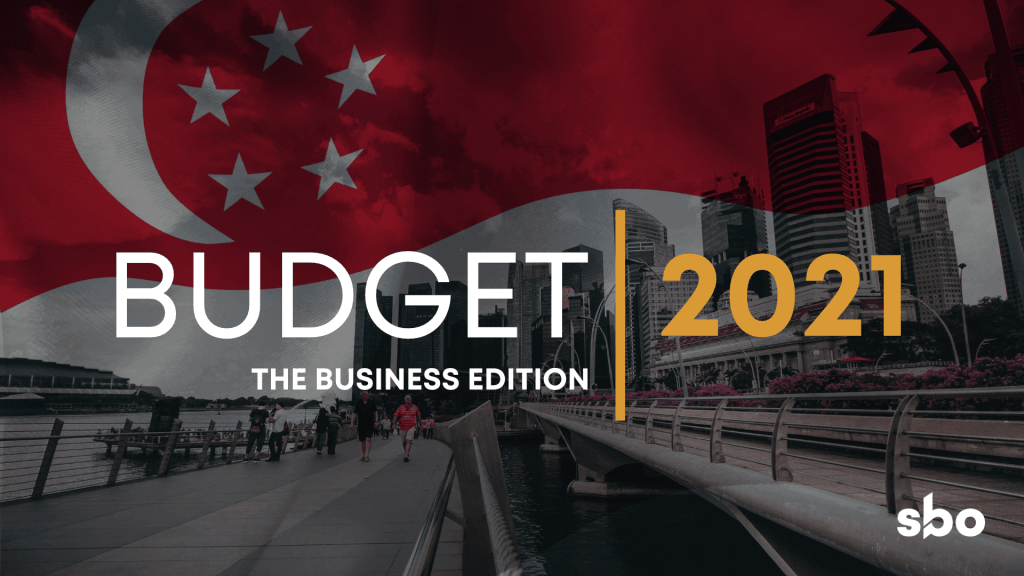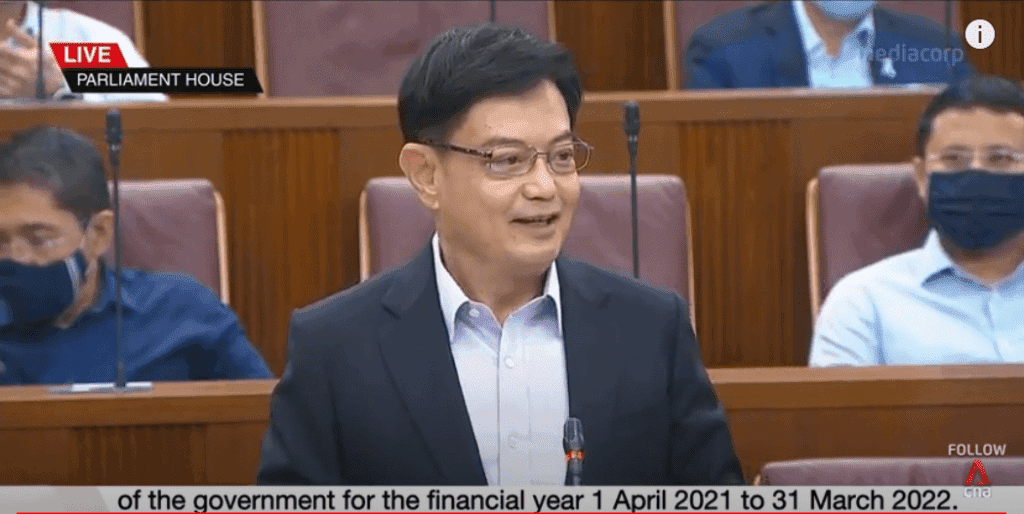 This afternoon, Deputy Prime Minister and Finance Minister Mr Heng Swee Keat presented the 2021 Budget Statement in Parliament.
Notably, the anticipated Budget 2021 comes at an unprecedented time amidst the economic recession wrought by the COVID-19 pandemic, and is the first one for the current term of government following the Singapore General Elections 2020.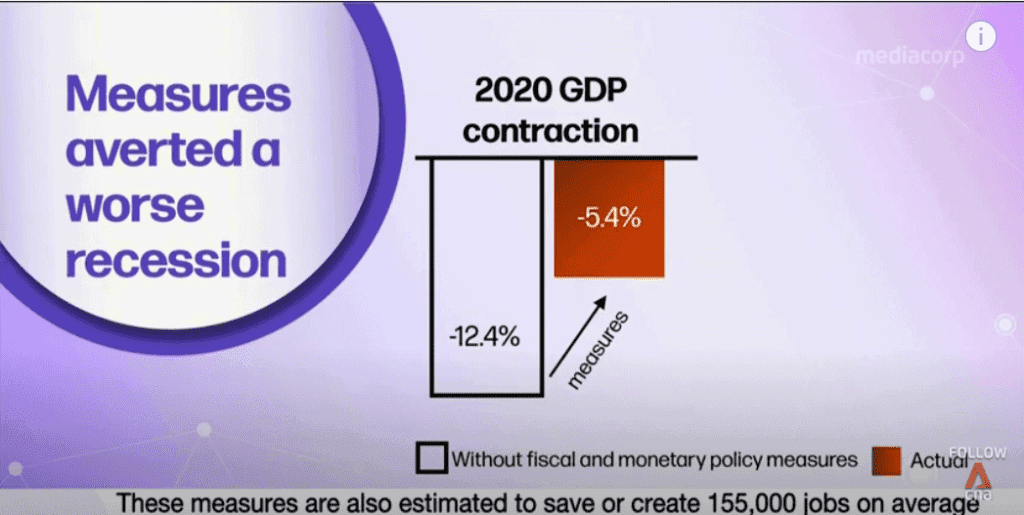 Last year, the Singapore government set aside a war chest of close to $100 billion in the form of the Unity, Resilience, Solidarity and Fortitude Budgets to help businesses deal with the economic fall-out caused by the pandemic.
The fiscal and monetary policy measures implemented have helped Singapore to avert a worse recession, according to the Ministry of Finance.
The measures are also estimated to save or create 155,000 jobs on average.
Following the slew of economic measures implemented last year, this year's Budget continues to support businesses with targeted assistance.
Without further ado, here's a rundown of Budget 2021 and how your business can benefit from it.
1. Extension of Job Support Scheme (JSS) for Hardest-Hit Sectors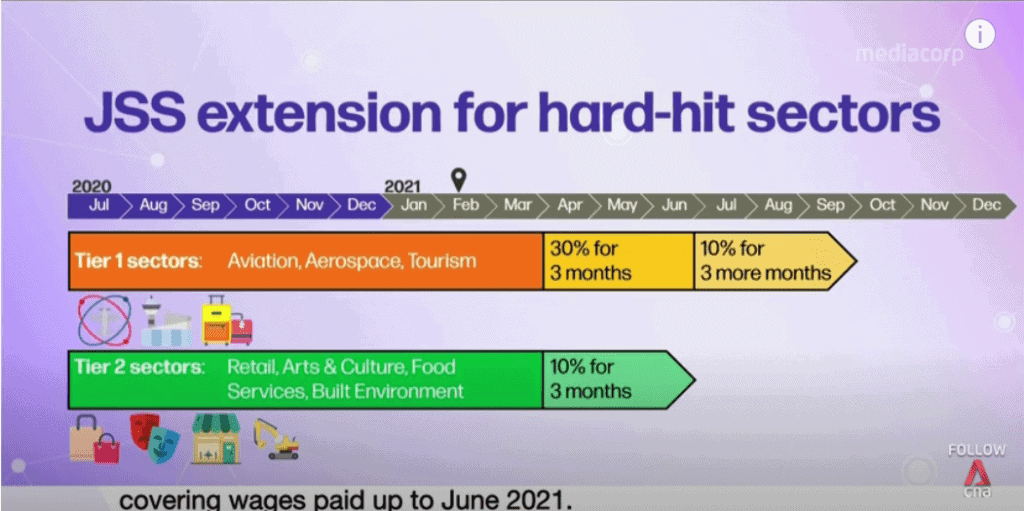 Last year, the Singapore government implemented the Job Support Scheme (JSS) to help businesses alleviate the cost pressures of workers.
The scheme paid out 75 per cent of wages for April and May on the first $4,600 of a worker's gross monthly pay, and at least 25 per cent for a further eight months, depending on the sector.
The JSS was later extended by another seven months in August 2020, with support being adjusted for different sectors.
In Budget 2021, the JSS will be extended for sectors that continue to be hard hit, to the tune of a total $700 million.
For firms in Tier 1 sectors such as aviation, aerospace and tourism:
JSS will be extended by six months;
Firms will receive 30 per cent support for wages paid from April to June 2021;
Firms will receive 10 per cent support for wages paid from July to September 2021.
For firms in Tier 2 sectors such as retail, arts and culture, food services and built environment:
JSS will be extended by three months;
Firms will receive 10 per cent support for wages from April to June 2021.
For firms in Tier 3B sectors, which cover those managing well like supermarkets and Internet companies:
JSS support discontinued after December 2020.
For firms in Tier 3A sectors, which covers employers in all other sectors:
JSS will be covered up to March 2021, as previously announced, as these sectors are generally recovering.
Mr Heng added that specific schemes within the SGUnited Jobs and Skills Package, including the Jobs Growth Incentive and specific traineeship, attachment and training opportunities, will also be extended.
2. More Targeted Support for Worst-Hit Sectors Like Aviation, Land Transport & the Arts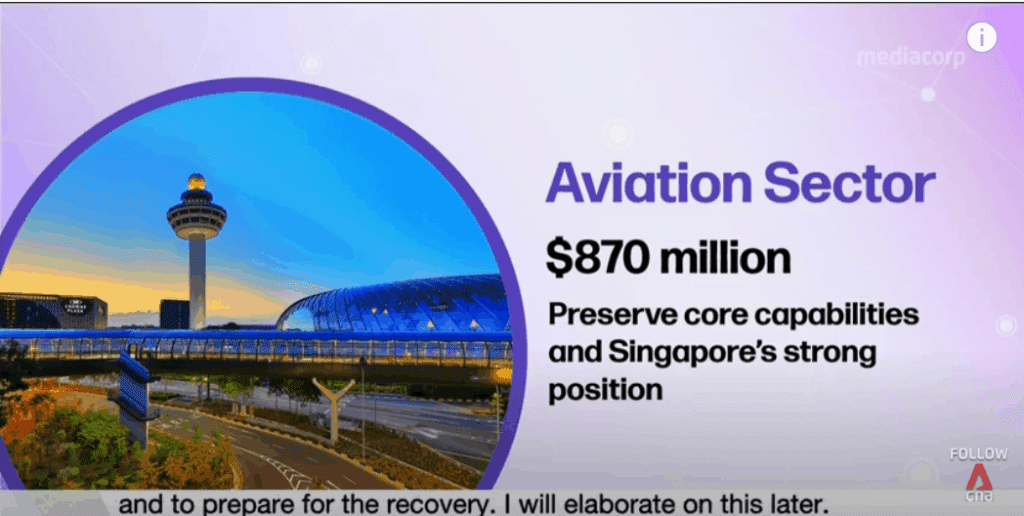 As global air travel will not return to pre-COVID levels until 2024, Budget 2021 will see the Government providing targeted support and extend cost relief for the embattled aviation sector.
These cost assistance measures in Budget 2021 will see the Government setting aside $870 million under the Covid-19 Resilience Package.
The package will also entail $133 million for the existing Covid-19 Driver Relief Fund, which helps taxi and private hire car drivers badly hit by the pandemic to defray business costs.
To support businesses and self-employed persons in these impacted sectors, the Arts and Culture Resilience Package and Sports Resilience Package in Budget 2021 will also be extended.
About $45 million will be set aside for the extension of and enhancements to these packages, said Mr Heng in his Budget 2021 speech.
The Ministry of Culture, Community and Youth will announce more details on both packages later on.
3. $24 Billion for Businesses' Transformation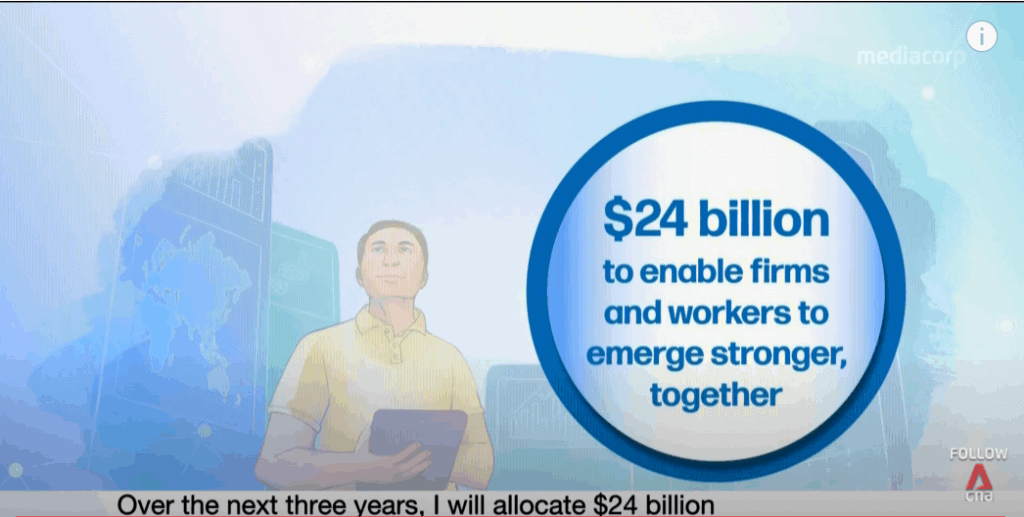 Over the next three years, $24 billion will be allocated to enable firms and workers to emerge stronger, said DPM Heng.
This builds on the momentum of the transformation push started five years ago when Singapore launched the Industry Transformation Maps.
This financial year, Budget 2021 will focus on how Singapore can move decisively to build three enablers for the next phase of transformation:
Grow a vibrant business community.
Catalyse wide range of capital to enable businesses to transform and scale.
Create opportunities and redesign jobs for Singaporeans to develop their skills, creativity and talents. Mr Heng said the ultimate purpose of the economic transformation is to create opportunities for Singaporeans to realise their full potential and aspirations.
4. Investments in Three Key Platforms to Support Businesses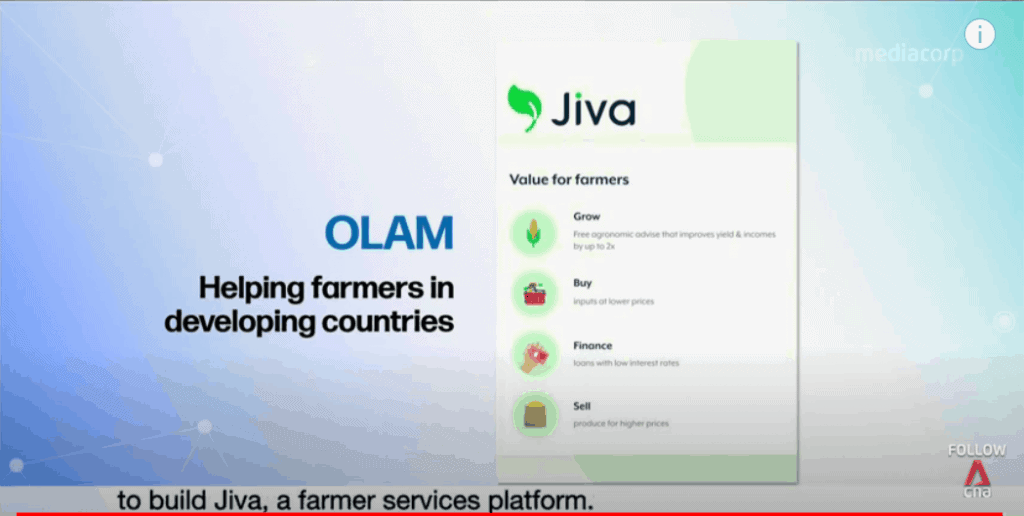 In Budget 2021, the Government will invest in three platforms to support businesses.
Corporate Venture Launchpad: It will be piloted this year to drive new innovative ventures. This will provide co-funding for corporates to build new ventures through pre-qualified venture studios, and will be useful for larger businesses that want to rekindle a startup mindset within their organisations.
Open Innovation Platform (OIP): It facilitates the matching of problems faced by companies and public agencies with solution providers, and co-funds prototyping and deployment. Mr Heng said he will enhance the OIP with new features such as a cloud-based Digital Bench for accelerated virtual prototyping and testing.
Global Innovation Alliance (GIA): It serves to catalyse cross-border collaboration between Singapore and major innovation hubs globally. Since its inception in 2017, over 650 students and about 780 Singapore businesses have taken part in innovation launchpads overseas, 40 per cent of which were in South-east Asia.
5. Intellectual Property Strategy
To support businesses in commercialising the fruits of their innovation, Budget 2021 will see the Government developing the Singapore Intellectual Property Strategy 2030.
This framework will include equipping businesses with tools to value their intellectual property (IP) and intangible assets, and training skilled professionals in these fields.
Mr Heng added the Intellectual Property Office of Singapore will announce the details on World IP Day in April.
6. Deepening Global and Southeast Asia Partnerships
Strong connectivity enables businesses to plug into global and regional supply chains and industry clusters, and deepen innovation partnerships.
In his Budget 2021 speech, Mr Heng said Singapore is ramping this up with Asean nations, which had a GDP of US$3.2 trillion (S$4.24 trillion) collectively in 2019, making Asean the world's fifth largest economy.
Last December, Enterprise Singapore, the Infocomm Media Development Authority and the Economic Development Board launched the inaugural South-east Asia Open Innovation Challenge, which saw participation from Indonesian, Malaysian, Thai and Vietnamese corporates.
The Singapore Business Federation will be officially opening two new overseas offices soon – one in Jakarta and one in Ho Chi Minh City.
Singapore also launched cross-border projects through Asean platforms.
To facilitate the integration of Asean markets, Singapore is pursuing common frameworks in emerging areas, remarked Mr Heng in his Budget 2021 speech.
Asean nations have developed the Asean Payment Policy Framework, for example, to encourage retail payment linkages between Asean countries.
Mr Heng mentioned Singapore will also continue to work closely with Asean members to enhance digital connectivity and cybersecurity, and to get ready for the Fourth Industrial Revolution.
7. Capital Tools to Co-Fund Transformation of Business
Mr Heng said the second enabler for Singapore's next phase of transformation is to catalyse a wide range of capital to co-fund and enable businesses – from start-ups to small, medium and large enterprises – to innovate, transform and scale.
The Government will step up risk-sharing arrangements with providers of capital, and provide grants, to support businesses at various stages of growth through Budget 2021.
8. Venture Debt for High Growth Enterprises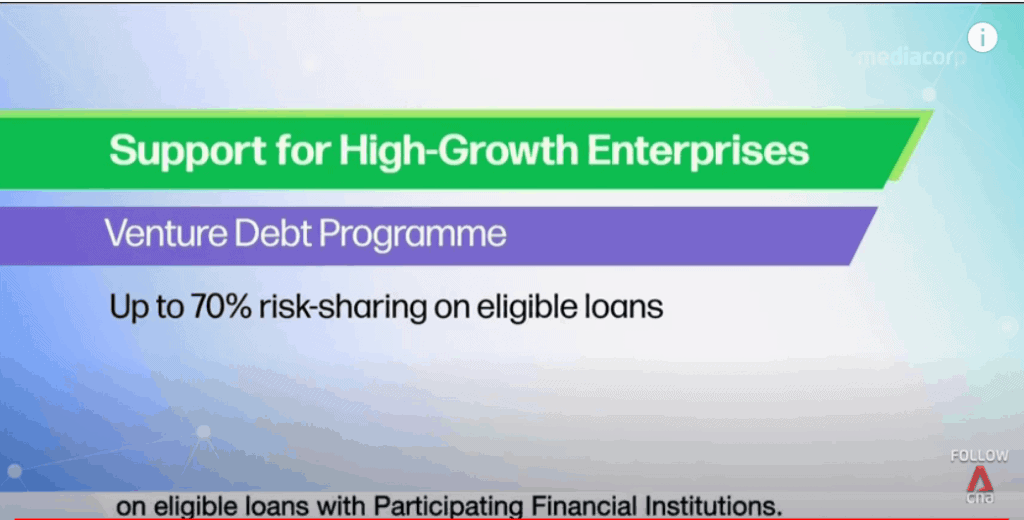 For high-growth enterprises, including start-ups, Mr Heng said he will ensure that they continue to have access to financial capital by extending and enhancing the Enterprise Financing Scheme – Venture Debt programme.
As part of the Venture Debt programme, the Government shares up to 70 per cent of the risk of eligible loans with participating financial institutions.
Mr Heng will continue to support this programme in Budget 2021, and increase the cap on loan quantum supported, from $5 million to $8 million.
With this, the Government expects about $45 million of venture debt to be catalysed over the next year.
9. Co-Funding Transformation of Mature Enterprises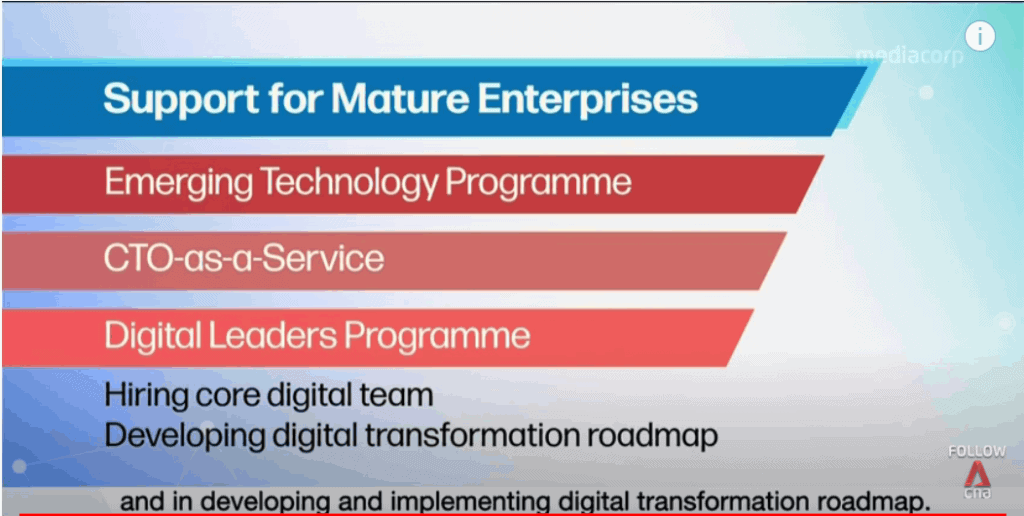 More mature enterprises, from micro and small to medium and large enterprises, should also invest in new and emerging technologies to heighten their competitiveness.
The Government will co-fund their adoption of digital solutions and new technologies to encourage them to do so. As such, Budget 2021 will see the Government investing $1 billion for the various schemes.
In the coming years, a vital part of business transformation will be in job redesign, said Mr Heng.
Such changes are necessary when considering the trends accelerated by COVID-19, such as digitization and work-from-home arrangements.
To support businesses in redesigning jobs, Budget 2021 will see the Productivity Solutions Grant – Job Redesign being enhanced by raising the government co-funding ratio from 70 per cent to 80 per cent until end-March 2022.
An example of a company redesigning jobs is restaurant chain Tim Ho Wan.
He said it worked with NTUC's e2i to modernize previously tedious manual ordering, tabulation and reporting, saving 20-30 per cent in man-hours. e2i also negotiated with the company to raise the salary of impacted older staff members.
10. Equity Investments in Large Local Enterprises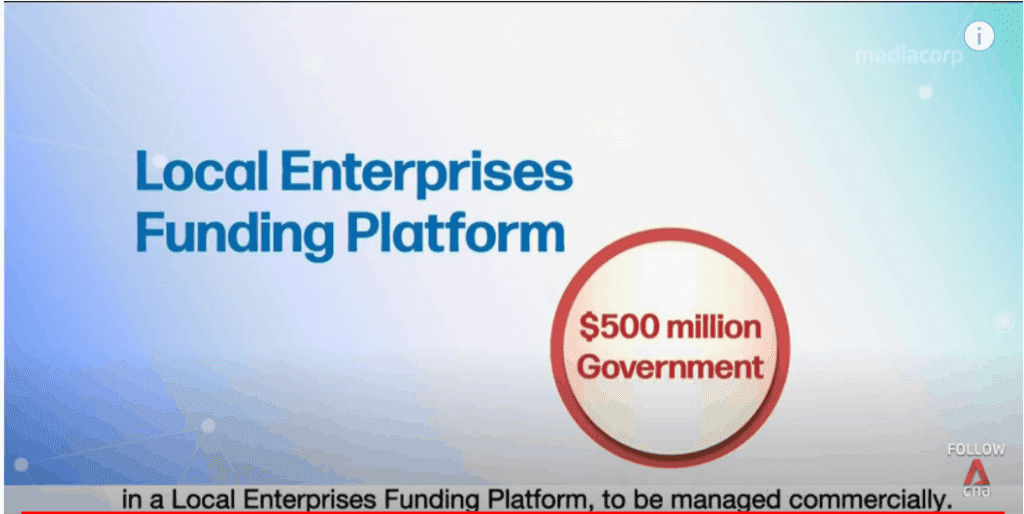 The Government has partnered equity firms to provide growth capital for companies to transform and scale up in order to support the growth of local companies, said Mr Heng.
So far, efforts have primarily focused on small and medium-sized enterprises (SMEs) with annual revenues of up to $100 million.
Such companies traditionally lack attention from private equity players, while larger enterprises usually have the means to raise capital.
However, there may be missed opportunities for companies with strong fundamentals to plug into new areas due to changes in the global economic landscape and financial markets that have made it harder for the large local enterprises (LLEs) to attract private equity.
Mr Heng said he will complement existing grants and loans, and support them through equity investments, which will ensure growth capital that is available for LLEs that are ready to transform or expand overseas on a larger scale,
He also announced that $500 million will be set aside to be co-invested with Temasek in a Local Enterprises Funding Platform, to be managed commercially. Temasek will match the Government's funds on a one-for-one basis.
This will result in the platform having $1 billion available for its investments.
11. Value Chains' Transformation
While each company's transformation is paramount, Singapore can reap the full benefits of transformation when it transforms the entire value chain, Mr Heng postulated in his Budget 2021 speech.
This is why for the next phase of the industry transformation, Budget 2021 will focus on the transformation of entire value chains – where each player in the chain works together to integrate and digitalise processes, and upskill its workers.
The Government will build on the Alliances for Action, and begin with a few alliances first. This will start with the built environment sector, where Mr Heng said he will launch the Growth and Transformation Scheme (GTS).
Since the launch of the Construction Industry Transformation Map in 2017, the Government has made a big push to drive transformation in the built environment sector.
Firms have adopted new ways of doing things but it can be much better, opined Mr Heng in his Budget 2021 speech.
This sector experienced a significant setback last year, and is recovering.
Developers, consultants and contractors now realise the exigency to radically improve productivity and wean off their reliance on labour-intensive methods.
The GTS for the built environment sector will necessitate developers to work closely with their consultants, contractors and suppliers to level up as an ecosystem or value chain.
While continuing to support the sector's recovery, the Government will tilt its support to enable the sector to transform decisively, said Mr Heng, who added that its resolve in achieving transformation of the industry is clear and unwavering.
12. Extension of Wage Credit Scheme and Capability Transfer Programme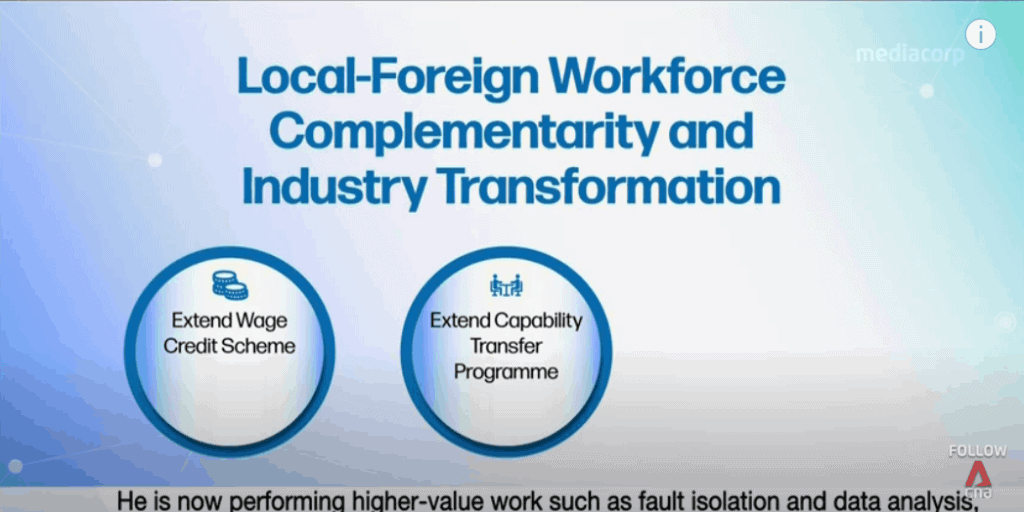 To provide further help to support wage increments for companies to retain or draw locals, Budget 2021 will see the Wage Credit Scheme being extended for a year, at a co-funding level of 15 per cent.
In his Budget 2021 speech, Mr Heng urged employers to make use of other schemes to redesign jobs and upskill their local staff.
For sectors in new growth areas, the Government will welcome expatriates with the right expertise to complement Singaporeans, and help the local workforce strengthen its capabilities. An example would be the newly launched work pass for top-tier foreign tech professionals to work in Singapore.
This will allow Singapore to add vibrancy to the local market, better serve international and regional markets, and enhance Singapore's attractiveness to global investors, he posited.
The Capability Transfer Programme (CTP) is one of the existing programmes that supports such foreign-to-local skills transfer, Mr Heng said.
As of end-2020, more than 140 companies, and over 970 locals have benefited or are expected to benefit from 40 projects.
He said that the CTP will be extended to end-September 2024.
13. Cutting of Manufacturing S Pass Sub-Dependency Ratio Ceiling
In his Unity Budget in February last year, Mr Heng said that he had indicated that the Manufacturing S Pass sub-dependency ratio ceiling (sub-DRC), the proportion of S Pass holders a firm can employ, would be lowered when conditions allow.
He noted that over the years, the manufacturing sector has enabled Singapore to create good jobs for about 450,000 workers, or around 12 per cent of the workforce, with median wages at about 10 per cent higher than the economy-wide median.
The local workforce will need to develop deep skills and the industry has to reduce its dependence on foreign workers before Singapore can achieve its vision of becoming a global advanced manufacturing hub, he said.
Therefore, the Government will curtail the sub-DRC for manufacturing in two steps, to 18 per cent from Jan 1, 2022, and to 15 per cent from Jan 1, 2023, he said.
This is aligned with the tightening already under way in other sectors such as the services, construction, and marine shipyard and process sectors, he added.
He said that the move has been carefully calibrated so that firms have one year to adjust before changes are implemented.
He added that the Government will continue to review the S Pass framework, including the qualifying salary and levies, to maintain the complementarity.
14. Extension of Schemes and New $20 Million Grant to Encourage More Firms to Support Charitable Organisations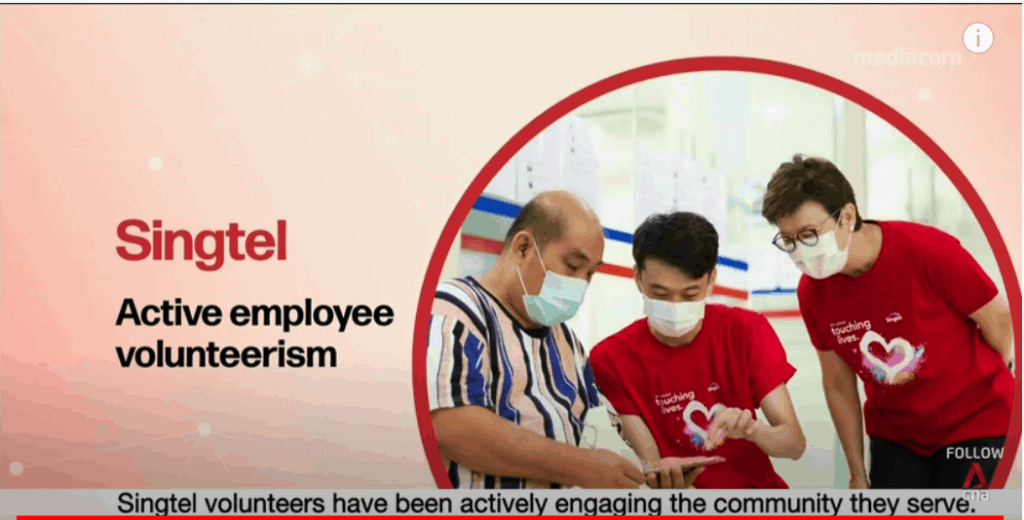 Community partners, charities and social service agencies have been providing support to those in need during the Covid-19 pandemic, but they are currently facing obstacles, said Mr Heng.
Donations to certain platforms such as Giving.sg and for specific causes like Covid-19 have surged, but donations to many charities in general and income streams for recurrent programmes have fallen, he noted.
Some charities have had to dip into their reserves to sustain operations, added Mr Heng.
To encourage Singaporeans to give back to the community, Budget 2021 will see 250 per cent tax deduction for donations to Institutions of a Public Character (IPCs) being extended for two more years till 2023. It was originally set to lapse at the end of 2021.
Additional government support for the Tote Board's Enhanced Fund-raising Programme will also be extended by a year, said Mr Heng. Under this programme, charities can apply to receive dollar-for-dollar matching on eligible donations, up to $250,000.
Mr Heng also said that dollar-for-dollar matching under the Community Chest's Share as One scheme will also be extended to FY2023. The scheme enables corporates, employees and individuals to commit to regular giving.
Twenty million dollars will also be set aside in Budget 2021 for a new Change for Charity Grant, which will tap the potential for businesses to do more to facilitate spontaneous acts of daily giving, such as by encouraging customers to make donations at the point of transactions.
The grant will match ComChest donations raised through this initiative, and co-fund one-off development costs needed to integrate or enhance donation functions onto businesses' payment platforms.
The Ministry of Social and Family Development will announce more details in the upcoming debate on each ministry's budget.
15. Encouraging Volunteerism Amongst Corporates
To promote more corporate volunteerism, Budget 2021 will see the Business and IPC Partnership Scheme being extended for another two years till the end of 2023.
Businesses can play a cardinal role in kick-starting their employees' volunteering journey, Mr Heng said, highlighting the example of SingTel, which has corporate volunteering programmes in place.
The Government will also setting aside $50 million in Budget 2021 to match donations to the Community Development Councils' Care and innovation Fund.
It will provide $3 for every dollar raised under this fund, which will give additional support for bottom-up, innovative initiatives that address the needs of the community, said Mr Heng.
Apart from national level efforts, efforts by the community – such as voluntary organisations, corporate partners and individuals – help to ensure that the diverse needs of different groups who need support are met, especially in the "last mile", stressed Mr Heng.
16. GST Hike to be Implemented in 2022-2025
To finance Singapore's recurrent spending needs, Mr Heng said he first announced in Budget 2018 that the goods and services tax rate would need to be raised some time during 2021 to 2025.
He added that he announced in the Unity Budget in February 2020 that in view of economic conditions then, the GST rate increase would not take effect in Budget 2021. This remains the Government's plan, he said.
However, it will not be able to delay the increase for too long and will have to make the move some time during 2022 to 2025, and "sooner rather than later", subject to the prevailing economic conditions.
He emphasised that without the GST rate increase, Singapore will not be able to meet its rising recurrent needs, in particular spending on healthcare.
He also mentioned that it is not feasible for the Government to run persistent budget deficits outside periods of crisis, despite the fact that Singapore has been fortunate to be able to tap on its reserves to respond to the Covid-19 crisis.
17. GST to be Extended to Low-Value Goods from January 2023
Mr Heng said that in Budget 2018, he announced the extension of GST to imported services from Jan 1, 2020, and shared that the Government would be reviewing international developments on how GST can be applied on imported goods.
Low-value goods imported via air or post are presently not subject to GST to facilitate clearance at the border.
On the other hand, GST is paid on such goods bought locally.
This gives rise to an unfair advantage for foreign businesses.
He pointed out that several jurisdictions, including Australia, New Zealand and the European Union, have implemented or announced plans to implement the equivalent of GST on such goods.
Hence, Singapore will also be extending the GST to imported low-value goods with effect from Jan 1, 2023.
This change in Budget 2021, together with the change announced in Budget 2018, will ensure a level playing field for local businesses to compete effectively, he said.
Overseas suppliers of goods and services will be subject to the same GST rate as local suppliers.
The Inland Revenue Authority of Singapore will continue to work with the industry to ensure smooth implementation for the change.
Conclusion
In conclusion, Budget 2021 is a holistic and well-thought-of support package that renders targeted assistance to specific sectors.
If your business is in any one of the aforementioned sectors that has been hardest hit by COVID-19, our advice is to take advantage of the schemes in Budget 2021 to alleviate cost pressures.
Explore More Content