Huawei's $54 Phone Promo Didn't Go Their Way
After the 5G episode with the U.S. and the sudden drop in demand, perhaps they thought only 54 people would turn up.
Happenings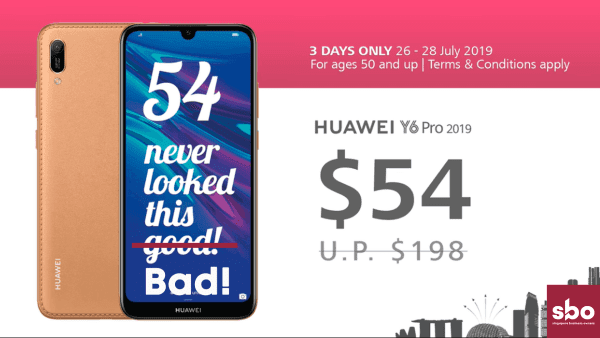 Our team at SBO.sg is committed to being a one-stop avenue to connect local businesses and consumers. We hope that our research efforts can help you save time and money by finding you the best deals without having to search around the vast world-wide-web.
Huawei just can't seem to catch a break.
After a recent tussle with the US over their 5G technology, Huawei got back into the consciousness of Singaporeans for setting up a situation perfect for more tussles.
On 24 July, Huawei Singapore announced on Facebook that they were launching an exclusive sales promotion for their Huawei Y6 Pro phones for Singapore Citizens/Permanent Residents aged 50 & above.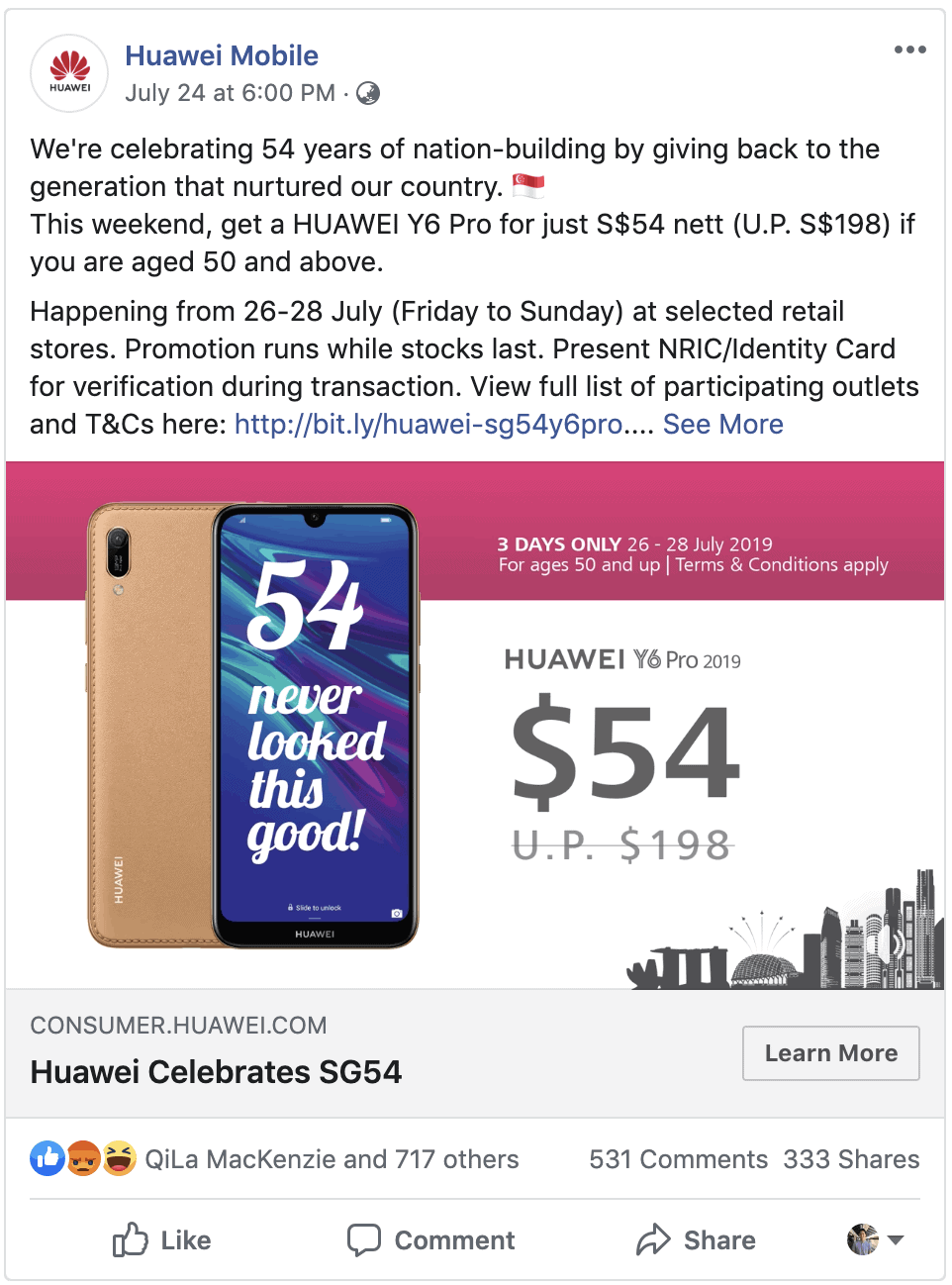 Unfortunately, Huawei only issued less than forty units to each of its 27 participating outlets and the majority of those who spent hours queueing were turned away when stores opened at 10.30am.
Chaos ensued
Well, obviously no one took it well.
Crowds outside Huawei outlets were not happy that they wasted their time queueing for nothing. Live updates from Huawei reported that they had to close down its first outlet at 11 am due to security reasons.
News of the situation was further magnified when the public aired their frustrations all over social media.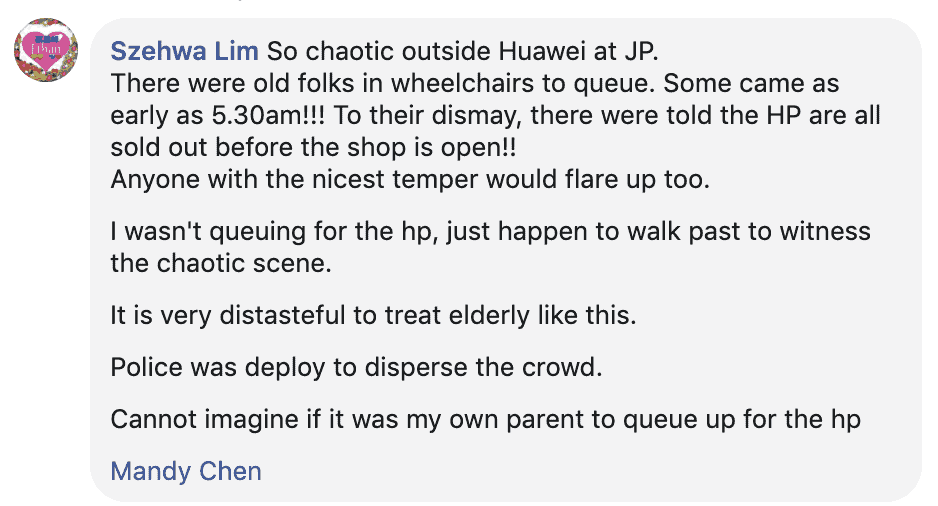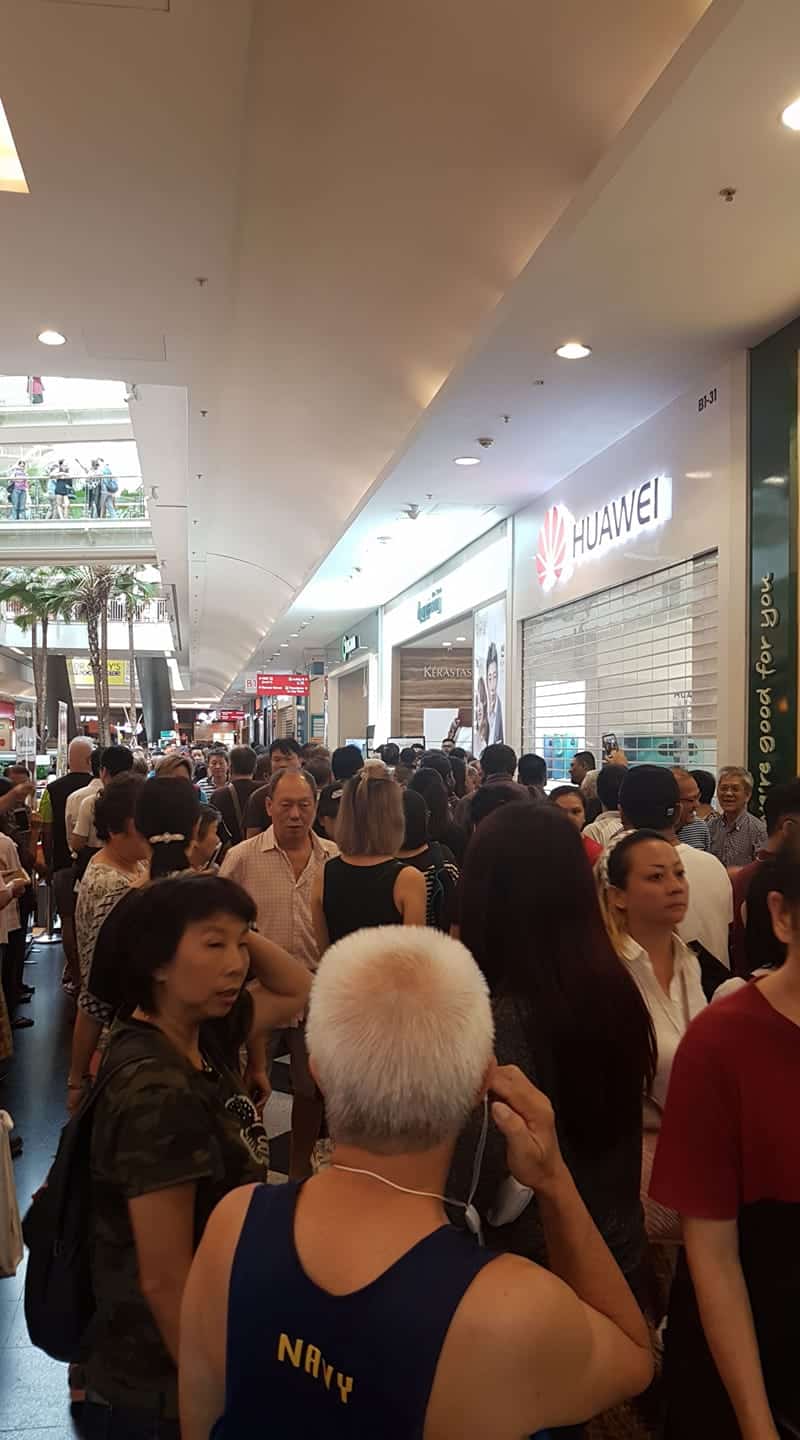 (Photo of the crowd outside Huawei Jurong Point taken by Szehwa Lim)
Police called in, arrest made, an auntie fainted
Police officers had to be deployed to manage the crowd situation.
But Huawei's nightmare didn't end there. An auntie fainted while queueing at Jurong Point.
Another woman was arrested for causing a ruckus at a Huawei outlet after failing to purchase the phone.
It was truly an epic disaster for the Chinese tech giant.
Public apology
Huawei issued a public apology on Facebook thirty minutes before the opening hours of the outlets. They apologised for not being able to meet the demands and urged everyone to refrain from joining the queues.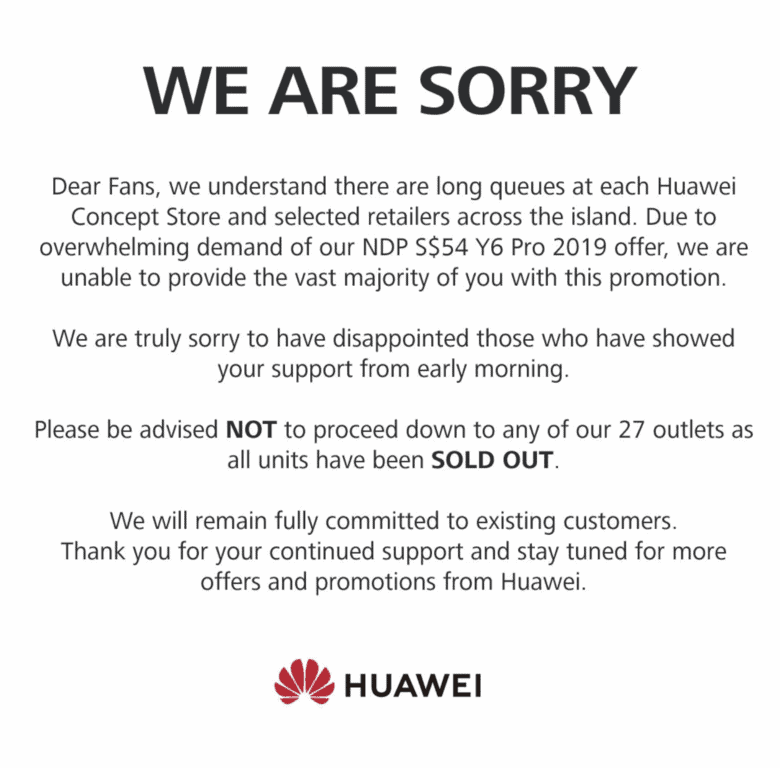 But by then, it was all too late. The chaos has begun and the damage has been done.
President of CASE weighs in personally
On 29 July, three days after the incident, the president of the Consumers Association of Singapore (CASE) wrote on Facebook that "the Huawei advertisement is a breach of the Consumer Protection Fair Trading Act (CPFTA)".
Mr. Lim urged regulators to take action and told TODAY that he wrote this post in his personal capacity.
In a media statement on 30 July, Huawei explained that it had prepared 2000 Y6 pro phones for the promotion. A Huawei spokesperson also told CNA that the numbers were determined based on past sales. Larger retailers like Courts and Challenger would be given 100 sets while concept stores in heartland malls would only be given on 20 to 30 sets.
But before the whole fiasco, Huawei could not provide the figures when a customer prompted Huawei to be upfront about the details prior to the promotion launch on 25 July.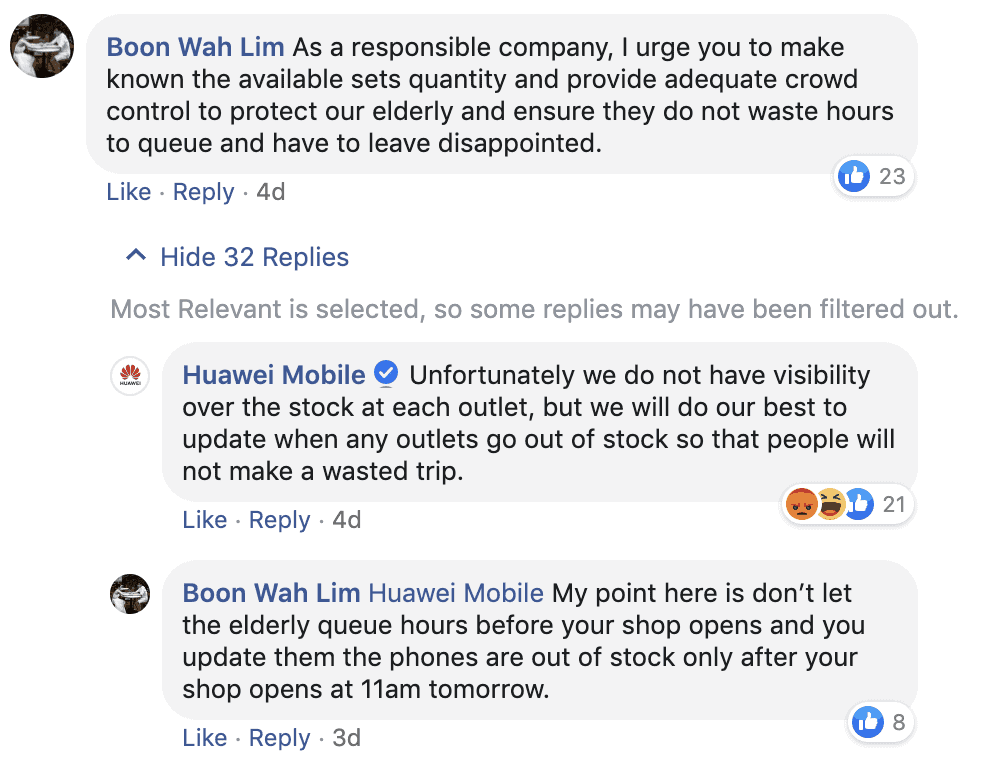 Huawei wants to make things right
Huawei has identified 5000 registered customers and will be giving them a $100 smartphone voucher each. This voucher can be used on selected smartphones such as Y6 Pro, Nova 3i, P30 Pro, P30, P30 Lite, Mate 20 X, Mate 20 Pro and Mate 20. Since the Y6 Pro currently retails at $148, customers with this voucher can now purchase the phone at a price cheaper than the $54 promotion price.
Lessons to learn from Huawei's marketing flop
Don't keep mum about the details

The crux of the issue lies in communication. Huawei chose not to disclose the number of phones that were up for the promotion and went with the vague "while stocks last" approach. If Huawei had been clear about the number of phones each outlet carried, they could have managed the public's expectations and prevented the series of events.


Don't just let them queue queue queue!

Strike two was Huawei's poor on-site management. Despite knowing that each participating outlet only carried less than forty phones, Huawei did nothing to stop patrons from queueing.

Be mindful of who you are poaching…

Every company can use marketing gimmicks to lure people into their shops but Huawei took a step too far. Huawei failed to be mindful of who they are targeting for this promotion. It's cruel to make the elderly queue for hours and then disappoint them with an "all sold out" sign. Is this really the way of Huawei?

There are better ways to show appreciation

A Facebook user gave his suggestions on how Huawei could have done it better. It involved sending an invitation letter to the Merdeka Generation and requesting them to indicate their interest with regard to the promotion. Doing so would have allowed Huawei to have a better gauge of the demand.

Huawei's biggest mistake; stretching the truth

Huawei should not have packaged the promotion as something bigger than it is. It is nothing more than a small promotion to clear their old phones. Huawei angled it as a National Day Promotion for the Merdeka Generation and wanted to "show their appreciation for them". Unfortunately, they did not have the capacity to serve even a quarter of the entire Merdeka population.

Talk about insincerity!

It is evident that very little thought has gone into this campaign. The unruly behaviour by the public was definitely not justifiable but Huawei should not have stretched the truth.

What a way to celebrate 54 years of nation-building, Huawei.
—
>