Corporates Have a Role to Play in Building Caring and Giving Society: Heng Swee Keat
Over the Champions of Good conferment luncheon, Mr Heng shared ways that companies can give back to society.
Happenings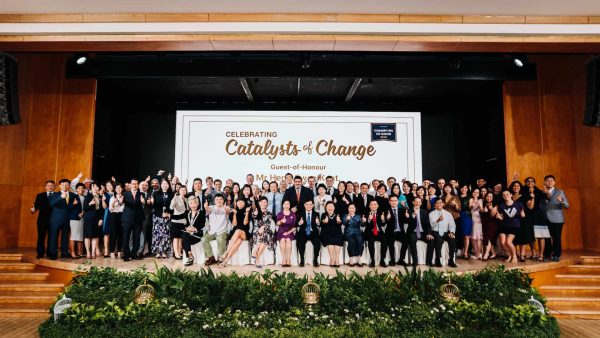 Our team at SBO.sg is committed to being a one-stop avenue to connect local businesses and consumers. We hope that our research efforts can help you save time and money by finding you the best deals without having to search around the vast world-wide-web.
Last Friday, 60 companies were recognised by the National Volunteer & Philanthropy Centre (NVPC) as "Champions of Good 2018" for their corporate giving and commitment to amplifying the impact of giving.
The 60 Champions of Good are among more than 1200 companies big and small that are in the Company of Good network. The network is established in partnership with the Singapore Business Federation Foundation and aims to spark a giving movement through corporates to build a City of Good.
Some of the home-grown companies that were conferred include Ang Chin Moh Funeral Directors, Changi Airport Group (Singapore), Greenpac, Neo Group and Woh Hup.
Minister for Finance Mr Heng Swee Keat graced the conferment luncheon that was joined by 200 C-suite executives and business leaders.
"I commend our Champions of Good, who come from different industries, and range from large corporations to Small Medium Enterprises, and public agencies," said Mr Heng.
Giving as a collective effort
Mr Heng noted that "giving needs to be a whole-of-nation effort" and there are opportunities, especially for corporates, to do more.
"Let us tap on this willingness of our people to give, to mobilise everyone to help build a caring society, in Singapore and around the world. To catalyse discussion, I suggest three ways we can do so:

First, we should continue to build a giving culture in our young people and organisations;

Second, corporates can work together in closer partnerships; and

Third, the Government will continue to support and catalyse community efforts."
What companies can do
Mr Heng offered actionable steps that companies can take to help build a giving culture.
1. Empower your staff
"Corporates can encourage and empower their employees to take charge and be the catalyst of change themselves. For example, some of you allow room for employee-led initiatives to grow, by building a team of motivated staff volunteers and supporting staff-initiated CSR activities. This will ensure greater employee engagement and staff ownership in the CSR initiatives."
2. Leaders to lead the way
"Similarly, corporate leaders' emphasis and active participation in CSR activities are important to lead the giving movement. Results from NVPC's 2017 Corporate Giving Survey have shown that senior management's interest was a strong motivator for a firm's volunteerism and philanthropy movement. Corporate giving also increased when the firm's management communicated support and personally participated in giving initiatives."
3. Businesses and non-profit organisation partnerships
"Businesses and non-profit organisations can form partnerships to achieve better outcomes, and sustain these partnerships. Non-profit organisations can restructure volunteer roles to make it more suitable for corporate volunteers while meeting their own needs. At the same time, corporates can contribute to the partnership by encouraging and supporting their staff in their volunteering efforts."
4. Partnerships among businesses
"Corporates can also work together with other business partners for greater reach and impact. Large corporates often have more established CSR practices or capabilities that smaller corporates may not have. At the same time, smaller corporates can also bring new insights and networks, to build upon the CSR practices of larger corporates."
5. Do what you do best and influence others to do the same
"We can learn from our Champions. Many of you have proactively collaborated with other stakeholders, be it clients, business partners, non-profit organisations or the Government. You have taken the responsibility to support the needy and vulnerable, and shown that with collective efforts, we can better address these needs. You focus on doing what you are good at and bring others on board to complement your efforts. Together, we can achieve more with fewer resources."
6. Make use of government schemes
"The Government has been providing support to encourage philanthropy and volunteerism. We have extended various schemes in Budget 2018. For instance, to support corporates which are providing pro-bono services, and incurring cost in the process, we introduced the Business and Institution of a Public Character Partnership Scheme, or BIPs. It enables corporates to defray some of these costs, such as wages. I am glad to know that some of our Champions here have participated in BIPS. I hope more corporates can make use of BIPS, to support IPCs."
Corporate leaders need to lead and be the force for good
Melissa Kwee, CEO of NVPC, noted that in the recent 2018 Edelman Trust Barometer, 65 per cent of the respondents are of the opinion that CEOs should take the lead on change rather than wait for the government to impose it.
"Through our Champions, we witness examples of business as a force for good. The power is in the hands of CEOs and leaders to walk the talk and drive meaningful change. Corporate philanthropy and volunteerism in Singapore need to be more regular and driven right from the top of the organisation," she added.
Here is the list of companies conferred this year.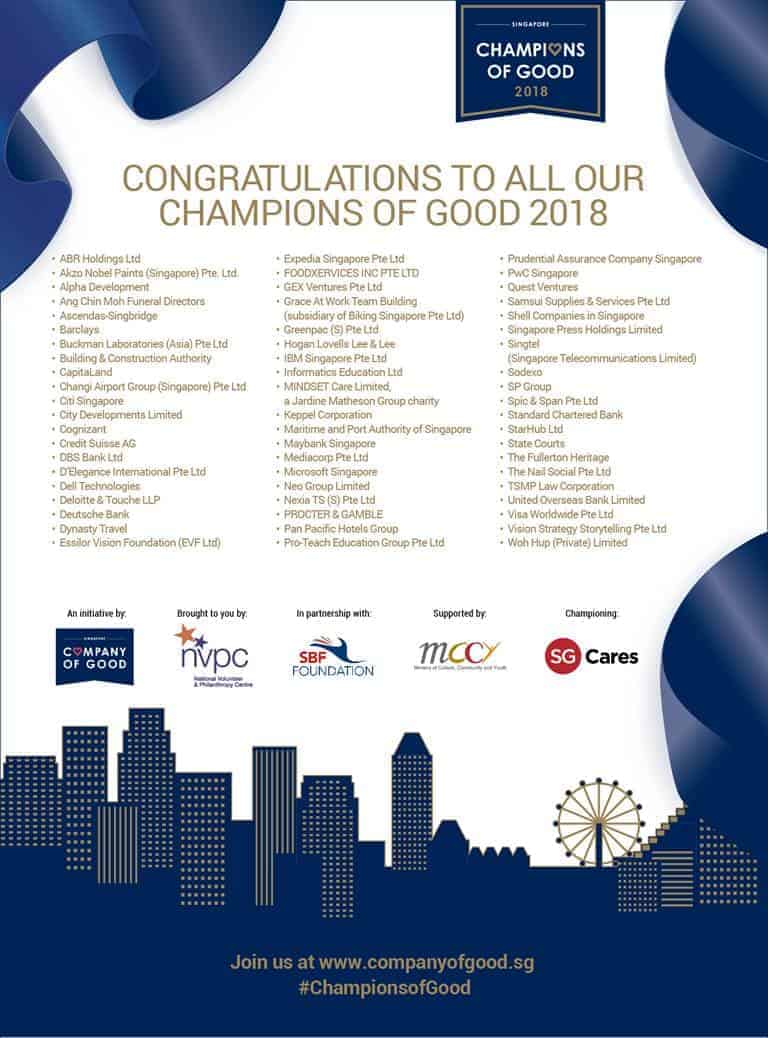 Featured image by NVPC
---
Wish to lead your company in giving back to society? Here's how.
>