13 Best Phone Repair in Singapore to Repair Your Phone [2023]
Nothing's worse than a cracked phone screen.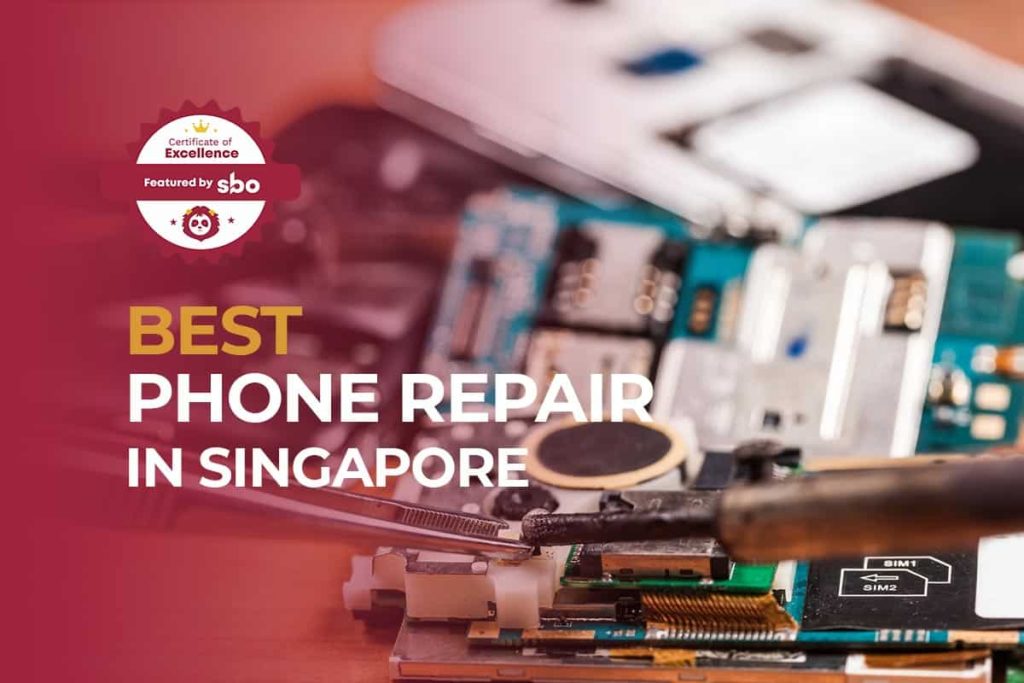 We've all been there before: your phone drops on the ground and the screen cracks. *cues surprised pikachu face*
In such cases, most of us would likely prefer to repair our phones instead of buying a new one as it's much cheaper that way.
In fact, when planned obsolescence is all the rage these days, there are plenty of good reasons why you should consider repairing your mobile phone instead.
Not only is it more environmentally friendly, but it also cuts down on e-waste produced.
E-waste releases toxins when it is incinerated after improper disposal.
Here are some other benefits of repairing your phone instead of getting a new one:
Benefits of Phone Repair in Singapore
1. Cost-Efficiency
With the exception of maybe your phone being destroyed beyond measure, repairing your device is cheaper than outright buying a new phone.
Typical repair prices range from $500-$150, whereas new devices range from $200-$1,000.
2. Greater Peace of Mind
Many phone repair shops in Singapore provide warranty on any parts repaired, so you can always go back and look for them if your phone still fails to work properly.
3. Saves Precious Time
You might be surprised to learn that in most instances, repair time is shorter than set up time, with most repairs taking less than an hour.
Repairs can be done while you wait, whereas you likely need a good chunk of time to purchase and boot up your new phone (not to mention the long queues when you buy a new phone!).
4. Suitable as a Hand-Me-Down
Don't feel like buying the newest iPhone for your new kid to play with?
Repair old devices to give as a hand-me-down to a child or friend. Now that's a smart move.
5. Better Usability
In some instances, repairing your phone might even help to extend its usability.
For example, you could replace the battery of your phone, adding years to its lifespan, or replace the camera with a better one, giving higher resolution to your photos.
6. Reaping the Maximum Value of Your Phone
Before replacing your phone with a new one, just ask yourself whether you have used your phone up to the maximum value.
If your phone still has lifespan left, then choosing to repair it may be a more worthwhile investment in the long run.
7. You're Not Due for a Phone Upgrade Anyway
Still have many months left before your contract expires and you can get a new phone from your telco?
If that's the case, you are better off repairing your current phone and biding your time until your current plan ends.
You can get a snazzy new phone from your telco for free then (while renewing your plan while you are at it)!
Looking for a phone repair in Singapore?
In this post, we've gathered the details to compile a list of the 12 best phone repair in Singapore for you to repair your phone.
1. Mister Mobile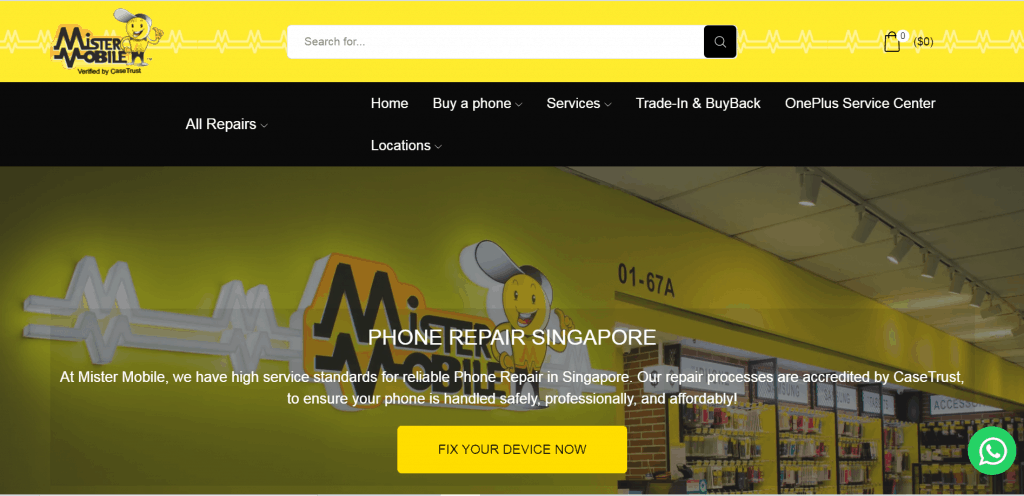 Need repair for your OnePlus phone but can't find any authorised service providers?
Fret not, because MisterMobile is here to provide repairs and warranty service for all OnePlus models at their flagship branch at their Geylang (City Plaza) branch.
In fact, they are the sole OnePlus authorized OnePlus Service Center in Singapore, effective from 1 June 2019.
They use only genuine parts provided.
With more than 10 years of experience, MisterMobile has received accreditation from CaseTrust.
They also have more than 10 trained technicians who complete over 2000 successful repairs monthly, so you can rest assured in their expertise.
The phone repair in Singapore also provides prompt replies: they always strive to reply within one hour.
Their admin will process your checkout and will send the confirmation booking details via WhatsApp to the phone number that you provided.
Reviews sing high praises of the phone repair in Singapore.
They had top-notch workmanship and were very prompt in fixing appointments for the customer.
2. Hitec Mobile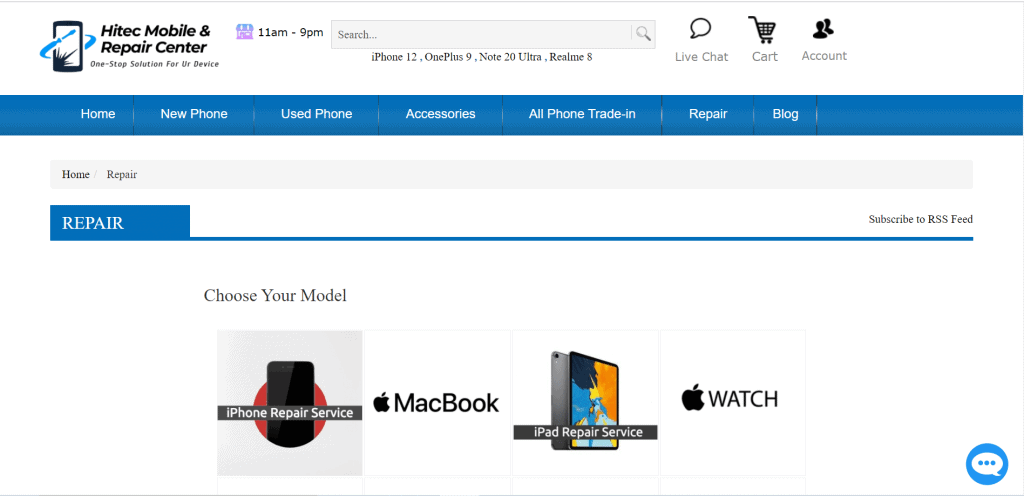 Conveniently located near Bugis MRT, Hitec Mobile repairs different types of phones, including modern-day models, such as the Sony Xperia X, LG G6, Asus Zenfone 6 and HTC 10.
They also offer a variety of repair services like LCD or screen repair, charging port repair, front and back camera repair and loudspeaker repair.
Efficiency is their middle name: you can look forward to having on-the-spot phone repair in Singapore is less than one hour for most hardware issues for your phone.
The best part of it all: their prices are transparent, and there are no hidden fees.
Reviews laud the phone repair in Singapore for their excellent customer service and same-day repair services.
Staff were also prompt in replying to customers.
Service was consistent and prices were reasonable, leaving customers satisfied.
3. RepairXpress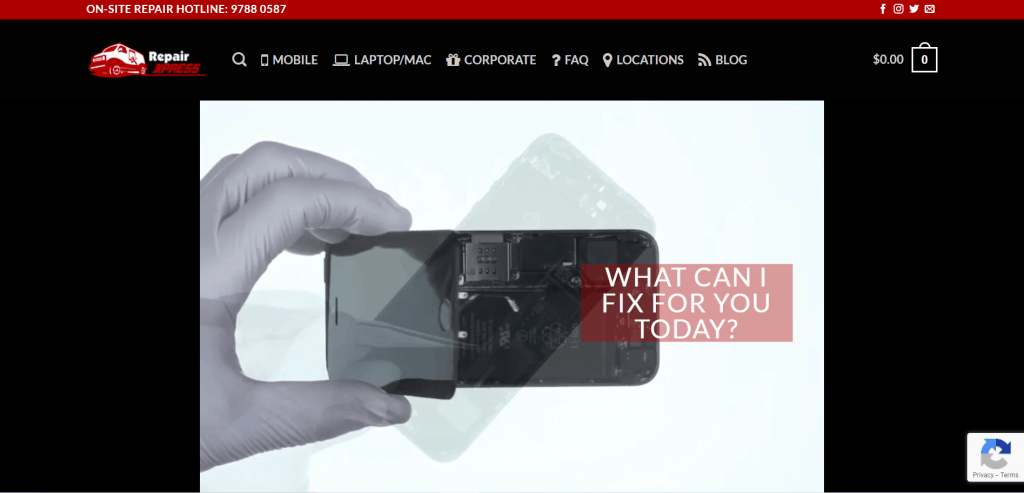 At Repair Xpress, they offer superb repairs and quick turnaround times.
Whether you have the latest iPhone 5S / 5C or past models such as the iPhone 4, iPhone 4S, iPhone 3GS or iPhone 3G, their repair services assure you of the highest repair quality and the fastest repair time.
They also cover Verizon, AT&T or Sprint versions.
The phone repair in Singapore provides excellent customer service.
From their amiable, well-trained staff at every one of their branches to a dedicated Customer Consultant Team, rest assured your satisfaction is the centre's top priority.
All parts and labor provided are covered by a 90-day warranty.
If your repaired device seems to be having issues after a repair, please visit Repair Xpress immediately for warranty diagnostics.
They will replace any defective parts for you.
Reviews laud the phone repair in Singapore for their extremely professional service from start to finish.
They also had warm and friendly staff with excellent technical knowledge.
The reviewer's phone was repaired within 24 hours.
Prices were cheaper than other shops, and reviewers say they will return again in the future.
4. Singapura Mobile Repair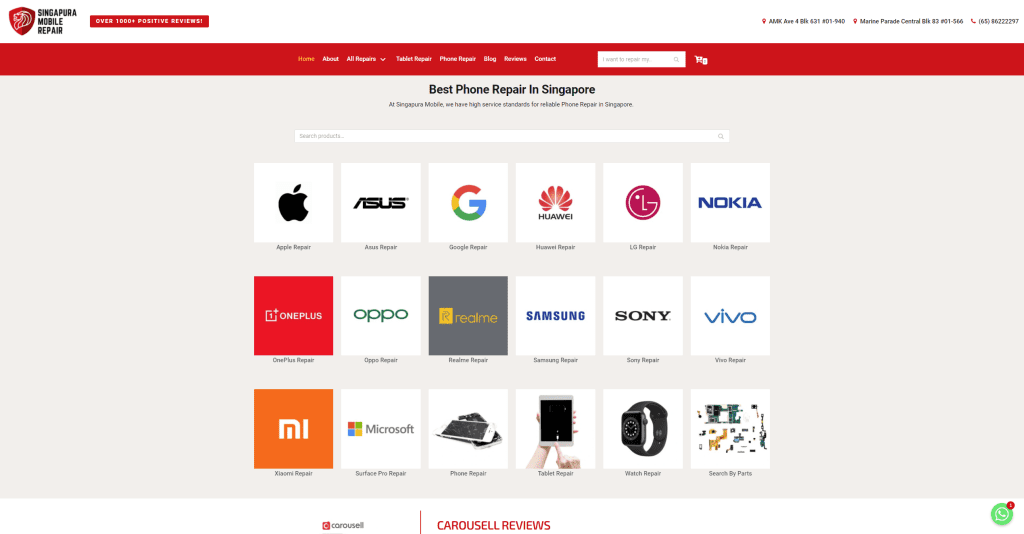 Singapura Mobile Phone Repair Shop has been faithfully serving valued customers since 2014 in heartland areas like AMK and Marine Parade.
They are a one-stop solution for your phone repair issues of all brands such as Apple iPhone, iPad, Samsung, OPPO, Huawei, Xiaomi, Redmi, VIVO, Realme, Asus, ROG Phone, OnePlus, Black Shark, Google Pixel, Microsoft Surface Pro, Go Screen and more.
They value customers' feedback which is why a majority of their customers recommend them for their fast, affordable service, attended by friendly staff.
With over 1000+ positive online reviews from new and regular customers over the years, it's clearly a go-to place for reliable mobile phone repair service.
They repair a wide range of mobile brands (as listed on their site) that you may not find with other phone repair shops.
Customers are encouraged to WhatsApp for faster replies and online appointment booking.
Their website is currently in progress, and will be continually updated for the latest phone model repairs.
Reviews mention excellent service from friendly staff that provide clear explanations, with efficient good workmanship at reasonable rates.
5. LYK Mobile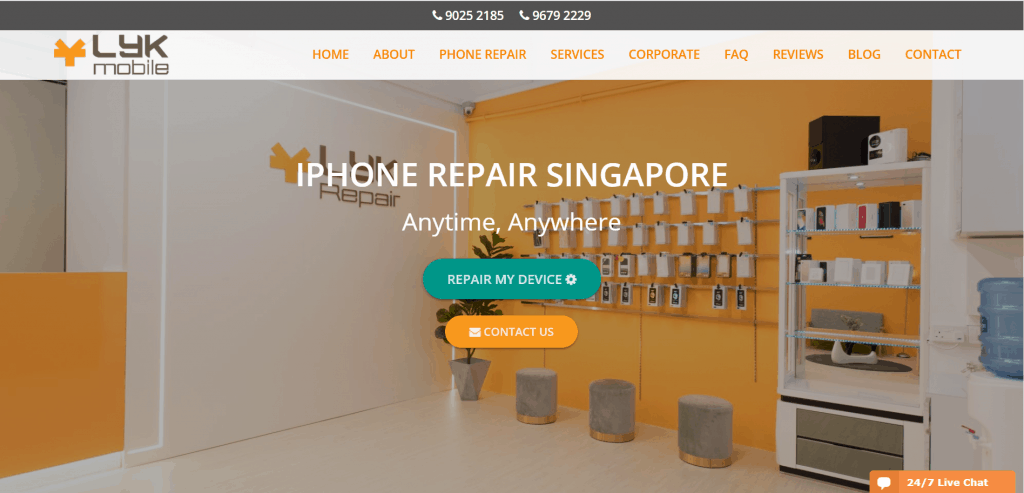 From cracked screen repairs and battery replacement, to motherboard replacements and water damage repairs, the technicians at LYK Mobile will be able to fix your mobile device at your home or office at a time that is convenient for you.
LYK Mobile is an expert in repairs for brands like Apple, Samsung and more.
Their Service Center is a stone's throw away from Tai Seng MRT station.
While waiting for your phone to be repaired, you are more than welcome to use their open pantry.
Their amazing pantry is fitted with light snacks, refreshments, WiFi as well as table games for kids, and a comfy rest area for you to take a break.
They have some of the most competitive prices in the market.
Their prices quoted are nett, with no extra charges. Prices for repairs at their Service Center at Tai Seng are even lower.
They don't encourage fixing/changing what is unnecessary.
The services of the phone repair in Singapore are also speedy: not only can they travel to you, but they can also complete most repair jobs within 15–30 minutes.
The best part of it all: there's a 100-day warranty for all repaired devices.
Reviews praise the phone repair in Singapore for their friendly staff, great service and competitive prices.
They were also able to replace screens in 15 minutes.
6. Fynd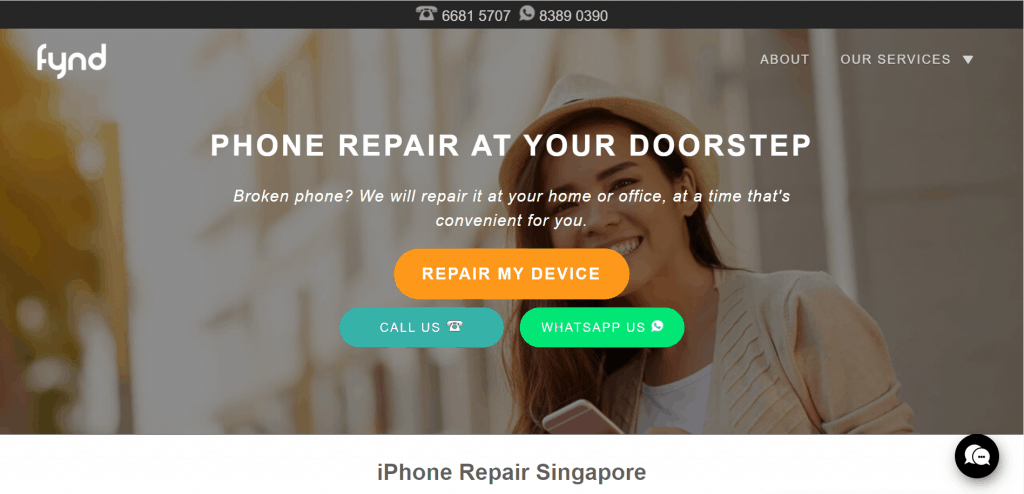 Fynd provides an avant-garde solution for phone repair in Singapore.
You don't have to go down to a repair shop to get your phone repaired.
They will send their technician to your home or office or any location that is convenient for you.
Efficiency is their middle name: they can repair your phone in 25 minutes.
You will also be able to see instant repair prices with just a few mouse clicks.
The best part of it all: there's a 90-day warranty for selected iPhone models.
Reviews laud the phone repair in Singapore for their competency, professionalism and staff who provided adequate explanations.
There were no hiccups at all.
7. PhoneDoctor+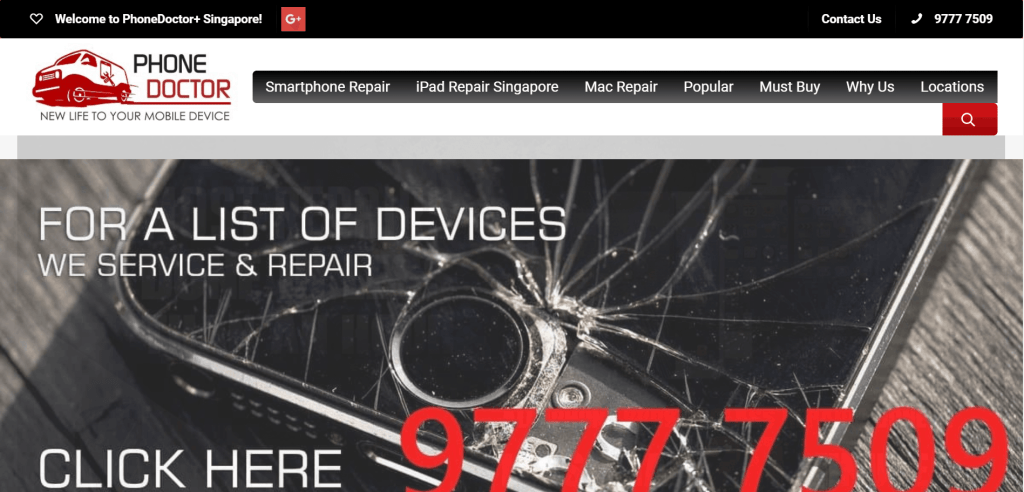 Looking for a free diagnostics session before you make up your mind to repair your phone?
Phone Doctor+ is the phone repair in Singapore you are looking for.
They will open up your phone, diagnose the issue and wait for your decision on whether to fix it.
They don't hold your phone hostage and will not force any repairs.
They are a big proponent of speedy repairs: they try to complete all basic iPhone screen repairs within 30mins or less.
Reviews attest to this quick repair service.
The best part of it all: there's a 90-day warranty for all repaired devices.
8. iRepair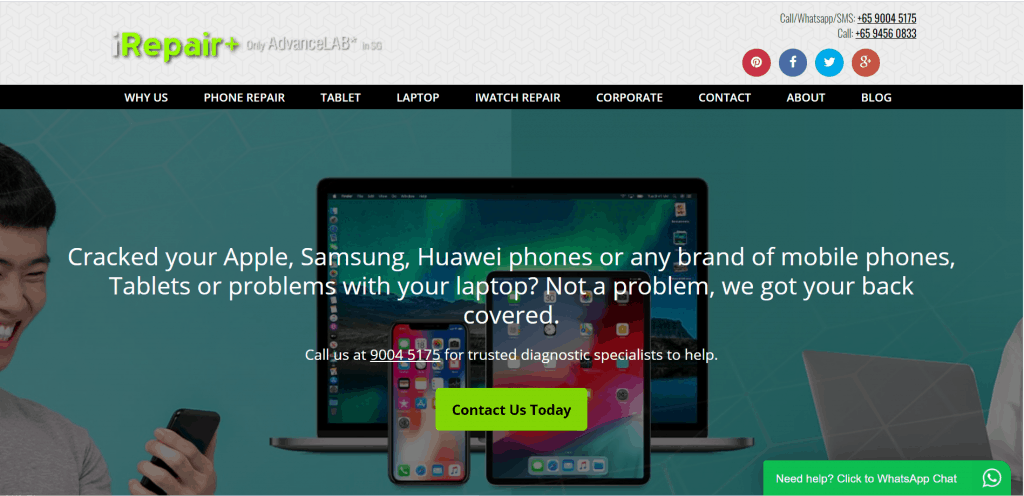 iRepair is the go-to phone repair in Singapore for all phone problems ranging from glass and LCD replacement, water damage to battery replacements and more.
iRepair distinguishes itself by providing a service called Face2Face repair where you can get to watch their technicians as they repair your iPhone in real-time.
Their goal is to be as trustworthy and transparent as possible to their customers.
In fact, they have received the Credit Accreditation from the Consumers Association of Singapore (CASE).
This hard-to-get accreditation validates whether businesses are transparent and open in their dealings with customers.
The best part of it all: there's a 1-year warranty for all repaired devices.
Reviews praise the phone repair in Singapore for their detailed explanation, friendly staff and upfront prices.
The customer service provided was also excellent.
9. Digital Hospital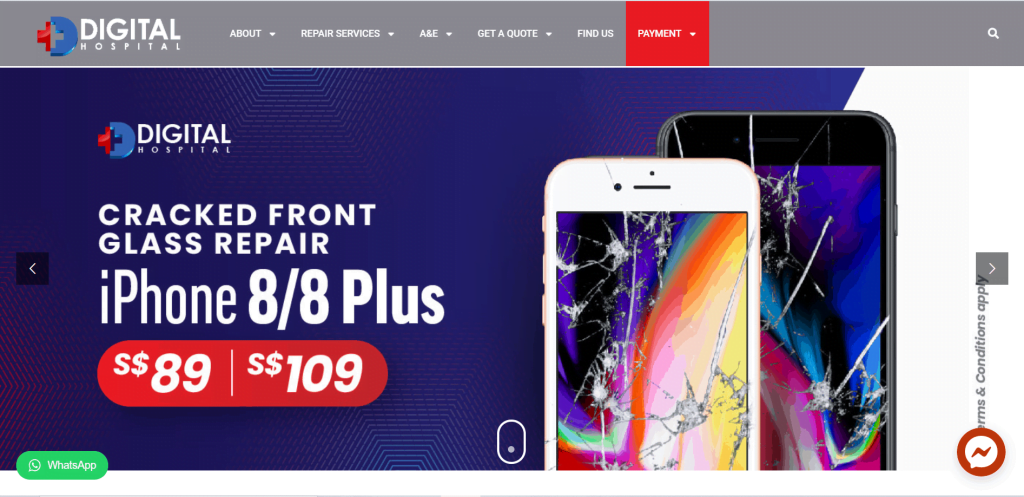 Digital Hospital is ISO 9001 Certified.
They always take care of your data privacy and ensure excellent service to ensure customers always get the best possible service.
They have a quick turnaround time: simply drop off your device at any of their Service Centres and you can collect your repaired phone after 3-7 workdays.
They also have a dedicated pickup and drop service.
Their dispatch service personnel would report at your location and bring back the device for repair.
Thereafter, they will deliver it back to you. Now isn't that just convenient!
The best part of it all: there's a 90-day warranty for all repaired devices.
Reviews praise the phone repair in Singapore for their professionalism and responsiveness, saying that they live up to their reputation of a digital hospital.
10. Red White Mobile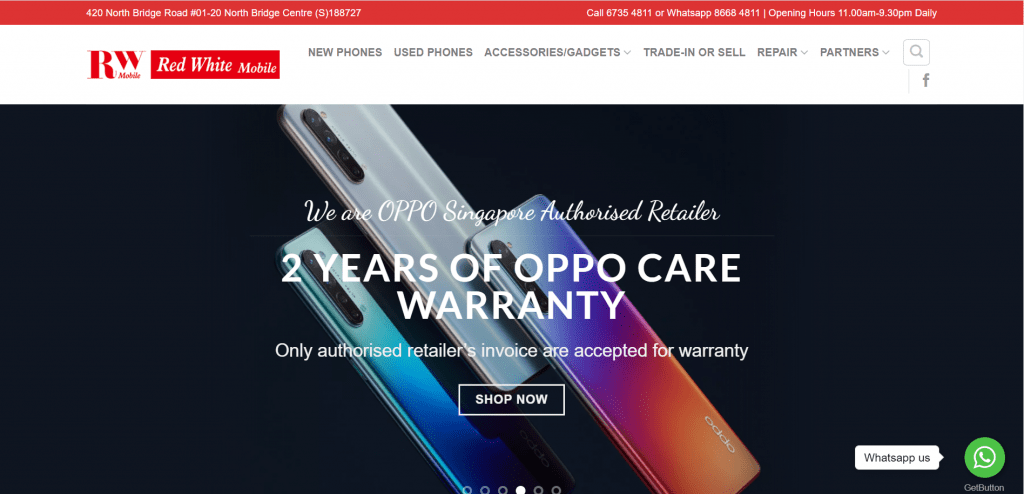 Not only does Red White Mobile ply new and used mobile phones along with the choice to trade in old phones, they also provide a free diagnosis before starting on any necessary mobile phone repair.
Now you can make a more informed decision.
The prices of the phone repair in Singapore are transparent.
For example, it costs S$30 to replace the screen of an iPhone 6s, and S$28 to replace the Wi-Fi antennae of an iPhone 5.
It costs S$18 to replace the camera glass of an iPhone 5.
The best part of it all: there's a 30-day warranty for all repaired devices.
Reviews praise the phone repair in Singapore for their no-frills prices and late opening hours.
Great customer service was also provided by their welcoming staff.
11. Repair Express Singapore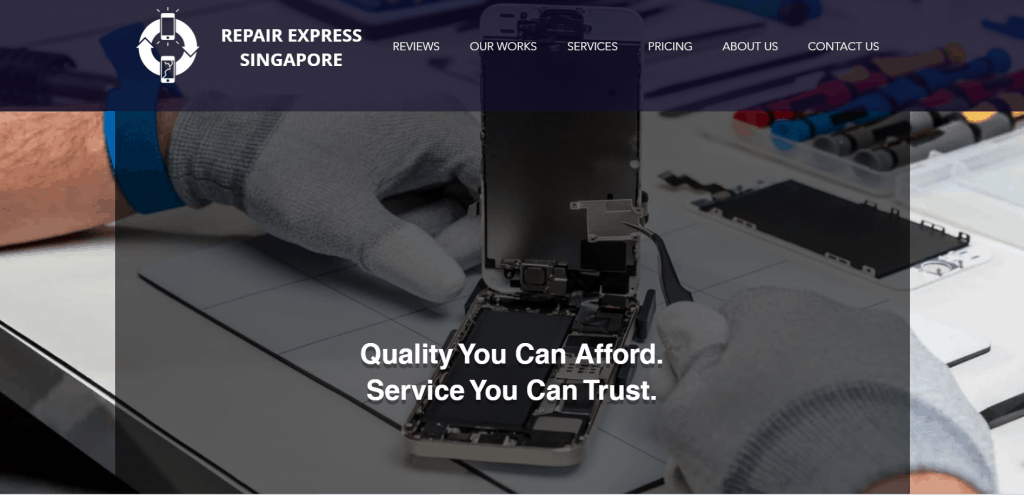 The team of trained technicians at Repair Express are equipped with the tools and knowledge to repair your phone.
Their services are bang for your buck: customers enjoy savings of up to 70% compared to prices at Authorised Services Centers.
Speed and convenience are of utmost importance to the phone repair in Singapore: they can get your device back up and running in a span of as short as 45 minutes.
The best part of it all: they offer up to 100 days warranty for all devices repaired.
They also use genuine equivalent parts so you won't get shoddy knock-offs.
Reviews laud the phone repair in Singapore for possessing sophisticated equipment, allowing them to repair customers' faulty mobile phones in a flash.
12. iDevice Repair Centre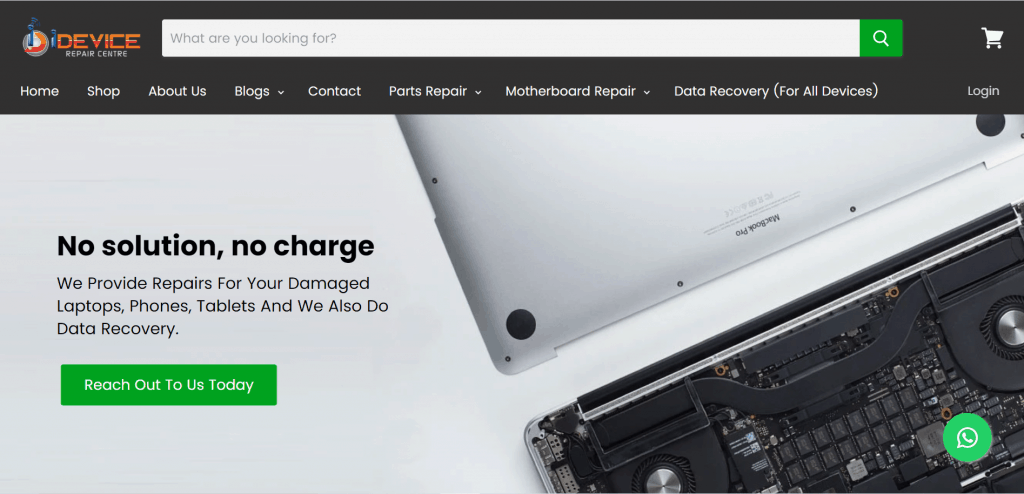 iDevice Repair Centre was established in 2007 when the first iPhone 2G was launched.
Their journey in repairing Apple devices started then when their founder dismantled his first ever iP2G out of curiosity and successfully assembled it back.
Over the years, they have expanded their repair services to include other Apple devices such as MacBooks, iMacs, Mac Mini, iPads etc and also Android Phones.
As part of the phone repair in Singapore, iDevice Repair Centre also provides data recovery services.
You may end up with data loss due to malfunctions, mechanical problems, human errors and virus attacks, etc.
Regardless of the reason, their data recovery arm will ensure that your data is recovered from the compromised phone.
Smartphone brands they service span a wide range, including Apple, LG and Acer.
Reviews praise the phone repair in Singapore for their reasonable, reliable, prompt & professional service.
Staff were helpful, and settled all issues expeditiously.
13. BreakFixNow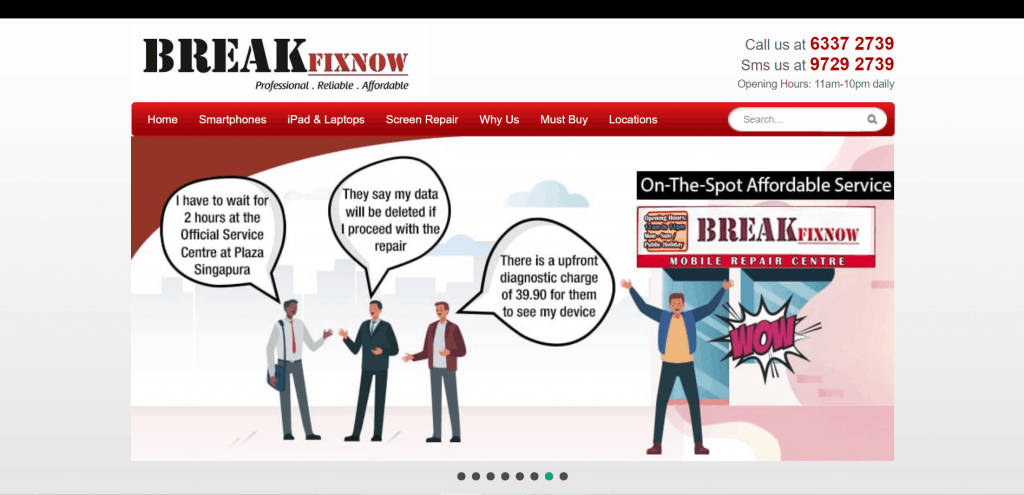 Unlike other phone repair shops, BreakFixNow provides a complimentary in-your-face diagnostics session.
They will quote you a reasonable price for their repair services.
All phone repairs are quoted nett and without GST or service fees.
Plus, they offer a 7 day full money back guarantee if you are not satisfied with the repair.
The phone repair in Singapore also provides door-to-door repair services for your convenience.
If you need door-to-door phone repair, please do take note that any doorstep phone repair shops charge additional $30-$50 on top of usual fees.
The phone repair in Singapore also uses only genuine parts to repair your mobile phone.
Components are procured from mobile suppliers such as LG or Foxconn.
They even provide double warranty: they are able to provide you with up to 3 months warranty for phone repair & 6 months of warranty for labour.
Reviews praise the phone repair in Singapore for their convenient location.
Staff were professional, friendly and honest in their dealings.
Prices were affordable.
Conclusion
Do you have any reviews and comments to share regarding our choices for the best phone repair in Singapore?
While SBO is committed to supporting our local businesses, we welcome any feedback and anonymous sharing regarding your experience with the listed phone repair in Singapore.
We hope that this guide will be useful in helping you to make an informed decision when it comes to finding the best phone repair in Singapore.
Explore More Content