10 Best Budget Phone in Singapore That Won't Break the Bank [2022]
These wallet-friendly phones pack a punch.
Technology & Gadgets
Our team at SBO.sg is committed to being a one-stop avenue to connect local businesses and consumers. We hope that our research efforts can help you save time and money by finding you the best deals without having to search around the vast world-wide-web.
With the economic shockwaves sent by COVID-19 around the globe, many consumers are not buying new smartphones unless their current ones are broken.
Mr Bryan Ma, Vice-President of Client Devices Research at International Data Corporation, notes: "With consumers unsure of where their next paycheck is coming from, some would try to stretch the life of their existing phones, while others might opt for a cheaper 'good enough' phone."
If you're part of these consumers, you may wish to consider getting a budget phone in Singapore — competitively-priced smartphones that cost below S$650.
In this post, we've gathered all the necessary details to compile a list of the 10 best budget phone in Singapore that won't break the bank.
1. Samsung Galaxy A51
Galaxy A51 is the world's number 1 best-selling Android smartphone in Q1 2020, which is not at all surprising, given its price. You can get yours for S$448.
The rhythmical pattern of Galaxy A51's design theme comes in smooth and elegant pastel shades including Prism Crush Black, White, Blue and Pink. A premium gloss finish adds a perfect touch of style to its sleek and slim body, perfectly blending style with in-hand comfort.
Galaxy A51 has fast processing and spacious storage so you can focus on the present. An advanced Octa-core processor and up to 6GB of RAM deliver smooth and efficient performance. Download more and delete less with up to 128GB of internal storage. Add even more with a 512GB microSD card.
Go ultra high-resolution with the 48MP Main Camera for crisp, clear photos day and night. Capture more of the view with the 123° 12MP Ultra Wide Camera. Choose the upgraded 5MP Macro Camera for refined close-ups, and make sure the subject always stands out with the 5MP Depth Camera's multiple Live Focus effects.
When out living life, you also need a budget phone in Singapore that can last. A 4,000mAh (typical) battery gives you the power to stream, share and game on. And if you start running low, plugin and power up with 15W Fast Charging.
Trusted Reviews says that the Samsung Galaxy A51 is a phone that's worth considering, given its decent all-round performance. Notably, its camera versatility is impressive, the screen is enjoyable to watch content on, and it looks good too.
2. Samsung Galaxy A12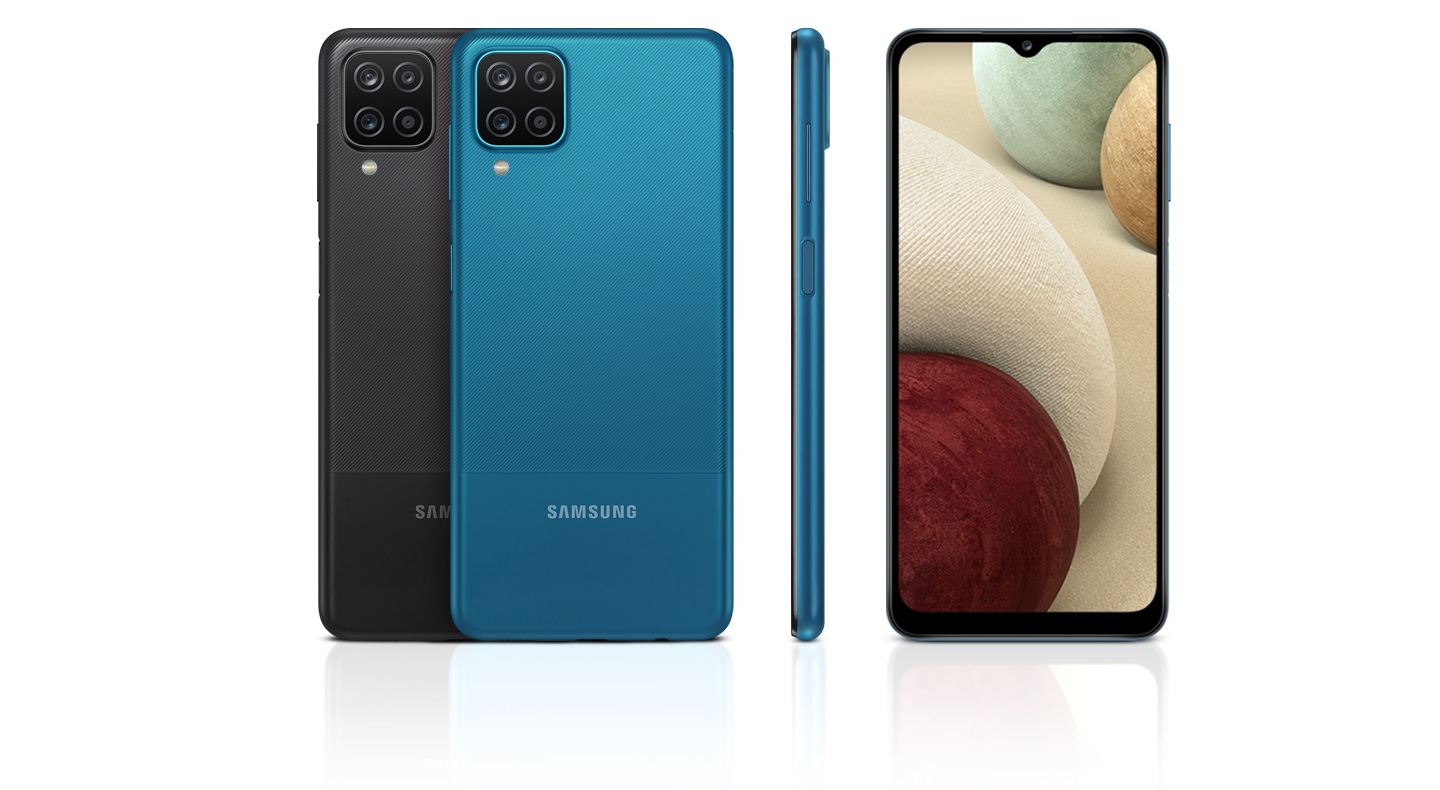 Looking for a budget phone in Singapore with a large screen? Expand your view with the Galaxy A12's 6.5-inch Infinity-V Display and see what you've been missing. Thanks to HD+ technology, your everyday content looks sharp, crisp and clear.
The Samsung Galaxy A12, which costs S$228, combines streamlined design aesthetics with classic colours. Refined curves make it comfortable to hold and provide easy screen navigation. Choose between Cosmic Black and Cosmic Blue.
A powerful budget phone in Singapore, the Galaxy A12 combines Octa-core processing power with up to 4GB of RAM for fast and efficient performance for the task at hand. You can also enjoy 128GB of internal storage.
You can also look forward to snapping memorable moments in clear detail with the 48MP Main Camera. Expand the viewing angle with Ultra Wide Camera. Customize focus with Depth Camera, or get closer to the details with Macro Camera.
Plus, stay ahead of the day with a battery that won't slow you down. The A12's 5,000mAh battery lets you keep doing what you do, for hours on end. And with up to 15W of Adaptive Fast Charging, Galaxy A12 quickly gets back to full power.
3. HUAWEI Nova 7SE
The HUAWEI Nova 7SE has a stunning design that appeals to all. Watch light dance across the beautifully textured 3D glass surface as you turn it slowly in your hand.
The budget phone in Singapore has been crafted to be as amazing to hold as it is to look at with functions such as the side-mounted power button unlocking the screen within a quarter of a second, providing hassle-free use.
The HUAWEI Nova 7SE, which is priced at S$488 in Singapore, features the new and improved 7nm Kirin 820, a balanced chipset that incorporates an advanced 8-core CPU, 6-core GPU and proprietary NPU, harnessing next-level intelligence to achieve a new realm of performance. The Kirin ISP 5.0 works to ensure that image processing and photo/video denoising are top-notch across the board.
The powerful 1/1.7″ CMOS sensor packed in the 64 MP Main Camera absorbs all of the photos in its midst, rendering overlooked details in vivid splendour, for on-the-go photography that transcends what your eyes see.
Vincent Chang, a tech reviewer from the Straits Times, says that users may be "hard-pressed to differentiate between the performance of the HUAWEI Nova 7SE and Huawei's flagship phone, the P40 Pro+, without a side-by-side comparison", attesting to the Nova 7SE's solid performance.
4. OPPO A5 2020
The crown jewel of the OPPO A5's 6.5″ display is a redesigned Waterdrop Notch. And because of dynamic pixel adjustment, you can read what is on your screen even under strong sunlight. Plus, the screen of the budget phone in Singapore filters out harmful blue light to prevent eye fatigue and protect your vision.
Working in tandem with A5's 4GB of RAM, the OPPO A5's Snapdragon 665 provides faster performances while simultaneously lowering power consumption by 20%. Nowhere is this more evident than with Game Boost 2.0. It combines Frame Boost and Touch Boost for smoother, more responsive gaming.
The OPPO A5 2020 (A5), which costs S$320, fits five separate cameras into a single smartphone. A 12MP rear main lens for maximum photo resolution. An Ultra-Wide 119° rear lens for panoramic pictures. Two rear lenses that provide artistic portrait effects. And a 16MP front lens featuring AI Beautification.
Also, talk about having power in the palm of your hand. Now you can watch HD videos on your phone non-stop for more than 11 hours. Plus A5's 5000mAh Ultra Battery can even reverse charge all your other devices.
David Nield from TechRadar, says in his review: "The Oppo A5 2020 when judged against its price comes out very well indeed: for not much money at all, you get a device that is competent in most areas and really good in a couple."
5. Redmi 9T
The Redmi 9T is known for its show-stopping, vibrant colours. Brighten up your life with Redmi 9T's luminous aesthetic. The back glistens in the light giving off a captivating radiance. Pick your favourite from four stunning colours: Twilight Blue, Sunrise Orange, Ocean Green and Carbon Gray.
Fast and efficient, the Redmi 9T's Snapdragon 662 octa-core processor delivers high performance, prevents your device from overheating and ensures low power consumption. The UFS 2.2 storage allows you to open apps and copy files in a flash! It also provides a better experience when capturing high-resolution photos.
With a 48MP AI quad-camera, the Redmi 9T has everything you need to take professional shots. The rear quad camera setup can help you to take a variety of exciting photos no matter where you are.
With the massive 6000mAh battery, you won't have to worry about running out of power. The Redmi 9T can go days without being charged. At less than 200g, the phone is also surprisingly lightweight for a phone with such high battery capacity. The best part: the Redmi 9T costs only S$225 for a budget phone in Singapore.
Tom Bedford from TechRadar says in his review: "The Xiaomi Redmi Note 9T is a decent phone for the price. It's fairly snappy in use, it has a nice design that fits snugly in the hand, and you're getting 5G compatibility on a budget."
6. Google Pixel 4a
In Google's own words, the Google Pixel 4a, which is priced at S$499, is packed with all the things you want most in a phone.
With features such as HDR+, Night Sight and more, the Pixel 4a camera helps you to get incredible photos. For example, HDR+ makes your photos look even better by automatically adjusting the colour and lighting.
The Adaptive Battery also learns from your favourite apps and reduces power to the ones that you rarely use. The fast-charging battery is designed to get you back to the things that you love as quickly as possible.
You can also have your OS and sensitive data protected with the custom Titan M security chip found in the Google Pixel 4a. The budget phone in Singapore also automatically receives the latest OS and security updates for at least three years.
John McCann says in his TechRadar review: "The compact size, clean interface and great point-and-shoot camera of the Pixel 4a will appeal to those looking for an affordable, reasonably sized handset with enough grunt to handle the basics, plus the ability to capture some excellent pictures."
7. OnePlus Nord
The OnePlus Nord is powered by the Qualcomm® Snapdragon™ 765G 5G Mobile Platform with improved CPU speeds and 30% faster graphics rendering than its predecessor. The budget phone in Singapore also comes with 12 GB of RAM so Nord can run all your favourite apps at once stutter-free.
The Nord is equipped with the same 48 MP primary sensor camera as the OnePlus 8, complete with optical image stabilization (OIS) to eliminate blur and shakiness from every photo. Nord's camera is also smart enough to remove unwanted noise and sharpen things up in tricky shooting scenarios, like harsh sunlight.
Nord's display has 2,048 levels of automatic brightness for smoother brightness transitions and greater eye comfort when you're doing everything from scrolling through social media to browsing a beautifully designed product page.
John McCann remarks in his TechRadar review: "OnePlus has made an emphatic return to the mid-range market with the Nord – it's an affordable smartphone that's packed with features. There's a great screen, plenty of power, and a set of capable cameras, all wrapped up in a package that belies its affordable price."
8. iPhone SE
Starting at $649, the iPhone SE packs Apple's powerful A13 Bionic chip into a 4.7″ screen smartphone at an affordable price. The budget phone in Singapore also comes with a durable glass and an aluminium design for maximum protection.
The iPhone SE's advanced camera system with A13 Bionic brings you Portrait mode, which artfully blurs the background to put the focus on your subject.
The phone's next‑generation Smart HDR knows a face when it sees one, and intelligently relights it to capture more natural-looking contours and skin tones. It also finesses highlight and shadow detail in the background.
Privacy is built into the iPhone SE. Everything Apple makes is designed to give you control over your information. All the iMessages you send are encrypted. Fingerprint data is stored on your device, never on Apple servers or in iCloud. Apple Pay doesn't share your credit card number.
Gareth Beavis says in his TechRadar review: "This is the phone to get if you want a new iPhone that will last you a few years, but don't want to pay a lot for. The iPhone SE offers 'decent but not top-end' performance: a good camera, enough power, a great App Store to plunder and a lighter iPhone than recent models."
9. Moto G 5G Plus
moto g 5G plus is built for both 4G and 5G networks, so you're ready for anything. Get more bandwidth, lower latency, and reduced lag time so you never miss a thing. Feel the fast response time in everything you do, from browsing the web to watching a video with the 5G-optimized Qualcomm® Snapdragon™ 765 processor.
The budget phone in Singapore, which costs S$526, is armed with a 16MP Quad Pixel camera that allows you to get brighter, sharper selfies instantly no matter the conditions or lighting with Quad Pixel technology and 4x better light sensitivity.
You can also experience your favourite movies and shows in their full, cinematic beauty with the 6.7″ CinemaVision Full HD+ display with HDR10 that delivers sharp contrast and beautifully vibrant colour that stretches from edge to edge.
Lastly, My UX is just one of the many features on moto g 5G plus that makes sure your phone works the way you want it. Control your device with simple gestures, customize your entertainment settings, and create a look that's one in a million.
Tom Bedford points out in his TechRadar review: "The Moto G 5G Plus is a good all-rounder with a better chipset, battery life and screen quality than many other devices at its price point. It's also got a bigger screen than its siblings. The fact that it's also 5G-compatible makes it an even more tempting offer, as it's the cheapest 5G phone at launch."
10. Vivo V17
Taking inspirations from fine jewellery and royal palaces, Vivo managed to break away from squares and circles and created a new shape. The refreshing Diamond design adds a unique and dynamic vibe, completing the distinctive look of V17. Be charmed by dazzling colours that dance in the light.
Priced at an affordable S$329, the V17's main camera delivers 48MP super clarity, while a further three cameras cover wide-angle and macro needs for almost every scene. Capture it all without any hassle with the best budget phone in Singapore.
V17 houses a 4500mAh (TYP) battery that keeps its power for much longer. Featuring a Type-C interface, when it's time to recharge, Vivo's exclusive Dual-Engine Fast Charging technology re-juice at breakneck speeds.
Priya Singh says in his Firstpost review: "The Vivo V17 is meant for those users who want a decent camera smartphone with a long-lasting battery and are willing to spend more. You can also go for the device if you prioritise the looks of a phone."
Conclusion
Do you have any reviews and comments to share regarding our choices for the best budget phone in Singapore?
While SBO is committed to supporting our local businesses, we welcome any feedback and anonymous sharing regarding your experience with the listed budget phone in Singapore.
We hope that this guide will be useful in helping you to make an informed decision when it comes to finding the best budget phone in Singapore.
In this article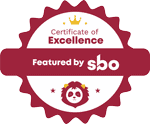 Are you featured in this?
Display this exclusive SBO badge proudly on your website!