10 Best Budget Gaming Keyboard in Singapore to Play Computer Games [2022]
These budget gaming keyboards are the key to victory.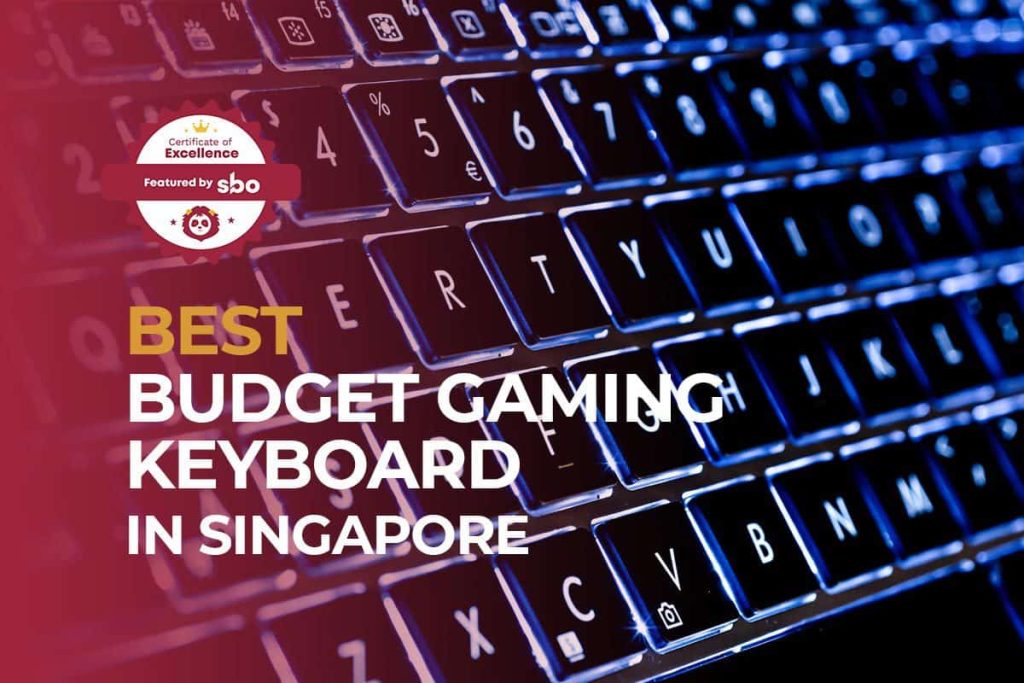 Ask any hardcore gamer, and he or she would attest to the fact that mechanical keyboards are a must-have in gaming. Mechanical keyboards differ from keyboards that are bundled together with a computer. Mechanical keyboards use physical switches to register each key-press, making them more accurate and responsive.
The switches of these mechnical keyboards are usually colour-coded depending on how sensitive they are, with common colours being black, blue, brown and red.
These keyboards are usually highly sought after by gamers, who value these keyboards for their feedback and precision while gaming, and for being able to withstand the rigours of fast-paced movements during intense gaming.
Looking for a gaming keyboard in Singapore but don't want to break the bank? In this post, we've gathered all the necessary details to compile a list of the 10 best budget gaming keyboard in Singapore below S$400 to keep you gaming.
1. ROG Strix Scope TKL GUNDAM EDITION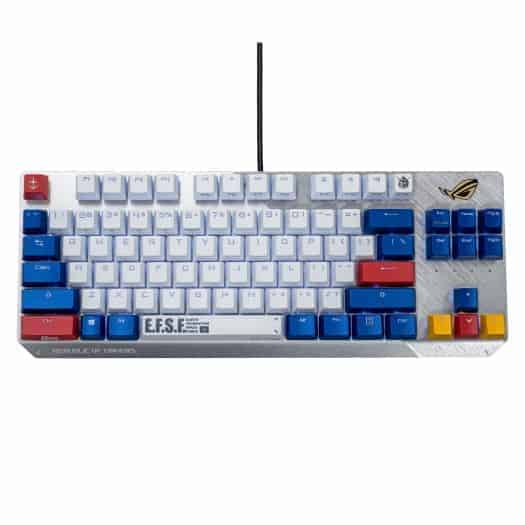 A fan of both gaming and GUNDAM? Well you're in luck. ROG Strix Scope TKL GUNDAM Edition is a high-performance mechanical gaming keyboard with a small footprint, freeing up space on your worktop for broader mouse movements – perfect for the lower sensitivity settings that slow the reticle for aiming accuracy.
The keyboard is topped with an aluminum faceplate for everyday resilience, and finished with a striking slash aesthetic for a little touch of style.
After studying the play style of FPS gamers, the ROG R&D team created Xccurate Design: a Ctrl key that's twice as wide as usual, making it easy to find and hit.
A tap of ROG Strix Scope TKL's Stealth Key hides all apps and mutes all audio, assuring privacy the moment you need it. Decorated with a GUNDAM figure motif, a second push of Stealth puts everything back to just the way it was.
Keen to get this budget gaming keyboard in Singapore? It's yours for S$269.00.
2. Logitech G915 TKL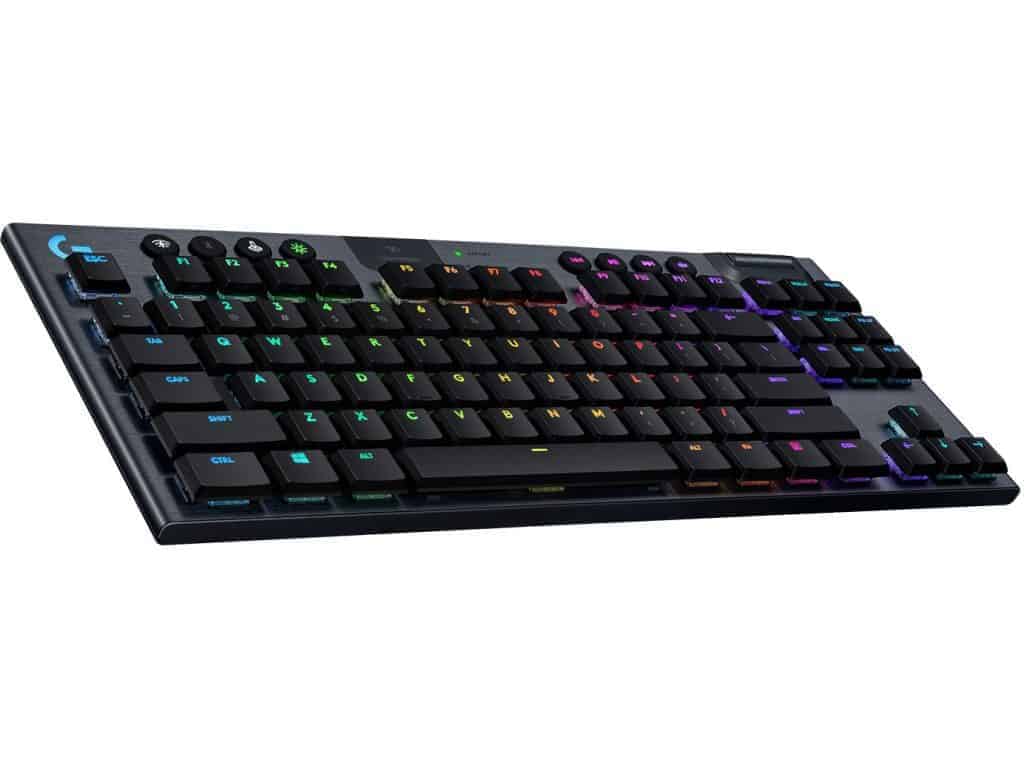 A breakthrough in design and engineering, the G915 TKL features LIGHTSPEED pro-grade wireless, advanced LIGHTSYNC RGB, and high-performance low-profile mechanical switches. Meticulously crafted from premium materials, the G915 TKL is a sophisticated design of unparalleled beauty, strength, and performance.
G915 TKL features the same advanced technologies as the G915 —but in a more compact design, providing more room for mouse movement. The USB receiver can also be stored in the back of the keyboard for additional portability.
G915 TKL features pro-grade LIGHTSPEED wireless that achieves super-fast 1 ms performance. G915 TKL is also fully functional when plugged in via USB, so you can charge and play simultaneously. The keyboard's GL switches are also rigorously tested to meet strict endurance, responsiveness, and accuracy requirements.
Keen to get this budget gaming keyboard in Singapore? It's yours for S$349.00.
3. ROG Strix Flare PNK LTD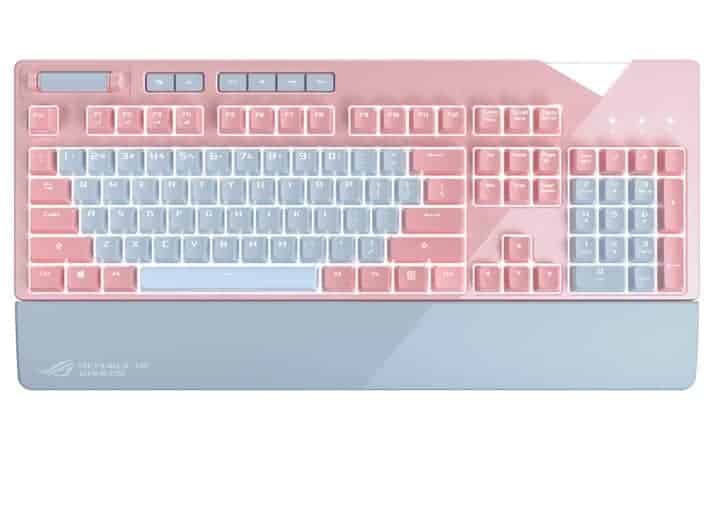 Fancy the colour pink? The ROG Strix Flare PNK LTD is equipped with German-made Cherry MX RGB mechanical key switches that deliver satisfying mechanical feel with optimal actuation – The choice of professional gamers and enthusiasts.
The gaming keyboard also possesses dedicated media keys and a volume wheel positioned on the left for instant in-game audio control, a USB passthrough for easy connection and a detachable soft-touch wrist rest. It also has individually backlit keys and vibrant underglow powered by Aura Sync RGB lighting technology.
Keen to get this budget gaming keyboard in Singapore? It's yours for S$269.00.
4. SteelSeries Apex 3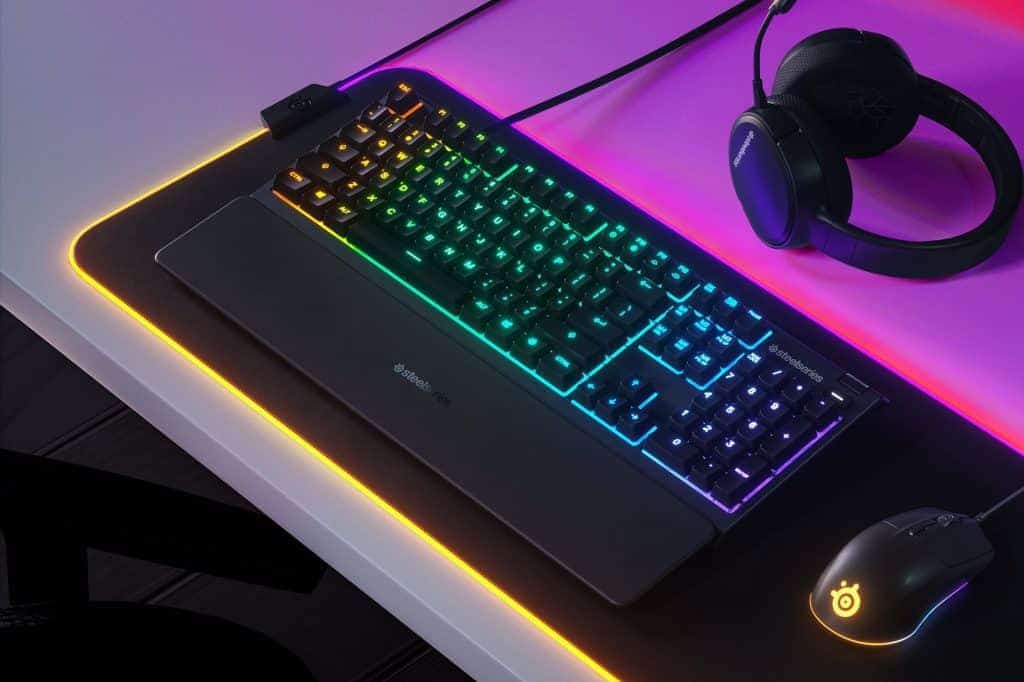 Looking for a water resistant gaming keyboard? The water resistant Apex 3 is a full-fledged gaming keyboard created by combining SteelSeries' cutting-edge technology with a collection of gaming-focused features.
With 10-Zone RGB Illumination, you will be able to choose from brilliant rainbow RGB effects, your favorite color schemes, or even to react when you're under attack. You will also be able to personalise the illumination to match any style.
The keyboard is equipped with Whisper Quiet Gaming Switches, which are low friction switches for near silent use and unmatched durability, with performance guaranteed for over 20 million keypresses.
The Premium Magnetic Wrist Rest is the perfect keyboard accessory, with a simple magnetic solution for easy and secure attachment, full palm support, and durable soft touch finish, so you're comfortable typing and gaming for as long as you want.
Keen to get this budget gaming keyboard in Singapore? It's yours for US$69.99.
5. Ducky One 2 Mini Pure White RGB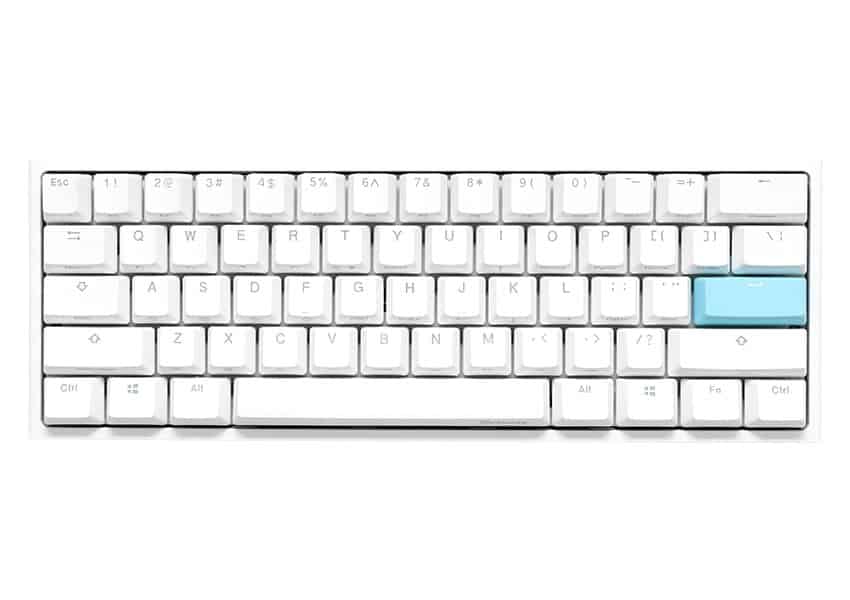 Looking for a miniature gaming keyboard? If so, you should get the One 2 Mini Pure White RGB, whose bezel design shares a similar sleek frame as its predecessor.
Featuring German Cherry MX key switches, the One 2 Mini Pure White RGB possesses dual colour bezels to match all varieties of keycap colorways.
They use USB HID with the highest frequency of 1000Hz polling rate, meaning the keyboard is sending its input signal(s) to your PC 1000 times per second.
Keen to get this budget gaming keyboard in Singapore? It's yours for S$171.00.
6. Logitech G512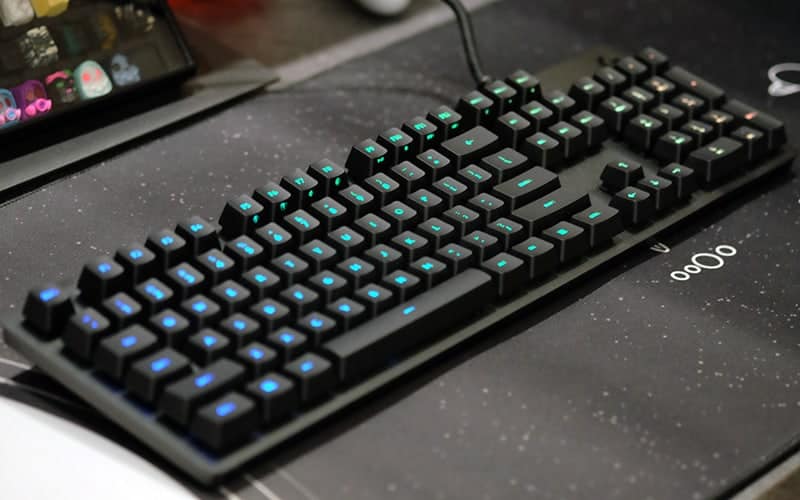 G512 is a high-performance gaming keyboard featuring your choice of advanced GX mechanical switches. Advanced gaming technology and aluminum-alloy construction make the G512 keyboard simple, durable and full-featured.
G512 can be customizable per key with approximate 16.8 M colors. You will be able to create your own animations or choose from a selection of preset effects. And with LIGHTSYNC technology, lighting is driven by games, audio, or your screen.
G512 is crafted from strong and durable 5052 aluminum-magnesium alloy which allows for both a minimal design and a beautiful aesthetic. The rigidity of 5052 alloy also provides a sturdy, non-slip chassis that houses a suite of features.
The additional, dedicated USB cable connects the USB passthrough port to its own input for full power throughput and data speed. You will be able to plug in a device to charge or plug in a mouse to charge your adversaries, without missing a beat.
Keen to get this budget gaming keyboard in Singapore? It's yours for S$189.00.
7. Razer Huntsman Mini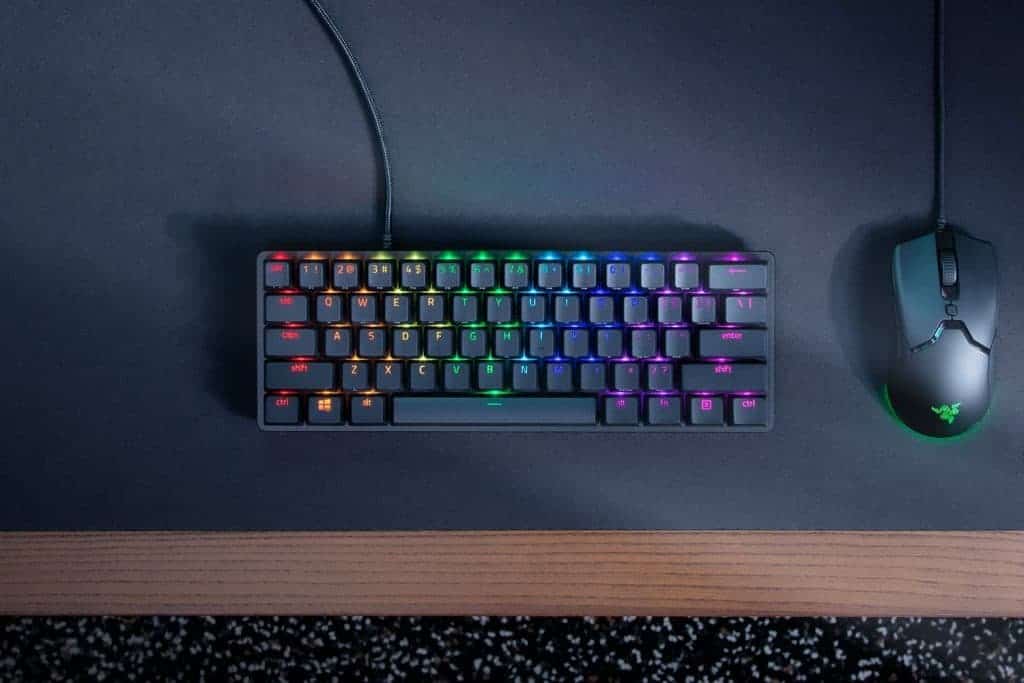 Looking for a compact budget gaming keyboard in Singapore? If so, you should purchase the Razer Huntsman Mini—a 60% gaming keyboard with cutting-edge Razer Optical Switches. Available in two variants, the Razer Optical Switches offer faster, lighter, and smoother actuations than mechanical switches, and last longer as they requires fewer moving parts that operate with less friction.
The RAZER™ CLICKY OPTICAL SWITCHES are the the go-to choice for gamers who prefer receiving crisp, tactile feedback that sounds as satisfying as it feels.
Meanwhile, the IMPROVED RAZER™ LINEAR OPTICAL SWITCHES deliver smooth, instant keystrokes with no tactile bump, and sports significant enhancements to the acoustics of the switch, with sound dampeners to reduce noise.
Designed for greater durability, the keycaps on this 60% gaming keyboard have a premium, textured quality that'll never degrade to a shiny finish or have their labelling wear off with intense use. For easier reference when executing commands and hotkeys, side-printed secondary functions have also been added.
Keen to get this budget gaming keyboard in Singapore? It's yours for S$209.99.
8. ROG Falchion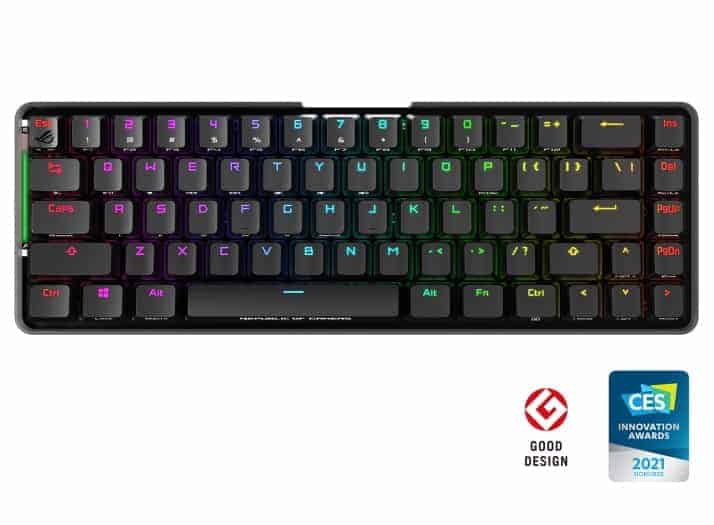 ROG Falchion is a 65% form-factor wireless mechanical keyboard designed to change the way you play. It has an interactive touch panel and innovative two-way cover case, and it's the first ROG keyboard with wireless Aura Sync RGB lighting.
The keys feature durable ROG polybutylene terephthalate (PBT) doubleshot keycaps and German-made Cherry MX RGB mechanical switches for precise, tactile keystrokes. ROG Falchion utilizes a gaming-grade 2.4 GHz RF connection for 1 ms report rate and offers up to 450 hours of battery life on a single charge.
An innovative touch panel on the left flank of ROG Falchion lets you conveniently adjust volume, or create shortcuts for switching apps, or copying and pasting. It can also be programmed for use as a macro key for more intuitive controls.
Keen to get this budget gaming keyboard in Singapore? It's yours for S$279.00.
9. Razer Huntsman V2 Analog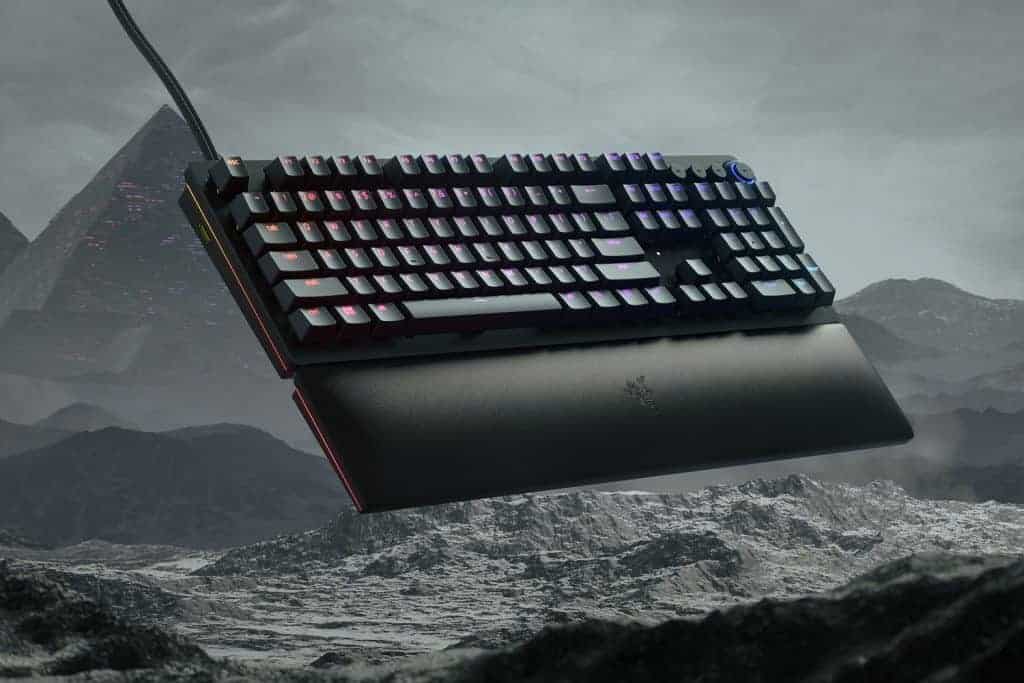 Actuation at the speed of light now comes with more granular control. Fitted with Razer's latest and most advanced switches, the Razer Huntsman V2 Analog redefines the limits of what a gaming keyboard can do.
Harder and more durable than ABS plastic, the sturdy, textured keycaps on this analog optical gaming keyboard won't wear down to a shiny finish and have labels which will never fade thanks to their doubleshot molding process.
From a responsive 1.5 mm height for fast-paced gaming to a full 3.6 mm actuation for more deliberate keystrokes, these switches can be tailored to your playstyle.
A hardcore gamer who hates restrictions? You can also look forward to doing away with rigid 8-way WASD movement for FPS and racing games with switches capable of smooth 360-degree motion inputs just like analog joysticks and thumbsticks.
Keen to get this budget gaming keyboard in Singapore? It's yours for S$399.90.
10. Logitech G Pro X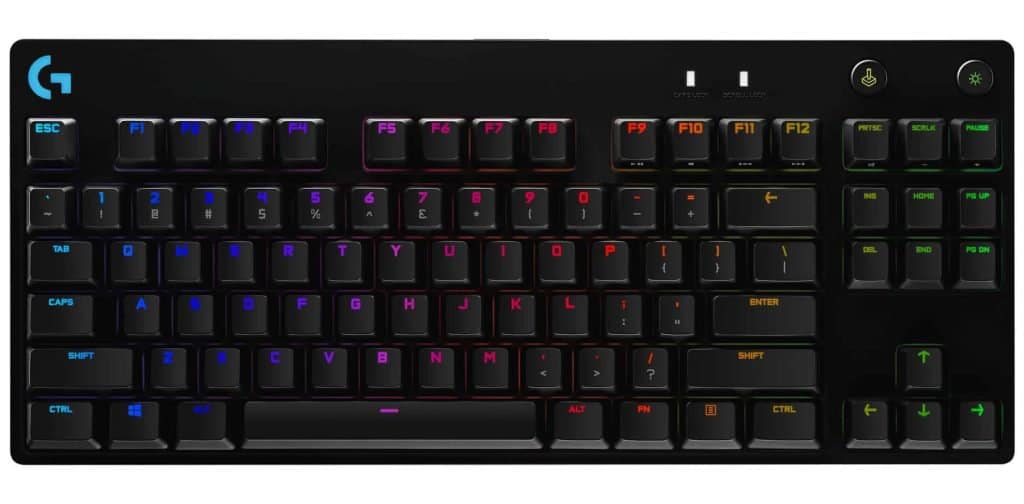 The Logitech G Pro X comes with advanced GX mechanical switches—engineered and 100% tested for performance, responsiveness, and durability. You will be able to customise the feel of your PRO X keyboard with three removable switch variants.
The tenkeyless design of the Logitech G Pro X means more room for mouse movement. The durable, compact design is also easy to pack for travel.
The Lightsync RGB system allows you to highlight critical keys, or just show your team solidarity. You will also be able to customise lighting and animations with Logitech G HUB software. The PRO X Keyboard also allows you to save a static lighting design to onboard memory for use on tournament systems.
When gaming gets intense, rubber feet help keep the keyboard in place. The three-step adjustment allows you to customize the angle of the keyboard to the position you find comfortable. The micro USB cable also detaches for safe transport in your travel bag, and features a three-pronged design for an easy, secure connection.
Keen to get this budget gaming keyboard in Singapore? It's yours for S$159.00.
Conclusion
Do you have any reviews and comments to share regarding our choices for the best budget gaming keyboard in Singapore?
While SBO is committed to supporting our local businesses, we welcome any feedback and anonymous sharing regarding your experience with the listed budget gaming keyboard in Singapore.
We hope that this guide will be useful in helping you to make an informed decision when it comes to finding the best budget gaming keyboard in Singapore.
Explore More Content
Are you featured in this?
Display this exclusive SBO badge proudly on your website and get more sales!