7 Best Private Investigator In Singapore That You Can Hire [2021]
Hire the best private investigator in Singapore to help you access the information that you need to make important decisions in life
Services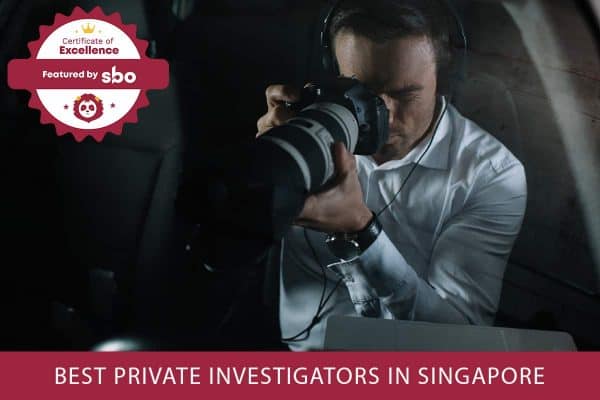 Our team at SBO.sg is committed to being a one-stop avenue to connect local businesses and consumers. We hope that our research efforts can help you save time and money by finding you the best deals without having to search around the vast world-wide-web.
A private investigator in Singapore might not just be involved in catching criminals. Their work requires them to gather information for clients of diverse backgrounds.
For instance, if you are looking at forming a business partnership, you can hire private investigators in Singapore to conduct a thorough background check on your potential partners for any possibility of dishonesty.
Private investigators in Singapore can also help in your personal matters. These could be either finding a missing person or finding out whether your partner is having a adultery behind your back.
Whatever the case, it is advisable to look for a reliable private investigator and approved by the Singapore Police Force.
In this post, we've gathered all the necessary details including unravelling reviews and testimonials to derive a list of the 7 best private investigators in Singapore.
1. Privateye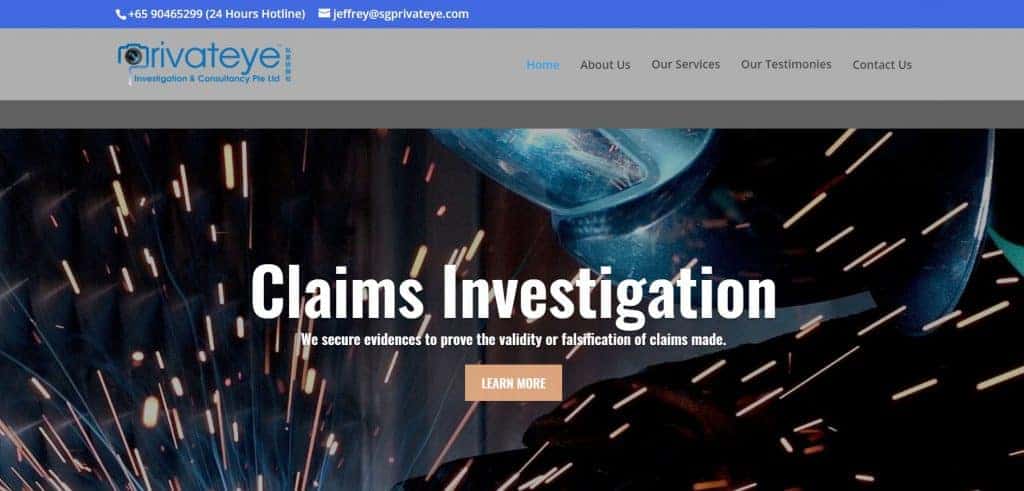 Privateye is a one-stop private investigation and consultancy services. With their combined military and police background, coupled with human behavioural and psychological analysis, they are dedicated to being strategic, professional and upholding confidential when taking up their client's cases. Being client-centric is in the core of their values.
Privateye offers a full suite of affordable private investigation services which comprises of commercial investigation, matrimonial investigation, digital forensics, key personnel background checks, workman compensation claims investigation as well as general investigation and surveillance services.
Privateye's systematic approach towards all their tasks have helped them attain numerous awards such as the Commander's Award by Commander of Police Division and Director CID Award by Director CID.
2. SK Investigation Private Limited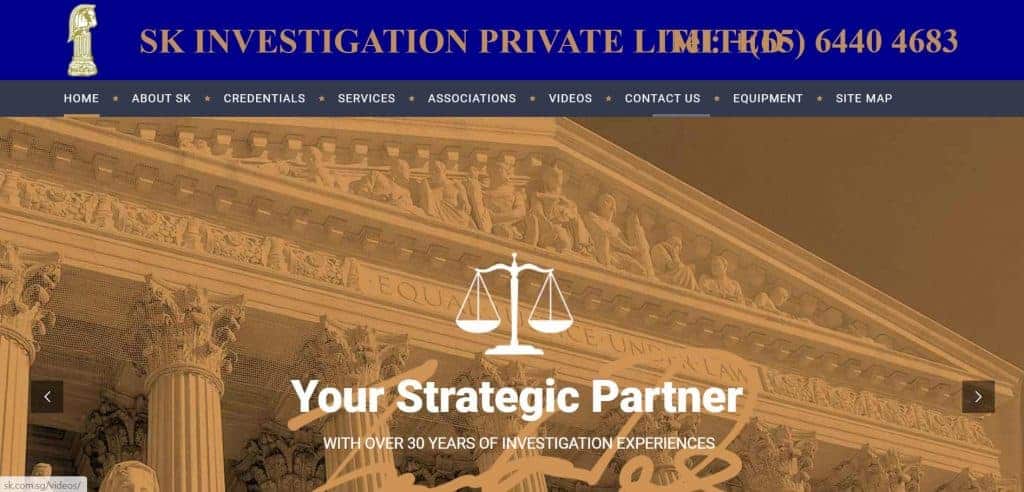 SK Investigation is the leading private investigator in Singapore with more than 30 years of experience. They have a strong network of more than 3000 professional members over 10 countries.
Equipped with specialised investigation skills and surveillance technology, SK Investigation carries out their work with careful deliberation. They provide a full range of private investigation services such as overseas assignment and overseas operation, corporate investigation and business intelligence as well as employee fraud.
Their professionalism has gained several awards and accreditations such as the Top 200 Outstanding Organisation in 2011 In South East Asia, Top 100 Successful Awarded Entrepreneur Year 2010 (Platinum Category) – Singapore as well as an accreditation presented by Head Licensing of Singapore Police Force.
3. International Investigators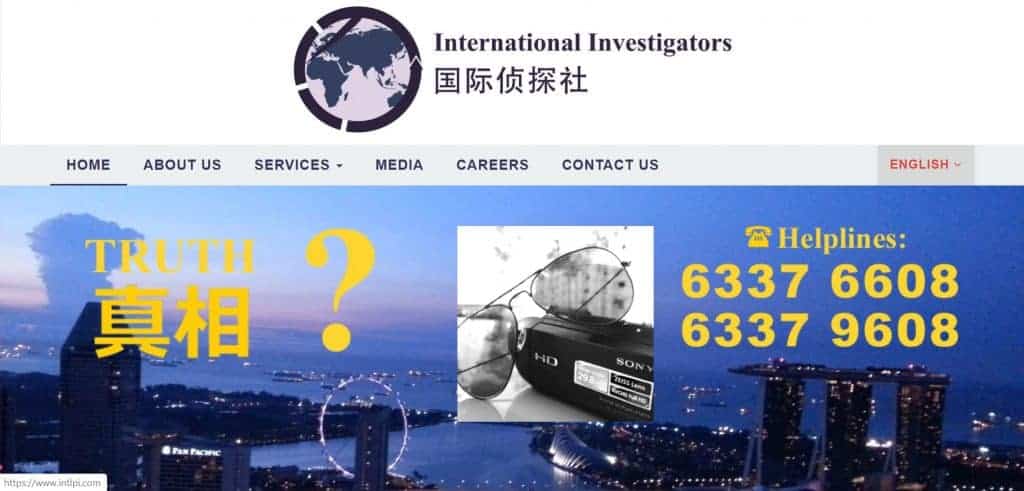 With more than 30 years experience of providing a certified and trusted service, International Investigators aim to provide clients with the evidence they need to take the next step in their professional or personal life.
International Investigators provide private investigation services which comprises of commercial cases, family/matrimonial cases and local/overseas cases. On top of that, they also provide in-house family counselling and legal counsel.
International Investigators is an exclusive partner of Singapore Legal Advice. They are also a certified member of the Council of International Investigators (USA) and the World Association of Professional Investigators. They have appeared in various media platforms such as Mediacorp and Singapore Press Holdings (SPH).
4. Private Investigator Singapore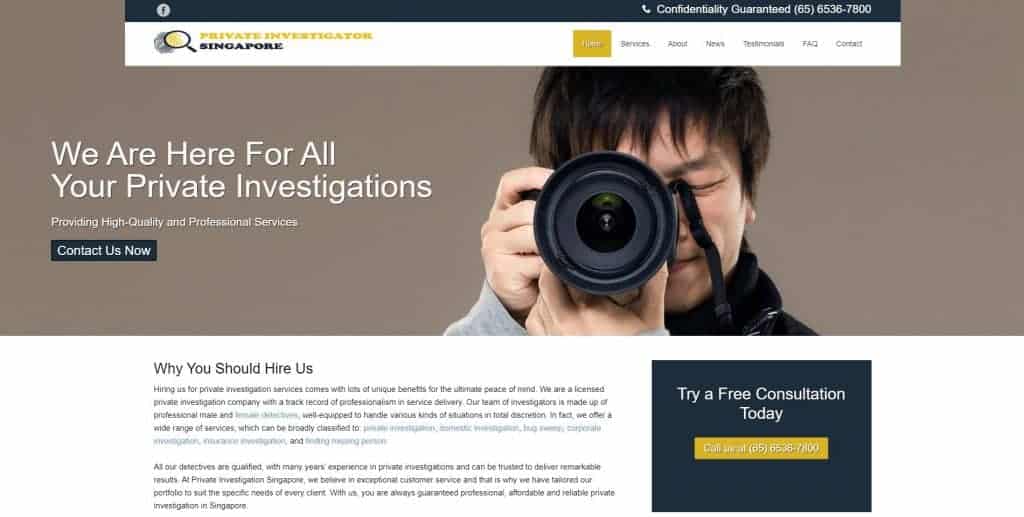 As a well-established investigation agency, Private Investigator Singapore believes in providing exceptional customer service that is professional, affordable and reliable.
Their private investigation services are tailored to suit the needs of various clients. These services comprised of private investigation, domestic investigation, insurance investigation, bug sweeps, corporation investigation and locating a missing person.
5. Asia Top Investigation LLP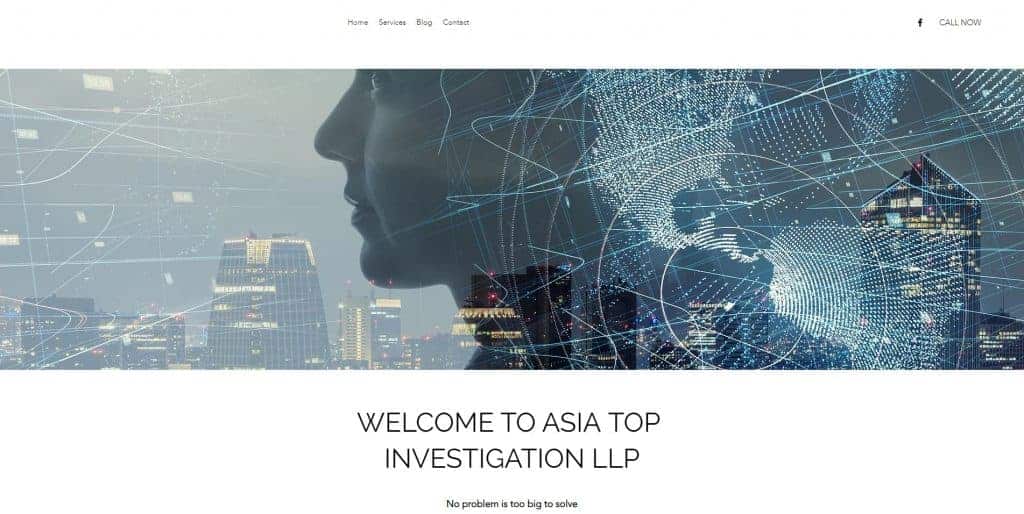 Led by certified private investigators Vincent Tan and Steven Tan, Asia Top Investigation LLP consists of a team of private investigators who are well-trained in operating the latest evidence gathering equipment.
Asia Top Investigation LLP provides private investigation services which consists of matrimonial investigation, commercial investigation, digital forensics, anti-spy smartphone detection as well as general investigation and litigation support investigation.
Asia Top Investigation LLP has been featured in major media publications such NBC, The Straits Times and CBS.
6. DP Quest Investigation Consultancy Pte Ltd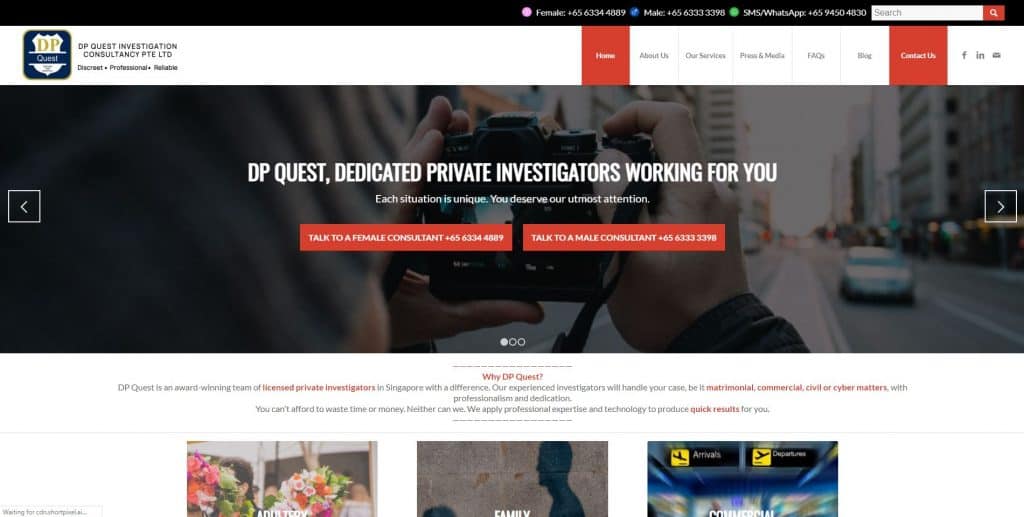 Established in 2005, DP Quest Investigation Consultancy Pte Ltd pledges to carry out their client's work with honesty, promptness, attentiveness, hard work and discreet. They consist of a team of experienced and licensed private investigators with law enforcement backgrounds and using the latest surveillance technology to carry out their investigation works.
DP Quest provides a wide range of private investigation services, consisting of adultery, family, commercial, digital forensics, technology and lawyer support.
DP Quest received the Singapore's Outstanding Enterprise Award in 2011 for their commitment to service excellence. They are one of the private investigators in Singapore that has obtained the ISO 9001-2000 certification for its ability to maintain defined quality standards.
7. Adrian & Mckenzie Investigators LLP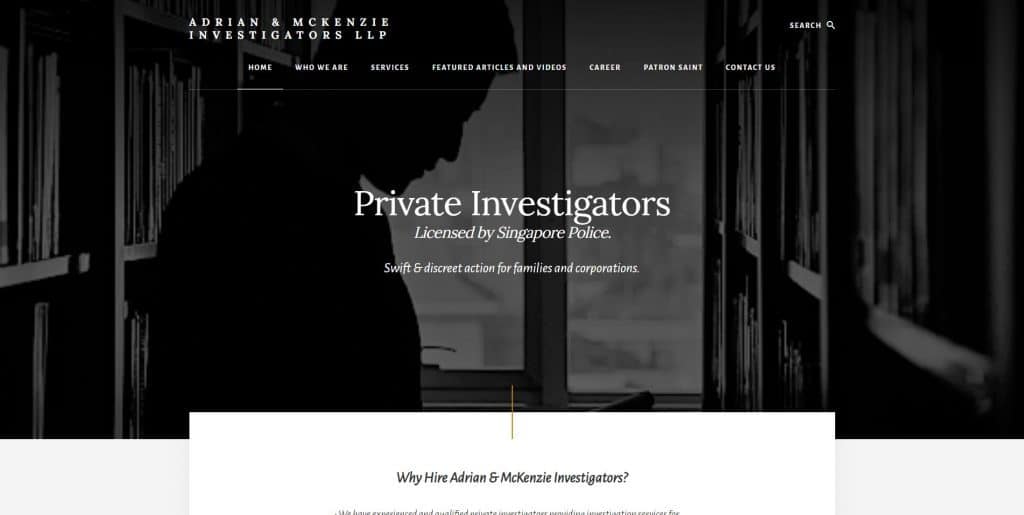 Adrian & Mckenzie Investigators LLP is a private investigator in Singapore that offers a full spectrum of private investigation services such as matrimonial investigations, general investigation, child matters' investigation and corporate investigation.
They approach their investigative work with promptness and efficiency. They honour their client's privacy and keep all information confidential.
Conclusion
Do you have any reviews and comments to share regarding our choices for the best private investigator in Singapore?
While SBO is committed to supporting our local businesses, we welcome any feedback and anonymous sharing regarding your experience with the listed private investigator in Singapore.
We hope that this guide will be useful in helping you to make an informed decision when it comes to finding the best private investigator in Singapore.
>