7 Best Car Rental in Singapore to Get You From Place to Place Easily [2021]
Rent a car from the best car rental in Singapore if you need to get from place to place easily
Services
Our team at SBO.sg is committed to being a one-stop avenue to connect local businesses and consumers. We hope that our research efforts can help you save time and money by finding you the best deals without having to search around the vast world-wide-web.
Do you find yourself travelling to inaccessible places often? Are you expecting important clients from overseas and ferrying around when they arrive? Are you in an urgent need to have a car for important events such as a wedding? If your answer is yes to all of these questions, your best bet is look for the best car rental in Singapore.
The best car rental in Singapore offers excellent service, cars of different brands and models that can meet your individual needs as well as the most competitive prices.
Factors to Consider Before You Rent a Car

Before you make the final decision to rent a car, there are a few important factors to consider. Take heed to these factors.
1. Local or International Car Rental Companies?

It's true that international car rental companies are more reputable. After all, they already have a tried and tested process, large resources and an extensive fleet of rental cars.

Yet, renting a car from an international car rental company can be costly. If you are looking for a cheaper option, renting a car from a local company would suffice.
2. Have You Been Covered By Insurance?

Being covered by an insurance policy when renting a car protects you from potential losses.
Here are the various types of car insurance:
a. Comprehensive Car Insurance
A type of insurance plan that covers nearly everything including your car's repair and replacement costs.
b. Third-Party Only (TPO) Car Insurance
Covers only damage to the other party or their property. This, however, means that you are fully responsible for your own damage.
Take note of the term "Insurance Excess". This refers to the fixed amount that you are required to pay in the event of an accident.
3. What are the Rental Policies and Requirements of Each Car Rental Companies in Singapore?
Pay close attention to the policies and requirements for each car rental companies in Singapore. For example, the minimum age and years of driving experience of the driver differ from each car rental companies.
Additionally, 'P' plate drivers, referring to probationary drivers who have less than a year of driving experience, are not permitted to rent a car in most rental companies. Hence, do clarify if the company allows the rental of vehicles for 'P" plate drivers.
4. What are the Rates for Various Durations?
Car rental rates are not fixed. They are varied based on certain durations. For example, rental rates will increase during peak periods namely public holidays, festive seasons such as CNY, Hari Raya, Deepavali and Christmas, as well as long weekends.
Rental rates may also increase during the weekends for instances such as out-of-town trips.
5. Are You Allowed to Drive the Car Into Malaysia?
You may need to drive the rented car into Malaysia for some urgent errands or even for a vacation.
Do check with the car rental company if you are permitted to drive the car into the country.
In this post, we've gathered all the necessary details including unravelling reviews and testimonials to derive a list of the 7 best car rental in Singapore.
1. Car Regency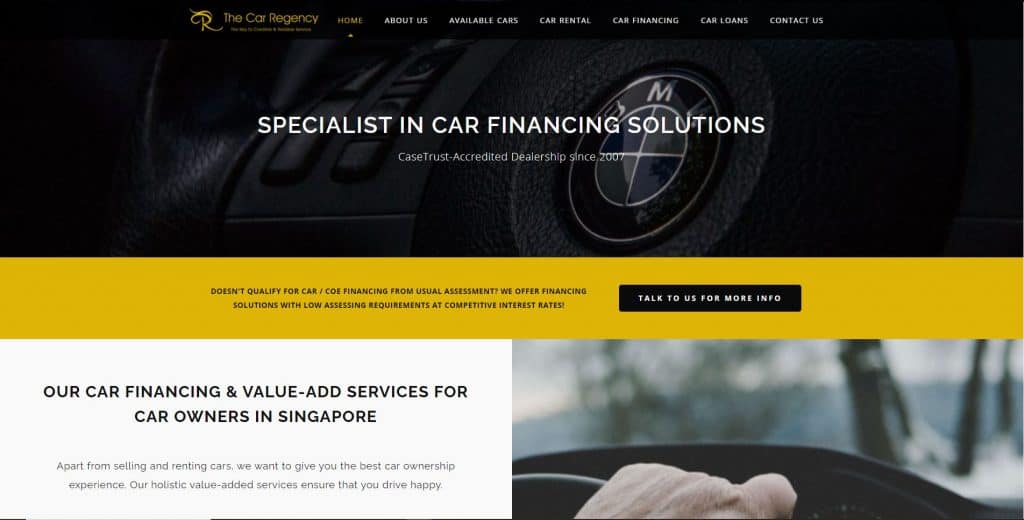 Established in 2007, Car Regency is a CaseTrust-accredited dealership that specialises in new Japanese and continental models. Their friendly, knowledgeable and experienced staff provide a non-hardsell environment to ensure you the best choice with no pressure.
Car Regency offers various services namely financing solutions for COE renewal and new car purchase, car insurance, car loans and car rental. If you have a car that are eyeing on but not sure whether it will be suited for your lifestyle, there's always an option to rent that particular car before making the final decision. Daily, weekly and monthly rentals are offered.
2. AKA Car Rental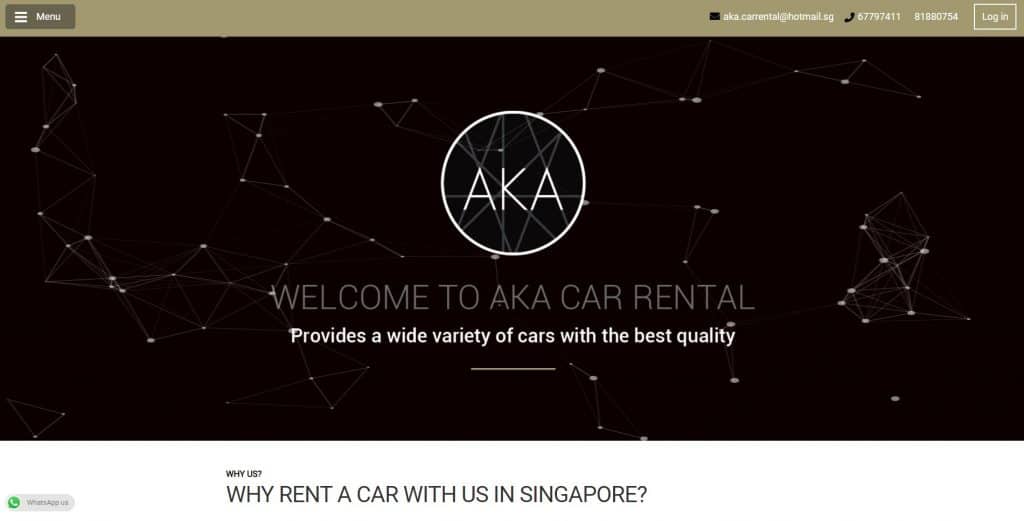 AKA Car Rental is one of the few car rental companies in Singapore that provide rental & leasing services to P-plate drivers and customers below 21 years old. They aim to be the pinnacle of customer service on short-term car rental and long-term leasing, providing professional, quality and efficient services.
Rentals made in AKA Car Rental promised to be cheap and affordable. They offer Japanese, Korean and Continental cars that are clean and well-maintained. Their rental packages are customised to cater to the driving needs of various customers.
For new drivers planning on renting a vehicle, AKA Car Rental provides the use of GPS systems to guide them through the roads of Singapore. Customers will be happy to know that there is no deposit required when renting a car with AKA. Non-credit card users can rest assure that no credit card is needed for rental.
For your convenience, we provide pick-up and drop-off points for your rental cars at Kaki Bukit and Commonwealth.
3. BizLink Rent-A-Car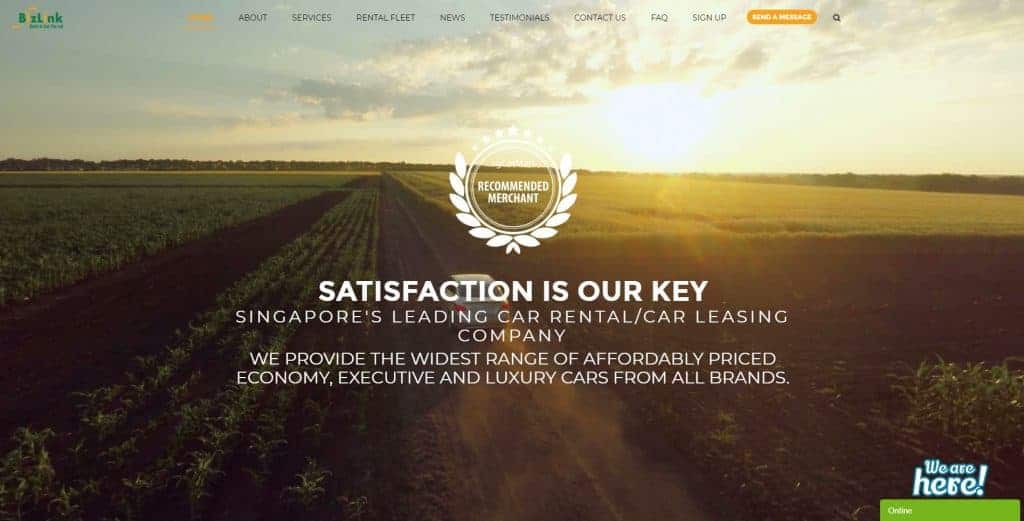 Founded in 2004, BizLink Rent-A-Car is one of the leading corporate car rental in Singapore. They deliver competitive and affordable car rental services. These include corporate car rental, chauffeur drive service, expat leasing , retail car rental (long-term and short-term) and commercial vehicle rental.
Japanese, Korean and Continental cars of different categories are available for rental at the cheapest price in town. These consist of Saloon, MPV, SUV and Commercial Vehicles.
Their ability to provide customers with quality products and unrivalled service standards have enabled to win several awards such as being named among the Top 500 SMEs.
4. Motorway Car Rentals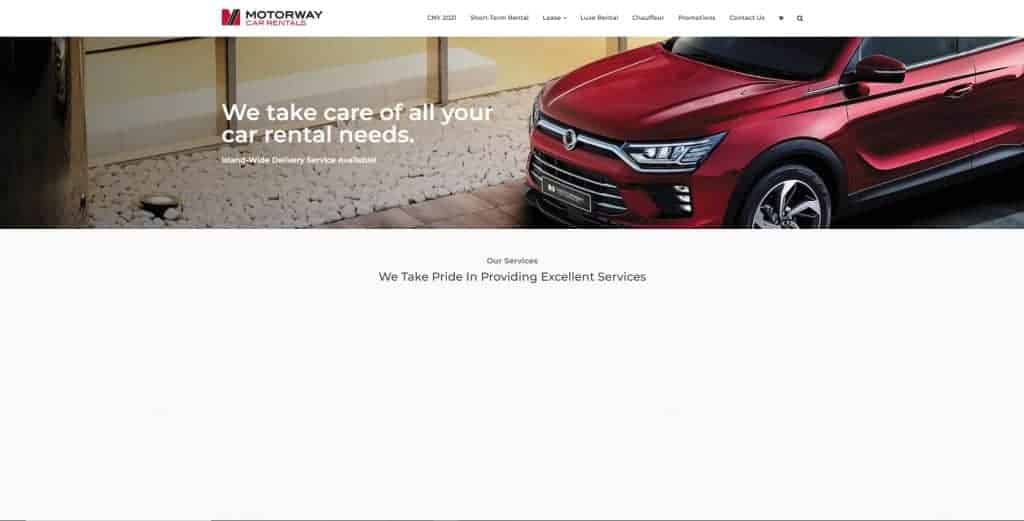 Founded in 1992, Motorway Car Rentals is a group of companies under Motorway that provides long-term leasing to local and international clients including multinational corporations. Other services offered include short-term rental services and chauffeur-driven services.
Their fleet of cars for rental consists of various vehicles types comprising of a compact saloon, executive saloon, MPV, SUV, Continental and Commercial. Rental fee starts from S$60/day for a short term rental of their cheapest models such as Mitsubishi Attrage and Mazda 2.
If you are looking for something classy, they offer luxury models such as Maserati GranTurismo and Bentley Continental GT.
5. Ace Drive Car Rental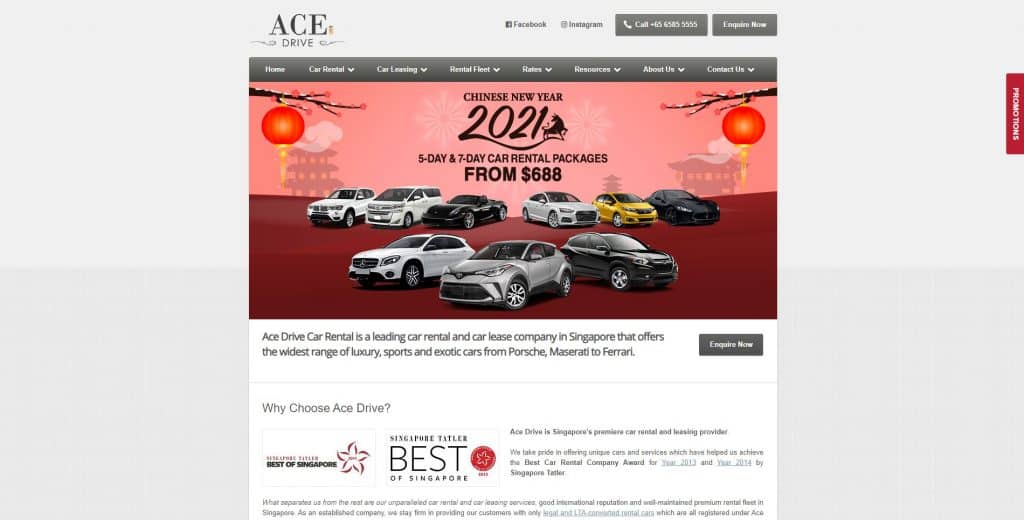 Incorporated in 2010, Ace Drive is a car rental company that specialises in exotic car rental, luxury sports car rental. They offer one of the cheapest car rental and leasing services in Singapore for both individuals and corporate customers with the leasing rates from S$1,300/month for a 2-year period.
Ace Drive offers a wide range of vehicles for rental which include sedans, convertibles, sports, exotics, coupes, MPVs and SUVs for various settings like weddings, ROM and corporate.

If you would like to rent a vehicle with Ace Drive, you will have to be at least 23 years old and have a minimum of 3 years driving experience.
If you would like to drive the vehicle out of Singapore into Malaysia, do take note that the rental fees will be raised by 50%. The insurance excess will be doubled which will be collected in full, either by cash or credit card.
If you do not have a driver's license and would like to have a chauffeur to drive you around places, they offer flexible limousine services for airport transfers, city tour, point to point transfer, corporate & events as well as weddings.
In the case of a breakdown, we offer a 24/7 service and will provide a replacement car when your car is being serviced or met with an accident. They handle all maintenance, insurance and other aspects of car rental or leasing.
6. Lion City Rentals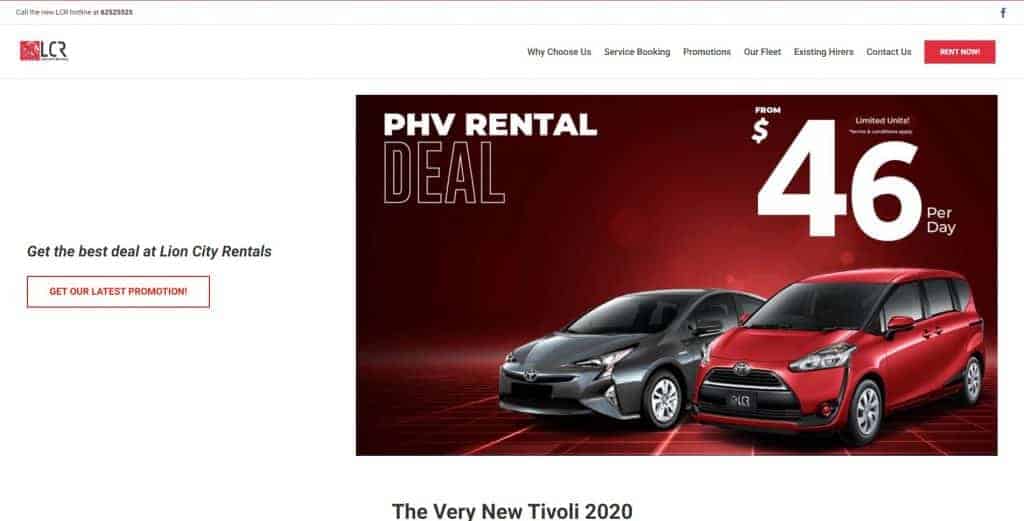 Lion City Rental is the largest rental car fleet company in Singapore that aims to provide a high quality service standards to new and existing customers.
They offer a wide variety of Japanese and Korean cars for rental. The good part of renting a car in Lion City Rental is their rental packages. You get to choose from 3:
1-week rental package from S$70/day nett with service and maintenance included.
13-week rental package from S$52/day nett with service and maintenance as well as LCR Cares.
26 & 52-week rental package from S$49/day nett with service and maintenance, LCR Cares as well as 7 rental free days.
Renting a car can be easily made on their website. Once the rental request has been online, you can collect the car as early as within 24 hours. This will, in particular, benefit private hire drivers who need the car at the quickest time possible.
Their one-stop service & repair centre ensures that your car is kept in its best condition so that you can worry less whilst driving.
7. Singapore Car Rental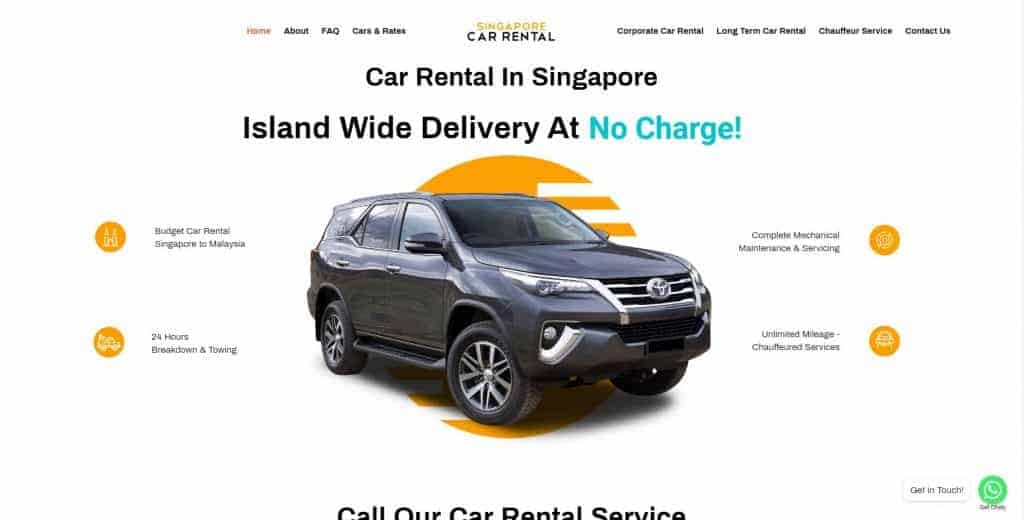 Singapore Car Rental is the leading budget car rental in Singapore that aims to give the best services to their customers with integrity.
Customers will get to choose from a full range of cars comprising of saloon cars, hatchbacks/station wagons, luxury sedans/SUVs, minivan/MPVs and commercial vans available for rental from S$70/day.
Whichever vehicle you choose to rent, they can be used for various settings such as Singapore/Malaysia transfers, coach & minibus charters, worker transportation, organised private tours and city sightseeing.
Their saloon cars and MPVs can be driven to Malaysia. However, drivers need to take note that an additional surcharge of S$20-S$40 per day will be levied to extend the insurance.
Chauffeur services are also available if you prefer to be driven whether it is an airport transfer or a chartered limousine service.
Do take note that if you intend to rent a car with Singapore Car Rental, you will have to be at least 24 years old with a minimum of 2 years driving experience.
Conclusion
Do you have any reviews and comments to share regarding our choices for the best car rental in Singapore?
While SBO is committed to supporting our local businesses, we welcome any feedback and anonymous sharing regarding your experience with the listed car rental in Singapore.
We hope that this guide will be useful in helping you to make an informed decision when it comes to finding the best car rental in Singapore.